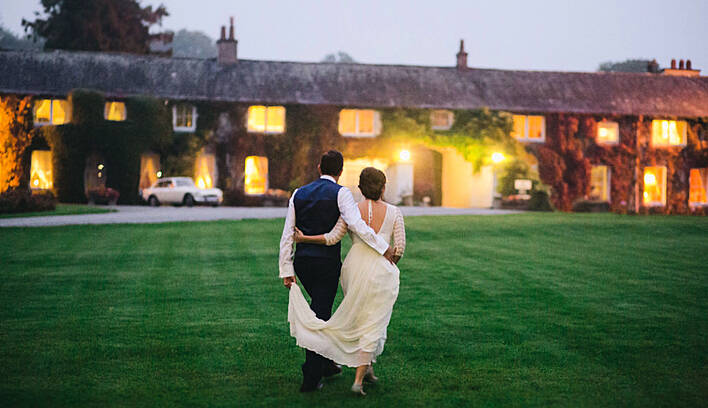 Rathsallagh House, in West Wicklow (less than an hour from Dublin), is a member of Ireland's exclusive Blue Book, winner of the Exclusive Wedding Venue of the Year Ireland 2017, 2018 & 2019  ( National Hospitality Awards), Exclusive Wedding Venue of the Year Ireland 2018. – Weddings On Line Awards and the Historic Hotel Wedding Experience for 2017 -  Historic Hotels of Europe.
Rathsallagh is one of the very few venues in Ireland that is truly exclusive and private to you on your big day. With its open fires, luxurious Drawing rooms, Dining Room, Wedding Pavilion ( the bar is in the room), and bedrooms it is your very own private Country House for your special day. Imagine then the Wedding of your dreams in your own 17th Century Country House with its romantic setting on hundreds of acres of rolling fields, thousands of mature trees and long winding avenue ensuring your complete privacy.
Rathsallagh's walled gardens, Granary and Orangery are ideal for outdoor ( weather permitting ) and in door civil ceremonies and blessings seating up to 250 guests.  In addition, Rathsallagh has a number of traditional and quaint country Churches on its doorstep and the team at Rathsallagh have all the information needed to make contact them and to help you arrange the ceremony of your choice. Rathsallagh has been in the ownership of the O'Flynn family and in operation as a Country House taking guests for the last 40 years.  Many of the team at Rathsallagh have been working for the family since the beginning so their experience underpins Rathsallagh's unrivalled reputation for service,  hospitality, and exquisite food in a private and romantic setting.  Rathsallagh House has prides itself on centuries of experience, come and visit us soon.
More Images