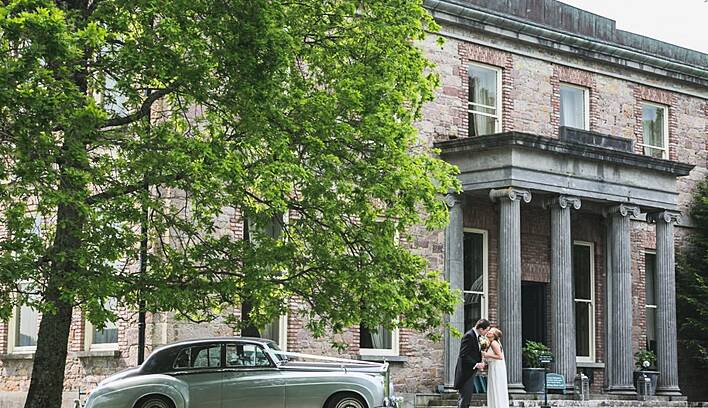 Kilshane House, a Regency house built in 1822, is the centrepiece of 320 acres of private parkland in the heart of County Tipperary, Ireland.  The huge curvilinear Conservatory, circa 1860, is ideal for intimate wedding ceremonies. Alternatively, why not explore the Great Outdoors and have a wedding in the pagoda on the lake or in the Sacred Garden?  The Orangerie, with a full bar at one end and the dance floor at the other, can comfortably seat 220 guests.  The only guests in the 54 en-suite bedrooms are the ones you invite to the wedding.  We have all the advantages of a private house and none of the disadvantages of a hotel!
An elegant dinner in the formal dining room for 24 guests the night before the wedding can be expanded to 100 in the Conservatory.  An informal party in the Billiard Room with the QT Bar as family and friends arrive can set the pace for the weekend.
We have created four seasonal proposals to celebrate your wedding day and the season in which it takes place.  Each one has a description of all the decorative items including fairy light curtains, organza ceiling drapes, candelabras, etc. and the complimentary items such as the bridal suite on the night of the wedding, menus, table plans, tasting, etc.   The proposals include canapés, cocktails, a six-course gala wedding dinner with a choice of the main course, and a mid-night supper.  A half bottle of house wine per guest is also included. Prices start at  €115 per person to €130 depending on the time of year.  Choosing your menu and coordinating wines is critical to the success of your day and our Head Chef brings considerable expertise to this task along with our in-house wine specialist.  We will assist you with every choice and detail to achieve a match made in heaven.  There are no hidden extras in these proposals.  Of course, if you wish, you can add on fireworks, singing waiters, magicians, etc….the sky is the limit!
A light-hearted barbecue the day after is an opportunity to kick off your shoes and relax with your friends and family.  You are cordially invited to come see how unique we are for yourself!
More Images