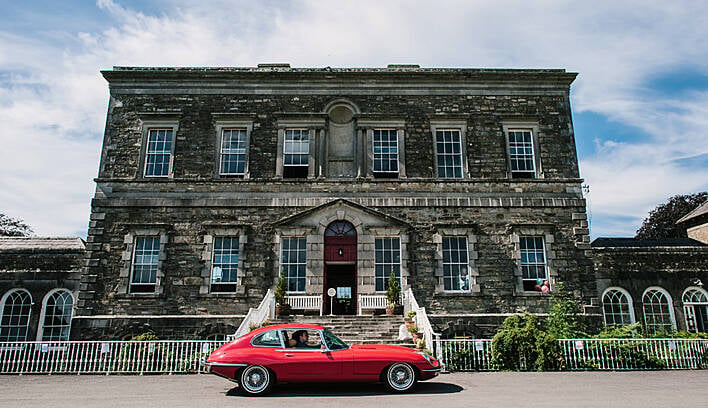 Our House is your House…
Situated only 30 minutes from Dublin, Bellinter House is renowned as one of the most unique wedding venues in Ireland. This property is a must for any style-conscious couple seeking a venue with a unique character that oozes rustic charm and ambiance.
This stunning 18th century Georgian manor is set on banks of the River Boyne. Nestled among sweeping lawns, ancient trees and secluded spots for you to explore, Bellinter House displays a distinctive romantic ambiance which cannot be replicated anywhere else.
Awarded recently as the 'Best Exclusive Wedding Venue in Ireland' and named Luxury Travel Guide's 'Unique Wedding Venue of the Year 2018', this property celebrates a mixture of timeless Georgian features and contemporary arts which will create a lasting impression on all who experience it.
Visualize your dream day in this bold and edgy boutique venue. Imagine your wedding day, guests arriving through the long winding avenue of the mature trees, leading them to the first view of this impressive Georgian house. On arrival, your guests will enjoy a glass of bubbles - or why not a cocktail - and some delicious canapés created by Bellinter's award-winning team of chefs.
Throughout the day your guests will enjoy their time in the main public rooms, each designed to pique your interest and stimulate your senses. Enjoy the stylish, bespoke design captured by Ireland's leading interior designer Suzie McAdam – a talking point for all your guests. The property features 44 bedrooms and can sleep up to 100 guests.
Your guests will then dine in the Refectory Suite, which is the main banqueting suite and can accommodate up to 206 guests. A blank canvas for you to transform on the day of your wedding, with ceiling to floor windows looking out on the lush green garden.
The property features many spaces perfect for an indoor ceremony of any size, but to make the most of this fantastic Georgian house, choose to get married in the bespoke Nunnery Suite. Featuring arched ceilings & ornate pillars, it is the perfect intimate option. Most couples, of course, choose to say 'I Do' under the symbol of Bellinter, the iconic Weeping Beech Tree which is located on the main lawns in front of the house. The newly-added Back Patio is another beautiful outdoor ceremony option with breath-taking views of the River Boyne in the distance.
Not for the faint-hearted, Bellinter House tantalizes the taste buds of the most stylish and trendy couples. It has a special energy that makes it one of the most desirable wedding venues in Ireland.
Why not see for yourself by arranging a viewing with the team at Bellinter House by calling 046 9030900 or emailing [email protected]
More Images