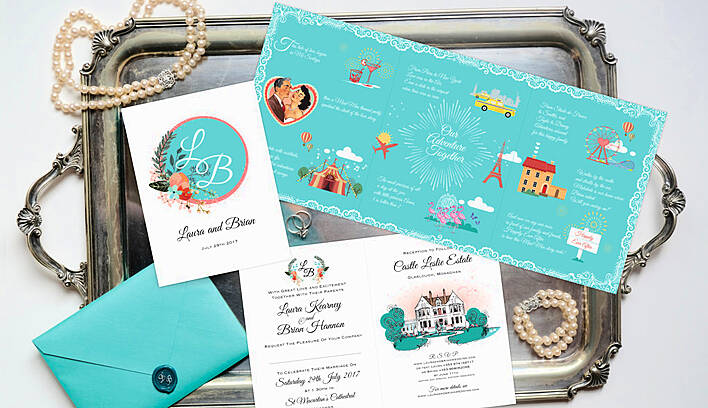 'Something borrowed, something blue, something old, something… personalised'.
Perfect Moments is a bespoke wedding experience design agency. We deliver personalised memories to share your experience with those closest to you. Our focus is on illustrating these memories and delivering that theme through all your wedding stationery to provide experiences that create perfect moments from the first opening of the wedding invitation envelope, to the theme of the tables when people sit down to your wedding breakfast.
At Perfect Moments our artistic passion knows no boundaries. Let your creative juices run wild, with your own personal designer and artist on hand. Whatever your personal style or vision is for your big day, we can create a truly unique invitation to best represent you and your fiancé. We can start with a blank canvas, or we collaborate on design ideas for your very own personalized design experience or art commissions.
Typically a wedding Invitation design suite comprises of the wedding invitation, RSVP card and Information or Detail card about the day but there are no hard or fast rules, it's your day, so you can do it your way. There are so many ways to personalise your wedding invitation design, and there are so many wedding stationery items to design and personalise. Here are just some of the design collateral we design for couples everyday.
Bespoke Invitation Suites
Save the Dates
RSVP & Detail Cards
E-Invite Design
Wedding Website
Custom couple portraits
Custom Venue illustration
Ceremony Booklets
Church Signage
Reception/Venue Signage
Table Plan & Names
Menu & Place Names
Unique Wedding Gifts
Personalised Cards
Thank you Cards
If you want to talk through options or are ready to create something unique and special for your big day, drop me a line.
More Images