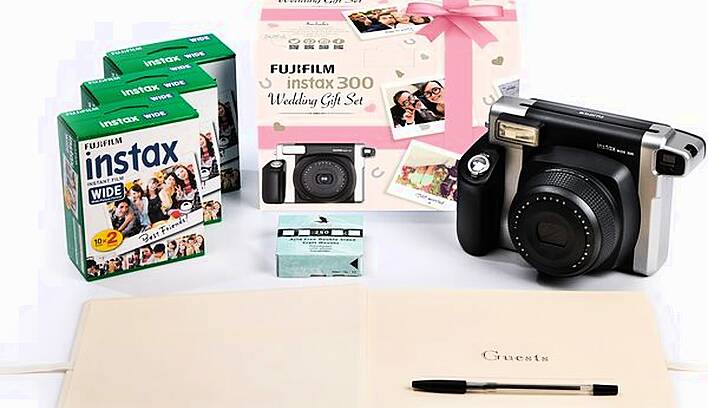 Make sure your wedding table is set properly!
When planning your wedding factor an INSTAX Camera into the budget.  There are so many reasons why.
INSTAX @ weddings have become a real nostalgia trend that makes sure that the Bride and Groom don't miss out on any of the action on the day, the stylish outfits and their friends and family having fun!!!
To make the day extra special pick up a fun 'Fujifilm Instax 300 Wedding Gift Pack' so your day will not be forgotten.
So what's in the pack?
It includes an Instax 300 Instant Camera and 60 shots of film so you can use straightaway.
A wedding guest book for displaying those instant photos
Self-adhesive photo mounts and a pen, so guests can accompany their snaps with personal messages.
Perfect for gatherings and parties the INSTAX Wedding Pack makes a special day even more memorable and fun!
Don't forget to check out our range of INSTAX Cameras & Smartphone Printers –
Instax Mini 9 - The perfect gift for those lovely bridesmaids! - "just to say thanks for putting up with me!"
Also check out the awesome Instax SHARE SP-3 Smartphone Printer, Instax are making dream shots for your Wedding Day a reality! Portable, speedy and super classy this printer is a match made in heaven for smartphones for your Wedding Day!
Made for your everyday, this instant SQUARE format camera turns the ordinary into the extraordinary – perfect accessory for your Special Day!
Sure, the Instax SQ6 is super stylish to look at, but what has this camera really nailed? Oodles of easy-to-use creative modes that'll bring out your most adventurous side every day.  Great to use on Honeymoon to capture all of your magical adventures.
And when it all kicks off, why not give the colour flash filters a whirl to really turn your Special Day into something extraordinary – capture memories you will never forget!
Here are some great ideas for your wedding from INSTAX.
Have a fab (and original) table plan by using a decorative tree and hang INSTAX photos of friends and family so they know where they are seated!
DIY Decos! Make cute bunting using the INSTAX accessory range which includes love heart pegs on a string and hangs photos of yourself and your partner around the venue!
Top your cake with a pic of yourself and yours truly.
Use the INSTAX Wedding Guestbook included in the wedding pack so that your guests can take fun pics of themselves and leave a personalised message for you (so that you'll have a book of memories to take on honeymoon).
Create a photo wall on the day so that your guests can add their fun shots taken with INSTAX (yours forever J)
It's always nice to say THANKS and make this even more special with a personalised INSTAX photo of your special day for all of your guests.
INSTAX Wedding Pack- RRP: €200.00 &, This Package Includes Camera Plus Three Packs of 20 Photos (Total 60 Shots) Plus Pen, Wedding Album & Adhesive Pads for Inserting Your Photos.
Retailers prices may vary and available in FUJIFILM stockists nationwide.
More Images