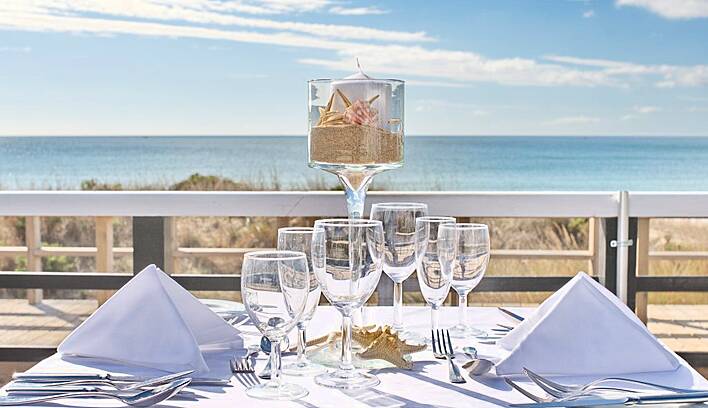 At Pestana Hotels our guests are our priority. We believe in providing memorable experiences with our unique selection of wedding venues.
From our breathtaking sea views to our beautiful interior and exterior areas, we specialize in offering you with a personalized wedding experience.
Pestana Alvor Praia is a 5-star hotel in Alvor, Algarve. Located on Praia dos Três Irmãos, one of Algarve's best beaches, complete with white sands and tranquil, crystal-clear waters.
Pestana Viking is a 4-star clifftop hotel in Porches-Armação de Pêra, in the Algarve. It is one of the most sought-after areas in the Algarve and local life is lively year round. The hotel is surrounded on three sides by grand gardens. Palm trees and green grass lead the way to the beach.
The Pestana Alvor South Beach is a 4-star hotel in Alvor. The hotel's is contrasted by its relaxed atmosphere. It has direct access to Três Irmão beach. It is just 1 minute on foot to the beach and 5 minutes on foot to the centre of town. Here, you'll find Algarve's more vibrant side.
Pestana Algarve Race is a recently built 5-star hotel located in Montes de Cima, Mexilhoeira Grande near the city of Portimão and 36 km from Albufeira. It offers a sophisticated and innovative environment.
Pestana Vila Sol is a 5-star hotel in Vilamoura, in the Algarve. It is perfect for those looking to take a family vacation and to relax with a round of  golf or tennis, or simply take a dip in one of the swimming pools. It is located just 7 minutes by car from Vilamoura beach and 5 minutes by car from the marina.
Pestana D. João II is a is a 4-star hotel overlooking the sandy Alvor beach with calm, crystal clear waters. It is only 10 minutes on foot from the town centre, very close to the Alvor river.
Pestana Delfim is an all inclusive hotel in Algarve, specifically designed for families. It is located 5 minutes on foot from Praia dos Três Irmãos and 10 minutes on foot from the Alvor town centre, with free parking.
More Images