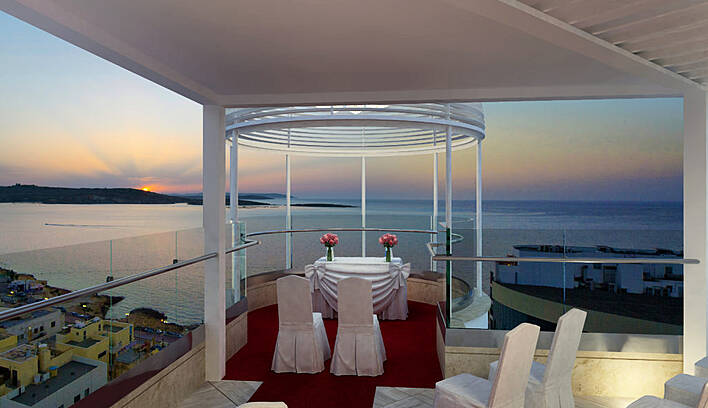 Making your Wedding a Treasured Memory
Every bride and groom want a special wedding, different from others. The question is who and how does one turn a wedding into something truly special. db Hotels + Resorts would be a very good start. It offers all the answers to your questions - from the venues it offers to the spectacular food, to anything you may have dreamed of.
The db Hotels & Resorts owns the 2 largest All-Inclusive Hotels in Malta, db Seabank Resort + Spa and db San Antonio Hotel + Spa. Both properties, which are close to the sea in the northern part of the island, offer a unique experience to those who wish to make a special day even more special.
The Wedding Gazebo at db Seabank Resort + Spa, with amazing views of the Laguna Pool and the surrounding a Mediterranean garden, is an ideal location for a ceremony. It can also be used in the evening for a standing wedding reception, or seated for an exclusive dinner or a less casual affair. The venue can cater for 200 seated or 400 guests standing.
The db Seabank Resort + Spa also has a number of other beautiful venues available, in-doors and outdoors. They are also open to the possibility of working with you to hire out an exclusive area for your special day. Whatever the number of guests is the professional people at db are able to cater for them with style.
At db San Antonio Hotel + Spa one can also have a wonderful wedding with panoramic views of St. Paul's Bay and islands from our rooftop, next to our infinity pool. And it could be a perfect sunset wedding if you want it. The venue can host up to 600 people at a standing reception and 400 at a seated one.
Other venues include the Casablanca in its Moorish modern style giving that special exotic touch to any type of reception or dinner you might have in mind.