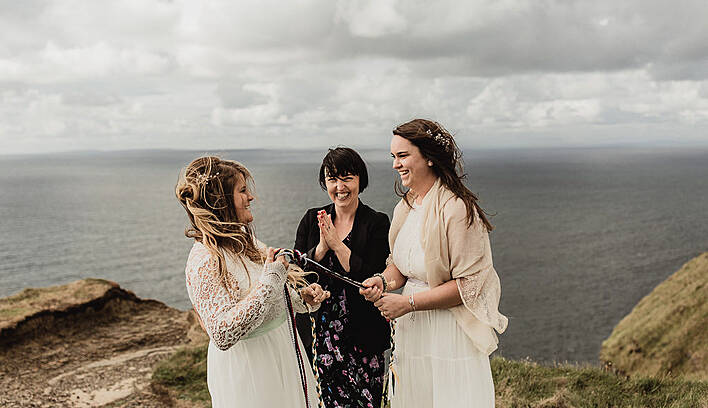 Hi, my name is Yvonne Cassidy and I am an Independent Family Celebrant and the current Chairperson of the Irish Celebrants Association.
I offer an alternative choice to couples who are looking for a personal ceremony, that is written in collaboration with them. Whether it is an intimate elopement, a large family wedding, or a naming day celebration, we will create a ceremony that reflects your beliefs and tells your story. Ceremonies can be religious, secular, spiritual or a mix, it is your choice and I can help guide you along the way and make recommendations.
Being independent means I do not complete the legal side to a marriage; this is completed separately by the HSE and I can help guide you through the process and what is required. This frees me up from certain restrictions and gives couples more freedom and options for their wedding day.
Specialising in ceremonial rituals, independent ceremonies focus on the couple and what is important to them. The wedding ceremony is the most special part of the day, it is the moment you declare your love for each other and sets the tone for the whole day. My job is to make sure the day is all about you from the very start!
Based in Dublin, I work nationwide. I offer a ceremony coordination service to couples who need assistance finding suitable venues and ceremony vendors; this is especially useful for overseas couples.
Find out more on my website www.yvonnecassidyweddings.com or get in touch for more information, I would love to hear from you.
More Images