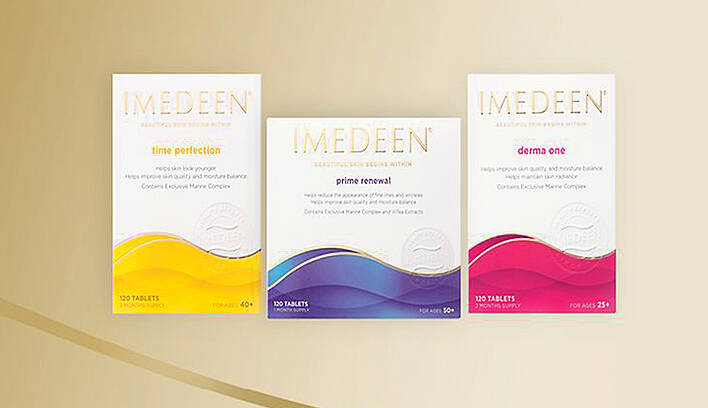 IMEDEEN skincare tablets are designed to enhance the benefits of your regular beauty routine, working from within to improve the appearance of the skin.
IMEDEEN tablets can help to improve skin quality, maintain radiance and optimise moisture balance with visible results in just twelve weeks.
This gives plenty of time to see amazing results and ensuring beauty from within when walking down the aisle.
IMEDEEN supplements are specially designed for different ages and skincare needs, supporting women at every age and ensuring beauty is achieved from the inside out.
IMEDEEN® Derma One® is the first signs of ageing formula suitable for those aged 25+. It is a radiance-maintaining formula featuring the exclusive Marine Complex and works to improve the appearance of the skin.
IMEDEEN® Time Perfection® is a skin supporting formula for women in their 40s featuring the exclusive ingredient Marine Complex, plus LycoPhence GS® Forte. By taking two tablets daily for twelve weeks, you could start to see a visible reduction in lines and wrinkles and improved moisture balance all over. This product is suitable for more mature skin.
IMEDEEN® Prime Renewal® supports the needs of post-menopausal skin and contains the exclusive Marine Complex, and zinc combined with ViTea complex. When used twice daily – morning and night – this combination works to maintain normal collagen production*. You could start to see improved skin quality and visibly improved skin firmness and suppleness within twelve to twenty-four weeks.
* Contains Vitamin C which contributes to normal collagen formation for the normal function of the skin.
More Images