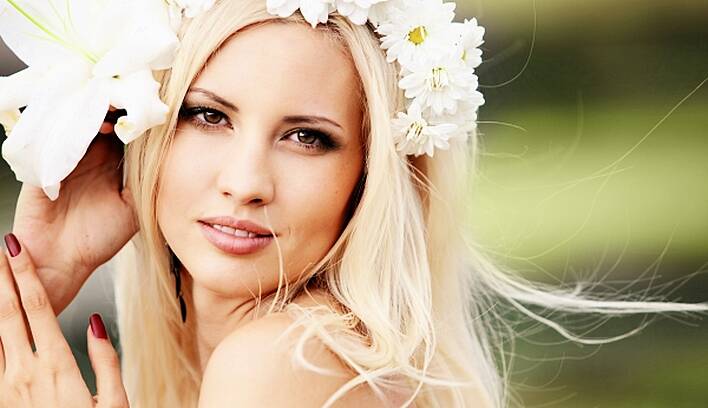 In tress distress? Never mind - Confetti's here to help. Top bridal stylist, Dermot McHugh of Robert Chambers Salon Group, answers your top five wedding hair concerns.
Q. I've been using different permanent home colours for years and now there's a build up in my hair. I'd love to just start over again with something fresh and glossy, what would you recommend?
A. An important part of preparing your hair for your wedding is fantastic colour and condition. For this to be achieved it is best left to the professionals. Your colourist can give you plenty of options colour wise, but be aware that if you need a colour correction from previous home dyes you may need at least six months to get to your desired shade, without compromising the condition of the hair. At Robert Chambers we use a Wella professional semi-permanent colour that can give up to 70% grey coverage and inject masses of shine into the hair, with much healthier results than permanent colour. When it comes to hair colour, as with your dress, give yourself plenty of time to get it right!
Q. I have unruly, thick, curly hair which takes an hour or two to style at the best of times. Does this rule me out for a foxy up-do? What are my options for leaving it down?
A. A lot of ladies with curly hair can find it frustrating to manage. In this case high-quality products are key. For a more natural look use a high quality curl cream and leave-in conditioner for extra hydration, as dry curly hair can absorb more product than straight hair. Moroccan oil does a fantastic range of care products that defines the curl while remaining very lightweight. It also doesn't leave a sticky or crunchy residue, which cheaper products might.
As long as you have a strong cut curly hair can look great either up or down. If you want a more polished look you have to factor in that it could take twice as long to prep the hair for a straight style or GHD curled look. This may not be practical for a morning wedding if time is tight. As with your bridal makeup you want your hair to look natural on you. Allow for a couple of trials before your big day.
We wonder how Anne Hathaway really felt about that short 'do on her wedding day?
Q. Last year I snipped my hair into a pixie cut, with deep regret. I know it won't be fully grown out by the time my wedding comes around. I don't want to cut it back up again but I don't want my hair to be in the awkward in-between stage in all my photos either. Help!
A. Growing out short styles in a short amount of time can be stressful. It can be easy to change your mind on a whim because every day is different. It is important however to stick to a desired length and not stray from this goal however difficult the journey. There is a style for every length from pixie to bob and longer that your stylist can advise you on, and each style can be dressed out in different ways. It is also important here to get a few bridal trials. For shorter styles hair accessories are a good option. Online shopping can come in very handy as an inexpensive route to try different fascinators and clips to see what works for you.
Q. I have shoulder length, thin hair. I'm worried that I won't have many options for my big day.
A. If your hair is thin it is always advisable to go with a simple up style. But if you want more of a loose and romantic up style a good clip in extension if dressed out correctly can achieve a wonderful effect.
Q. I'd like my bridesmaids to all have the same up do. Is there one up-style that is universally flattering?
A. Low buns look great on everyone, all the better if they're slightly asymmetrical. A little fringe or layering around the face can be very flattering to all face shapes. As long as the up styles are 80% identical you can tweak them a little to make each one individual yet part of the same theme. Sometimes little variations can be a good thing and will cater for each bridesmaid needs. It should be fun for everyone involved!
If you'd like to book a consultation with Dermot you can contact the Robert Chambers Salon Group on 01 677 1323, or view their Confetti profile here.