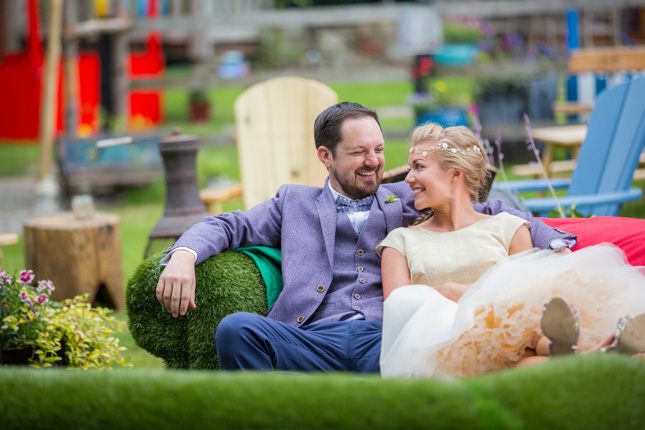 A festival wedding was on the cards from the get go for Jamie and Simon who met in 2011 at a party. Two days later, they went on their first date and, says Simon, "that was that!"
Simon proposed two years later, at the Ritz Carlton in Tenerife. "It was completely unexpected and I was so overwhelmed that I forgot to say yes!" Jamie recalls – but it clearly didn't put a spanner in the works as, two years later, the Wedstival of their dreams was realised on the grounds of Jamie's parents' farm in Aherla, Co Cork.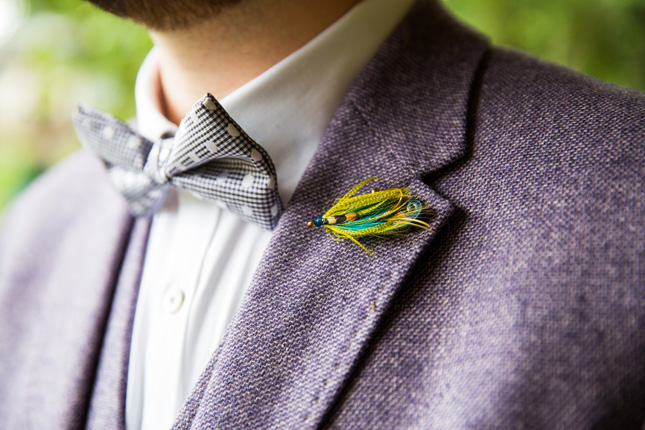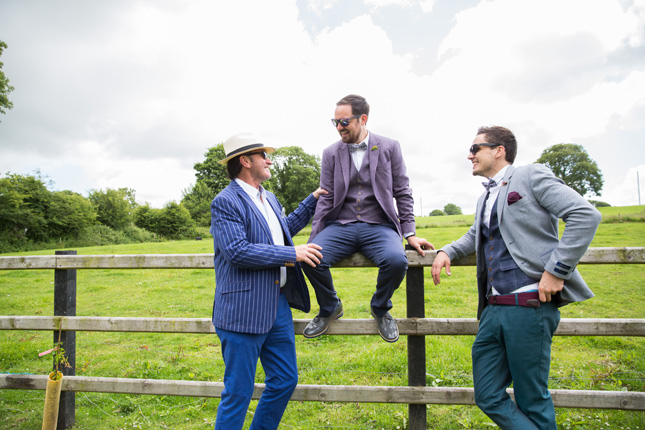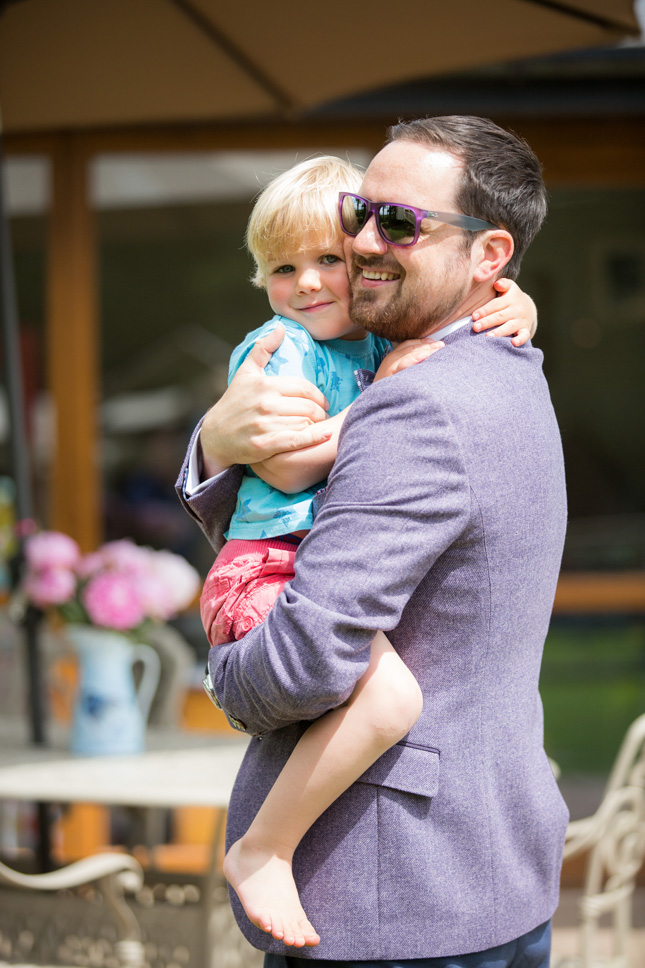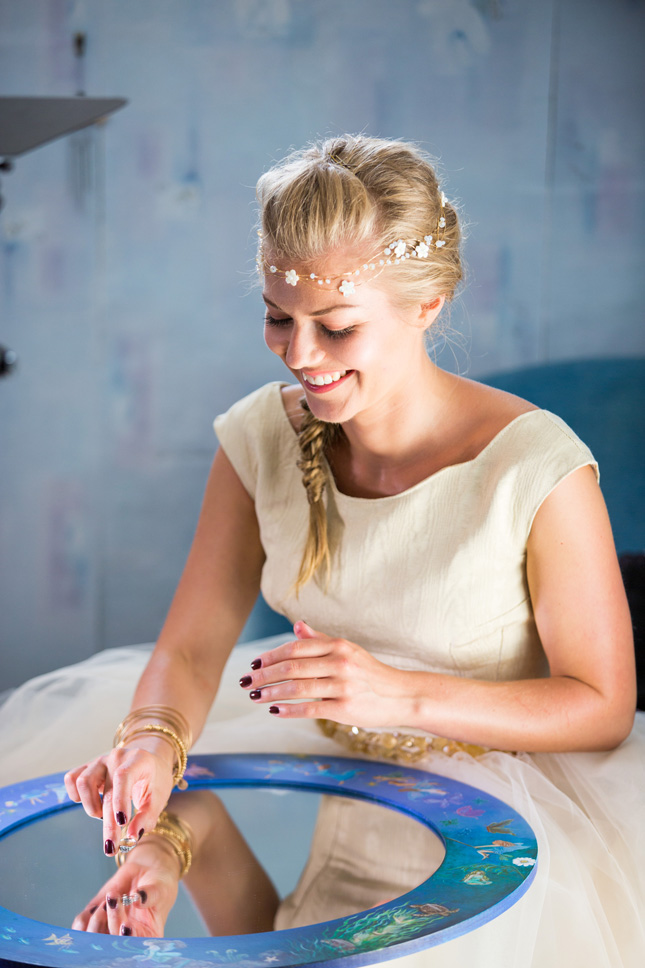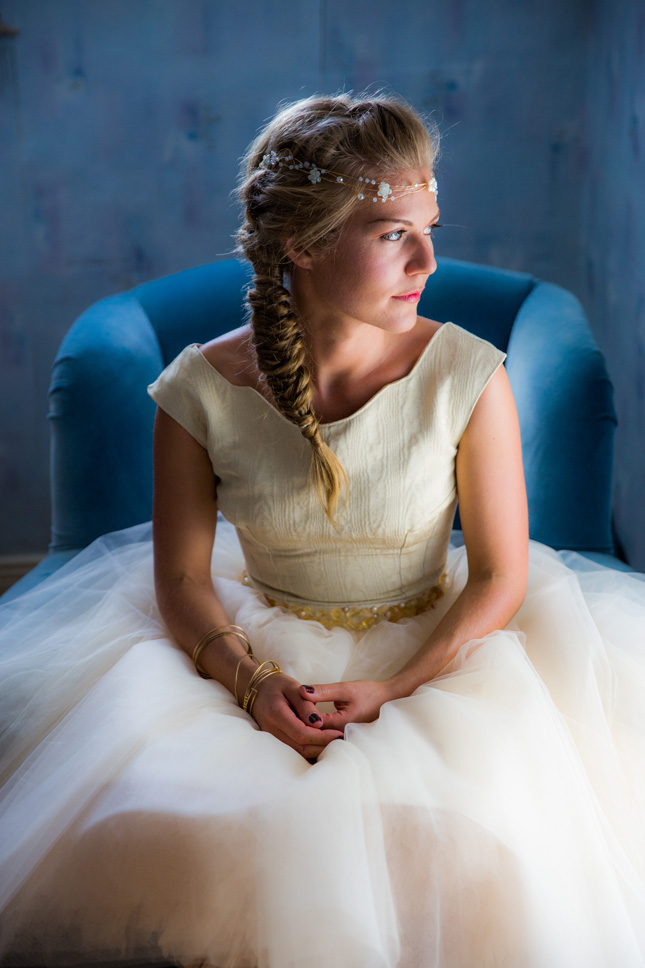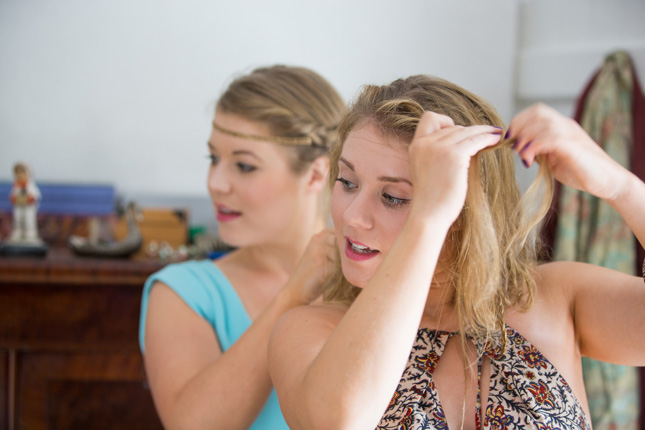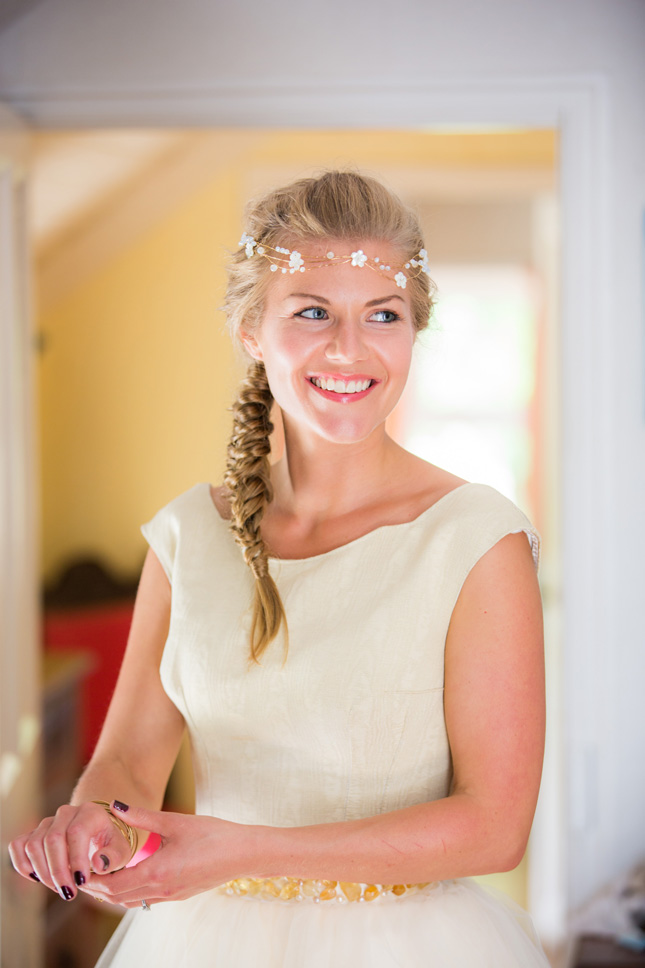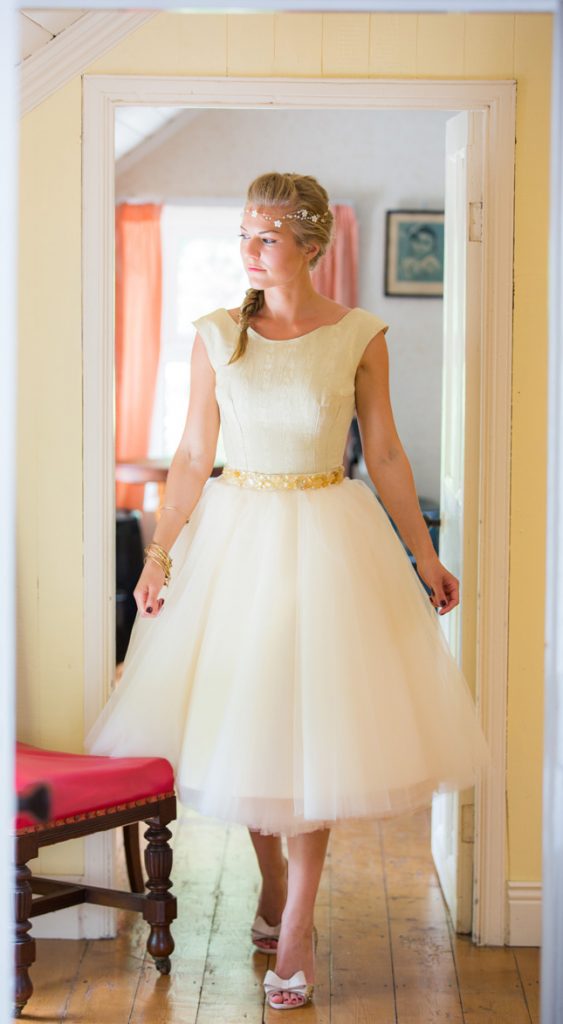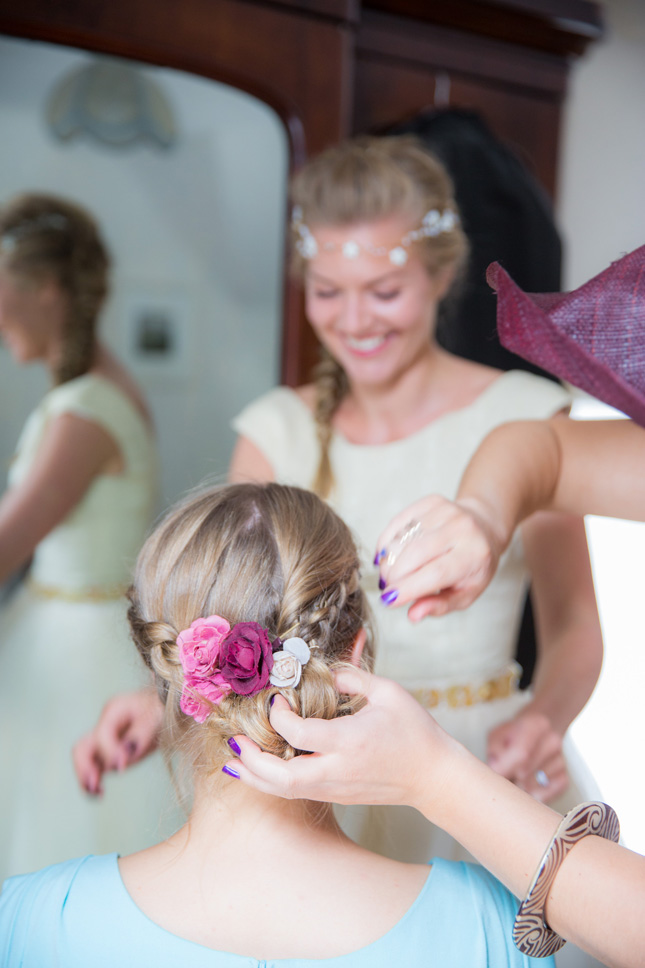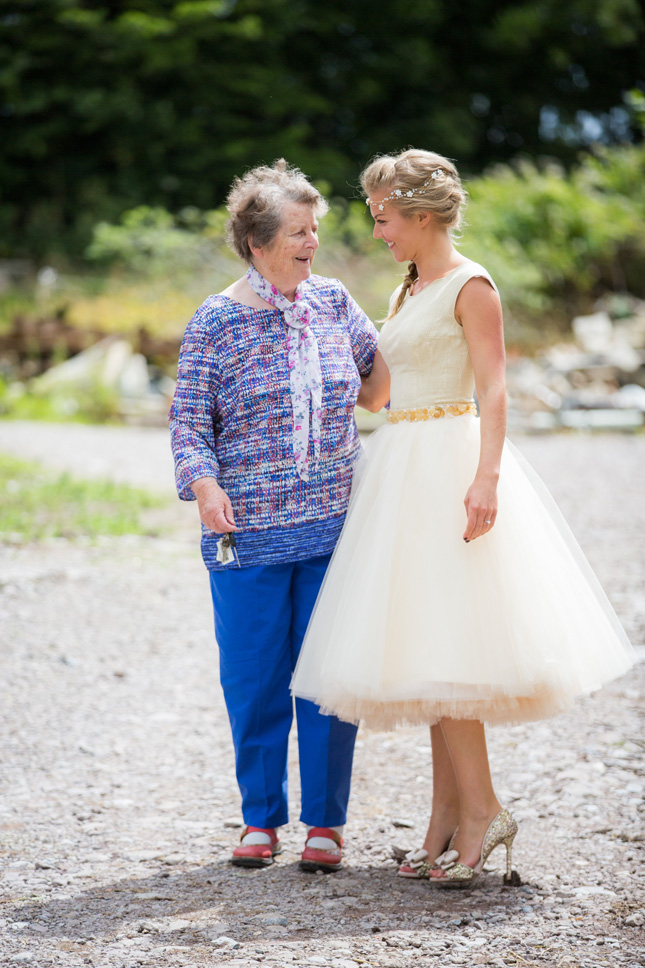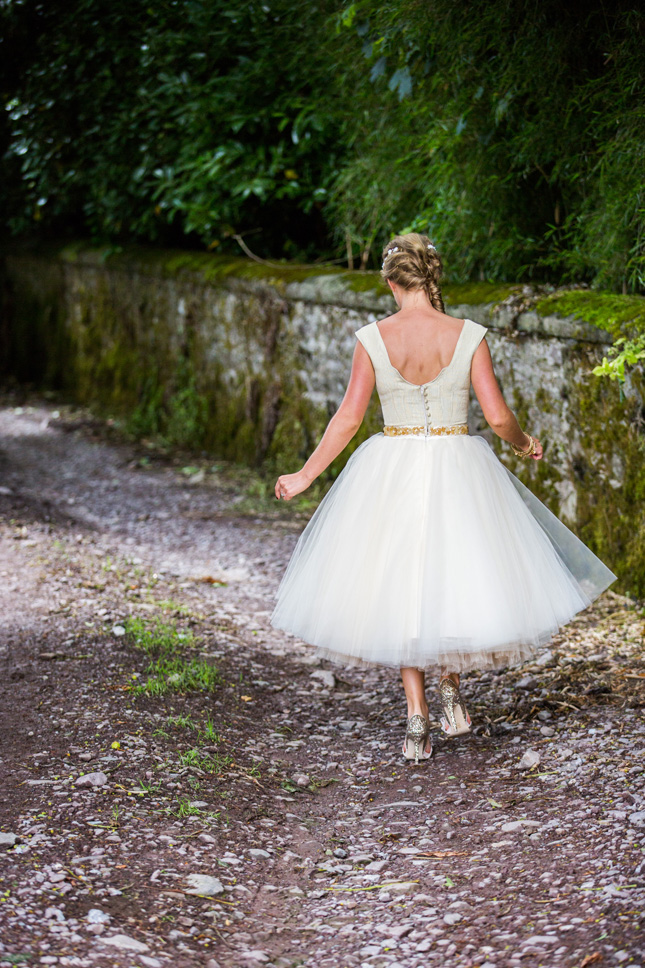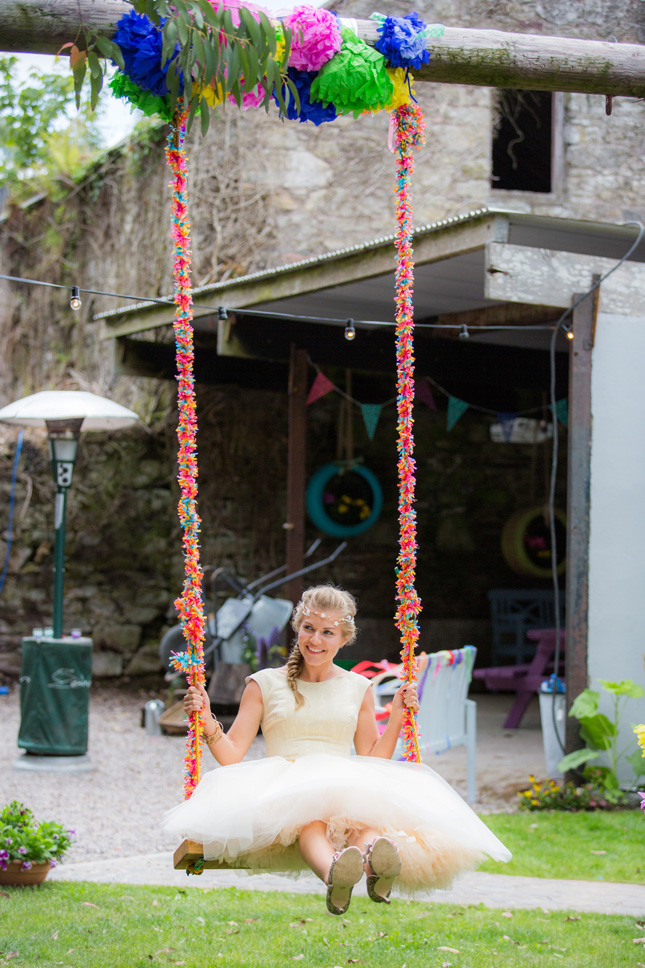 "It was important to us that the day would be very relaxed, informal and all about friends, family and fun." And that it was – with a festival wedding the couple called "The Good n Close Wedstival!", complete with festival wedding ticket invitations and lanyards for each guest, detailing what was in store for the day.
They even went so far as to have a "no suits" rule – one their guests gladly adhered to – meaning that the day ended up as a riot of colour. "The moment I walked into the church and saw all our friends and family in bright colours and crazy accessories was incredible," says Jamie. "The ceremony was full of laughter and it really set the tone for the day."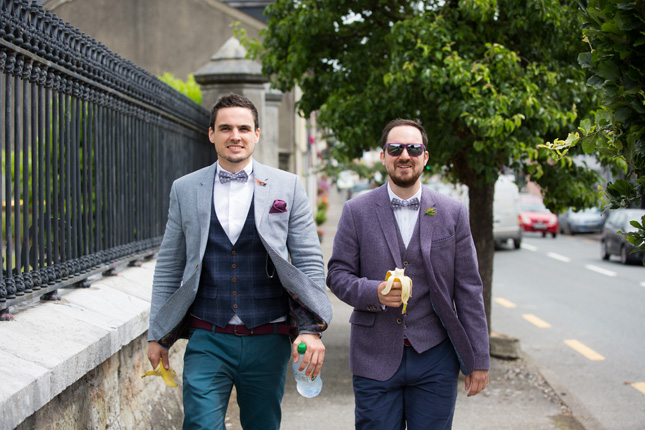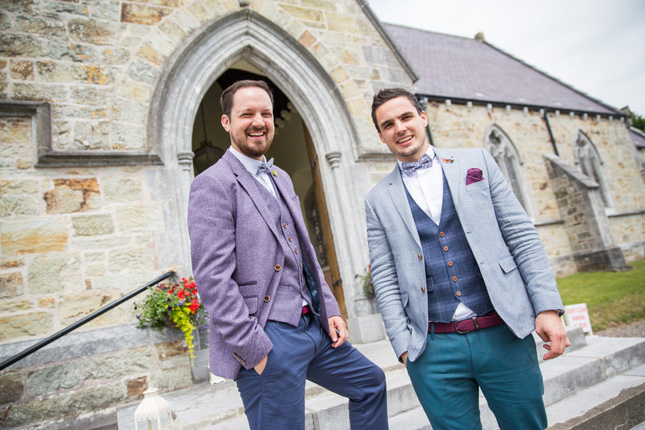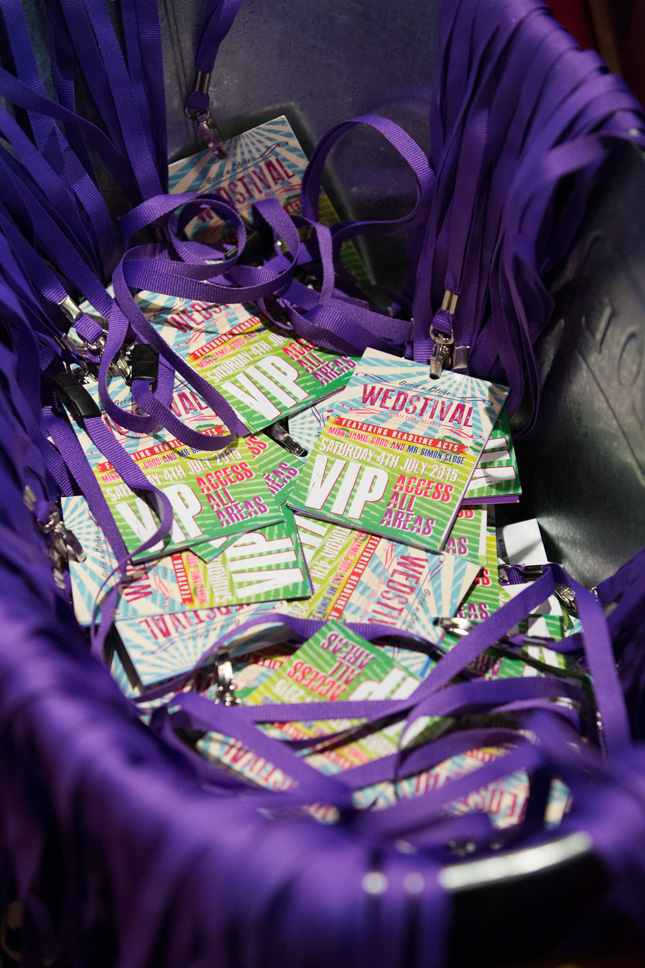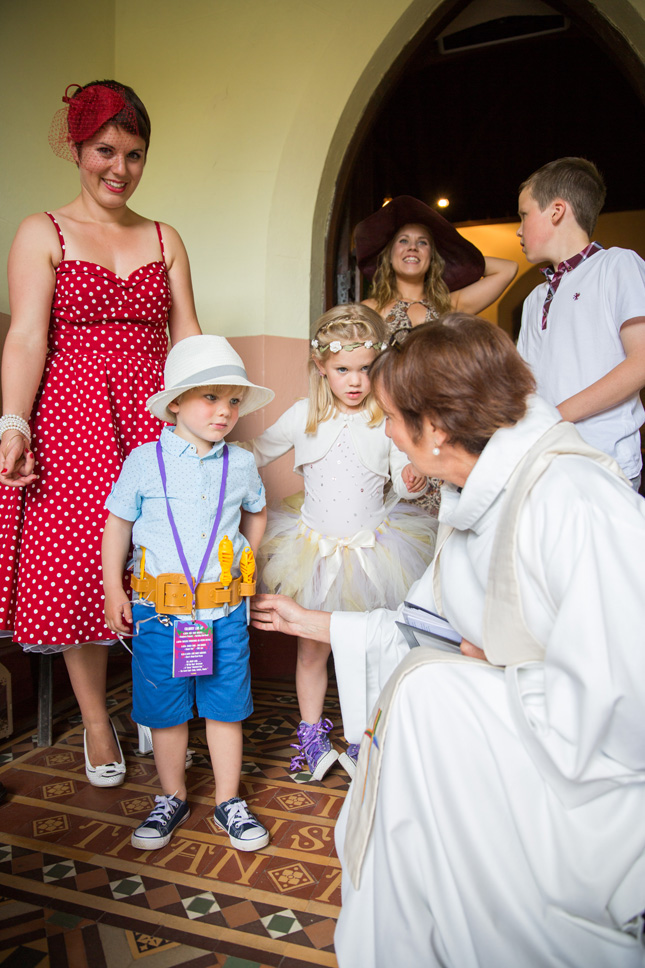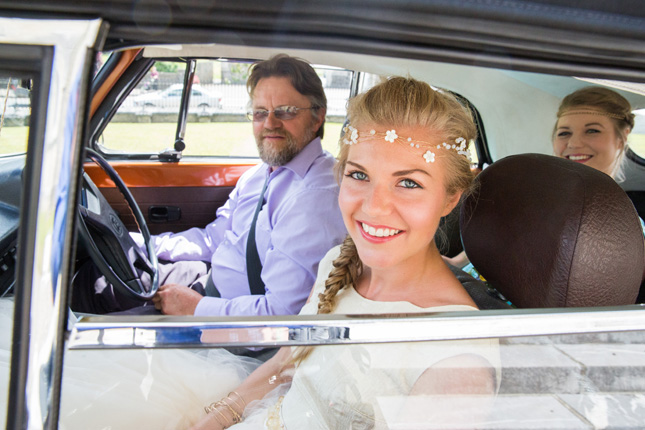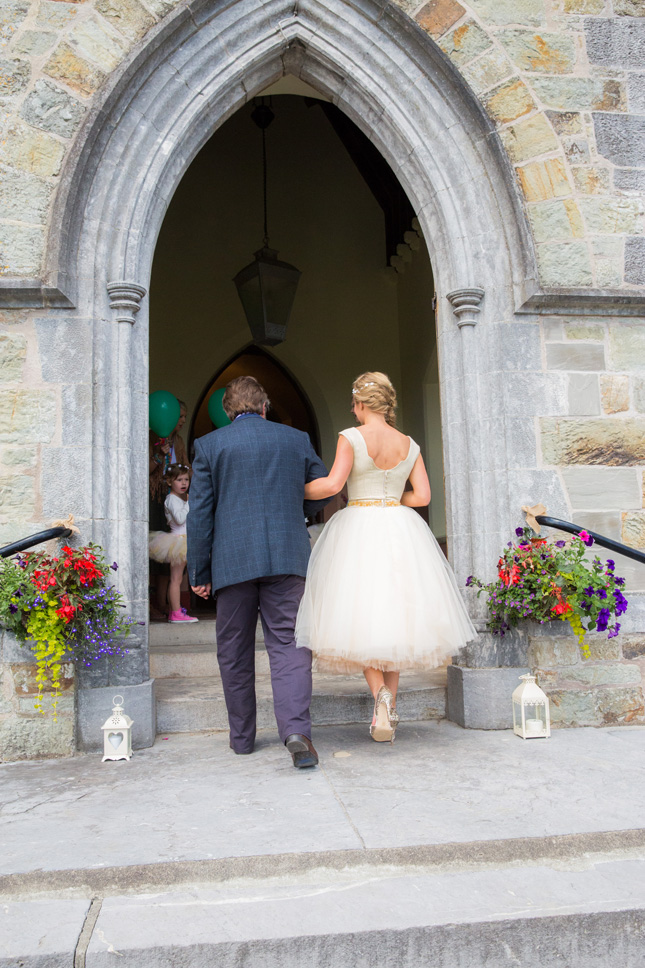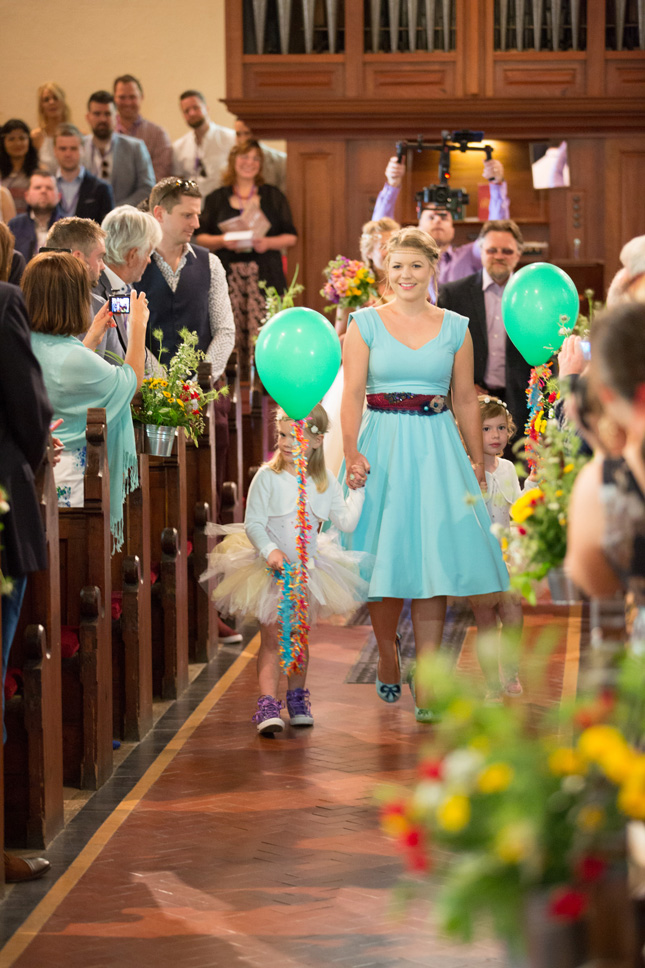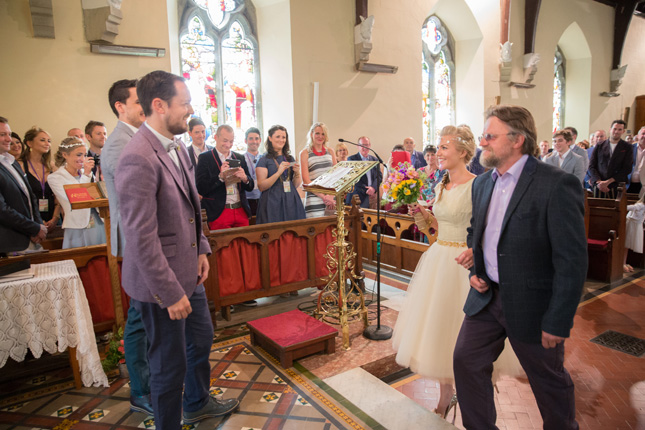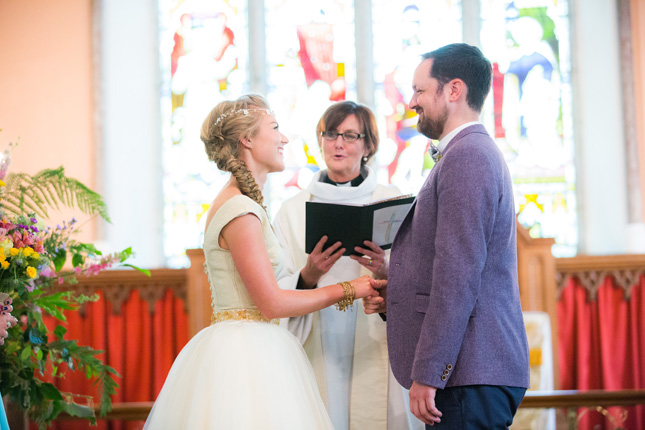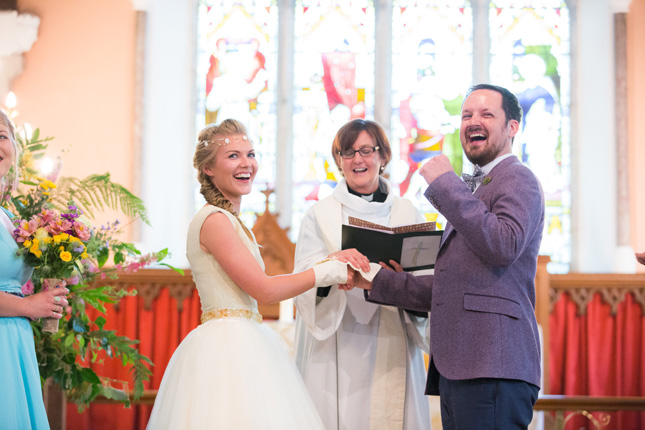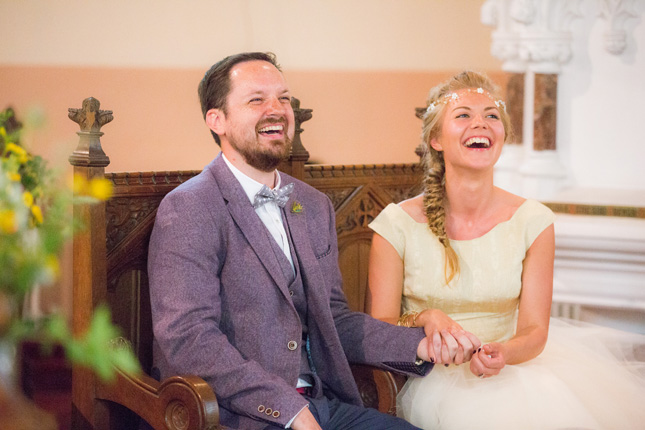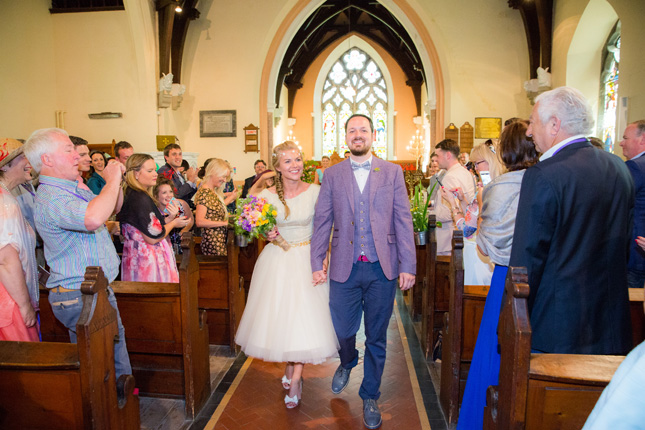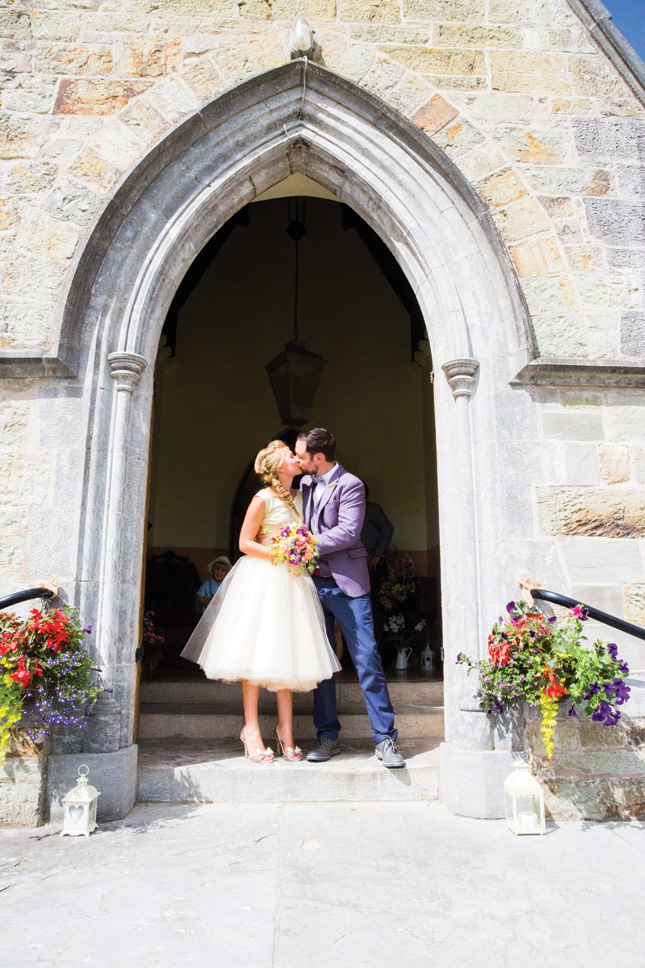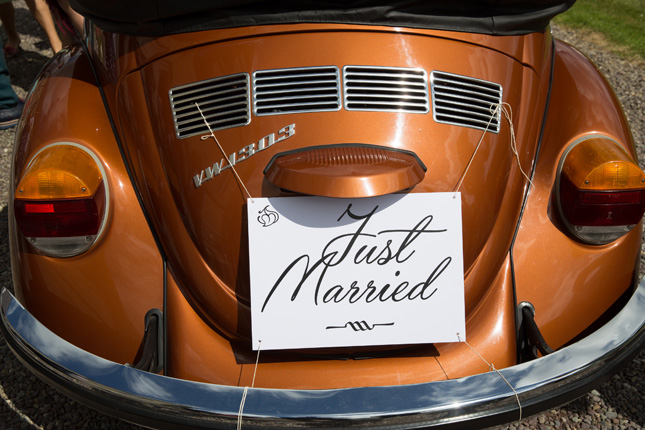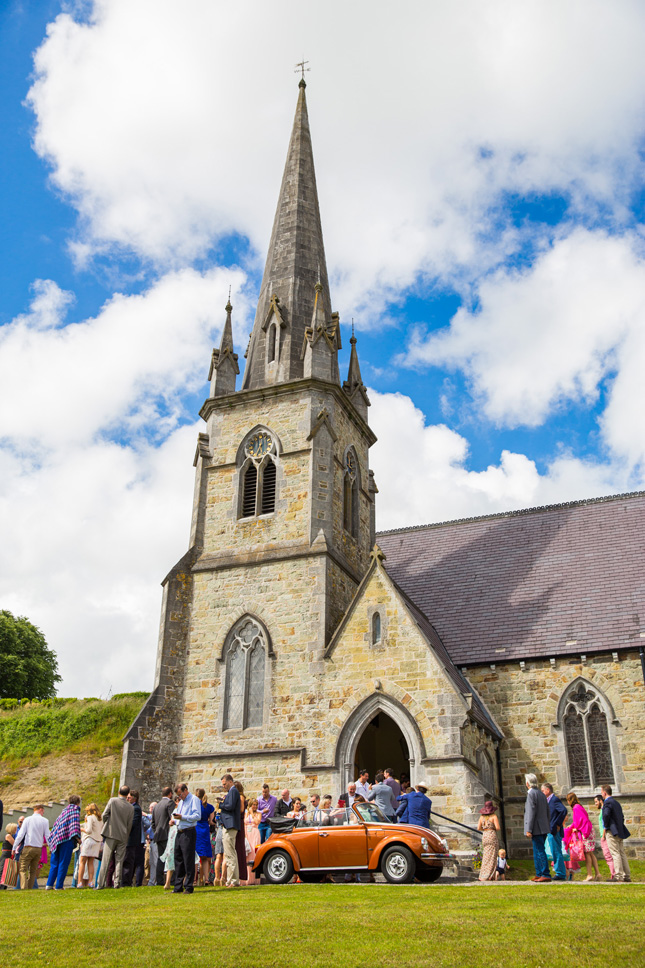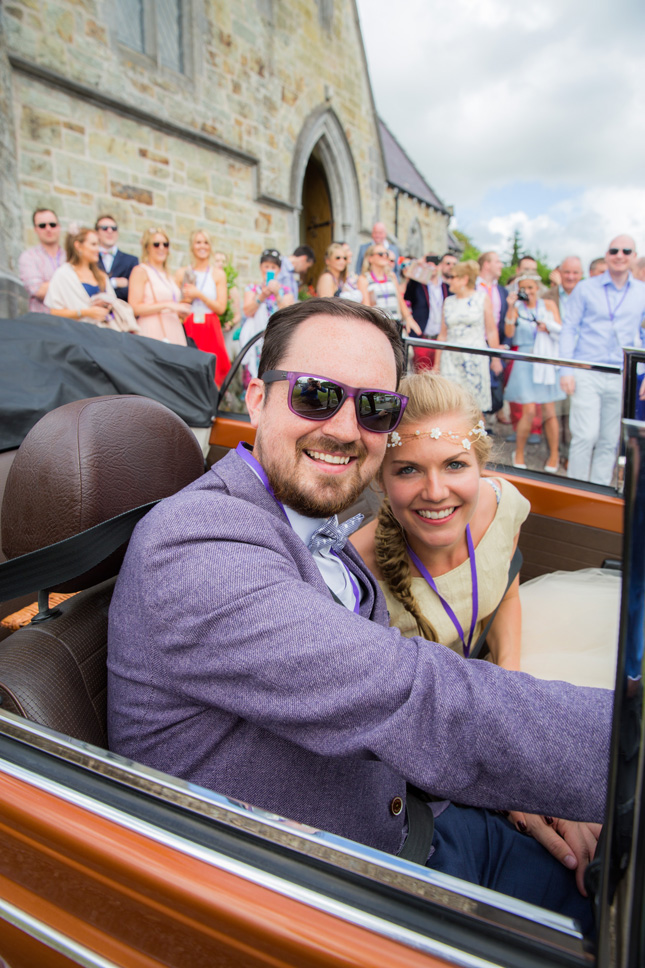 Planning a wedding from scratch is no mean feat – and the couple's at-home festival theme meant that each aspect had to be DIYed. Luckily for them both, Jamie works in PR which, they admit, "made it a bit easier." But it wasn't all industry contacts; the couple's family and friends all chipped in, from clearing an area on the farm for set-up to flower arranging and creating an incredible layered cake consisting of wheels of cheese as the couple's wedding cake.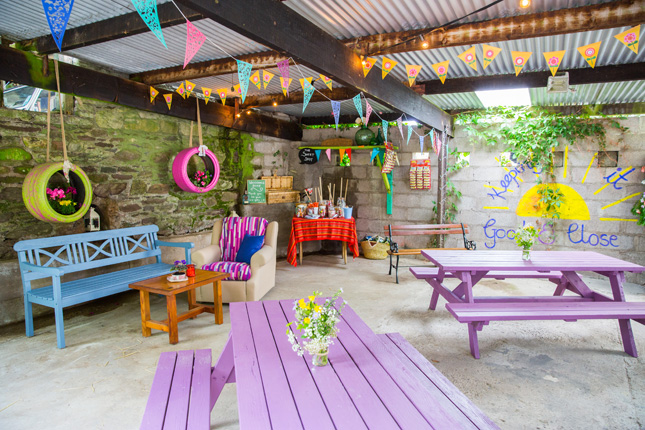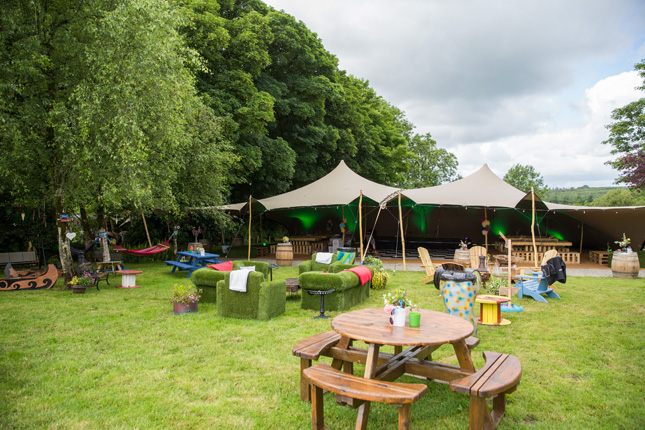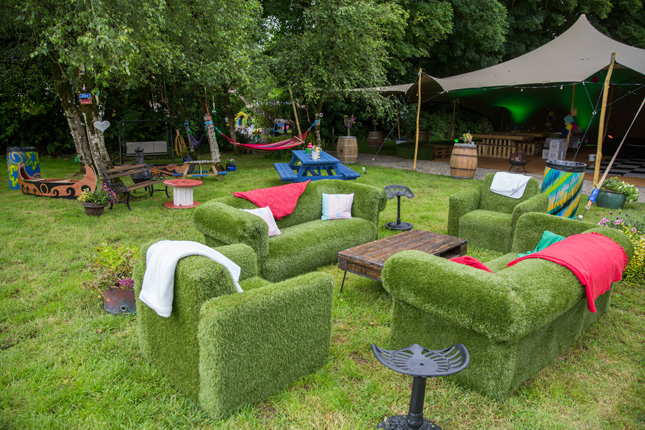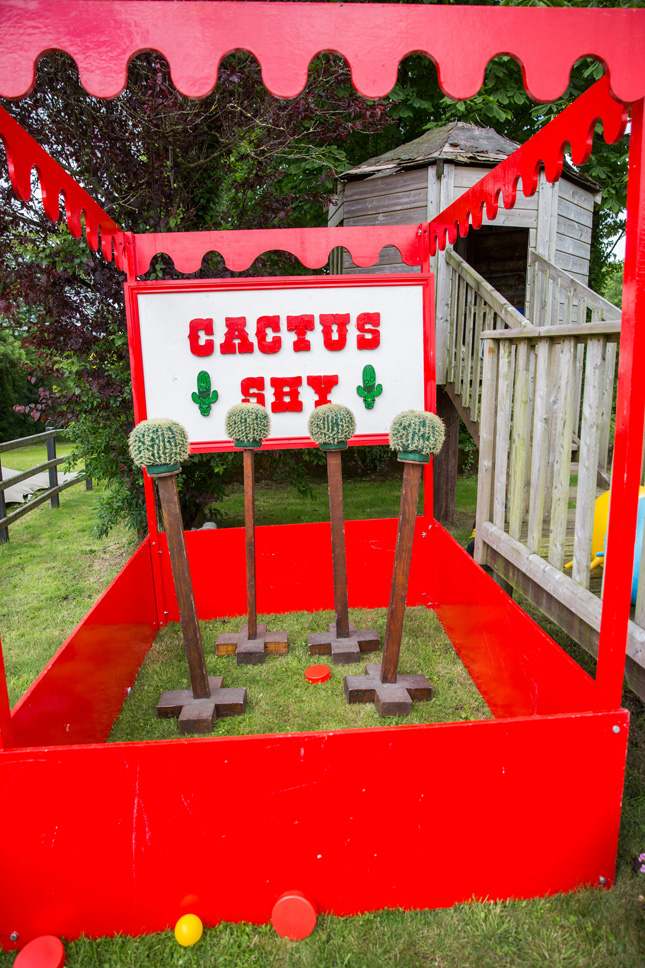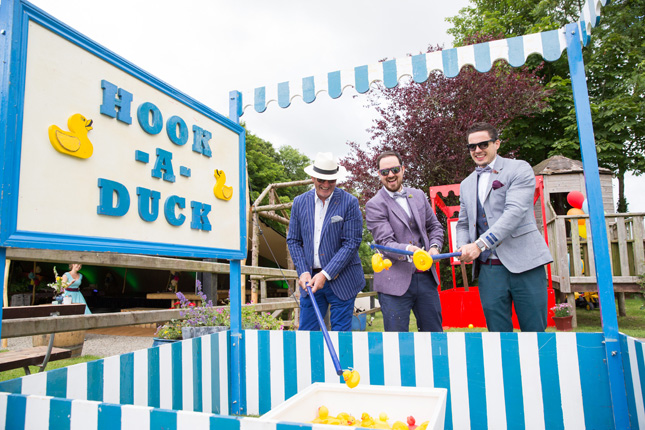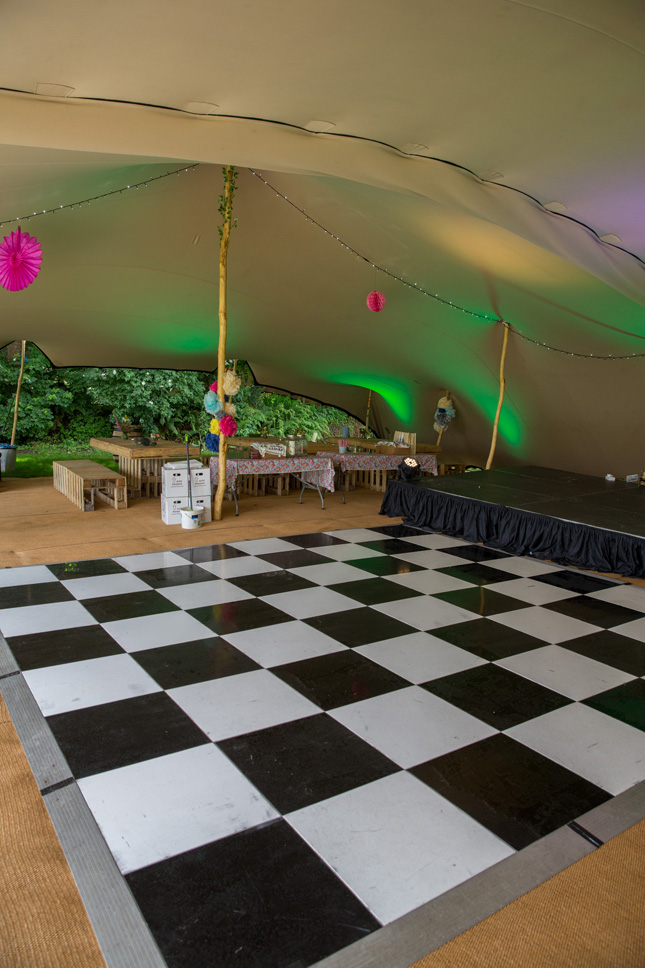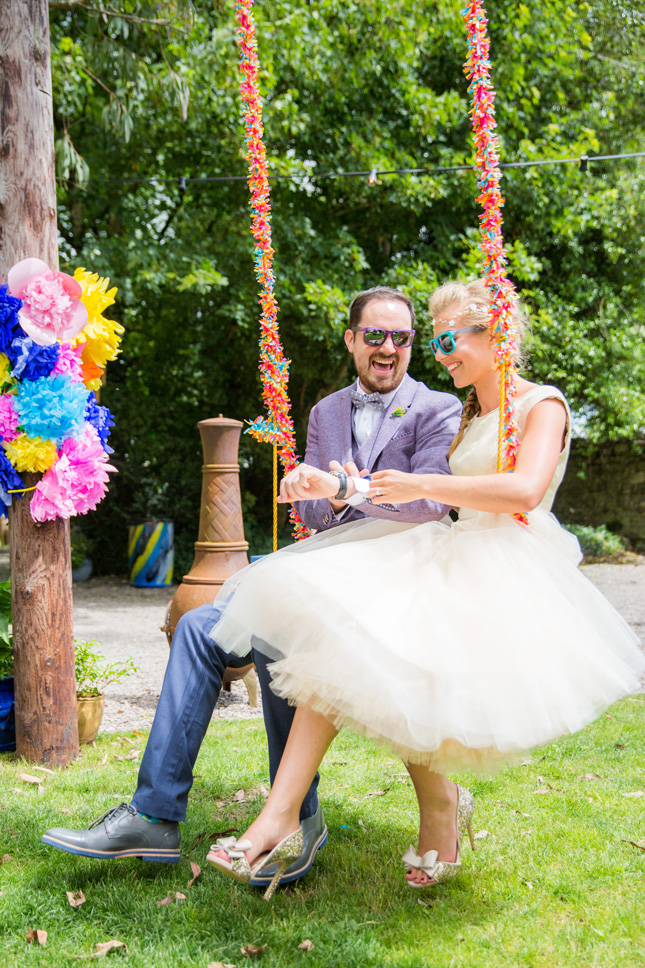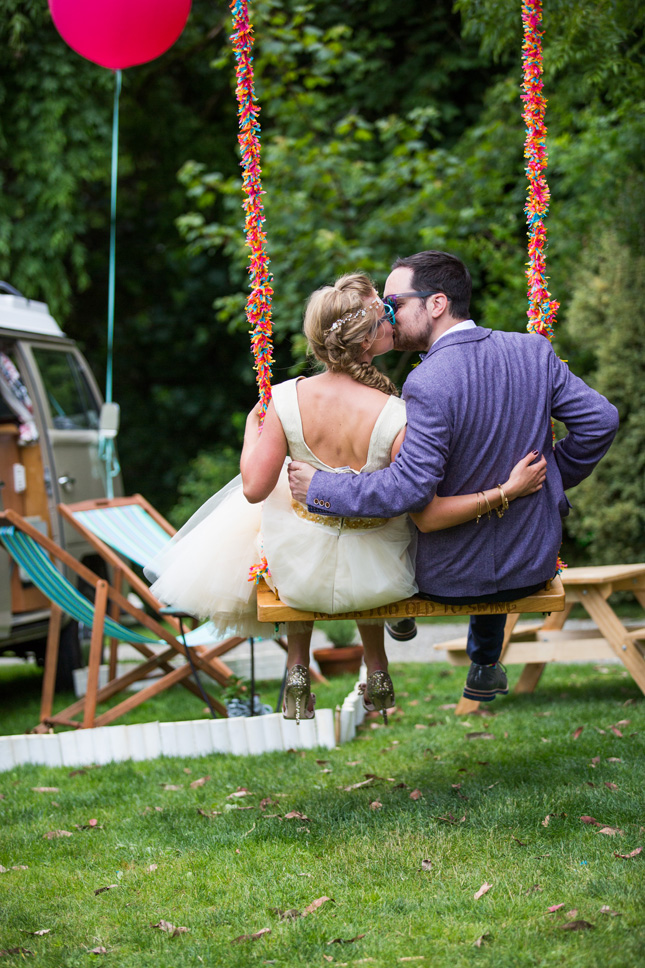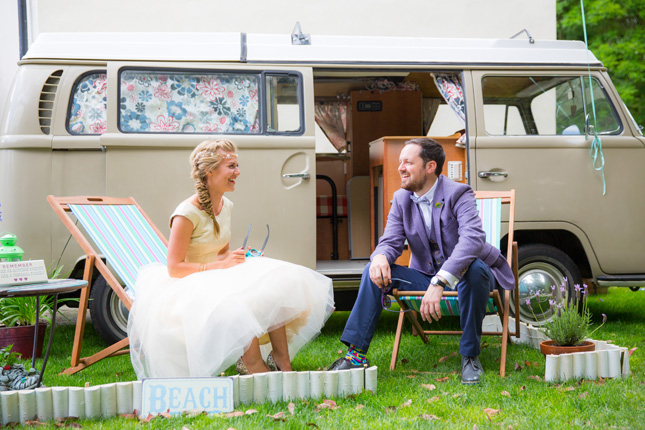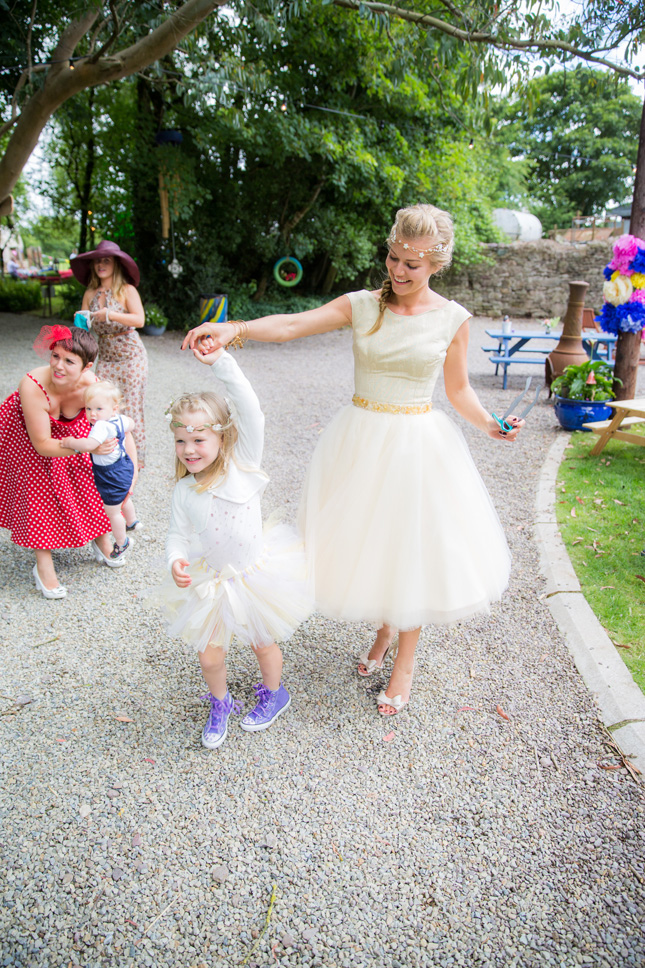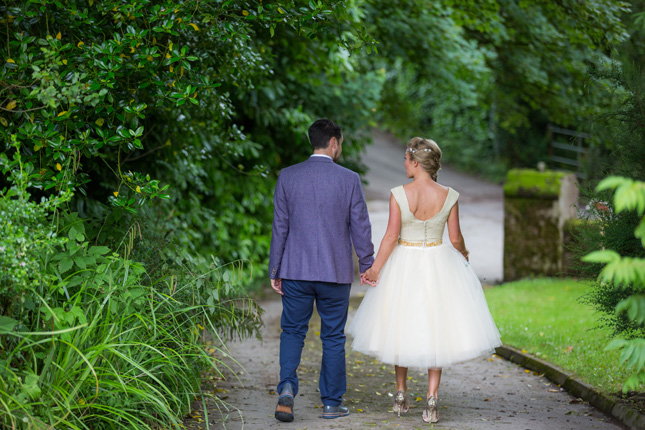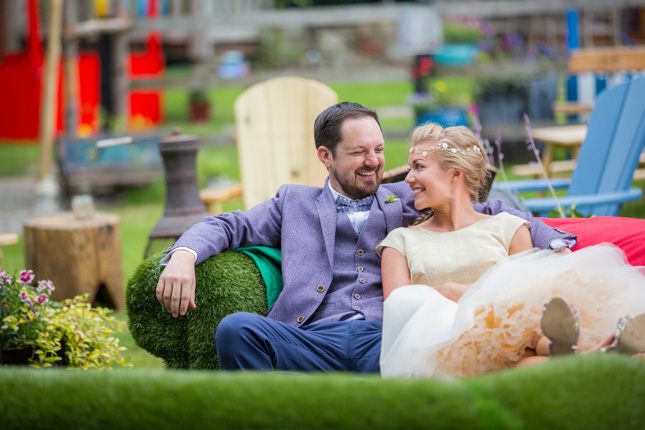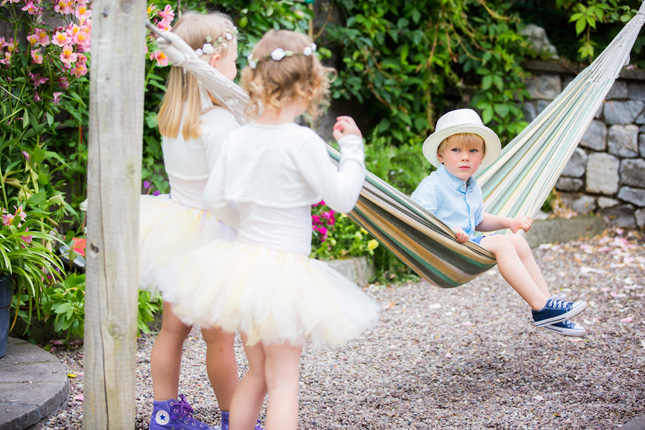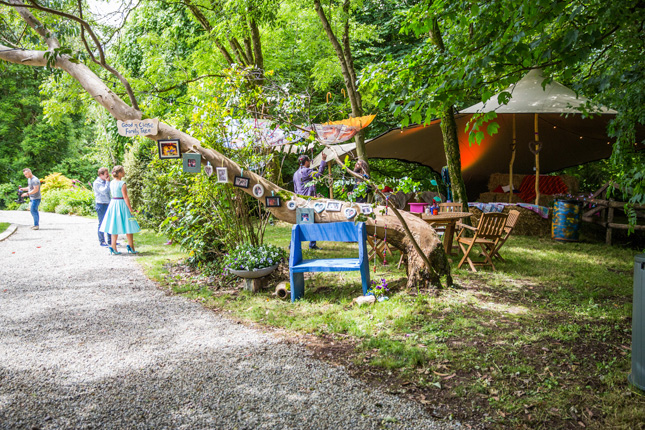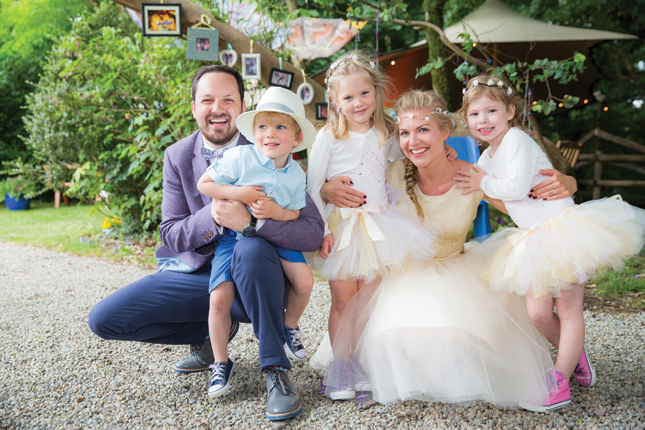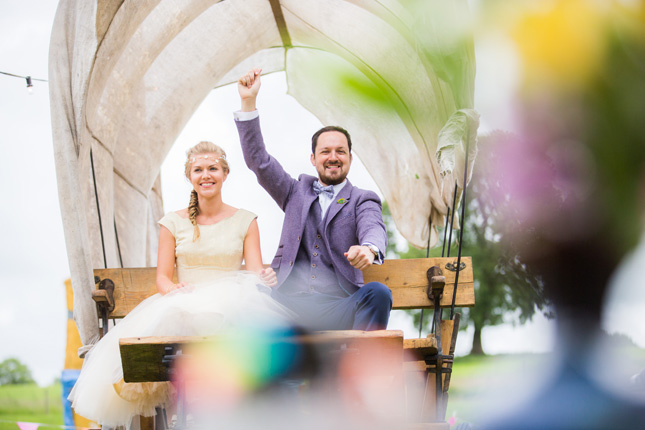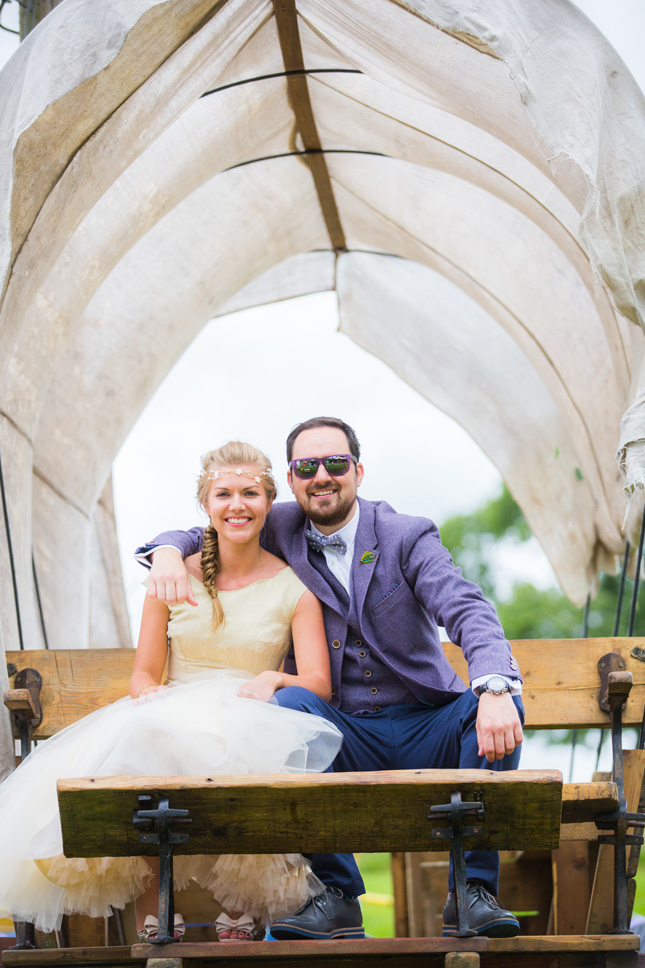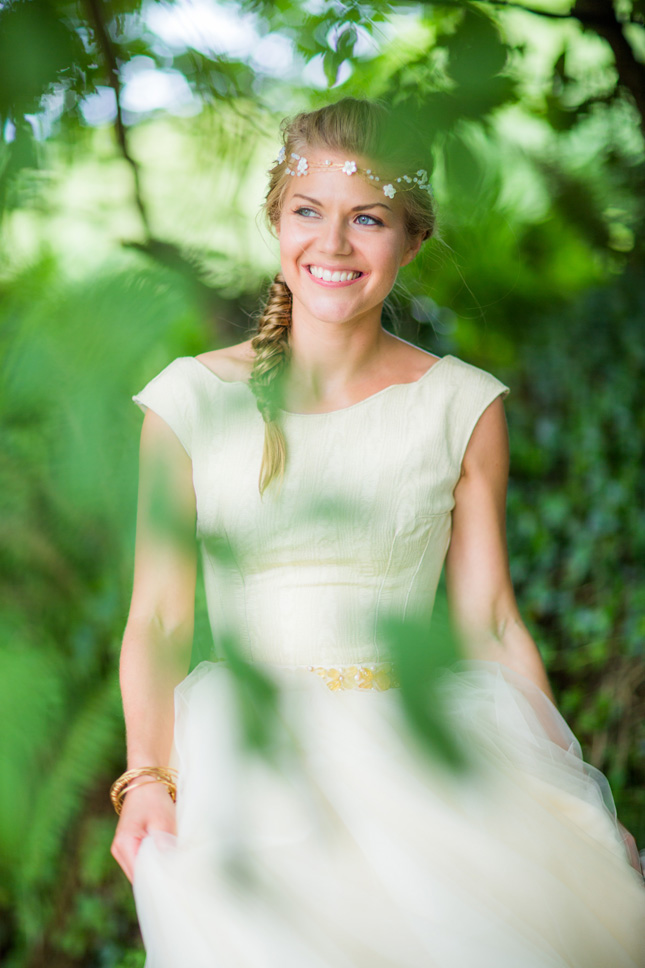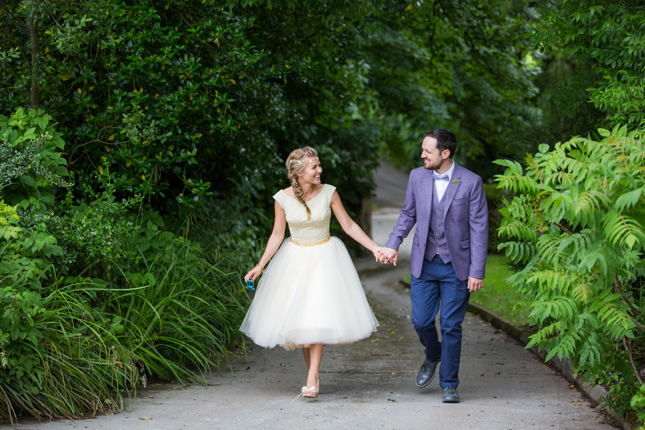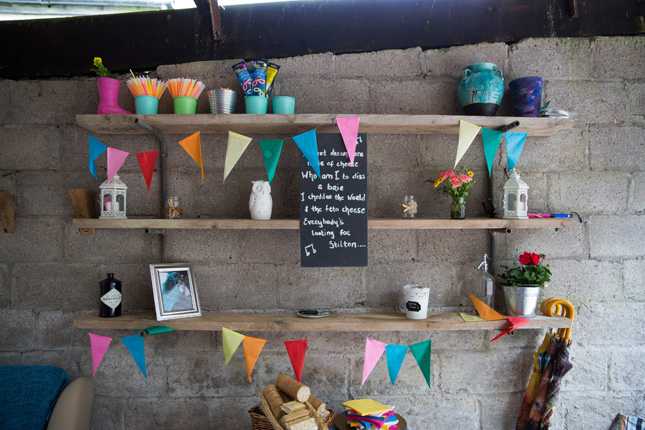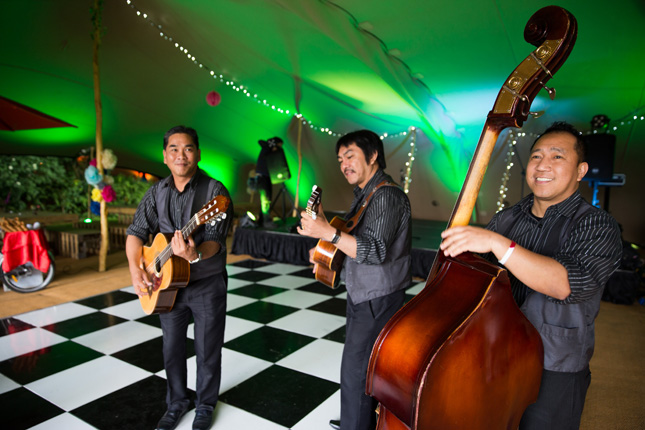 "We didn't want the usual marquee, so we found the only Irish company at the time that was providing stretch tents – Extreme Structures. We worked closely with them throughout; they provided the stretch tents, props, garden games and lighting and managed things on the day. They were amazing."
The couple didn't do anything by the book – eats were a festival smorgasbord, from an ice-cream bicycle and coffee cart on arrival to food stalls by Kanum Thai and BBQ Joe's for dinner and, later on, pizza from Dave's Woodfired Pizza!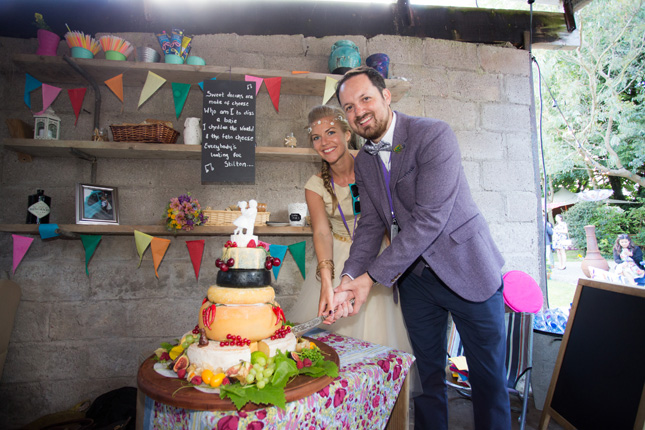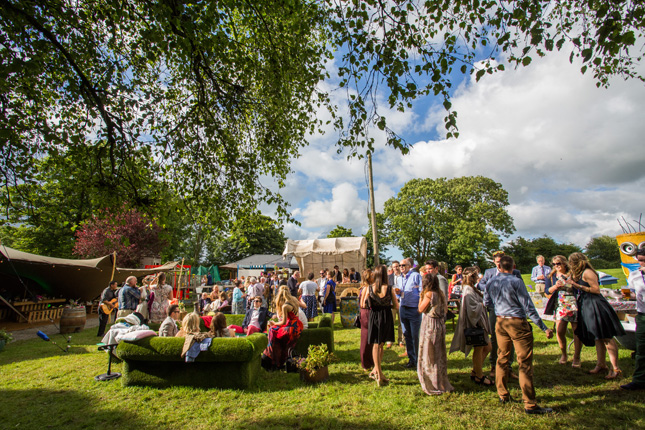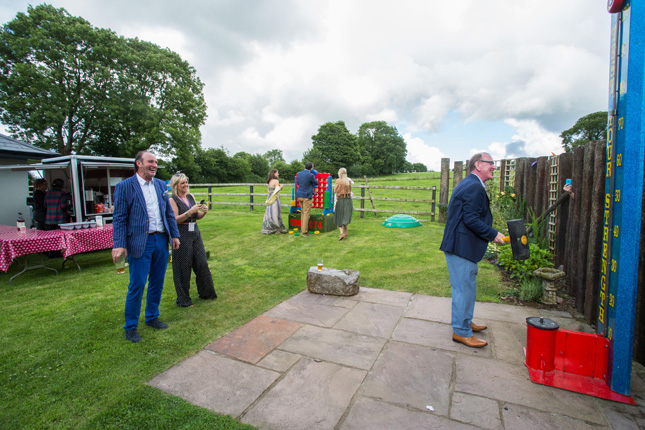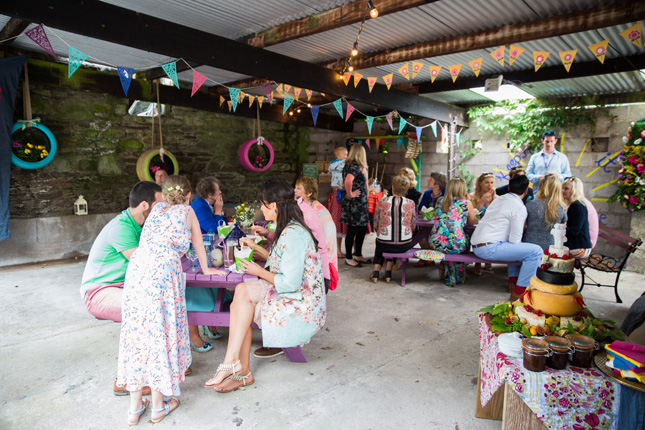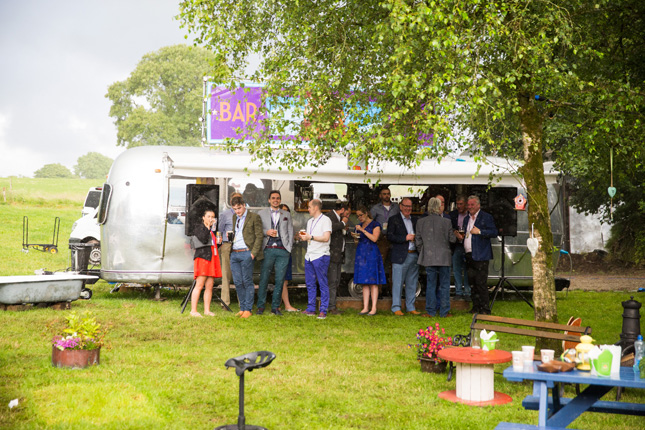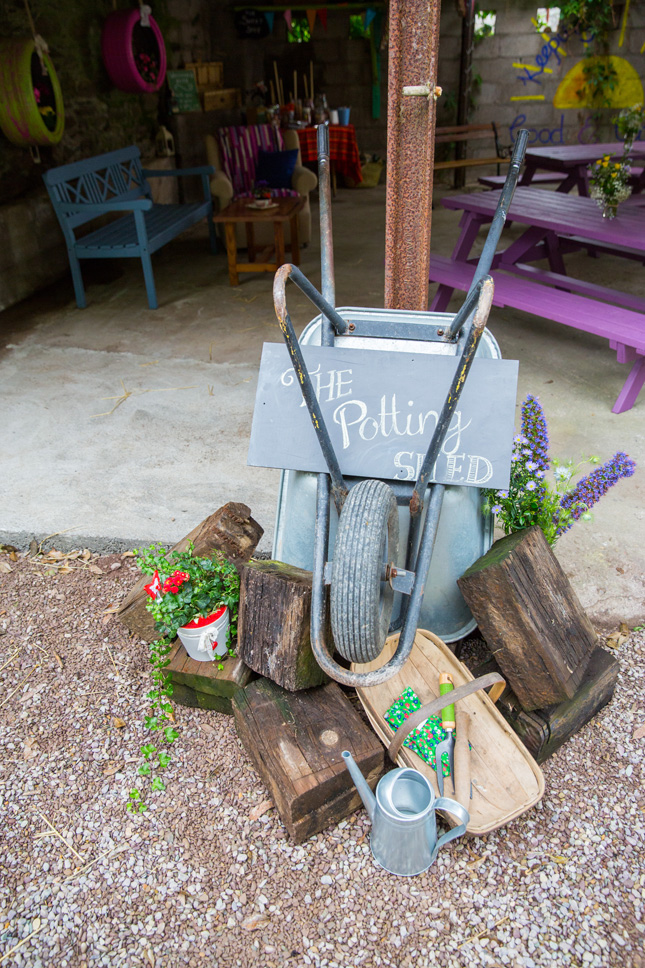 There's a certain amount of bravery that goes into planning an outdoor wedding in Ireland and, the night before their big day, Jamie and Simon were getting a little worried. "It started lashing at 5pm and rained, non-stop, until about 2am. We were freaking out!" Luckily, it had dried up by the next day and, with the exception of one rain shower, stayed dry "until 3am".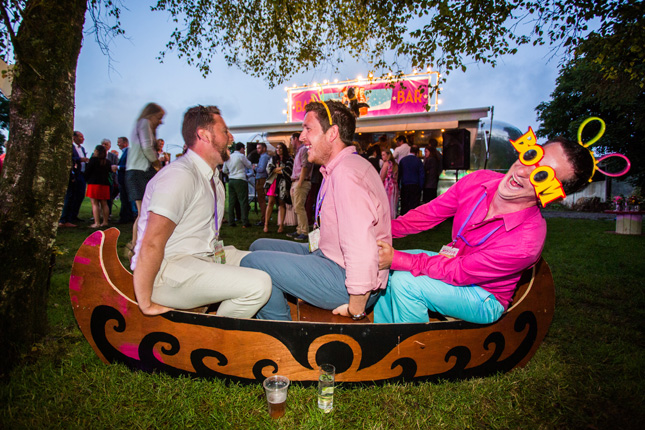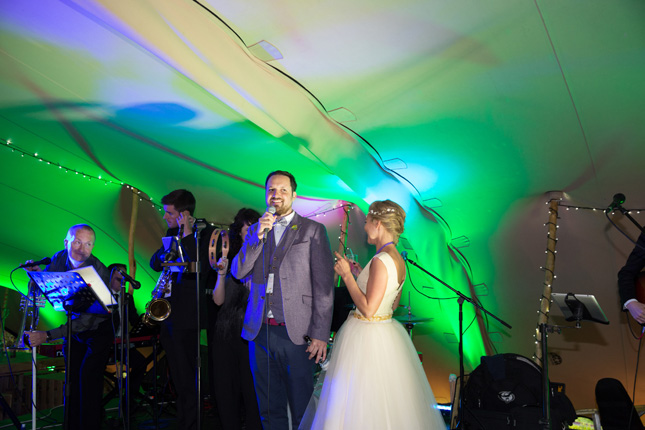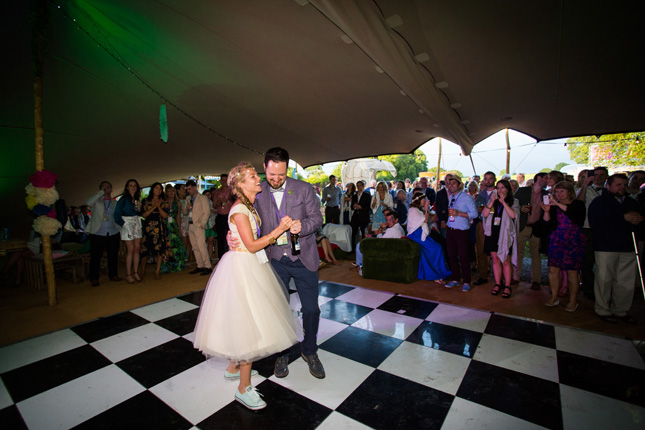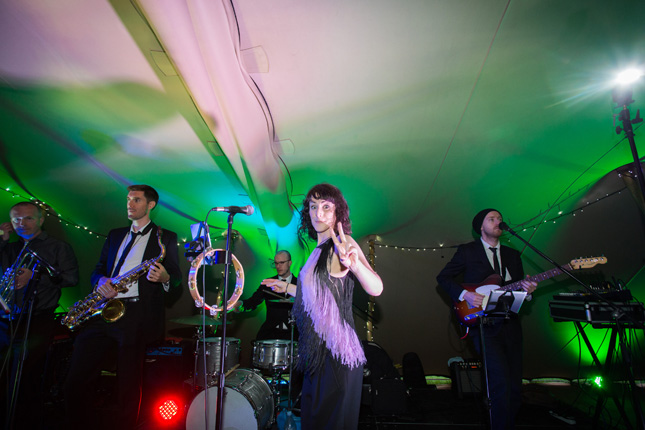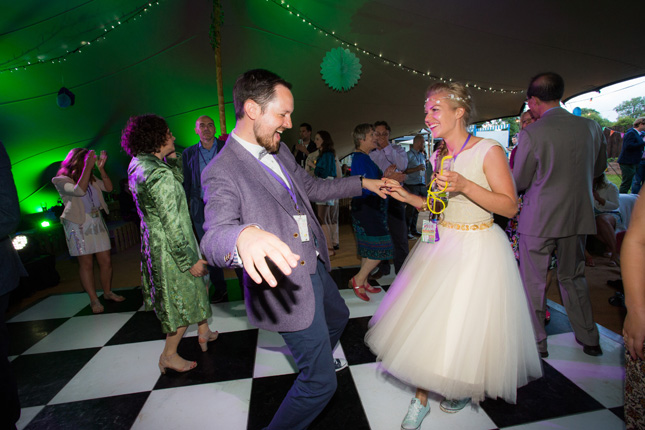 "We loved every single bit of it – we wouldn't do anything differently! But we couldn't have pulled it off without our families; everyone really chipped in. There was such a relaxed, informal atmosphere for the whole day. It was perfect."