It was a city centre affair for Tess and Ian at their beautiful Stephen's Green Hibernian Club wedding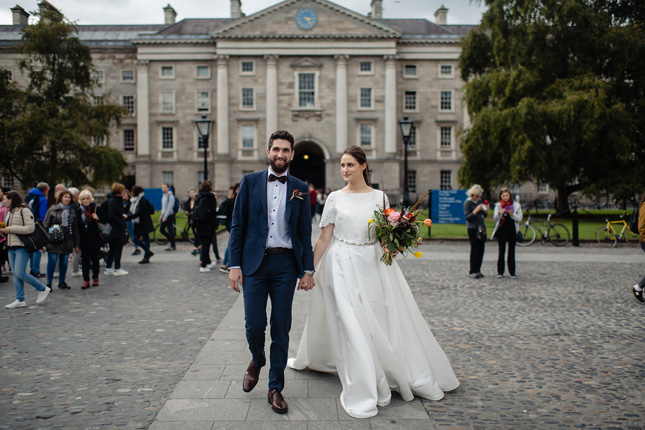 Tess and Ian met on Tinder in 2015, and the pair hit it off immediately. It was Tess who initially proposed to Ian a couple of years later. "It was a very spur-of-the-moment proposal by Tess after coming home from a night out with friends. It was completely unplanned, fuelled by a lot of wine and kind of surprised both of us! I very enthusiastically said yes but we decided to wait a few weeks before making it official during a weekend away at Druid's Glen in Wicklow. I gave Tess an engagement ring and she surprised me with a pocket watch to mark the occasion," remembers Ian.
When it came to planning their big day, a Stephen's Green Hibernian Club wedding was on the cards from the get go. "We only looked at one venue. We knew pretty early in the planning that we both wanted a city wedding and the Stephen's Green Hibernian Club is such a beautiful building – it was the old-world romance of the building that really drew us to it. It also allowed us to have both the ceremony and reception in the same venue, which we loved, and located us within walking distance of some of our favourite parts of Dublin to take photographs," says Tess.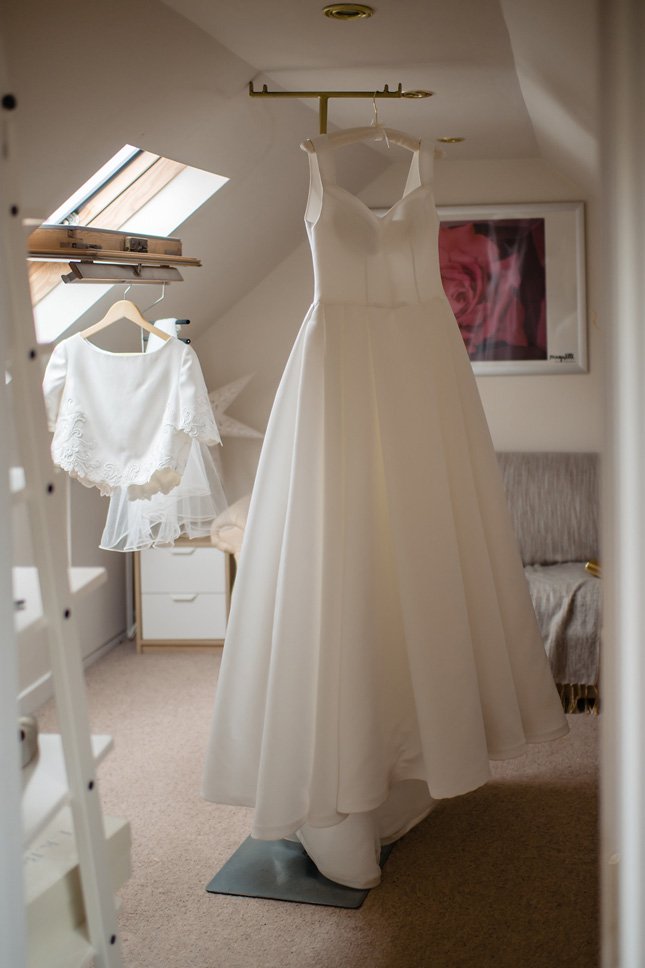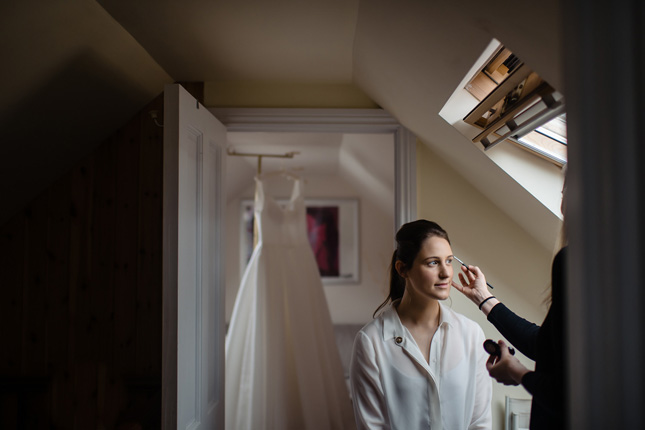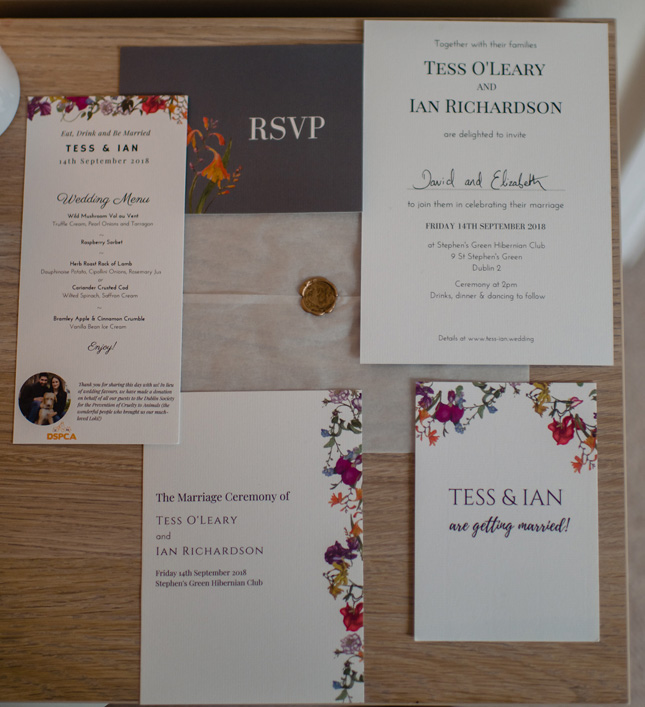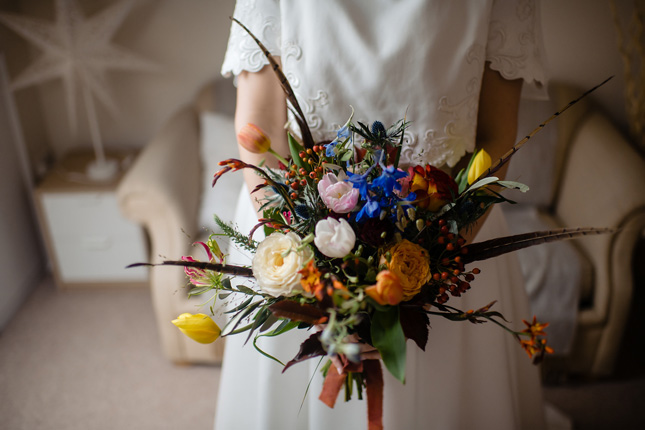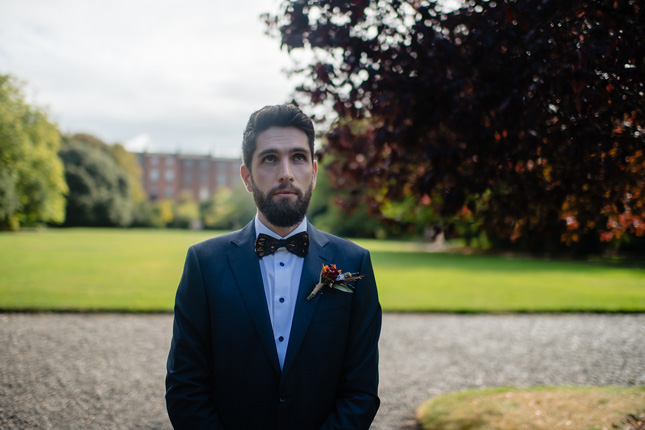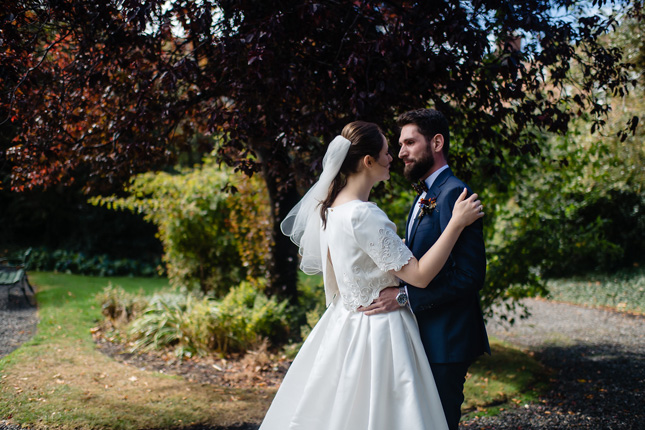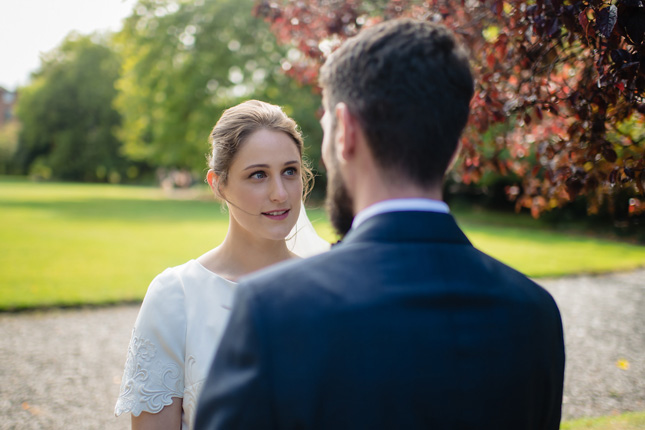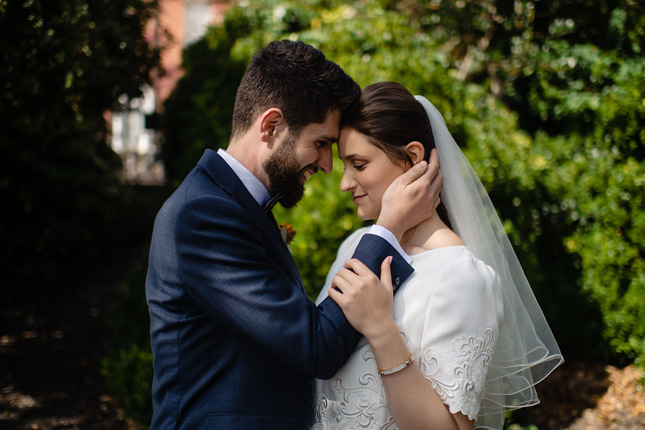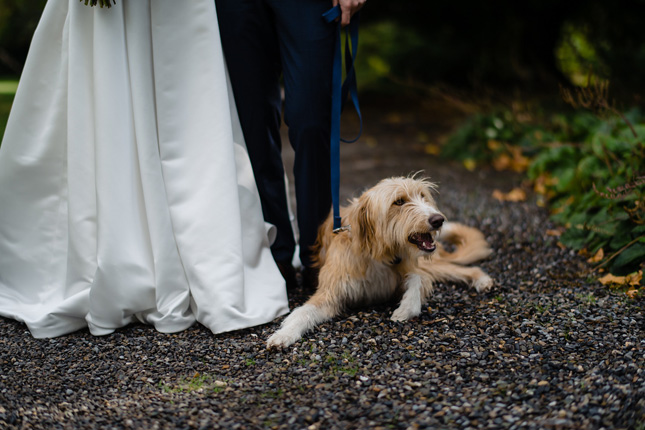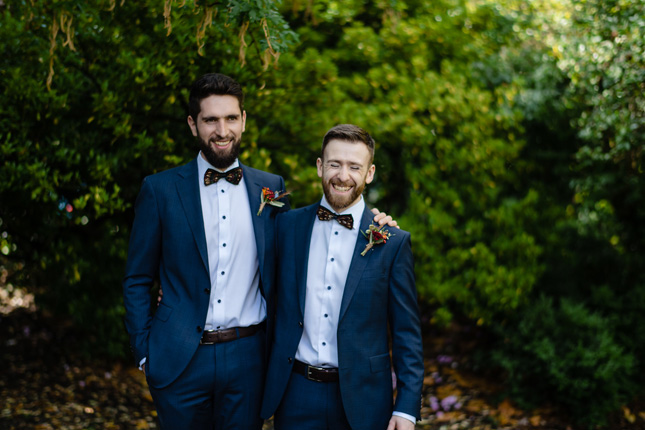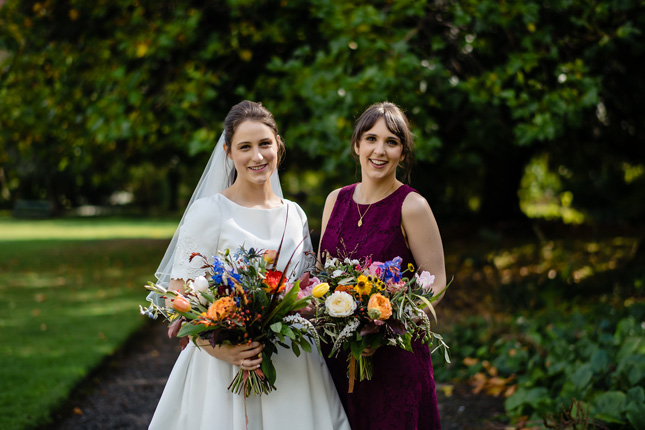 They had 18 months to plan their wedding, and they made the most of it, staying super organised throughout. "Having a really great photographer to capture the day was a big priority for both of us and we knew immediately when we saw John's (of JAM Shoots) incredible work that he was the photographer for us. Once the photographer, venue and celebrant were booked we spent the next year or so chipping away at the remaining planning tasks. We decided early on in the planning that we would have all preparations finalised at least a week before the wedding so that we could enjoy the buildup in those final few days and spend time with family and friends who had flown in from abroad for the big day. This was one of the best decisions we made and the whole week before the wedding was the perfect balance of excitement and relaxation," says Tess.
Finding her dream wedding dress was a bit of a journey for Tess, but with luck on her side, she found a match made in heaven. "Before we started looking for dresses, I had my heart set on a dress with sleeves of some kind but hadn't found anything that felt right. On the day we had an appointment with Beau Bride in Naas, I dropped into Kildare Village beforehand with my mum and sister and found an ivory top in Ted Baker that we thought might be nice to wear around the time of the wedding or at the bridal shower. After trying on a few dresses in Beau Bride, I fell in love with the skirt of an Oksana Mukha dress but wasn't 100% happy with the top part. The incredibly lovely Michelle at Beau was very supportive of us trying the top on over the dress and it worked perfectly! To make it a bit easier to get in and out of on the day, we had alterations made to open out the back of the top and my mother made some final adjustments the day before the wedding so everything fitted perfectly.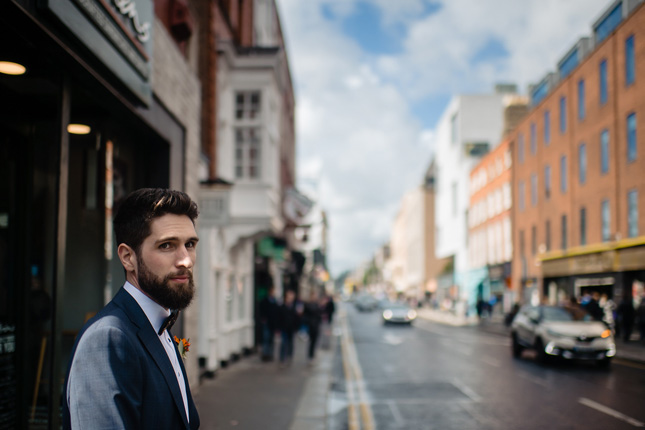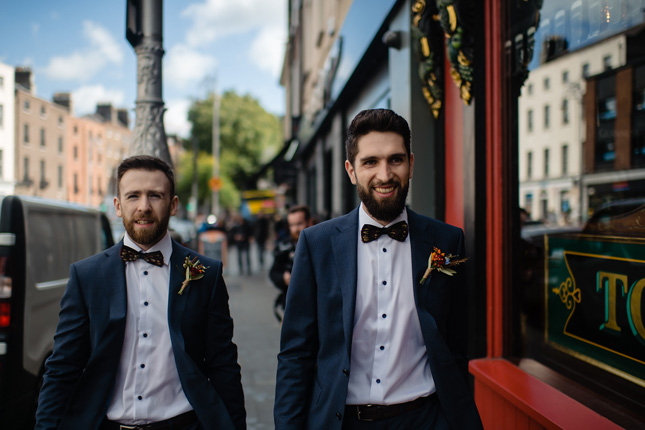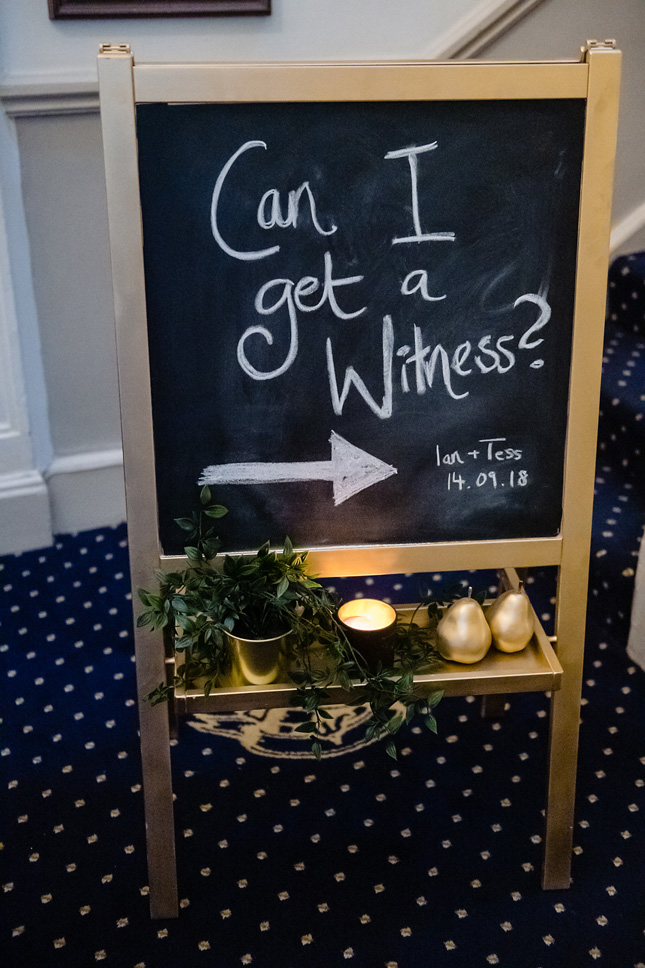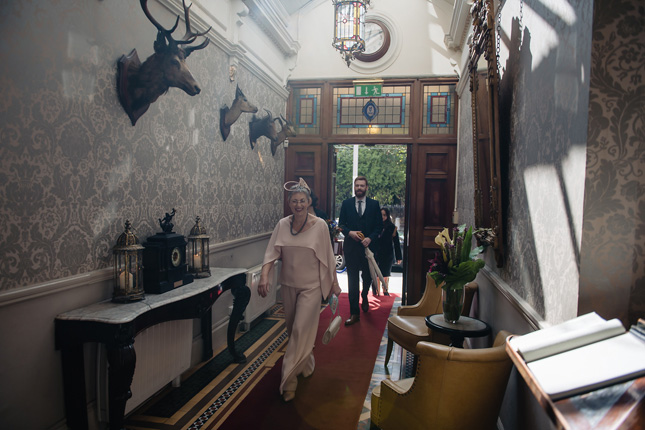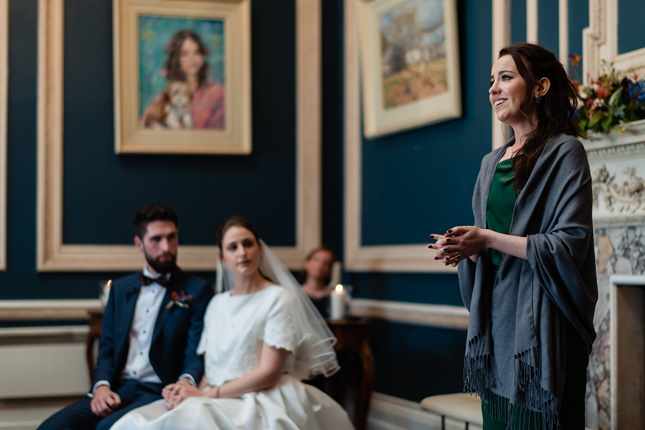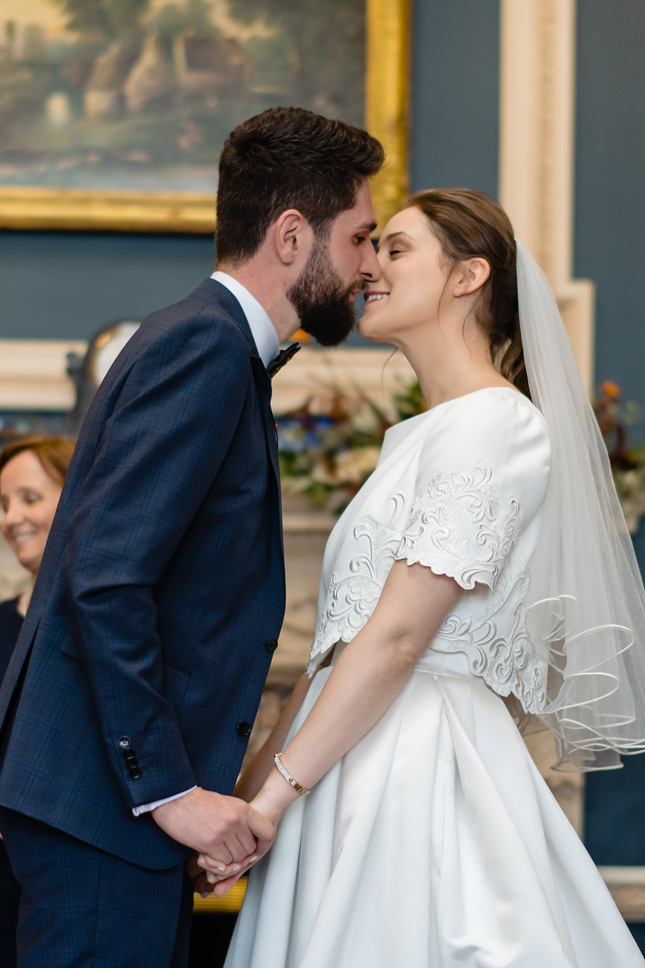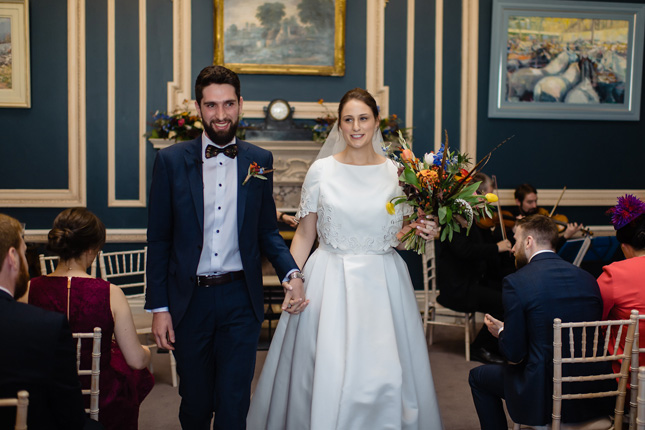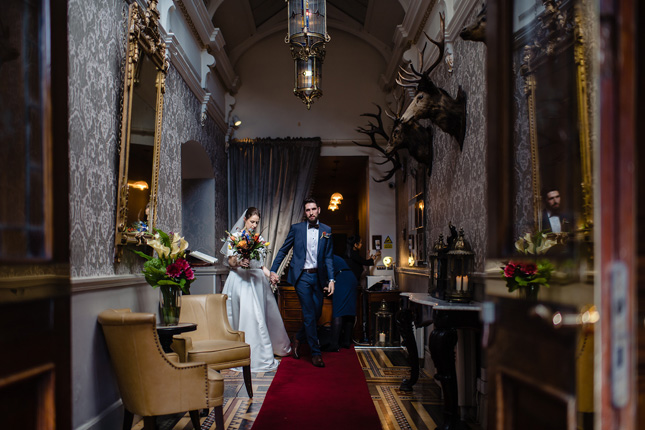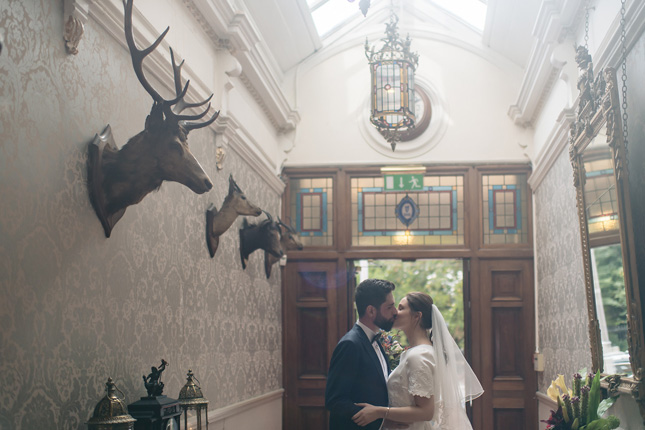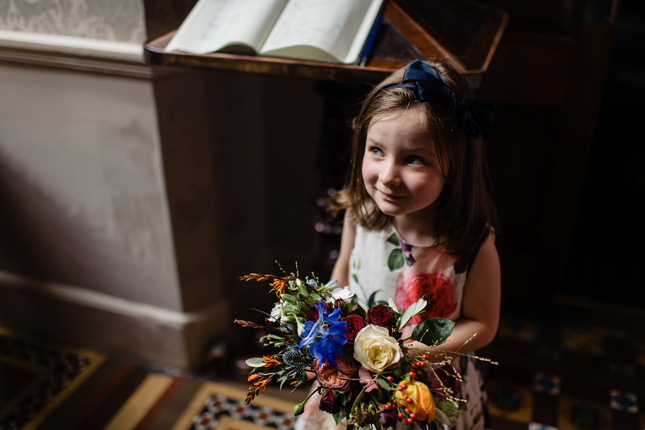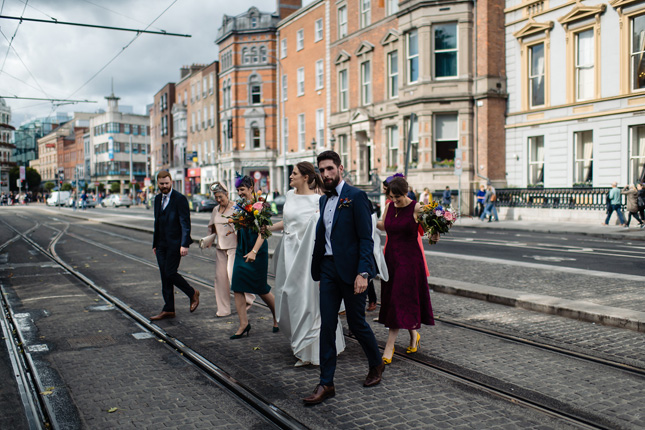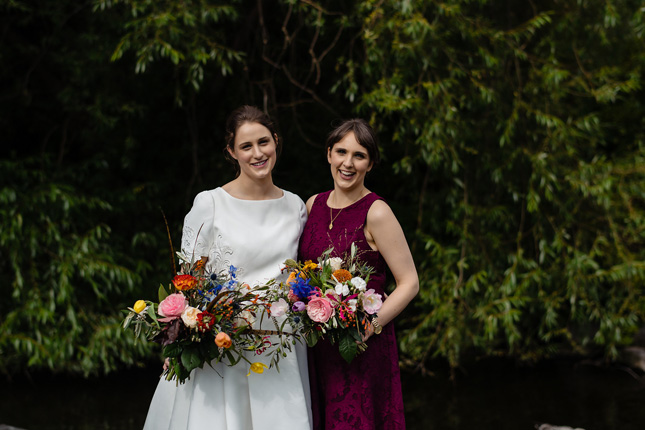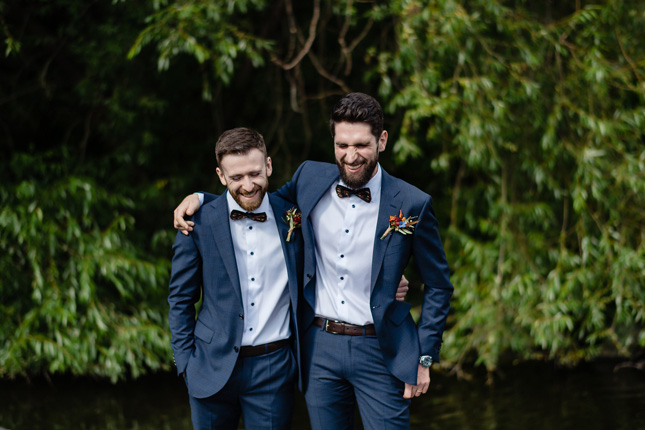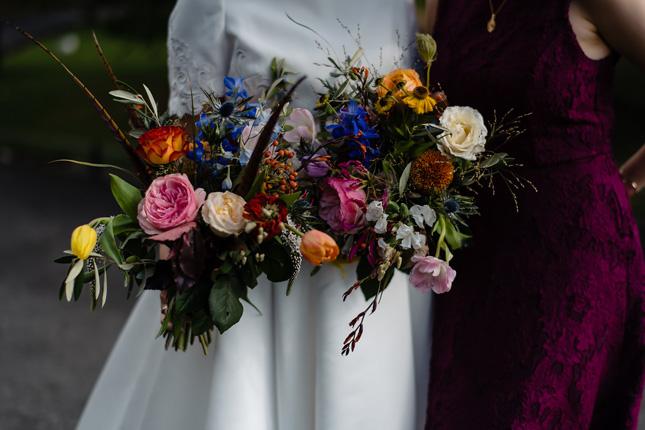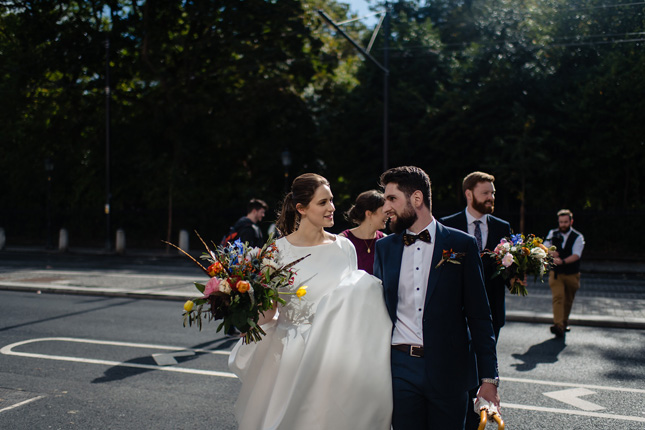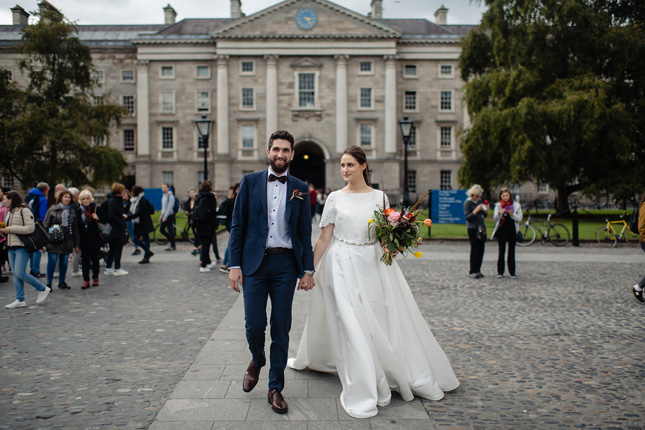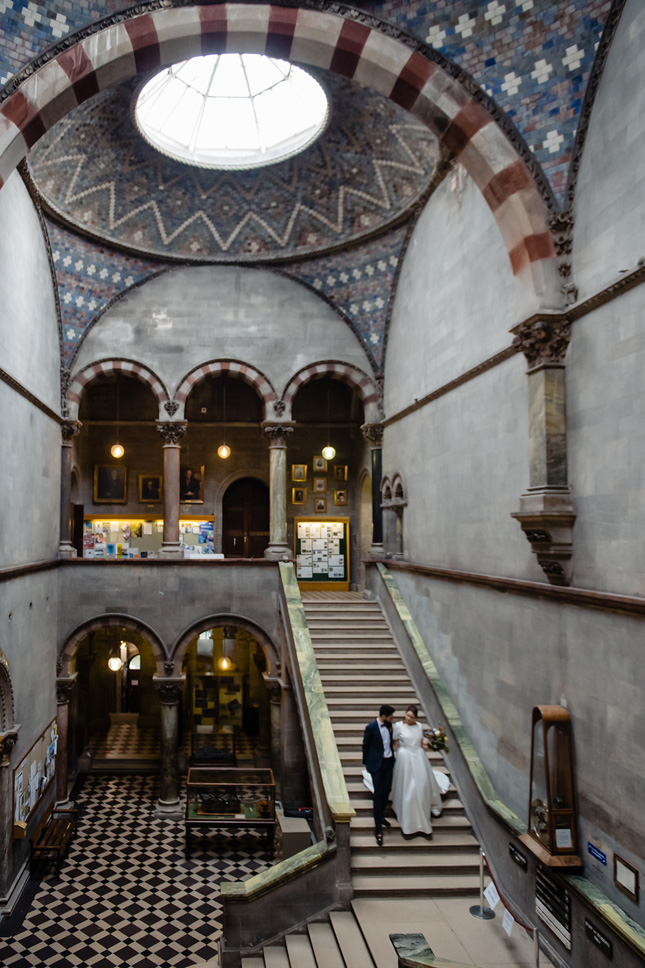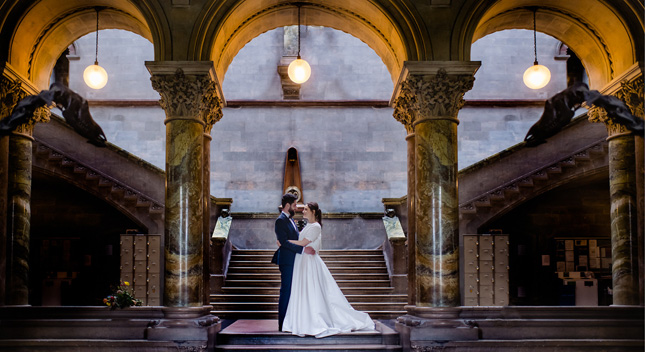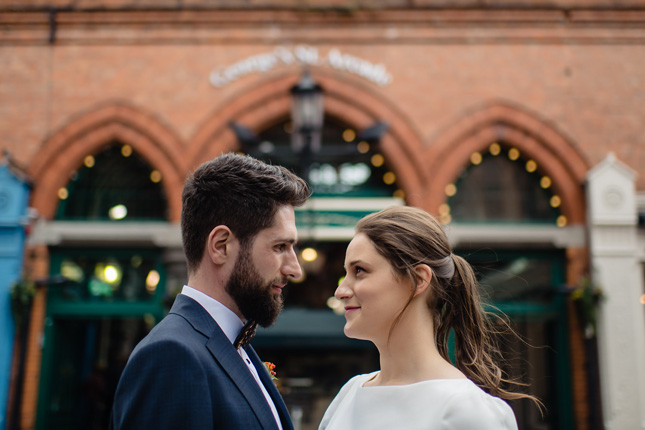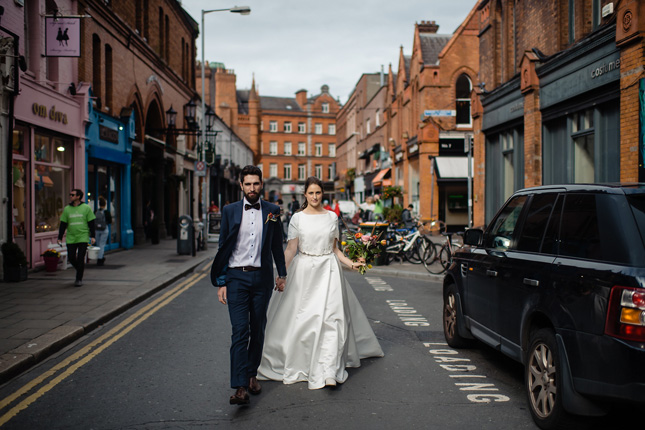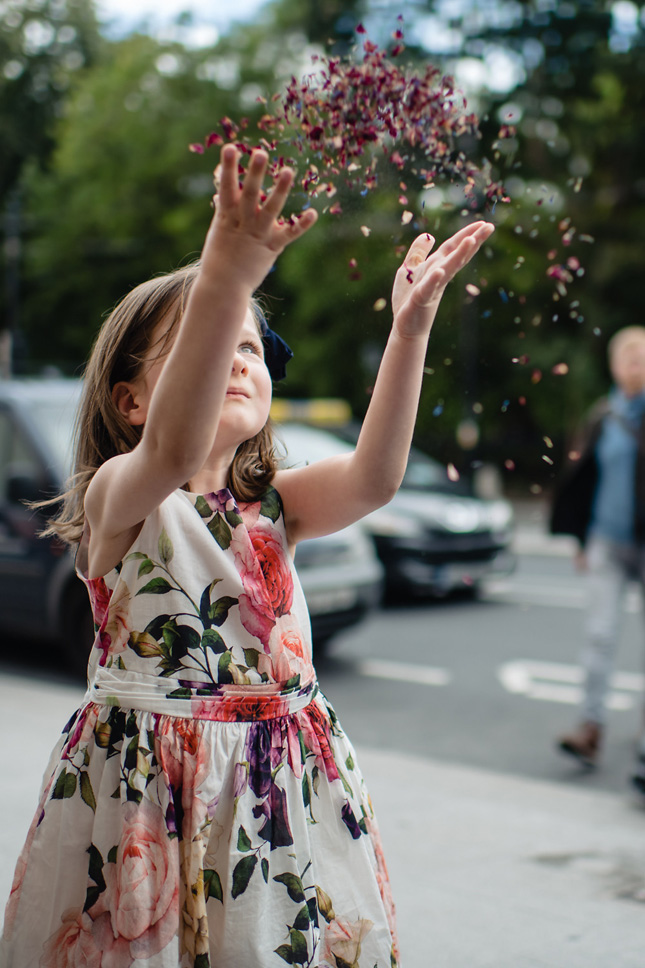 When the day finally rolled around, their Stephen's Green Hibernian Club wedding went off without a hitch. "It sounds like a complete cliché but we honestly had the best day we could have asked for. We had planned a first look in Fitzwilliam Square which was threatened by torrential rain earlier in the morning but this miraculously cleared up just in time and the sun came out to give us the perfect backdrop! The whole day was a blur of excitement and emotion. Ian cried at every opportunity – as Tess was coming down the aisle, during the ceremony, during his speech, during his dad's speech, during Tess's speech… His happy tears were contagious though and my makeup was put to the test more than a few times throughout the day," laughs Tess.
They had a humanist ceremony, which was extra meaningful for the couple. "Lucie O'Sullivan, our celebrant, was such a calm, positive and reassuring presence on the day. We chose rituals and details that felt most meaningful to us. Our mothers helped us light a unity candle, our sisters did beautiful readings and we opted for a wine box ritual," says Ian.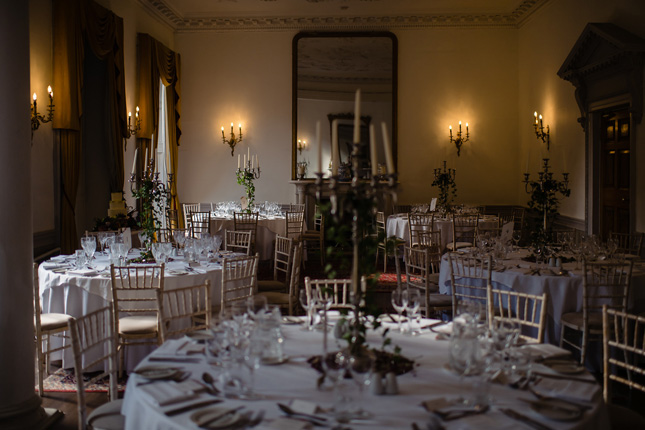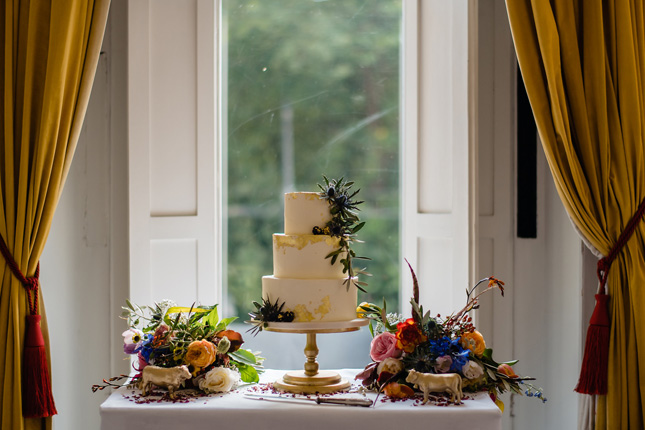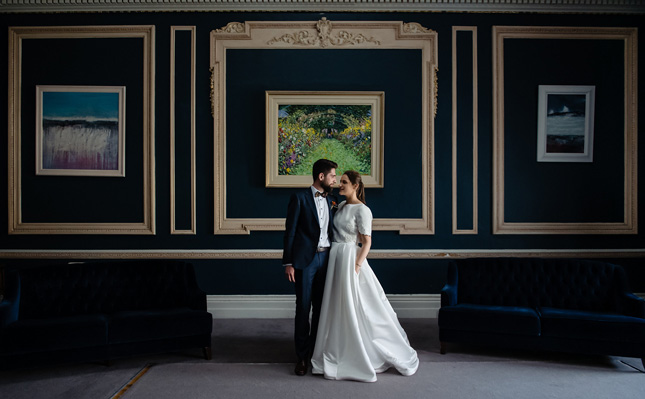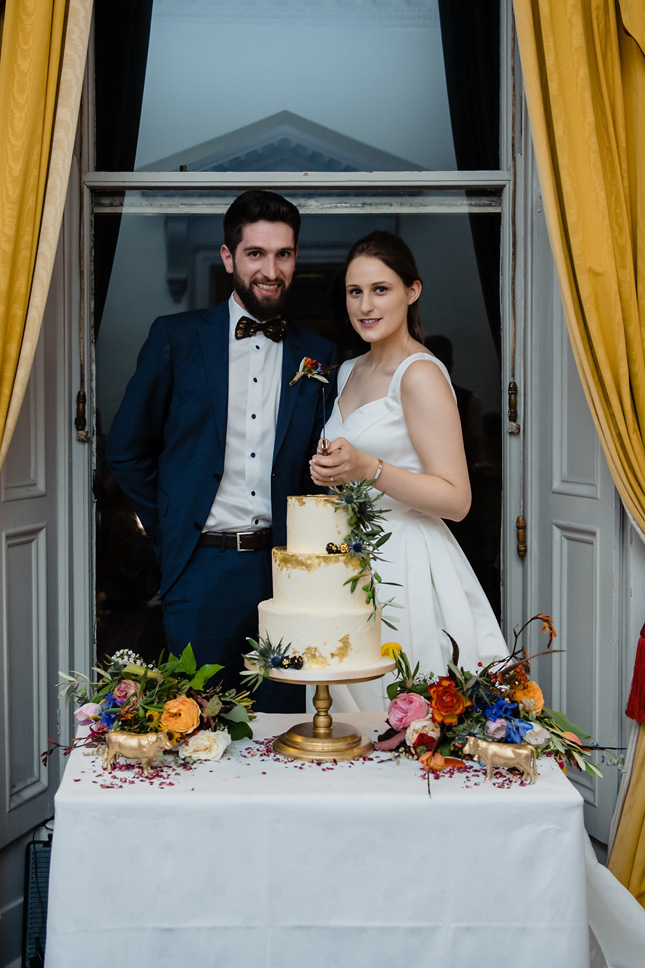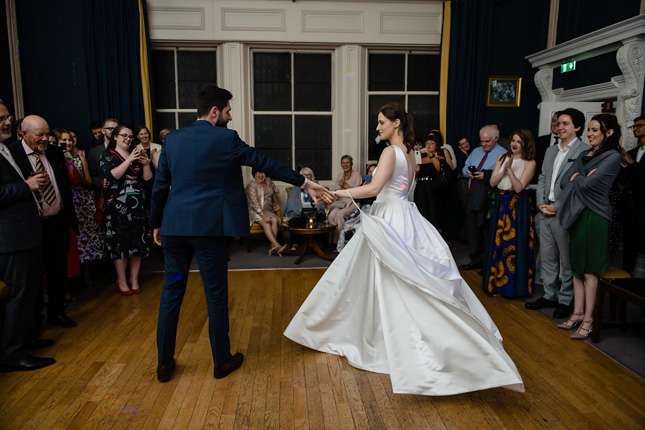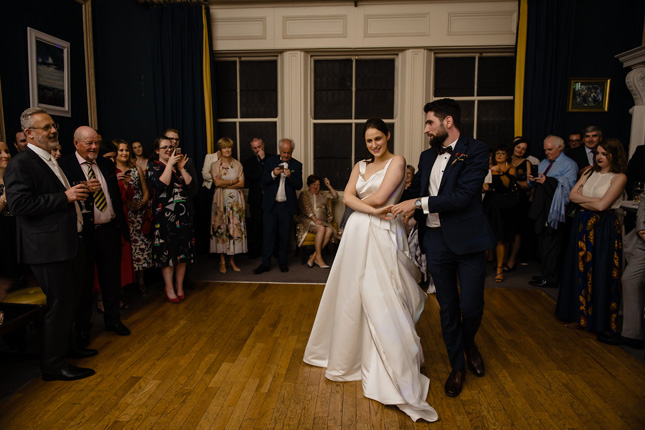 While the whole day was perfect, it's just after the ceremony that's the pair's favourite memory. "We'll never forget the giddy feeling we had as we left the ceremony together; or the excitement of walking through Dublin city and being congratulated by countless strangers on the street. There were also countless special moments with family and friends for both of us throughout the day. Every time we look at the photos or video now it brings back so many lovely memories," he says.
Their advice for other couples? "It's advice we were given countless times before the wedding but we didn't fully appreciate it until the day itself – savour every single moment. The day will fly by before you know it so try to trust that the planning and preparations you've invested will pay off and focus on what the day is really all about – celebrating!"