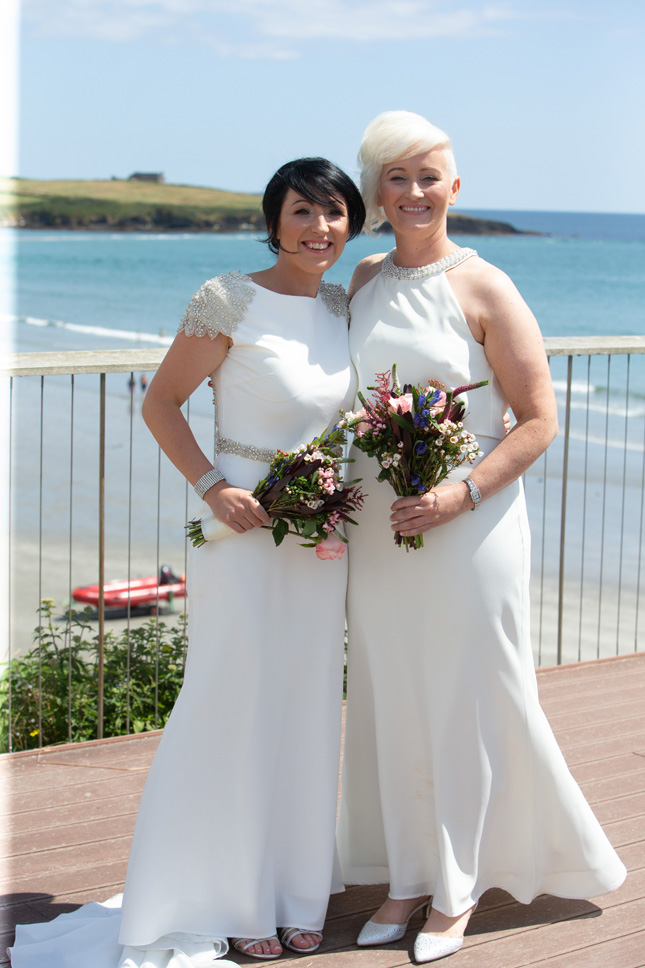 Maggie and Cathy's wedding at Inchydoney Island came about after 11 lovely years together. The pair met when Cathy was in college. Maggie was invited to Cathy's housemate's 21st birthday party, and there was something special between them from the start. "When I first met her, I knew we had a special connection. My friends and I would go down from Tipperary to Waterford to go out with them maybe once a week and Cathy and I grew close. We started dating in Jan 2007, little did we know the journey it would take us on," says Maggie.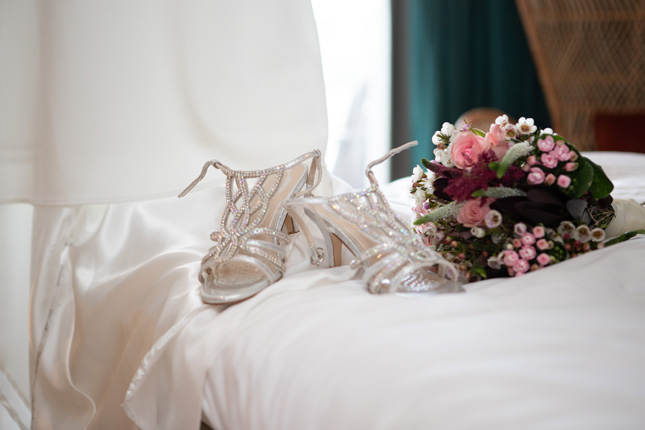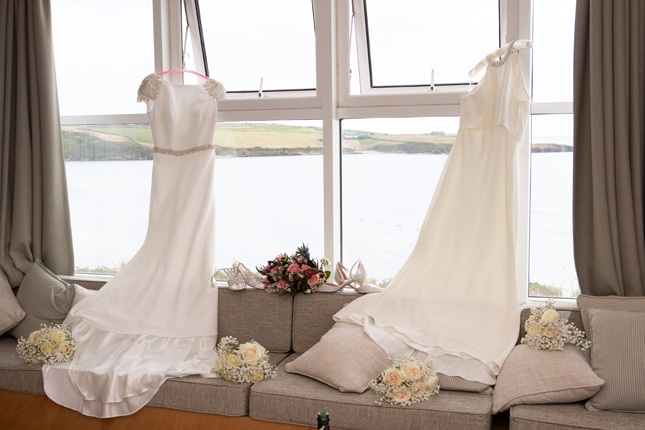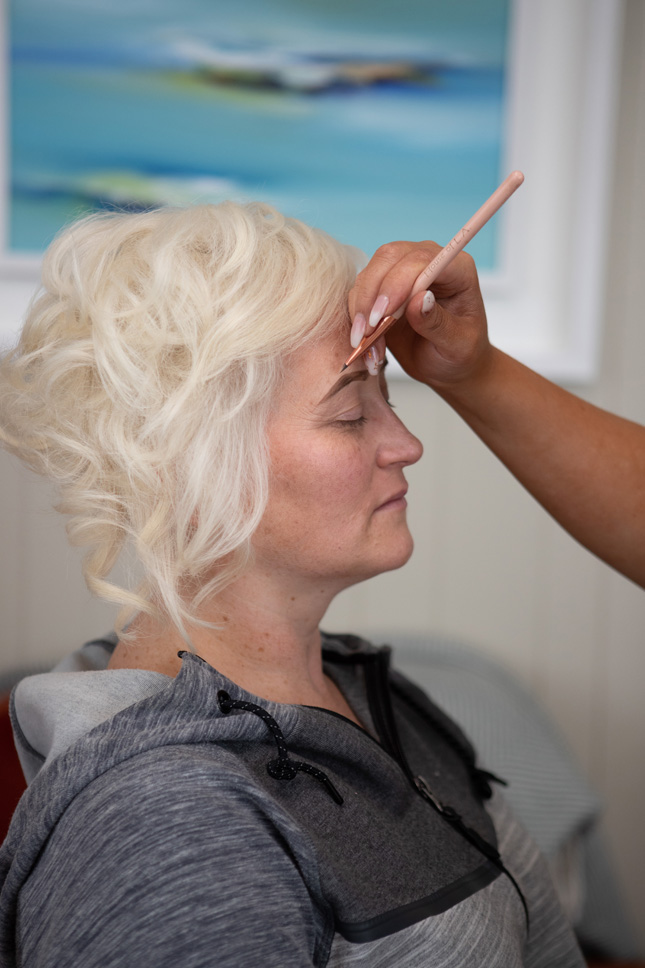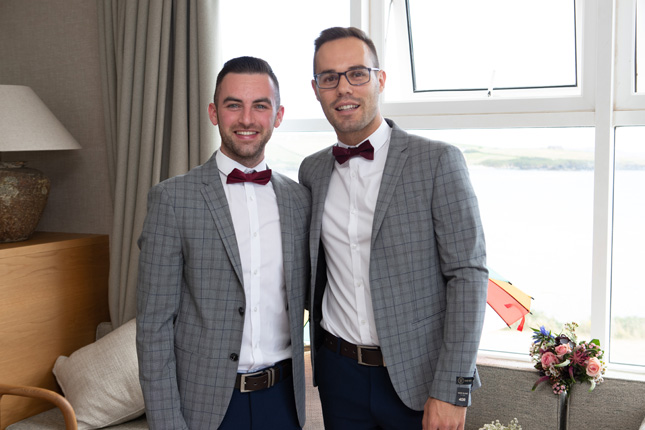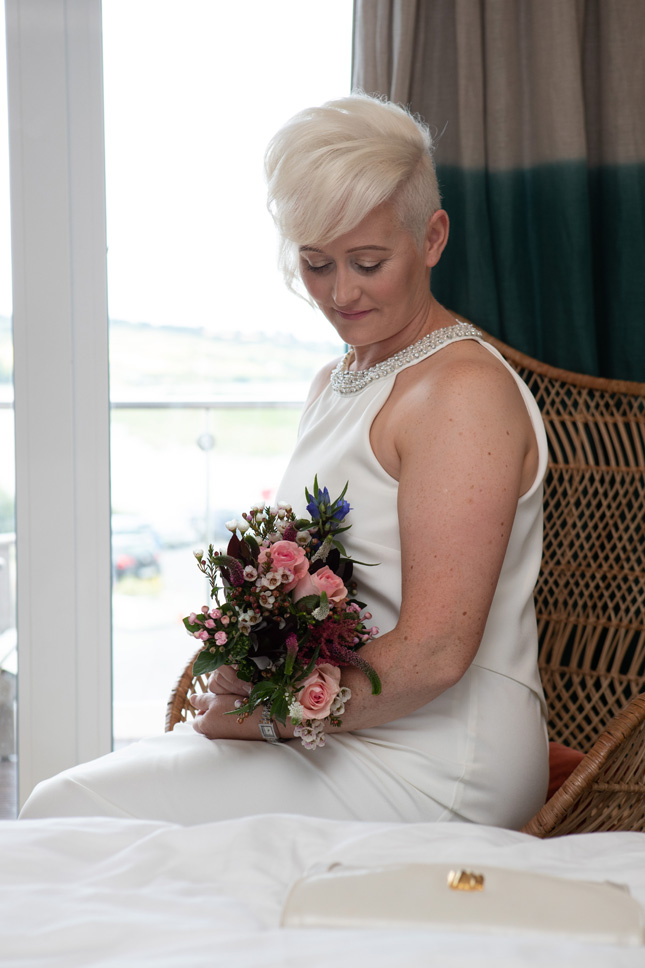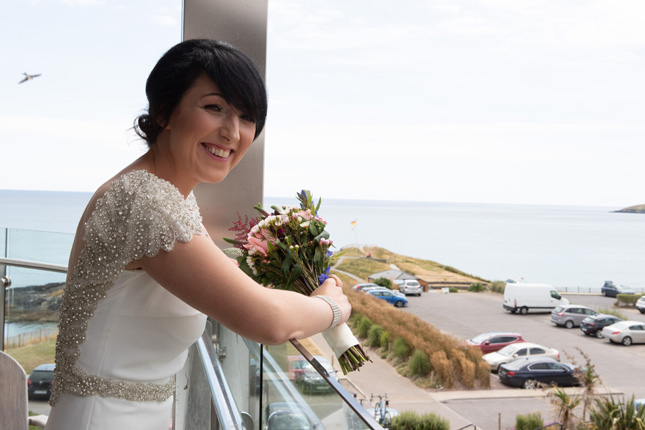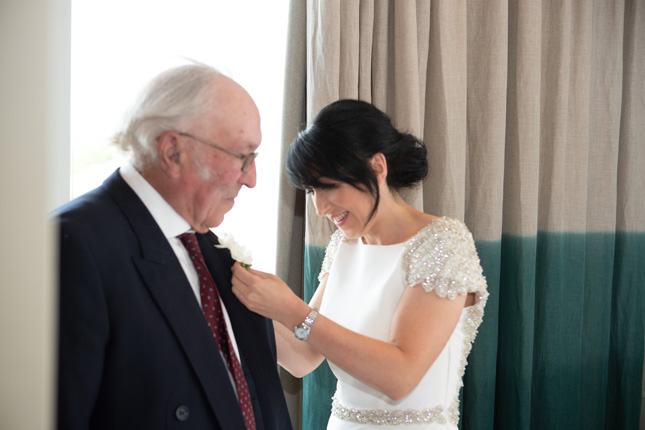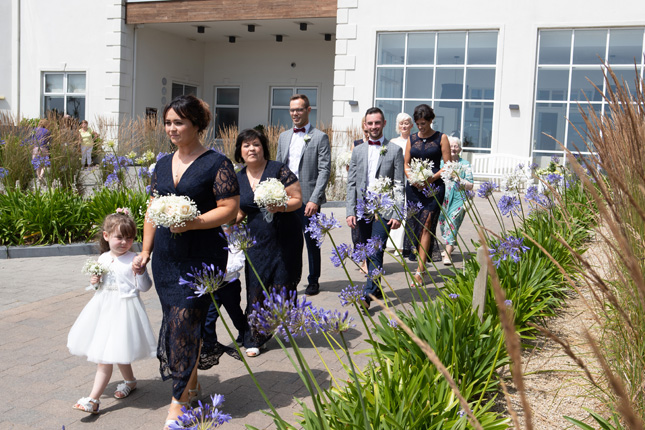 Cathy surprised Maggie on holidays in Italy with a small picnic, which turned out to be a huge event. "We stopped at a tree overlooking the vineyard and I asked her to close her eyes. During this time, I pegged messages to the branches of the tree. While Maggie was reading them I got down on one knee and asked her to marry me. She said yes, and we celebrated with champagne while we watch the sunset," remembers Cathy.
They planned their big day over two years, and started by looking at four different venues before falling in love with Inchydoney Island Hotel and Spa. "The beach, the food, and the friendly staff sold it for us," says Maggie. "The stunning location and sense of space were so important. The honeymoon suite was exceptional, and all our guests enjoyed a sea view."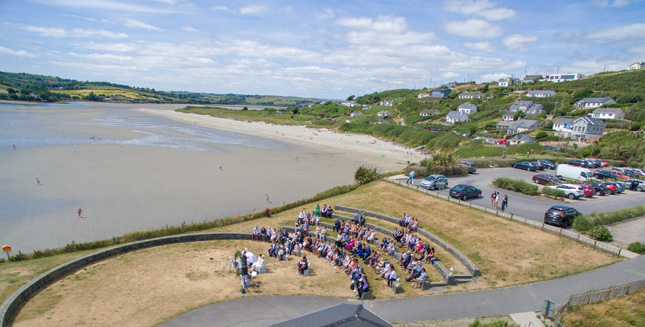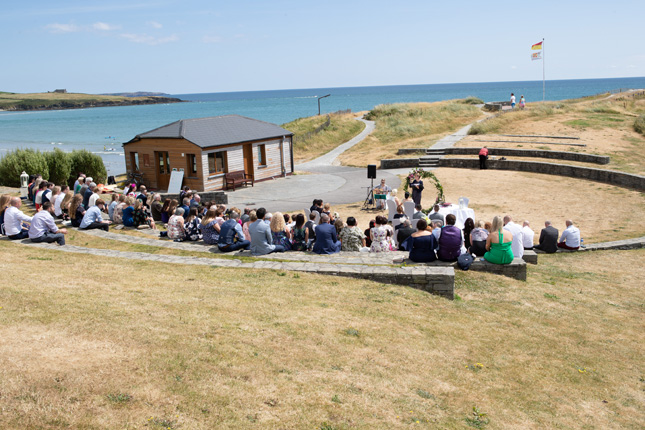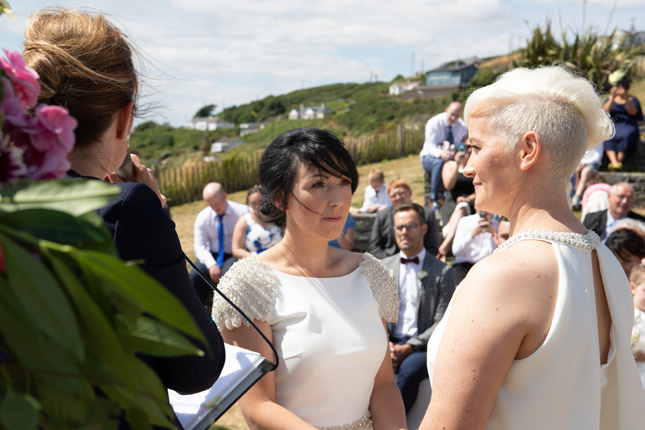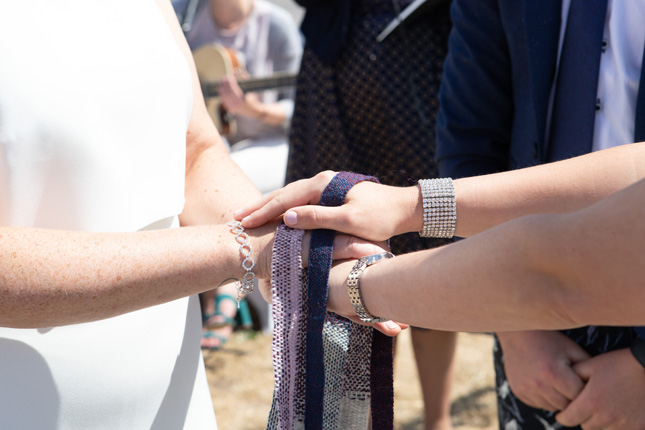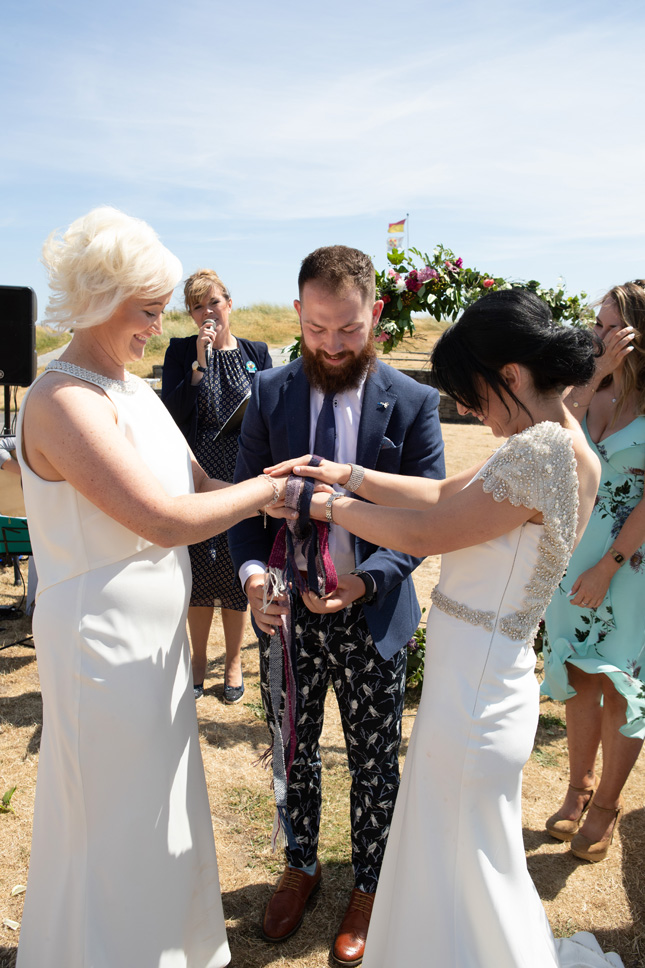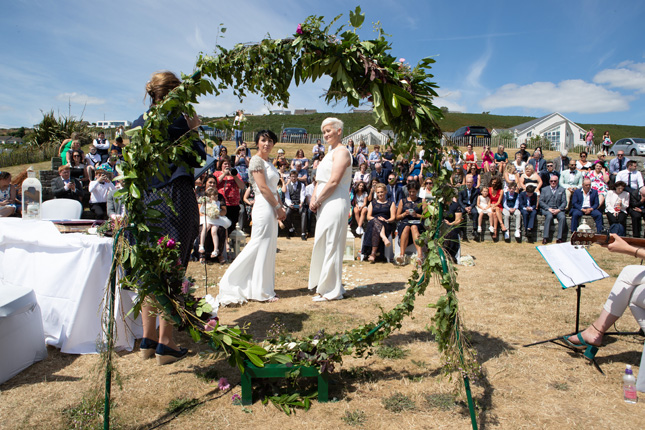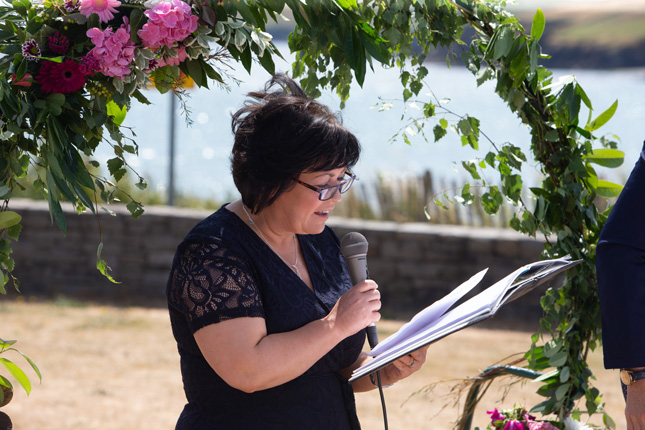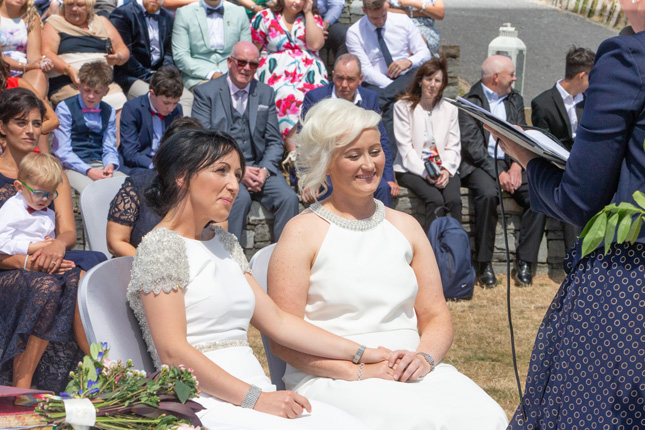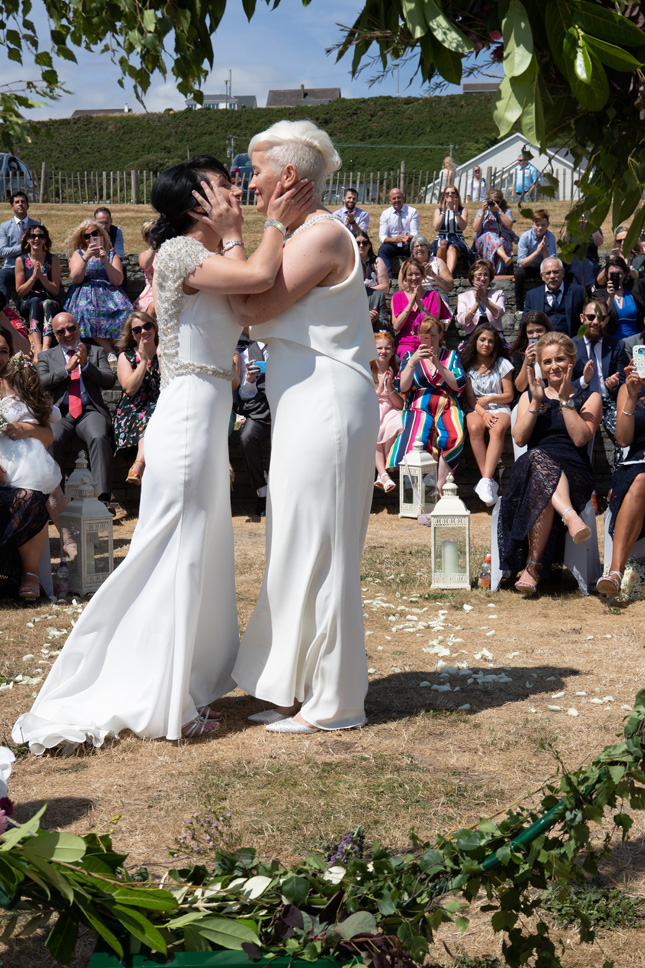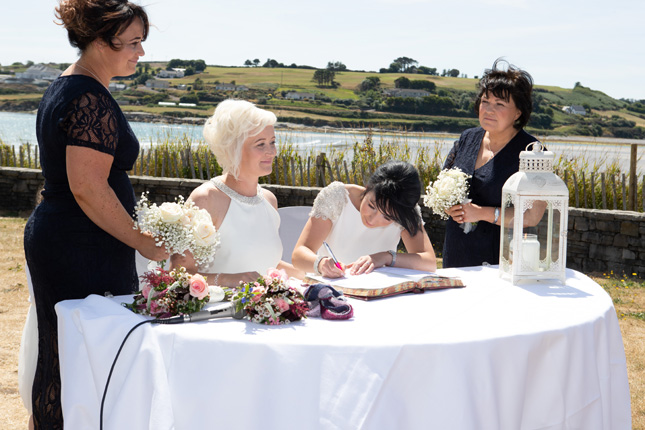 There wasn't much they had to do to get Inchydoney Island wedding-ready, either. "Cathy made all the centrepieces for the tables and designed the table plans. Cathy's sister and Brother in Law sister made a ring of love (large floral wreath) which was used at the outdoor ceremony, and it was also used to present the table plans inside the venue," says Maggie.
The only hard part was planning for both an outdoor and indoor wedding, as you can never be sure of the Irish weather. "Luckily it was a scorching 23 degrees on the day so our dream of an outdoor wedding by the sea was fulfilled," she says.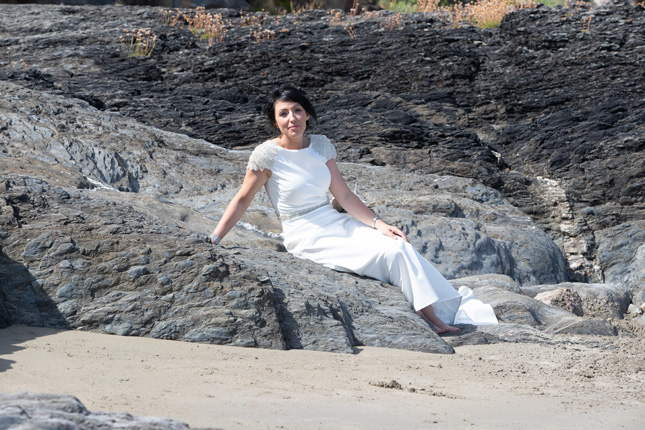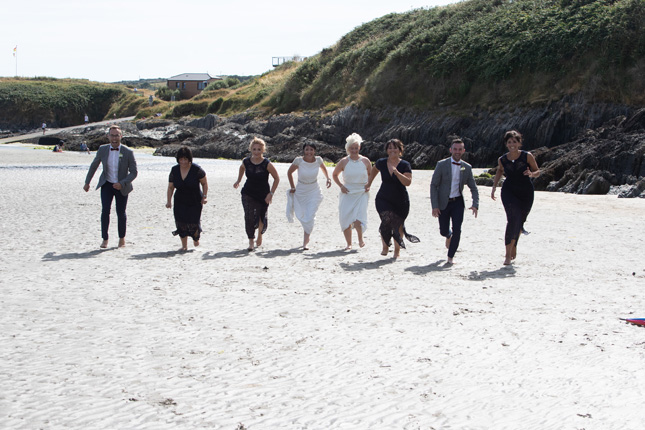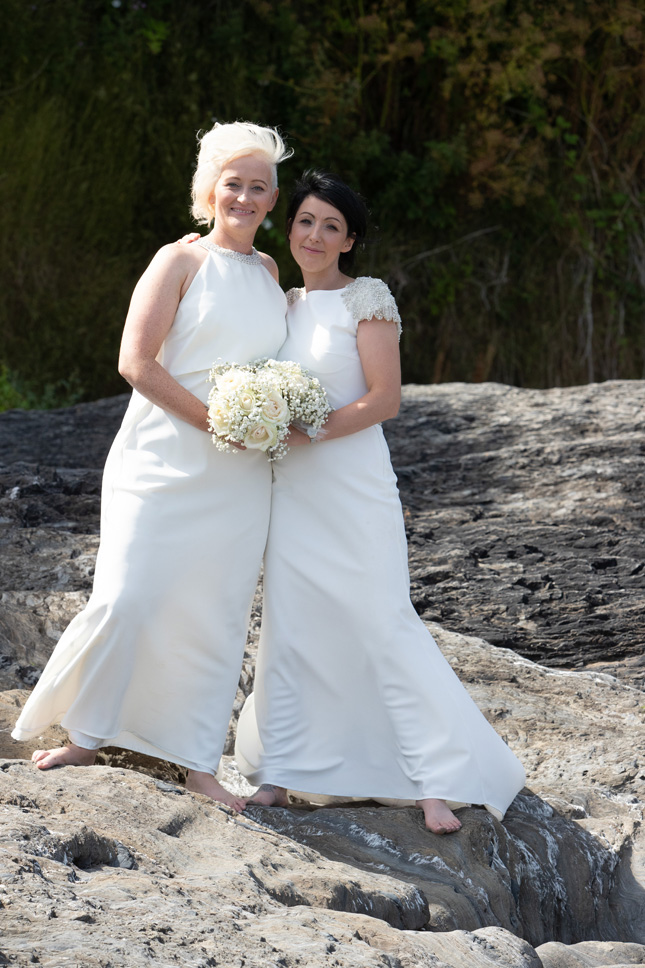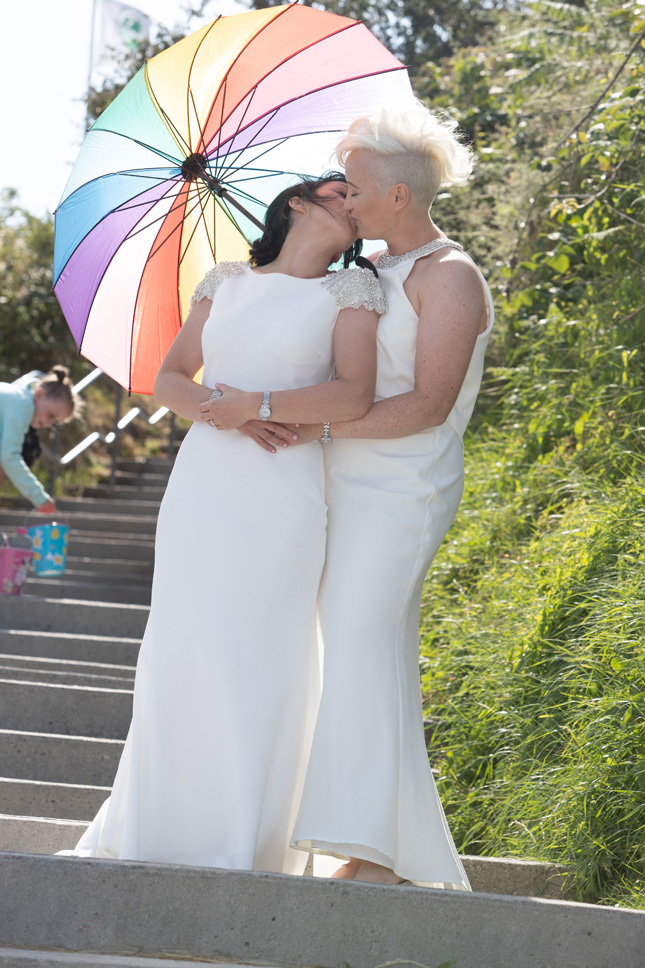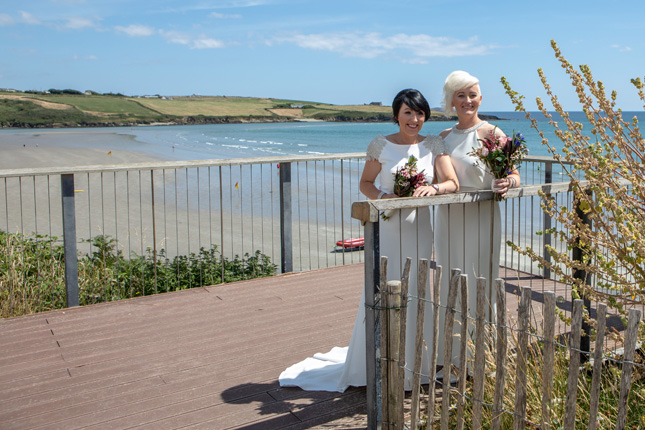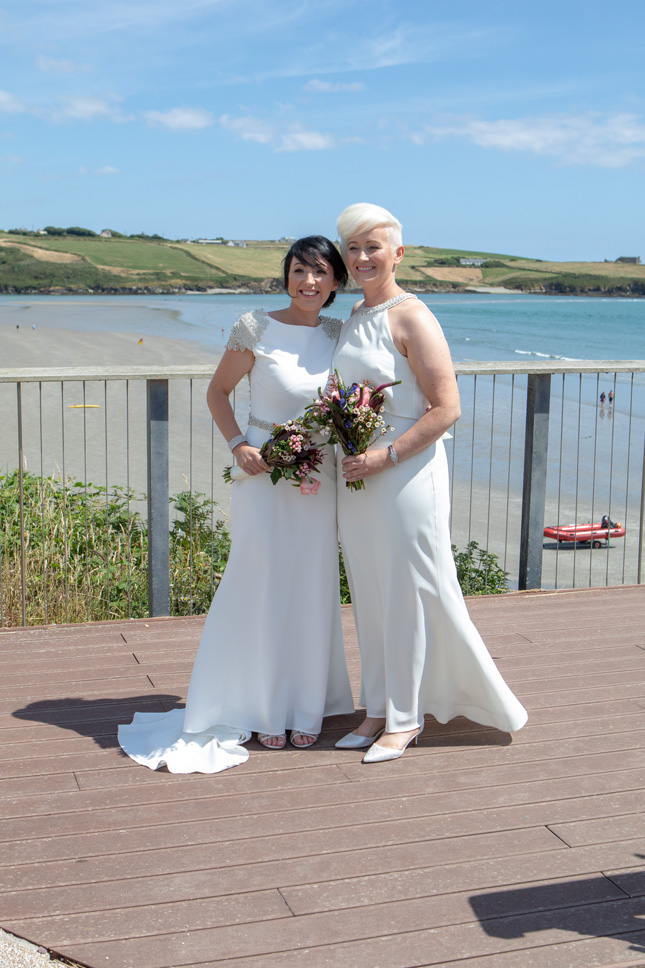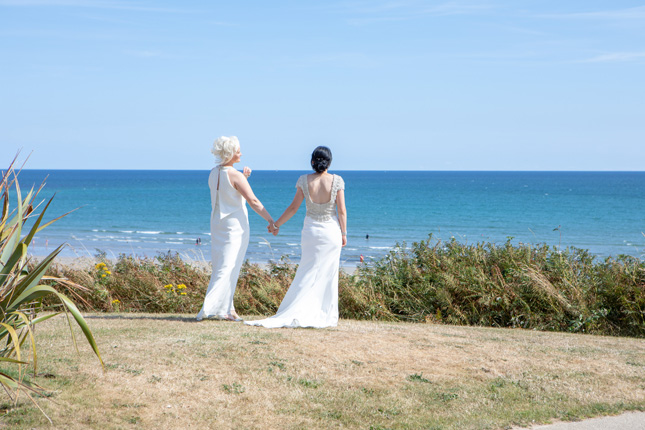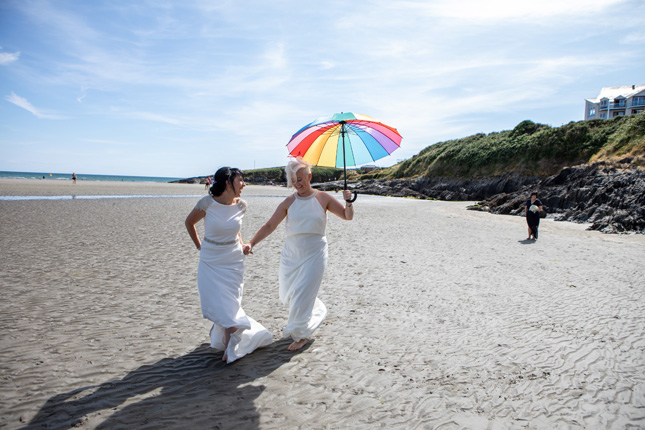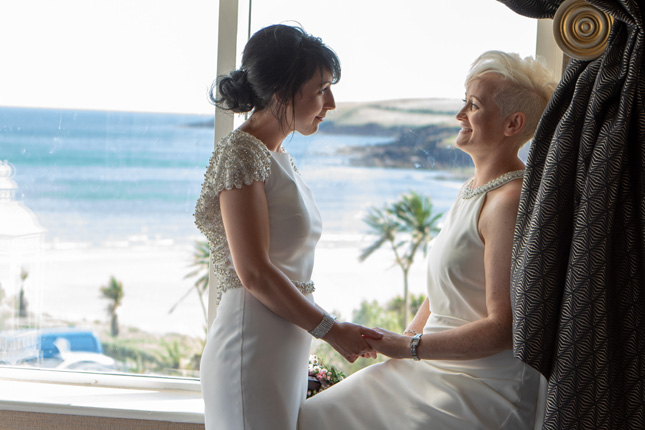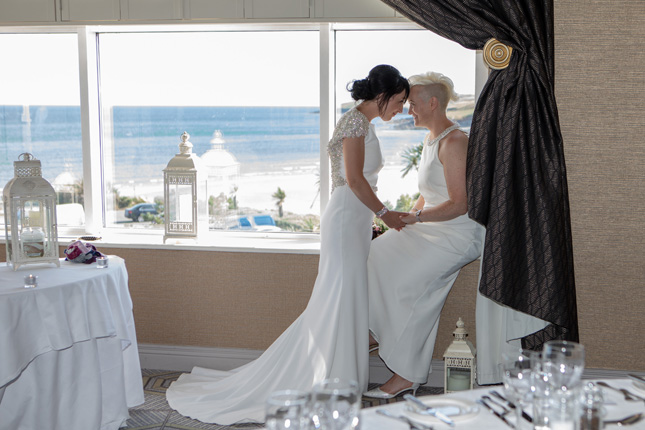 The pair did a gorgeous first look session overlooking the sea. "We had a moment here for photos and then we made our way down to the colosseum for our ceremony. Maggie walked by her mother Sheila and Cathy walked after with her Father, Pat. We had a spiritual ceremony which was solemnised by Minister Miriam Fitzgerald. We had readings by Cathy's sister Angela and friend Clare. We had a hand fasting ceremony using hand made woven ribbons made by our friend and Textile Artist, Amy Kee. The ribbons were placed on our hands by our Mothers as a representation of their love and acceptance for us while our Nephew Padraig and Niece Cora represented the love and acceptance of the next generation." How lovely!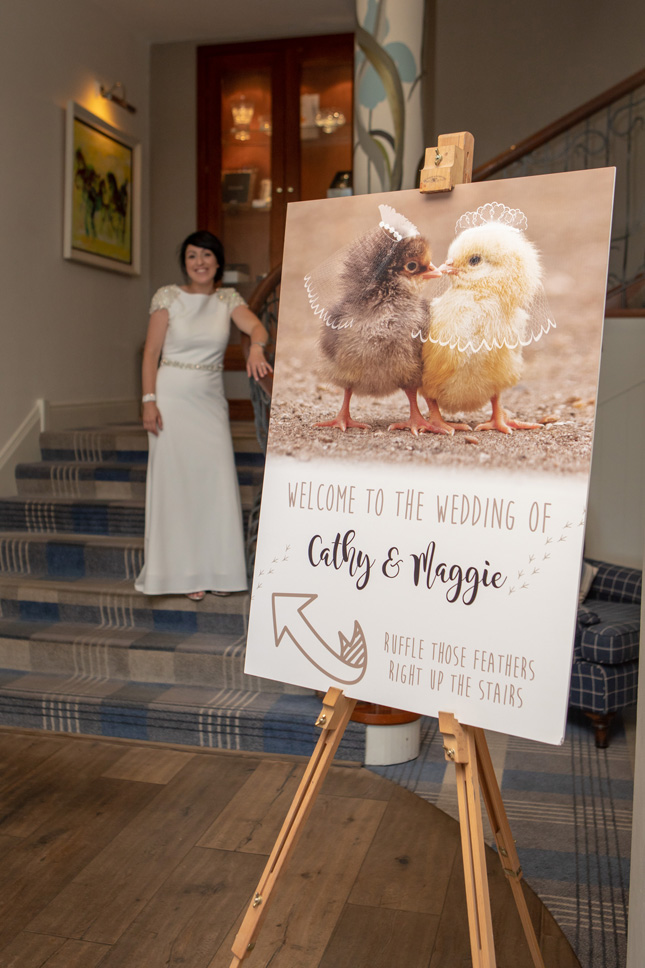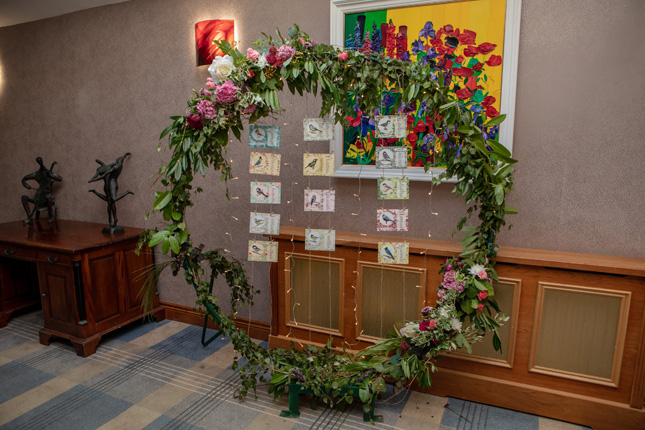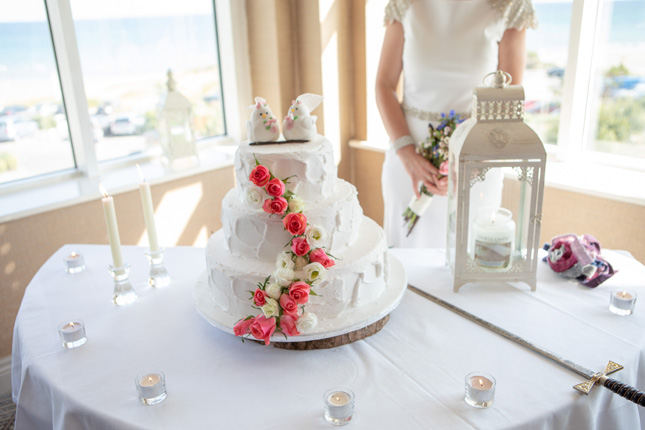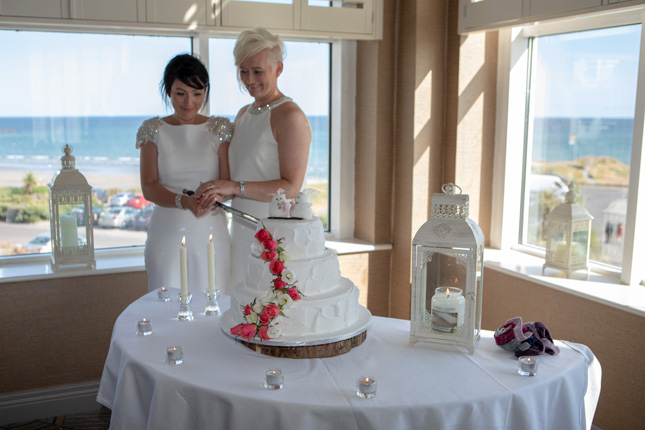 The whole day was a dream for the couple, but the ceremony was their highlight. "Sitting in the sunshine hand in hand during our ceremony was very special. Walking through our wedding guests at the end wife and wife was unforgettable," says Maggie. "We would not change anything about the day."
Their advice for other couples? "Take time during the day for just the two of you, just to take it all in and enjoy every second."