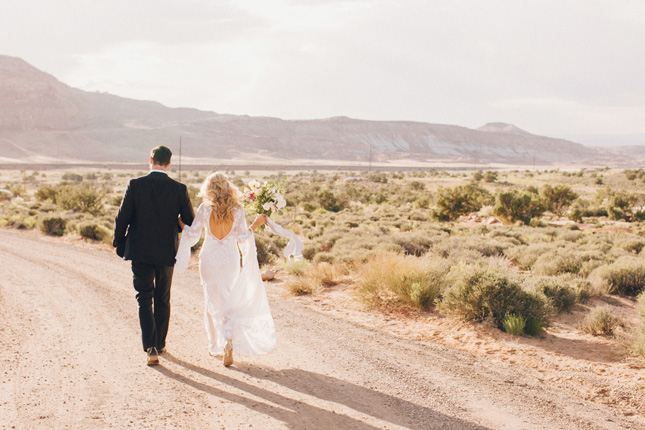 This Coachella-inspired wedding is absolutely incredible. Shot by Laura Goldenberger, this off-the-grid three day bohemian, festival feel wedding at Moab Under Canvas in the Utah desert was the kind of wedding party we'd want to attend.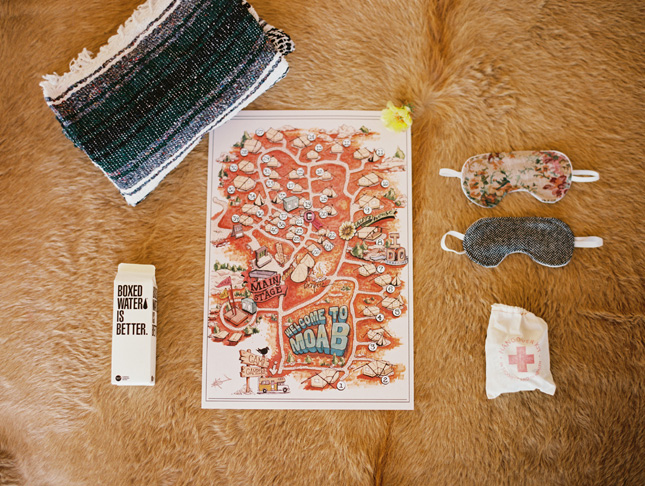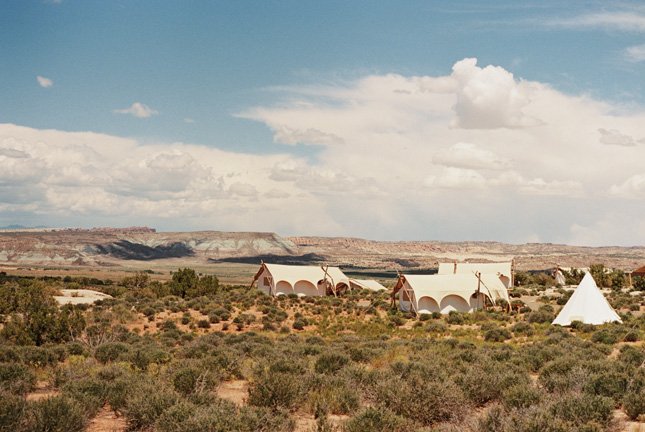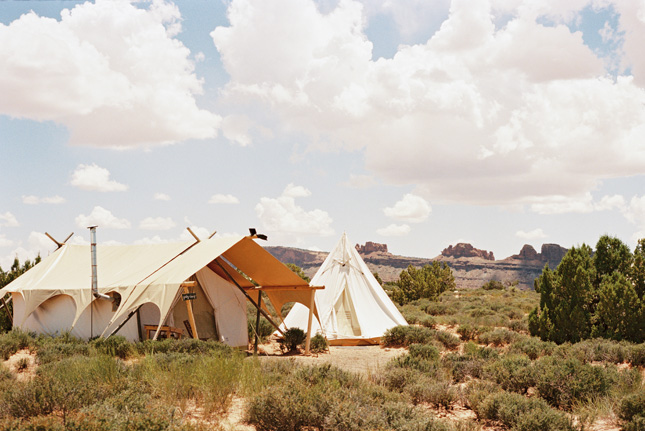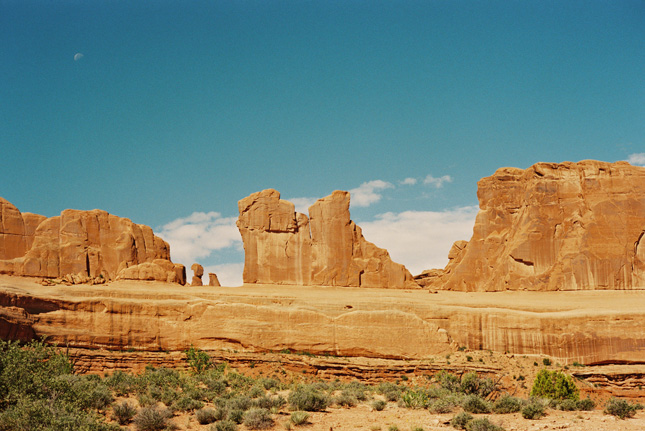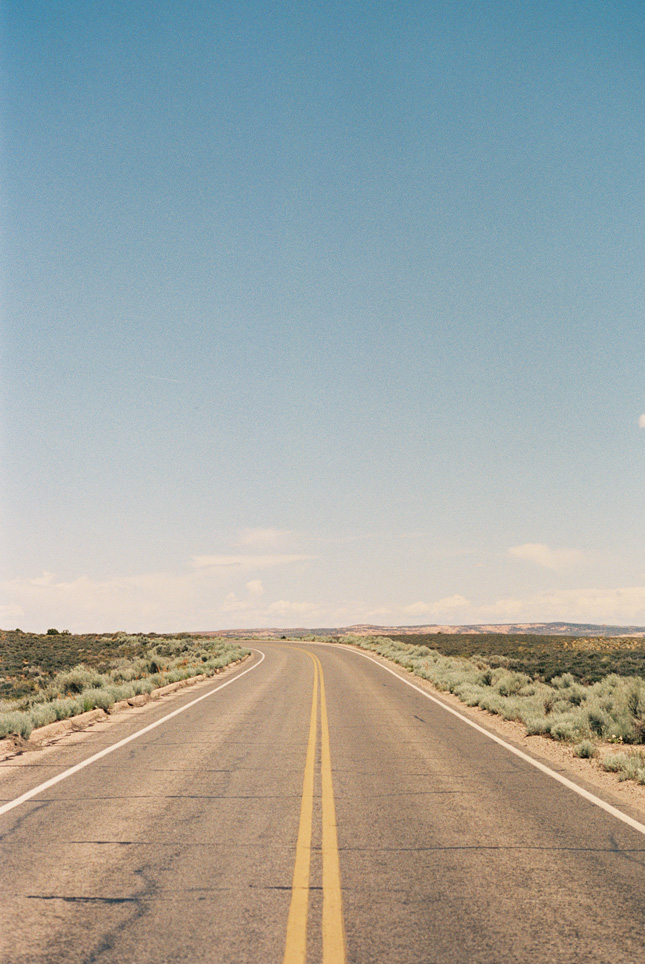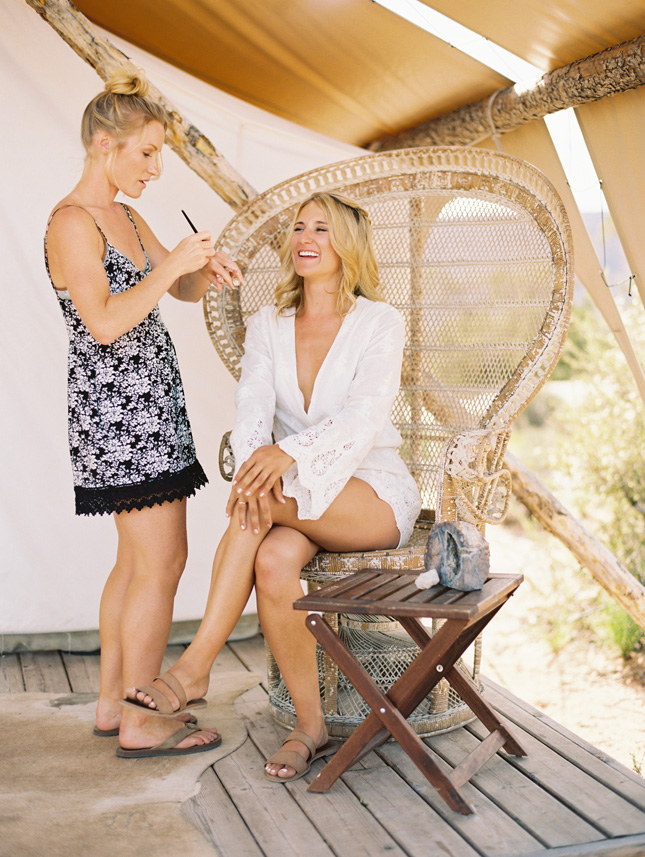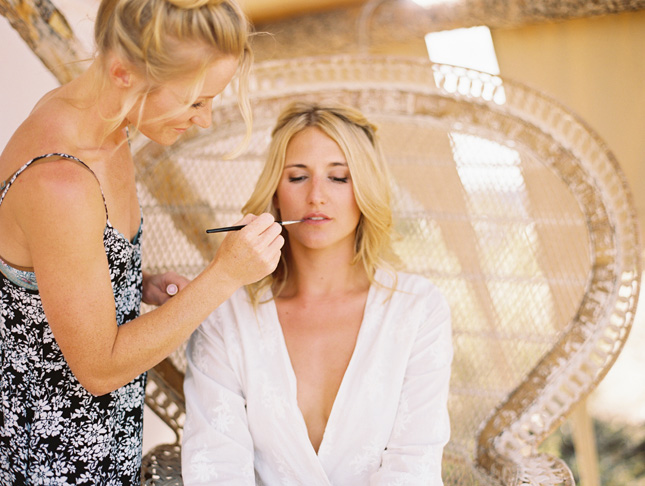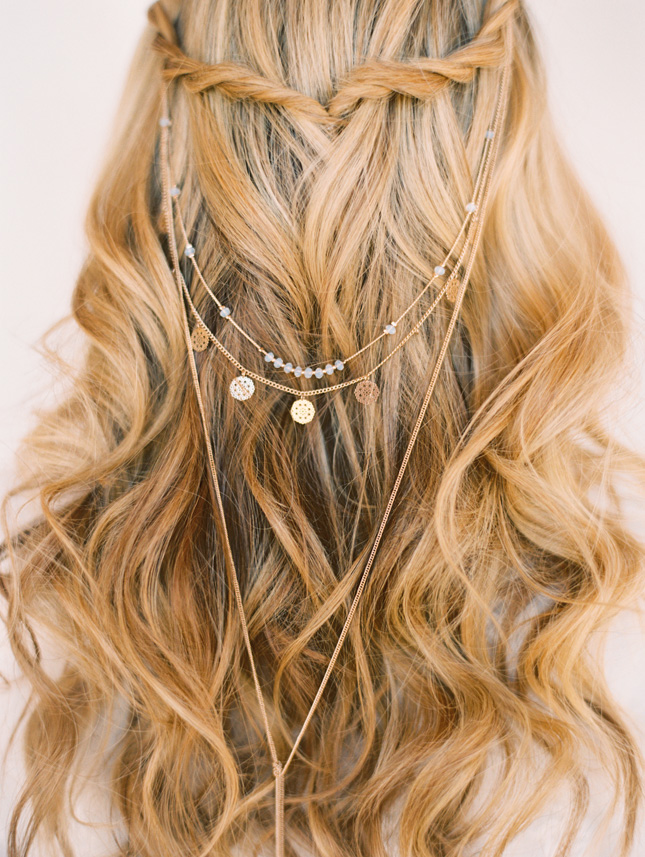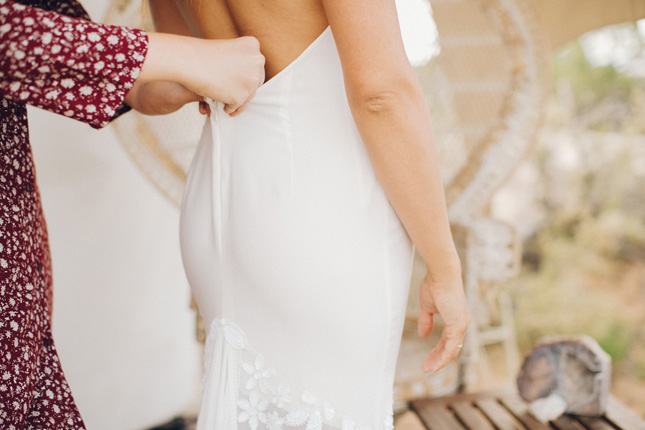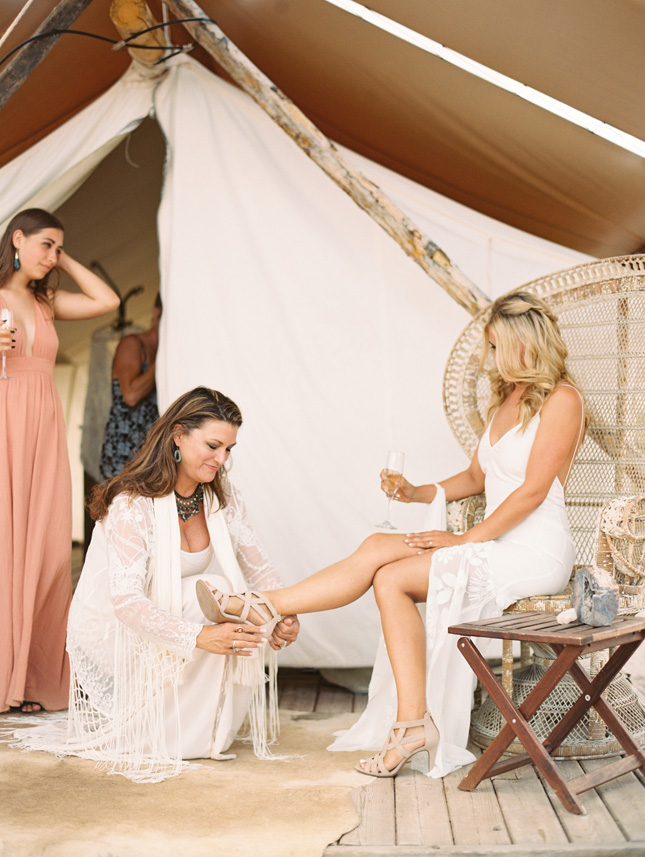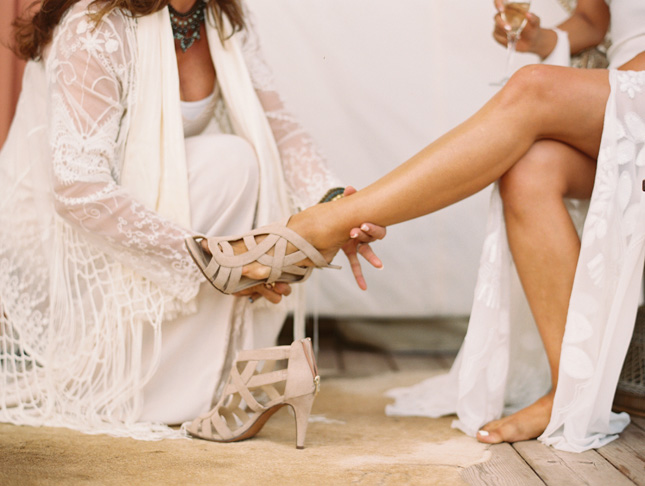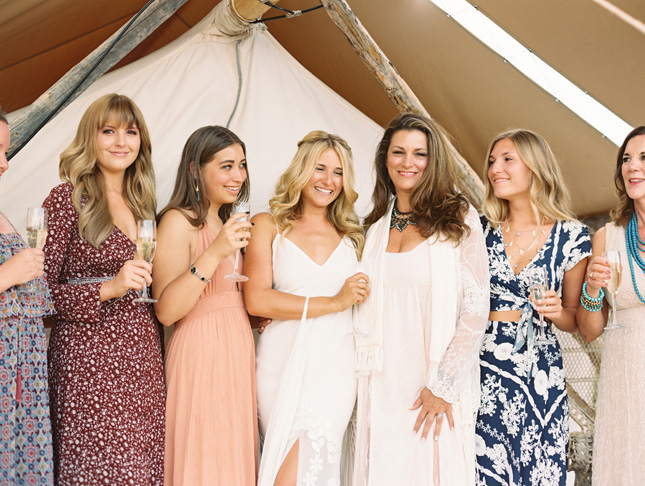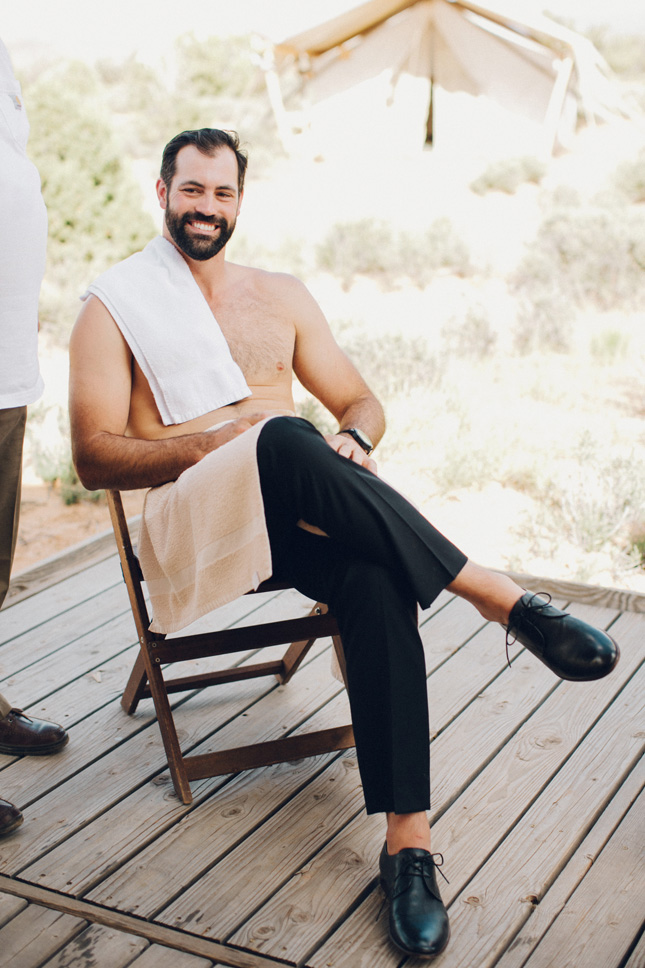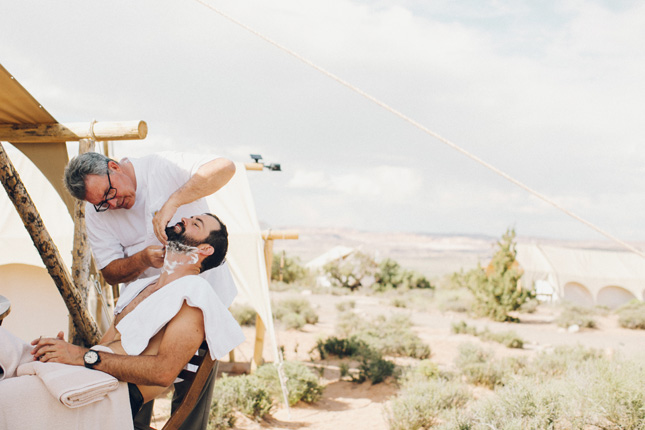 Chloe, a wedding photographer herself, and architect Taylor met in a bar, not that he remembered. "I ran into Taylor again three nights later at a Hermosa bar called Boogaloo where his friends' band Whispering Eyes played once a week during the summer. Taylor had that same goofy drunk smile on and didn't remember meeting me but I danced with him anyway for a few minutes before he went off with his friends," remembers Chloe.
He still didn't remember her when they met again later that week, but something just clicked. "He was talking to another girl when we had a moment where our eyes met across the bar. I didn't break eye contact. I was on a mission. I smiled. He smiled back and I could see the the wrinkles next to his eyes that I would come to love so much and I'm pretty sure we were both hooked at that very moment. He bought me a beer and we talked about music festivals and dj's and bands we had seen and then we danced for hours inseparable the rest of the night."
The rest, as they say, is history.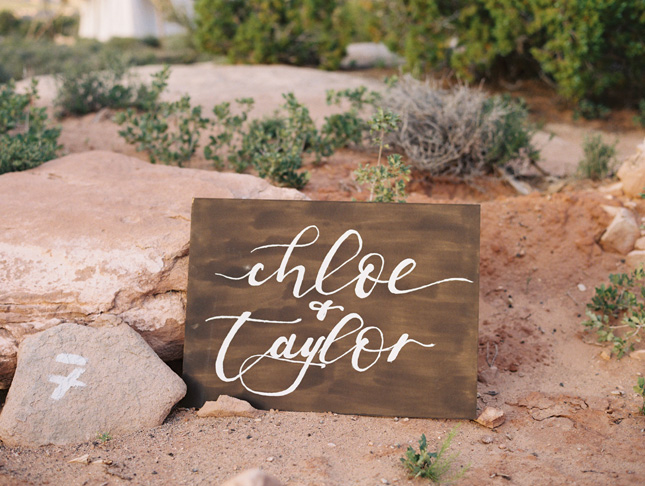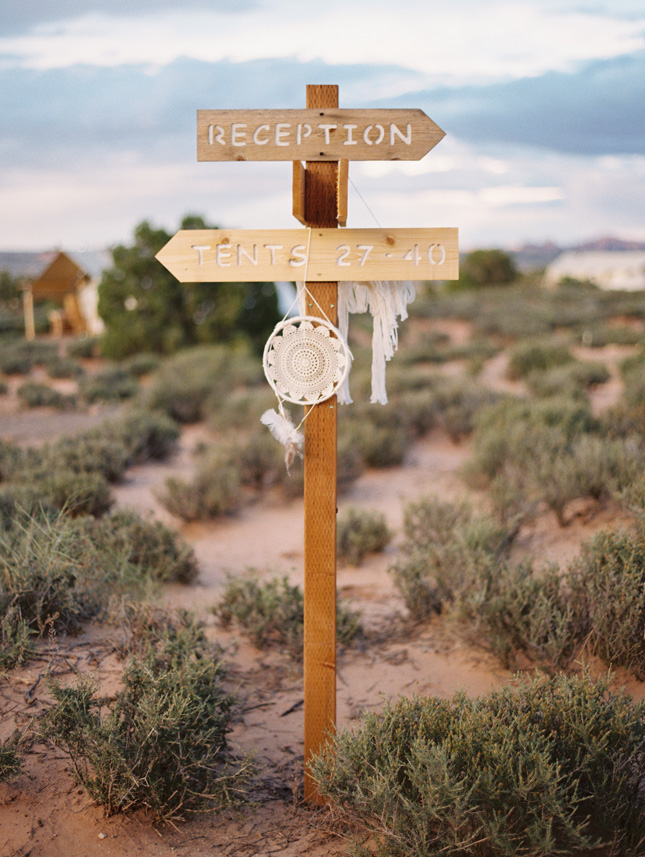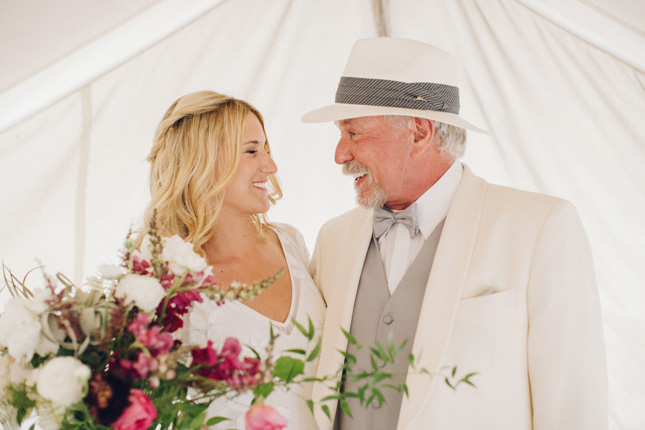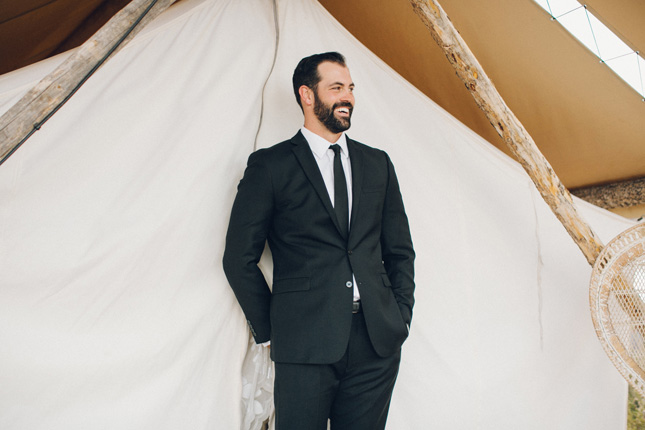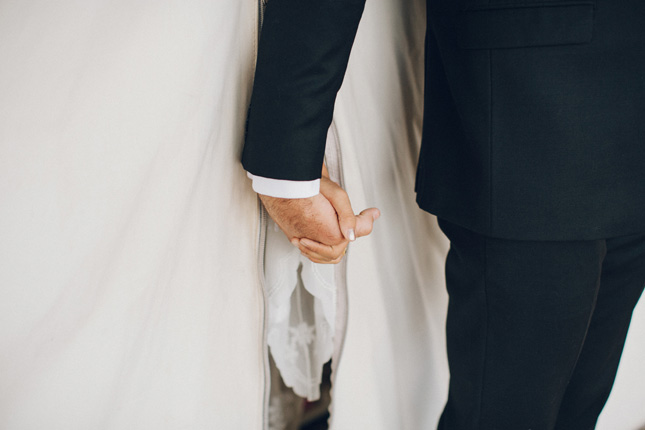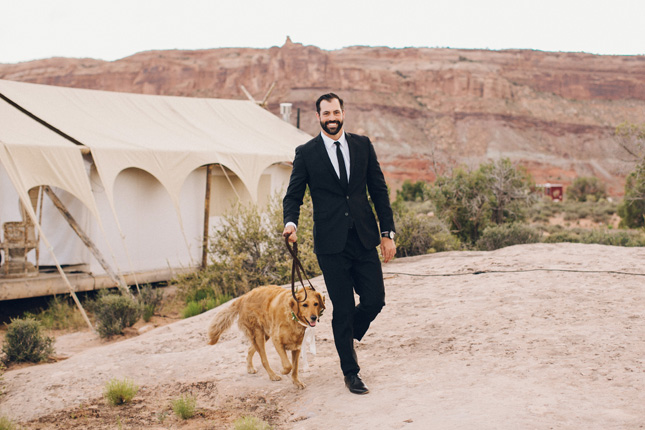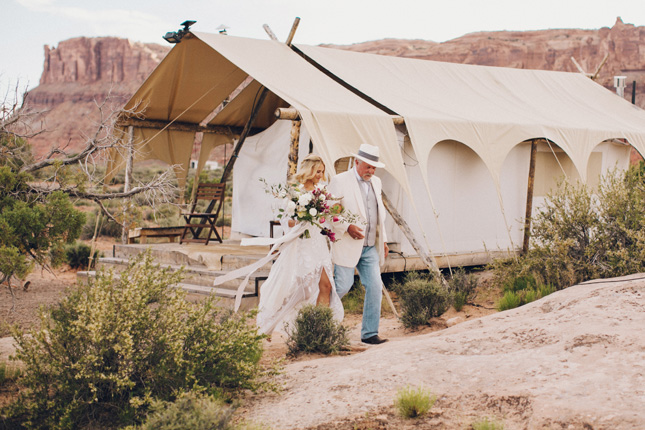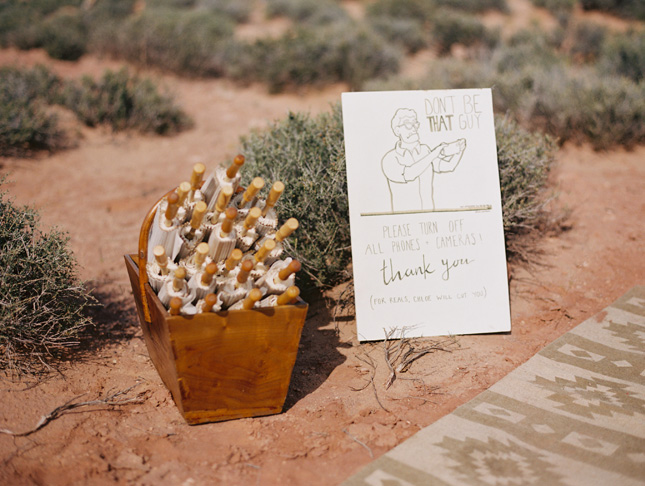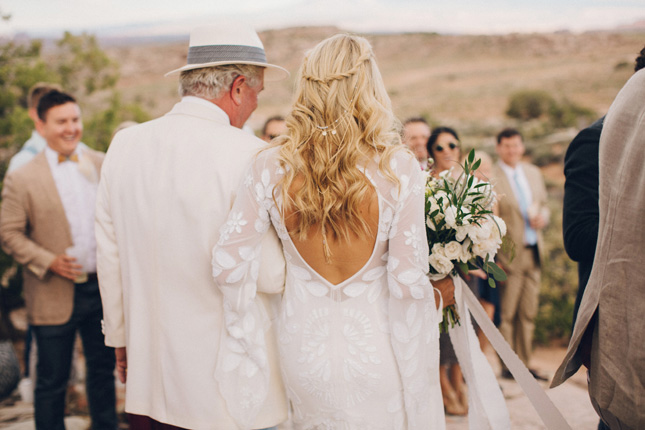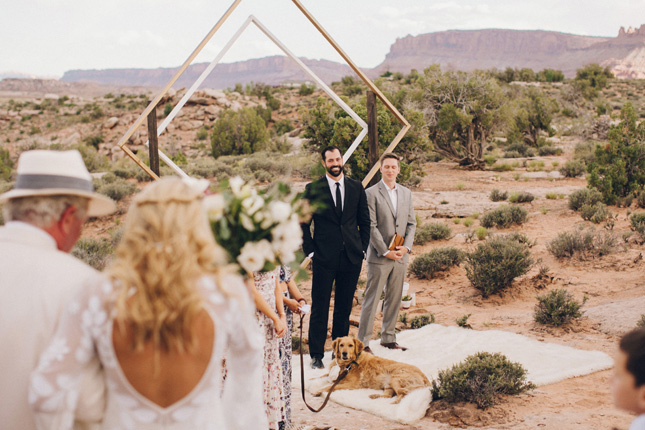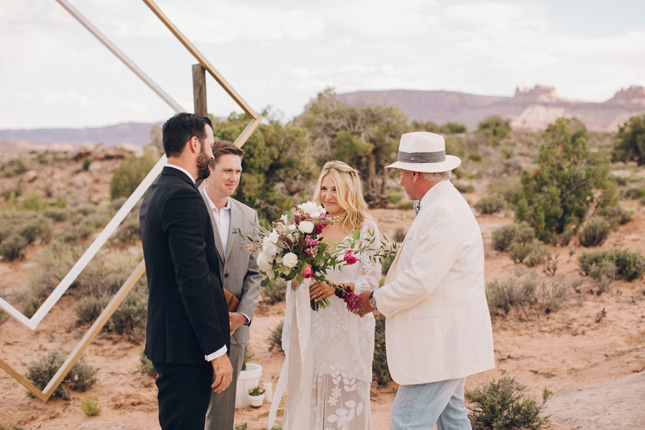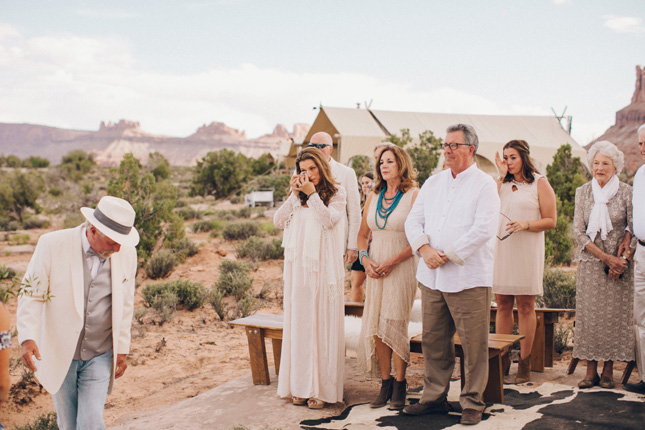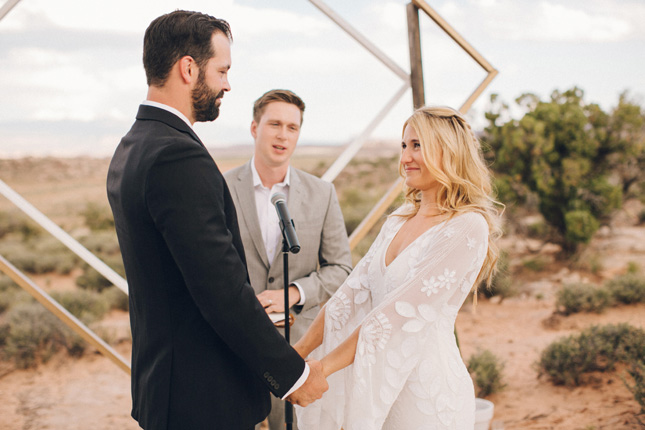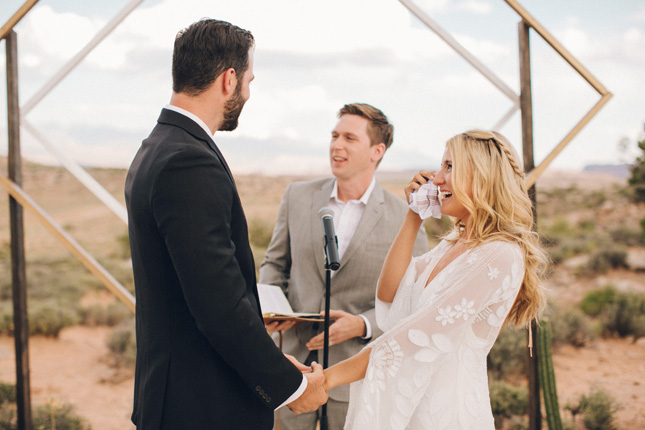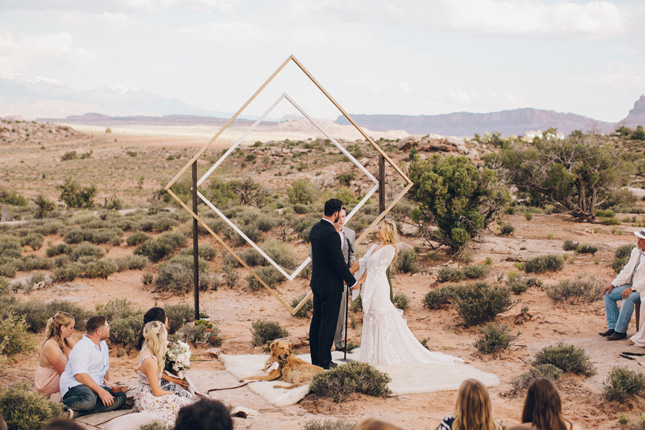 On a trip to spend Christmas in Philadelphia, Taylor's sister asked Chloe if she wanted to get her nails done, having already warned her to bring at least one nice outfit for a fancy brunch on Christmas Eve. Taylor proposed on Christmas Eve, when they hopped out of their car to take some photos at the Fairmont Waterworks (where Rocky runs up the steps in the movie).
"He turned to me and said, "Chloe, there's no brunch..." and then I knew! I started crying and burying my face into his chest. He was saying the sweetest things and I didn't want the moment to end so I clung tightly to his arms. He had to push me away just so that he could drop to one knee," she laughs.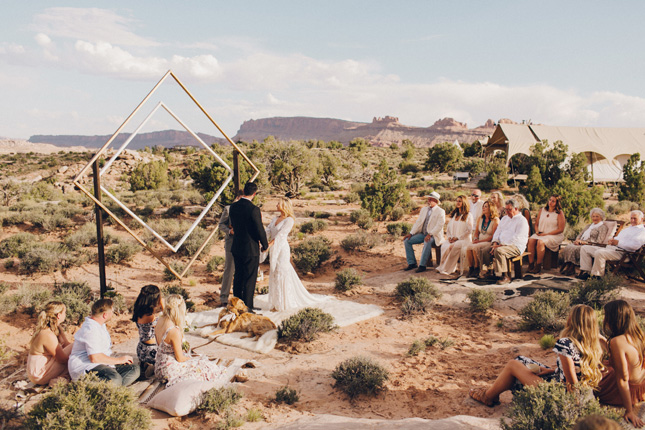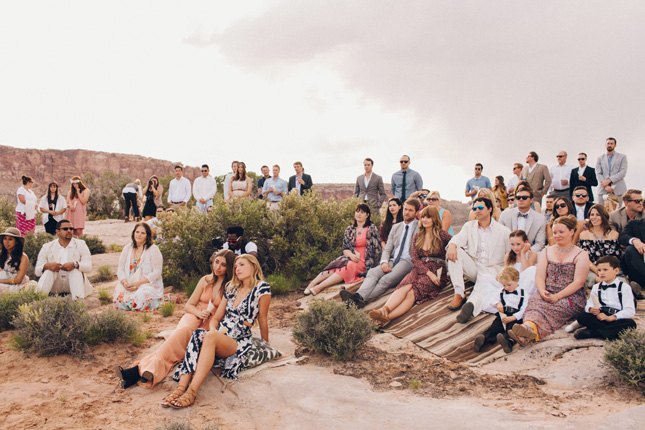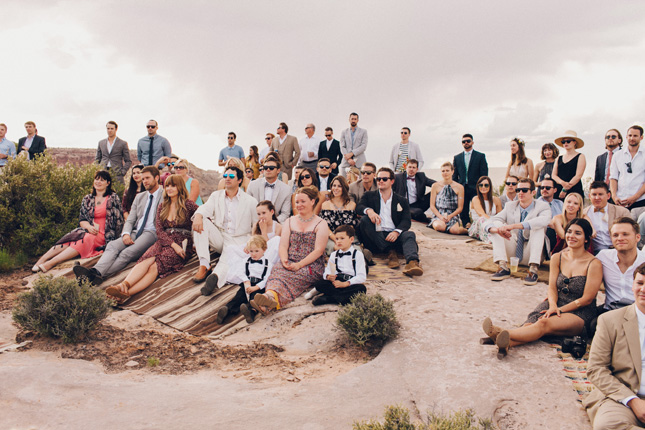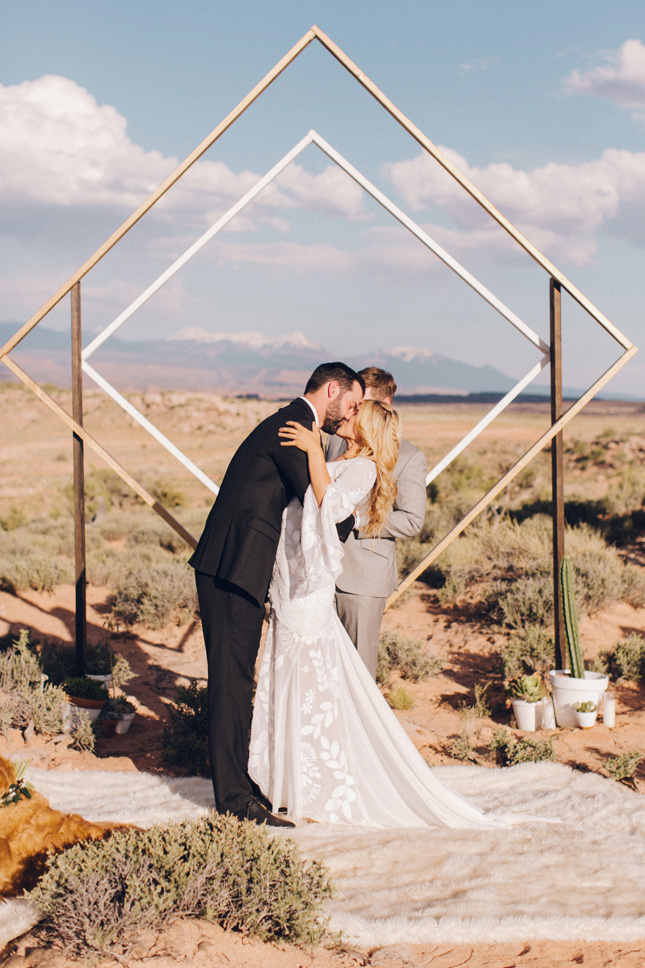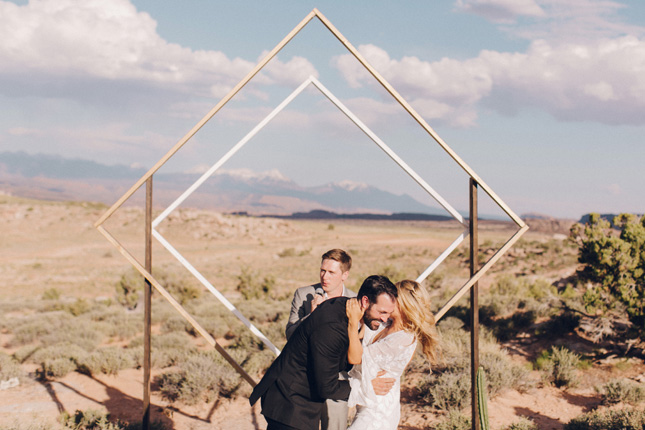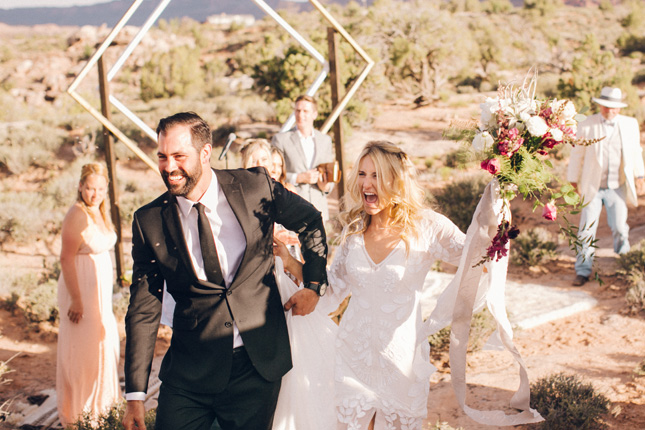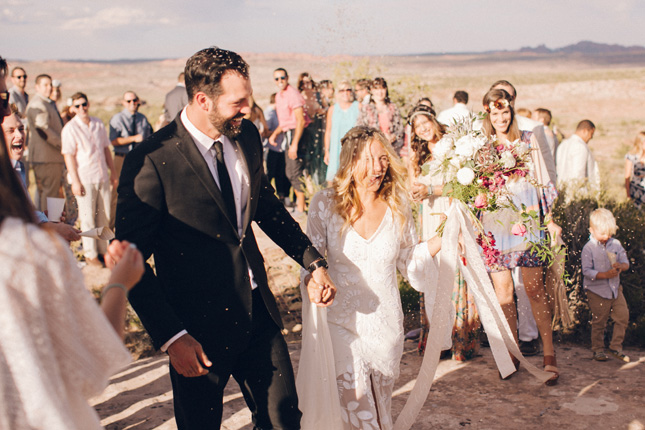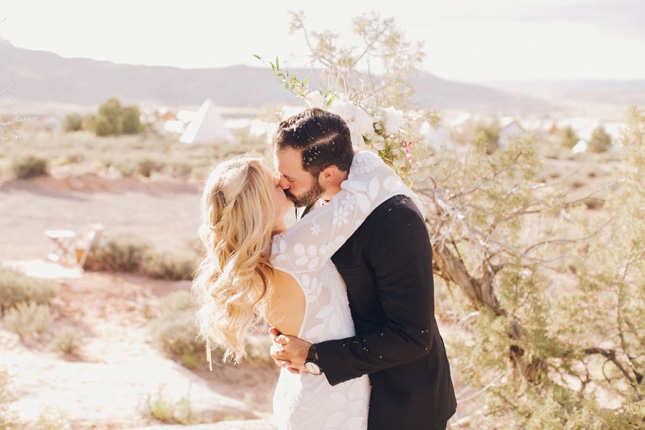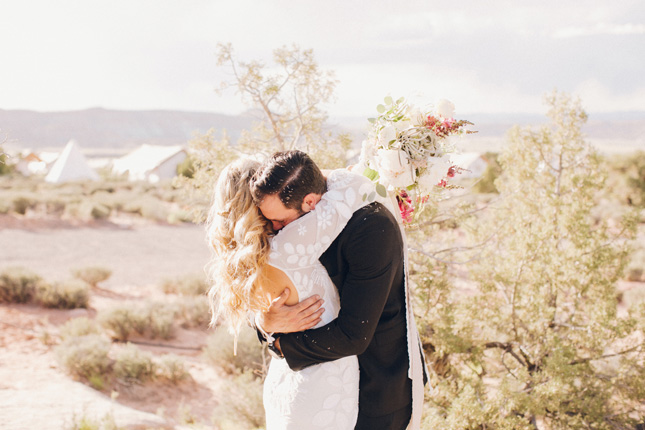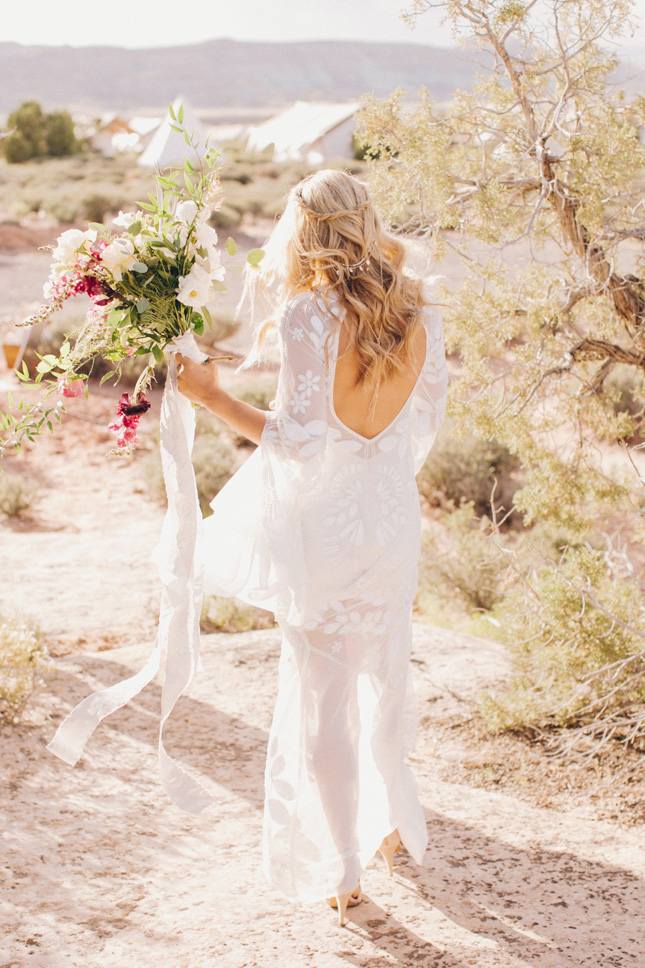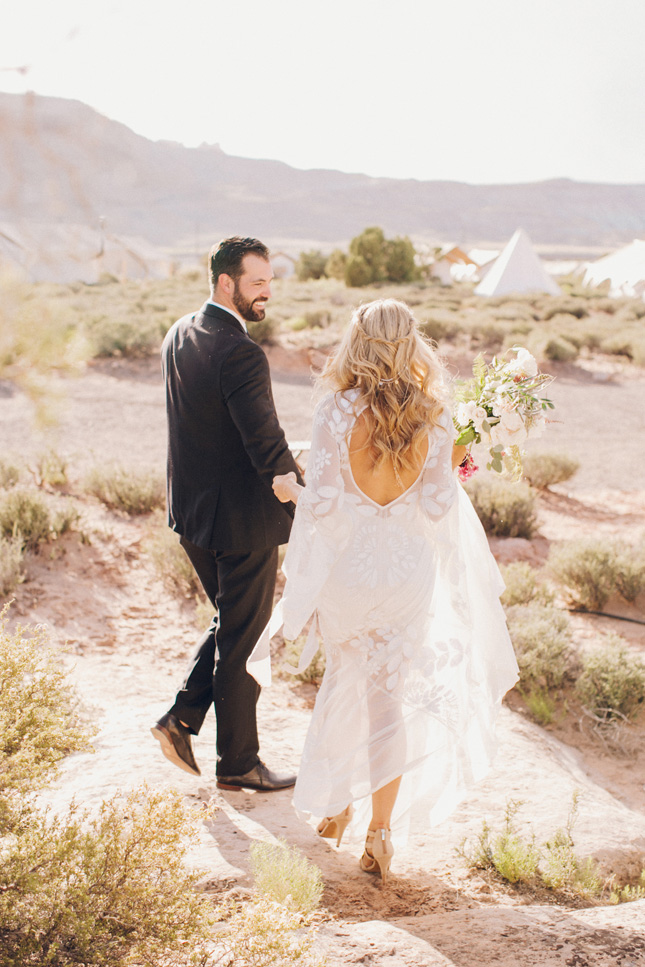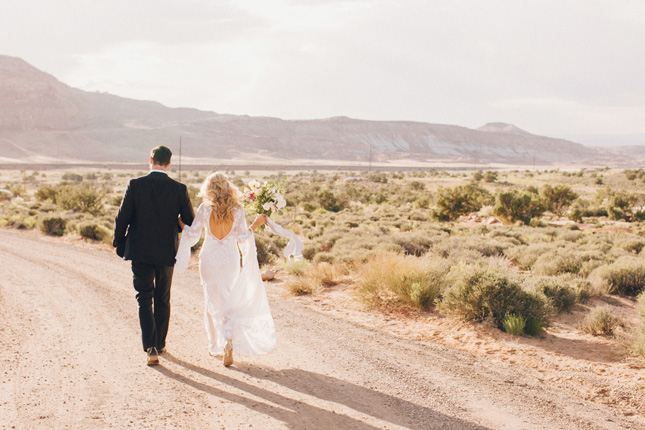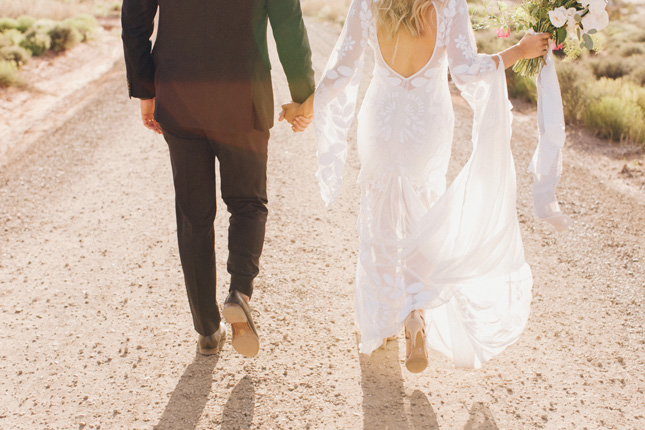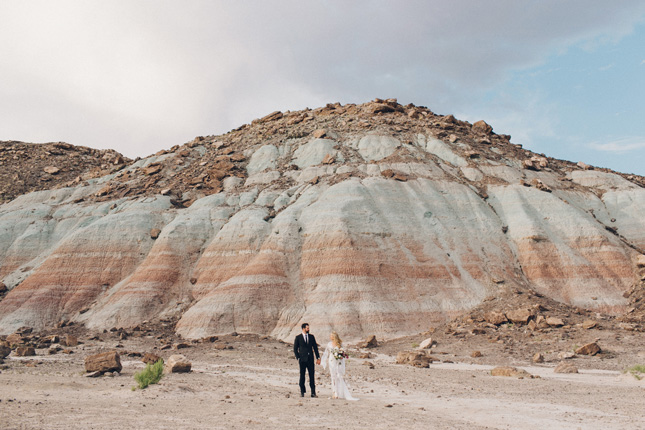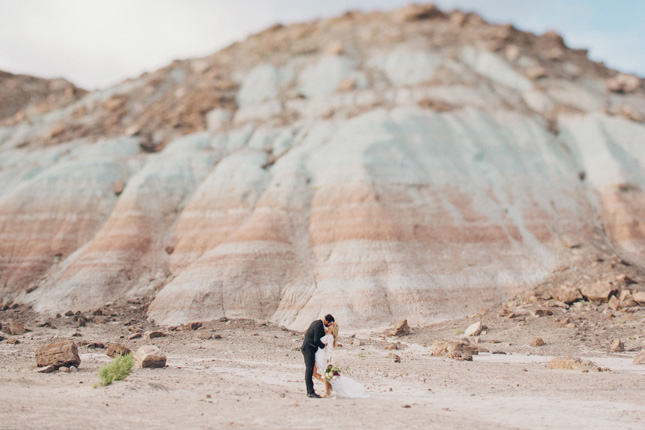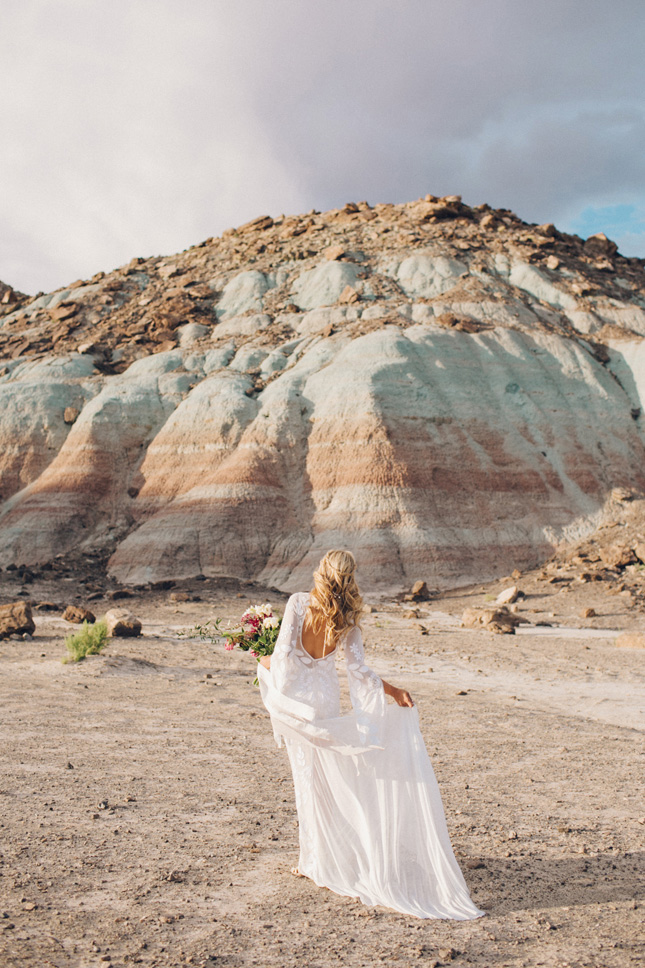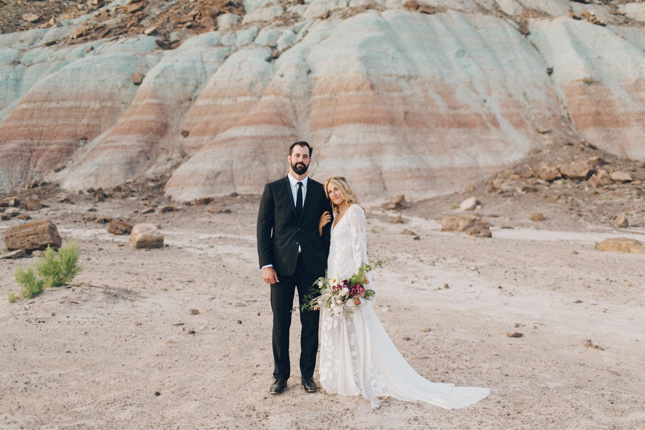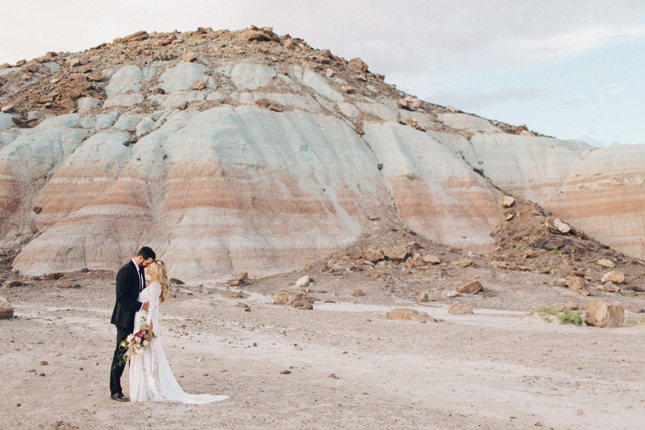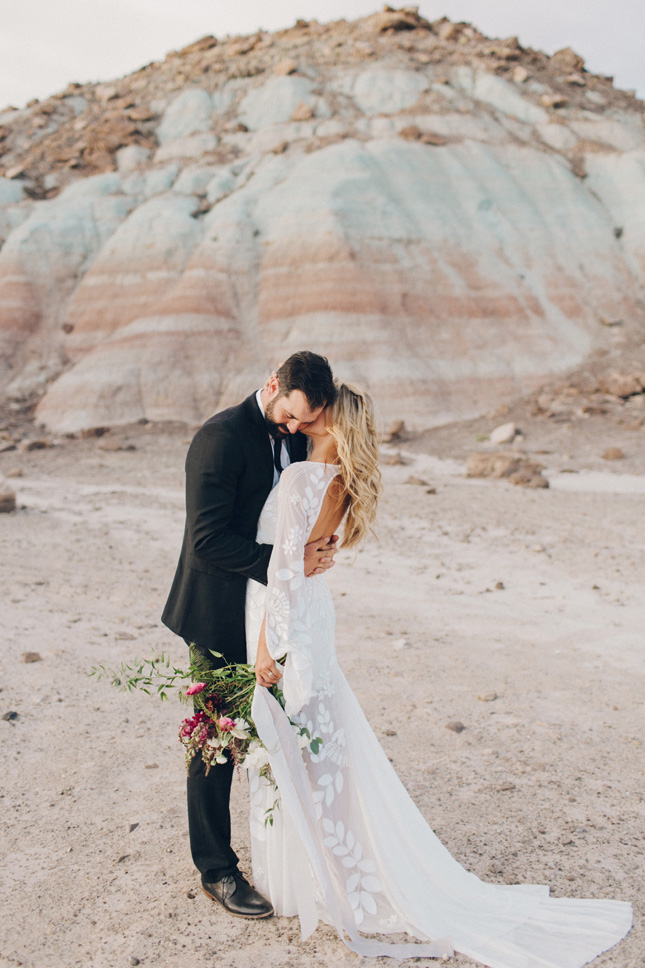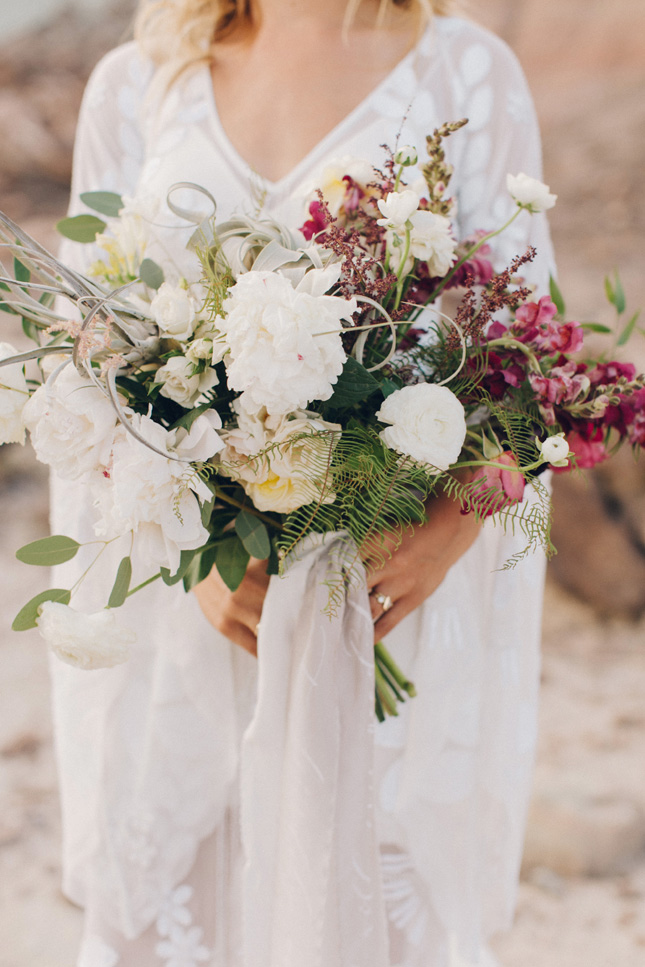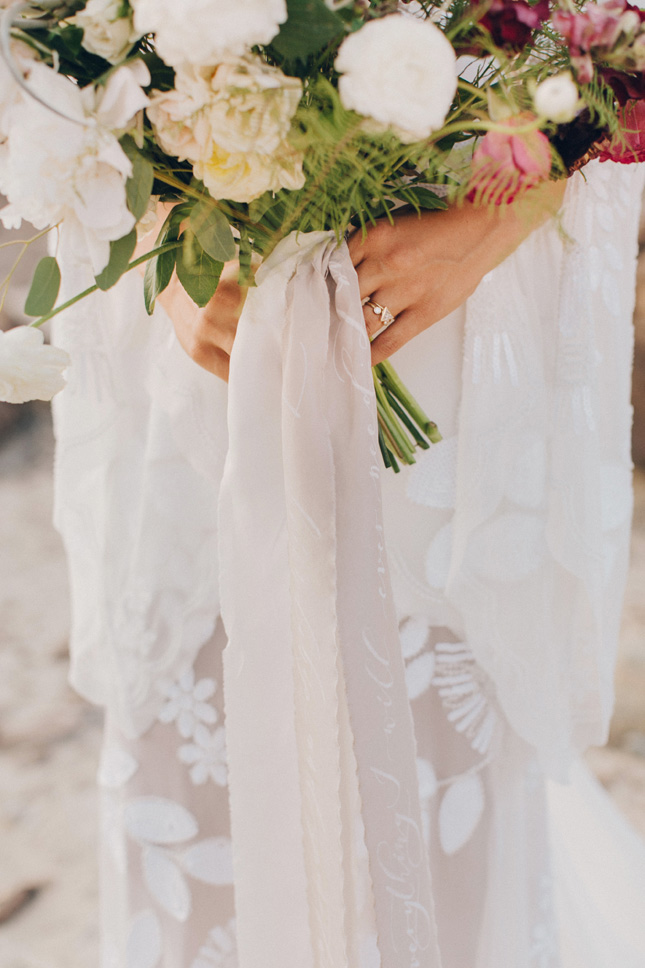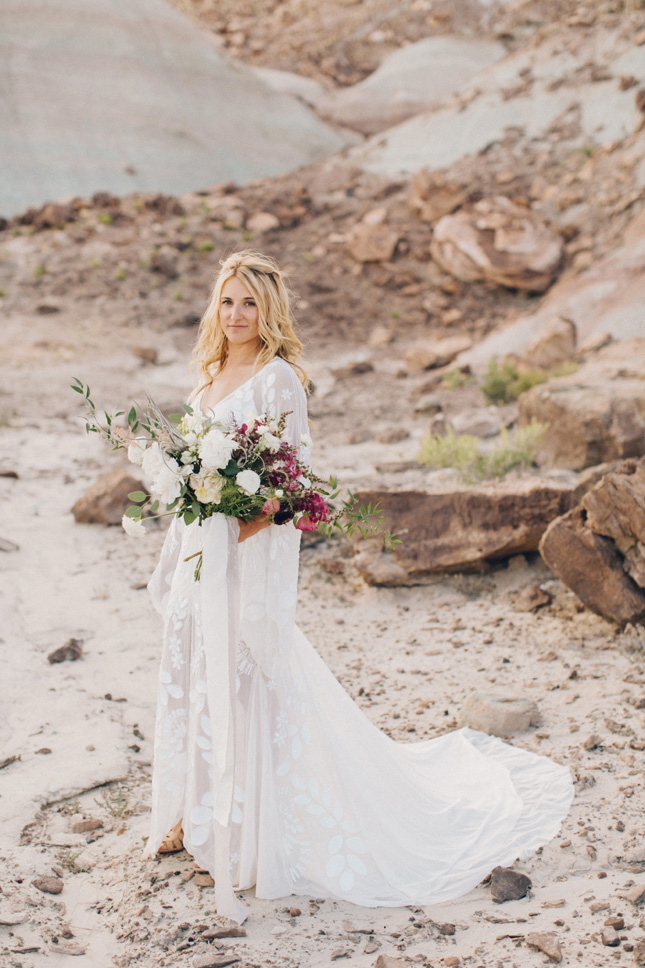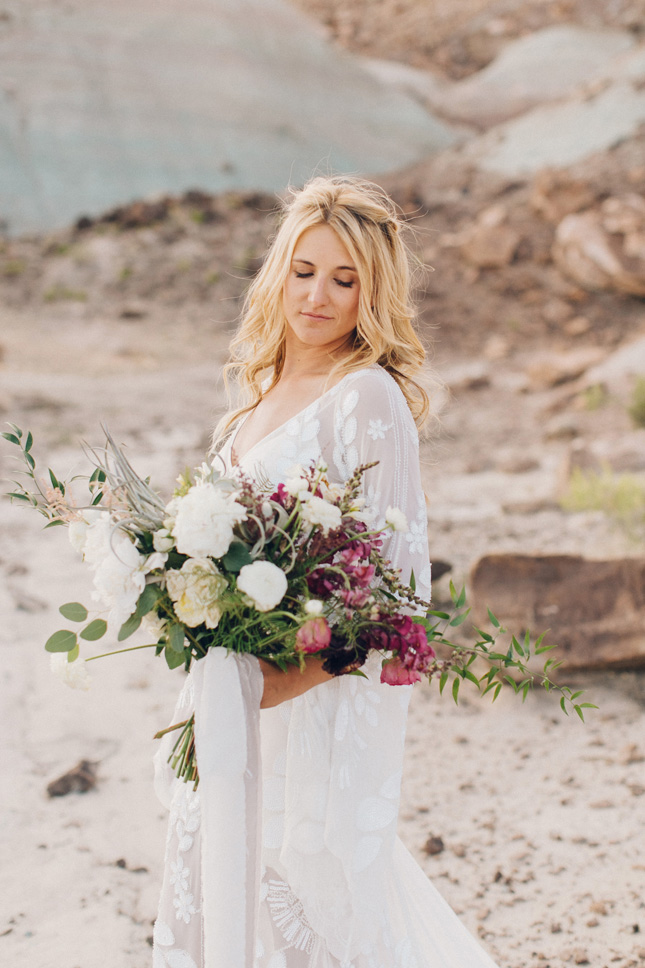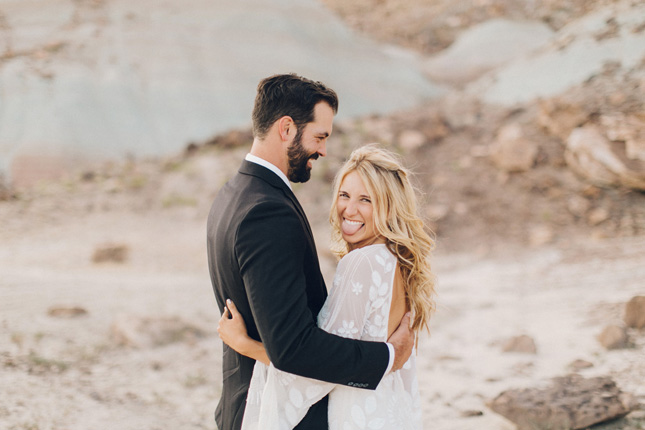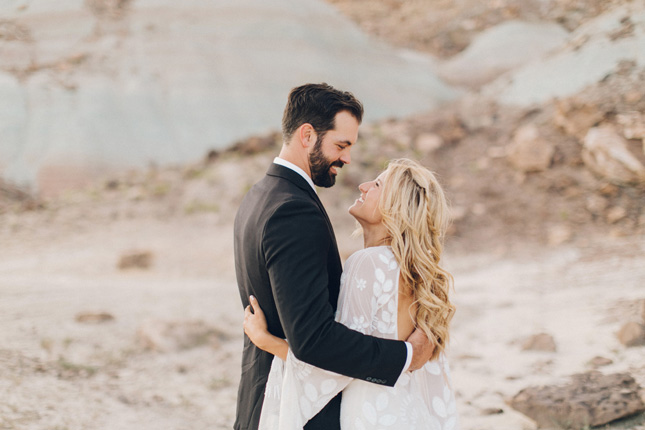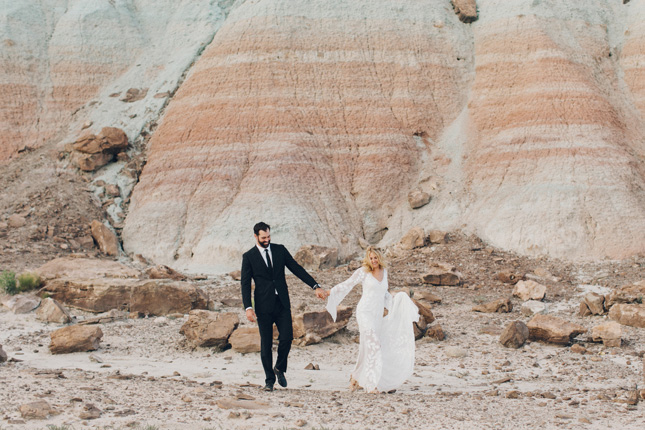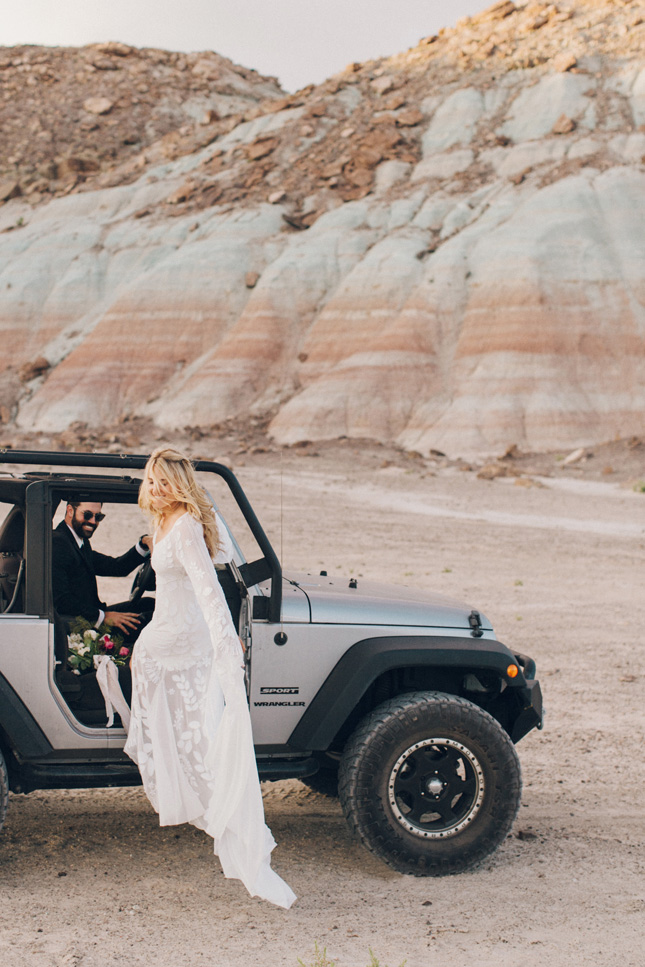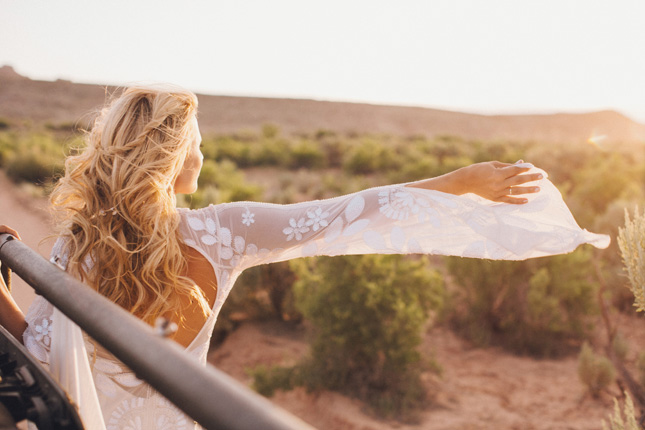 The inspiration for their wedding came from Coachella, the world-famous Californian music festival. "We both love going to music festivals and wanted our wedding weekend to have the same free spirited feeling! Being a wedding photographer myself, I know far too well how fast a wedding day goes by and I knew before we were even engaged that either wanted to elope or have an epic 3-day party...we sprung for the party!"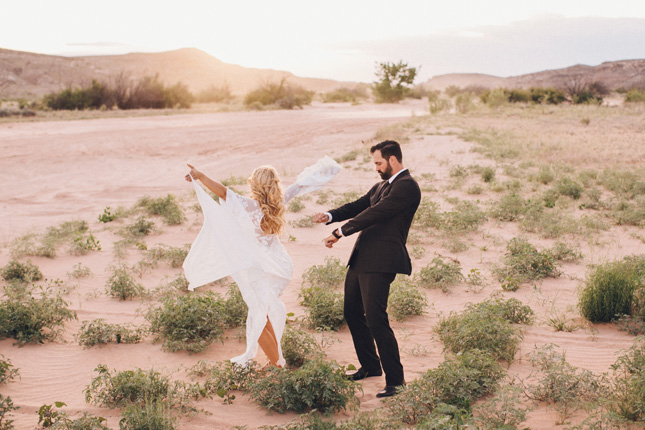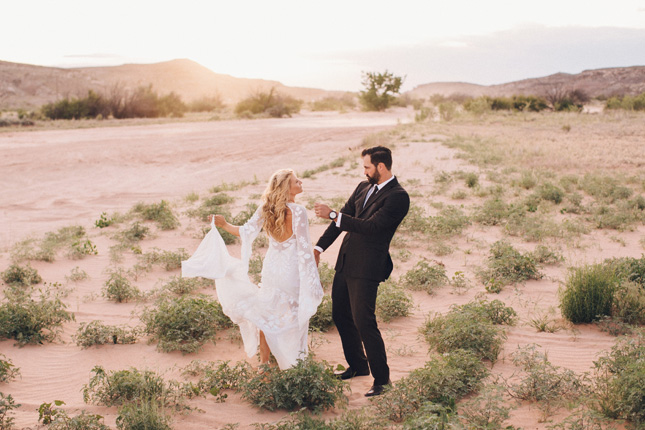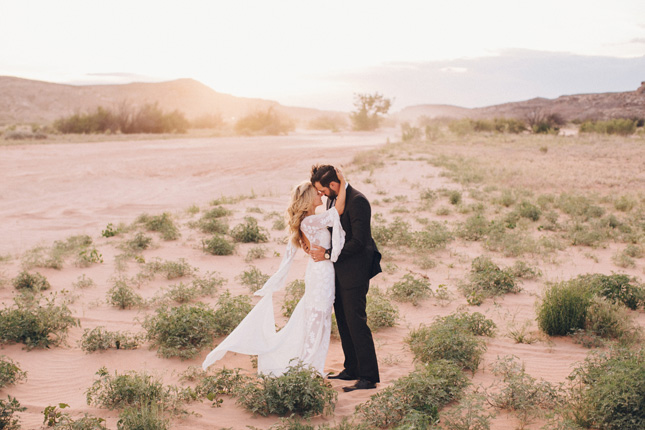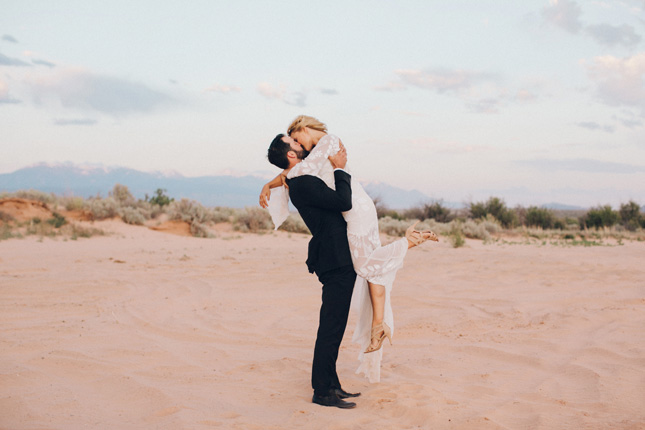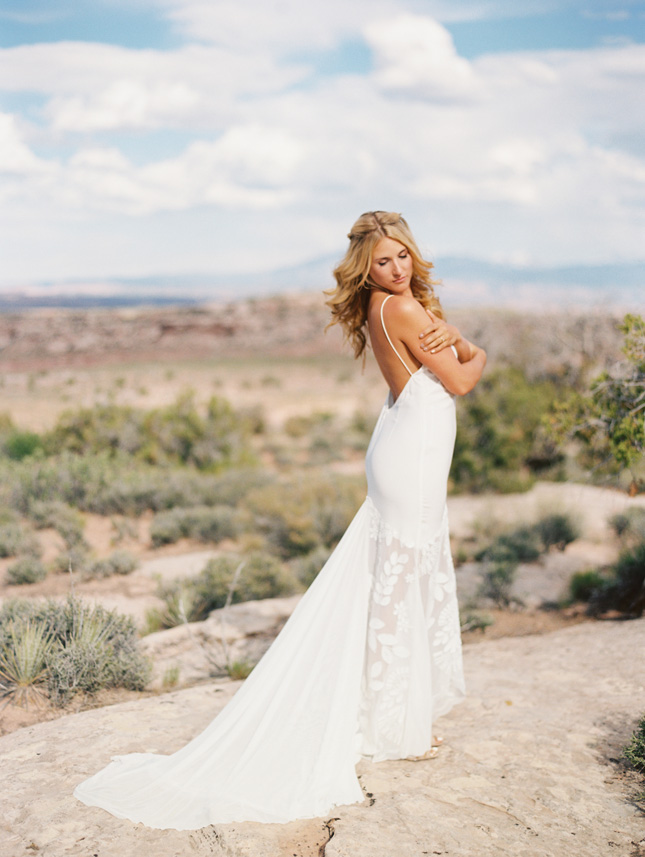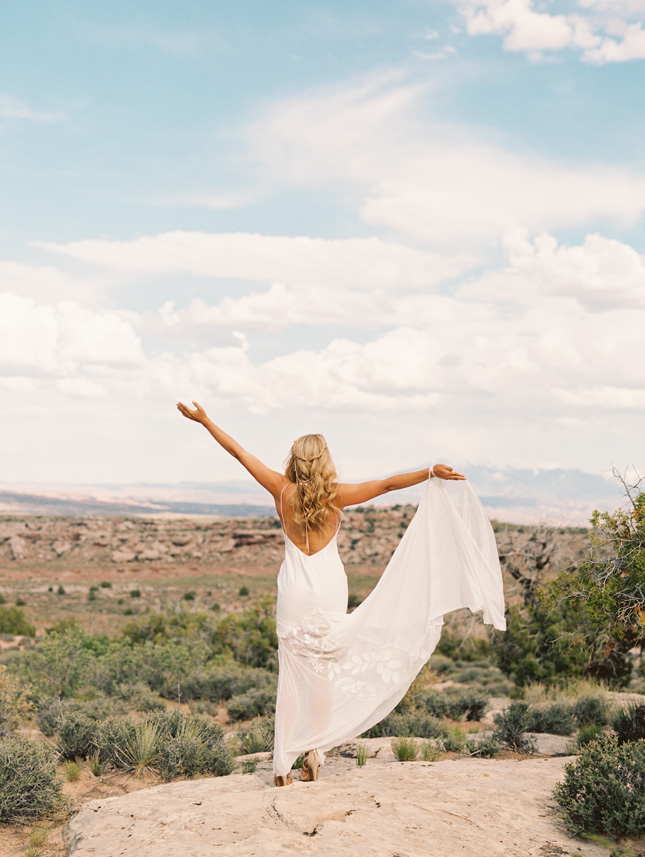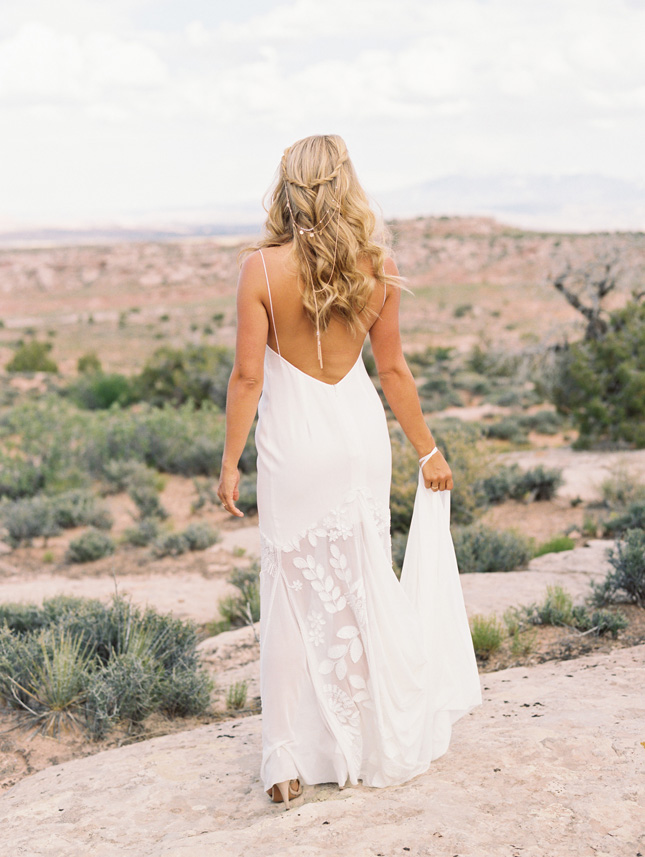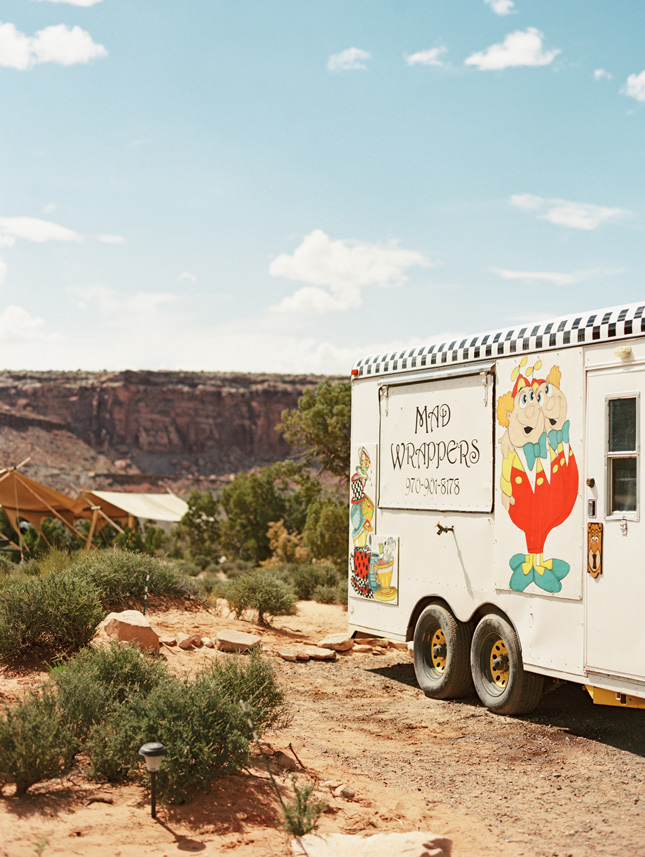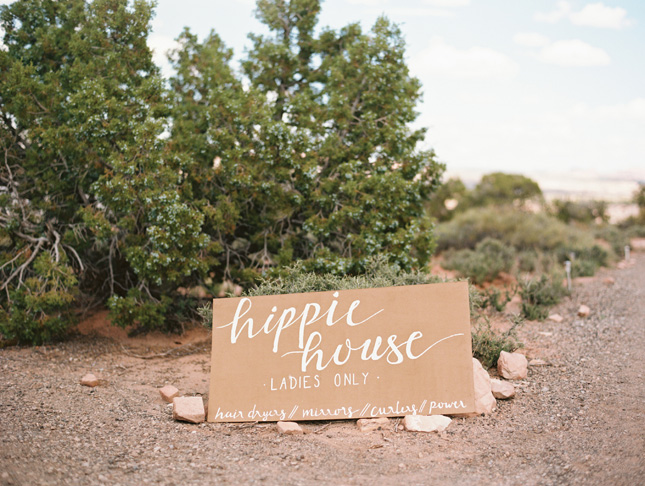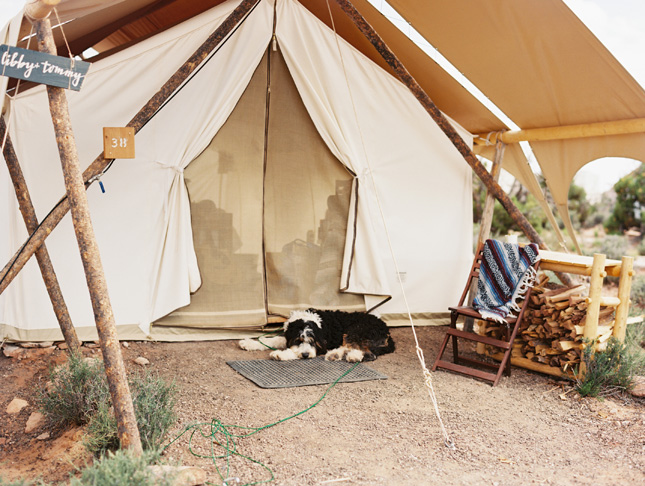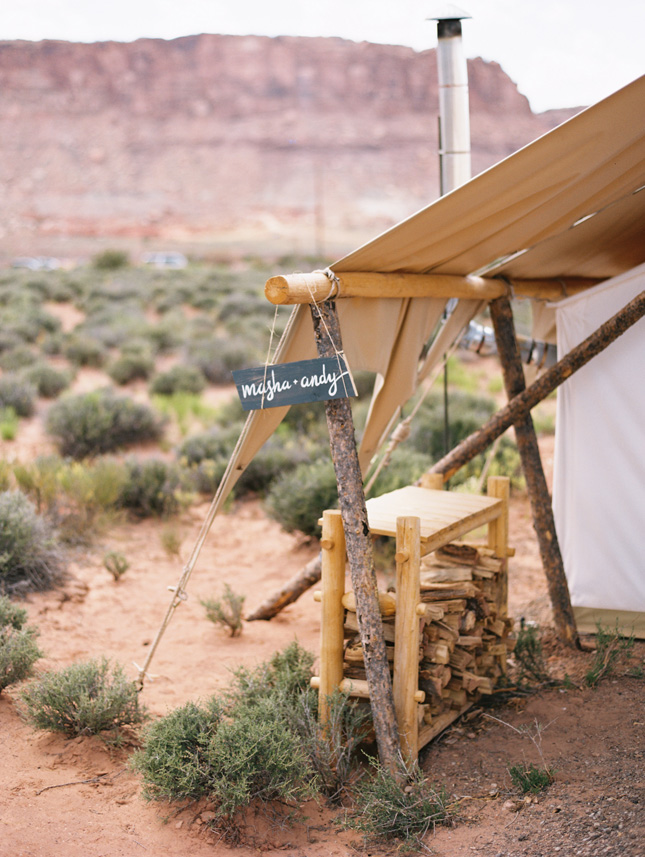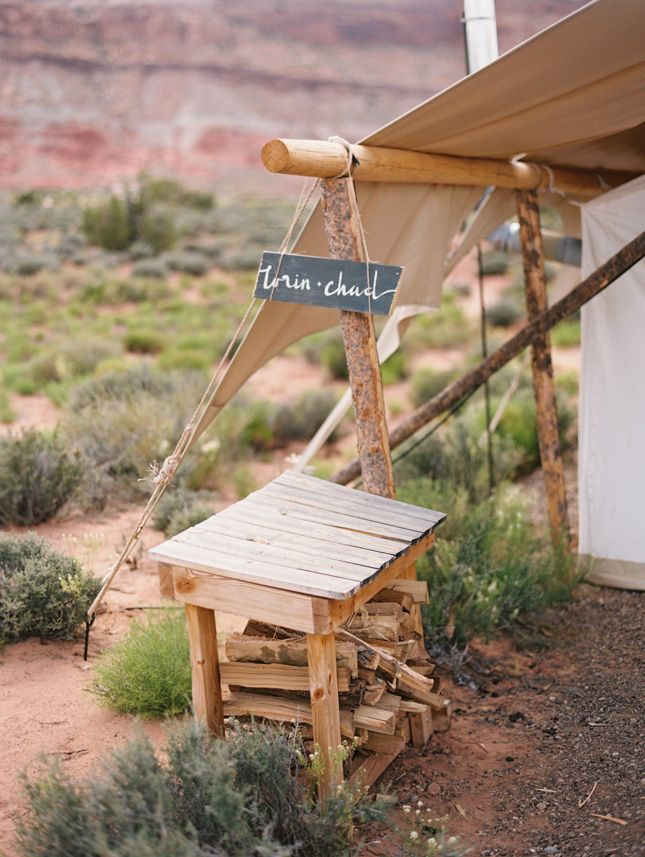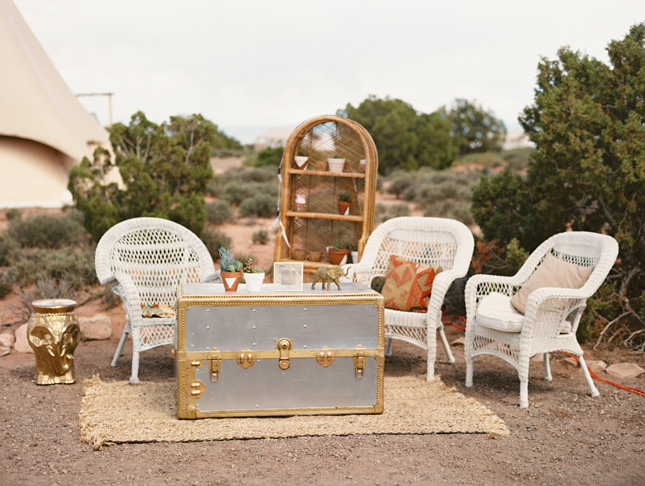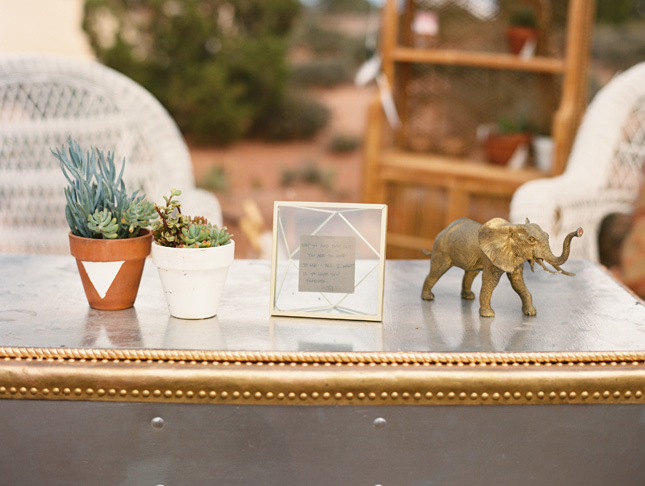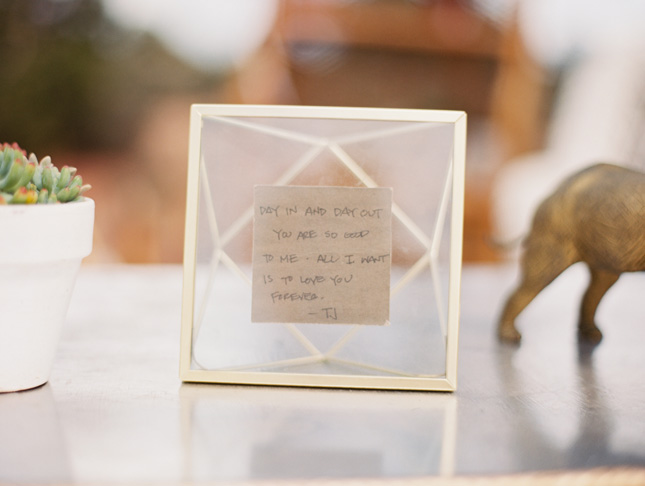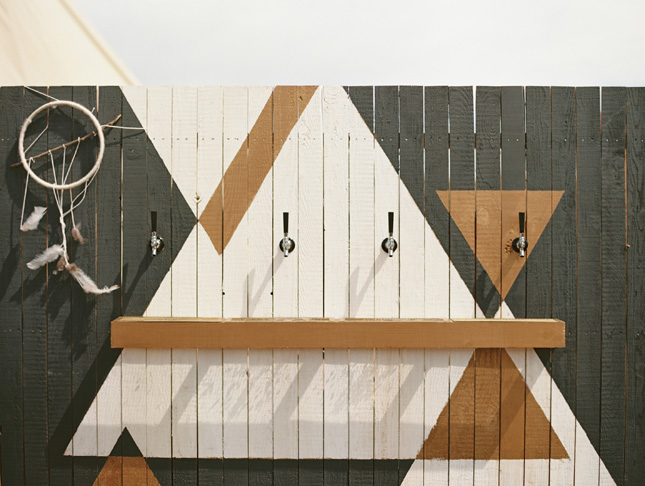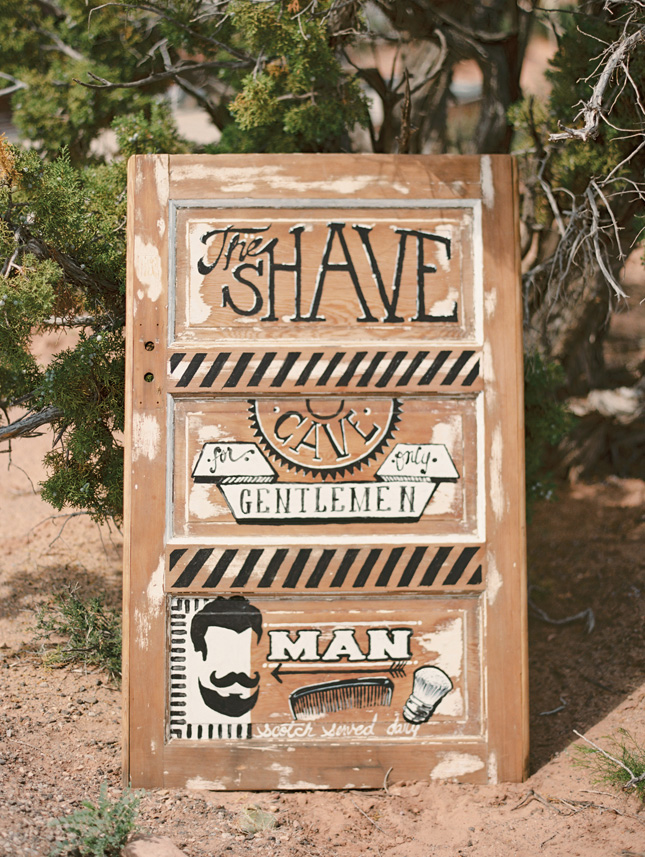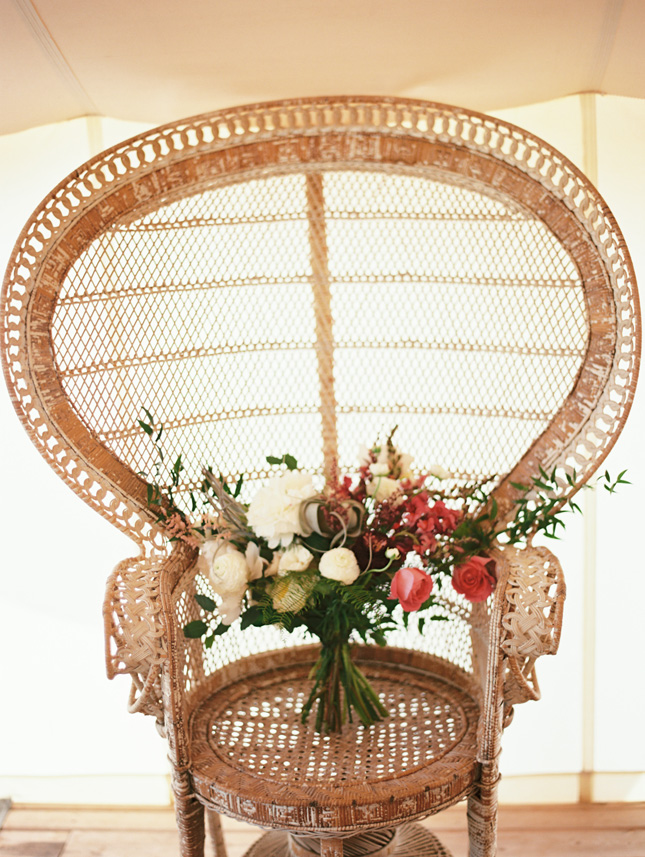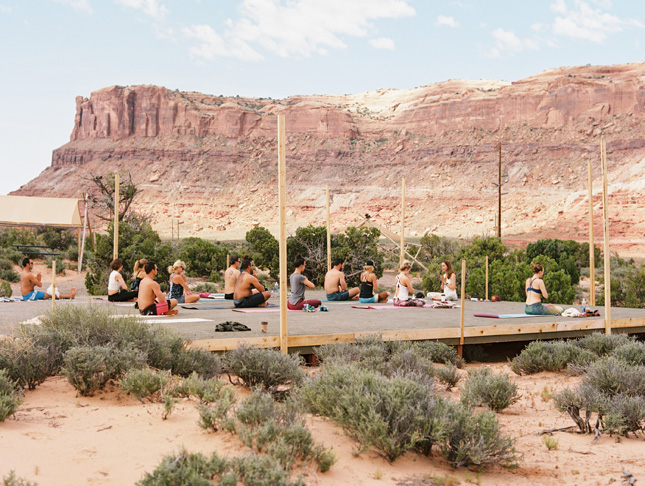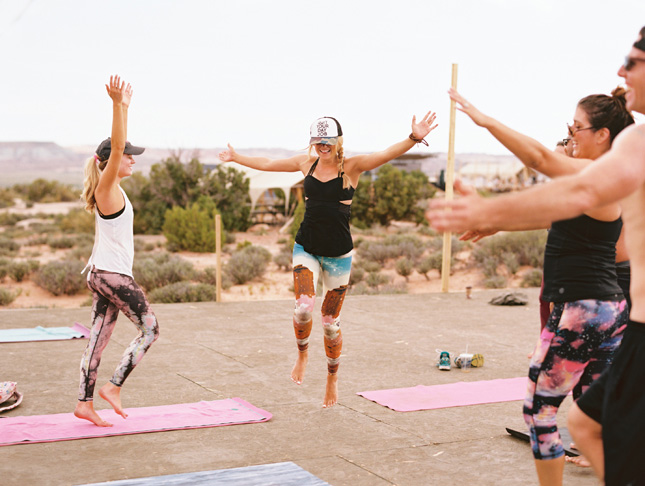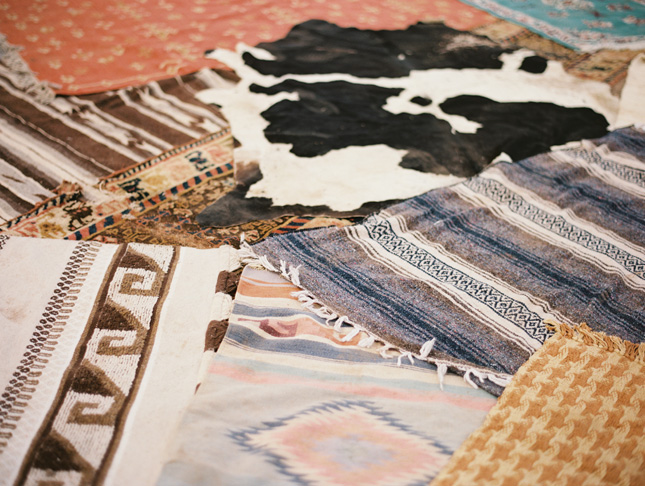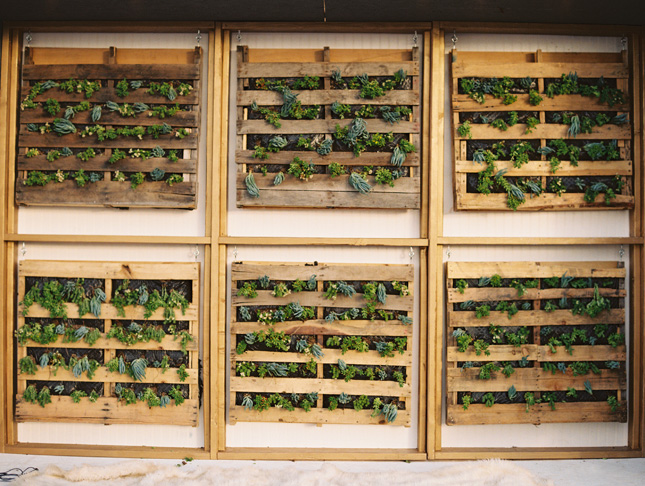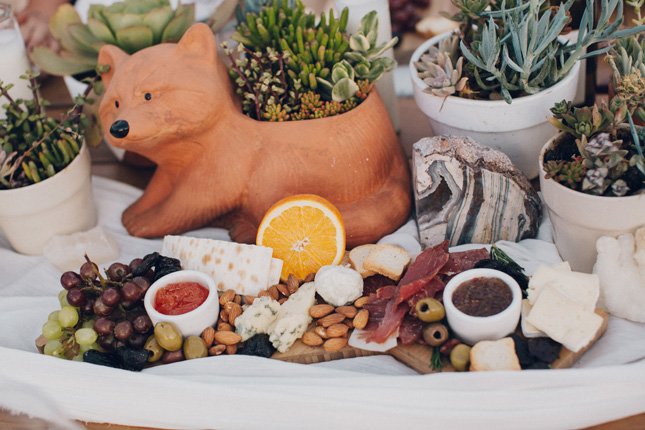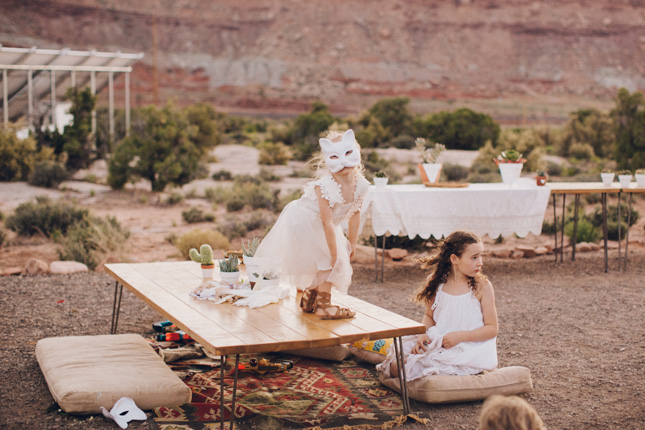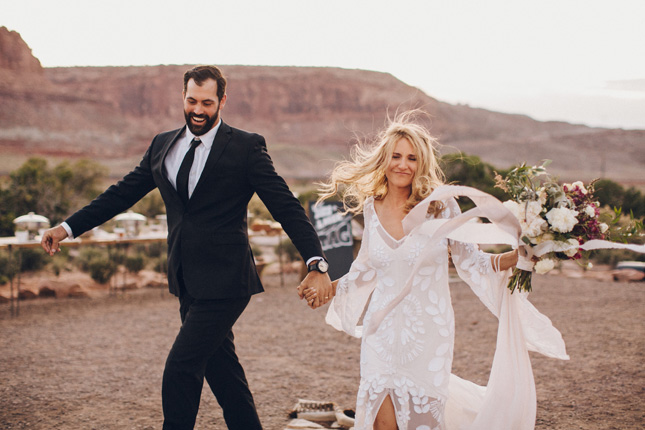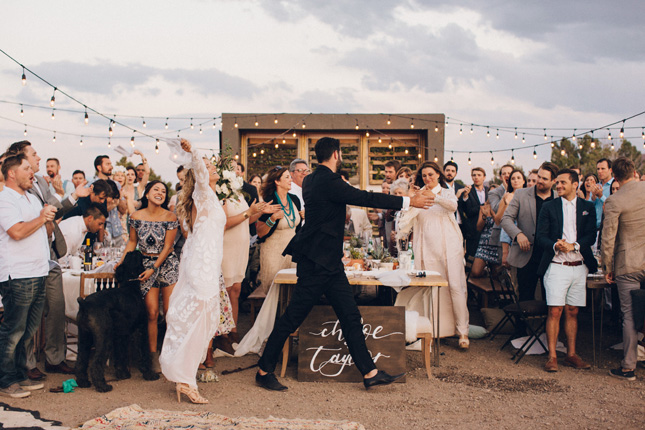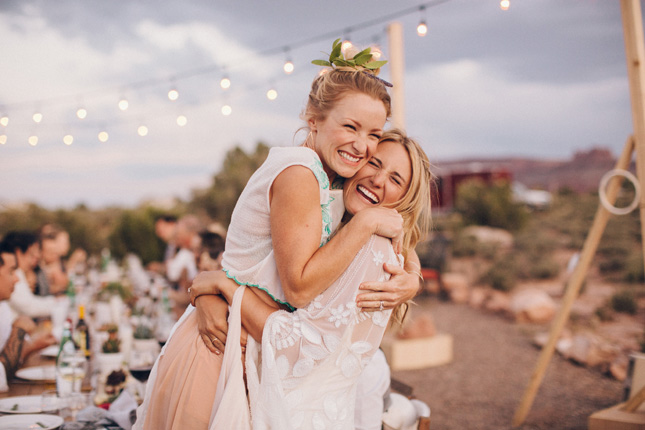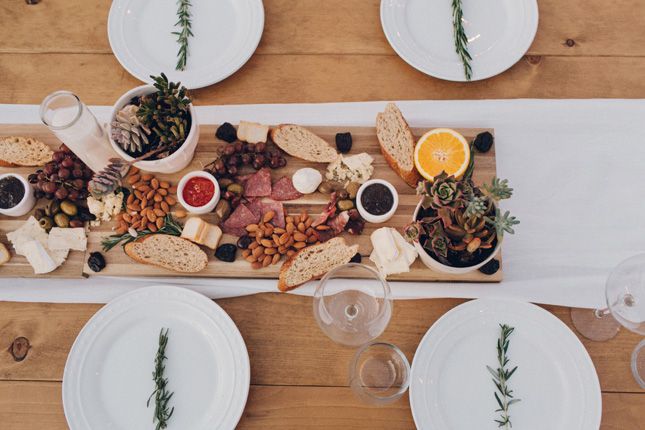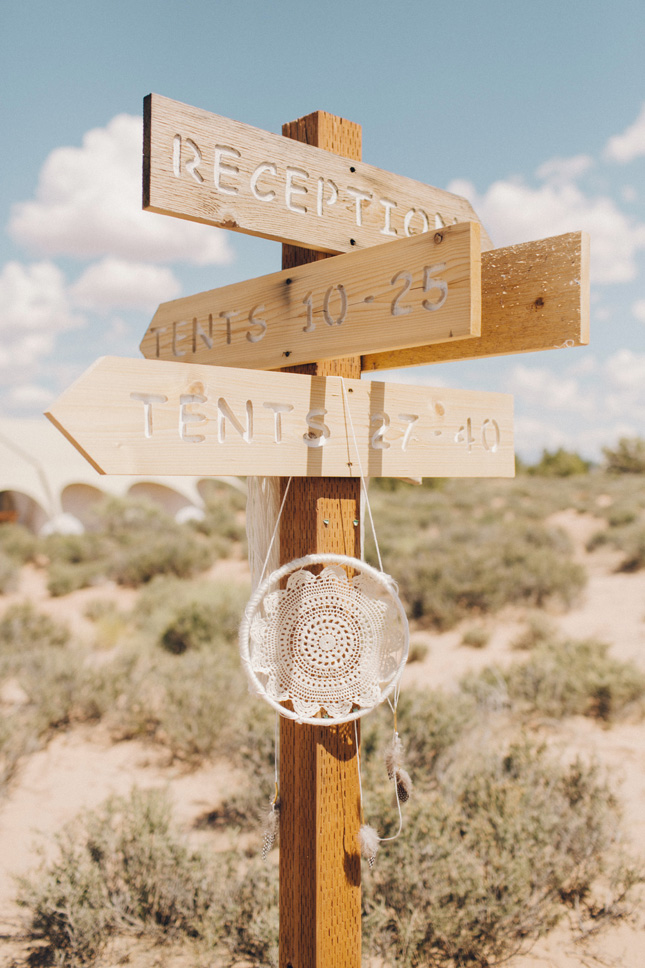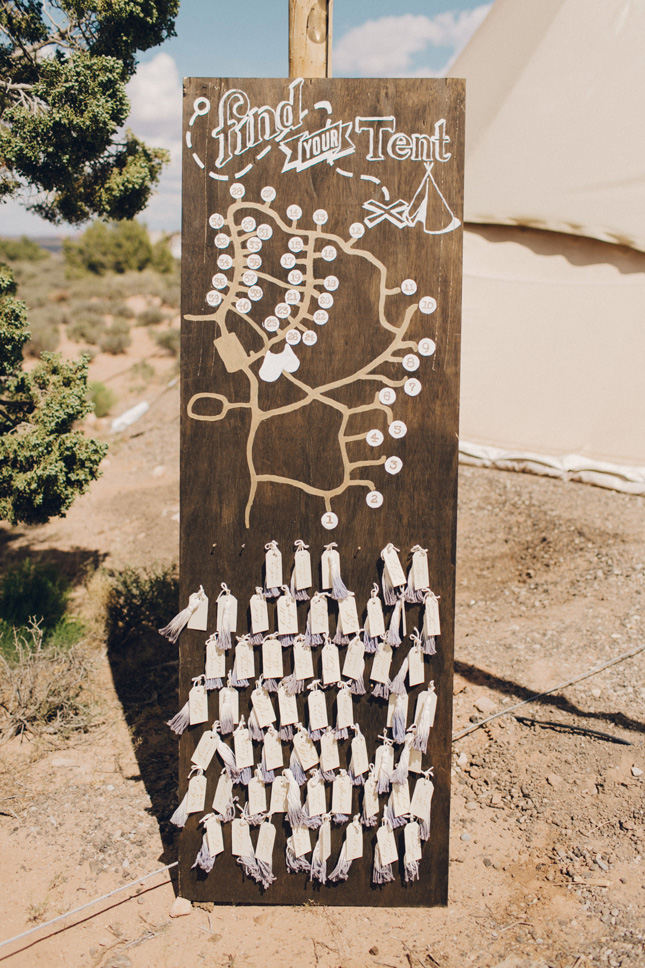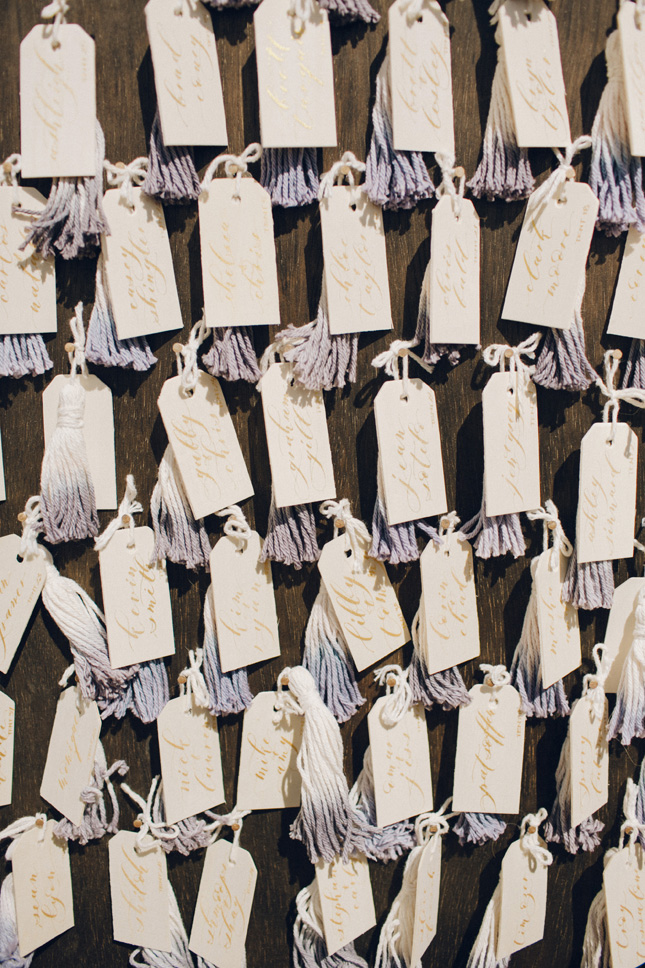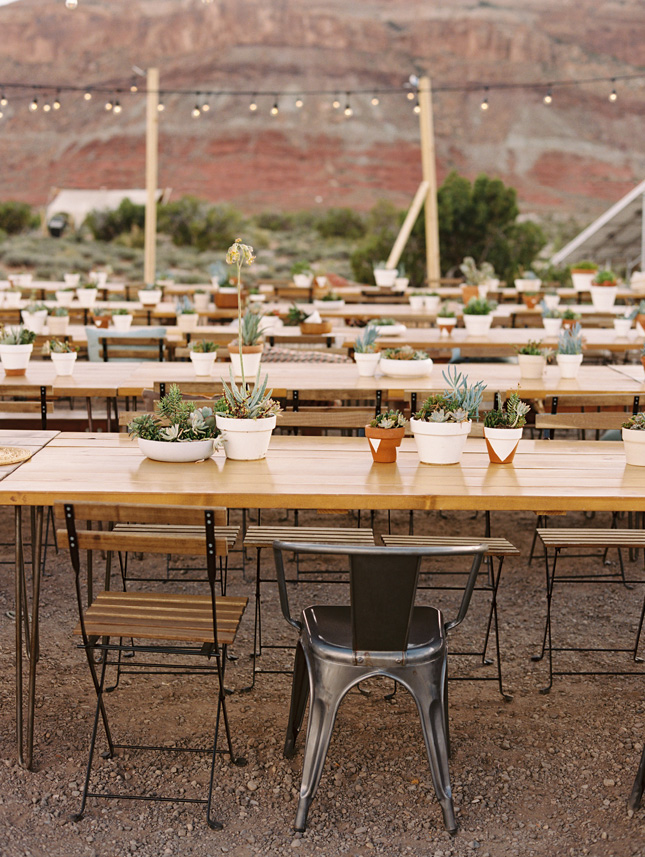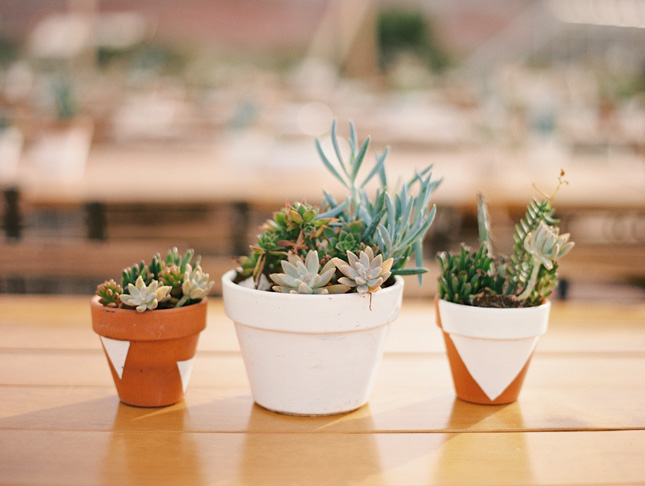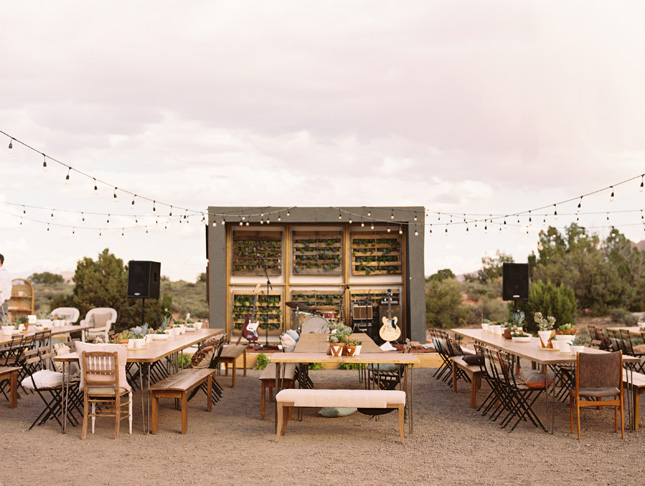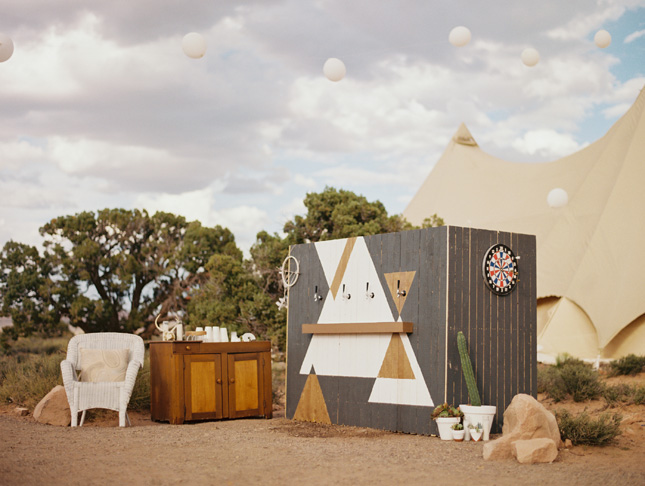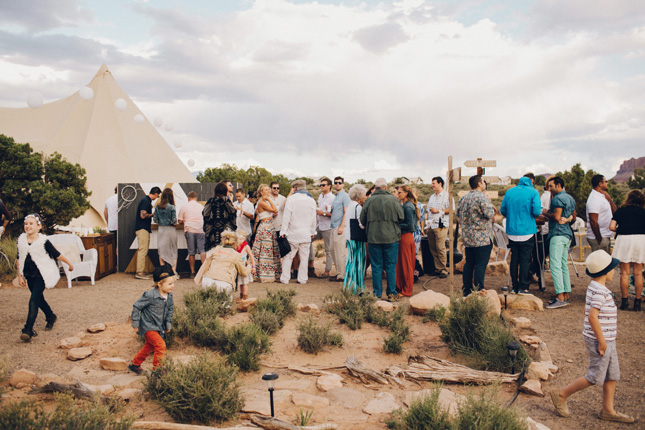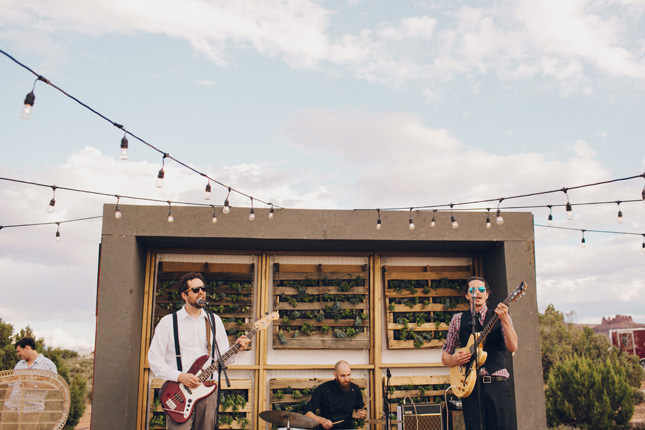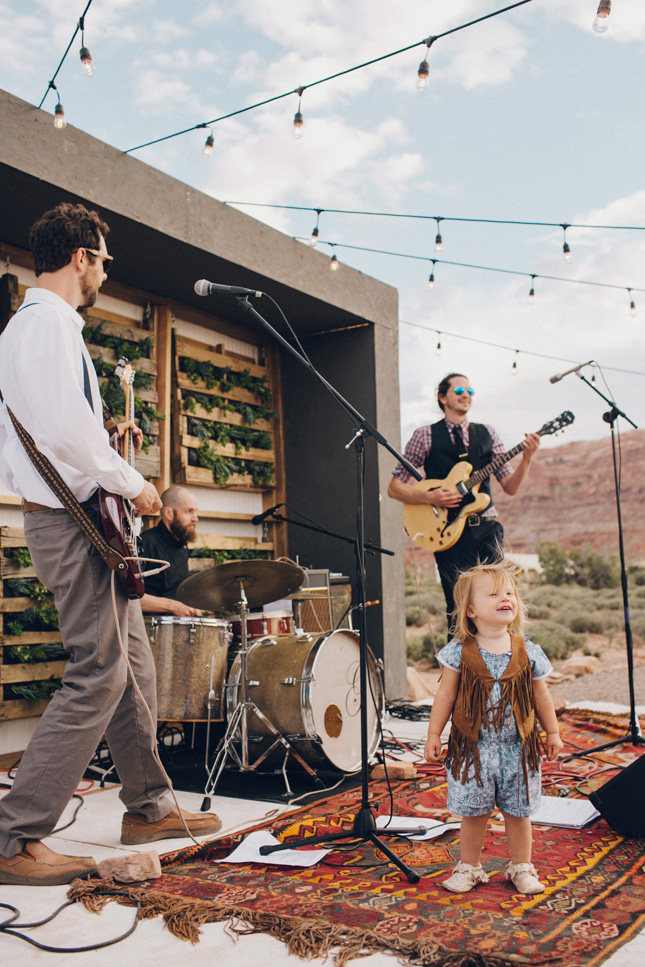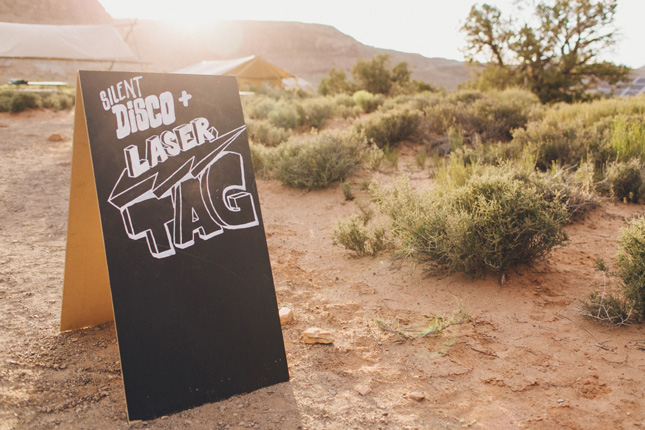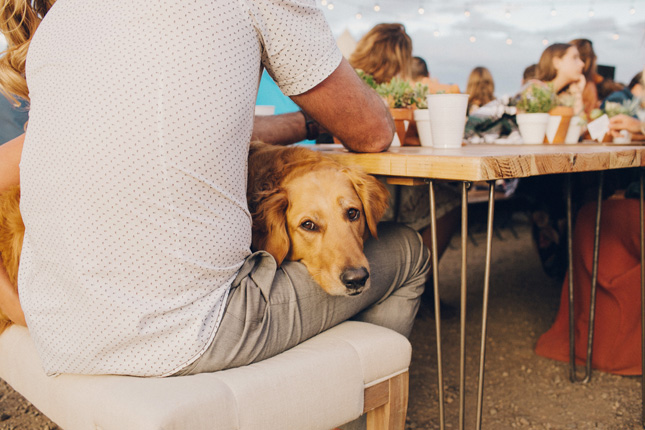 It took them a long time to find the perfect venue to host their three-day wedding extravaganza. Besides wanting a venue for three days over Labor Day weekend, they wanted somewhere all their friends could glamp, in a beautiful, unique, natural setting, where there were no sound restrictions and all their guests could bring their dogs.
"We also needed a place that allowed us and all of our guests to bring their dogs and that allowed us to use all of the vendors of our choice since I've made so many connections in my industry, I knew I wanted to bring the vendors that I trusted and loved," says Chloe.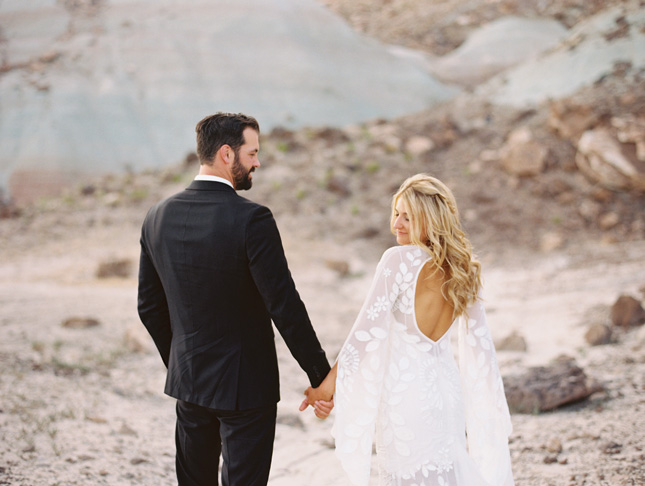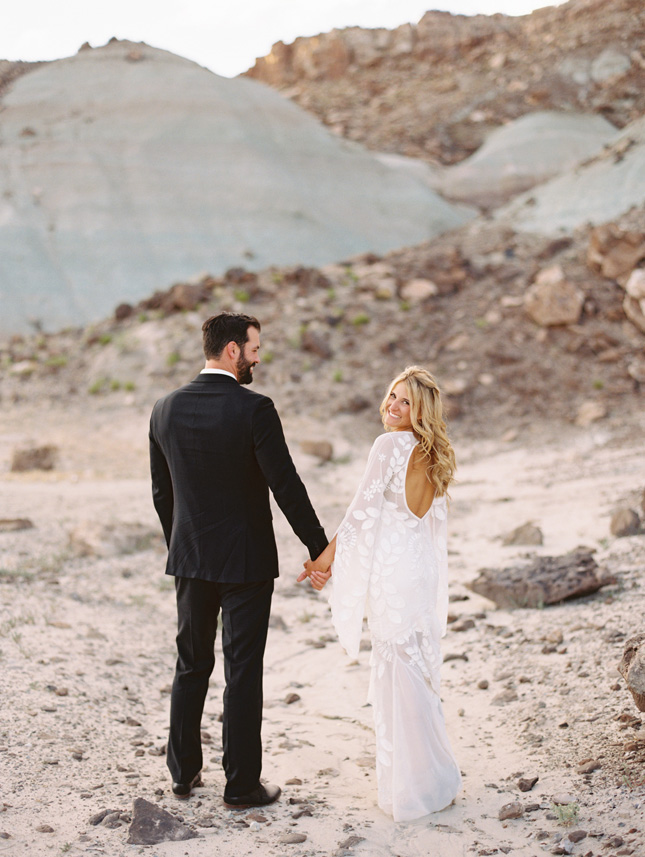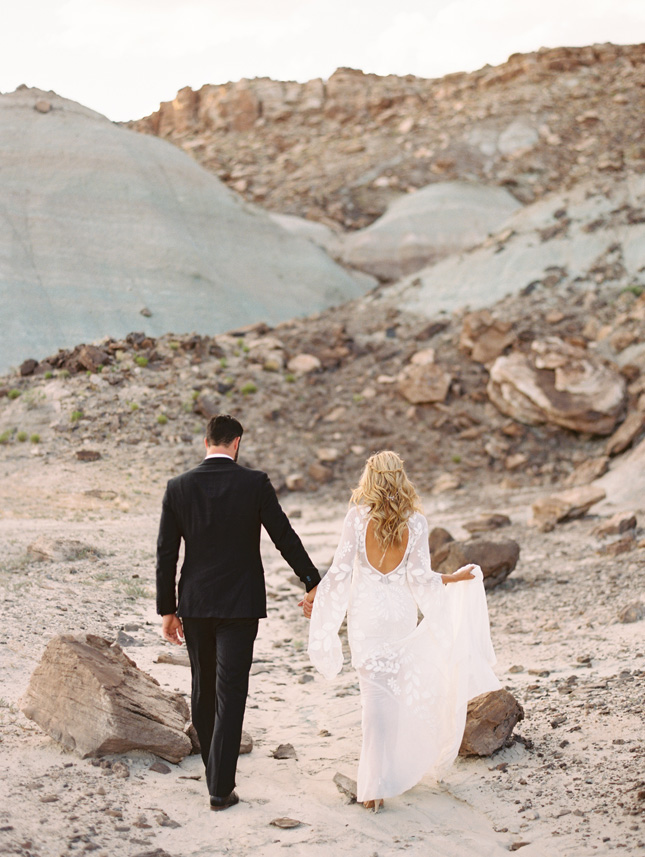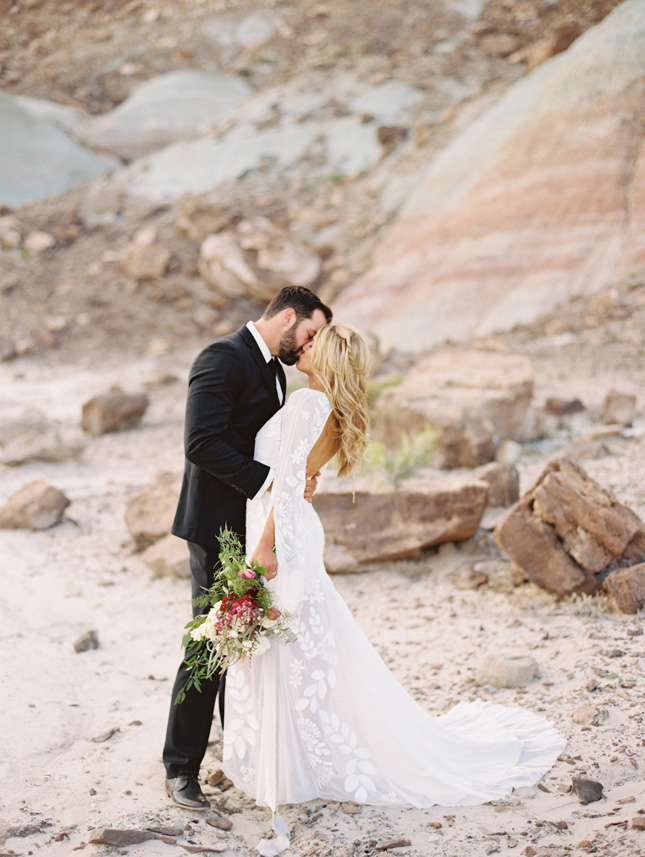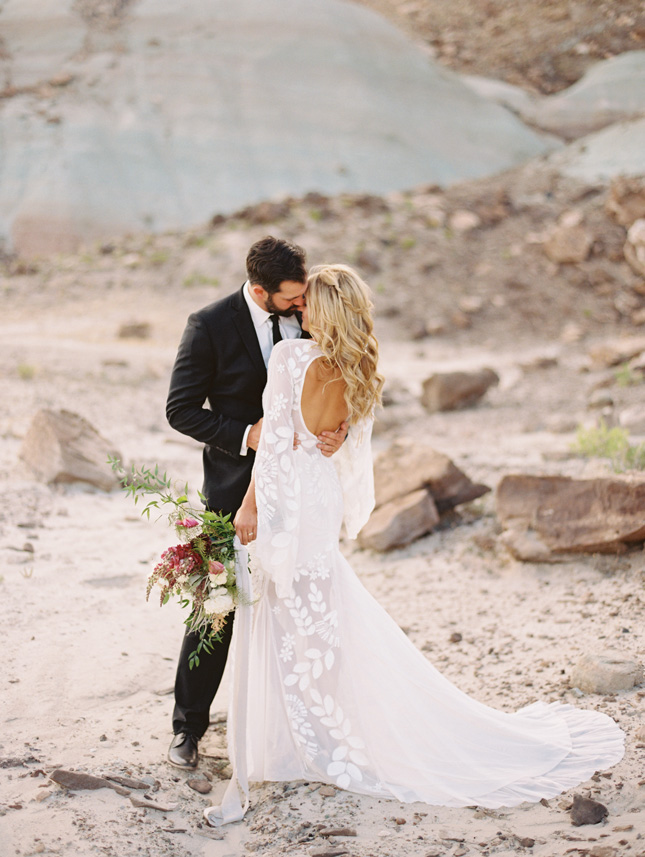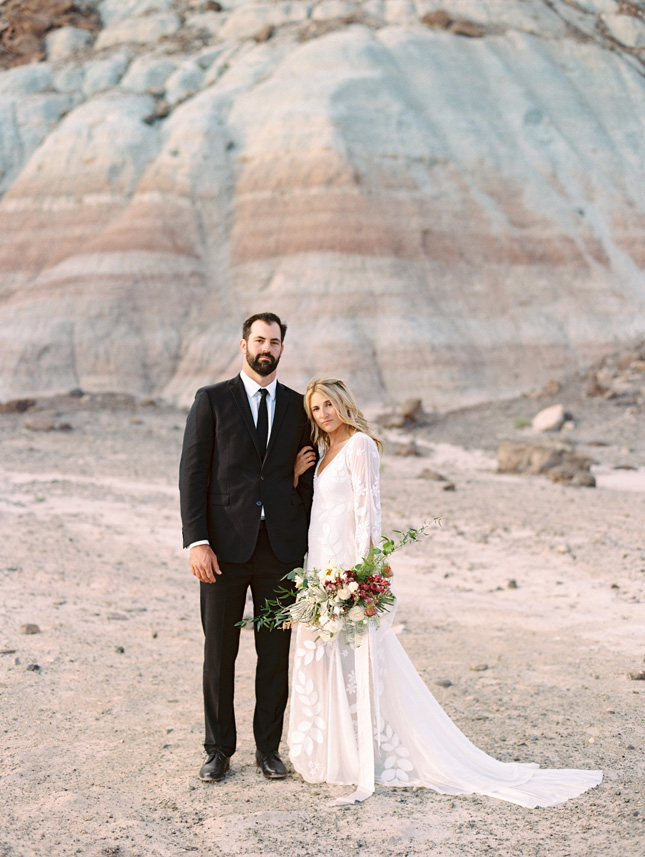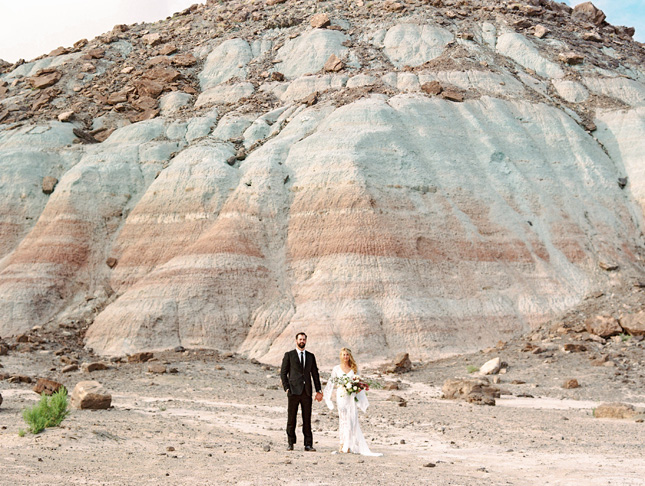 They had three bands, three DJs (one of who was Taylor himself!), a coffee truck there all weekend long, food trucks, organic catering, silent discos, yoga each morning, a spa tent, a snack tent, laser tag, a beer tap wall and open bar all weekend long. There were also various activity options for guests, including speed boats down the Colorado River, hot air ballooning, mountain biking, off-roading in jeeps and exploring the Arches National Park. Phew!
"Our wedding was so "us" because for us, running free and having an epic dancing blast in the middle of the desert with our friends and their fur babies is totally "us"!" says Chloe.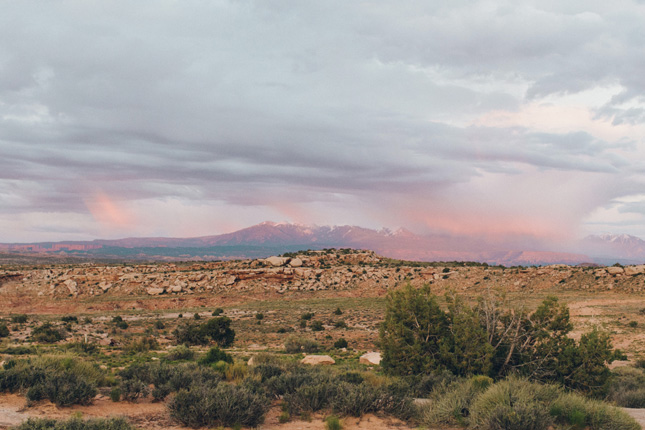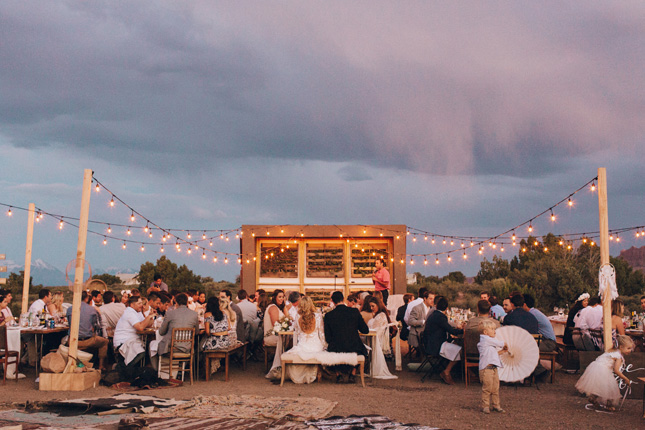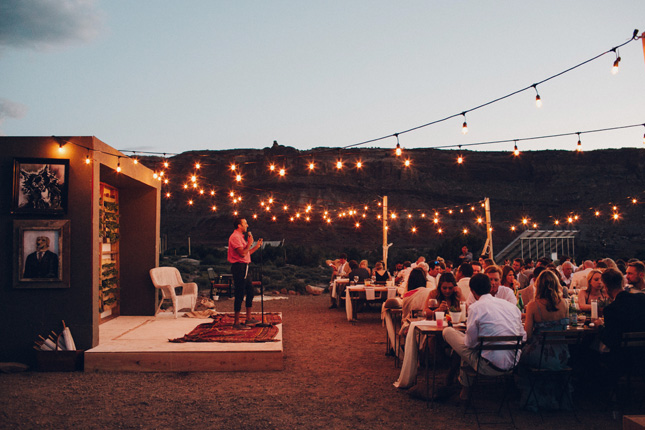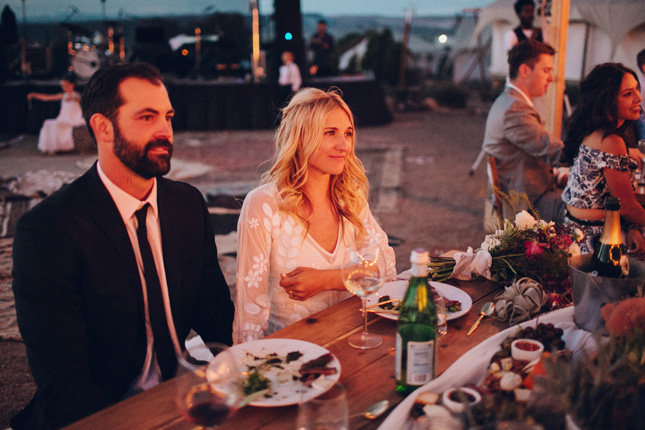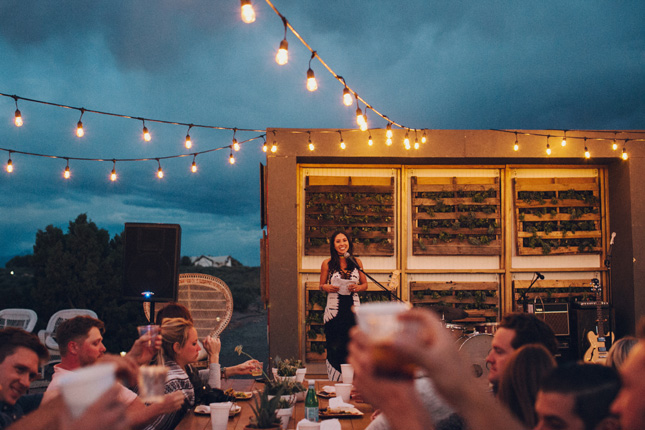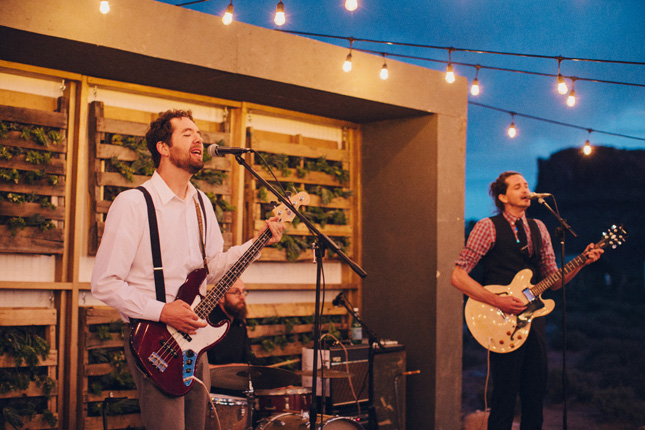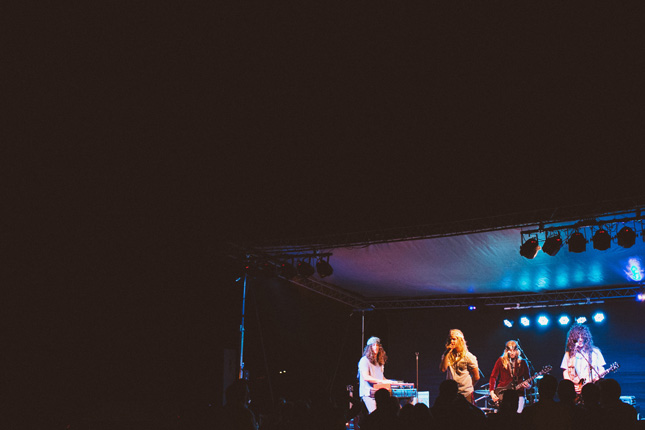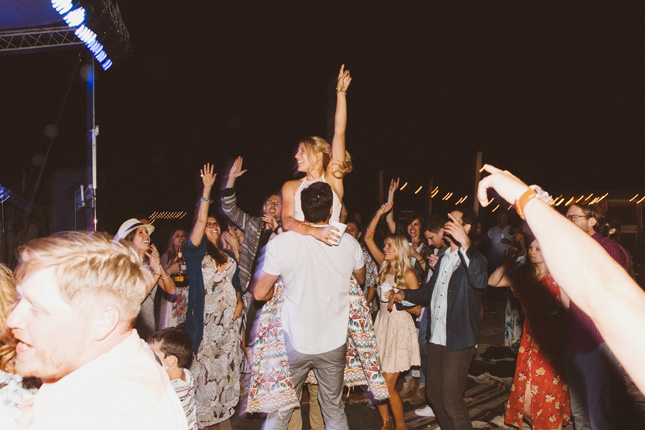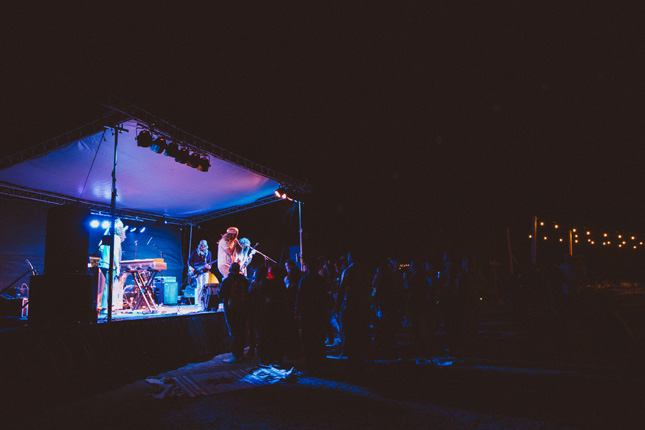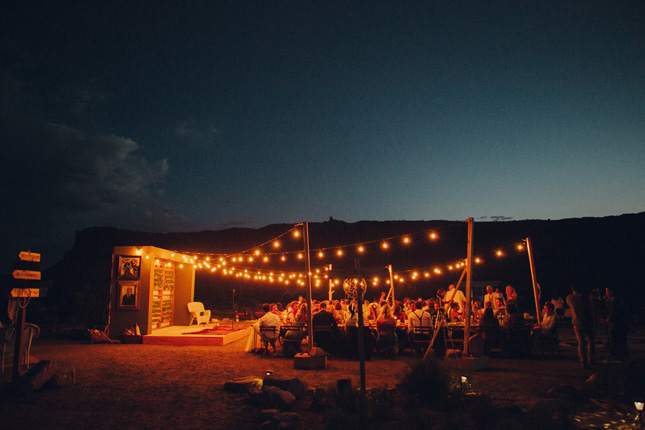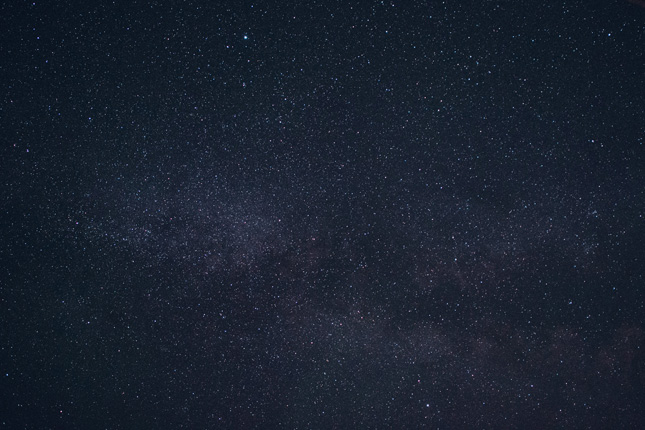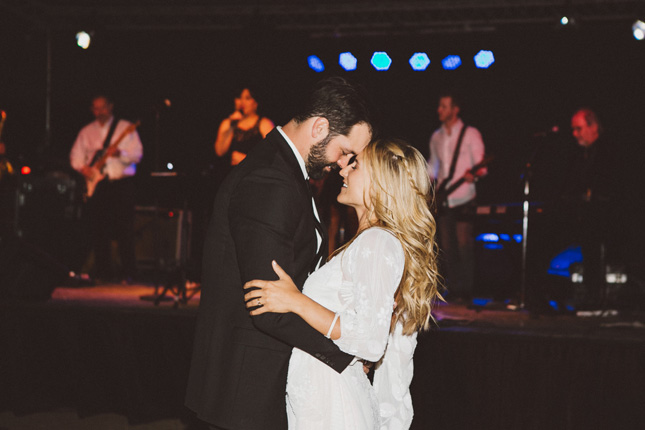 She has a few favourite memories from the weekend, which she describes as the best three days of her life. "I have a few: holding Taylor's hand through the slit in our tent door right before we went down the aisle (it calmed my nerves so much to feel his hand right before the ceremony), kissing in a light little rain flurry during our wedding photo session right after the ceremony, reading my vows, walking out away from the party for a moment and looking up at the sky full of a million stars and realising how incredibly grateful I was for this experience, and of course dancing our hearts out to our friends' band who were the ones playing in a bar years before when Taylor and I danced for the first time together," she says.
Taylor's own DJ set was an unforgettable memory from the weekend - "a once-in-a-lifetime experience" - but his favourite memory was taking some time with Chloe for their photo session. "I think sneaking away for an hour to do the portrait session with my bride was the most memorable moment. We poured plenty of resources into providing our guests with a unique wedding experience, but going off-site to the coolest location Moab had to offer was powerful reminder of what it was all about. With our photographer and videographer with us, its something we'll never forget," he says.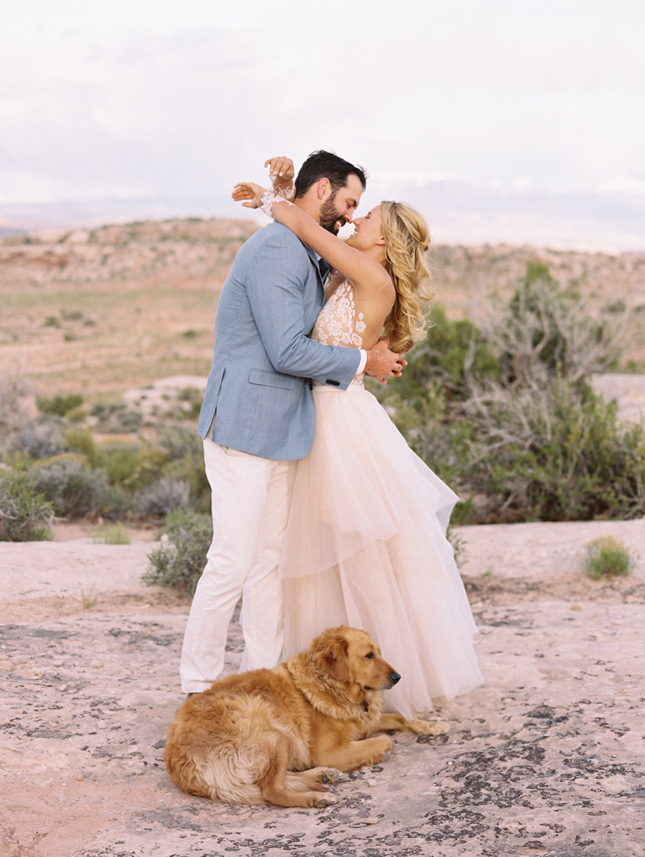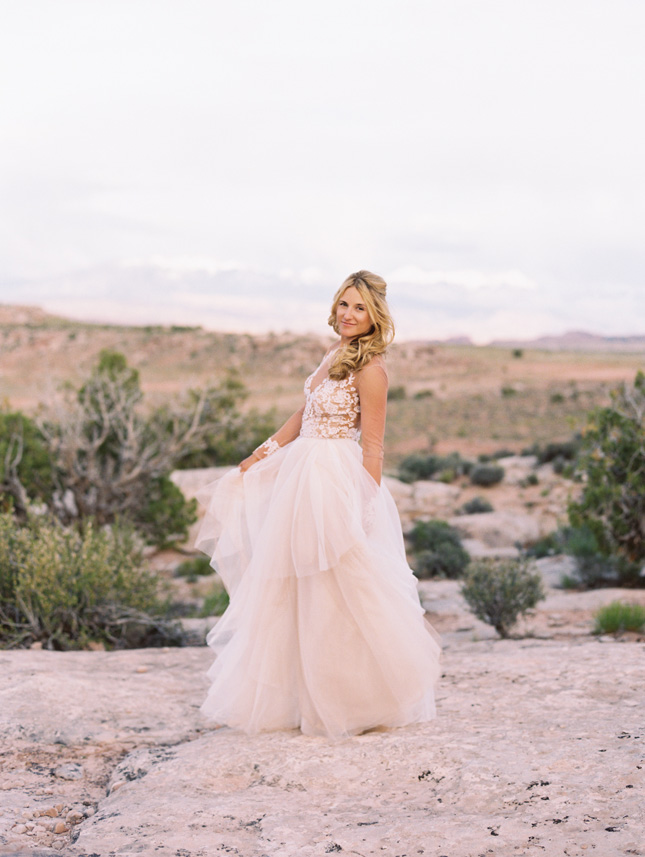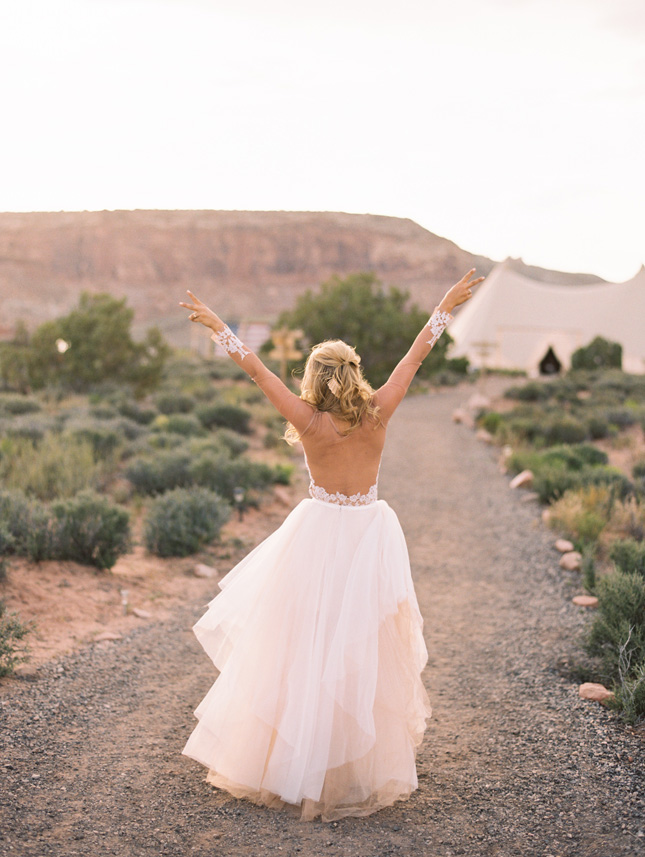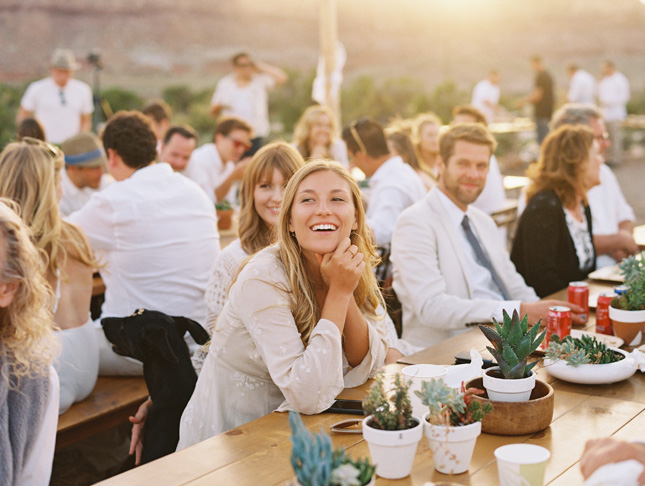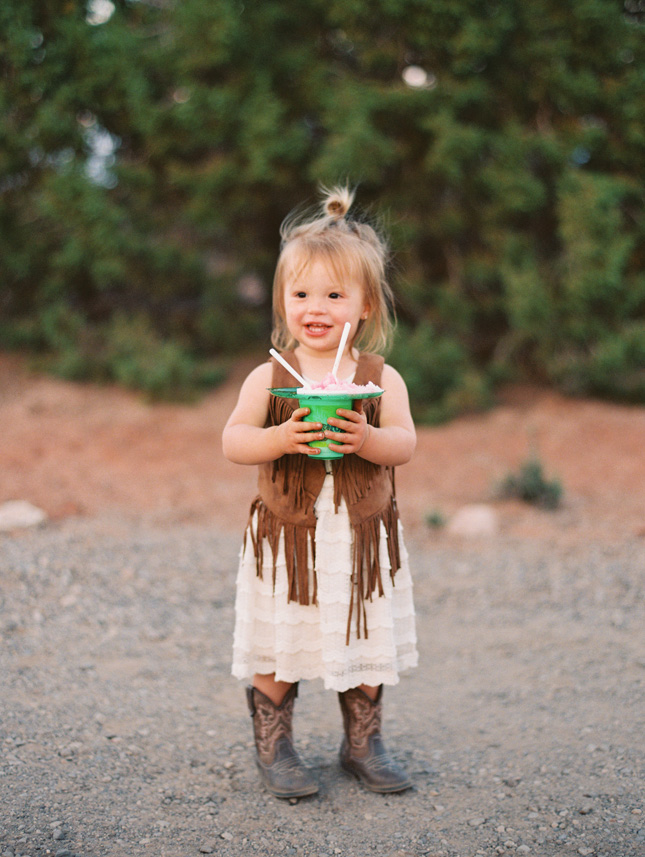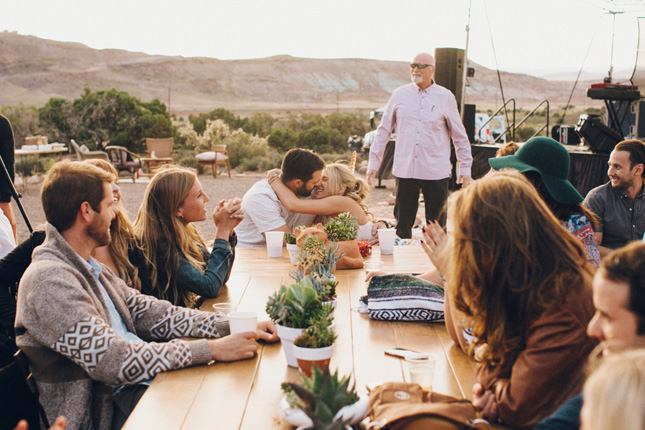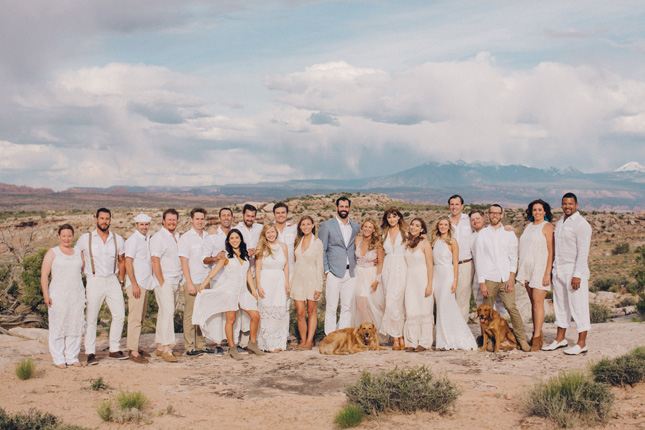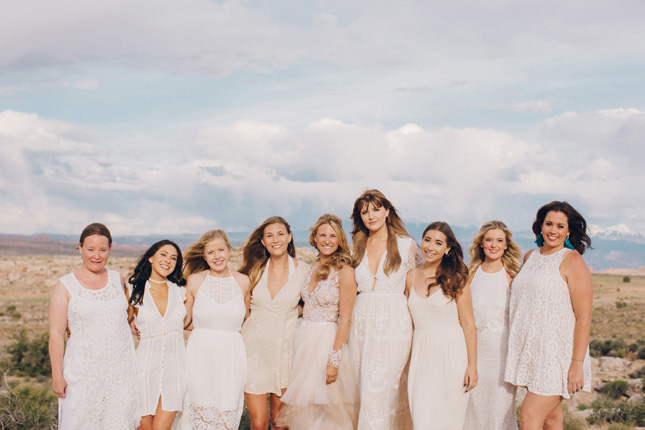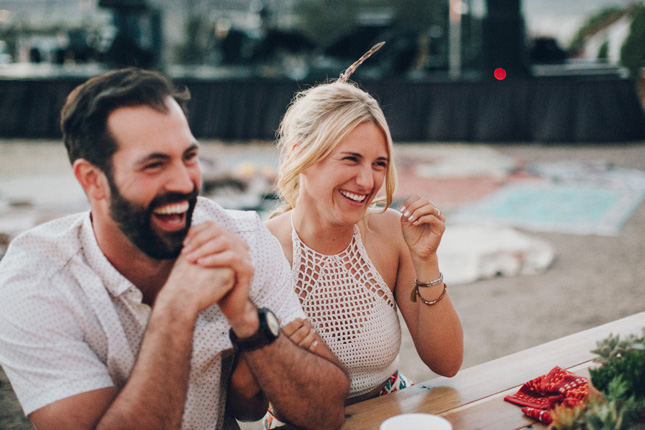 Chloe's advice for other couples is to hire vendors you love. "Trust them to do their magic (especially your photographers/videographers, and planner) Make the decision early on to enjoy every single second once everything starts and to let go of the little stresses leading up to the event," she says.
Taylor has two big pieces of advice to pass on: "First, focus on the broad strokes of your special day. It's easy to jump right into the details flowers, cakes, name tags, etc., but in the end you and your guests will remember the event holistically, so make sure the big pieces are unique to you. And that likely means there isn't a road map already drawn for your wedding day, so don't be afraid to step outside the box. Secondly, make it your number one goal to enjoy it. Don't try to do too much. There can be a lot of pressure to check the wedding-day boxes, but stick to what is most enjoyable for you, relax and have fun. Trust me - its contagious."
Solid advice!
If you haven't had enough of Chloe and Taylor's festival wedding extravaganza - and let's face it, how could you? - we've got their wonderful wedding video below, shot by 3 petits points!