Jenny and Orey go way back. They first started going out after meeting at a teen disco when they were 12, but this first romance wasn't to last. "We split up 3 weeks later because he didn't want to be tied down," laughs Jenny. "We reconnected when we found out we were both going to Oxegen the same year with different friends, and we all ended up camping together and partying all weekend long. We had the best weekend together and we've been joined at the hip ever since."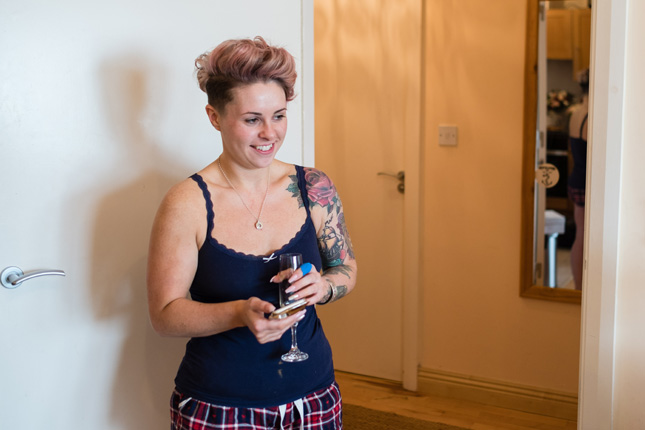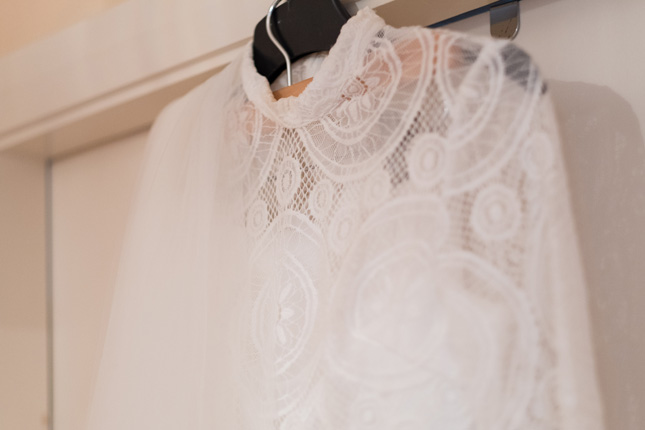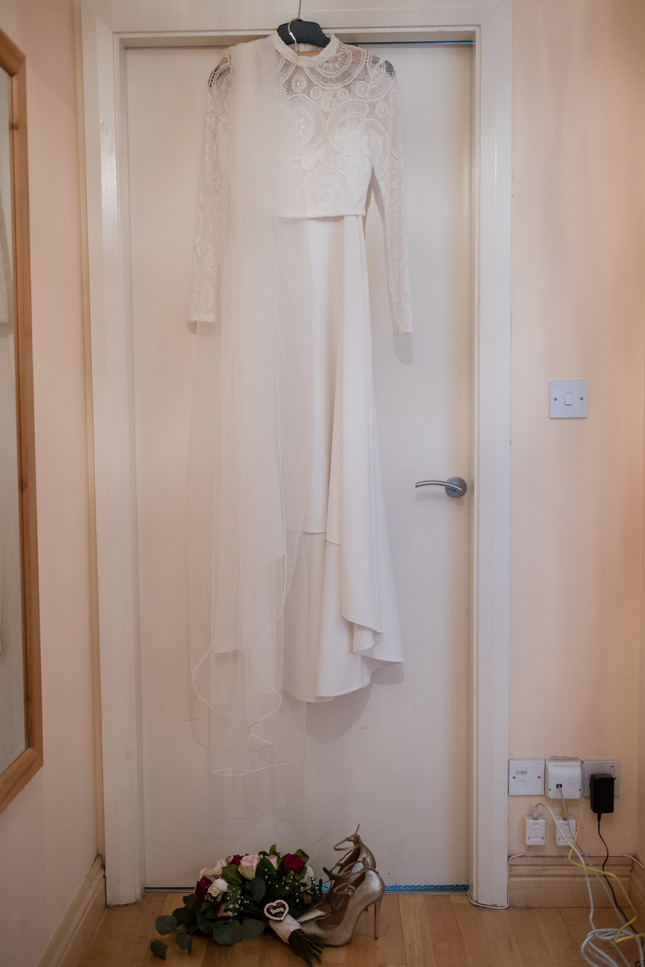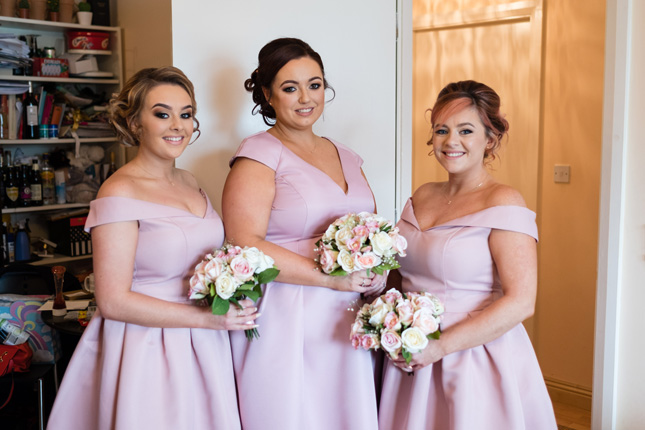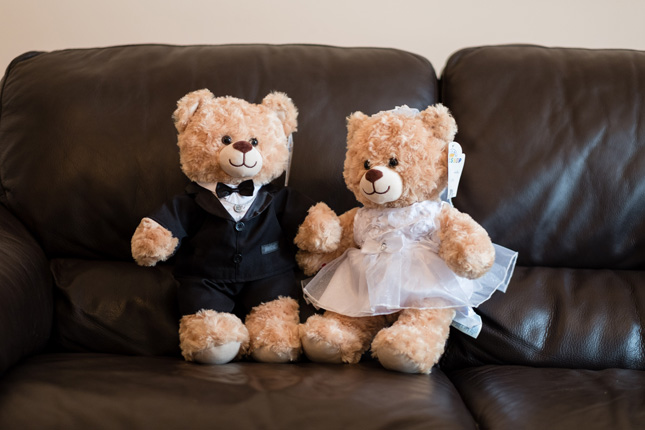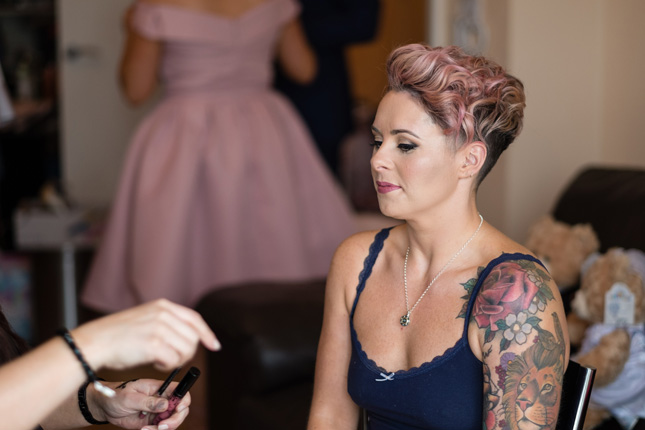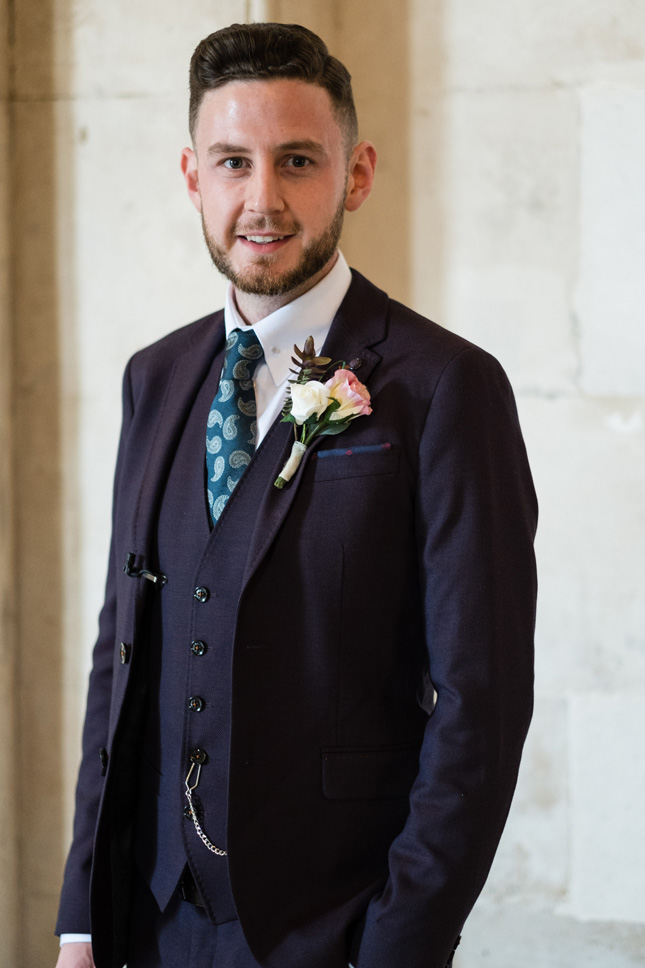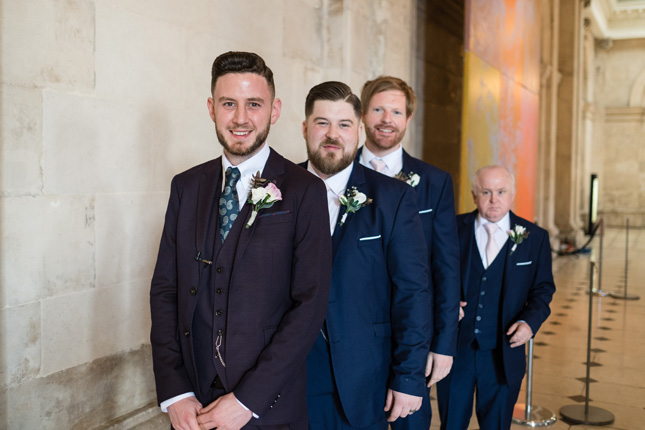 Though they had been talking about marriage for a while, the proposal came as a complete shock to Jenny. The pair had taken off travelling in Thailand and Australia, and after a full moon party on a Thai beach, Orey got down on one knee.
"I was in shock, I wasn't expecting it at all. He said lots of nice things about spending our lives together. And I just sat there in shock with my food truck chicken, asking was it real. He'd been planning the whole time to ask me at the full moon party but couldn't as we kept meeting people. I said yes of course," she remembers.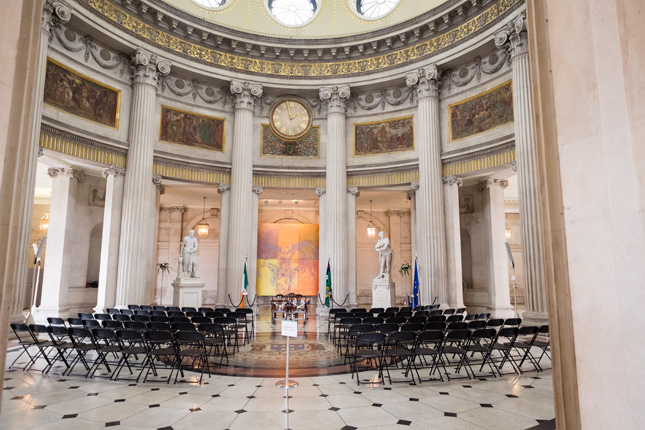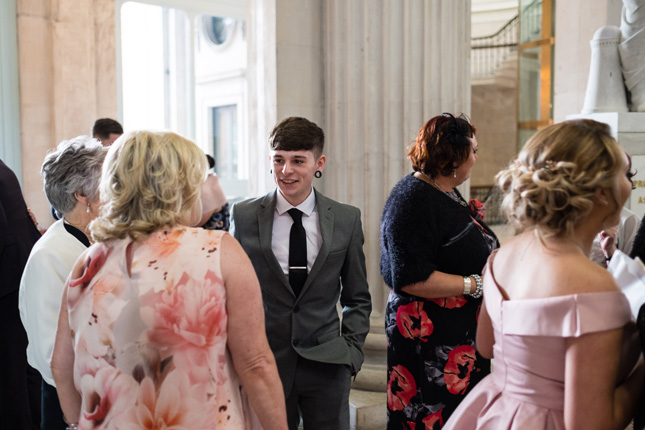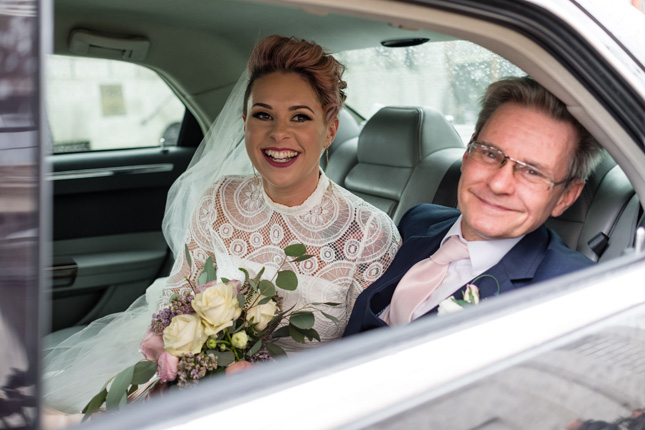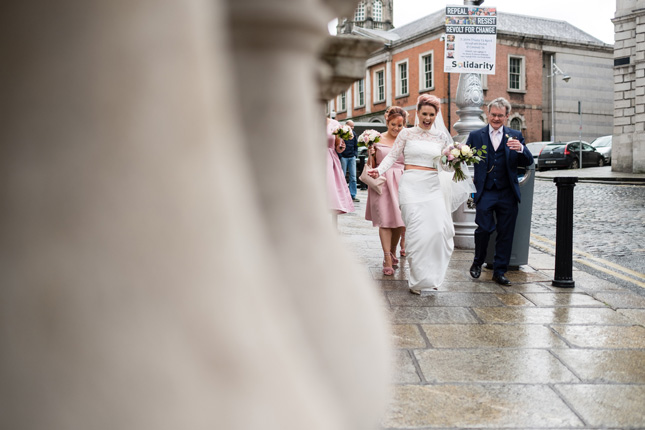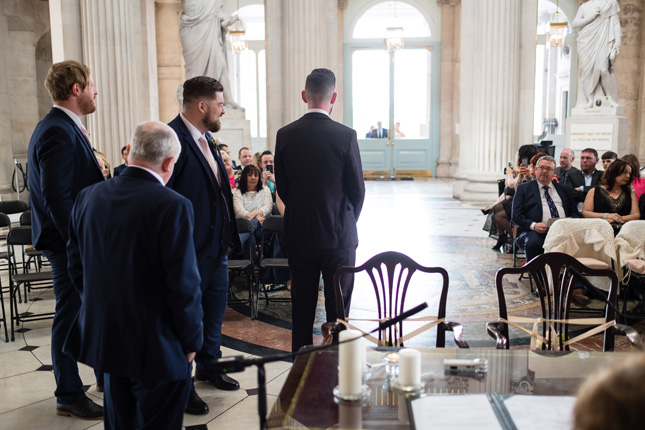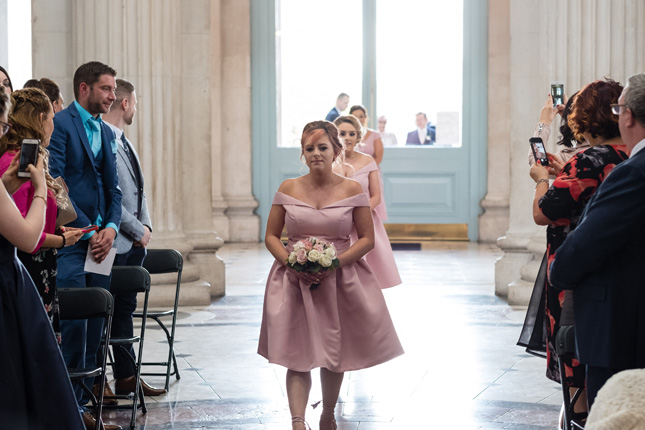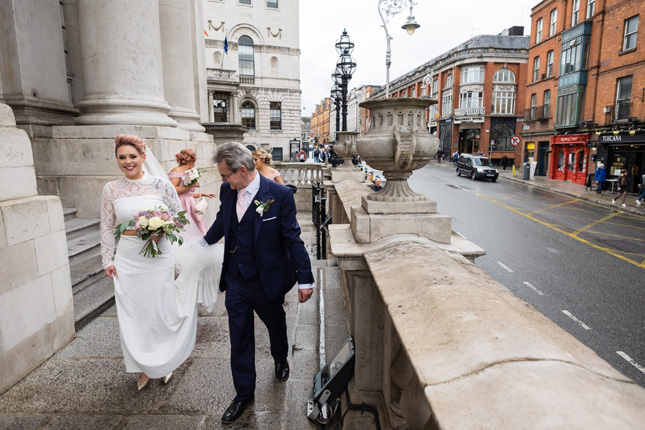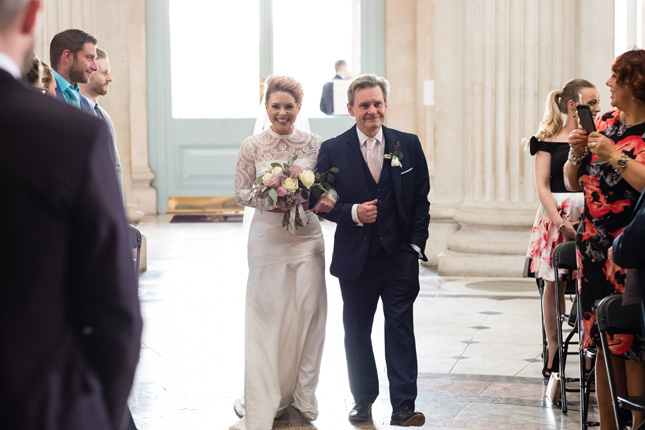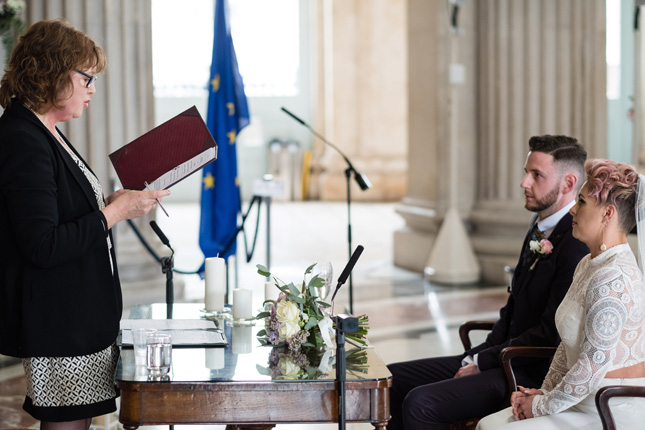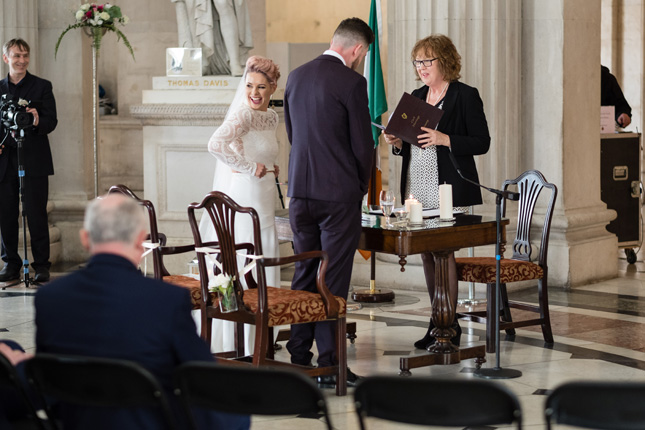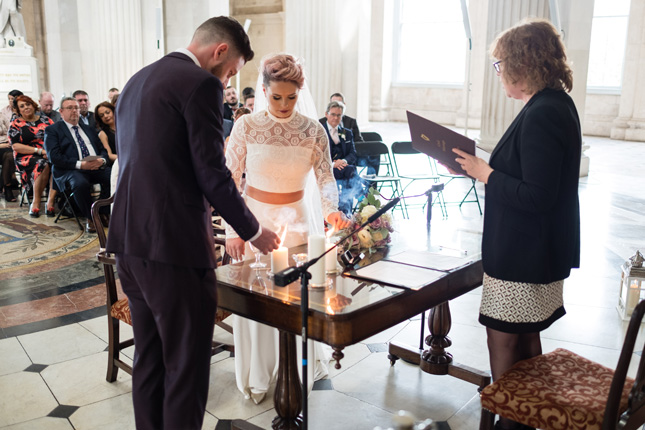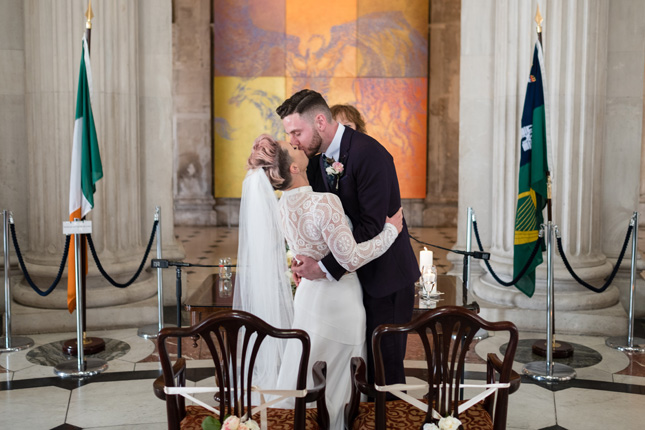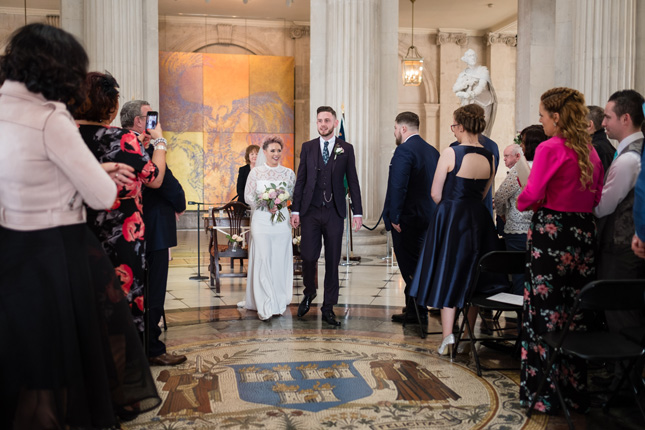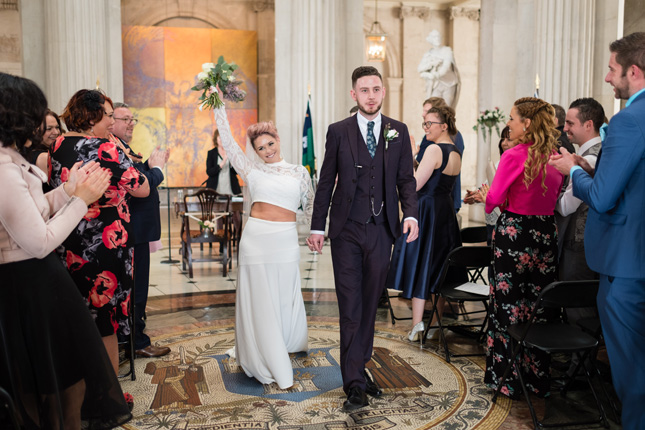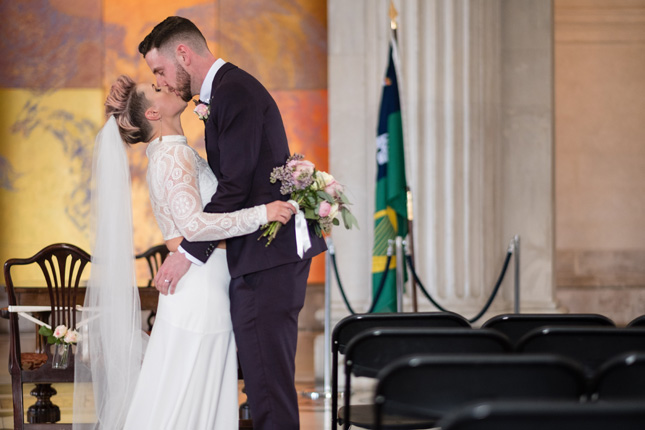 They did a lot of venue searching before deciding they actually wanted a small city wedding, rather than a big traditional 'do. "No fuss, just good food and a laid-back party with all our friends and family. We decided on Fallon and Byrne for the reception and it was the perfect location. Myself and Orey aren't really religious but I still wanted the grandeur that a church can have. Orey wasn't sure about a City Hall wedding, but it took about two seconds for him to agree to it once he saw how beautiful it is," she says.
They found planning reasonably straightforward, though sticking to their budget was tricky. "There was a lot of last minute stuff that I hadn't really thought of but thankfully my maid of honour had gotten married a couple of months earlier and was way ahead of my in the planning game. She helped a lot," says Jenny.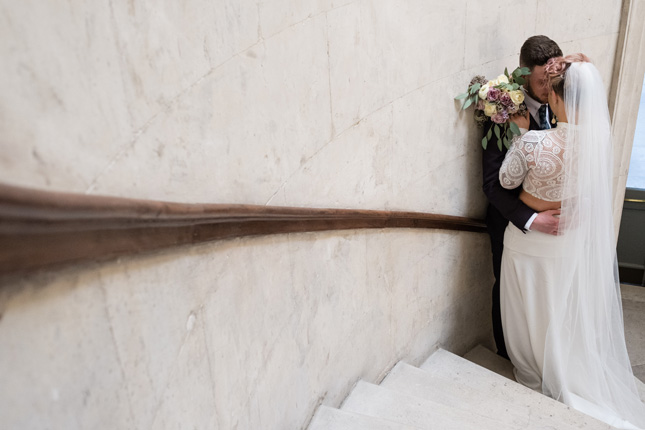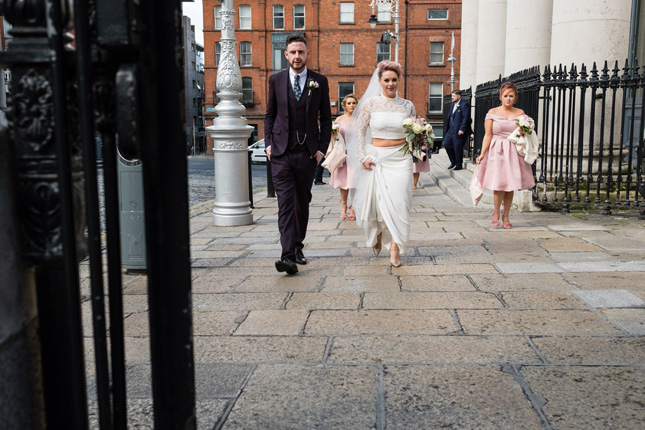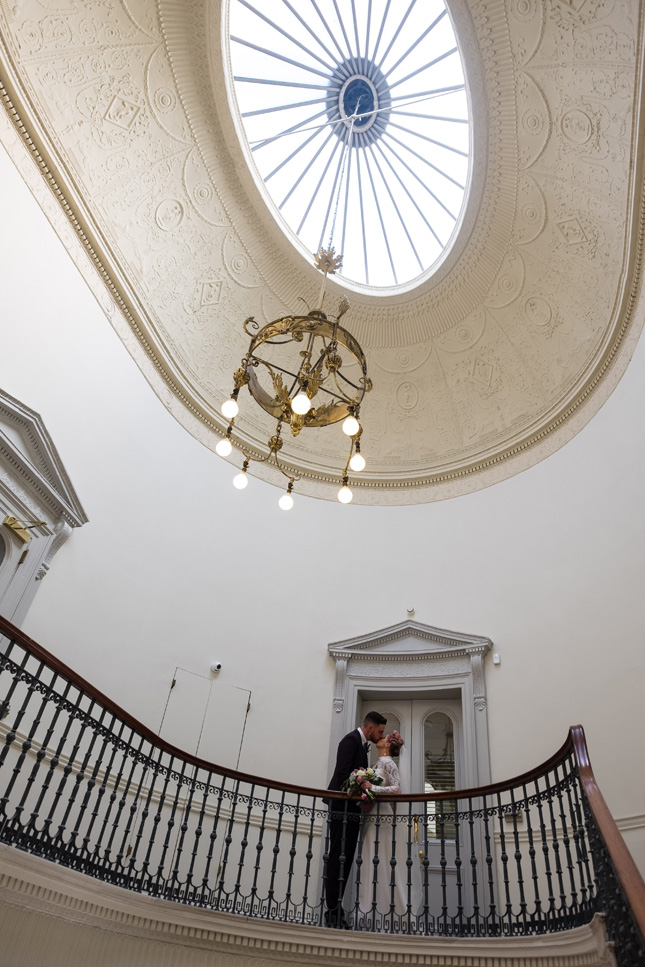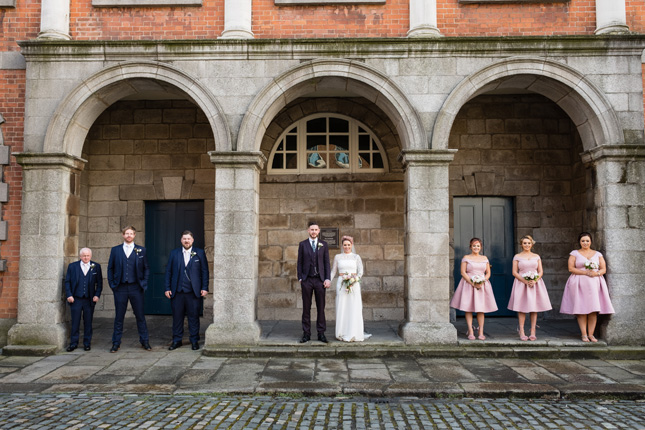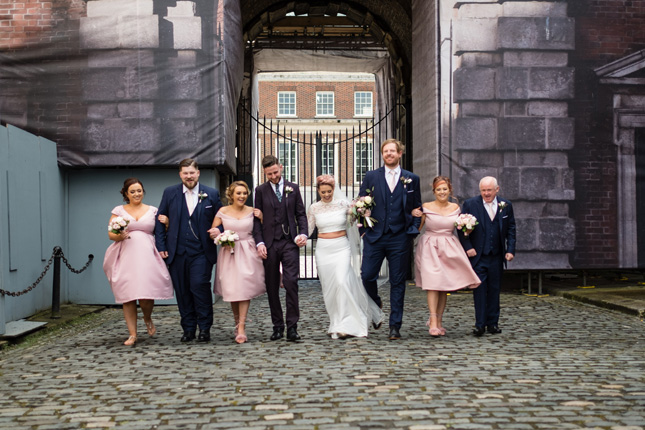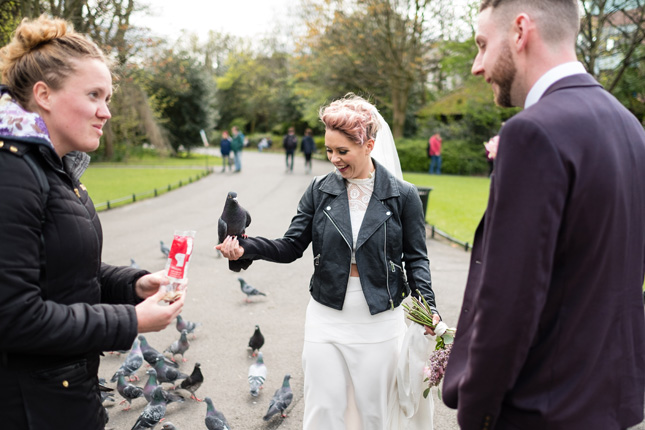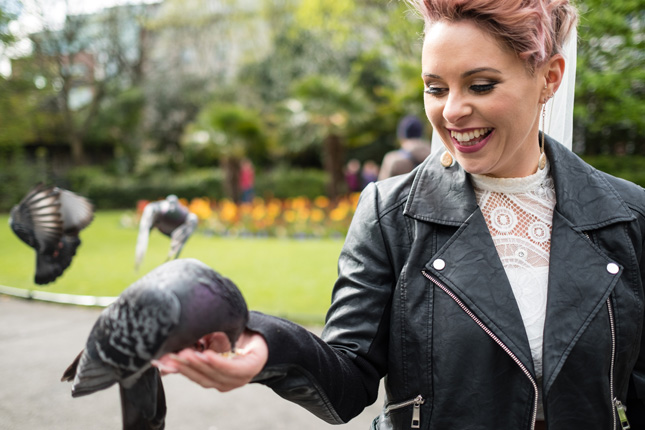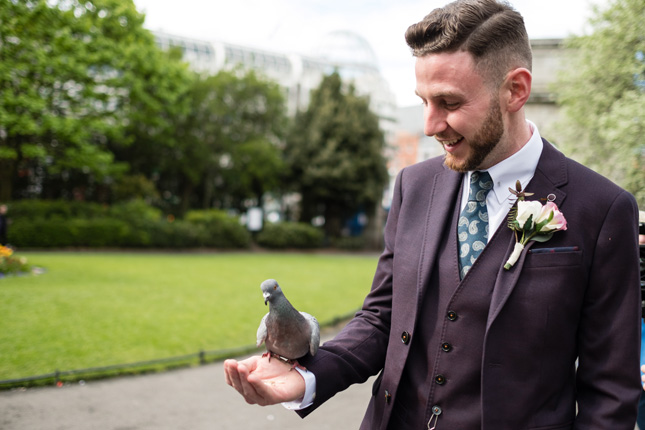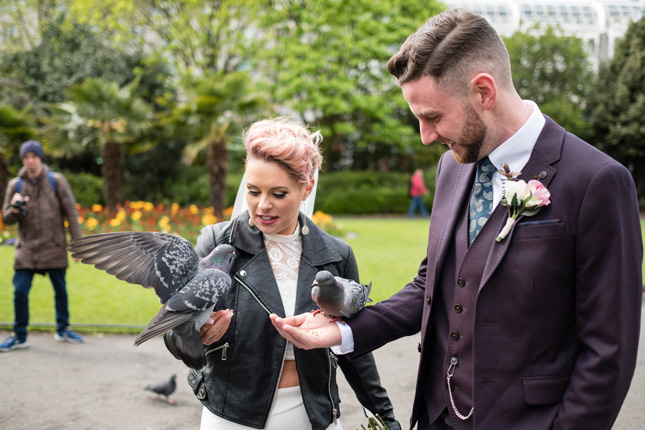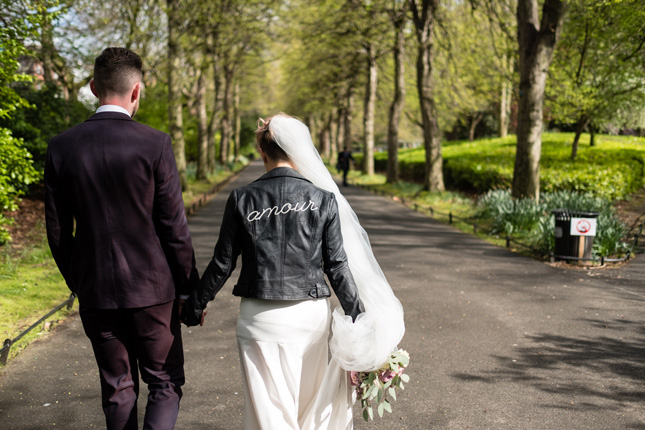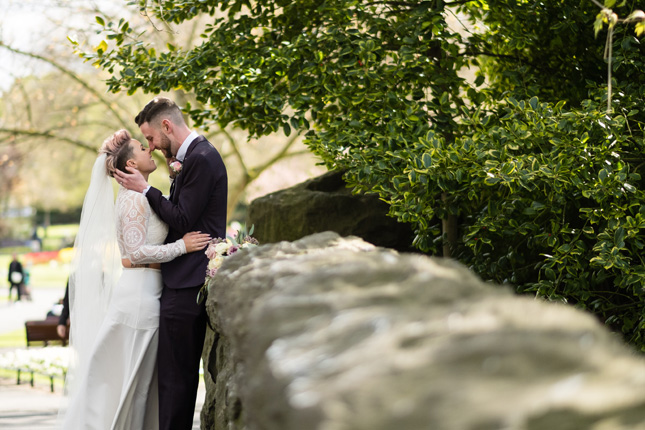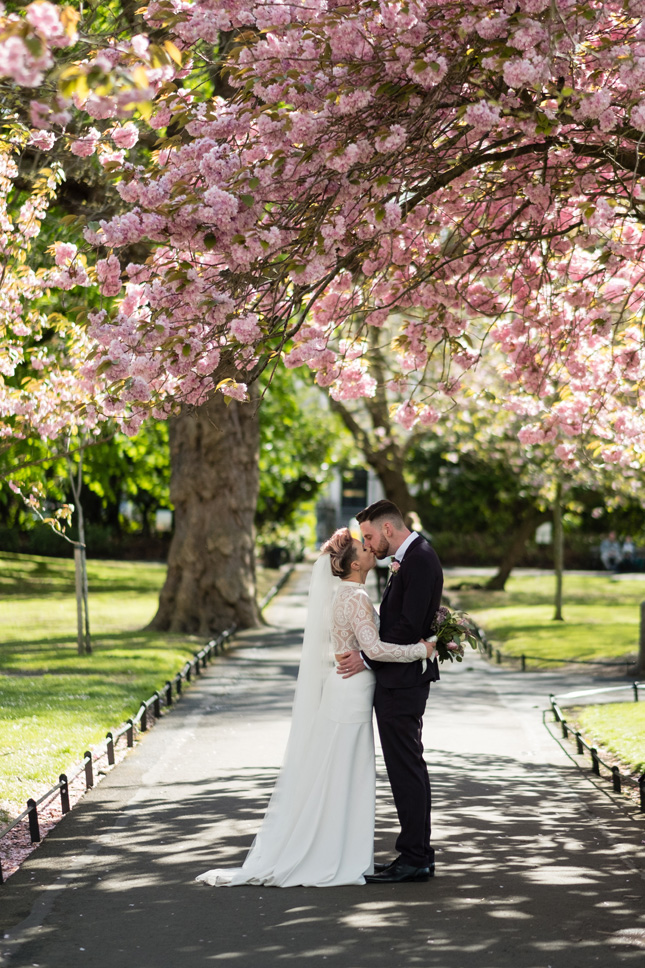 The politics of who to invite and who not to invite was the hardest part for the couple. "It was hard to manage. I think it's important to realise though, that it's not just your day, it's a day that's important to your parents and siblings too. But there has to be a line drawn, stick to your guns on the important stuff and don't sweat the small stuff."
Jenny has a very practical, no-stress view of the day. "You know, once the day comes around, whats done is done. You can't manage the weather or someone not turning up, or decorations that haven't been put up. Just enjoy it, don't stress if people are having a good time or not, if you are relaxed and enjoying yourself, so will everyone else. It's the best day full of love and laughter and its not often you will get all the people you love in one place so just enjoy every bit of it," she says.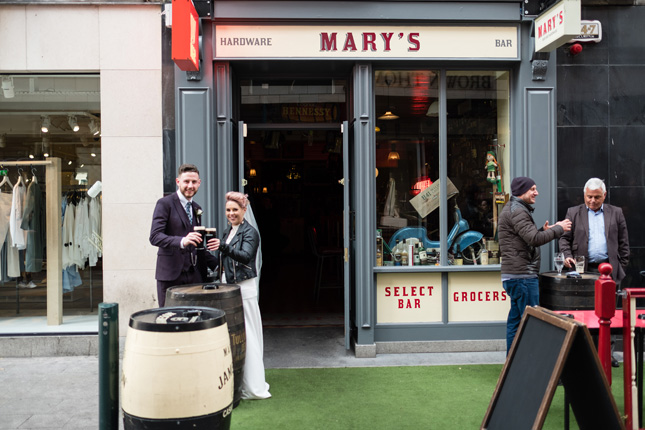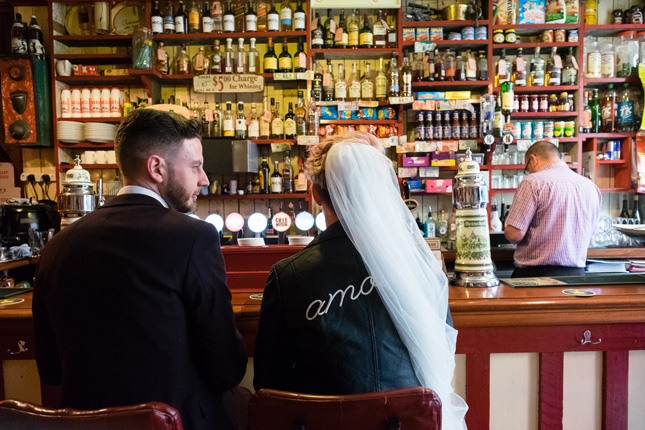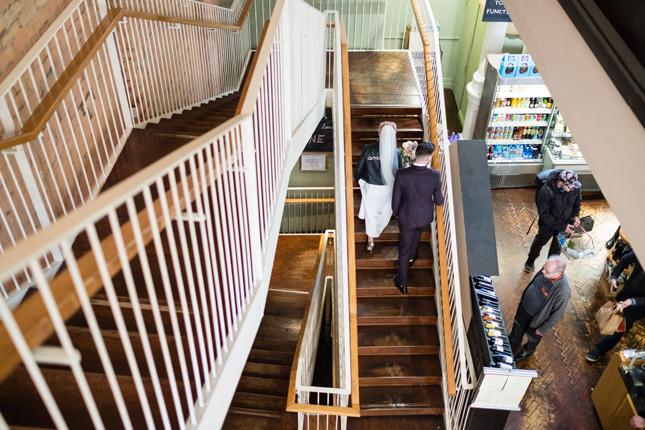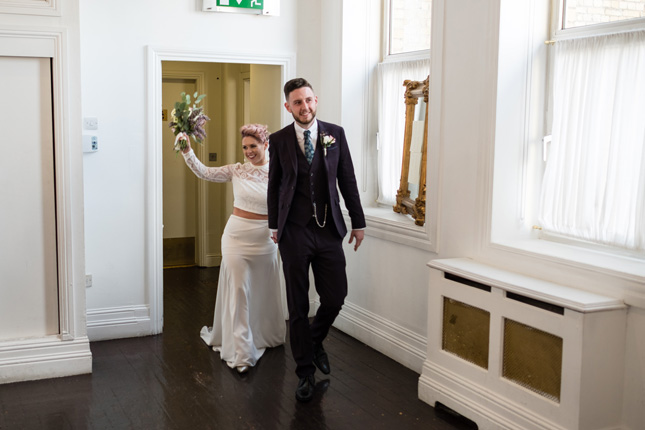 She had a big hiccup when she left her bouquet at home on the kitchen counter on the morning, but luckily they ran into the Powerscourt Centre to have one made up just in time. "It was the only place we knew that did flowers. My dad ran in to get it for me. They were going to charge a fortune, but the nice lady gave it to my dad half price because she could see how stressed he was. I nervous laughed the whole time," she remembers.
The only thing she would do differently is maybe rethink her wedding dress. "I bought my dress online, I didn't want any of the fuss of dress shopping. It suited me really and I got a dress I loved, but there's a part of me that feels I missed out on trying on some ridiculous and beautiful dresses. So the only thing I would do is go and do some fittings just for the fun of it," she laughs.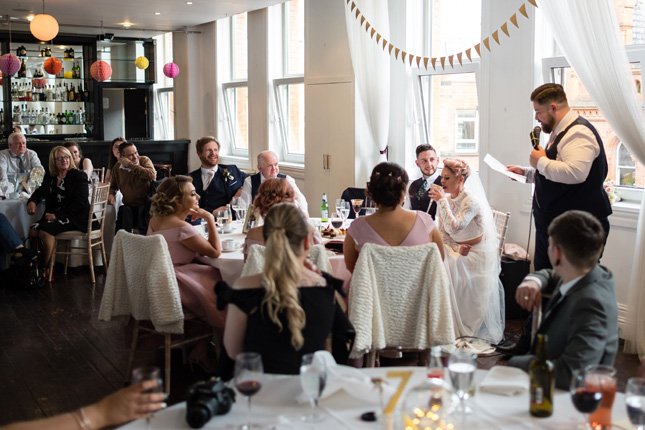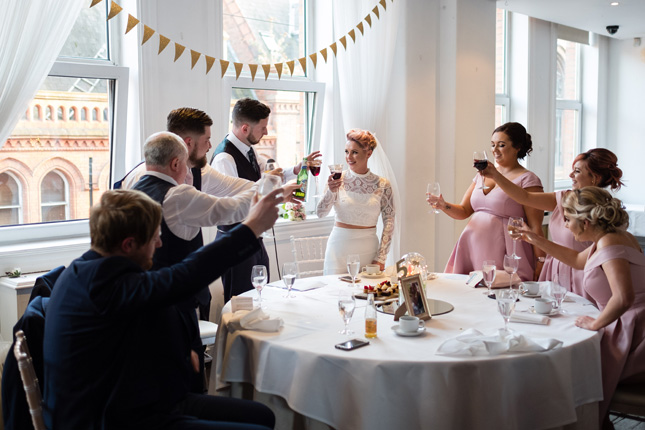 Her advice for other couples? "It's just one day, so try to enjoy it for you. Have fun, do your own thing, and everyone and everything will fall into place. You are marrying the one you love, that's the important bit, everything else is just an add on," she says.