Have you ever wondered just what your other half is thinking, when it comes to your wedding? Was he silently seething while you hand-punched those 200 paper butterflies for place settings together? What will he make of your slightly unorthodox dress on the day? This issue, we had a word with some recently married gentlefolk, to get the skinny on how they really felt about their wedding and all it entailed. We reckon some of the results will surprise you! Read on for some real groom's truths.
Let's start from the beginning, shall we? When one imagines the process that takes place between deciding to propose and getting down on one knee, you'd be forgiven for presuming it goes a little like this: Decides to propose, mulls it over for a few weeks, shops for a ring, pops the question. …Right? Not so much! 40% of respondents had decided to propose at least THREE YEARS before they got around it it. No rush, lads.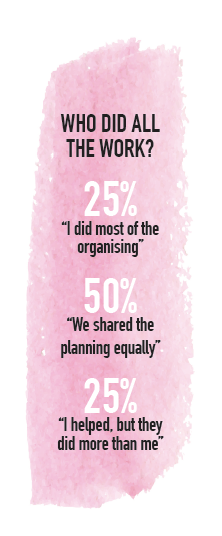 When they eventually did, it seems asking permission first wasn't a priority, with only 37.5% of respondents saying they spoke to their other half's father or parents before asking that all-important question. And 62% of the brave grooms we spoke to took a chance and proposed with the real ring, forgoing dummy rings or token items.
If, like us, you were thinking that most people get engaged at Christmas and New Years, it would appear that this is not the case. 75% of the grooms we quizzed proposed on a random day of the year - perfect for that surprise element.
And how did they feel before they asked for forever? These grooms are an anxious lot! When asked how nervous they were on a scale of one to ten, before proposing, 25% of grooms said they were a worried eight. We got a similar result when we asked how nervous they were before making their speech – the world's best reason for having your speeches before dinner - let him enjoy his steak without eight out of ten level nerves hanging over him!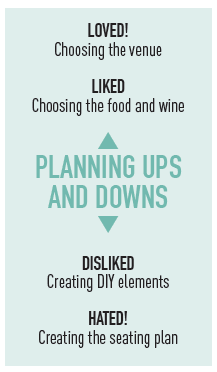 Now, down to the nitty-gritty - the dress! We asked our grooms for their honest reaction to what their other half wore. An honest 12.5% admitted that the dress was "not what they expected." Oooh! But the good news is that the vast majority (87.5%) were "blown away" with how their betrothed looked on the day, saying they never looked better. Phew!
So now, when the dust has settled and the honeymoon is over, how much did our gorgeous grooms really enjoy the wedding planning process on a scale of one to ten? 25% had a whale of a time, with a solid seven. 12.5% gave it a whopping nine out of ten, and another 12.5% loved it so much they gave it a perfect ten! Yay!