Some wedding trends just don't stand the test of time. Wedding trend cycles are longer than what you're used to with fashion trends, due to how long it takes to plan a wedding. This means sometimes trends overstay their welcome a bit, after a few years of over-saturation. There's only so often you can see a flower crown or burlap table runner before you think, are we not done with this yet?
Some trends become wedding classics, but it's not the case for most. We asked some of our favourite wedding planners and stylists what trends they're sick of seeing and which they think we'll see retired this year. Here are what Gabi from Petal & Twine and Isobel and Melanie from The Wedding Festival came back with!
Top nine wedding trends the professionals would like to see gone!
1. Formal weddings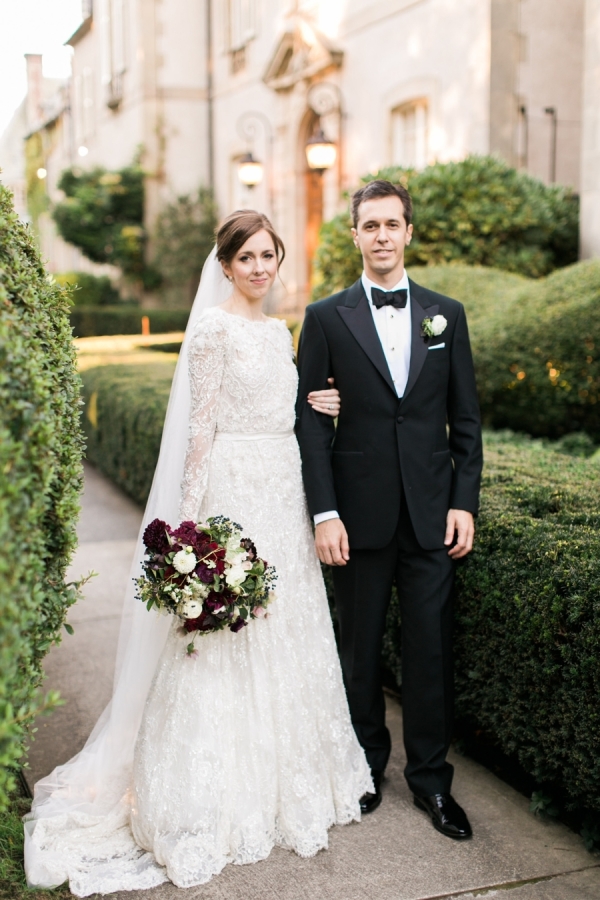 Image: Rebecca Arthurs
"A formal wedding is becoming less attractive, more and more couples are going for that relaxed, casual or completely personalised type of wedding, wanting to show more of their personalities and who they are as a couple. When it comes to food, long hours formal seated dinner is being replaced by gourmet restaurant dinners, tapas with a cheese board and tasting wine or simply an intimate family and friends favourite cuisine dinner and cocktail party," says Gabi.
2. Muted pastel colours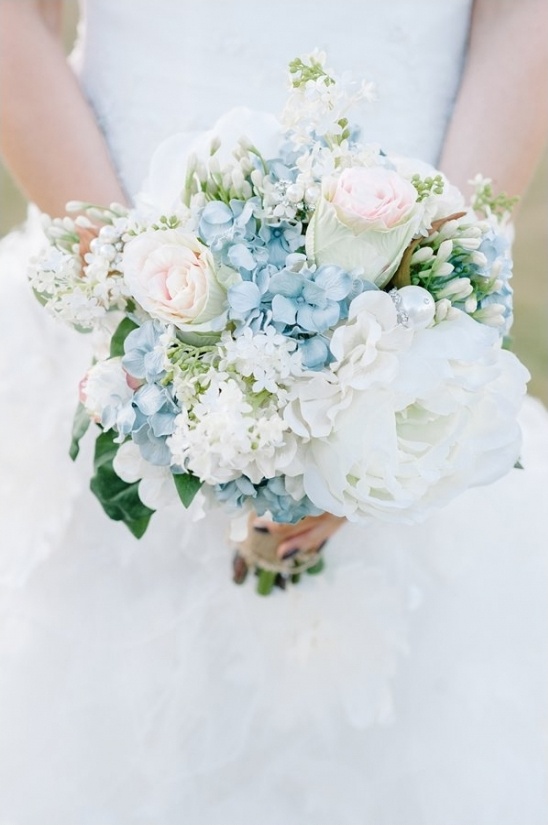 Image: Tracy Enoch
"Pale pinks, powder blues and muted shades are being edged out by couples who are being more daring and creative with their colour choices opting for vibrant bold colours. The Pantone Colour of the Year "Greenery" reflects this move towards bold and brilliant colour beautifully," say Isobel and Melanie.
3. Ombre wedding cakes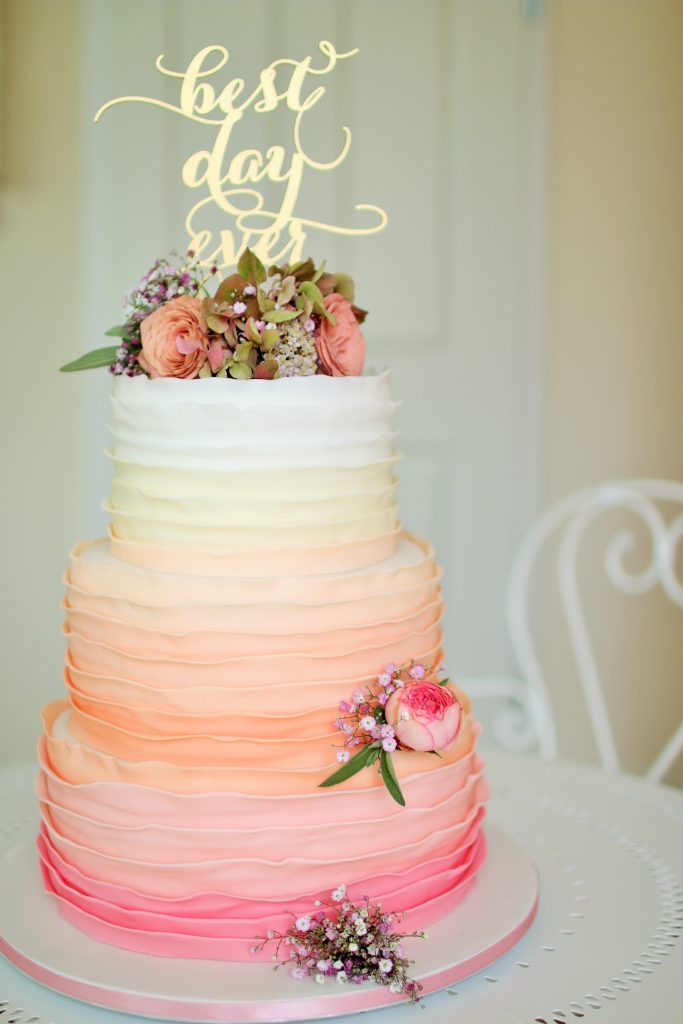 Image: Kuchen mit Stil
"The ombré wedding cake was still big in 2016, however, this year is all about simple wedding cake decor and less tiers. Using cupcakes as an alternative to a wedding cake was quite common for the last few years, but going forward wedding cake is considered to be more elegant and for the symbolic reason remains as a first choice," says Gabi.
4. Candy carts and photobooths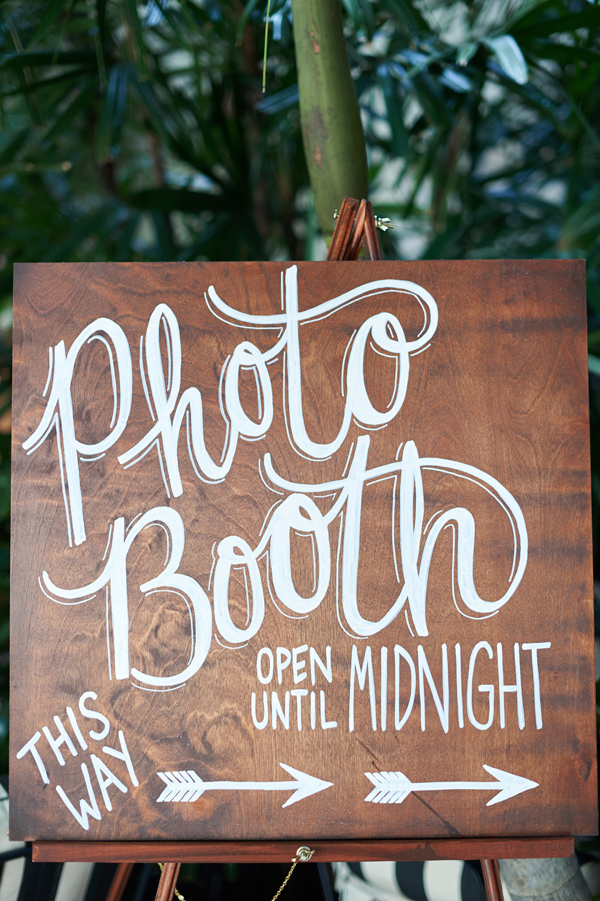 Image: The Reason
"The original candy cart and photo booth are being replaced by couples creating their own dessert tables and DIY photo stations. So much more fun can be had and personalities shine through when couples get creative and add their own stamp to their wedding," say Isobel and Melanie.
5. All white weddings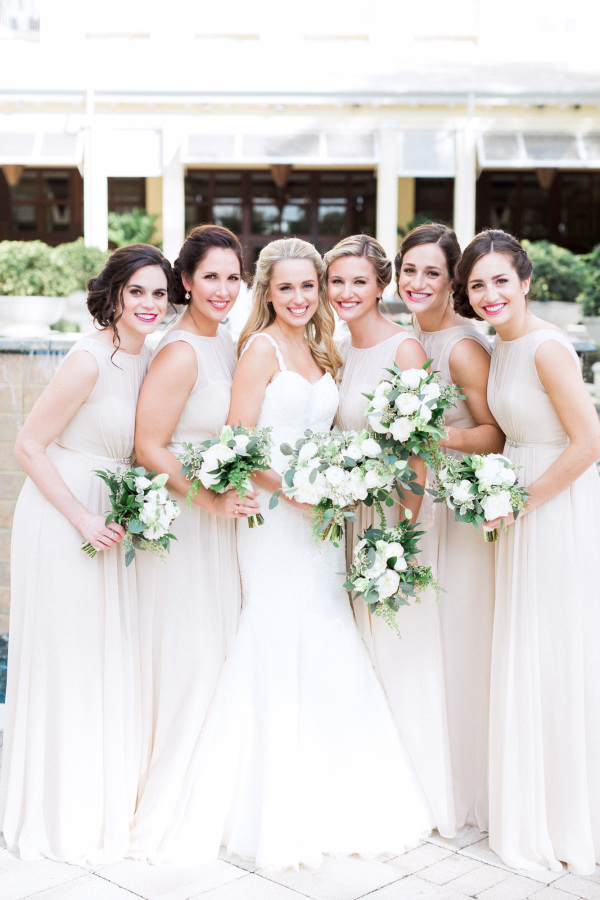 Image: Hunter Ryan Photos
"Obsession with "all white wedding" is becoming a cliché too. Signature colour and different shades of the same colour will be big for the rest of 2017, salmon and coral colours not an option any longer. Metallic, glitter gold and especially green are most trending colours," says Gabi.
6. Burlap and jam-jars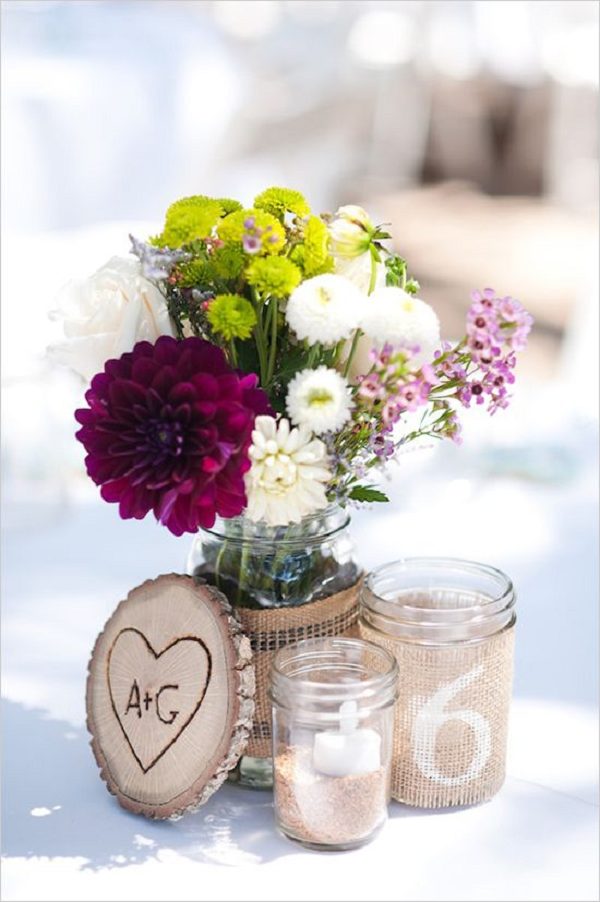 Image: Bodas
"Burlap and jam jars with candles and tea-lights – these were a trusted staple of the rustic wedding over the past few years and have been done to death... There is so much more to the look than burlap and jam jars! Rustic weddings have a much more considered and elegant vibe now – more chic, less shabby!" say Melanie and Isobel.
7. Flower crowns and high-low gowns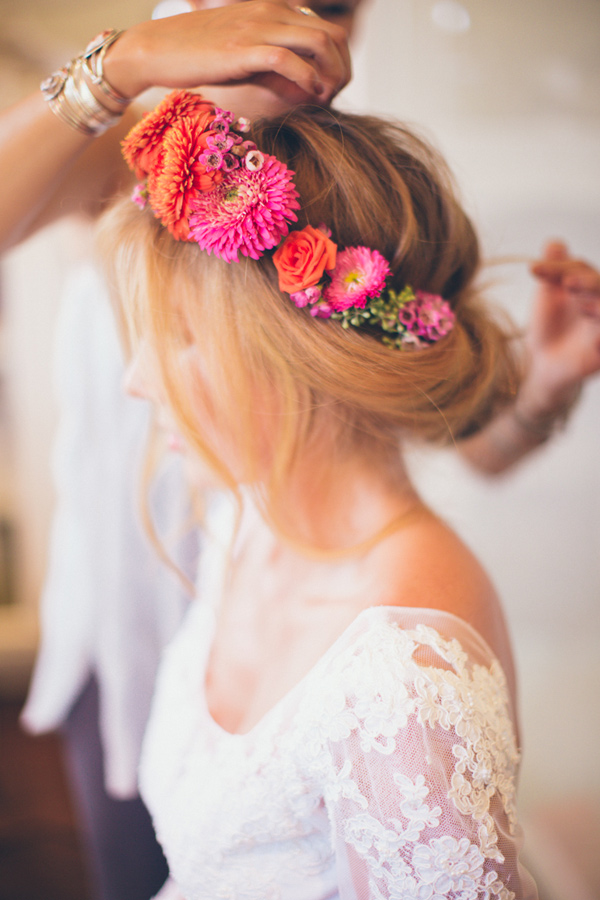 Image: Kelsea Holder
"Floral crowns and high-low gowns are so dated. If you are into fashion and a modern bride to be, try to avoid it. There are so many bespoke exclusive bridal headpieces such us circlets, crowns, tiaras and elegant handmade veils as an option for fashionistas out there. Lace is a top trend for wedding dresses for 2017, as well as Tea-length, sheer, floral, off the shoulder and coloured wedding gowns," says Gabi.
8. Draping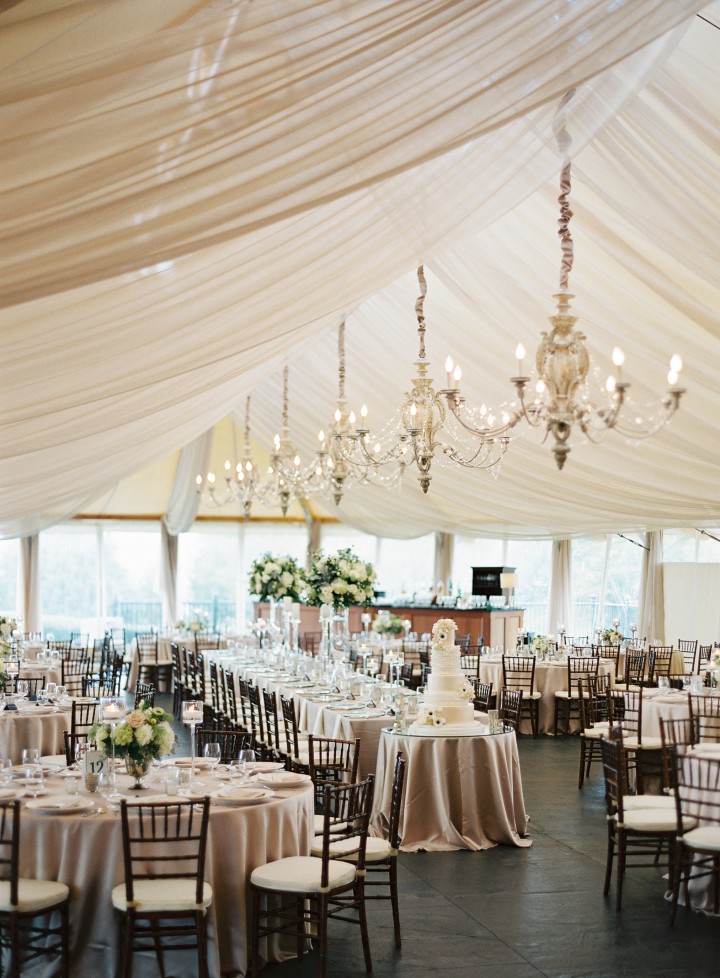 Image: Judy Pak
"Draping is generally used to cover up and hide things. The trend in room décor is very much towards a pared back and raw look taking things back to their natural organic state and working with the natural elements. Honestly, there's no need to drape anymore and really it's a bit old fashioned," say Melanie and Isobel.
9. Boho weddings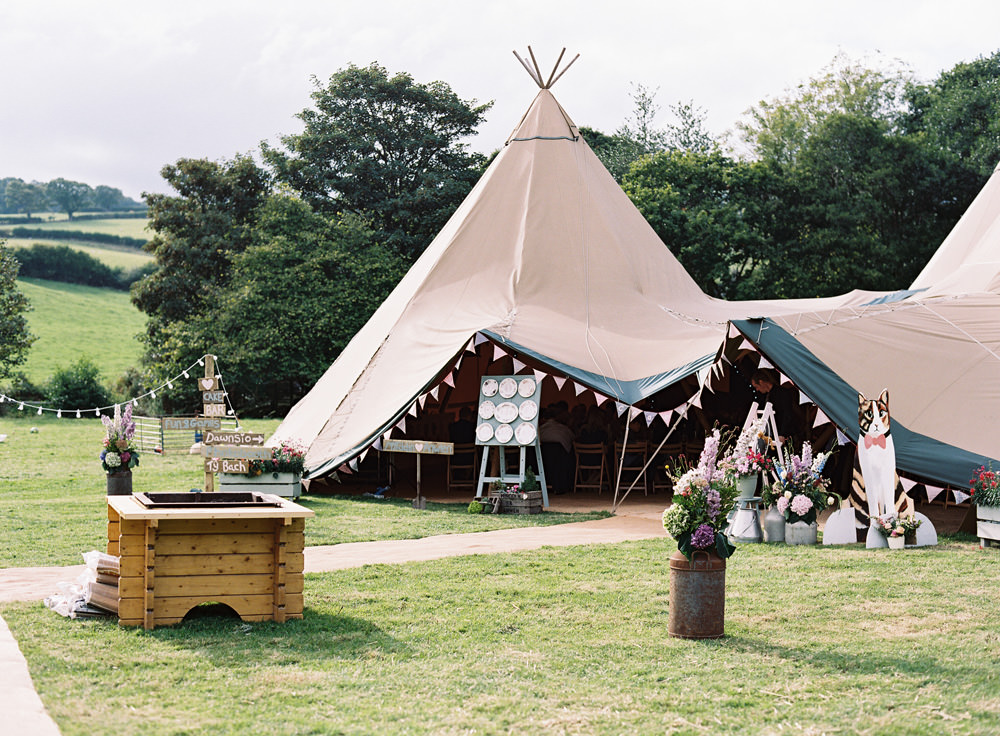 Image: Ann-Kathrin Koch 
"The rustic and boho wedding theme has stuck around for quite some time, it is one of the bride's favourite and most popular themes since 2013. However, it's been talked about, appeared on TV shows, has been written about in magazines and blogs for so many times that eventually it has lost its originality. Theme-related decor elements like chalkboard signs, mason jars, feather dream catchers and tipi tents are all romantic and beautiful, but it's time to say goodbye and welcome new and fresh ideas," says Gabi.