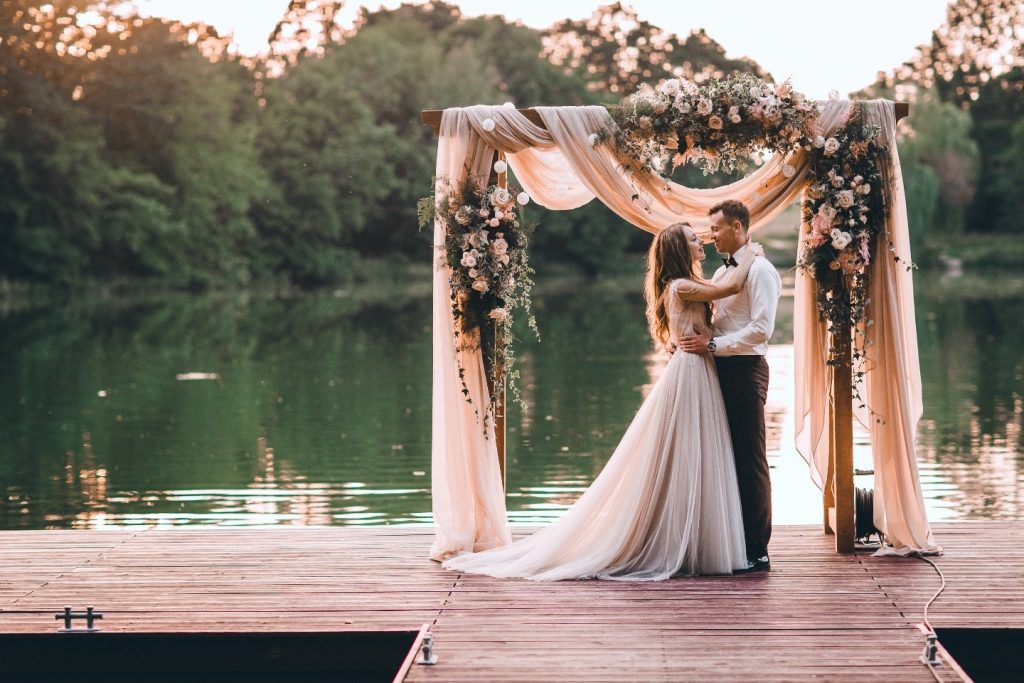 There are a lot of wedding traditions floating around, some of which have stood the test of time more steadfastly than others. There's some level of pressure on most couples to conform to these long-held wedding traditions of what your wedding 'should' look like, but when it comes down to it, it's your wedding. Why shouldn't you mix things up?
We say, go ahead and do away with any wedding traditions that don't fit for you, and instead, create a celebration that truly reflects you and your partner. Even the most conservative relatives probably won't complain if they can see the pair of your personalities shine through on your wedding day.
There are plenty of ways to shake up how you plan to say 'I do' so throw away the rule book if it doesn't apply. Your guests won't forget a wedding that breaks the mould, and here are four thoughtful ways to do it!
1. The dress
While white wedding dresses will probably always reign supreme - if it ain't broke and all that! - if you would never wear white/ivory normally, there's probably a reason. Even if you branch out with the colour, you can play on tradition with a very bridal style - or do the opposite and go for a white gown in an unusual cut or shape. Or, throw it all out the window and go with something you just adore. Think fresh colours, iridescent fabrics, totally unique silhouettes, or heavily embellished/adorned gowns. If you're happy and comfortable in it, who cares whether or not you're a bride in white?
2. The venue
The days where all ceremonies had to take place in a church are gone, with many couples now opting for non-religious ceremonies in civil venues. Even if you are planning a religious ceremony, a religious venue isn't your only option if your celebrant is happy to perform it in an alternative venue. Whether you want to get married outside, found a gorgeous industrial warehouse that would be perfect, or just would love to have your ceremony and reception all under the one roof, you can get married pretty much anywhere you'd like.
3. The white diamond ring
There is something very beautiful about a white solitaire diamond ring - there's a reason it's a classic pick for proposals - but diamonds may not fit your style, and that's okay. There's no rules to say an engagement is only real if it involves a white diamond.  Would you prefer a deep, moody stone as a luxe alternative to a traditional diamond? Got your eyes on a soft-hued stone? Not everyone would love a diamond, so opt for a one-of-a-kind jewel that's as unique as you are. You're the one who has to wear it every day for the rest of forever, after all.
4. The reception
Similar to the ceremony locations, hotels and your own back garden aren't your only option as locations, nor do you have to stick to the traditional set up of a drinks reception followed by a meal and then dancing. Such a formal timeline not something you'd personally ever opt into for a party? Don't do it that way. Switch up the sit-down meal for a more relaxed family-style affair, opt for a brunch wedding, or even host your wedding festival-style with a couple of food trucks serving up hot dishes throughout the night for people to graze on as they want to.