A Confetti promotion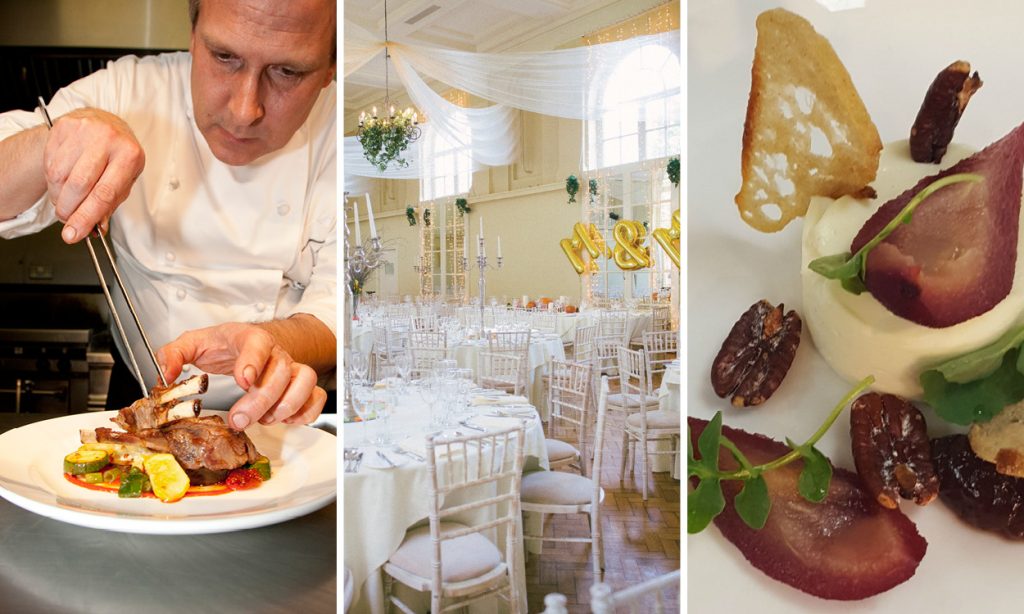 While the chicken or beef question might be something we all associate with weddings, as more and more couples become self-confessed foodies, they're also raising the stakes when it comes to choosing their wedding menu. Your reception meal will quite literally be the fuel of the party, so why not take it as another chance to infuse your personality and style into your wedding?
When you can have almost anything you want on your wedding menu, how do you choose what makes it onto the plate, though? We chatted to the head chefs from Kilshane House and Clontarf Castle, wedding venues with a reputation for great food, about just that. Both venues will work with wedding couples to craft the perfect menu for their big day, but when some key ingredients are particularly tasty (and available) in certain seasons, it's worth taking their advice on what works when.
We asked the chefs what works in food for each season, how to craft the perfect wedding menu depending on what season your wedding is planned for, and for sample seasonal menus, to give you a taste of what your wedding menu could look like. Word to the wise, don't read this on an empty stomach!
Spring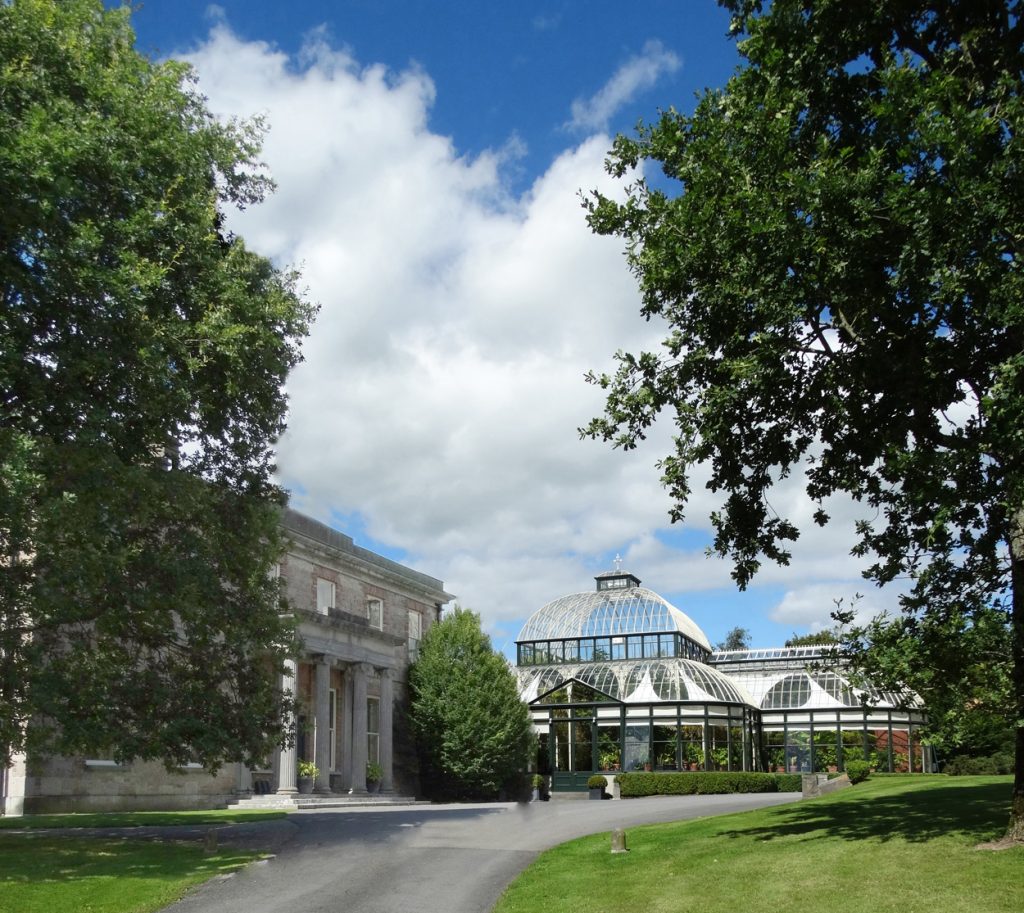 Spring food, according to Kilshane House's Head Chef Ralf Mahler, is all about the "hot, green, fresh leaves on the trees when they first appear." Warmer spring weather encourages more flavour and sweetness in everything, he says, whether that's new potatoes, lamb, pink rhubard, wild salmon, mushroom morels and "oh my god, the asparagus from mid-April to mid-June!"
Selecting "seasonal ingredients which are new, light, and fresh" is the key to a good spring wedding menu, he says. "For starters think of crab or freshly cured salmon gravelax, or asparagus in one of its many delightful forms. Soup made by reduction produces an intensity of flavour and colour and becomes a star in its own right. Sorbet: There is a pineapple, mango, and chili one which is like an arrow from Cupid's bow which adds a zing to the menu. Mains: Spring lamb is a classic. Fish and fowl are delicious in spring. For dessert, the Citrus and Almond Gateau with a strawberry-rhubarb compote and Calamansi Thai ice cream cannot fail to please."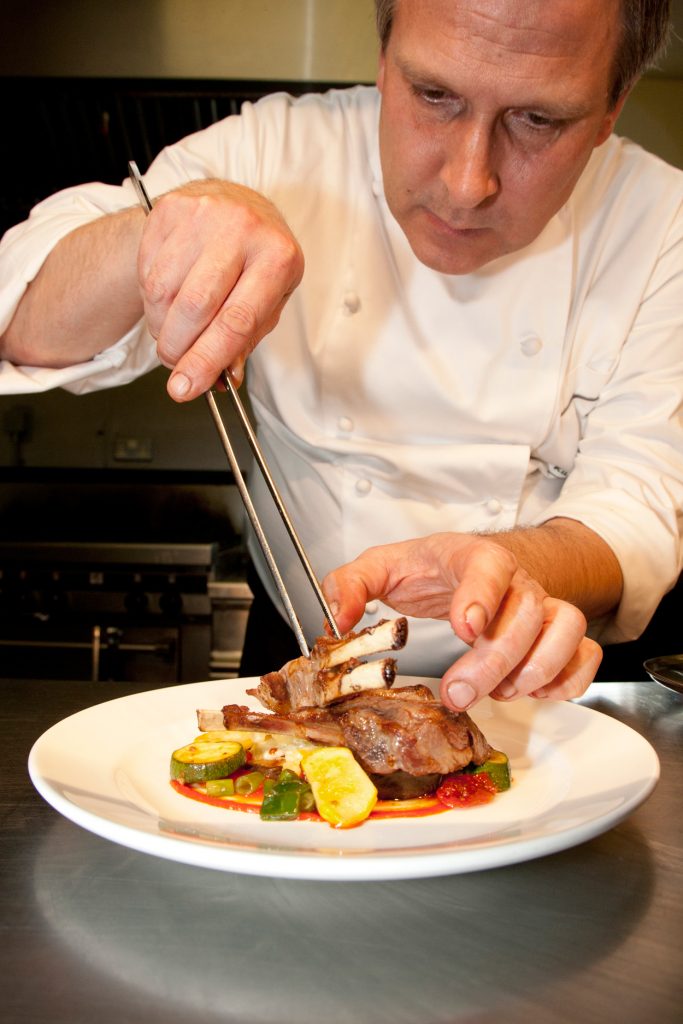 Sample spring menu from Kilshane House
Starters
Organic Salmon Gravalax
Bronze fennel, orange salad, and lime crème fraiche
Cauliflower, Pear with Cashel Blue Cheese Soup
Raspberry and Basil Sorbet
Mains
Grilled Fillet of Cod with asparagus, baby artichokes, fresh truffles and shellfish bisque
or
Rack of Kerry Lamb with Garlic Herb Crust Barolo jus and vegetable panache
Dessert
Vanilla Bean and Grand Marnier Mousse Flamed raspberry & salted caramel ice cream
Tea or Coffee
Homemade Petit Fours
Summer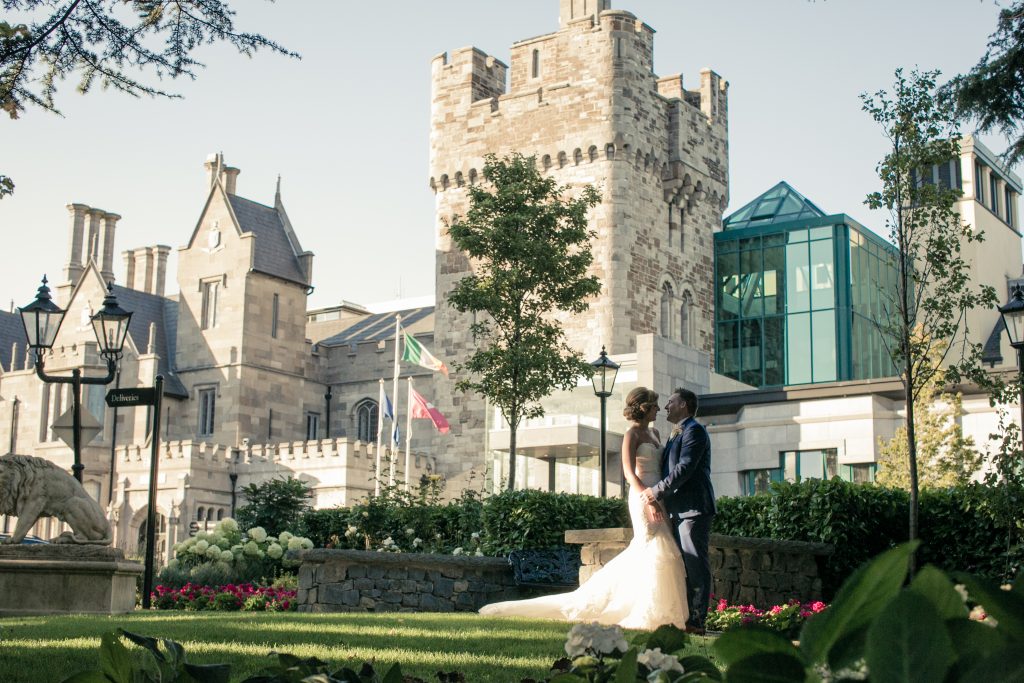 Summer sees Clontarf Castle Hotel in full bloom and Head Chef Stuart Heeney brings a particularly vibrant, seasonal dining experience for you and your guests. His food philosophy is simple, with local produce and sourcing at the heart of their wedding menus.
The menu focusses on "fresh, light dishes such as Mango and Passion Fruit Sorbet, Trio of Wild Irish Salmon for starters and Roast Fillet of Atlantic Halibut," he says.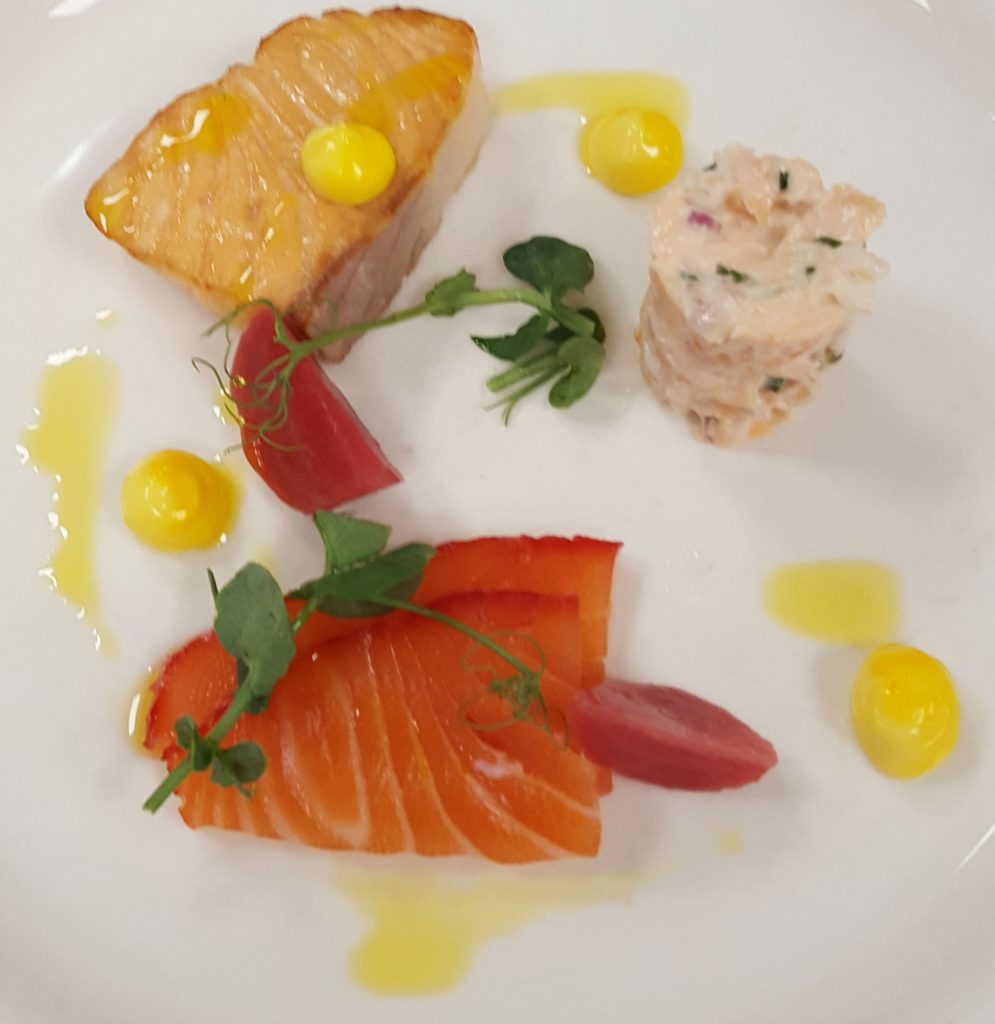 Sample summer menu from Clontarf Castle
Starters
Trio of Wild Irish Salmon - In-house smoked with beetroot cured and salmon mayonnaise
Wild Strawberry Sorbet
Mains
Pan Fried Seabass with chorizo and white beans, sauce vierge
or
Char Grilled 8oz Fillet Steak with field mushrooms, slow roast cherry tomatoes and pepper sauce or red wine and shallot jus
Dessert
White Chocolate and Raspberry Dome with raspberry gel
Autumn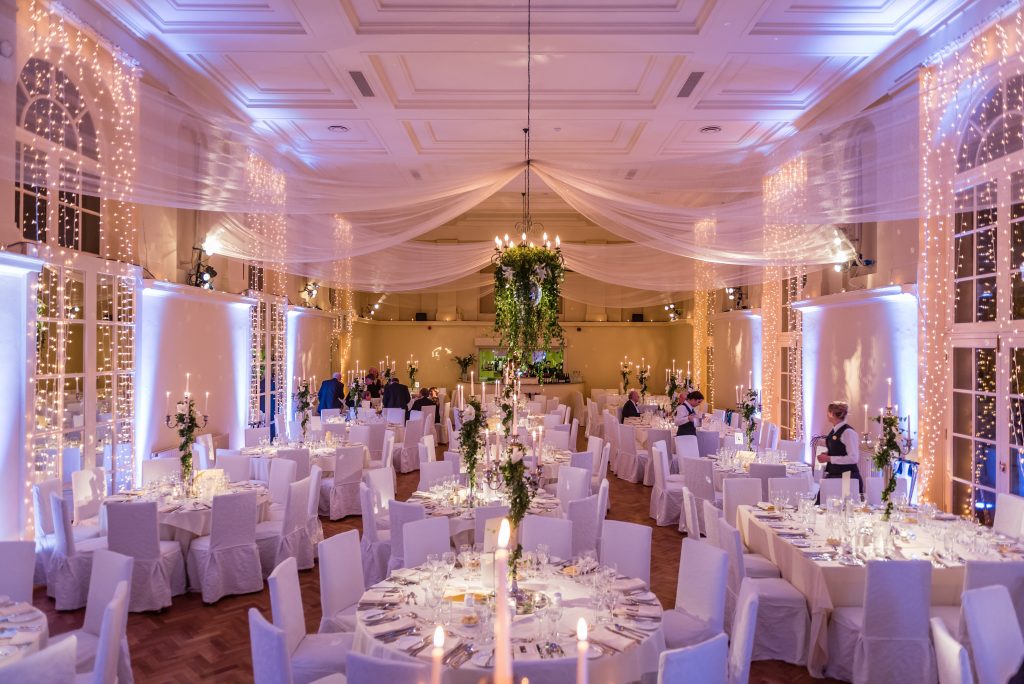 For Kilshane House's Head Chef Ralf Mahler, autumn food is all about that "interesting transition from light summery food to warm, earthy flavors in autumn which progressively are richer as time goes by." Tastes and colours are intense around autumn, he says.
For autumn, he recommends "composing your menu like a symphony". "The starter can be brisk and lively: try Chorizo, Spinach and Ricotta Stuffed Crepe  or Glazed Crispy Duck Leg Confit. Slow and lyrical soup course perhaps, pumpkin or wild mushroom with homemade breads. Strike a high note with a raspberry and basil sorbet. The choice of main courses should be the rich, complex, and deep : try Beef Fillet Wellington or Baked Fillet of Atlantic Hake or Roasted Leg of Irish Venison. The finale should be vibrant and a virtuoso performance : Southern Pecan Pie with Honeycomb Ice Cream and a splash of Jack Daniels or Caramelized Pear Tart Tatin with Madagascar Vanilla Ice Cream and a shot of mulled wine," he says.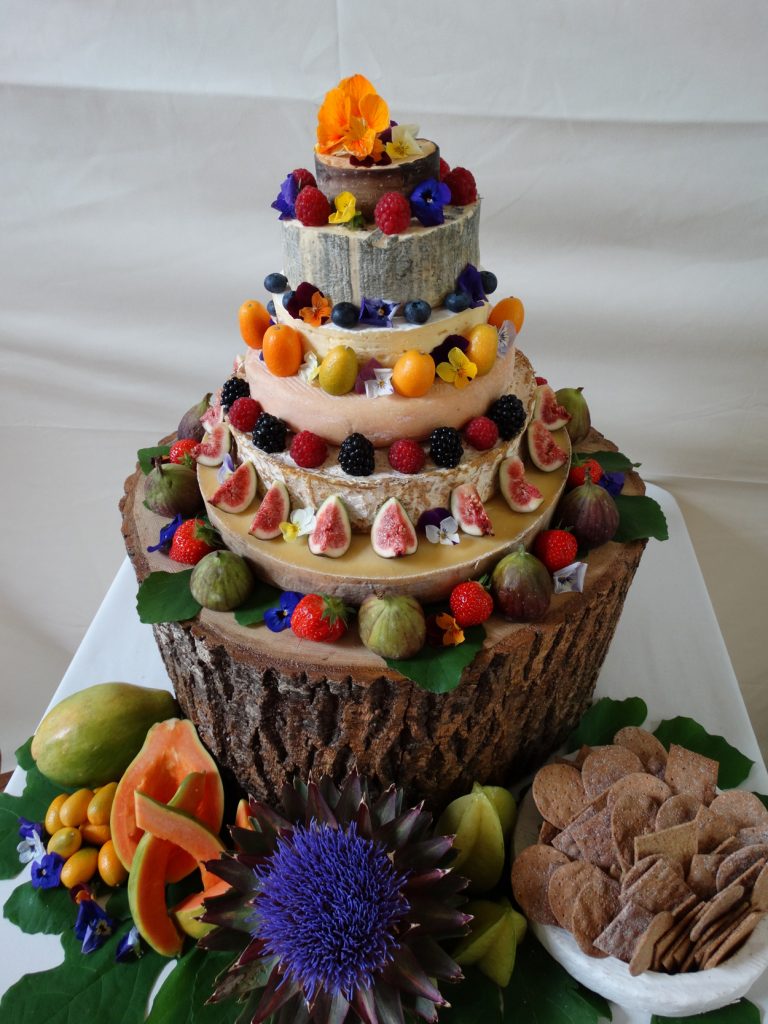 Sample autumn wedding menu from Kilshane House
Starters
Tian of Roasted Pepper, Asparagus and Apricot gratinee with goat cheese, grilled figs, red currant and horseradish dressing, olive tapenade
Pumpkin with Pumpkin Seed Oil and Seeds Soup
Pineapple, Mango and Chilli Sorbet
Mains
Beef Fillet Wellington with mushroom duxelles and spinach in puff pastry, port wine jus, porcini oil flavoured mash
or
Pan-fried Seabass with sautéed girolles, sea asparagus, Jerusalem artichokes and smoked bacon veloute
Dessert
Orange and Mascarpone Gateau with plum and apricot compote and calamansi Thai ice cream
Tea or Coffee
Homemade Petit Fours
Winter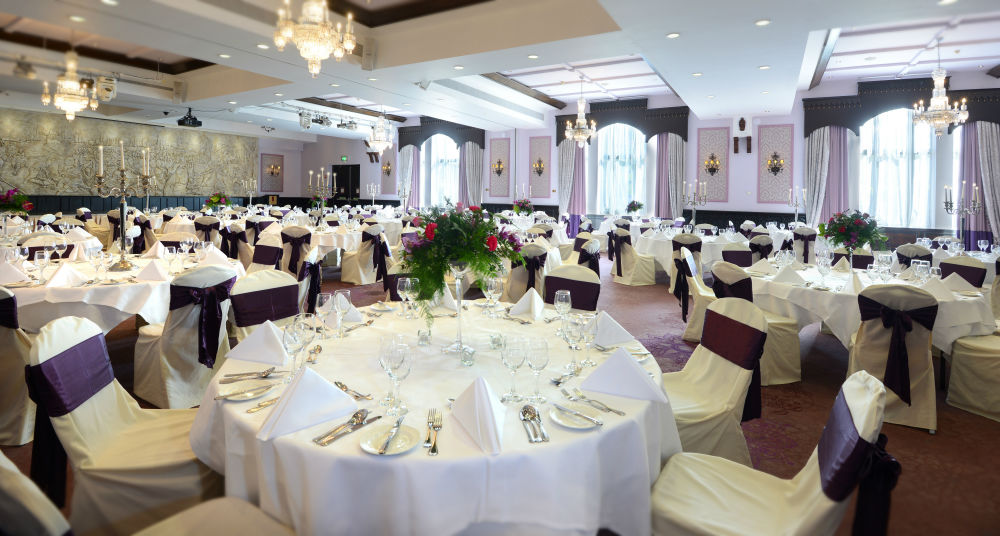 Clontarf Castle's Executive Head Chef Stuart Heeney uses "simple ingredients cooked with flair, imagination and presented with finesse" all year round, but particularly in winter time when more hearty, warming dishes are popular.
"For winter weddings, there is nothing more satisfying than the aromas of vegetables and herbs being cooked slowly with the best of flavoursome Irish Beef or Rack of Lamb," he says.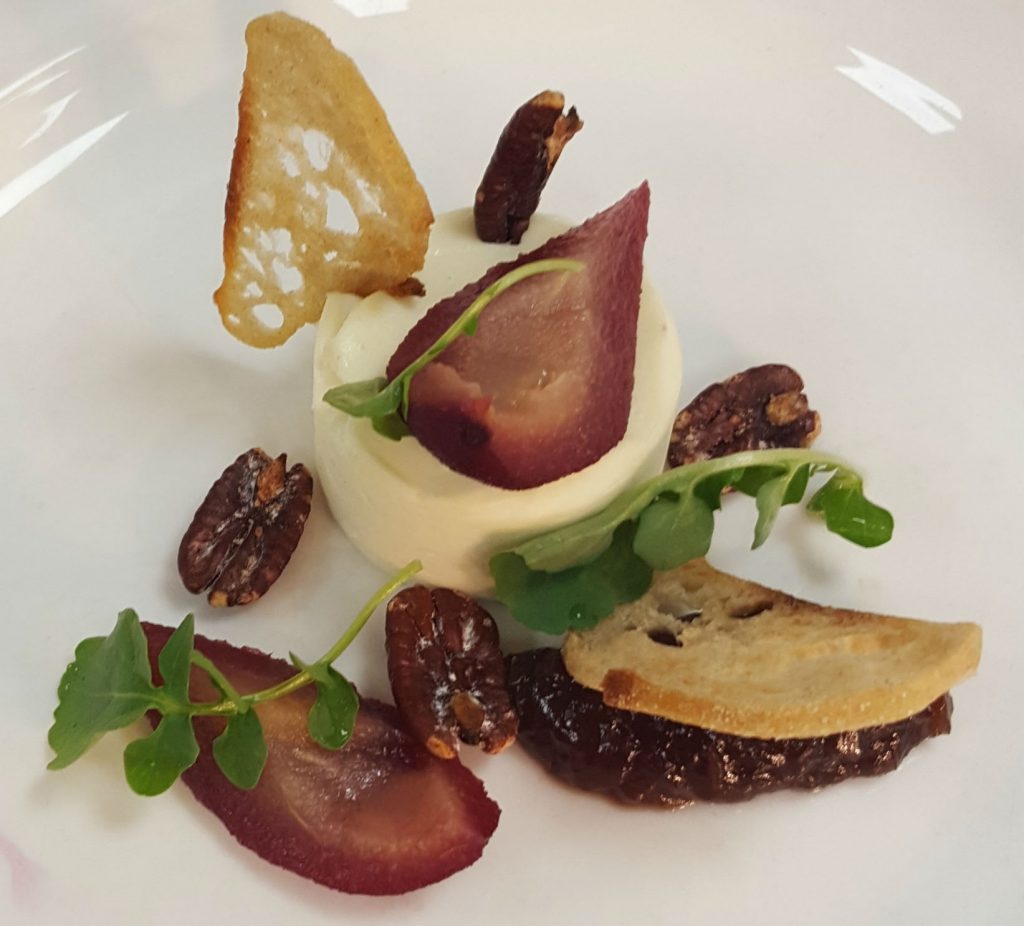 Sample winter wedding menu from Clontarf Castle
Starters
Confit of Gressingham Duck Roulade with piquant mustard fruits and grilled walnut bread
Spiced Sweet Potato and Coconut
Mains
Roast Rack of Lamb with spiced parsnip puree, rosemary and red wine jus
or
Roast Striploin of Irish Beef with watercress, slow roast plum tomatoes and braised shallot jus
Dessert
Cox's Orange Pippin Apple Galette with crème anglaise and vanilla bean ice cream
To find out more about Kilshane House's wedding menus and packages, visit their website. For more information on Clontarf Castle's menus and packages, their website is here.
You might also like: Will octopus be on the menu at your wedding? Pinterest thinks so!