A Confetti promotion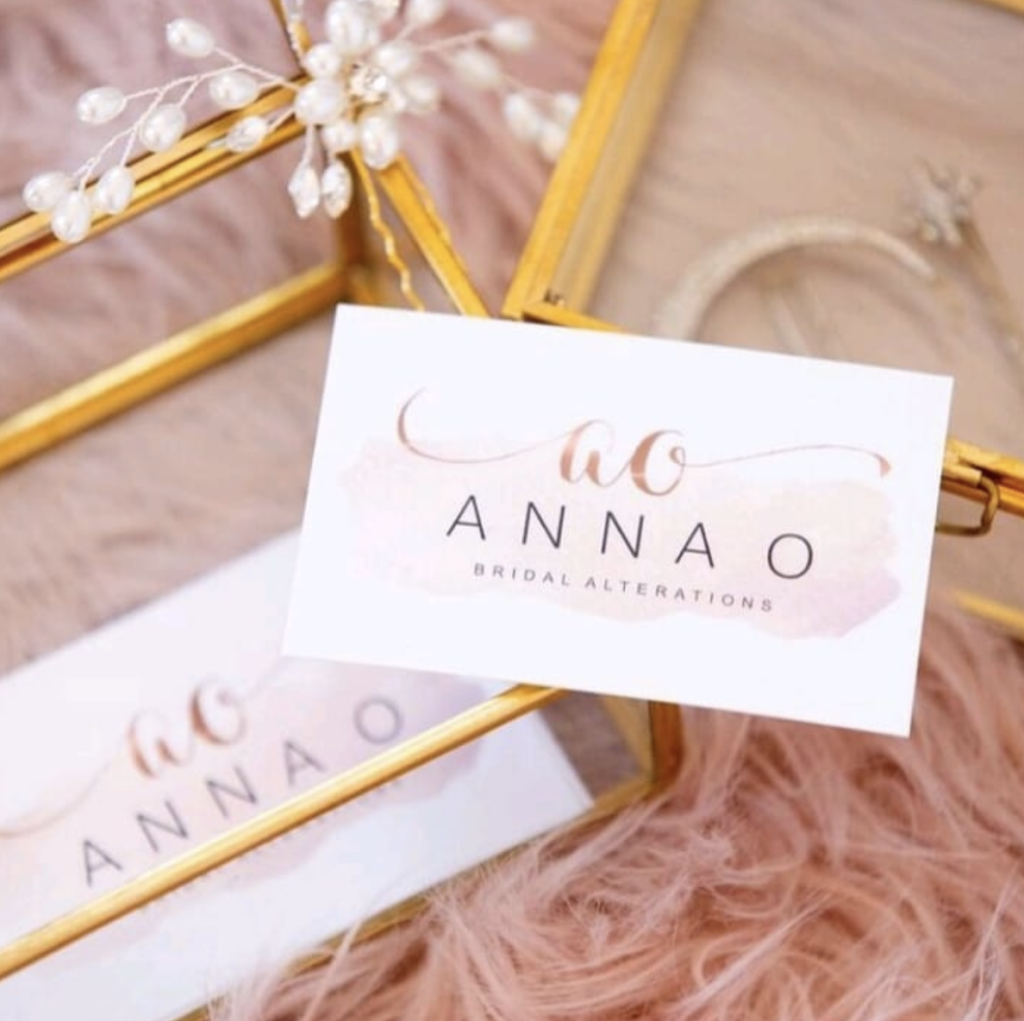 Anna O Alterations has been doing wedding alterations for over ten years. Anna started as a part time sales consultant in a boutique before working her way up the ladder, learning the alterations side of the business as well. Her background in hand-beading and hand-finished embroidery work was the perfect complement to these new skills, and so, Anna O Alterations was born.
She aims to give brides a really special experience in a beautiful studio, but in a place where the only focus is the alterations, so you can leave your first fitting knowing your dress is in good hands. We chatted to her to find out the big things you need to know when it comes to wedding dress alterations.
What are the most common wedding dress alterations you do?
"I would say the most common alterations I do is hem, take in bodices, lift shoulders and sleeves, adding cups, and bustles to neatly take up the train."
What should people expect when they come to you with their dress?
"I start fittings about 6/8 weeks before the wedding date or fly date. I always advise to bring the shoes and the undergarments you think you will wear on the wedding day with you for your first fitting.
At the first fitting I pin and fit the dress, from here there is another 2/3 fittings depending on what needs to be done. I love this part of the process because you can really see the bride feeling the dress become her own. It's a really special time for brides, I'm so happy to be part of it with them."
How far can wedding alterations go? What's possible?
"We love a challenge here in Anna O. Adding sleeves, capes, neckline changes, you name it and I'll do my best to make your dress exactly the way you want it!
We are so excited to be showcasing 12 new dresses to our made to measure collection coming in S/S 2020. Brides will be able to choose from and mix and match tops, skirts, over-skirts, detachable pieces etc to either make their dress unique and special or have a dress made from scratch just for them."
Every dress is different, but how much should brides have in their budget for alterations as an average?
I would say €350 for alterations, and long plain veils start from €120.
When do you recommend brides bring their dresses for alteration?
"If you would like to come to Anna O, it's best to book in as soon as you can, so when you buy the dress you can contact me. I'll pop you in my diary for about 6/8 weeks prior to your wedding date/ fly date. I currently have bookings for 2021!"
What is the most important thing to know about wedding dress alterations?
"I guess the best bit of advice I can give is that the dress will nearly never fit when you try them on first. Try not to be disappointed, that's where your alterations come in.
Your dress will need at least two fittings, it's a process and one we don't want to rush. You have to have your shoes for your first fitting. Avoid taking loads of photos when it's not fitting you, you will look at them and worry and who wants to do that at 4am?! Invest in a steamer for the the morning of the wedding.
One more thing,  I'm here to listen and to help and make you feel amazing in your dress so my studio is a calm zone. Come and talk about your wedding or if you just want an hour of chilled silence no problem, we got you!"
Anna O Alterations
Website | Facebook | Instagram