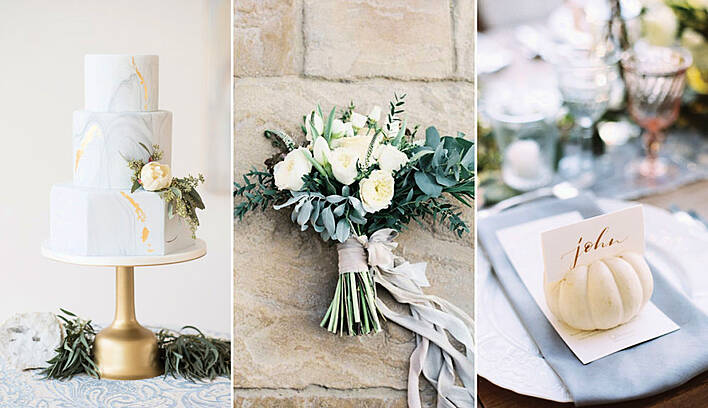 Wedding DIY is something a lot of couples think will be a walk in the park. Well yeah, Jurassic Park that is. Picture this: You're knee deep in tissue paper trying to put together 100 dinky wedding favours, thinking 'D-I-WHY did I start this?' Does that sound familiar? Well to help keep the calm, we've put together some key DIY dos and definitely don'ts.
DO
Delegation stations
If you take one piece of advice from us it's this: delegate, delegate and delegate some more. Try not to take on too many projects yourself - you'll regret it if you do. Your friends and family are willing and able to help, so why not let them? This is especially true in a couple of weeks before the wedding, when you don't need to be handmaking 100 paper flowers all by yourself. Rally the troops, we say!
Put in your place
Do you or your other half have seriously gorgeous handwriting? Or perhaps someone in your bridal party does? If so, ask them nicely if they'll put pen to paper and help write your place cards. It's a nice personal touch and it'll be one less thing to add to your stationery bill. Nice!
Final touches
While we don't recommend DIY decorating your entire venue from top to bottom, you could really spruce up a standard venue ballroom with little effort. Minimal floral touches, foliage and some candles in the middle of your tables can give them a new lease of life.
Be our guest
If you're quite crafty, table plans are a great example of a clever wedding DIY. There are lots of online platforms where you can choose templates or design your own to suit your theme. It's a great way to save a little extra cash that you can then put towards something bigger like your dress, photographer or music.
It's a sign
Are you planning to dot cute signage around, directing guests from the ceremony to the reception? Or, would you love your flower girl or pageboy to carry a 'here comes the bride' style sign as they walk down the aisle? These are fun projects to create yourself and it means you can properly personalise them; a cute touch. And we're talking one or two pieces and you're done - an achievable project size.
DON'T
Do us a favour
Certain favours can be easily DIY'd, depending on what you have in mind, of course. If your favours are some yummy home-baked treats, while it's a lovely idea, you're asking for trouble. Don't end up slaving away in the kitchen and putting yourself under unnecessary pressure. Be clever about it and either forgo favours altogether or bite the bullet and hit the shops - you'll be glad you did.
Snap happy
We've said it once and we'll say it again, your wedding photos are so important – do not scrimp on them. Don't fall into the trap of having your mate who's handy with a camera take your wedding pics. You may save some cash, but you'll probably regret it after the wedding when they're not what you hoped for. Plus, you want your friends to be celebrating with you, not working. Psst, if you're looking for ways to nail your wedding pics, photographer Claire Brown offers her top tips. 
Cake that
You might be constantly baking up a storm in the kitchen or even just fancy a bit of a challenge, however, your wedding cake is no time to experiment. Depending on the size of the cake, it could wind up being a lengthy process and not to mention the expense of the ingredients. Oh, and don't even get us started on transporting the cake – yikes! Best left to the professionals, we reckon.
Bloomin' heck
Thinking of hitting the flower market to save some cash on your wedding flowers? Not a bad idea, however, it might end
up being a far bigger job than you first expected. And you probably won't actually end up saving that much money - good flowers aren't cheap, no matter what way you go about things. Oh, and it's super time consuming too! Pop into your chosen florist and let them do the legwork for you.
Décor the halls
You might love the idea of a million origami pieces creating a backdrop for your reception, but after making about 20, you'll probably have had enough. This applies to most small craft projects that will form the décor for a large space. Instead, purchase the parts and enlist the help of staff at your venue and friends and family to help set up.