Wedding day two plans are often just as much fun and the good news for couples is that you'll be a whole heap less stressed and nervous than you potentially were the day before. It's an amazing chance to hang out with your pals and family, absorb all the love and chat about the events of your wedding day. They're mostly very relaxed affairs involving a boozy brunch or BBQ and the odd sing-song, but why not inject some fun into proceedings with one of these activities? Warning: You may come up against some resistance from hungover heads, but with a bit of encouragement, everyone will have a great time and really blow the cobwebs off.
Pizza Party
What's better than pizza when you're hungover? Pizza with friends when you're hungover, of course! You could arrange with your venue for pizzas to be served, rent a pizza van or have some of your nearest and dearest over to make pizzas. Pop some leftover bottles of bubbly, and you've got a match made in heaven!
Treasure hunt with a twist
This works particularly well for summer weddings at venues with ample grounds. Instead of the traditional treasure hunt, design a series of challenges for teams to carry out. Assign a photo taker on each team whose task it is to take phone snaps of their team completing each task. Some of our favourites are squeezing your team into the smallest space possible (a phone box or bathtub works well!), a member of your team pretending to propose to a random stranger or every one the team switching clothes. The first team back at base after completing each task wins the glory and perhaps a round of drinks. Trust us, this will go down a treat and create some of the funniest photos from the whole weekend.
Adult Sports Day
Go old school with sack races, hurdles and egg and spoon races on the grass. Make sure to let your guests know about this in advance so they can pack some trackies and trainers. Pick up some inexpensive medals and trophies on eBay or Amazon and have tongue-in-cheek medal ceremony for the winners. Bonus point is you build a DIY podium for this – the photos will be gas!
A Private Movie Screening
The ideal post-wedding hangover sitch, in our eyes. Who doesn't love a bucket of popcorn and a feel-good film when you're feeling a bit worse for wear? There are plenty of cinemas for private hire around Dublin such as The Lighthouse Cinema in Smithfield, Brooks Private Cinema on Drury Street or for a bit of old Hollywood glam, the gorgeous Stella Theatre in Rathmines.
Host a BBQ or Picnic
Weather permitting of course, but if you're lucky enough to get some decent weather, host a BBQ or picnic shindig the next day. You may even be able to do so at your wedding venue, so make sure you enquire when you're booking if you can have it for a second day. The venue may be happy enough to cater for this as well, which would be the dream.
Murder Mystery
Murder Mysteries are not only ideal for hen and stag parties but also great fun for a wedding day two. They brilliant craic and are something to get the whole group involved. There are loads of murder mystery options around Ireland - some take place on a boat, on a pub crawl, your house or different venues. (Murder Mystery Ireland, Creative Events - Murder Mystery Pub Crawl, Murder on the Menu, Hen Weekend Ideas - Cruise)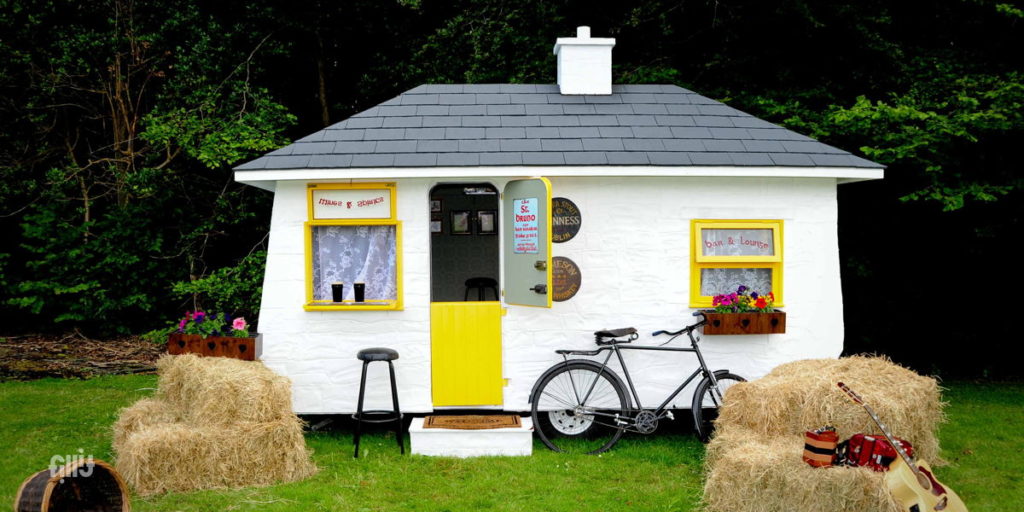 Rent a Pub
A company called The Shebeen rents out this super cute old Irish pubs for weddings and events. You could have your very own authentic Irish Síbín for the day. This cottage fits 12 people inside, but there's also an option for outside seating if your party is larger. If you have a big back garden, it's ideal. Or, check with your venue if they'll allow it onsite before booking. This will be such a fun novelty if you have guests travelling from overseas.
Table quiz
If the weather isn't on your side, a themed table quiz will provide endless indoor entertainment. Create rounds about you as a couple and don't be afraid to make fun of yourselves. Make it personal to your guests and families too, by including questions on their specialist subjects - if you're big GAA fans, or a very musical family, make that a part of it. Competitive streaks will show and laughs will be had.
Wedding day two feature image via The Crawleys