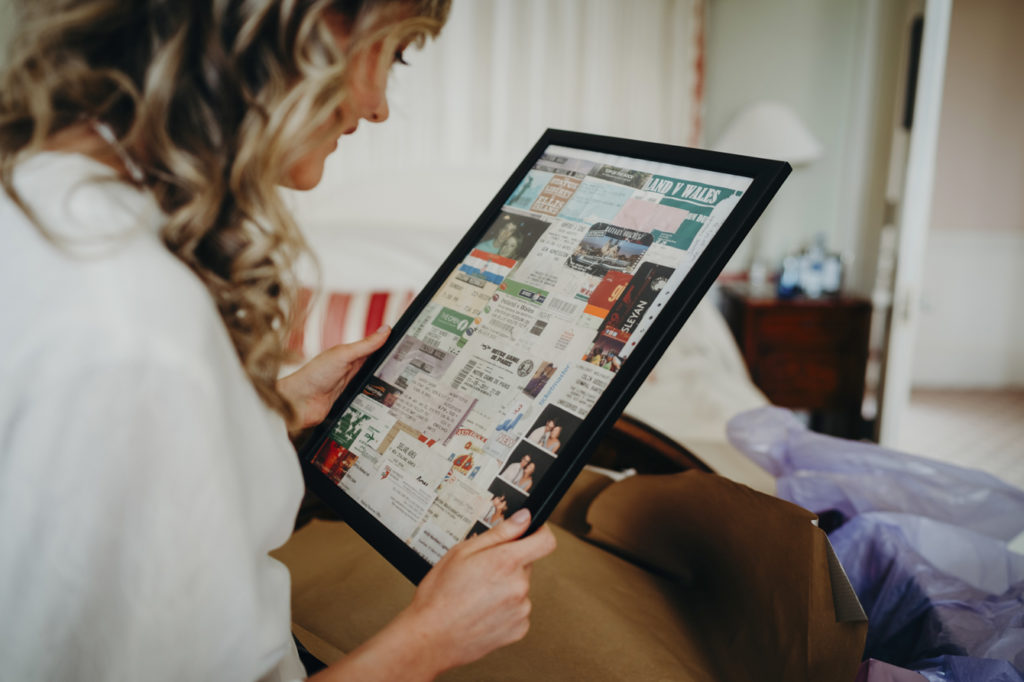 Wedding day gifts are just as important and your bridal party gifts. Make sure you pick up your other half something special to open on the morning of your wedding. If you're struggling to find the perfect gift, we may be able to help. Read on for some inspiration...
Personalised Print
Give your other half something they'll love – something meaningful. Personalised prints are always a good idea and these star coordinate prints are whopper! The Night Sky prints allow you to personalise the print with text, colour, and exact location. Perhaps you want the place you first met, where you first said 'I love you' or, indeed, where you proposed. It's a super cute and cost effective idea. €60, eu.thenightsky.com
Sentimental Scrapbook
Tissues at the ready, we love a trip down memory lane. Fill your scrapbook with photos of the two of you, cinema tickets, boarding passes and anything that reminds you of them. You're guaranteed to get them to shed a few tears whilst reliving all your happy memories.
Engraved Jewellery
Say it, engrave it. A lot of brides/grooms-to-be jump to the idea of jewellery for their wedding day gifts. Be creative – don't just give them a nice watch or necklace, engrave it with a little message or location coordinates, like Chupi's new range.
A mini-break
Instead of a physical gift, why not tell them they're being whisked away on a mini-moon? If you haven't planned to head off on honeymoon straight away, a mini-moon is ideal for winding down after the wedding. It also means you don't have to rush into picking a honeymoon destination and can take your time picking your holiday of a lifetime. Try Ireland's Blue Book for some awesome mini-moon deals. irelands-blue-book.ie
Scent to be
Fragrances can evoke memories of people and places – we all have that one scent that will transport us back to a certain place and time in our lives. Gift your other half a brand new fragrance for your wedding day, one that will always remind them of the happiest day of your lives. Or, if they have a particular fave, pick them up a bottle of that. No one likes running out of perfume/aftershave, so they'll be delighted with the backup.
Mixtape
Ok, we know it's super nineties, but how cute would it be to receive a mixtape of your favourite songs/songs you share together? Whether you want to go super oldschool with a cassette tape or more modern with a CD or playlist, this would be a really sweet morning of pressie.
Feature image via The Lous