As the balance shifts to more and more couples opting for a non-religious wedding ceremony, choosing wedding celebrants has become an extremely important part of planning your wedding.
After all, the ceremony is the part of your big day where you're actually getting married, and so many real couples tell us their ceremony was their favourite part of the day - it's worth putting some decent consideration into who you're putting in charge of it!
It's important that wedding celebrants suit the style of ceremony you're imagining, or if you don't know where to start planning, that your celebrant is someone you feel comfortable crafting a ceremony with. With that in mind, we asked four of our Recommended Celebrant Suppliers, for their top ceremony tips to get you on your way!
Niamh of Anu Celebrancy
Top tip on finding and choosing a celebrant?
Pick someone who resonates with you and that you feel really gets you and your partner. Get to know your celebrant and let them get to know you. Above all, you want someone who will be excited to be your celebrant. Maybe you have a thing for hot air balloons and you thought a ceremony at sunrise as you slowly rise into the morning sky under a giant colourful balloon would be perfect you. Not all celebrants would be up for this - I totally would! Or you have a dog that you think would make an amazing ring bearer but your celebrant doesn't like dogs so much, so they're not crazy about this idea. My point is that you and your celebrant should feel a connection. If you have ideas that your celebrant is not interested in, you should keep looking until you find the one who is. Some ideas won't work but most have some way of coming to fruition with a bit of imagination and tweaking. What you want is a celebrant who will really celebrate the journey of your love story because that is what it's all about.
Top tip on crafting a ceremony?
Have a vision in your head about how you want your ceremony to be and the vibe you wish to create. Maybe you picture yourselves in a field under a rustic wooden arch trailed with flowers and your guests sitting on rows of hay bales or maybe you want vintage glamour all the way in an exclusive manor house. Sometimes knowing what you absolutely don't want will eventually point you in the direction of what you do want. Above all, be authentic and choose options that reflect you and your partner as a couple and not just what the latest trend is. Don't hire the alpacas as ring bearers if you're not really keen on animals but thought they would look unusual in pictures! There are so many options available to make your ceremony unique and your celebrant can help guide you to make good choices.
Clara of Coastal Ceremonies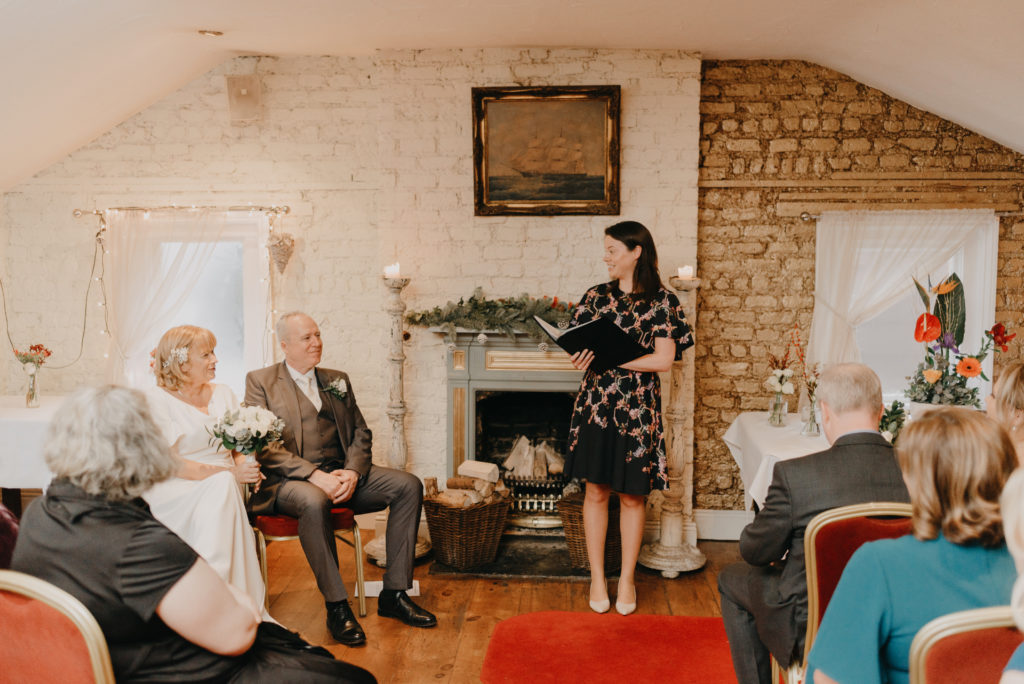 Top tip on finding and choosing a celebrant?
A question we get asked a lot is what's the difference between an independent celebrant, a Humanist, a Spiritualist and a registrar. It can be very confusing but the landscape has changed so much over the past decade in Ireland which means there is so much choice for a couple. When choosing a celebrant, you have to think about what reflects you both as a couple, your personalities, your belief system. For some couples it's important that they get married in their venue or location of choice, and therefore an independent celebrant, like Coastal Ceremonies might suit them best as they can officiate a wedding ceremony at most locations or venues seven days a week. For others, they want to be able to incorporate the legal signing of their marriage certificate on the day. Therefore, a humanist, spiritualist or a registrar is most suitable. When you are choosing a celebrant look on their website for testimonials from previous weddings, and images of weddings they have officiated at, and give them a call to see if they sound like the right fit for you. Remember it's your special day, so choose the right celebrant for you both.
Top tip on ways to personalise your ceremony? 
At Coastal Ceremonies, we love music and often suggest using lyrics of your favourite song as a reading if you are not including it in your music choices. Maybe there is a song that reminds you of your first date, first holiday, your proposal. We suggest you include it in some way.
We also love including your love story. It's the story of you both and it's our favourite part of the ceremony. It's where we tell everyone the story of how and when you first met, your first date and kiss, your first holiday, your engagement story and finally what marriage means to you both. Telling each couples story never fails to raise some laughs and some tears of joy. It's a fabulous way to incorporate others in to your ceremony and really sets the tone for the rest of the day.
Patricia Eager Celebrant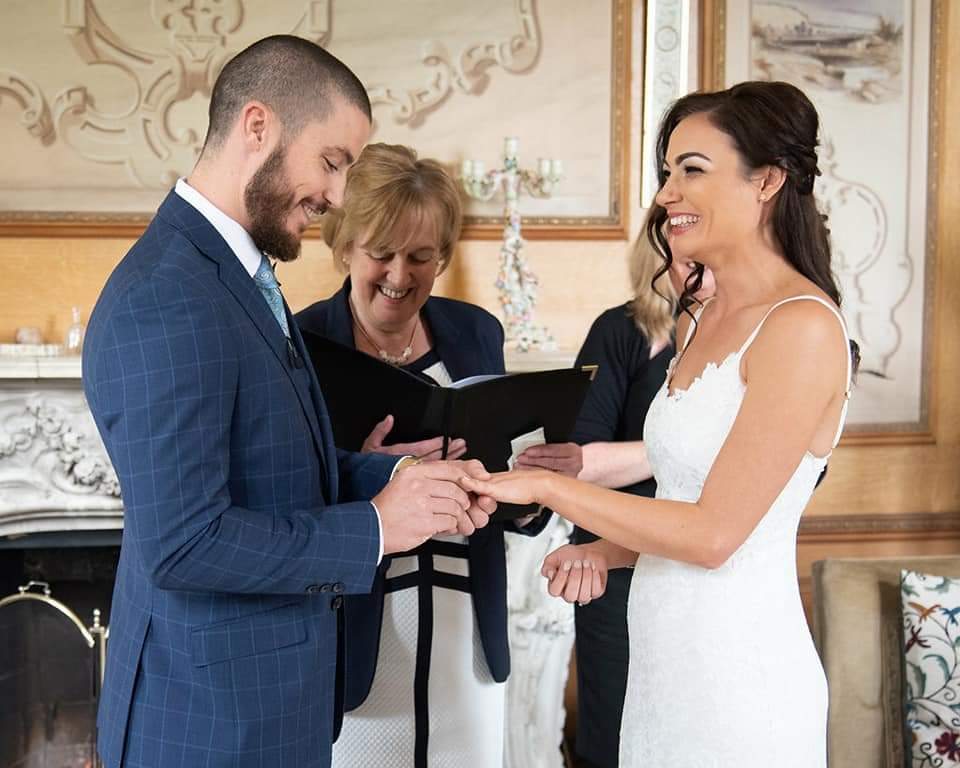 Top tip on finding and choosing a celebrant?
Finding and choosing a celebrant is one of the most important decisions when planning a wedding. Patricia will help guide the couple through the process of registering their marriage and how to arrange the legal ceremony in a Registry Office.
Discussing the different ceremony enhancements with the couple and helping with their choice of music and readings, it is guaranteed to take the stress out of planning a wedding.
Top tip on crafting a ceremony?
Helping the couple with the ceremony framework, is crucial, whether they wish to remember a family member who is no longer with them, or to ensure children, family members or friends have an important role to play in the ceremony.
It is really nice to include a love story for the couple as it makes the ceremony more personal, meaningful and memorable. Brief guidelines can be given by the couple to craft their love story. Their story can include how long they have been together, where they met and what they love most about being together.
Yvonne Cassidy Weddings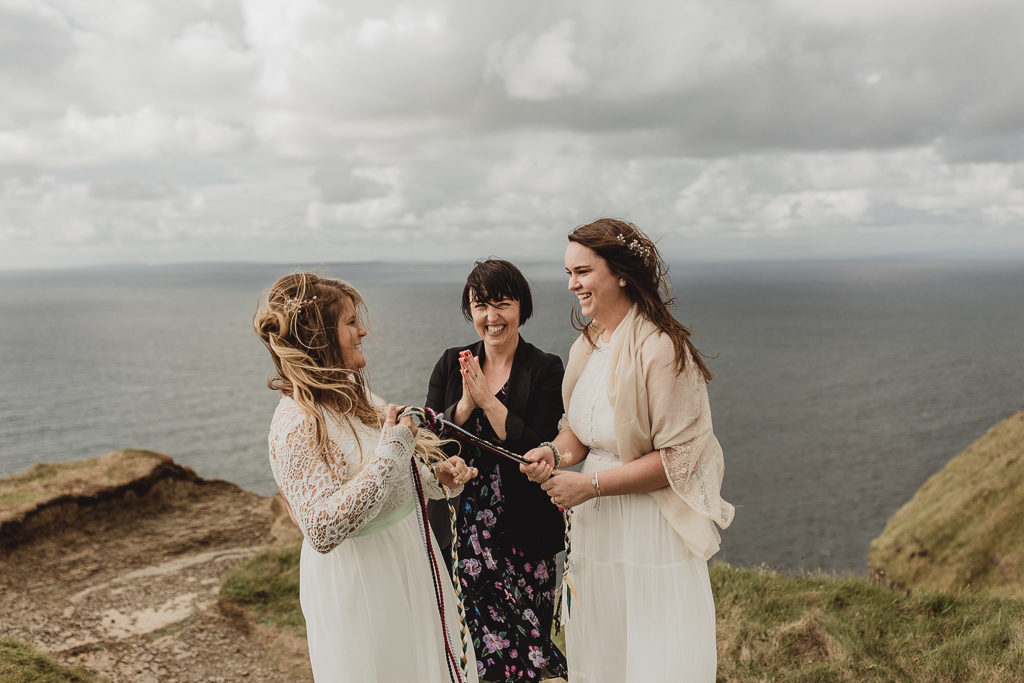 Top tip on finding and choosing a celebrant?
Choosing the right celebrant is so important, they are the person who will write, deliver and choreograph the ceremony which is often the first experience your guests have of your wedding, so you need to get it right.  I would say do not leave it until the last minute to start looking for a celebrant as the person you want may already be booked.  There are different types of celebrants and some are associated with a religion or belief system and there can be restrictions they must adhere to so it is important to do your research to find the right type of celebrant for you.  Don't be afraid to ask questions, we understand that this is a new experience for you and your celebrant will be able to provide advice and guidance.  I would also recommend meeting either in person or by Skype so that you have had a face to face conversation before the big day.
Top tip on ways to personalise your ceremony
I think if you want to really personalise your ceremony the best way is to involve your guests.  These are the people who know you best, who love you and who better than them to help tell your love story.   My favourite way to involve guests is to have two or three from each side give pieces of advice or anecdotes about the couple.  These are often kept secret from the couple (with their permission of course) so they do not know what is going to be said.  It is nice for the couple to have a surprise in the ceremony, and its always great to hear the personal stories from family and friends.