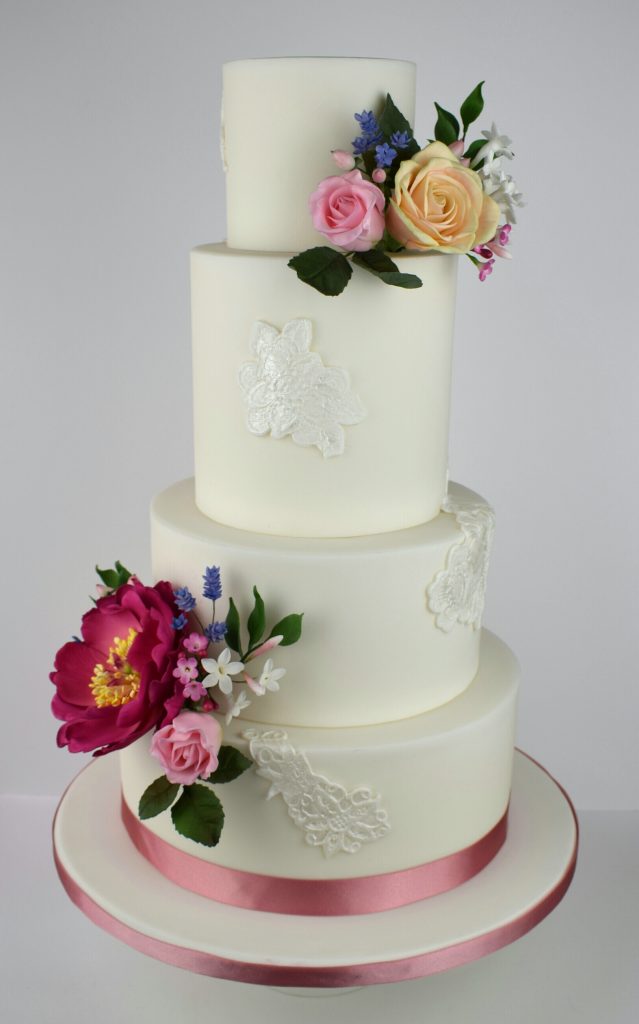 If you plan to have your wedding cake and eat it too, a little bit of planning has to go into it. Cake designs are getting more and more intricate, and so too are the range of flavour options you can choose from, meaning you can work with your wedding caker to create a cake that is perfect for you as a couple. However, it can be hard to know where to even start. We asked Roses and Ruffles, wedding cake experts, what you needed to know about the wedding cake trends and picking a cake for a summer wedding!
1. What are the most popular styles for summer?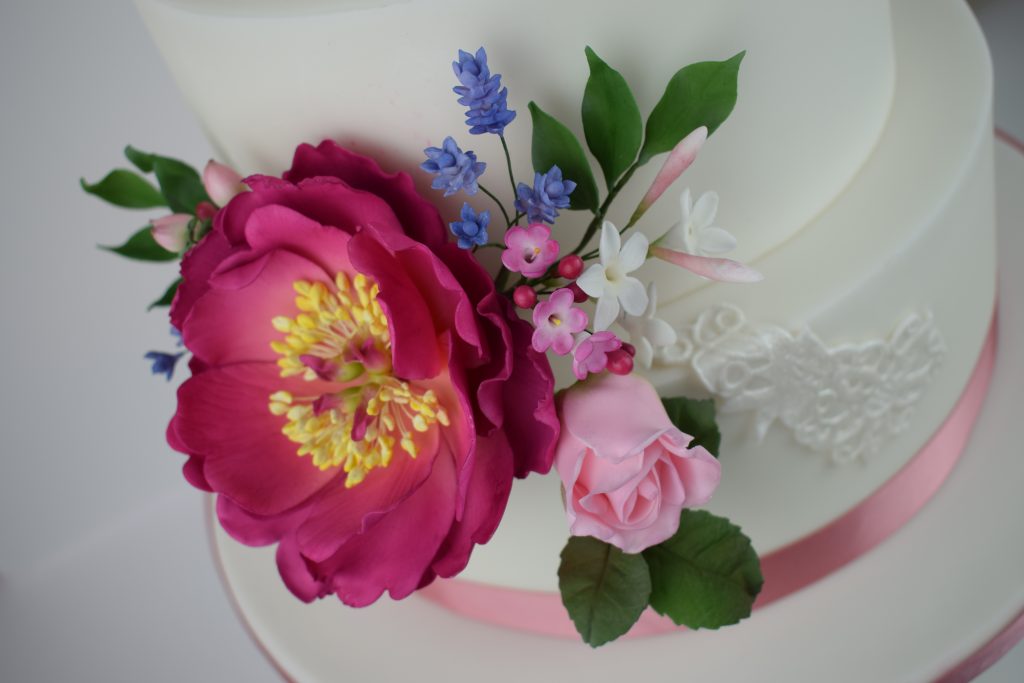 Wedding cake designs have always been heavily influenced by the bridal gown, wedding colour palette and florals. Today designers are also taking their cues from the architecture of the venue, wedding stationary and interior design.
Flowers have always been a popular feature on cakes and especially in summer. Current floral influences from North America and Australia see not only changes in the variety of flowers used but also a greater emphasis on foliage. Expect to see fresh or the increasingly popular, handmade sugar varieties of garden roses, peonies, ranunculus, anemones, poppies and tulips.
Greenery is having a moment of its own so don't be surpised by sweeping tendrils of ivy, circlets of olive leaves or sprigs of eucalyptus as foliage takes center stage. The addition of some climbing sugarcraft ivy vines can elevate a classic white cake to an ethereal beauty.
Influences from stationery are seen in textured fondant and papery frills. Cake toppers in calligraphy-style text are hugely popular and can bring together elements from the wedding stationary. TIP: Check that they photograph well and there will be enough clearance from floral arrangements topper before inserting into the cake. For those not influenced by the details of their dress, the more contemporary sharp-edged tiers of marble effect fondant and bas-relief style confections are proving to be a hit in white and coloured fondant.
Naked and buttercream finished cakes will always be popular in summer when there is the chance to be outdoors and next-to-nature.
Trends can also be combined to great effect. Bas-relief is so richly textured that it can look sophisticated on its own or in combination with metallic accents and floral arrangements.
2. Is there any in-season summer cake flavours you'd particularly recommend pairing?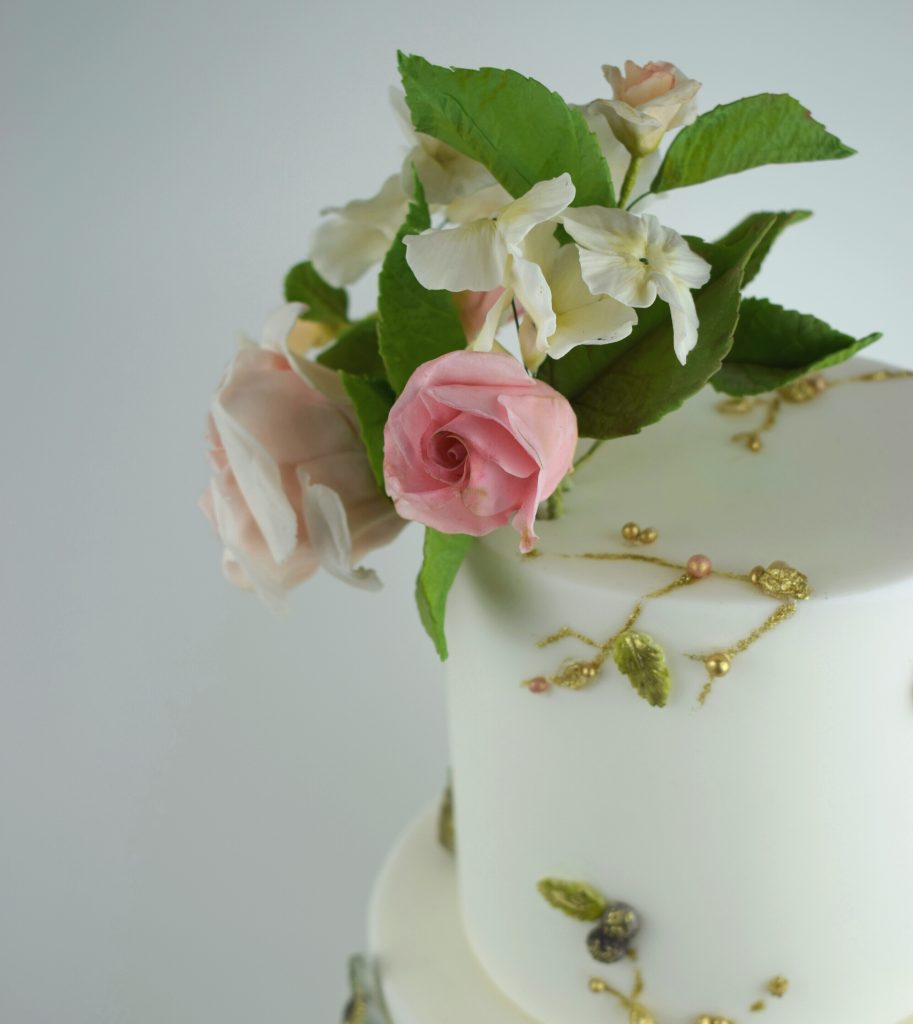 Our most popular flavour is the chocolate cake layered with salted caramel, chocolate ganache and vanilla buttercream but I would advise having a lighter option as well for multi-tiered cakes. Citrus flavours such as our tangy lemon and delicate orange sponges with homemade curds pair well with lighter summer menus, particularly after fish courses. Our Victoria sponge is always popular, its tart raspberry conserve balanced by a smooth vanilla buttercream. There will of course always be fans of traditional fruit cake and a small additional cake can be supplied directly to the kitchen so guests will be kept happy but the design of the cake won't be impacted with the incorporation of the additional tier.
3. Is it important to keep to in-season flavours for your wedding?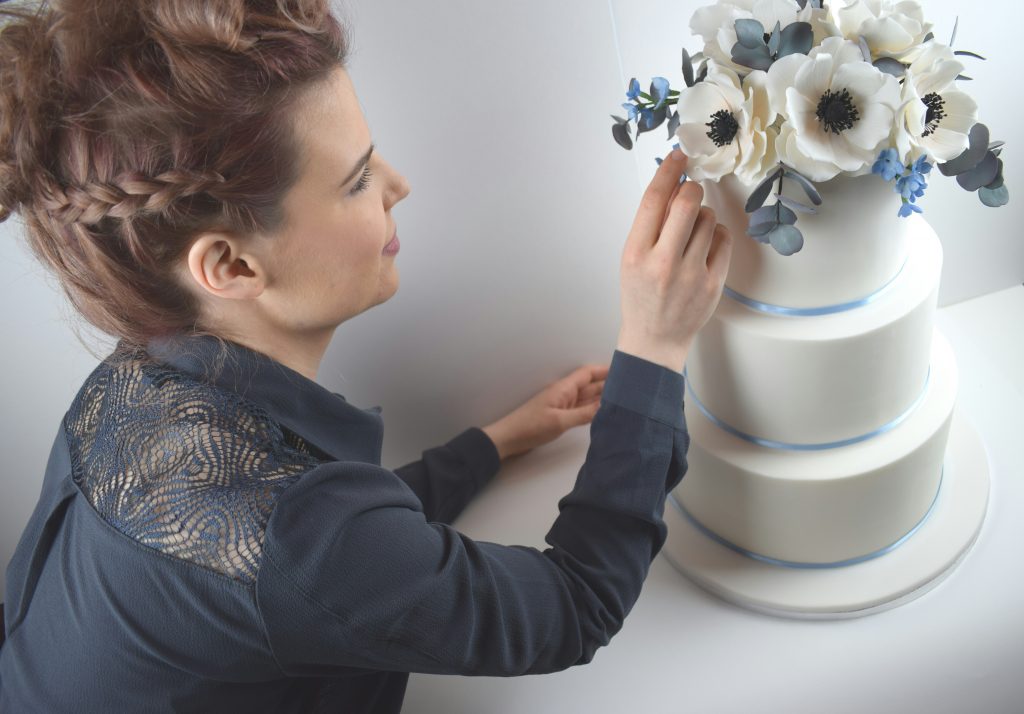 I would always advise couples to see the event as a whole and decide what role they want their cake to play. It is worth taking into consideration the seasonality of the preceding courses or wine pairings if the wedding cake is being served for dessert. I don't think you have to stick too rigidly to seasonal flavours, for example if you were to offer guests a choice of either our spiced pumpkin cake with maple-pecan praline buttercream or our carrot cake with cinnamon and orange buttercream purely because it was autumn you would discover how firmly divisive people are over cinnamon and other spices.
Guests will behave much as they do in a restaurant-setting no matter the season, some will always opt for the decadence of chocolate over the warmth of a spiced carrot cake while others will choose the lighter fruit flavour. I would say that you should choose one chocolate and one fruit sponge tier. Budget allowing, a third tier of rich fruit or carrot cake should satisfy all flavour preferences. The only real caveat which concerns seasonal flavours refers to naked, semi-naked and fully dressed buttercream cakes. These cakes can be adorned and filled with fresh jewel-like fruits to striking effect but if they are as hard and flavourless as rubies and sapphires, no one will enjoy them.
4. Do summer's cakes particularly suit any particular style of wedding?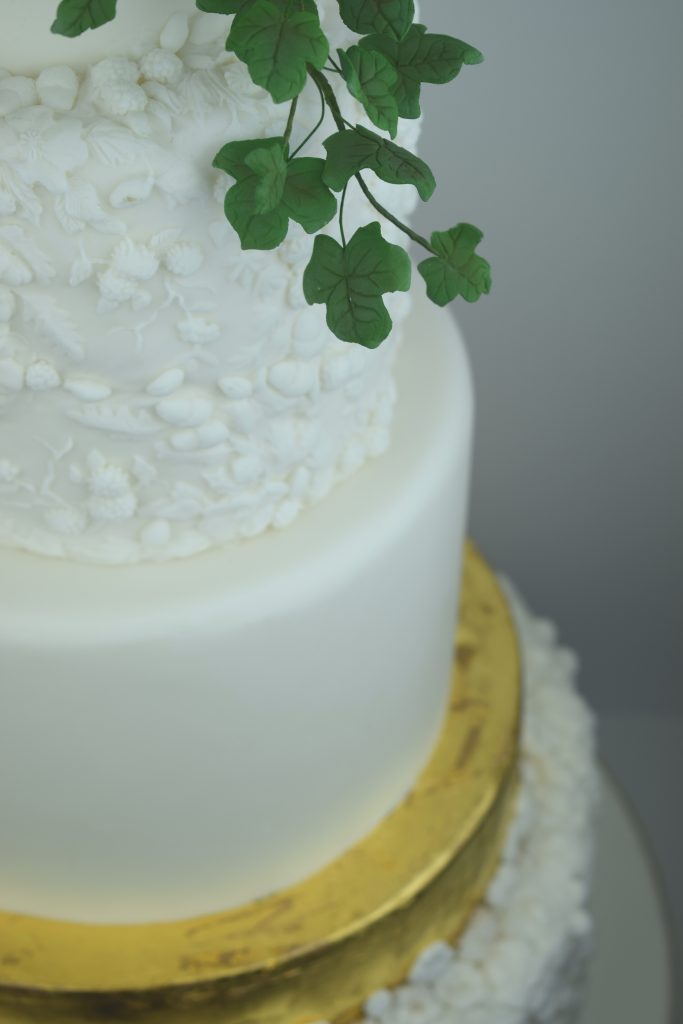 I think a good cake designer should be able to adapt a particular feature or combination of designs to suit any style of wedding. The addition of flowers, cake stands and other pieces in the display contribute to the overall look of the cake. Floral based designs will suit almost all styles of wedding just ensure that your arrangements are in the same style as the rest of the wedding flowers. We liaise directly with your florists to ensure a cohesive look. Naked cakes or cakes with soft finishes like buttercream paired with florals or greenery on rustic wooden stands suit laid-back bohemian style weddings. Marble or bas-relief effect cakes can look perfectly at home in castles as they can in marquees surrounded by fields of flowers.
5. Are there colour schemes for cakes that are popular in summer?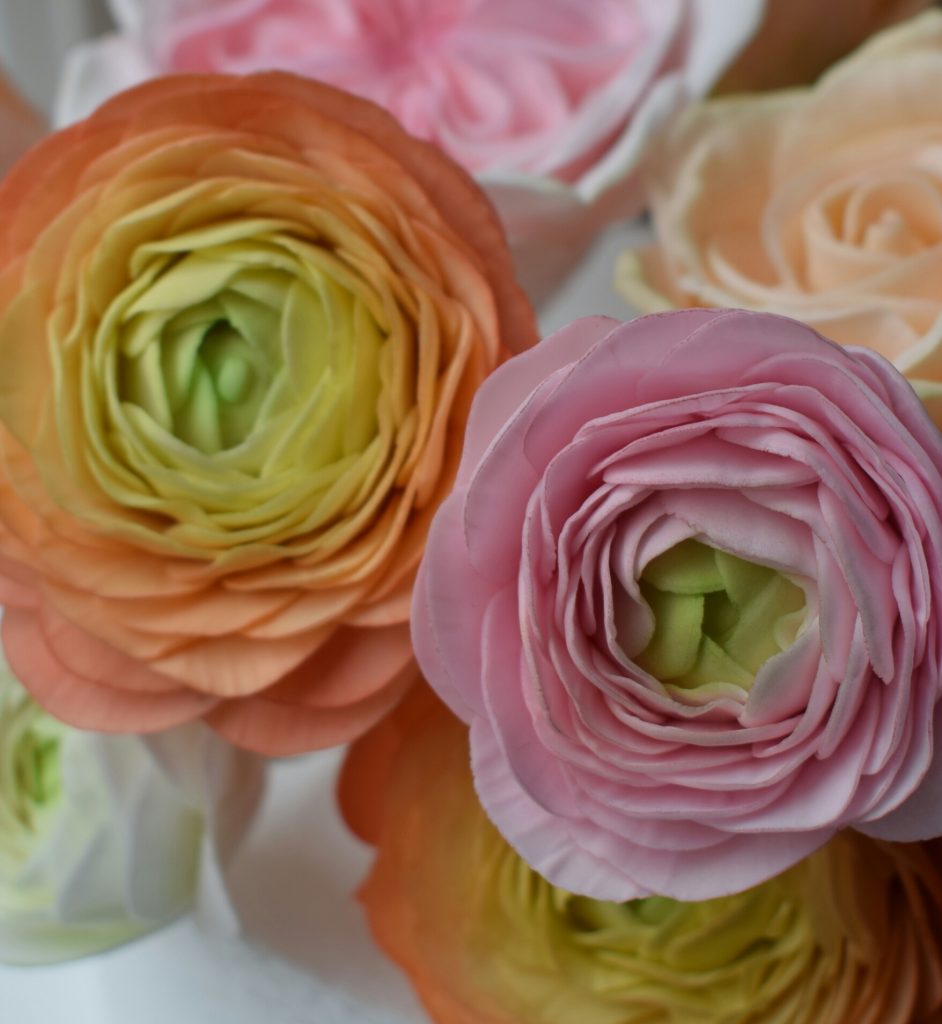 We are seeing a lot white fondant bases, textured with lace and beading, flowers such as garden roses in apricot, peach, blush and pink tones with cooling blue and green tones from silver dollar eucalyptus, brunia and dusty miller for this summer. Metallics are still popular, especially rich golds, accenting flowers and frills, to marble and geode style cakes.
You can contact Roses and Ruffles on 083 802 2832 or by emailing [email protected]. You can find out more information on their website, or catch them on Facebook and Instagram.
Looking for your wedding vendors? Check out our featured suppliers!