1. The Flour Artist
Cake Maker: Julie Reardon, The Flour Artist
The Cake: "I absolutely adore this cake! It was created for a bohemian-inspired wedding and the couple were happy to let me have creative freedom on the design. The icing is a white Swiss meringue buttercream, used to create that rustic finish on the cake. When it came to the flowers, I wanted the cake to look natural, so I used a mixture of fresh, dried and sugared flower petals. To finish the cake, I placed two small fresh flower bouquets on opposite tiers, to add a touch of elegance."
What have you been working on lately: "At the moment I am experimenting with tempering chocolate which I hope to start introducing into my designs this Autumn. Also, I am constantly trying (and unfortunately failing!) to achieve the perfect gold for my dipped berries. I am always experimenting with flavour combinations, and I find offering cake tastings is a perfect opportunity to try out new recipes on my clients."
Trend Predictions: "I think the trends for this Autumn/Winter season will continue to be quite natural and rustic, with a lot of textured buttercream cakes. Painted wedding cakes are, for me, the next trend to really take off whether it's the marbleised style cakes or the stained glass painted cakes there really is something for everyone.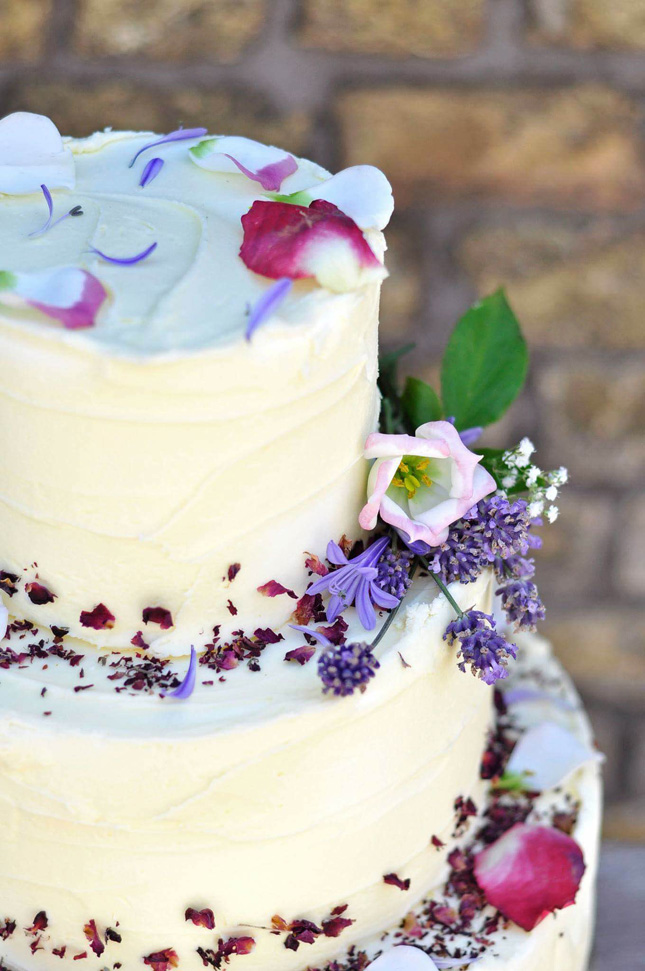 The Flour Artist
Mobile: 087 065 1411
Email: [email protected]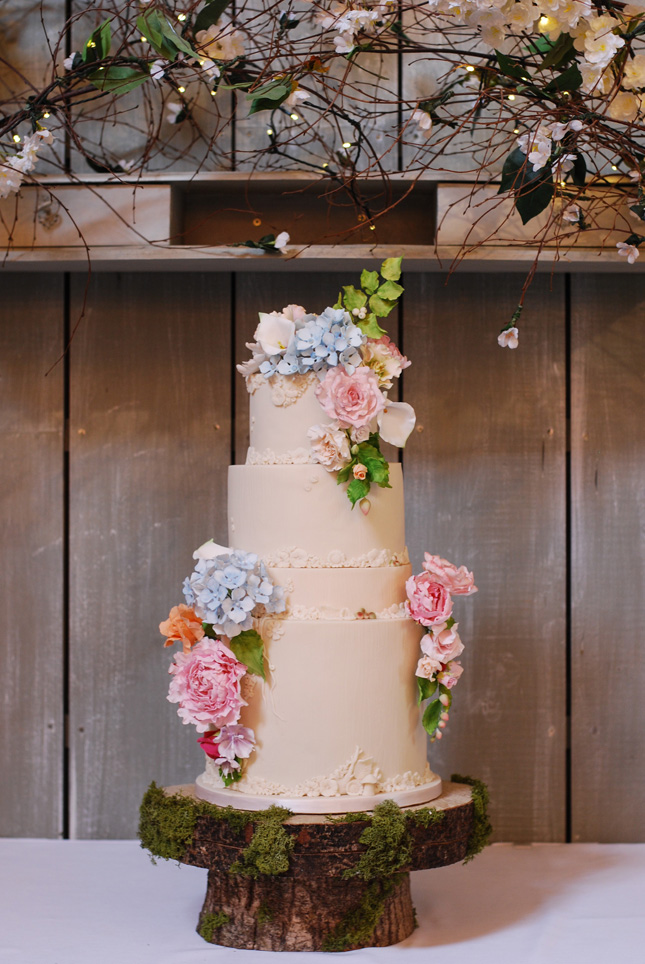 2. Cupcakes and Counting
The Cake Maker: Jen Rojas of Cupcakes and Counting
The Cake: "Our couple opted for the more traditional flavours of Victoria sponge and chocolate biscuit, however, we've added specific ingredients as per the couple's request to make the wedding cake truly their own. The inspiration came from a previous wedding cake of ours, which was featured in the spring 2016 issue of Confetti magazine. The design is spring floral and the cake was covered in bridal, ivory fondant with wood impression, decorated with mini bouquets of sugar-made flowers and accentuated with floral bas relief surrounding each tier."
What have you been working on lately? "I'm constantly developing and redeveloping my approach to making sugar flowers; it's an ongoing process for me. I'm also exploring new textures and details for our wedding cakes. Metallic elements and solid surfaces are my source of inspiration at the moment."
Trend predictions: "Deconstructed drip wedding cakes have definitely made their mark in the Irish weddings scene and could be one of the popular designs for AW '16. Metallic elements have also gained momentum in terms of popularity and I wouldn't be surprised if I see more of this design in the second half of 2016. Adding touches of gold, silver, or rose gold can undeniably make wedding cakes look chic and timeless."
Cupcakes and Counting
Email: [email protected]
Facebook | Twitter | Instagram | Pinterest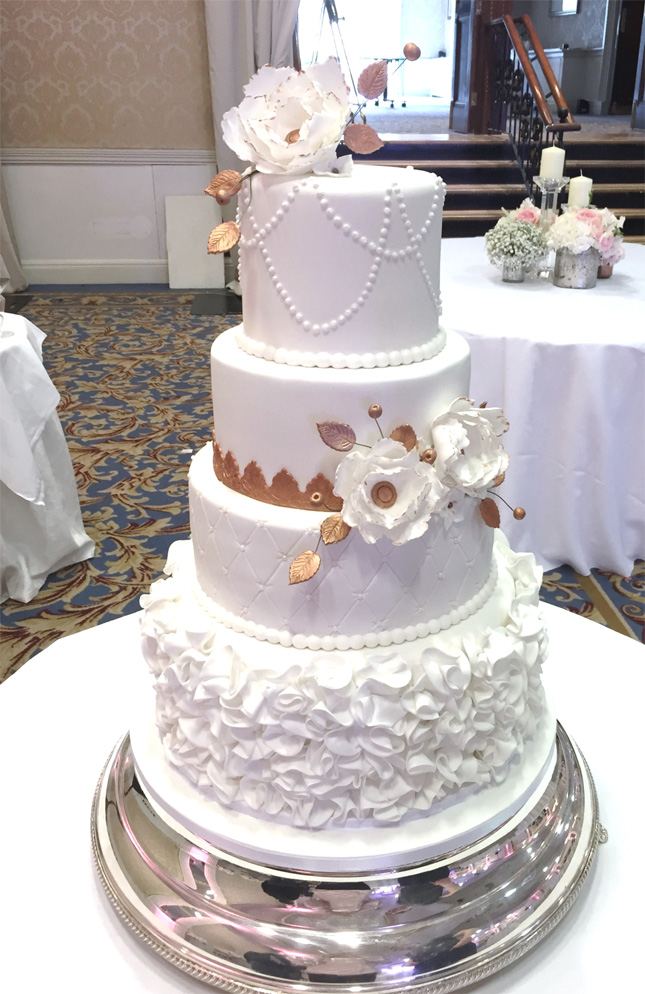 3. Kelly Lou Cakes
The Cake maker: Kelly Ging, Kelly Lou Cakes
The Cake: "A contemporary, four-tier wedding cake with ruffle petal base, quilting, hand-piped pearls, and metallic accents. The bride requested a white cake with texture, ruffles and touches of copper, so we added a painted, copper band on the third tier and tipped the hand-made fantasy flowers with copper and dressed them with ornamental copper leaves."
What have you been working on lately: "Naked cakes are still very popular; overflowing with fresh berries and flowers. Buttercream cakes are either very rustic with fresh, wildflowers, or we are seeing a slightly more formal style evolving, with piping and delicate buttercream flowers. They almost look like fondant cakes. We have been experimenting with stencils and airbrushing on fondant cakes to create new background textures and effects."
Trend predictions: "Plenty of texture on tiers, with white on white (or white on ivory) layered lace, stencilling and embossing. Some colour, maybe just on one statement tier, and touches of metallic - but a move away from the copper and golds to cooler metallic colours such as silver and platinum shades."
Kelly Lou Cakes
Web: kellylou.com
Email: [email protected]
Facebook Twitter Instagram Pinterest
Check out Kelly's amazing tutorials on her Snapchat: kellyloucakes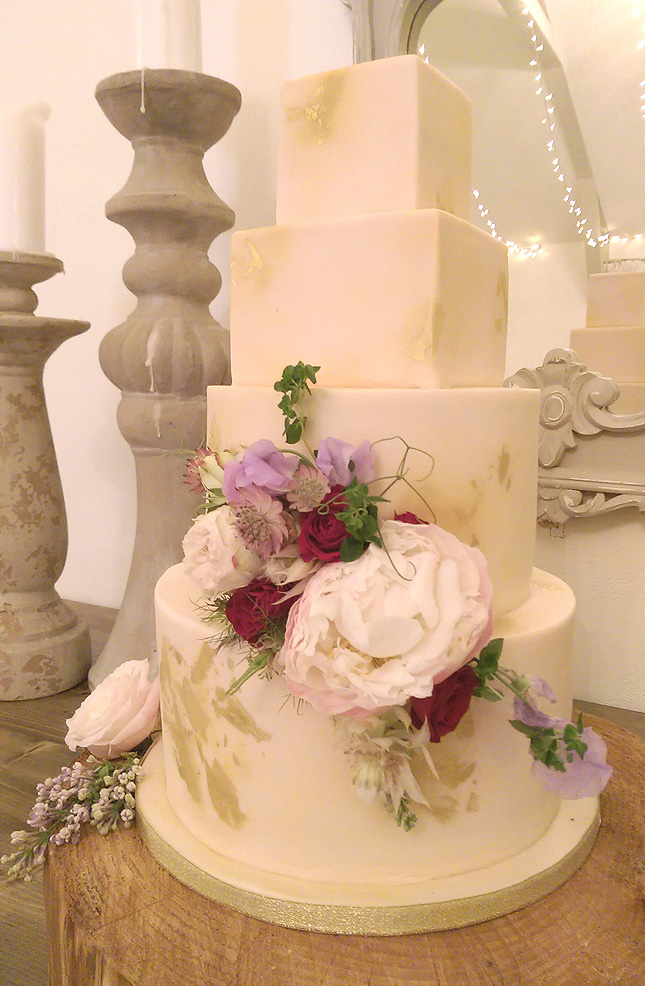 4. Primrose Lane
The Cake maker: Helen McCann, Primrose Lane Bakery
The Cake: "This cake was so lovely to work on. The round and square tiers made the cake unique - it really stood out as guests entered the reception room. It was also a lovely challenge to myself, as the bride and groom had requested a Rice Krispie treat layer in two of the cake tiers. It was something I had never made before, but when I did, not only did it hold its structure very well, but it was absolutely scrumptious too! The cake was inspired by the bride's colour scheme and the blush pink worked perfectly with the tarnished, edible gold leaf. I was thrilled with the final look and flowers from The Informal Florist truly did set everything off, as the entire venue was covered with beautifully unusual blooms."
What have you been working on lately: "I have some yummy new flavours in the pipeline. Coconut is definitely one that will become available soon, but I still need to get that 'perfect' filling."
Trend predictions: "I am loving the 'drip' cake look and I certainly think that when it is incorporated with a naked cake, it is bang on trend for A/W 16."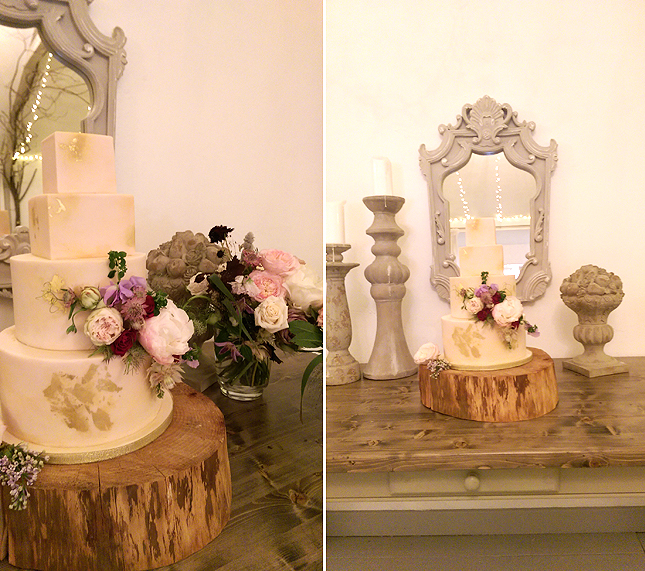 Primrose Lane
T: 087 638 1713
Web: primroselane.ie
Snapchat: primroselane15
How about that for some tasty wedding cake inspiration?! We're practically drooling! See anything you love? Don't forget to pin your faves to Pinterest!