A Confetti promotion

In all the excitement of picking a venue, discussing a theme, and going on a dress hunt, sometimes wedding invitations can get a little bit lost in the mix. However, unless you want an empty room at your wedding, getting on top of your wedding invitations is actually a very important early step, once you have some of the details sorted.
With this in mind, we asked Tanya of Little Bow Print for her expert advice on how soon is too soon to start thinking about your wedding invitations, the ins and outs of the design process, and the benefits of getting started on your wedding invitations early. Tanya looks after the design and day to day operations at Little Bow Print, alongside her sister Siobhan, so she's more than familiar with the hurdles wedding couples face when they start thinking about their wedding invitations. Take it away, Tanya!
When should I send my save the date cards, to start with?
It is always good etiquette to give your guests as much notice as possible and particularly if you are having a destination wedding or you have a lot of family and friends living abroad. For this reason, we always recommend sending out your Save the Date cards about six to eight months ahead of your wedding.
Does this change if my wedding is abroad or around busy times?
Yes, at least eight months notice would be best if your wedding is abroad. This will give your guests plenty of time to book flights and any extra time off work if needed to travel abroad. This would also apply at Christmas time and other peak seasons for weddings. It will ensure that your guests have your date in their diaries, so that if any other invitations come their way, they know already that they have committed to your day. This way you wont miss out on having them there with you to celebrate on your wedding day!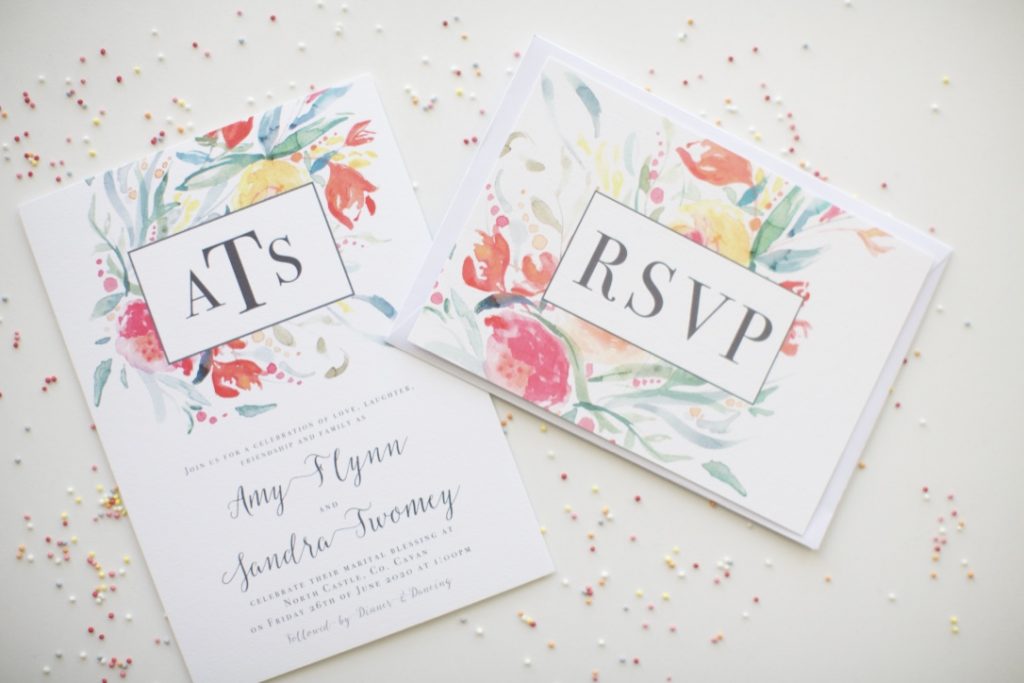 When is it recommended to send the actual wedding invitations?
Your actual invitations should be sent out to guests six to eight weeks  ahead of your wedding date. Remember to also leave time to have them designed and printed, allowing for a few rounds of changes between you and your designer. And also allow time for writing them out if you have a large wedding. Etiquette suggests that you would hand write the envelopes, so if you are not using a calligrapher, you will need to allow time for this important part as well. Couples usually decide on their wedding numbers early on in the planning stage. This is also a good time to start gathering addresses, so that when the time comes to send them out there are no unnecessary delays.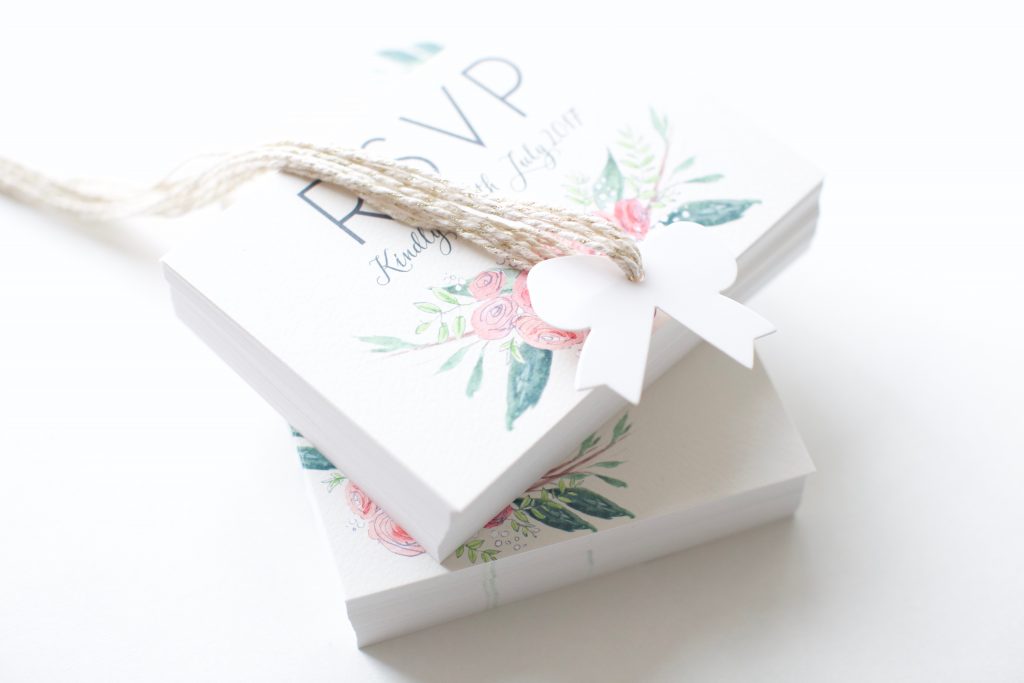 How long beforehand should we start the invitation design process? How long does it take?
Most of our couples at Little Bow Print start the design process about 10 months in advance of their wedding date. This is especially so if they are having a bespoke invitation designed for their day. You need to leave time for changes and for the process to be smooth, the more time you give yourself the better. You don't want any extra stresses in the lead up to your wedding and your wedding invitations can be such an enjoyable part of your planning, as you see all of your ideas come together.
Once you have finalised your design we are usually ready to send on the finished invitations about five days to a week after everything has gone to print. Then the fun starts with writing them all! Having said all that, we have a beautiful range of "off the shelf" designs, that can be tailored to your details, printed and sent out to you within two weeks.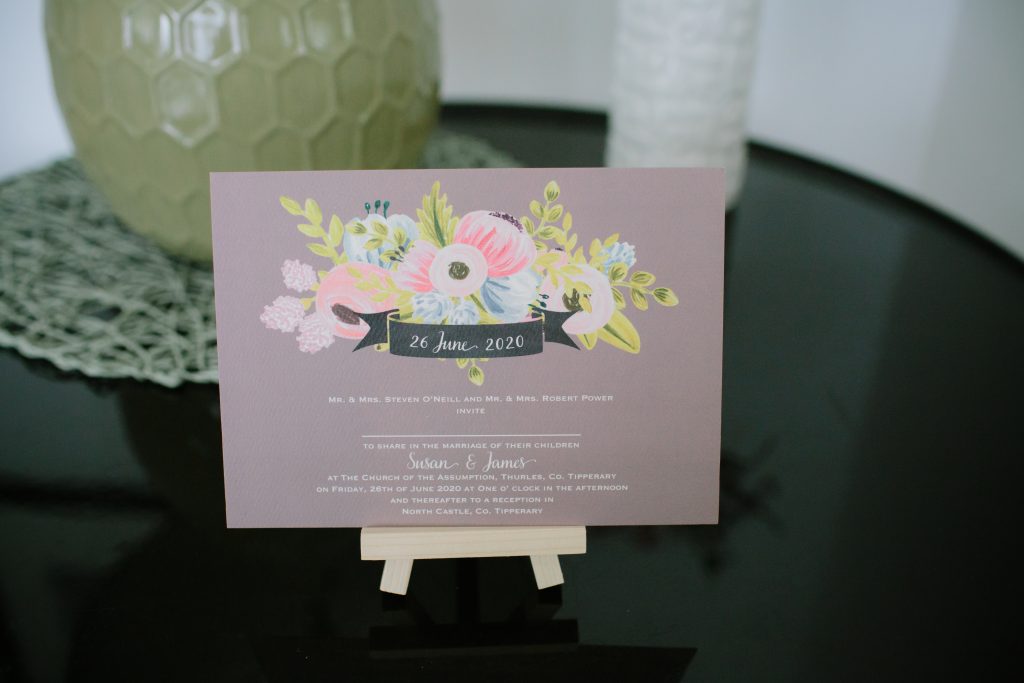 What's involved in the design process? What do I need to tell my designer to get the perfect invitations?
First of all, inform your designer when you need your wedding invitations. This will ensure that there is enough time to work on the perfect invitation for you. With the help of social media forums like Pinterest and Instagram, a designer can instantly get a feel for the look a couple is going for. Will your day be rustic and charming or elegant and sophisticated? Knowing your own style will help determine the style of your wedding invitation, to keep everything consistent. Remember your invitations are your guests first glimpse into what your wedding day will be like, so they will set the tone for the day. Another important element is to inform your designer about the colour scheme for the wedding. Knowing the colour of the bridesmaid dresses and even the colour and style of your wedding bouquet is a great start for the design process.
You can expect that this process will involve a few edits and tweaks. Usually your designer will send you on an initial proof to get the process started. Your design will normally include a certain amount of rounds of changes, so be sure and check with your designer what is included before there might be additional charges. Once you are sent the final proof to approve - triple check it! Read, read and read it again to make sure everything is exactly as you want it. I would even recommend that you also give them to a friend to check as well, as changes cannot be made once everything has been printed!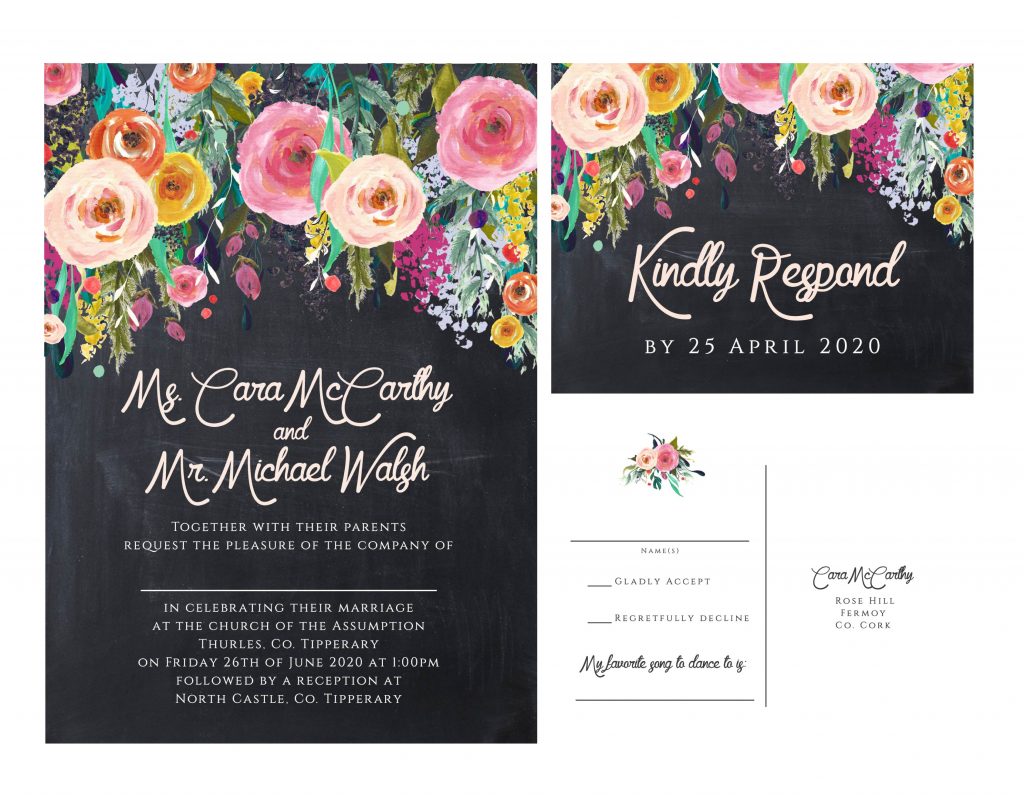 What are the benefits of prioritising getting wedding invitations designed early?
The benefits are many! Designing your invitations early really helps to bring other elements of your day together and it gives you an idea of how your wedding colours fit together. It can help define a theme, whether that will be florals or birdcages, and allows you plenty of time to source other elements of your theme that you can include in your day. You would be surprised how many new ideas flow once your invitations have been designed! Essentially the aim of your wedding invitations is to inform your guests of your intention to marry each other. That is a big deal!
By prioritising them early it ensures that the details of your day are decided upon, start time, locations etc. Most important of all is to allow yourself sufficient time so that you enjoy the process. It really is such a fun part of your wedding planning, so have fun with it! And to help couples with their invitation design process we are including for you here our free Wedding Address Checklist, which you can download here.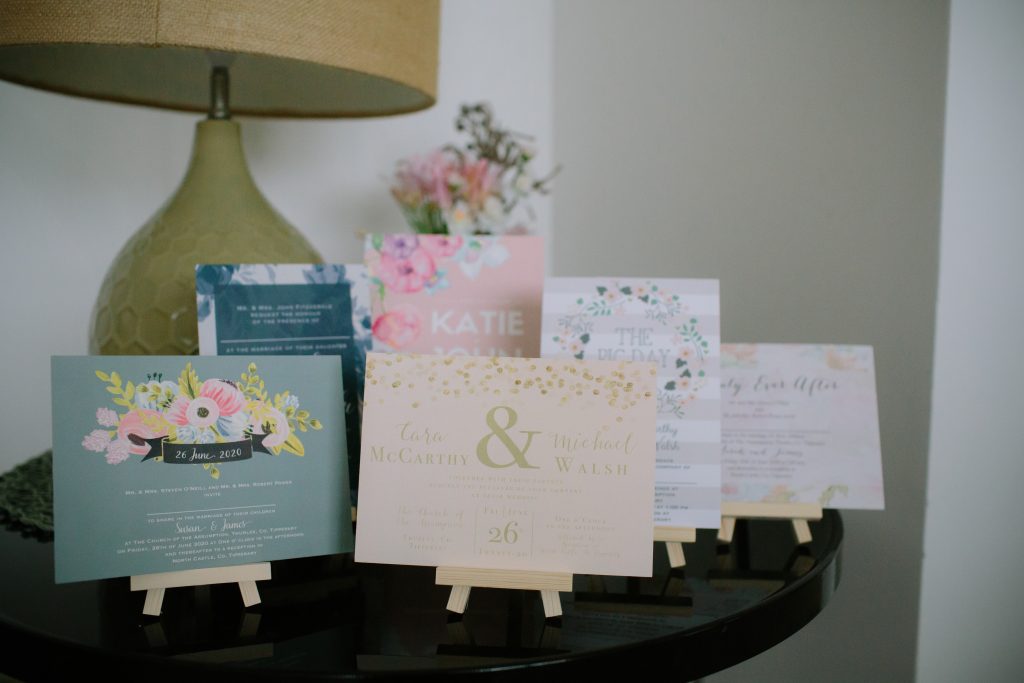 For more information about Little Bow Print, visit their website, or catch them on Facebook and Instagram.
Images: Eden Photography