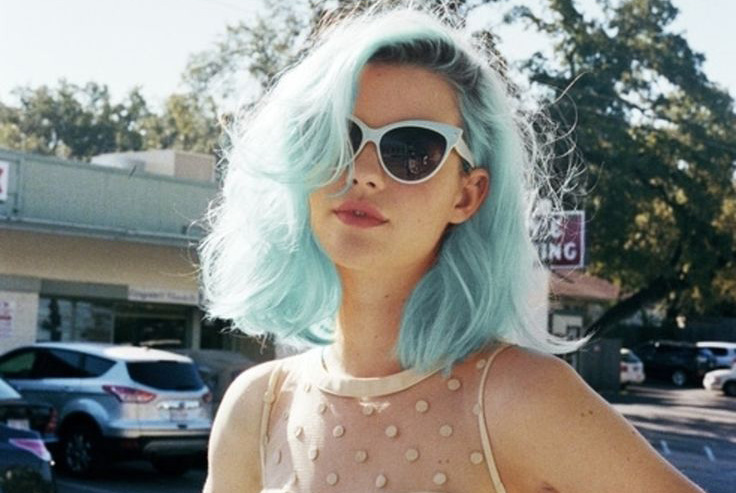 The 'Something old, something new, something borrowed, something blue' tradition is something a lot of modern brides still like the idea of. You may have thrown a ton of traditions out the window, but there's something kind of fun and harmless about this one, even if you obviously won't need a good luck charm on your big day.
The 'something blue' element has always been one of the trickier parts of the tradition, but as less traditional bridal fashion comes into its own, it's becoming that bit easier. With that in mind, here are five of our favourite ways modern brides are incorporating a little 'something blue' into their wedding day.
Dress
From blush pink to soft grey to all over sequins, brides aren't stuck in the traditional white (or ivory) when it comes to their wedding dresses anymore - a blue gown is totally an option. This is one of the biggest commitments you can make to your 'something blue' but when it's this gorgeous, why wouldn't you? If you still want to include some white, opt for bridal separates or something divided as in the image above, it's a great way to pare back the blue look to something just as show-stopping but a tad more understated.
Plus, slate blue is one of the biggest wedding trends this year!
Shoes
Don't fancy yourself as a non-white clad bride? Nod to the trend in some blue shoes, instead. See some gorgeous blue options in this mix of 27 wedding shoes you won't want to get married without. You're probably much more likely to re-wear them than a white pair, so it's a win-win for you!
Jewellery
Blue jewellery sounds a bit out there, but topaz and aquamarine stones are beautiful options. If you're lucky enough to have some heirloom jewellery in your family with either stone, you might just kill two birds with one stone if they'll let you borrow it, too.
Transportation
If you're throwing tradition out the window, bending this one to fit you probably won't bother you. Rather than wearing your something blue, drive to the ceremony in a blue hued old school car. You'll be jumping back into it afterwards, this time with your new spouse in tow, to ride off into the sunset. Or to your reception, whichever you fancy. Either way, it's a subtle nod to blue, that'll look super cute in your pictures.
Signature cocktail
Signature cocktails are the new champagne reception, and for good reason. If you don't even like champagne, don't feel forced into having it at your wedding. Toast yourselves with a signature cocktail that you absolutely love, instead. Discuss it with the bartenders before hand and if you want to use it as your something blue, they'll make it happen. Even if Blue Curacao doesn't fit with the cocktail you're making, a few blueberries thrown in, as above, might do just the trick. Whatever it is that suits you as a couple, the experts should be able to mix it up for you. If nothing else, you can have some fun testing a few options out!