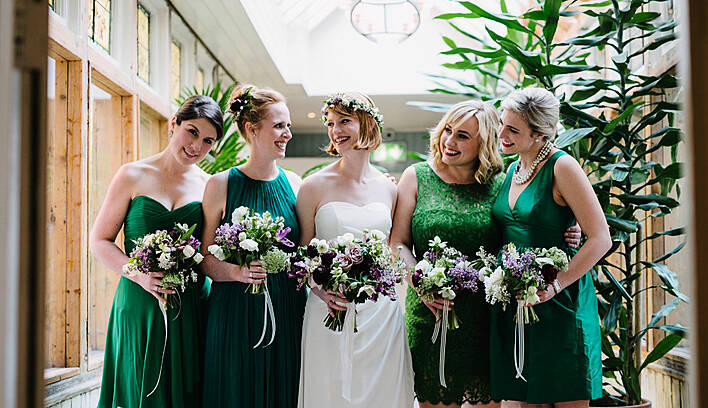 Image above: Simple Tapestry
Have your heart set on a Dublin wedding, but still trying to figure out which vendors to go with? We've rounded up some of the best in the biz when it comes to Dublin wedding vendors, so you don't have to!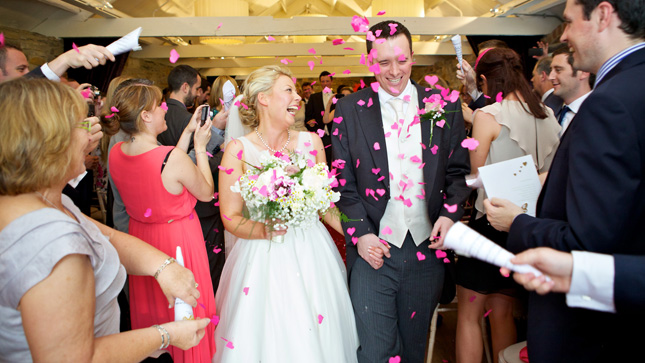 Ebony & Pearl
Dublin based photographers, Emma and Stuart work out of a studio just behind the Guinness brewery, but they shoot weddings nationwide. They set up Ebony & Pearl Photography in 2007, having worked in separate photography jobs in Dublin for the previous few years.
Emma and Stuart's best advice:
"You have to feel comfortable with your photographer; they spend most of the day with you, so it's important to meet before your wedding to make sure you are happy having them a part of your intimate celebrations. Find a style of photography that appeals to you and search for photographers with that style.  There's no point in having a beautiful album if you're not happy with the images in it. Look at photographers' real weddings, rather than just their portfolio. This will give you a realistic idea of what to expect from your photographer."
What to expect:
"Our preference is natural, unposed wedding photography - we think that you see so much more of someone's character when they're laughing with their friends, rather than posing for a camera. Throughout the day, we do our best to be as discreet as possible, from shooting the wedding ceremony to capturing the craic at the reception. We shoot our weddings with two wedding photographers, his allows for a second angle of fleeting moments like the kiss, or the ring exchange, and when one photographer is getting photos of the bride and groom, the other can be in the reception documenting the action they don't see."
T: 01 230 4201 // 085 160 2321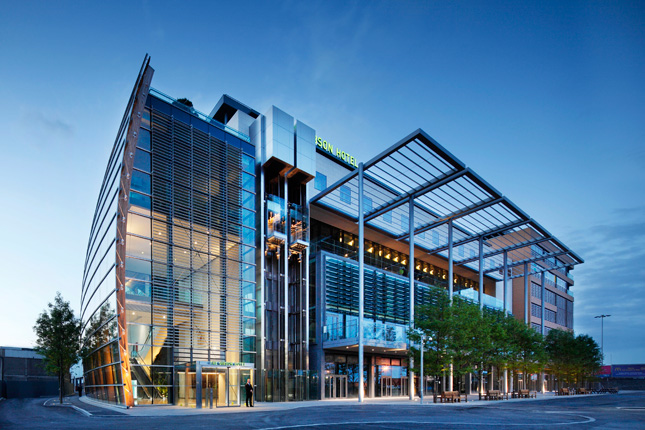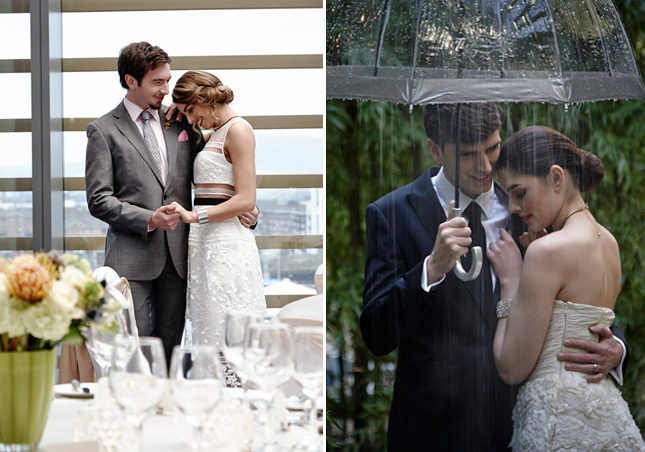 The Gibson Hotel
The gibson hotel is ideally located in Dublin's city centre in the Point Village. The hotel is less than 20 minutes from Dublin airport so it's great for friends and family that are travelling from further afield. The Gibson is celebrating 6 years in business this summer and have 252 guest bedrooms, which include family rooms, executive rooms, junior suites and a gibson suite, ideal for the wedding couple. They can perform civil ceremonies in the hotel itself and cater for a smaller, more intimate wedding party of 15-20 guests in the restaurant. Or, if you're looking for a grander celebration, they can cater for 200 guests for a sit down dinner, in their Stratocaster Suite, with floor-to-ceiling views over Dublin bay.
Gibson Wedding Packages:
Two Hearts Beat as One (€75 pp, minimum of 80 guests)
Nothing Compares 2 You (€67 pp, minimum of 80 guests)
It Takes 2 (€40pp, minimum of 80 guests)
Soul 11 Soul (€45pp, minimum of 100 guests)
Love to Love You Baby (€40pp, minimum of 100 guests)
T: 01 681 5054
Website | Facebook | Twitter | Instagram | Pinterest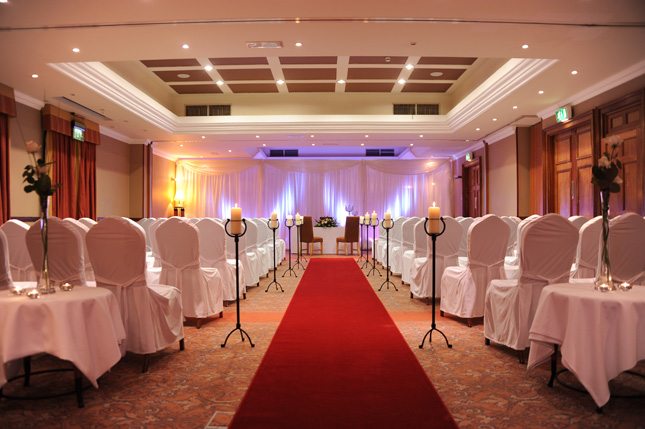 The Talbot Hotel, Stillorgan
The Talbot Hotel, Stillorgan is located along the N11 and close to the M50, with a 10 minute direct route to Dublin City Centre, making it ideal for your guests travelling from further afield. They can cater for weddings of all sizes from 80-250 - the largest space for a wedding is in their Shelbourne Suite (150-250 guests), allowing for up to 150 additional guests for an evening reception. Or if a more intimate reception is what you're after, The Merrion Suite is perfect for a more private weddings with capacity of 80-120 people.
The Talbot Wedding Packages:
Ruby from €40pp (min numbers 80)
Emerald from €50pp (min numbers 80)
Diamond from €60pp (min numbers 80)
With all their wedding packages you will get the following: Red carpet on arrival, delicious cuisine, complimentary menu tasting before the wedding, table linen and chair covers, candelabras, personalised menus, your cake stand and knife and so much more! You will also get to enjoy two nights in their honeymoon suite, with Champagne breakfast on both mornings. - Sounds fab! Check them out here.
T: 01 200 1800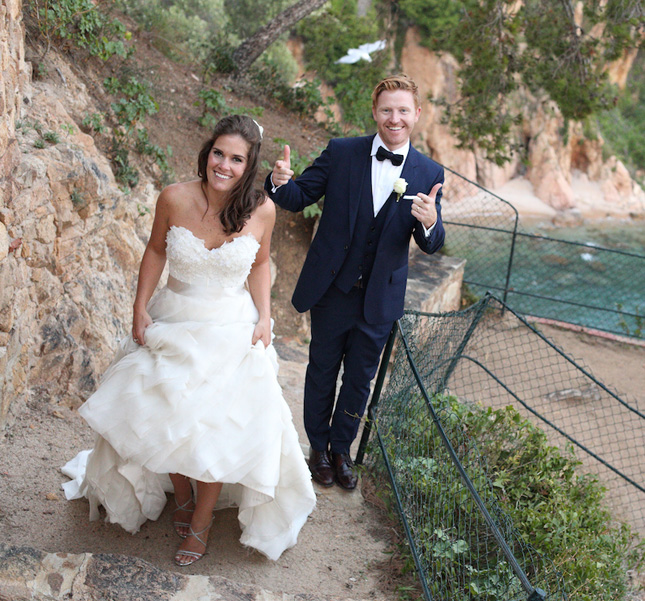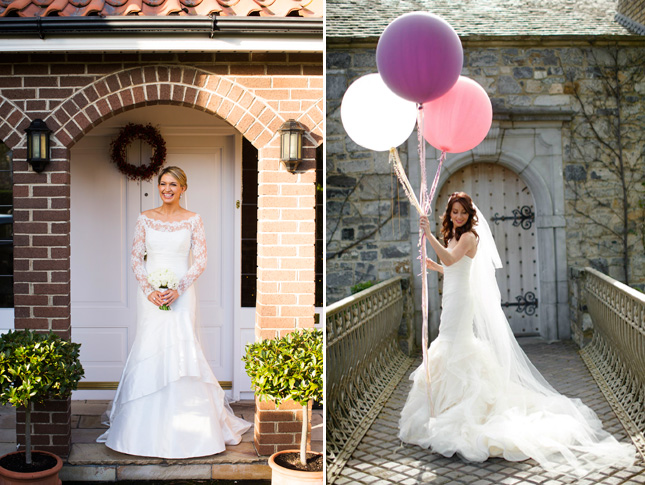 Discount Designer
Discount Designer offer sellers the opportunity to give their pre-loved designer dresses a second day out and in turn give other brides-to-be the opportunity to purchase a fabulous designer dress without designer price. Win, win! All dresses in the Discount Designer Collection are of a sophisticated and elegant design, stocking everything from David Fielden, Vera Wang, Amanda Wakeley, Phillipa Lepley, Maria Lluisa Rabbel to Monique L'huiller, Romona Keveza, Claire Pettibone, Belle & Bunty, Kathy de Stafford, Pronovias, Suzanne Neville and much more. If you have a beautiful designer wedding dress in your wardrobe, make another bride's dream come true and get in touch with Olivia about selling it. Discount Designer will also stock some new and some sample dresses. All their gowns are in excellent condition and ready to go, no waiting for 6 months.
T: 087 612 6340
Facebook | Twitter | Pinterest


WowWee.ie
"WowWee.ie is the result of a passionate hobby turned into a thriving business - after 13 years in business and a huge amount of customer feedback and testimonials, we know what our customers want and we're dedicated to meeting their needs. Our gifts are all original designs and handcrafted with the 'wowwee factor'!  We pride ourselves on providing superior, customised gifts and excellent customer service. We enjoy working with brides-to-be to ensure their wedding day accessories are as perfect as they imagined!"
What they provide:
WowWee.ie provide personalised accessories for your wedding day, from bridal robes, floral robes, ring cushions, bridal garters, personalised bridal hoodies as well as bridal dolls. "We personalise all our gifts in house, so we can stand over each order and know that it's perfect leaving. WowWee.ie pride ourselves in beautiful packaging so not only do our great customers receive high quality gifts, they also have them beautifully presented. Our first customer is still shopping with us and tells us that she always gets a great gift and great service."
Their favourite piece:
If you're looking for some fun wedding day accessories for you and your 'maids, WowWee.ie's gorge silk robes may be just the ticket! "Our favourite wedding accessory is our mint and white watercolour satin robes - they are our own design and are simply beautiful to wear against the skin. Each robe is tailored with inner belt and outer pocket and can be personalised on the front and back."
Wesbite | Facebook | Twitter | Instagram | Pinterest | Snapchat: wowwee.ie


Macarons by Andrea
"Macarons By Andrea is a small business based in Blackrock, Co Dublin., dedicated to producing perfect macarons for every occasion. I have been baking macarons for 4 years, introducing new flavours every year to my collection. My ultimate mission is to create macarons that are bursting with flavour, whilst still dainty and pretty to look at."
Whether you want to use them as your whole wedding cake or just at the reception as little thank you favours, your guests will be spoilt having an array of flavours to choose from. Andrea can mix and match an array of flavours and colours to fit in with your wedding theme, so the combinations are as versatile as you want it to be. Tasting trials can be arranged to help you choose the perfect flavour combination for your special day. Macarons are naturally gluten free, contain free-range eggs, ground almonds and sugar, and a buttercream or ganache filling. - Yum!
Cake trends for 2016:
"I have noticed that this year, brides and grooms are going for subtle, soft colours such as cream and various shades of pink, purple and green. This is also reflected in the most popular chosen flavour this year from vanilla, rose and raspberry to blueberry and pistachio."
T: 086 2322 801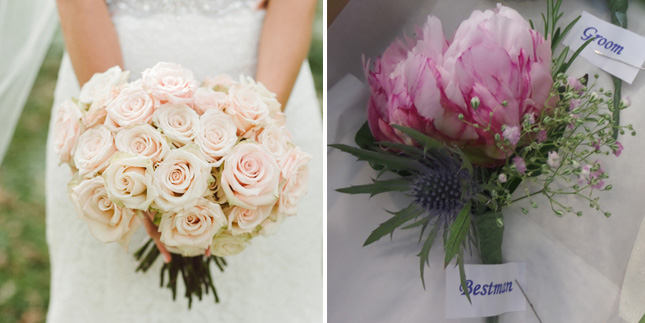 Heaven Scent Florist
Located for almost a decade in the seaside town of Portmarnock, Co Dublin, Heaven Scent pride themselves on custom designs that carefully consider each client's needs and desires. Heaven Scent's arrangements always focus on what is available seasonally, so beautiful fresh flowers that reflect the changing seasons. Just as every wedding is unique, so is every bouquet they create - you can rest assure that you'll be in good hands.
Wedding flower trends for 2016:
"There seems to be a noticeable shift from the round, structured mono-colour posies that have been popular over the last few years, to a more natural, loose romantic style. The teardrop bouquet is definitely making its way back as the preferred bridal bouquet, which I personally love!"
Heaven Scent's best advice for choosing wedding flowers:
"You should consider your wedding day budget - do your research at the early stages of wedding planning to establish just how much you can allocate for your flowers. One major thing is your colour scheme and/or theme - flowers naturally add colour to your wedding so make sure your choice of flowers complement your colour scheme. Finally, consider your wedding dress - your bouquet is your ultimate accessory and it should therefore flatter your wedding dress. The shape of it may also sway your decision, where round posies look great with ball gown wedding dresses, a teardrop bouquet will complement an A-line gown best."
T: 01 803 8887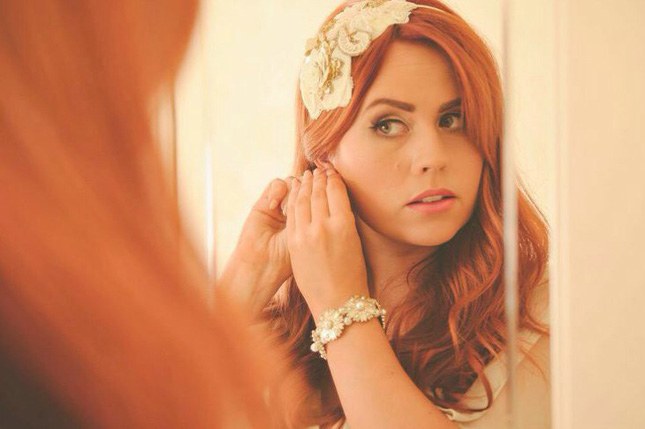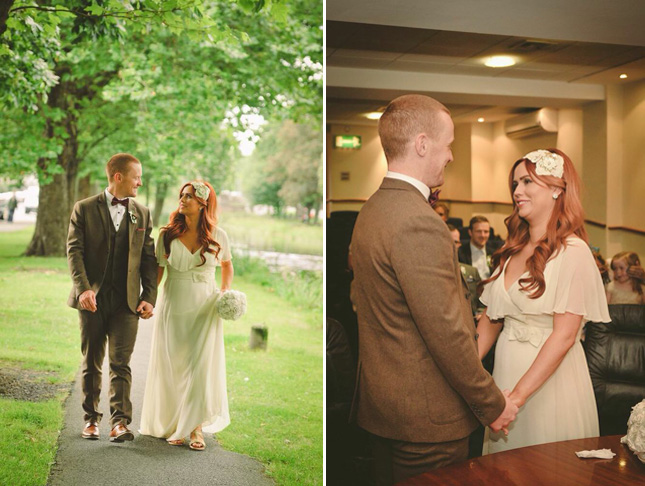 Images above: Emma Wise Photography
Ebano, Ballinteer
Ebano, Ballinteer is perfect for brides looking to achieve a glowing complexion and luscious locks. Their recently launched skincare clinic, The Clinic @ Ebano, is ideal for brides looking to achieve a glowing complexion on their big day. From the much loved EpiBrow, to a variety of sought after skin treatments. They customise wedding packages to suit every budget and offer a free consultation for 3-6 months prior to your wedding. After the client's complimentary skin consultation, a custom built skincare plan is developed to tackle problem areas and bring the best out of each and every clients skin.
Karan's bridal skincare advice:
"Six months prior to the wedding, it is crucial to develop a skincare regime. The secret to achieving a gorgeous glowing complexion and feeling confident enough to go makeup free on honeymoon, is to establish and religiously follow a bespoke skincare routine right up to and beyond the big day."
Wedding hair trends for 2016:
"Loose boho waves and then more structured, polished up-dos. Accessories are proving to be popular with our clients - from hairbands, couture clips and a lot of bows."
Their best advice regarding wedding hair:
"The best advice regarding your hair prior to your wedding, would be if choosing to colour your hair, ensure you are going to someone who has good, healthy hair and is educating you on everything from detoxing your mane to hydrating it. Olaplaex is very popular with brides-to-be since it protects the natural integrity of your hair so that their is not damaged whilst colouring it."
T: 01 298 7810 // 01 298 7921
Website | Facebook | Twitter | Instagram

Image above: David McClelland Photography

Image on left: Monica Hadarean | Image right: Simple Tapestry
Clare Hogan
Clare always loved all things creative in makeup and fashion so she began her training with Zoe Clark in 2008 and has worked on numerous shoot and fashion shows. "I always aim to bring the same polished finish and professional attitude to every job. I work with each individual client on creating a lasting, flawless look we both love - no matter the occasion."
Clare's best advice to brides:
"It can be a hard task choosing your makeup artist for your big day, especially if you've never had your makeup done before or don't wear a lot of makeup. Firstly take a look at their work and see if you like their style - most artists will have testimonials or reviews so read them and see what others have to say. My best piece of advice for brides would be to start looking after your skin before your trial - there are so many amazing products for dealing with any issues you might have with your skin. The makeup will sit and look so much better so you won't need to use as much product and you'll feel more comfortable and confident."
Bridal makeup trends for 2016:
"One trend that never goes out of fashion is radiant, glowing skin. However, this year I'm starting to see more and more Irish brides are taking a step back from the fake tan, over bronzing and contouring and embracing their Irish skin, by allowing it to be seen rather than hidden under darker makeup. Another trend I'm seeing is that women are now being a little more adventurous with their lip colour. Where the soft, nude shade was the go-to lip, I now see more and more are requesting something a little brighter or stronger and it's lovely to see."
Website | Facebook | Twitter | Instagram | Pinterest


Irish Cancer Society
Wedding favours have been a tradition for many years, as little way to show your appreciation for your guests. Why not opt for a favour that can mean something to you and your guests? The Irish Cancer Society can provide a beautiful and respectful way of remembering someone who cannot be with you to celebrate your special day.
"Your thoughtfulness will allow us to ensure that anyone affected by cancer in Ireland has the chance to receive the care and support they need, and to fund our cutting edge research with our newly launched collaborative research initiative."
You can order packs of small tent cards that recognise you have made a contribution to the Irish Cancer Society in honour and appreciation of your guests and thanking them for being part of your wedding. You can order an array of favours from keyrings to pins, silk daffodil pins and phone charms.
T: 1850 606 060


Treacy's Hotel
For you Dublin brides-to-be that want to escape the city for your Hen weekend, Treacy's Hotel in Enniscorthy, Co Wexford could be right up your street. This boutique-style hotel offers contemporary glamour with a mix of old world elegance. Wine and dine the night away with delish thai cuisine in their Chang That Restaurant and top it off with some delish cocktails and dancing in Dbar.
If you're more of an adventure hen-kinda-gal, you can try everything from high rope adventures to white water rafting, a day out on the farm or high tea in the glamorous nearby Wells House and go-karting.
"Treacy's most popular package lately has been two night bed and breakfast, a four-course dinner and our Great Gatsby themed Murder Mystery. It lasts for two hours and we take you back to prohibition era Chicago, where warring mob bosses come together to settle their differences, but things quickly go awry when one of them is murdered and it is up to you to find out whodunit. Our Murder Mystery parties start at €20pp and all include wine and nibbles including a chocolate fountain."
T: 053 923 7798
Psst... If you're looking for some more Dublin wedding venue inspiration check out our 10 more of our faves here.