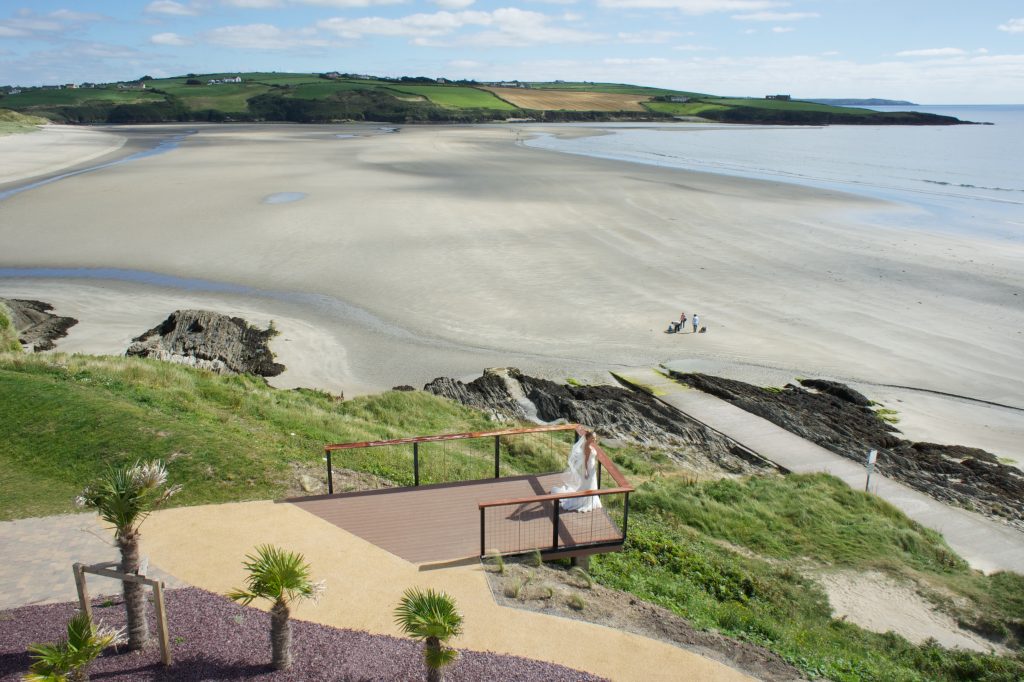 Have you been keeping up with our coverage of our October Venue of the Month, Inchydoney Island Lodge and Spa? We still have advice from their expert team of wedding planners on planning the perfect wedding, and a gorgeous real wedding at Inchydoney Island for you to enjoy, and get inspired by. But in the mean time, we have come up with a list of reasons to get married at our venue of the month, because it just might be your dream wedding venue, hiding in plain sight.
1. The perfect setting
Overlooking two magnificent stretches of Blue Flag beach, just outside the pretty heritage town of Clonakilty in West Cork, Inchydoney Island Lodge & Spa is located along one of the most stunning stretches of the Wild Atlantic Way and guests can enjoy breath-taking ocean views and stunning scenery at any time of the year, making it the perfect setting for your wedding and the most picturesque backdrop for wedding photos.
2. Sunny staff and service
Inchydoney Island Lodge and Spa is known for its warm and friendly staff, having won numerous awards for their unparalleled customer service. The warmth and hospitality of the staff at Inchydoney Island Lodge and Spa is evident in their weddings – from the moment of enquiry right through your big day, the hotel's dedicated team of organisers are there with you every step of the way to ensure an impeccable and amazing day that you'll never forget.

3. Top notch food
Menus at Inchydoney are full of locally sourced ingredients, celebrating individuals and businesses in the area who have the same commitment to excellence as this classic seaside gem, and showcasing the finest local talents on the plate just as effectively as on the walls, so your guests are sure to be impressed with their superb wedding dinner.
4. The Inchydoney Suite
Earlier this year, Inchydoney Island Lodge and Spa was delighted to unveil the elegant refurbishment of the Inchydoney Suite. Designer Nikki O'Donnell worked closely with the wedding team to create a breath-taking, natural light filled space that can be adapted for civil ceremonies and weddings of all sizes. With soft seashore tones of blue and grey, and a relaxed and fresh style throughout, the new look ballroom with its bleached timber, golden touches and neutral colour palette brings the stunning seaside scenery indoors.
5. Snooze to the sound of the sea
Each guestroom in Inchydoney Island Lodge & Spa offers guests a beautiful place to call home for the night, with many of the 67 bedrooms enjoying ocean views from a private balcony or terrace. From the bedrooms the stunning coastline below can be appreciated through both sight and sound, with light flooding through each room's double sliding doors and the relaxing sound of the sea soothing guests to sleep each night.

6. A beach wedding
Inchydoney Island Lodge and Spa offers something very unique to couples – the chance to say 'I do' outdoors on Inchydoney headland which offers unparalleled dramatic views of the Atlantic Ocean and natural music in the sound of the crashing waves.
7. Anniversary celebrations
Many couples love to return to the place they married to celebrate their anniversary each year, and how could anyone resist a romantic break in the beautiful Inchydoney Island Lodge & Spa with its stunning setting, gorgeous food and pampering Island Spa.