A Confetti promotion
Have you seen? Belleek Castle is Confetti.ie's Venue of the Month for the month of July. So far we've brought you seven reasons to get married at the beautiful 19th century castle, and today, we thought we'd ask their expert wedding team to offer some advice on planning a wedding, choosing a venue, and upcoming trends for 2017 when it comes to weddings!
1. How should couples approach their wedding venue search?
Take a moment and talk through what you would like for your wedding day.  What you have pictured in your mind and what would be important to you for your special day. For example is it important to have a venue which can, as Belleek Castle does, offer a civil ceremony? Would you like a outdoor ceremony with beautiful views. I know we have many couple fall in love with our space for an outdoor ceremony, the only aspect we can't perfect is the weather. Then go on-line and search some key words, in our case castles/manor houses.
2. When should they begin looking for a wedding venue? Why should they start then?
I would recommend starting your search when you get engaged, it can be quite surprising how quickly venues book up.  By visiting venues and talking to co-ordinators you will also get a better idea for what you would like for your wedding.  For example here in Belleek Castle we would always take time with the couple and see what is most important to them for their special day.  We would then tailor make a package and day unique and personal to them.  By visiting the venue early you will also form an idea of colour schemes and themes which you may not have thought of before.
3. What questions should couples be asking when they visit the venues?
There are a few key questions to ask when you visit a potential wedding venue. Ask the capacity of the venue and let the venue know your estimated numbers, never assume they will not have an area to suit your numbers. Here in the Castle we have private areas for smaller weddings as well as our banqueting hall for numbers up to 200 guests. They should also ask about monetary obligations, what deposit is required and what rooms are available for guests. Especially if you are travelling for your special day you need to know what is available for your family and friends. At your meeting your co-ordinator will be able to advise you on local vendors and personally I am happy, as are my colleagues to answer any questions a couple will have.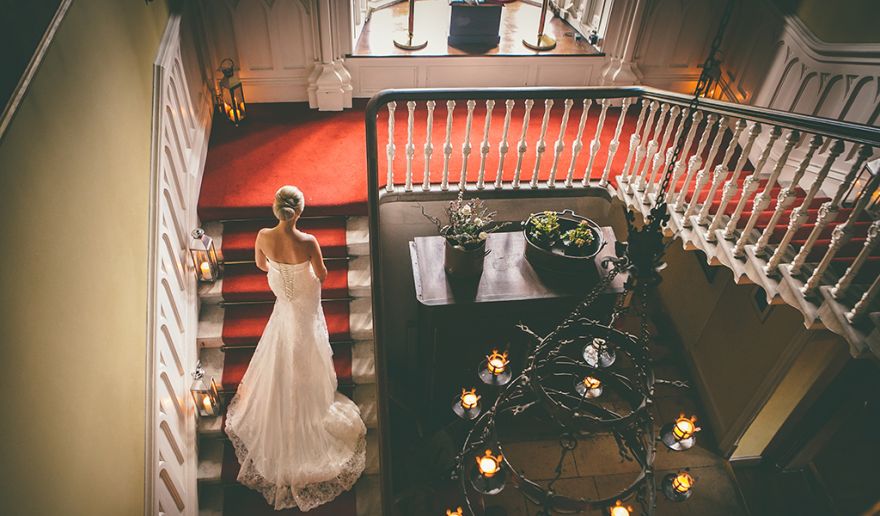 4. What are the benefits of getting married at Belleek Castle?
There are so many benefits of getting married in such a stunning and periodic venue. Not only will you have the expertise of our professional wedding team, you have a beautiful romantic setting creating the backdrop to your special day. Nestled in the forest with the meandering River Moy a stone throw away, you would be excused in thinking you were whisked away to the pages of an Emily Bronte novel. You will have personal one to one time with your co-ordinator and every assistance in making the day of your dreams.
We have a newly renovated ceremony room which allows couple to exchange their vows/promises on site, as this is in a separate venue it means guests have a new surprise on entering the castle for your drinks reception. The venue for agreed numbers will be private and no outside guests will be in the Castle on the day of your wedding. This will be your home from home for the duration of your stay.
The food is multi award winning and the attention to each dish is outstanding.  With many options and food allergies catered for including our succulent Pig on the Spit banquet and buffet. Each guest is guaranteed to have their taste buds tantalised and satisfaction is guaranteed. Another unique offering is a museum on site. With trained tour guides, you have the option to do something a little different and arrange tours for your guests. With one of the largest private collections in Ireland, time melts away as the history is brought to life. I could go on and on but If you want authenticity and somewhere filled with warmth and romance, a team who give 100% and dedication to your special day, you really have to come to Belleek Castle.
5. Are there any wedding trends you're seeing emerging in terms of how couples are using your venue?
Each wedding is individual and every couple likes to put their own personal stamp on their day. We here in the castle are very adaptable and we like to help create and indeed, exceed the dreams of each couple. I have noticed photo booths have become increasing popular and we have seen some novel ways of displaying the photos, one example was a tree branch which was brought in and photos were hung using heart clips. Another trend would be the sweet carts or candy tables. These are always a hit and not only with the younger guests at the wedding.  This can be a simple display with jars and bowls or as we had recently be a little more original with the use of a turning motorised wheel. We are very open to any new ideas and any requests are always considered. We are privileged to be part of such a special day and go above and beyond to make sure it is memorable for all involved.