Maid of Honour? Ahh, congrats! Your bestie/family member really values you and wants you right by their side, when they say 'I do'. How exciting?! However, before you get too carried away with hen party planning, there are a few things to consider. Read on for Confetti's Maid of Honour dos, and definitely, don'ts.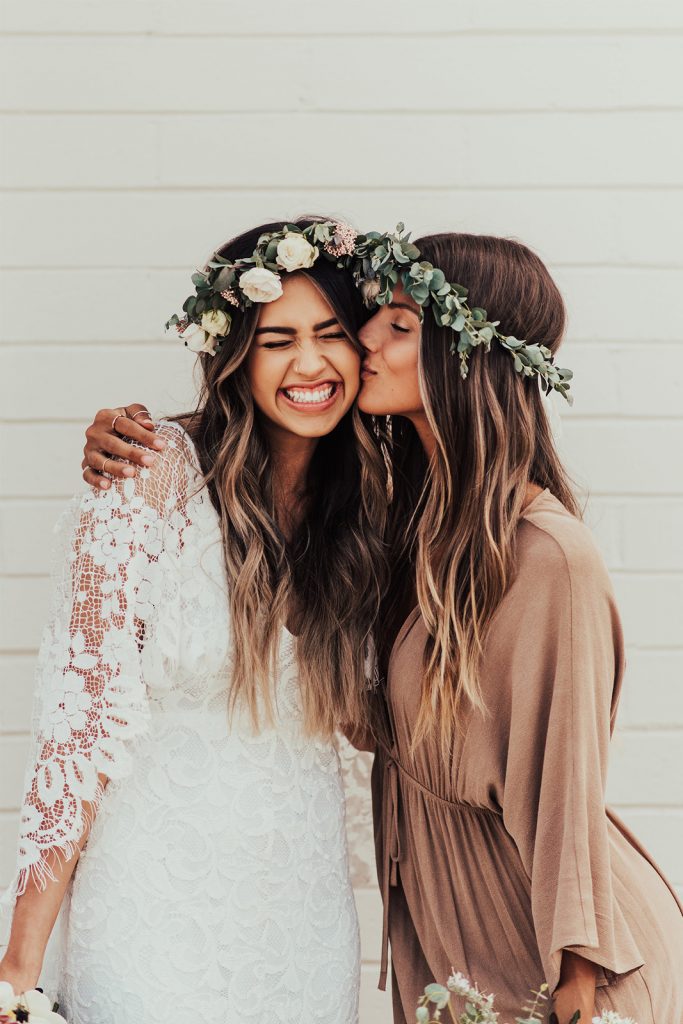 Image above: Tessa Tadlock
DO
Be honest
If that meringue style dress is swallowing her up, don't be afraid to speak your mind - within reason, of course. You've been chosen as MOH because your bride simply could not do this without you. They trust you and your opinions, so don't be afraid to offer some.
Be supportive
On the other hand, you also need to support your gal. Remember there are ways of saying things, so try and be on board with her decisions. You gotta be as excited as she is about the big day. Ready, set, Prosecco!
Make a good speech
Be sure to paint a lovely picture of the happy couple. Our best speech advice is to keep it short and sweet, no one likes speeches that go on and on. Oh and no matter how funny you think you are, keep any embarrassing stories PG and to a minimum - trust us, she'll thank you for that!
Come prepared
On the morning of the wedding, make sure you're armed with everything you may (and may not even) need. We're talking emergency sewing kits, spare lippy, blotting sheets and fashion tape. You want to make sure all bases are covered.

Image above: Laura Moll Photography
DON'T
Be negative
If you really don't like or agree with something the bride has chosen, for example, your outfit, try to turn it around. Turn it around and try to make it sound like you're not totally against her. Suggest that maybe something's just not working and try to offer her an alternative. No one gets offended and everyone wins!
Organise a bad hen party
Please, please take into consideration what she would like to do on her hen party. Just because you'd love nothing more than a big knees-up in Galway for the weekend, doesn't mean she would. If her thing is more like a glamourous Afternoon Tea at the Shelbourne, then make that happen.
Make it about you
Rule number one: remember this day is about her and her significant other, not you. We're all guilty of being a bit if a 'mé feiner', but if she's asked you do something or pick something up, you try and make it work. No whinging, please!
Get too drunk
Now, we're not saying you should turn into a teetotaler for the day, but don't go overboard - you gotta be on guard for any emergencies, should they arise. At least wait until after the meal, that way you're 100% off duty! Conga line, anyone?
On the hunt for your wedding dream team? Here are some of our faves!