A Confetti promotion
When a venue has a reputation for their food in the way Kilshane House does, you can be sure a big reason couples will book their wedding there is off the back of the delicious menu. With that in mind, we chatted with Kilshane's Head Chef Ralf Mahler about the wedding menus he's created and what's so unique about it. Though, it still has to be tasted to be believed!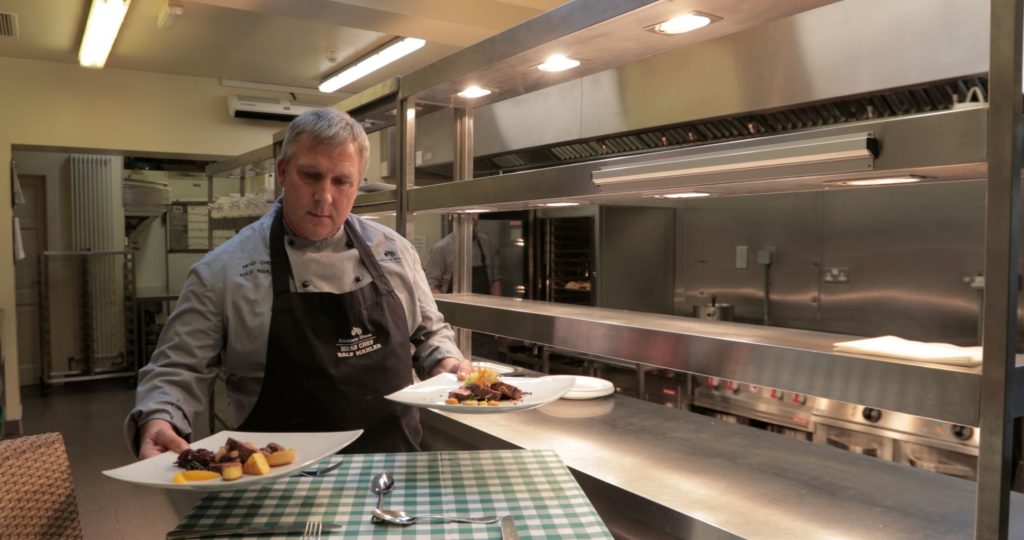 What is your your favourite menu you offer?
It definitely has to be the Rack of Kerry Lamb with Wild Garlic Herb Crust, Barolo jus and vegetable panache. It's what I call "show off" food!
How do you decide what goes on the wedding menu?
I sit down with the owner of the house, Jane de Roquancourt, who is passionate about food, and we brainstorm once a year. We share a fascination with amazing food coupled with the practicality of realising it in the context of the kitchen, the chefs, and the audience.

What's unique about your menu?
We source as much as we can locally. We have an excellent and consistent butcher in Tipperary Town and our beef is organic. We can buy Dexter beef from the top producer a few miles from Kilshane House. What? You've never tasted Dexter Beef? Be prepared to be seriously impressed!
We believe that one should celebrate the wedding day and the season in which it takes place. Our menu tastings are legendary! We prepare the entire seasonal menu for each couple. They taste all the cocktails, six or seven starters, three or four soups, several sorbets, half a dozen main courses, and at least half a dozen desserts. Oh yes, six white wines and six reds and access to the entire wine list. From the first visit through the menu tasting, our couples are encouraged to consult with me. If bride or groom is from another background than Irish, I am delighted to introduce something unusual to the menu to reflect their culture as well. I like a challenge and am happy to oblige!

What is the one thing from your menu the couple HAVE to make sure to have?
We are careful to respect the timing of the wedding dinner so that the couple and their guests can really savour the meal. The Food and Beverage Manager along with the Bar Manager are vigilant and quick to attend to every guest. Jane always tells the bride and groom to save a drop of red wine – the Chateau Nardou 'Bois de Menay' for example - to have with the dark chocolate petit-fours that are served with the tea and coffee for a remarkable taste sensation not to be missed.
Anything else we should know?
I am happy to provide a silent option in vegetarian or vegan food or, indeed, to cater for allergies and cultural preferences. These meals are designed to be as interesting and delicious as the mainstream food I prepare. The thank you notes say it all.