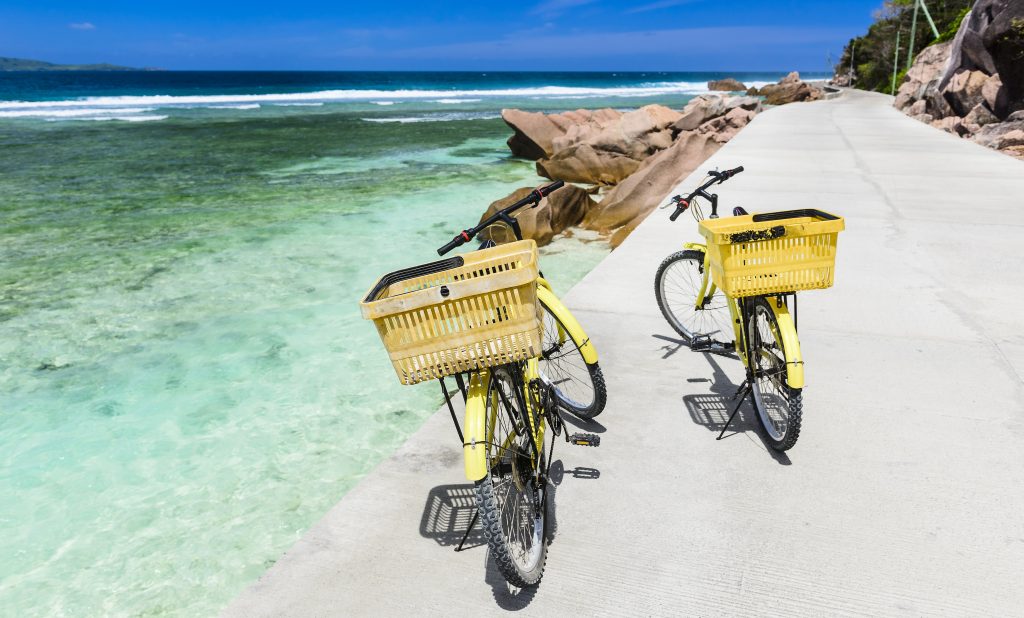 We kicked off Honeymoon Week 2017 with Mauritius and Bali, but we've a whole host of destinations to go this week. Every day we'll be filling you in on some of the most beautiful destinations in the world, and today it's the turn of the beautiful Maldives! We talked to Hayes and Jarvis to get all the must-know, must-do, and must-see info you'll need before booking your big trip!
Why do people love Maldives as a honeymoon destination?
If you're looking for pure luxury and indulgence, a honeymoon in the Maldives is the answer.
With over 1,000 idyllic islands, the Maldives boast stunning lagoons, beautiful white sand beaches, and dazzling underwater coral gardens. Famous for incredible diving opportunities, the Maldives is home to three quarters of the world's reef fish. Add fantastic luxury hotels, seamless service, and world-class spas, and you'll soon discover why holidays to the Maldives are the perfect romantic retreat.
Twenty-six stunning atolls spread across the Indian Ocean with 1,200 gem-like islands, each home to just one exclusive resort for ultimate solitude and seclusion. Whether you're after an island getaway for that dream honeymoon, a breath taking diving adventure to explore the stunning marine life and coral reefs, or an all-inclusive resort with beautiful water villas and a luxury spa – the Maldives offers the ultimate escape.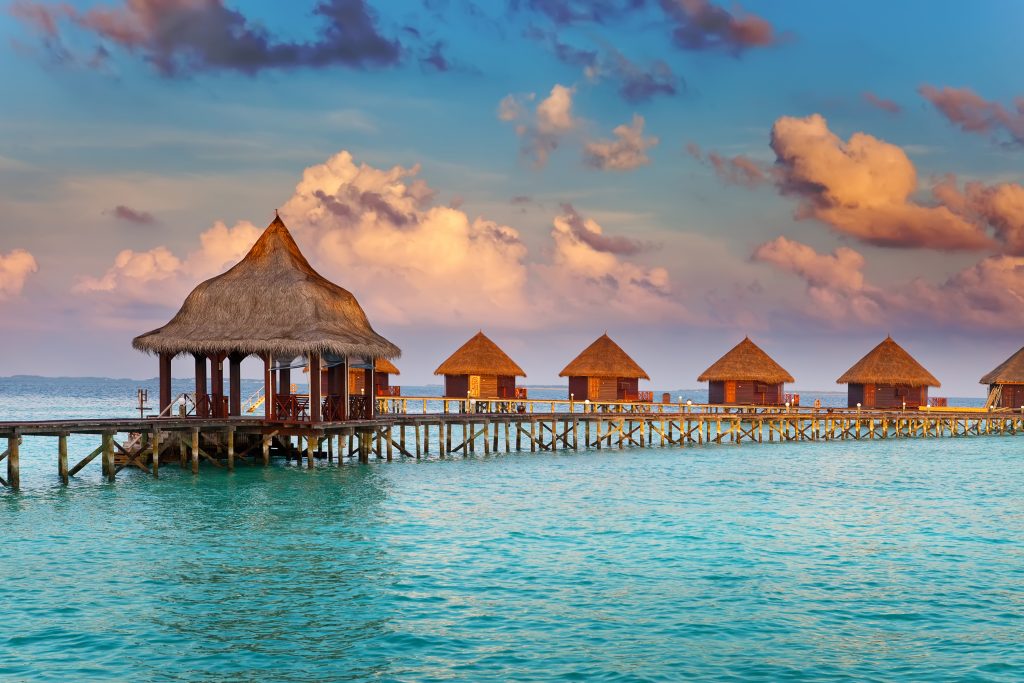 Where are the best places to stay?
5* Atmosphere Kanifushi is an island escape like no other; a two kilometre paradise of white sand, tropical palms, sparkling ocean views, and luxurious accommodation. Generously-sized beach villas with whirlpool tubs occupy the shoreline, meaning the beach is just steps from your room. The extensive Platinum Plus package includes delectable all-day dining in the main restaurant and unlimited premium drinks — including your minibar which is replenished twice a day. A floodlit tennis court, PADI Dive Centre, and complimentary daily snorkelling trips are also included, as well as non-motorised water sports. (Approx. 30 minutes by seaplane from Malé)
Kuramathi Island Resort: On this stunning Maldives island resort, you can stroll along sandy white beaches and dip your toes in the water to cool off on a balmy day. Spend leisurely hours exploring the vibrant reefs or an afternoon of extravagance at the spa. Indulge in dining and wining experiences to suit your every desire. Villas blend contemporary design and nature, and are set on the beach, amongst lush gardens or over water looking out to the vast Indian Ocean. Dining options are diverse and many of the six bars offer refreshing cocktails and evening entertainment. A variety of water sports, diving and excursions are also available. The house reef offers hours of adventurous snorkelling and for ultimate relaxation, try some of the innovative therapies available at our spa.
When's the best time of year to go?
The Maldives enjoys a year-round warm, topical climate with temperatures generally staying between 29–31˚C. Many people visit between January and April during the driest season when the visibility is also good for divers. From the end of April to October, there is a higher chance of rain.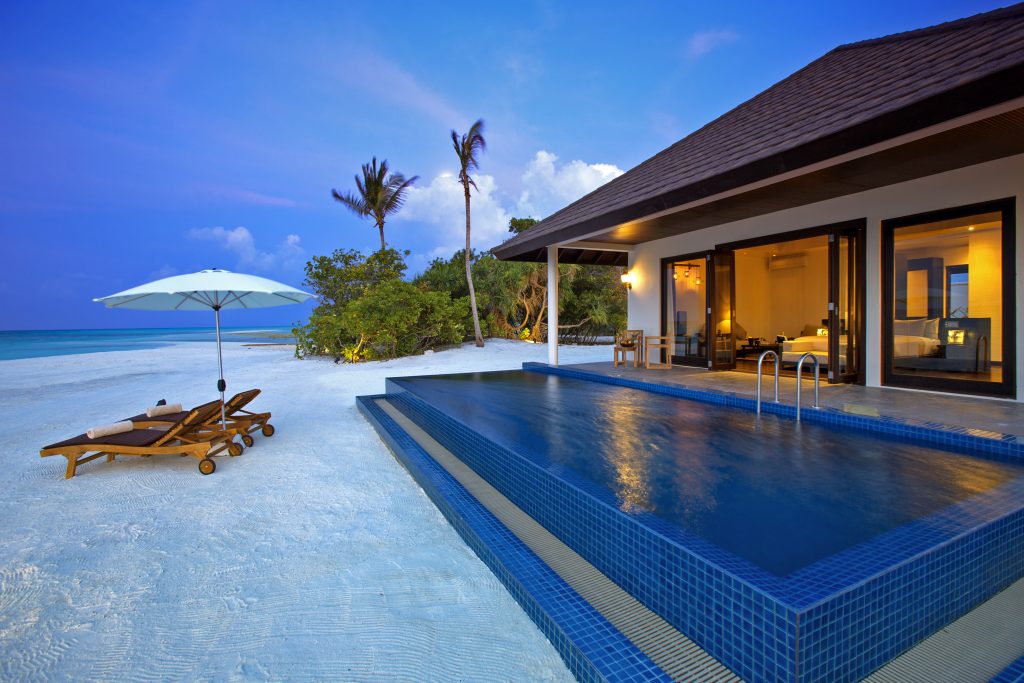 How do I get there? Are there any must-see stops along the way?
Indirect flights are available via the Middle East from Dublin daily. Approx 11 hours flight time. From Malé take a seaplane or speedboat, depending on the resort.
Complete your dream honeymoon by combining your stay with another one of our iconic destinations. Enhance your trip by including a few nights in bustling Bangkok, before taking a quick four hour flight on to Malé. Captivating cultural tours of Sri Lanka and India are only a short one or two hour hop away, and they perfectly combine with the serenity of the Maldives. You can even add a few nights in the gleaming cities of the Middle East to your trip. Dubai, Abu Dhabi, and Doha are all waiting for you to explore, whether you visit them before or after your island retreat. With so many opportunities to consider, Maldives is the just the right place for you to end – or even start – your luxury holiday.
How much will it cost?
Anything from approx. €1699 per person. Going all-inclusive is recommended as each island has just one hotel. You will get the best value by selecting all-inclusive before you arrive.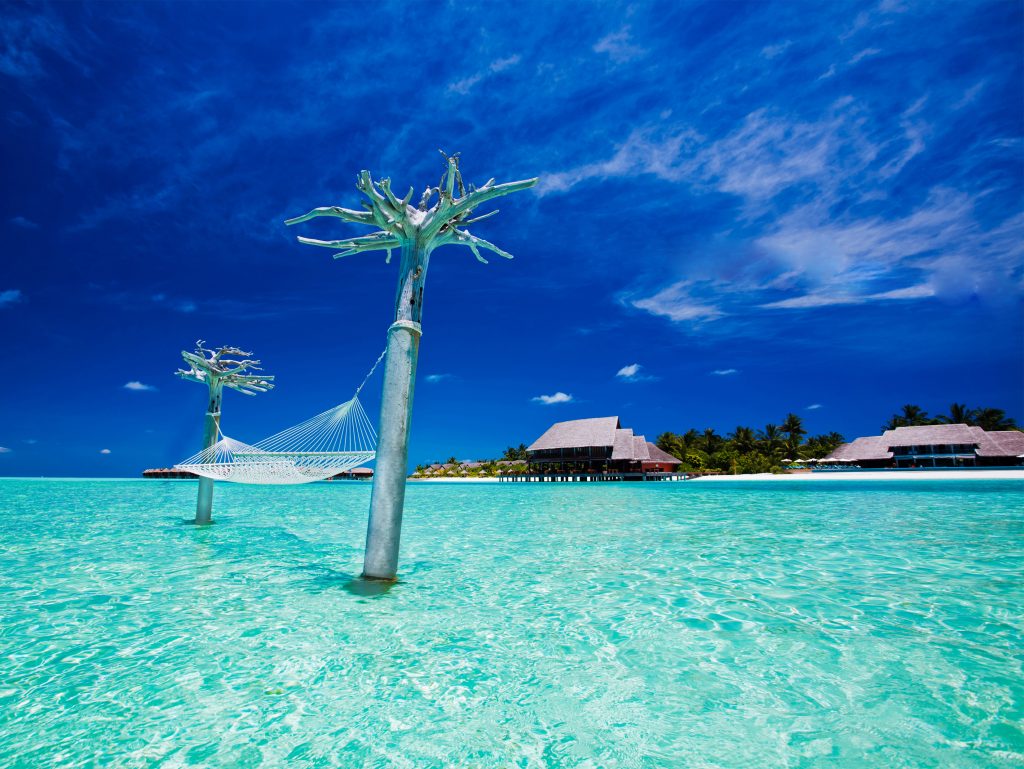 What is there to do/see there?
Diving: Whether you're an experienced diver or are yet to do your PADI, you'll want to get a glimpse of the marine life here. Otherworldly manta rays, turtles and reef sharks, and lagoons festooned with unique coral make for some spectacular underwater scenes.
Spas: The Maldives are famed for their world-class spas and you'll find some irresistible wellness sanctuaries here featuring shiatsu, acupressure and ancient ayurvedic principles. Many blend seamlessly into the natural setting and have breathtaking over-water treatment rooms.
Maldivian Cuisine: Tasty and fresh, Maldivian food makes good use of the island's locally caught fish, drawing flavours from the fragrant, coconut based curries of southern India and Sri Lanka. Local ingredients include seafood like tuna, grouper, octopus and swordfish, as well as refreshing watermelons.
Maldives Island Hopping: With over 1,000 islands in the Maldives, it seems a shame to just visit one. Hop from atoll to atoll by seaplane or speedboat and experience something new on each island you visit; from spa treatments to diving and fishing to gourmet dining.
Are there any downsides?
No! The Maldives is perfect for beach lovers. Leave the heels at home as atmosphere is very relaxed. Travel between each island is by speedboat or seaplane.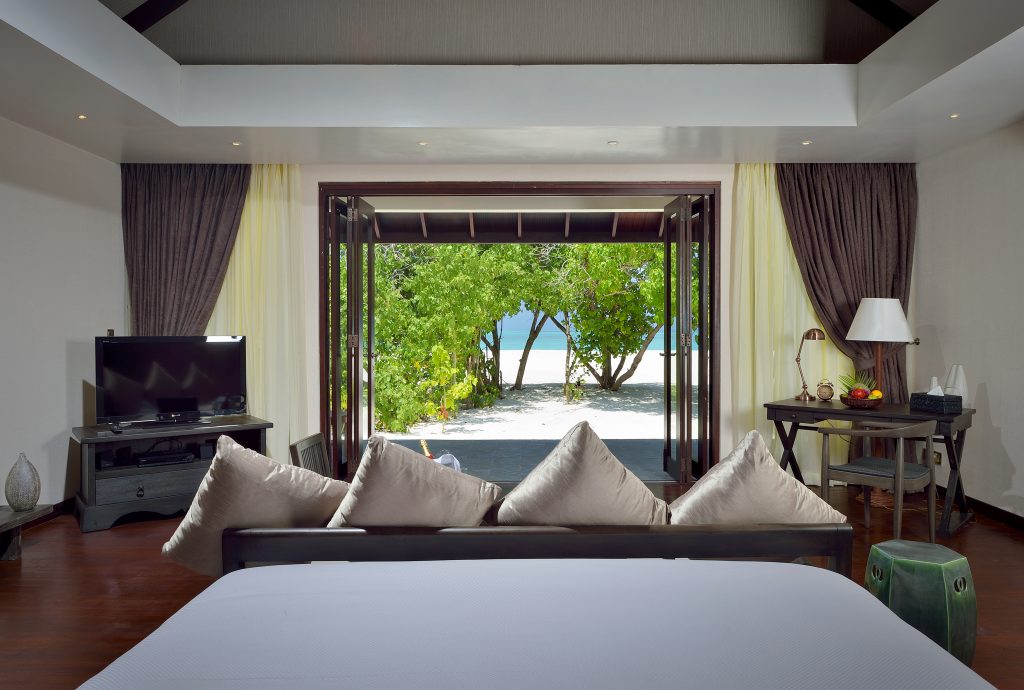 Most romantic part of a trip to Maldives ?
The Maldives is one of the most romantic places on earth, with castaway islands and barefoot paradise galore. Relax on the deck of your over-water bungalow, and then sit back and share a bottle of Champagne as day turns to night on a sunset cruise. You'll set sail on a dhoni (a traditional wooden fishing vessel) so there's nothing to disturb the tranquillity of the open water. Or celebrate your romance with a candlelit dinner at the water's edge with powdery soft sand under your feet and the soothing sounds of the waves coming to shore.
What sort of budget is required?
Anything from approx. €1699 per person. Going all-inclusive is recommended as each island has just one hotel. You will get the best value by selecting all-inclusive before you arrive.
For more information or to book your big trip to The Maldives, get in touch with Hayes and Jarvis on their website, or catch them on Facebook and Instagram.