A Confetti Promotion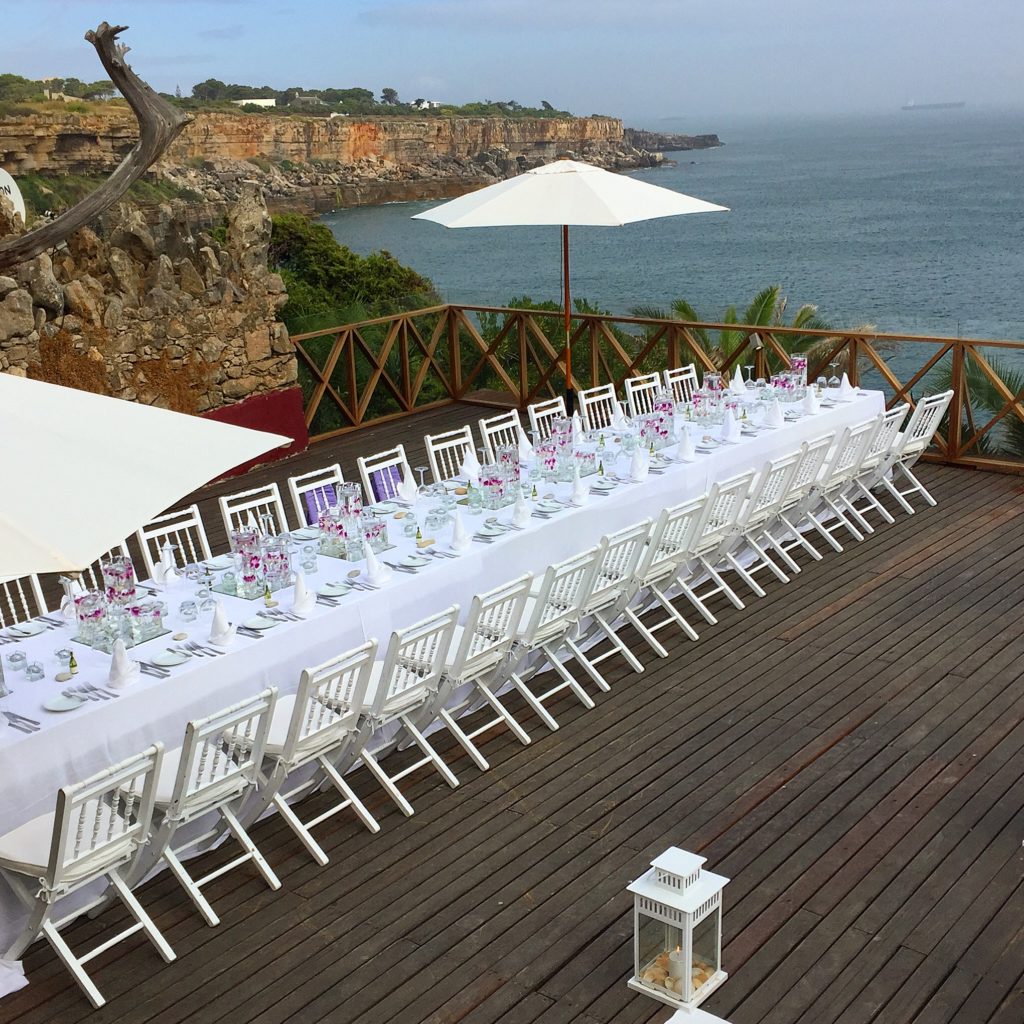 Thinking of getting married in Portugal?
It's day three of Destination Wedding Fortnight and we've got beautiful, sunny Portugal for you today! To find out everything you need to know about planning a wedding in Portugal, and particularly in and around Lisbon, we spoke to Silvia Interlenghi from The Wedding Portugal who gave us the lowdown.

Why is Portugal the perfect destination wedding location?
Because of its beautiful sunsets, amazing ocean views, ancient and elegant venues, great cuisine and even better wines
What's the best time of year to go?
Given the mild temperature in Portugal, all year round is good for weddings, although spring and summer are our favourites and most popular times.
How do I get there?
There are several flights to Lisbon every day, from all over Europe
How much will it cost?
Flights will cost about €200/300 according to time of the year.
What types of venues can I get married in?
Portugal is a small country but vast in choice. From historical palaces, to waterfront venues or country estates, Lisbon and its surroundings have it all.
What do Brides and Grooms need to do to ensure their marriage is legally binding?
For civil ceremonies they will need to give entry to the marriage process at the local registry office here in Portugal.The documents required are: 1. copy of passport, 2. birth certificate, 3. certificate of non-impediment to the marriage, all properly translated and authenticated. As soon as the documents are delivered and have been verified it is just a matter of booking the officiant for the day. At The Wedding Portugal we provide full support with the whole process. We also provide support in case of Catholic ceremonies, in which case, once the couple chooses the church in Portugal, we connect their local Parish and the one in Portugal in order to arrange for the whole process.
Any wedding traditions that international couples partake in?
Europeans share pretty much the same traditions and I find that speeches and first dance are always the most important ones.
What services do you offer?
Being a wedding destination specialist, at The Wedding Portugal we can take care of any aspect of the wedding and give full support before and after. As well as styling and designing the whole event and suggesting the more appropriate vendors according to our couples needs. Our services includes, but are not limited to: Wedding celebrants or officials, hotel bookings,transportation, catering and wedding cakes, tableware, linen and confectioning, furniture, décor and prop hire. We also look after marquee and tent hire, wedding transportation, bridal and groom wear, hair, makeup and beauty, photography and videography, flowers, stationery, signage and calligraphy, favours, guest lists and welcome packs, music, dance floor and entertainment, sound, light and equipment hire (plus technical support). We can also arrange honeymoon packages.
Where do couples usually go for minimoon/honeymoon if they stay in the country?
An increasingly popular destination is the Alentejo region, with its untouched country sides, beautiful cork plantations (quintessential to the region) and luxurious winery some of them home to some of the  finest hotels in the country.
Why do you love working as a wedding planner in your area?
Being a wedding planner allows me to express my creativity and my passion for decoration, and the beautiful venues and incredible settings in the Lisbon area make it very easy. I also enjoy very much meeting new couples all the times, trying to understand their personality and taste in order to make their idea of a wedding a reality. A wedding is such a personal and important moment to someone's life and I adore all the emotions related to that. To this days I still feel emotional when I see a bride walking down the isle, I can't help it!