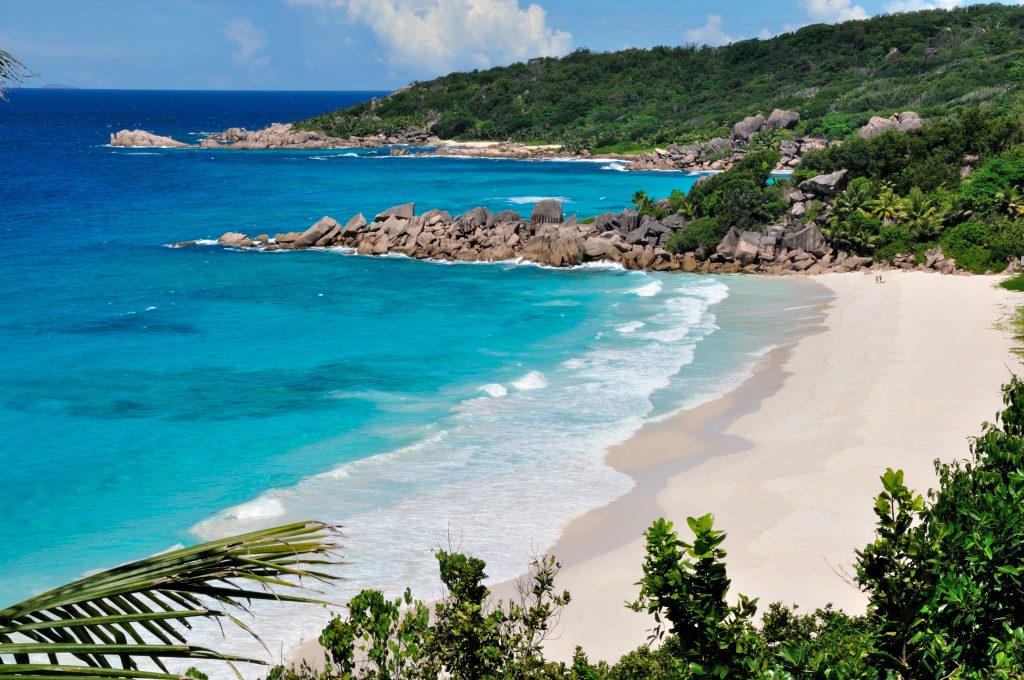 Every day this week, we've brought you advice on planning your wedding in some of the top destinations for weddings abroad for 2018. We thought compiling them into one super-post might make for a handy planning tool, so without further ado, we'll let the experts from each destination take the reigns!
Malta - Perfect Weddings Malta
Why is Malta the perfect destination wedding location?
Malta has 300 days of sunshine in a year.  It has sun, sea and a climate you rarely find anywhere else.  The people all speak English and drive on the right hand side of the road.  The Maltese Islands are steeped in history, we have a great nightlife and only a ferry ride away you will find the tranquil island of Gozo and another short ferry ride away is the small island of Comino with the famous blue lagoon.  The island is small but there is a lot to do, sea sports, museums, temples, bars, clubs and many other things to keep people entertained.  Therefore your guests will never be bored.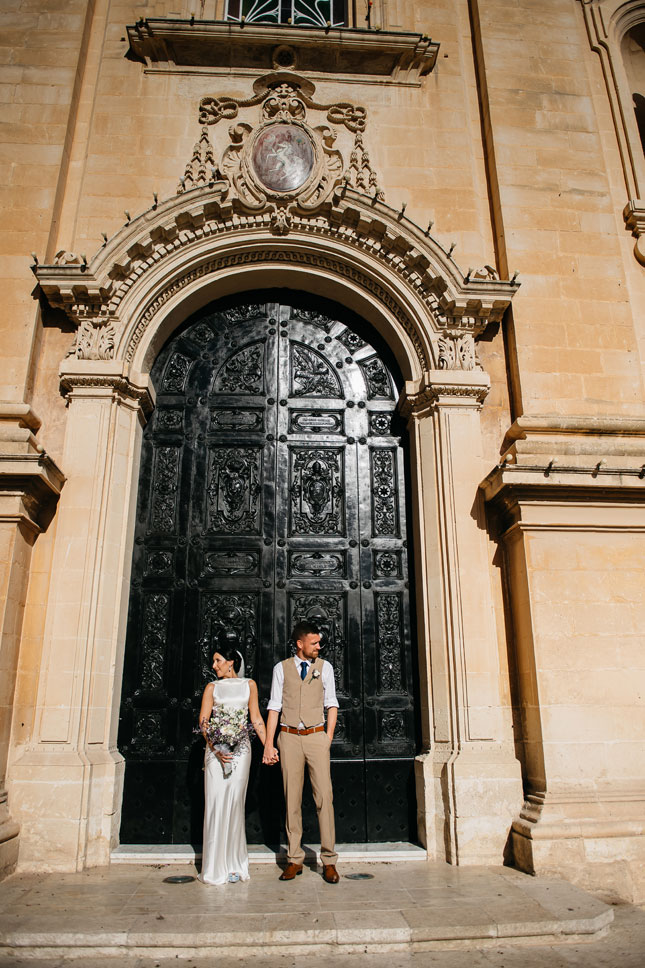 How do we get there?
Well many airlines fly to Malta, many direct – Airmalta, Ryanair, British Airways, Turkish Airlines etc.  it is only 3 hours away and all airports in the UK fly to Malta.
How much will it cost?
Flights are not that expensive unless you leave it till the last minute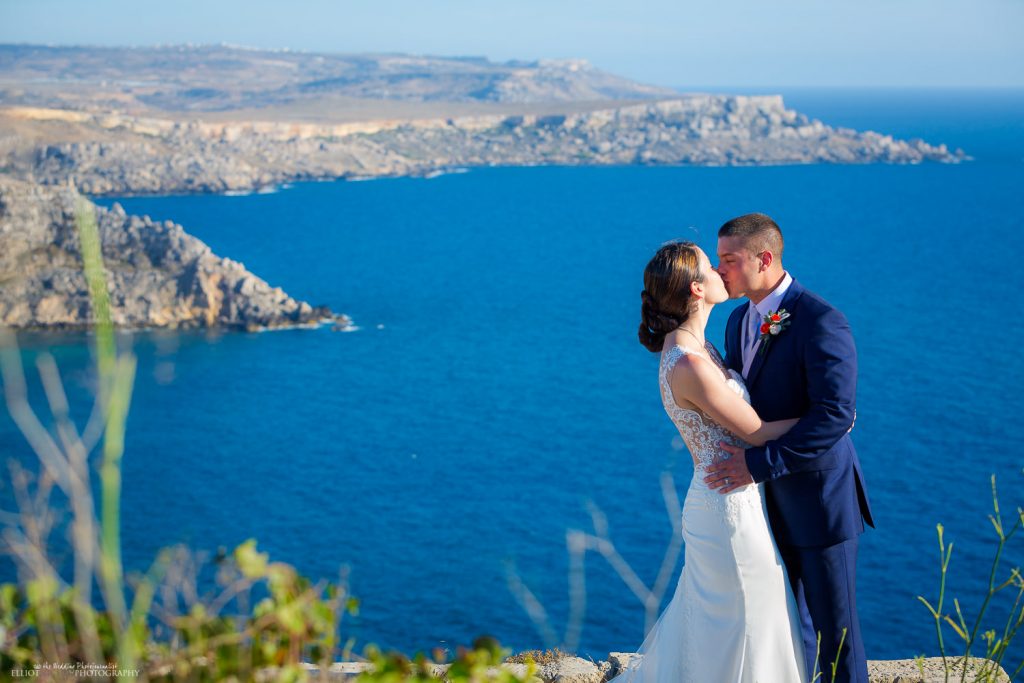 What type of venues can I get married in?
You can get married in a Palazzo, Garden, Villa, Waterfall Garden, Vineyard, Castle, Tower, a piece of Maltese heritage.  Basically any venue you can think of can be found on the islands of Malta or Gozo.  We have even had a couple of weddings on Comino – which although tiny has some stunning views to offer.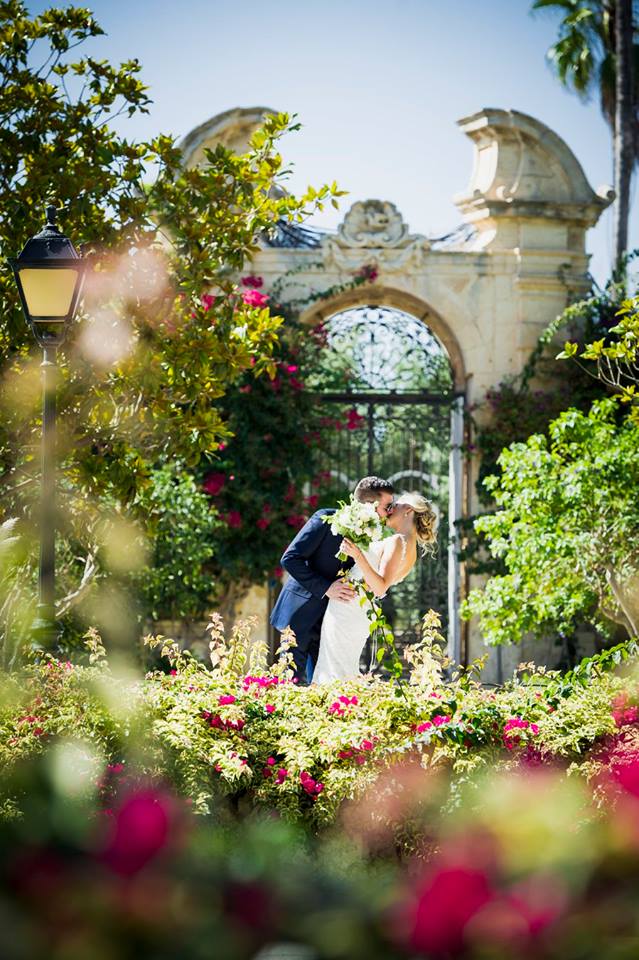 What do couples need to do to ensure their marriage is legally binding in Malta?
The correct paperwork is imperative, however requirements are minimal and you only need be in Malta two days before the wedding.  Once the legal paperwork has been submitted no less than six weeks before the wedding, then you are assured that your wedding will be a legal and binding one.  Weddings in Malta are recognised worldwide.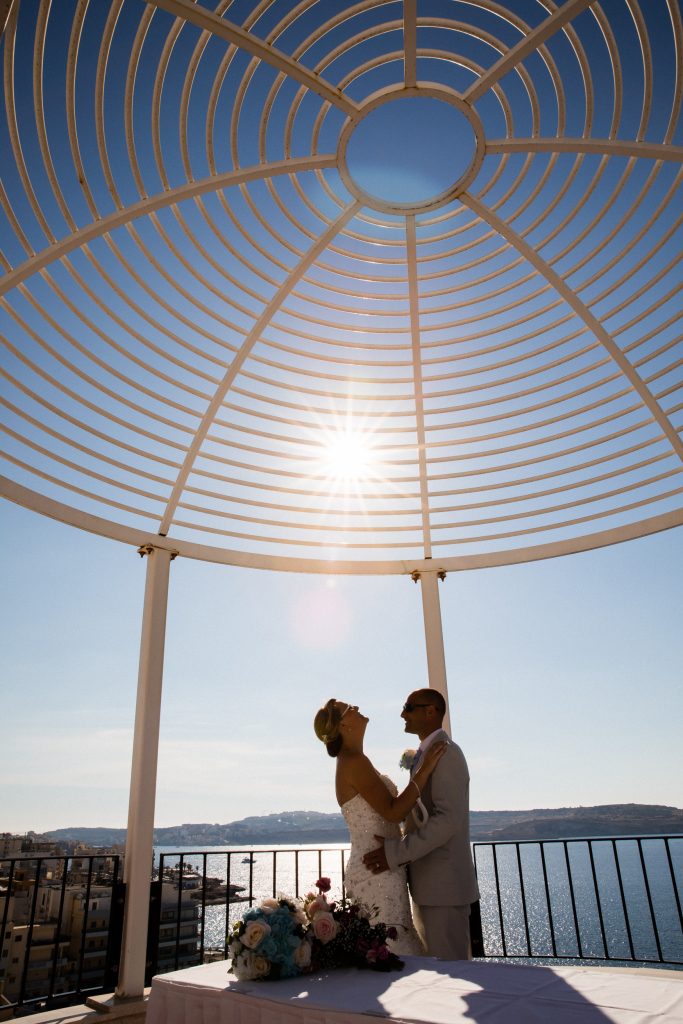 What services do your company offer?
Full wedding planning service, hotel booking, sourcing of all suppliers, advice on décor, sourcing decorations, flowers, hair, make up, music, paperwork, documentation, venue sourcing, church booking.  Basically everything that needs to be done and booked for a great wedding.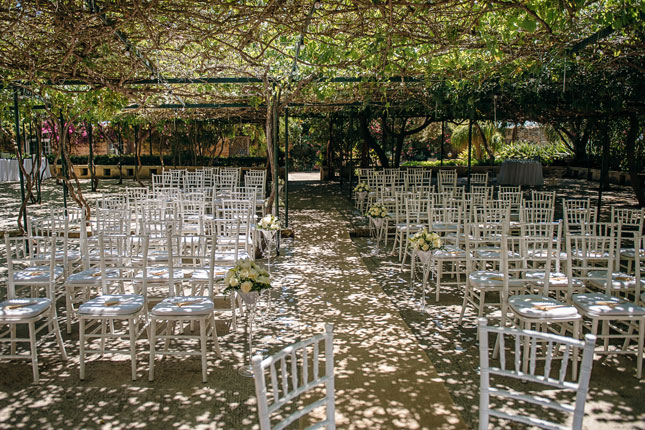 Why do you love working as a Wedding Coordinator in Malta?
Wedding planning is a passion it is not a job J  It is great to be able to celebrate with the couples, watching them all dancing and having fun.  The crowning glory is the thank you we get at the end of the night – it feels so special and seals the bond we have created with the couple.  It is lovely staying in touch and seeing them have babies and making new families.
For more information, contact Perfect Weddings Malta by calling 00356 9940 2419, or skyping Patricia on patricia.falzon007. You can also visit their website, or catch them on Facebook and Instagram.
Spain - Sunset Beach Club
Why is Spain the perfect destination wedding location?
Sunset Beach Club enjoys a fabulous seafront location on the Costa del Sol. Couples celebrating their wedding at this Irish-owned hotel can choose between a Catholic Church Ceremony or a Romantic Seafront Blessing.  Boasting 320 days of sunshine every year, the Costa del Sol is also pretty reliable when it comes to the weather!
Hosting a wedding overseas also provides a holiday opportunity amongst extended friends and family, and knowing that your guests are well catered for means that the bride and groom can concentrate on their Special Day.  The accommodation at Sunset Beach Club is perfect for families (all rooms have kitchen, terrace and a sofa bed for 2), and there is plenty going on in and around the resort to keep everyone happy! The kids club offers daily activities all year round, plus there is live music in the evenings in the Oasis Restaurant.  The daily happy hour in the Panorama Bar is a popular meeting point, and in the Summer the party continues in the Moonlight Bar, where family shows, tribute acts and mini discos can be enjoyed.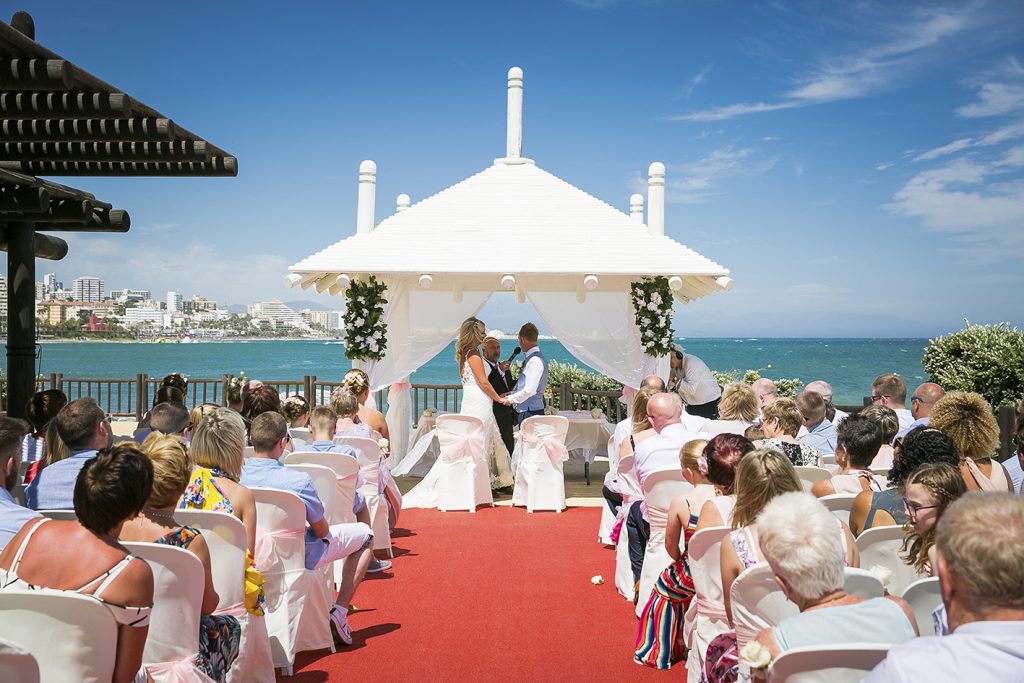 How do I get there?
Sunset Beach Club is located just 20 minutes from Malaga airport, which has great flight connections with Ireland and the rest of Europe,  in case any guests are coming from further afield. There are always plenty of taxis at the airport, or if you prefer to be met in the arrivals hall, or are travelling as a group, then the hotel's Leisure Desk can help you to book transfers by private car, minibus or coach.
How much will it cost?
The wedding team at Sunset Beach Club have prepared Complete Wedding Packages that include all the main ingredients for your wedding - ceremony, planner, hair & make-up, flowers, photography, welcome reception, wedding banquet with free-flowing wine & beer, wedding cake, and DJ (and a few pleasing extras!) – from just 6,200€ for 40 persons.  However, your celebration can be tailor-made to suit your own requirements, so if you want to arrive in a horse & carriage, be entertained by flamenco dancers, or require a bespoke cake or chocolate fountain, your wedding planner will be pleased to provide you with all the options!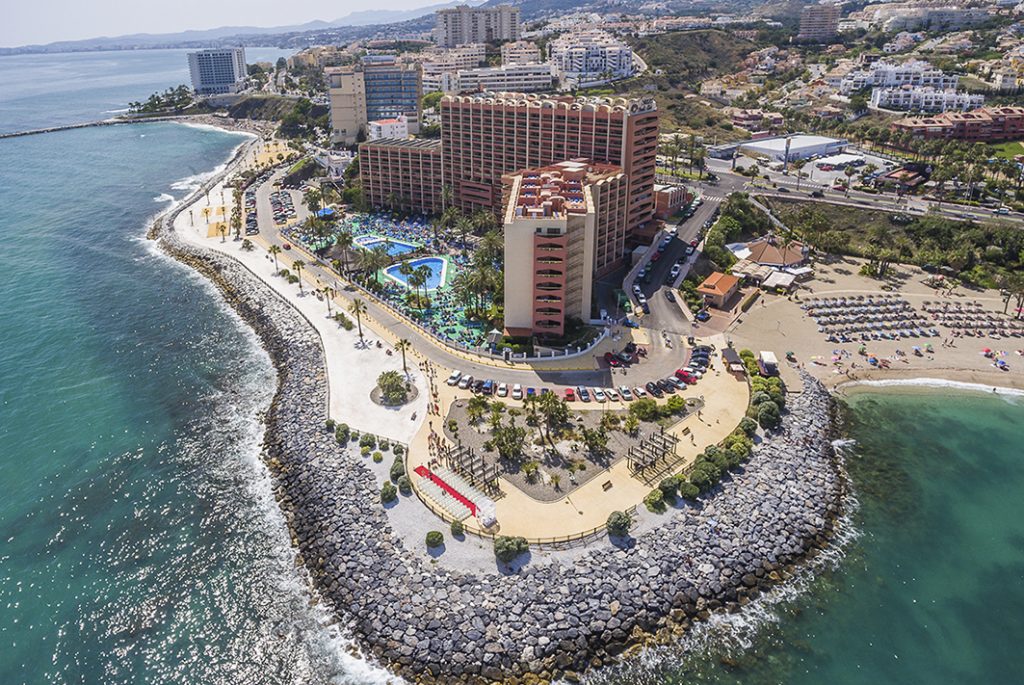 What type of venues can I get married in?
Sunset Beach Club brides may get married in a Catholic Church (there are several to choose from – those recommended by the hotel have English-speaking or Irish priests), or have a symbolic blessing at our romantic seafront pagoda with a spectacular backdrop of uninterrupted sea views.
What do couples need to do to ensure their marriage is legally binding in Spain?
Your designated wedding planner will assist with all legal paperwork to ensure that your Catholic Church wedding is legally binding.
What services do your company offer?
Sunset Beach Club offers convenient Complete Wedding Packages that can be tweaked to suit each couple's own requirements. We offer a selection of venues for your wedding banquet, but the beautiful Sala Malaga room on the 7th floor of the hotel is by far the most popular choice. This stunning venue commands spectacular views over the Mediterranean, and has a private kitchen and bar. Chair covers & bows, table centres and personalized menus and table plan are all included as standard. Depending on the size and date of your wedding, it may also be possible to have a more relaxed banquet at our informal, chill-out beach venue, Luna Beach Club, or on the terrace of our Oasis Restaurant (menu options and prices may vary). Our seafront bar "Salitos" is also ideal for welcome parties; day-after get-togethers & family gatherings.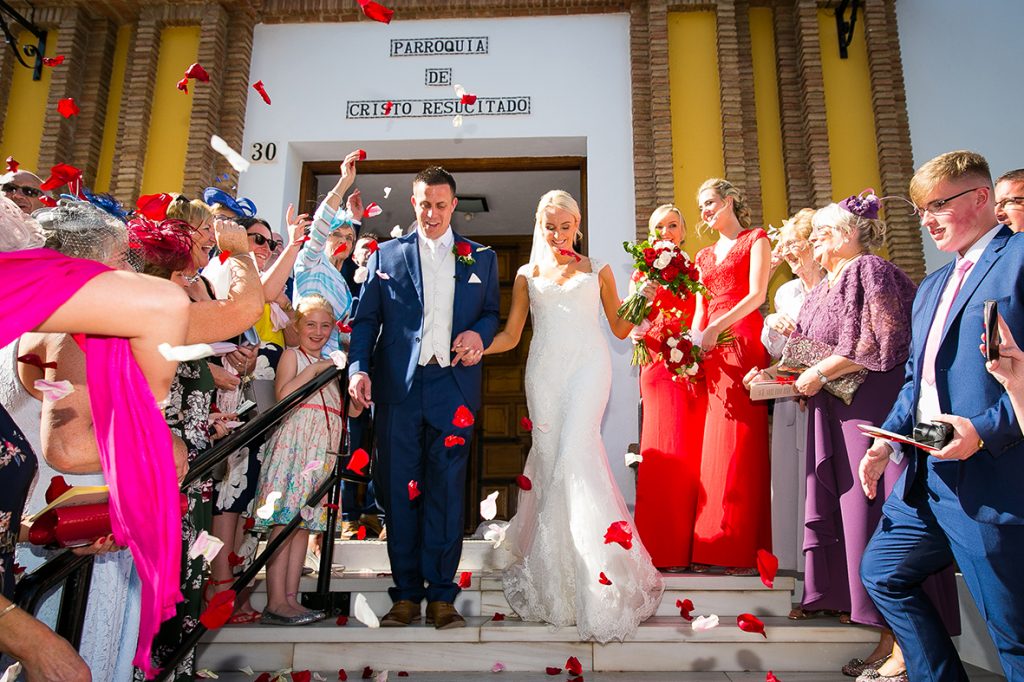 Why do you love working as a Wedding Coordinator in Sunset Beach Club?
I love working as Sunset Beach Club's Wedding Coordinator, as I get to see how each wedding celebration starts as an exciting enquiry and then evolves into a unique event and fantastic memories for the couples themselves and all their guests. Many of our brides and their guests become regular holiday visitors, and some even celebrated their wedding here as it was where they got engaged!
For more information, contact Sunset Beach Club Hotel by calling 952 579 400 (Ext.7823), or emailing [email protected] You can also visit their website, or catch them on Facebook.
Portugal  - TFY Weddings Portugal
Why is Portugal the perfect destination wedding location?
There's something special about it... This shaped piece of land, which now attracts so much attention, is by no measurement a "big" country, but still, an entire world rests inside of it.
Think Atlantic ocean waves or blue, peaceful waters, nearly untouched sands and breathtaking cliffs. Or green, green, green and small granite villages with the comforting smell of burning wood penetrating the streets in a perfect grey afternoon. Think great terraces with vineyards bathed by the most charmingly sinuous river. Think long plains ornamented with cork trees and sunflowers and golden straw, where the sunset offers you a new shade of orange. Think of a capital city where history and contemporaneity live as neighbors, think great wines, food that will delight any palate, think of a lifestyle driven by pleasure.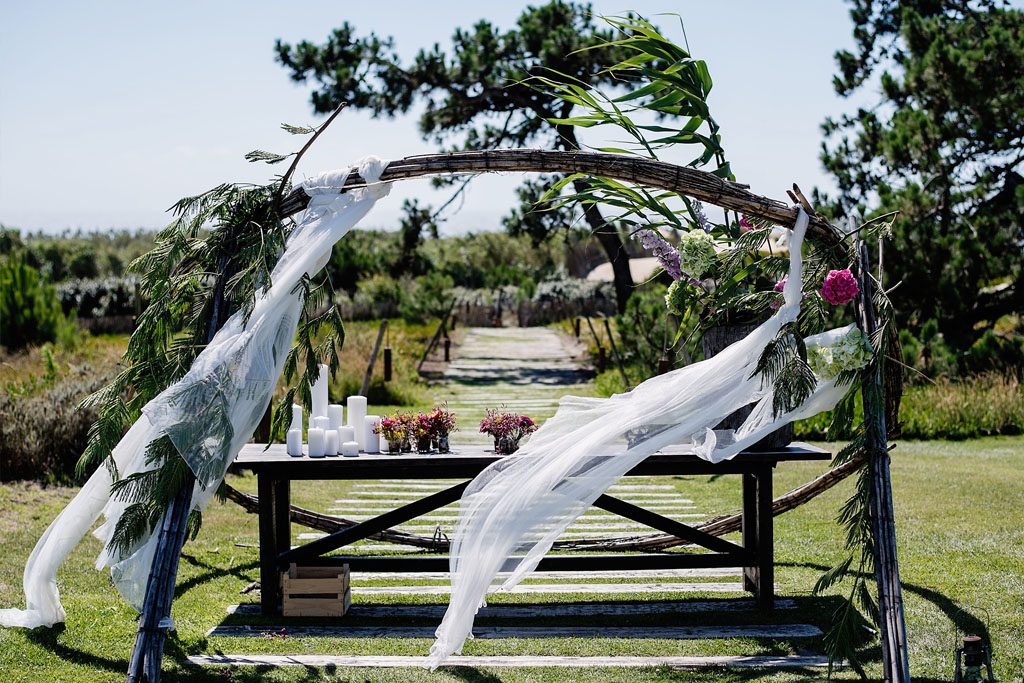 How do I get there?
Portugal is a destination with good accessibilities and an excellent geographical position that makes it a stopover point for many foreign airlines. Besides the three mainland international airports: Lisbon, Porto, and Faro, with direct flights to UK and Ireland the low-cost airlines play an important role to connect the destination.
How much will it cost?
Portugal is a fantastic place to tie the knot abroad! Less than three hours away, good quality food, sandy and sunny beaches and lovely people are just the perfect reasons to choose this destination. At TFY Weddings, we provide a tailor-made, personalized and creative wedding planning, where our wedding service fee is adjusted according to the type of wedding and the number of services requested. Portugal is an affordable destination, where castles, palaces or dreamy beaches can be the scenery of your special day. Here, your dreams will come true!!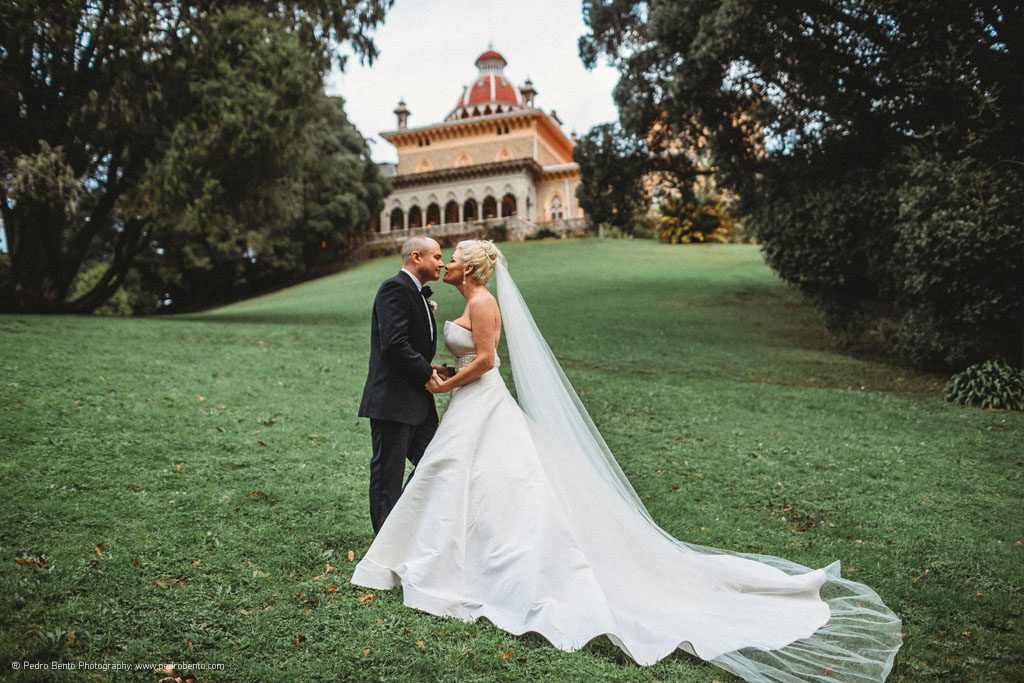 What type of venues can I get married in?
"Medieval castles, cobblestone villages, captivating cities and golden beaches: the Portugal experience can be many things. History, great food and idyllic scenery are just the beginning…" But let's go beyond Lonely Planet. Let's discover another Portugal, away from travel brochures or lifestyle blogs.
What do couples need to do to ensure their marriage is legally binding in Portugal?
TFY Weddings provide their couples a legal assistance from qualified professionals that can take care of all the process, making it all easier and recognized internationally by the Portuguese State and all the international Embassies in Portugal.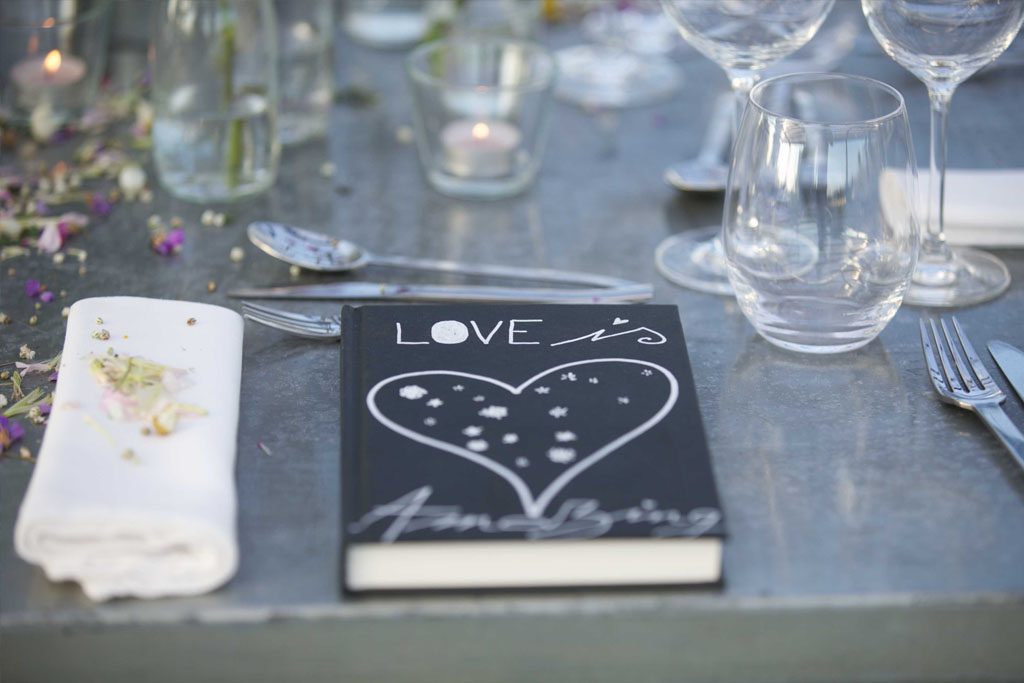 What services do your company offer?
Your wedding can be what you want it to be, where your imagination leads you. "Let us create your own special and unique"…
This is what we do: we make sure your every desire is met, and your most special day is truly memorable. We will diligently and responsibly take care of everything, from the reception venue to the flowers and décors, the photographer and the videographer, the catering, the musicians and, of course, the invitations. We can also arrange other services, like airport transportation, leisure activities or accommodation for your guests.
All our vast range of services offer a distinctive quality, that comes from experience and dedication, and we can become as creative as you wish. You just need to choose where, when, how... the rest, we will take care of.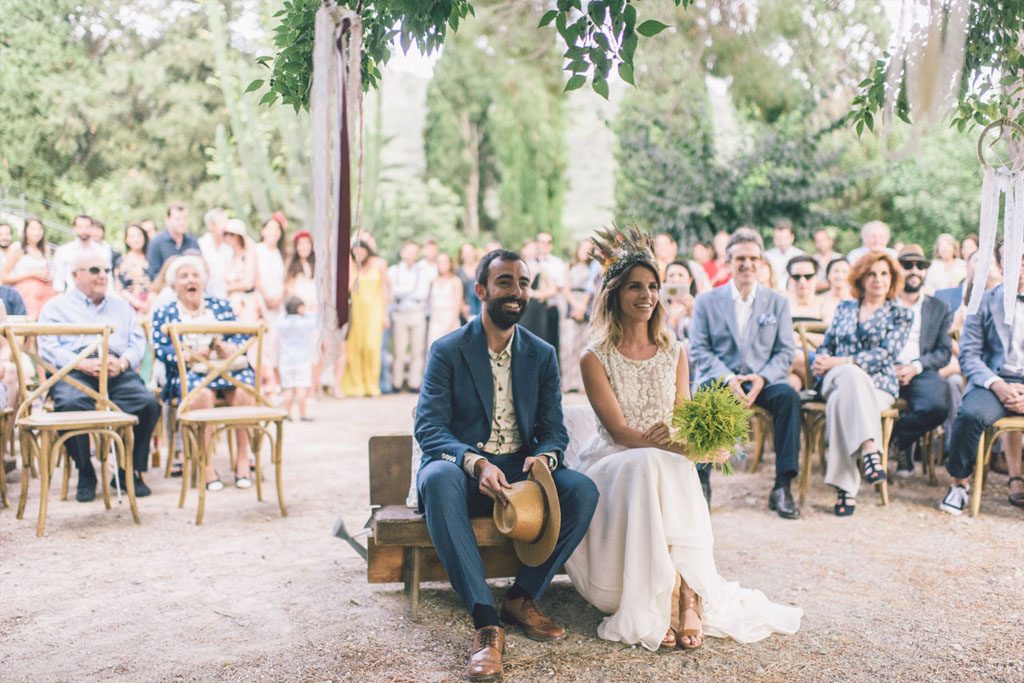 Why do you love working as a tour advisor in Portugal?
Being a Tour Advisor in Portugal or in this case a Destination Wedding Planner is as being an ambassador of our own country. This huge responsibility of promoting our destination, providing assistance with hotel, restaurant and accommodation bookings, make us travel knowledgeable always attentive to our clients' preferences, presenting them the most tailor-made and unique experiences.
For more information, contact TFY Weddings by emailing [email protected]. You can also visit their website, or catch them on Facebook.
Seychelles - Seychelles Tourist Office
Why is Seychelles the perfect destination wedding location?
Sensual Seychelleshas long been dubbed 'the islands of love'. Home to the unique Vallée de Mai, purported by many to be the site of the original Garden of Eden, it is little wonder that lovers are inspired to take their vows and wed in this gentle and romantic atmosphere.
Marriage and/or honeymoon packages are offered by several leading travel agencies to ensure that your wedding day or honeymoon will be as blissfully romantic and unique as you, in your wildest dreams, can conjure, allowing the memories of those special days to become forever emblazoned in your hearts.
Whether in Seychelles for a wedding or honeymoon, make a rendezvous with destiny and set your own stage for the most romantic days of your life beneath swaying palms, alongside crystal waters fringed by silver-soft sands.
Sip exotic tropical cocktails against the backdrop of crimson sunsets. Visit the island of La Digue where time stands still and bicycles and the ox-cart hold sway on the pathways to the dream beaches of Grand Anse and Source D'Argent. Or, simply lay back and watch the days and nights slip ever so slowly by from within the luxurious cocoon of a dream island getaway.
Quietly stroll the Vallée de Mai where the legendary Coco-de-mer nut grows high on ancient palms. Dine tête à tête with your feet in the sand on uncrowded beaches or try your hand at dancing the moutia, ancient dance of slaves, whose sensuous rhythms beckon from the flicker of a beach fire beneath a lover's moon.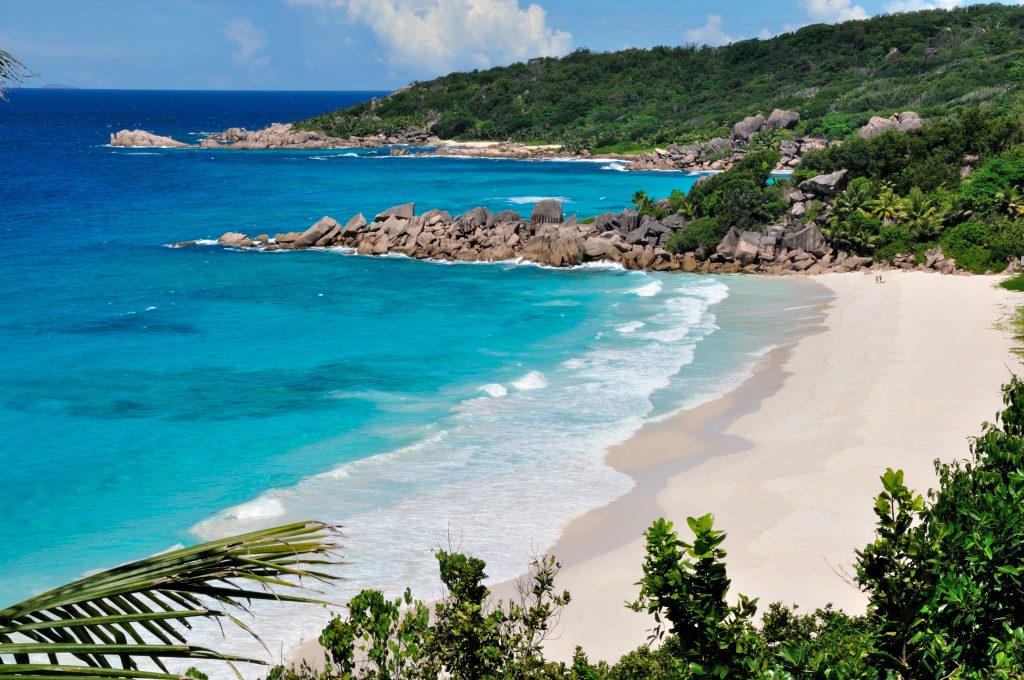 How do I get there?
British Airways will start non-stop flights to the destination as of 24th March 2018. This will be twice a week.
How much will it cost?
Return fares start from £699 in World Traveller, £999 in World Traveller Plus, £2499 in Club World and from £3499 for First, and are available to book now on ba.com.
What type of venues can I get married in?
Different beach location or at the hotels directly.

What do couples need to do to ensure their marriage is legally binding in Seychelles?
Birth Certificate or certified copy thereof
If either party is divorced, the decree of divorced must be produced
If either party is widow/widower the death certificate of the former spouse must be produced
Legal proof incase of a name having been changed
Copies of the 2 first pages of both parties valid passport
Document to show there is no impediment or lawful hinderance to the intended marriage (if this is not obtained, an affidavit has to be signed in the Seychelles after a solemn declaration has been made to that effect)
A church wedding without a civil ceremony is not recognised as legal in the Seychelles. Parties must perform a civil wedding prior to their civil wedding. Applications for civil ceremony are made to the Seychelles Civil Status office in
Victoria on Mahe for a civil wedding and church body for the religious ceremony
Couples must advise the Civil Status of their wedding date at least 11 calendar days in advance (alternatively special licence is sought & normally issued in 2 days from the date of application for a small fee
Couple must be present in the Seychelles at least 2 days prior to the civil ceremony
Legally conducted weddings are recognised under European Law. No nationality requirements need to be fulfilled
A special stamp (apostille) is required to validate the marriage certificate obtained after the civil ceremony for all nationalities except for British Nationals. (This stamp is obtained from the registrar)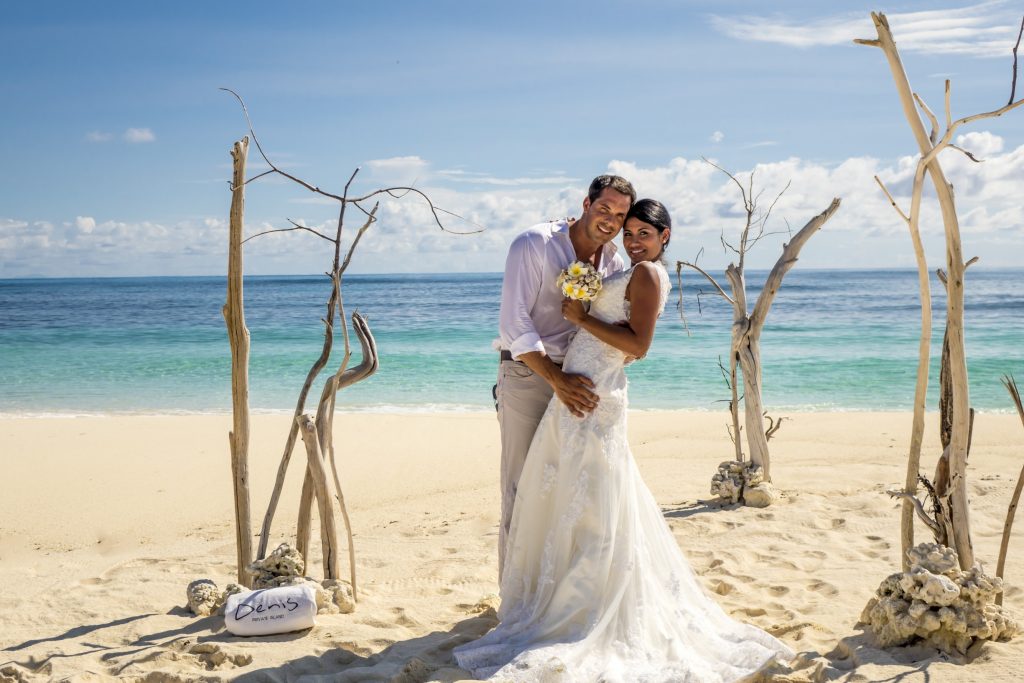 Anything else we need to know?
The typical wedding package includes the following:
Civil ceremony
Wedding certificate
Welcome champagne and fruit
Tropical bouquet for the bride
Tropical boutonniere for the groom
A one-tier wedding cake
A bottle of Veuve Cliquot champagne
Dinner for two under the stars (inclusive of one welcome drink per person)
Manicure and pedicure for the bride
A 90-minute Hilltop Fusion couple's massage
In-villa champagne breakfast
Photographer (plus CD-Rom of images)
For more information, visit their website.