With more and more Irish couples living abroad as emigrants, planning an Irish wedding from abroad has become something we're asked about constantly. Not to mention the fact that Ireland is a gorgeous destination wedding location whether you've Irish connections or not. With a whole host of historical venues and beautiful castles as wedding venues, and a reputation as a foodie haven, you won't be disappointed if you're planning your wedding in Ireland from abroad.
However, planning a wedding in a country you don't live in is no mean feat, so with that in mind, we thought we'd give you some tips on planning an Irish wedding from abroad, to make the whole process run a little smoother.
Destination wedding Ireland: our planning top tips
Planning a wedding in Ireland step one: the legalities
The long and short of the legalities of planning a wedding in Ireland is that you still have to comply with all the same legal requirements as everyone else. Check out our full guide to what's needed here. You still have to give three months' notice to the registrar, however couples living abroad can request permission to make the the notification by post. If permission is granted, the registrar will send you a form which you must complete and return.
You'll then have to make arrangements to meet the registrar at least five days before you get married in order to make the declaration - until you make the declaration, a Marriage Registration form can't be issued and that's what you sign to officially marry each other! If you don't request permission to post, you'll have to make the trip back to attend an appointment in a registry office in Ireland at least three months before the wedding.
Whether you do it by post or in person, it's worth remembering the extra requirements (apostille stamps, letters of freedom to marry, etc as outlined in the legalities post) if one or both of you aren't Irish. It can take six plus weeks to get these documents together from relevant authorities in your country, so allow time for this.
If you are looking for a blessing only, and not a legal ceremony, then this is much simpler, and you won't need to comply with any of this paperwork.
Don't forget to check on any potential religious requirements also, if you're planning a religious ceremony.
Catholic couples must do a pre-marital course, as well as the HSE legal requirements, and this involves a number of training sessions discussing things like communication, fertility, sexuality, conflict management and parenting. Contact your local parish office, or the parish office of the church you're hoping to hold your ceremony in if that's different, and check if they will allow you do this course where you live, so check with your priest if your proposed course is accredited and suitable.
Planning a wedding in Ireland step two: check the Irish calendar
When you start planning a date for the wedding, consider the Irish calendar - double check when major holidays, special events and bank holidays fall in Ireland, and consider how this will impact your wedding. If you're getting married in your home town with only a few guests travelling from abroad, it won't matter much either way, but if you're planning on getting married around Stradbally on Electric Picnic weekend, and your partner's whole family is travelling for the wedding, you might find that firstly, accommodation is extremely expensive, and secondly, in very short supply. While Christmas is a global holiday, when you're abroad, it can be easy to fall out of sync with when bank holidays or big events are happening at home, so just do your due diligence and make sure you're not making life difficult and expensive for yourself with when you set the date.
The June and August bank holiday weekends, St Patrick's Day, and Christmas and New Years time can be particularly busy in Ireland, and therefore they will be expensive for flights and accommodation.
It's also worth baring in mind, if you're living in a gloriously warm climate, that regardless of what time of year you plan to get married in Ireland, you can't count on the weather. You could get beaming sun in November and almost tropical rainfall in July, so it's worth baring this in mind before you settle on a dreamy outdoor location because you're super outdoorsy where you live now - if you're the kind of couple who won't mind a few drops of rain, work away! But if those same few drops would ruin it for you, make sure you factor that in.
Planning a wedding in Ireland step three: consider your budget
We have loads of budget advice that is super practical no matter where you are in the world. If you're wondering how the hell you're going to pay for this thing, look no further, we've a full guide here. We also have a downloadable budget sheet you can fill in, and that's the same no matter where in the world you're getting married!
However, if you are planning a wedding in Ireland from abroad, it's worth considering the exchange rate before setting your budget. Seems obvious, but it can be easy to lose a couple of grand to thinking 'Ah sure it's roughly the same' and not factoring in even small differences. Small differences over an average wedding cost of over €20,000 can add up to quite a big number on your final bill. And as planning progresses, you'll need to keep an eye on currency fluctuations - it may suit you to pay off some vendors while the exchange rate is good for you, to save a few bob.
The other major thing to consider is that you'll have to transfer money across borders. This isn't a major issue if you're living within the EU, as you can still do a SEPA transfer, however if you're living further afield, the extra fees involved in money transfers can be a big pain. Paying in fewer instalments will mean you don't have to pay the fees multiple times, so that may be an option, and you can look to services like Transferwise and Currency Fair who offer lower transfer fees and more consistent exchange rates than obvious options like PayPal.
If you aren't from Ireland or won't have a lot of Irish guests, you may be able to shave a few quid off your final bill by getting married off-peak - if all your guests are travelling to be at the wedding, they'll be taking the time off work anyway, so it won't matter if you get married Monday-Thursday in Ireland, when packages are typically a little cheaper than the popular weekend dates.
Planning a wedding in Ireland step four: finding your vendors
Wedding showcases aside, many couples won't meet their vendors before booking them so you're not missing out here. Check out our Confetti Recommended Suppliers for a start, and communicate via email/phone - feeling like your trust the vendor you're booking is key so focus on that when you're speaking to different suppliers. If you do want someone 'on the ground' to check out a supplier for you - particularly couples often want someone to see the wedding venue before they book - it's worth thinking about who exactly you'll ask. While your parents, if they live in Ireland, are an obvious choice, it may prove more stressful if they don't share your vision or taste for the wedding style you want - it's worth thinking about if there's anyone who shares your taste who can take on the task for you, as you'll get a much more accurate opinion that way.
Take a look at our 12 month planning timeline to find out when you should be booking each kind of vendor, though obviously when planning from abroad it's always helpful to get a little ahead of yourself.
It's worth baring in mind the time difference, and the fact that vendors are often busy working at weddings on Fridays and Saturdays in particular, and they'll likely take Sunday off, so while you might have more time for planning at the weekends, this is likely their busiest time. Be careful you're not calling in the middle of the night Irish time with simple questions, and try to figure out the best way for you to make and receive vendor calls without racking up a huge long distance phone bill. Most vendors will use Skype, but FaceTime or Whatsapp video calls might also be an option.
Your hair and make-up trials can be done the week before your wedding (time allowing), or alternatively you could get your trial done locally where you live, and take pictures to show your glam squad on the day.
Planning a wedding in Ireland step four: get some help
What kind of help really depends on your set-up and your budget, but it can be difficult to manage everything from abroad. If budget allows, a wedding planner will take a lot of the work and stress of living abroad out of wedding planning. A wedding stylist may also prove particularly beneficial for couples planning from abroad, as it's unlikely you'll be able to transport piles of decor, or complete much in the way of DIY jobs before you arrive in Ireland, so if decor is high on your priority list, you may be best handing it over to a stylist to take care of.
It's also worth roping in friends and family in Ireland where possible, whether it's having a pal taste test a cake (such a hard job!) or seeing if your sister will let you deliver stuff you order for the wedding to her house rather than having it delivered to you at home, and then you flying it over. People want to help you, so take advantage whenever it can help take some of the stress out of it.
Planning a wedding in Ireland step five: packing for your wedding
Those luggage restrictions will get you real bad, man. Don't be tempted to buy things abroad that you can get at home - at least without factoring in the cost of flying it over. It may be cheaper where you live, but if you have to book an extra case to bring it, have you actually made any saving at all, or have you just caused yourself extra hassle? Planning to pack up a ballroom full of decor also means you're likely to leave something behind, or at least be wracked with a sinking feeling you did, so trust us when we say it's not worth it!
As we mentioned earlier, if possible to order stuff for delivery to your family or friends is the ideal situation, but if you're planning a destination wedding in Ireland and you're not Irish, you may not have that luxury. You can chance asking your venue if they can accept some deliveries for you, but bare in mind they likely won't accept any responsibility if they end up lost, so don't leave anything crucial to this. They also will have limitations on what they can realistically store, especially if it's for a few months, so try not to take the piss on this.
The big one that brides always freak out about, though, is packing up their wedding dress. This is one you can't really order in Ireland, not unless you can afford to fly back and forth for dress fittings through the year. If you're living on the other side of the world, shopping in your local boutiques probably makes the most sense. When they ask when your wedding is, though, give them your date of travel so there's no mix-ups - it's no good your dress being ready to collect on the 15th if you fly to Ireland on the 7th.
But how do you fly with your wedding dress? If you're flying short haul, book it a seat of its own and try to keep it flat or hanging to avoid major creases or it getting crushed. Absolutely do not pack it in the hold - the last thing you need is your wedding dress ending up in Barcelona instead of Dublin, or getting manky from being bashed around with a pile of suitcases. It may be worth ringing ahead to check what your airline's procedure is for this, but you should definitely ring ahead if you're flying long haul, and make sure you ring for each airline if you have multiple legs of your journey. Most long haul planes will have closets the air hosts can hang your dress in, in first class, to keep it in tip top shape, and you may not even need to buy it its own ticket for this. If hanging your dress isn't an option with your airline, pack up your dress in a garment bag, fold it carefully and pack it in a cabin-size hard-sided case for safe-keeping. Take it out as soon as you get to wherever you're staying, and most creases should fall out within 24-48 hours. Depending on your dress material, you may need to book it in for a steaming before the big day.
Planning a wedding in Ireland step six: the week of the wedding
We always advise that wedding couples abroad arrive in Ireland at least a week before the wedding date - give yourself some breathing room! Depending where you're flying from, you'll likely have jet lag to overcome, and there's always last minute arrangements to sort, so don't add additional stress by not leaving yourself time to get everything, including yourself, sorted!
If you're an Irish couple living abroad and you have loads of friends and family here, it'll be worth organising some nice events in that week before so you can really enjoy the wedding run-up with your loved ones, as you may have missed out on some of that wherever you're living. Whether it's an afternoon tea for you and your gals, or rallying the troops for something as simple as folding your ceremony booklets (maybe with a glass or two of vino!), it'll be nice to do it with a gang.
This bit is kind of no different than if you were planning where you lived, apart from the fact you may need to get your barings a little more than the average couple as you've just rolled into town. Make a list of everything that needs to be done, bought or packed up
Planning a wedding in Ireland step seven: breeeeathe
It's definitely more stressful planning a wedding from abroad when you can't meet suppliers or visit venues yourselves, but so long as you're organised, you'll fly it. Take a deep breath when stressful issues pop up, and remember that it will all work out - we promise! You'll be surprised at how many people are willing to help, from friends and family to deadly wedding vendors who understand the extra difficulties in planning from abroad. The key is to do as much as you can as early as you can, and then there's plenty of time for sorting issues that crop up. But we know, easier said than done!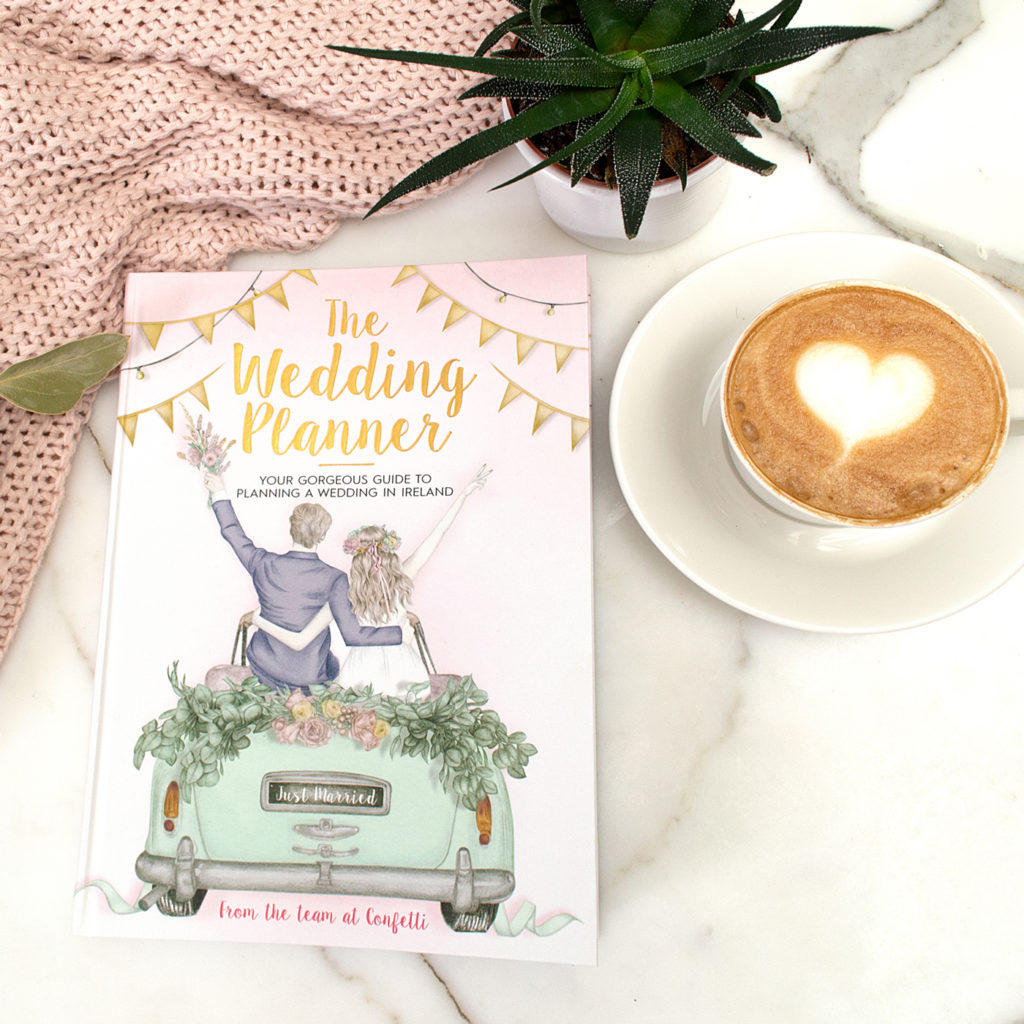 Have you bought your copy of The Wedding Planner? From the team at Confetti, it's your wedding planning bible, featuring advice on everything you need to know about planning a wedding, handy checklist and timelines, and a handy planning diary. Buy yours here!