A Confetti Promotion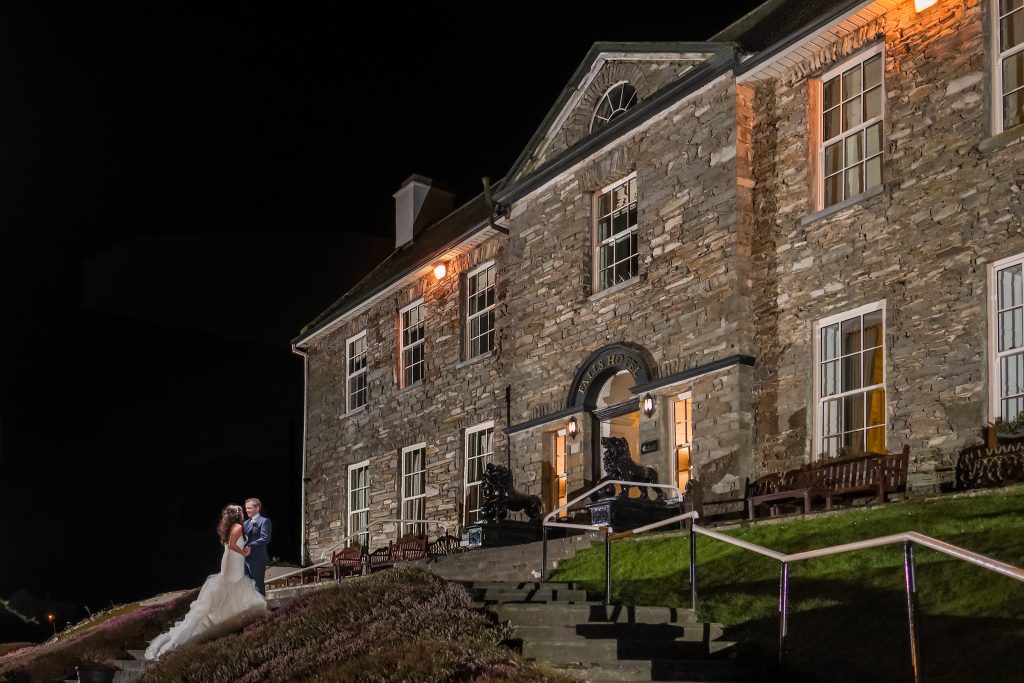 Have you seen? The Falls Hotel and Spa is our venue of the month for the month of April. The historic venue is located in the heart of Co Clare and it's surrounded by 50 acres of gardens and woodland, as well as the River Inagh and the Cascades waterfall, making it a pretty picturesque venue to get married, for both intimate weddings and weddings up to 380 guests.
We got in touch with their general manager and wedding coordinator Michael McCarthy for his expert advice on planning a wedding, choosing a venue, and upcoming trends for 2017 when it comes to weddings!
How should couples approach their wedding venue search?
The venue for a wedding is one of the most important decisions for a couple to make. Before setting out on a venue search, there are some other decisions to be made that that will influence their choice. The guest list is a big one! Where are most of the guests based, is there a central location? If guests are travelling, the venue will need to be able to cater overnight for them. The number of guests being invited will influence the type of venue also. As well as these factors, personal favourites of the couple's must be considered. It is lovely to have an evening where you chat about weddings you have been to, what you liked about the venue, anything that stands out. This is a huge help when trying to decide. Go with your instinct when deciding... If you are finding it difficult to make a final decision, call in to the venue by yourselves, have a coffee, soak up the atmosphere of the place and observe all that goes on. This is a great way to get a real sense of a place and how your guests will be treated. As they say, 'you know, when you know'!
When should a couple begin looking for a wedding venue? 
There are certain days and dates that are in demand, so if you really have your heart set on a particular date, then the more notice you can give, the better. Bank holiday weekends, Saturdays in summer, that week between Christmas and New Year's Eve are amongst the most popular. These dates can be booked from up to 18 months to two years in advance. Alternatively, if it suits you to get married in Spring or Winter and are flexible, then you may have more options and looking six to nine months beforehand should be plenty of time.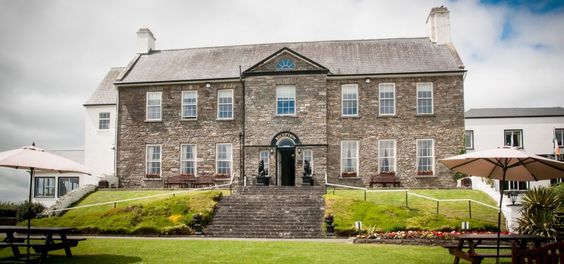 What questions should couples be asking when viewing a wedding venue?
Do prepare a list of questions before you start your search – questions that will apply to any venue you are considering – otherwise as you are in the car leaving, ones you should've asked will pop into your head! These questions below are good starter ones....
Does the venue have enough capacity to accommodate your guest list?
Is your date free?
Who from the wedding team will actually be there on the day? Will they be there for the duration of the reception?
Do you have a one wedding per day policy?
How flexible are your wedding packages? Do you have seasonal packages?
Are there any changes planned to the building before the wedding (renovations, painting etc)?
What is included as standard in your wedding packages?
What are the benefits of getting married in The Falls Hotel & Spa?
Myself and Patrick head up a dedicated and experienced wedding team here in The Falls Hotel and Spa. At least one of us is at every wedding that is held here. Our wedding couples have one main point of contact in the hotel from the first time they make an enquiry, which means that you have someone who has gotten to know you both and understands how you want to make your wedding unique and what is important to you.
Great care and pride is taken by our head chef Colm in preparing our wedding menus, the wedding meal will be talked about for a long time after and we know how important it is to serve excellent quality food. Our menus are flexible and are decided upon individually with each bride and groom.
Our Riverview suite can cater for more intimate weddings of up to 40 guests, with civil ceremonies being performed in our recently renovated Georgian McCarthy Suite. Then, our Woodlands Suite can cater for larger wedding parties of up to 380 guests. It can be made smaller for weddings of up to 150 guests – so we are happy to cater for all wedding sizes!
On our grounds, we have wonderful photographic opportunities. There have been amazing shots of wedding couples taken close to the cascades, with the river in the background. Our front steps and our manicured lawn offer the perfect backdrops. Should our Irish weather be an issue, inside, our McCarthy Suite is a wonderful room for those special photos and our original staircase has been in many a shot showing off a bridal train in all it's elegance!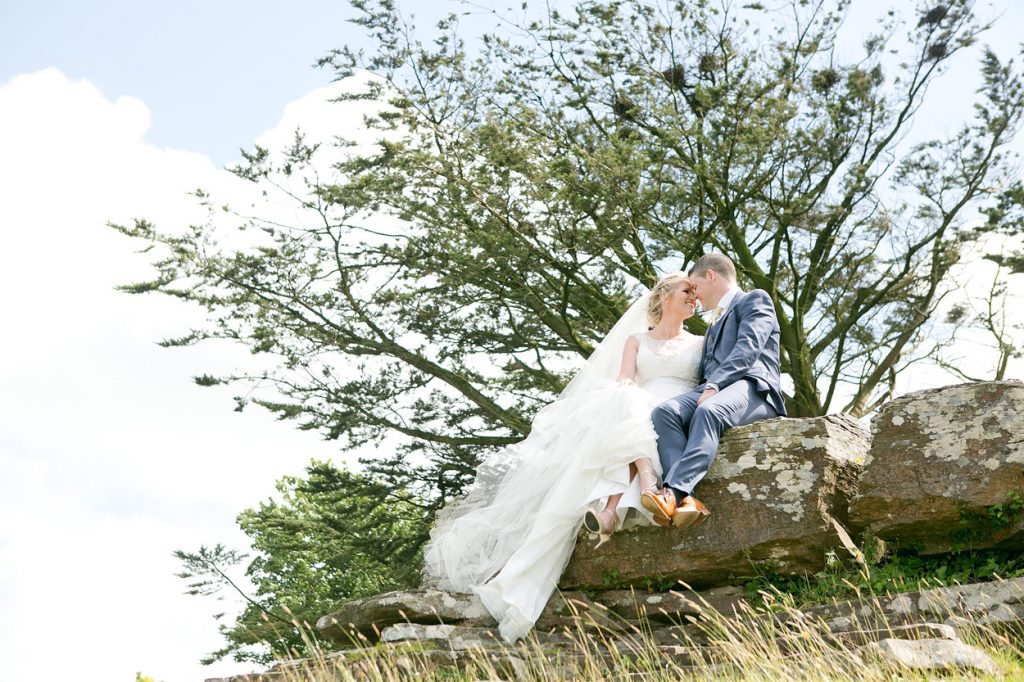 Is there a formula for planning the perfect wedding once you've booked your venue?
Many couples breathe a sigh of relief once they have booked us as their venue – it is such a big item off the list! We have a booklet of recommended wedding suppliers that we give to all our couples to assist them in their planning. It acts as a gentle reminder for the others that need to be booked. We would say that breaking down the time you have between booking your venue and your wedding date is key to planning and preparing yourselves for the day itself. Mark out dates when certain things need to be done, for example, booking the band, dress and suit fittings, meeting the florist, booking the honeymoon! Spreading it all out will make the build up more enjoyable. If there are certain jobs that can be given to the best men and bridesmaids to do, then do it! They will appreciate being asked to help out.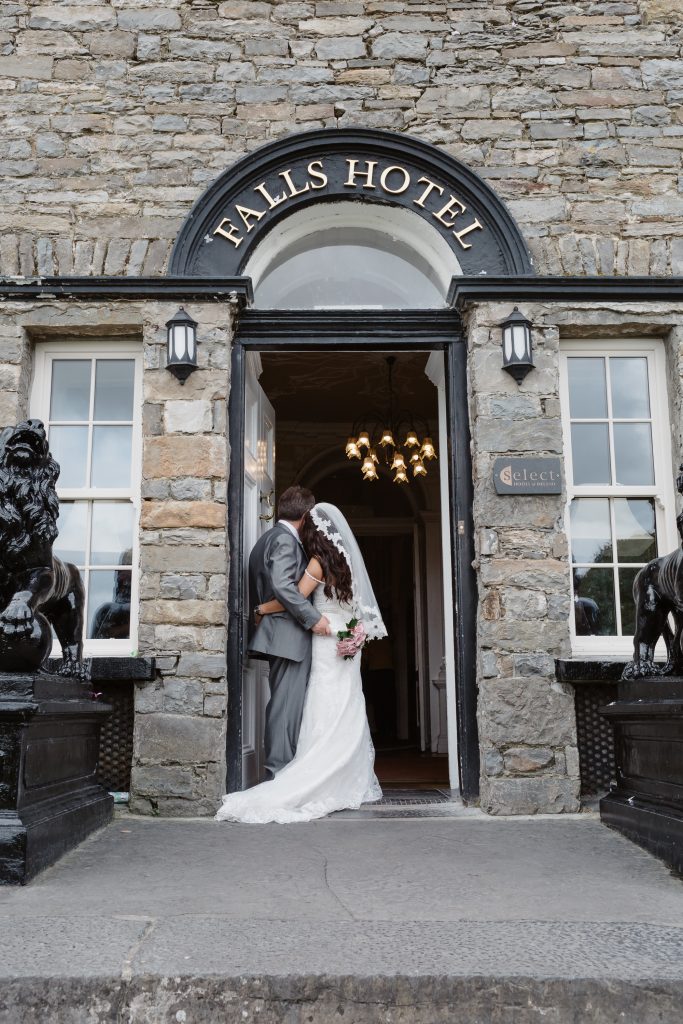 Are there any wedding trends you're seeing emerging in terms of how couples are using your venue?
We have been hosting weddings here for over 30 years and we're well known as a larger wedding venue. In the last six months, we have had some beautiful smaller weddings, mostly mid-week where the wedding party and guests have had a three night stay, and have almost had exclusivity of the hotel to themselves! With our spa and having beauticians and hairdressers close to hand in Ennistymon, the wedding party and guests can just arrive, have a pre wedding casual get together the night before, get ready here the following day, and have a grand finale the day after the wedding! It is relaxed and intimate and is a lovely trend we have observed emerging.
Another recent trend is balloons! We have seen some wonderful, mind-boggling balloon displays at recent weddings– they are a wonderful way of expressing a couple's fun side – everyone loves balloons!
You can find out more information about The Falls Hotel and Spa by visiting their website or catching up with them on Facebook or Instagram. They can be contacted on 065 7071004 or at [email protected]