As much as cocktail hour goes down a treat (everytime), we love hearing about new and interesting ways to keep guests entertained. If you want to steer clear of the usual cocktail hour reception then this list of seven alternative ideas will keep your guests in the best of form. We say the more unusual, the better!
1. Fair game
Games aren't just for kids. Putting on an array of lawn games is a great way of getting everyone in high spirits and is also a fun way of both families getting to know each other better. (Just watch out it doesn't get too competitive!)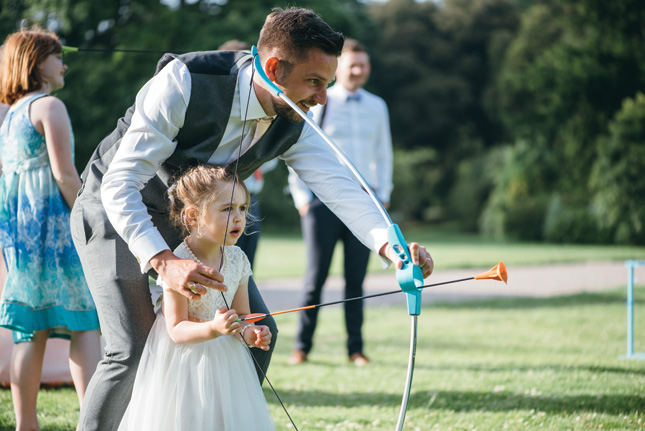 Image: Tim and Steph's real wedding by Francis Meaney
2. Best wishes
If you've been to any weddings recently you may well have seen calligraphy at some point. Calligraphy and acrylic writing is very on trend right now and it's not hard to see why. When it comes to the entertainment factor we're loving the idea of hiring a calligrapher for the day. Swap out the tried and tested guestbook idea and instead let your guests have their advice and well wishes written out by your calligrapher. People will love seeing their thoughts and advice in such beautiful writing!
3. Creation stations
Let your guests get creative! We can't get enough cute little creative areas as part of wedding receptions. How cute are the make your own flower crown tables? Your florist would definitely be more than happy to help you choose the perfect florals for an area like this. If flowers aren't suitable for your theme then maybe you could try fake tattoos that are personalised to you and your partner!
4. Fashion forward
Your guests have pulled out all the stops and are looking fabulous. Celebrate that by hiring a fashion illustrator to put pen to paper and gift your guests a beautiful drawing of their outfit. You'll get endless hours of entertainment looking at the illustrations and who wouldn't enjoy receiving a beautiful portrait of themselves looking their best? Not us that's for sure.
5. Delicious delights
If you plan on having an early ceremony sometimes the wait between your service and dinner can be tough. Especially if you were up at the crack of dawn to get ready. Your guests will most definitely appreciate some nibbles while they enjoy the first part of your reception. Food trucks are becoming more and more popular so there's a wide range to choose from if you'd like to include one in your big day. If you're having an outdoor wedding then maybe you could select more than one and create a picnic setting for your guests!
6. Go mad
Nothing says entertainment like mad libs does. We love the idea of preparing a mad libs type game for your guests to play during the reception. It can be based on stories such as how you met, the first date or the proposal. Either guests can keep these as a memento or your can collect them to enjoy alongside your photos from the day. Another idea to incorporate mad libs is to ask the best man or another member of the bridal party to print out a copy of their speech and use that to work off of. It'll ensure guests are non stop laughing and it can alleviate some of the stress for the speaker.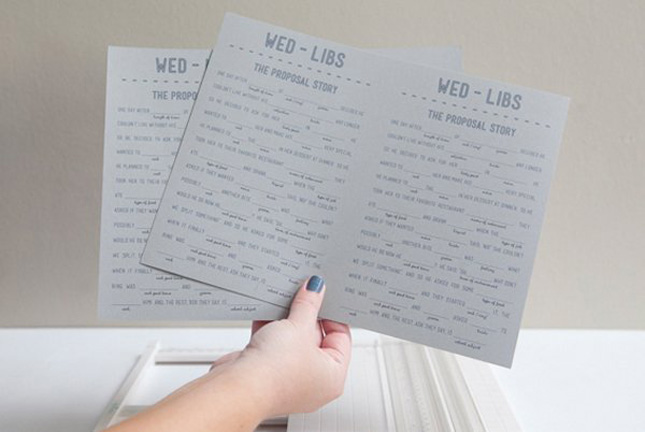 Image: Something Turquoise
7. Carnival cuteness
Remember as a child how happy you'd be at a carnival? Now imagine how happy you and your guests will be if you incorporate carnival elements to your reception. It can be anything from a popcorn or candy floss machine to live performers. Carnival themed entertainment will set your day apart from the rest and will have people talking for months afterwards!