If only wedding planning was all peonies shades and macaron flavours. You'll have established by now that the hard bits include family politics, the seating plan (arg!!) and, of course, budgeting. But it doesn't have to be a total mare and can actually be quite satisfying when you realise the clever ways you can save yourself a few quid. Here's our 50 easy ways to plan your wedding on a budget.
Prioritise
What is really most important to you? Focus on areas that make your heart go pitter-patter, and you'll feel OK about skimping on the rest. As for your guests, most say the venue and entertainment are the most memorable parts.
Recruit
Think of it as cost-free outsourcing. Gather your inner circle and play to their strengths. For example, ask that pal with the beautiful handwriting to write your invitations.
Be Ruthless
The easiest way to whittle down your guest list is to omit children and co-workers. When it comes to couples, invite spouses, fiancés, and live-ins only.
Spend on the party, not the party
Do you really need five bridesmaids? Keeping the numbers down for your wedding party means means less money spent on dresses, bouquets, boutonnieres, presents, suit hire and extra transportation.
Embrace the Off-Season
Opting for a wedding outside of the summer or festive season will genreally cut venue costs by up to 20%.
A blank canvas is not always best
Choosing a venue that already has gorgeous decor will save you a bundle. Hiring beautiful Chiavari chairs and a unique lighting setup can really transform a space, but can you afford it?
Hire an Expert
It's sometimes possible to save money by spending it on a wedding planner because they 1) are not shy when it comes to haggling, 2) have years of experience working with brides on budgets, and 3) have good relationships with vendors.
Yes to All-Inclusive
Choosing a venue with built-in extras like a personal wedding coordinator, on-site ceremony location, decor extras or a complimentary drinks reception can save you serious sponds. These extras add up to thousands you won't have to spend.
Create Your Own Dot-Com
We're serious paperie fans, but if you're on a tight budget, you might decide to save on paper, printing, and postage by sharing your wedding details online. A simple blogspot or wordpress blog is user friendly and free.
Forgo a Program
Think about it – if you were at the wedding, would you really miss the program? If you're keen to include one, maybe display it on a large chalkboard that's visible to all instead?
Take up Hunting
Bargain hunting, that is. You can find everything from fabric and trim to antique Mason jars on eBay, Etsy or at local flea markets. Half the price, twice the charm.
All in one
Having your ceremony at your reception venue means no transport costs.
Choose Some 'You' Shoes
Buy shoes that you'll actually wear again after the wedding -- something you more than likely won't do with white heels. Metallic and nudes are the obvious choice, but if you want to wear bright pink, polka-dot pumps that you'll love forever, all the better, we say!
Supersize Your Flowers
Choosing bigger buds means you'll need fewer stems, thereby helping your bottom line. African marigolds, hydrangeas, gladiolus, and stargazer lilies easily fill a room and a ribbon-tied bunch of baby's breath or lavender gives a dreamy, romantic feel. Or go bold and bright with single oversized sunflowers.
Make Your Flowers Work Overtime
One of the simplest ways to save can also be one of the loveliest. Let potted flowering plants act as both living centrepieces and favours that guests can tote home. Clever!
Score a Sample Gown
Sign up for bridal boutique's mailing lists and keep an eye on social media to see when sample sales are happening. Shop a size too big and have it custom altered to fit.
Borrow Something
It's actually part of the wedding credo. Whether it's your mother's veil, grandma's earrings, or brother's cuff links, borrowing will not only save you money, it will add an extra sentimental touch.
Eat Family-Style
BBQs, buffets and round table feasts add ambience and act as an icebreaker. How about a rustic Italian feast of gourmet pastas, pizzas and antipasti? Or a vintage tea party? Think 'festive ambiance' instead of 'Sunday roast'.
Veto Overpriced Bubbly
Substitute Champagne with a nice Cava or Prosecco. You're bound to enjoy the research on this one!
Don't Bother with Bubbly at all
A Champagne toast is lovely, but you'll find that a lot of guests won't touch it, and some will have a sip just because it's there.
Buy Your Own Booze
See if your venue will let you purchase your own alcohol, but remember to weigh up the cost + corkage fee to make sure it's worth your while.
Give Something Homemade
Send your guests home with pots of your Granny's famous jam or aunty's yummy brownies - budget and belly-friendly.
Pool the Presents
Instead of registering for stuff, ask guests to contribute to your honeymoon fund. Check out sites like myhoneymoon.ie
Make Your Own Fun
Table crosswords, photo challenges and treasure hunts will ensure that guests have fun and cut the costs of more expensive entertaining elements.
Do It Yourself
Make and do jobs are time consuming, so we don't recommend that you undertake too much, but it can be fun to try and create some things yourself. Not sure where to start? YouTube is great for easy-to-follow tutorials and check out our DIY inspirations on Confetti.ie
Foodie Foliage
For a nature-inspired affair, use potted herbs as centrepieces. They'll offer a pleasant scent and guests could even embrace their inner Jamie and snip off their own for din-dins.
Give your 'Wedding Day Soundtrack' as favours
Burn about 12 songs you have chosen to be played at your wedding and slip the CD into a simple homemade card envelope, tie with a ribbon and include a nicely written track list.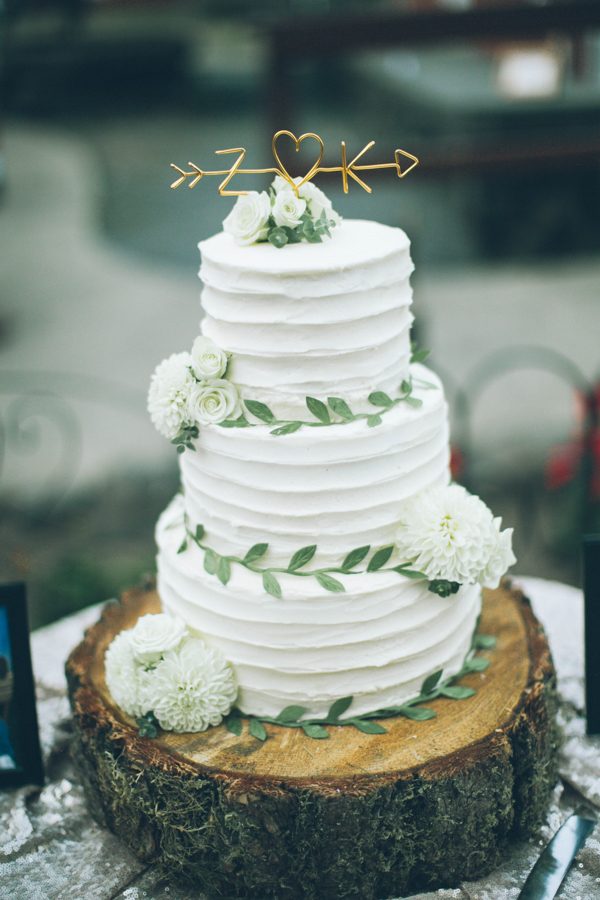 Image: From the daisies
Simplify Your Dinner Menu
Serve your cake as dessert - a lot of food goes uneaten at weddings - you're paying for that!
Something Old
Use some already-owned personal mementos as décor. Pre-loved leather bound books stacked beneath a simple flower arrangement next to your granny's crystal, used as candle votives would look great and adds a personal touch. Don't be too fussy either; dog-ears and chips only add character.
Bridesmaid's Dresses Don't Have to be Bridesmaid's Dresses
Scour the high street and you're likely to save yourself hundreds of yoyos.
Church singers and bands and DJs, oh my!
Three separate sets of performers will cost you a pretty penny –research your options for groups that will perform at your ceramony, reception and afterparty.
Make Your Own Buttonholes
Get creative with lapel corsages and fashion your own from peacock feathers, oversized buttons or paper pinwheels.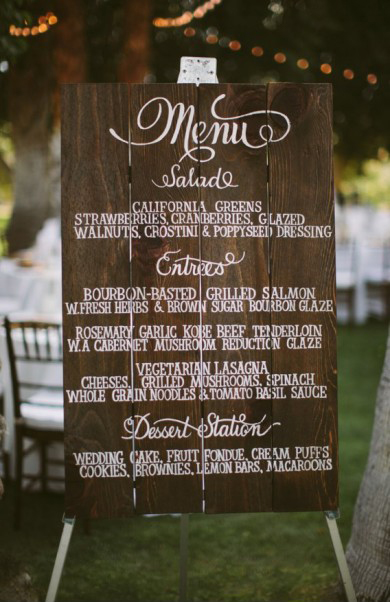 Image: Laura Goldenberger
Skip Individual Menus
Display one large menu at the entrance of the reception hall instead.
Give One Favour Per Couple
Favours get left behind all the time and a lot of your man friends won't be bothered anyway.
Go Non-Traditional With Dessert
After the main, guests are often full or eager to leave their tables to mingle at others and as a result, sit-down desserts can go uneaten. Create a dessert buffet and enlist the help of keen bakers, or source quality shop-bought produce. Some guests are more sweet-toothed than others, so let them create their own desserts, or opt out completely.
It Pays To Talk
Ask married friends to review their own saves and splurges and what they'd do differently.
Have your Stationery Do Double-Duty
Incorporate your guests' names into their individual menus and omit place cards. Or create place card favours by allowing guests to take home the pretty card holder, or have their names displayed in a small inexpensive picture frame.
Simple low-cost lighting
Create a romantic entrance by lining the paths with simple tealights dropped in a jar. It's amazing how affective basic Maxwell House jars look clustered amongst others of different shapes and sizes. Just make sure you remove the labels thoroughly to avoid your magical day looking like a company sponsored event!
Buy him a sharp suit
Your groom doesn't have to spend a fortune on a typical wedding suit he'll never wear again. Invest in a well-tailored suit he can wear for years and choose a wedding appropriate shirt and neckwear.
Don't overdo it
Remember that as special as your wedding day is, your focus should be your marriage. If not inviting your mother-in-law's friend's sister means you can meet your next mortgage repayment, then so be it. Starting your new life together in huge debt is not worth it.
Consider a midweek do
Marrying on a Thursday could save you an extra 10%, just make sure to give your guests plenty of notice and if you have school teacher pals, do it during the holidays.
Don't spend a single penny until you've written it down.
You know you have to budget and you'll organise yourself as soon as you have time, right? In the mean time you're booking things and picking up bits and pieces as you go along. You will be far stricter if you're operating from a spreadsheet – do this first! And keep no secrets from each other about spending.
Less is more
Your band may offer a more cost effective package for fewer performers on the night. The four-piece version, minus the big brass section might be all you need.
Spend savvy
That credit card you're using for wedding expenditure – does it have the best interest rate? And what about your savings – could they be working harder for you elsewhere? Same goes for any financing you're getting from the bank – make sure you're getting the best deal available. It all helps.
Pay with your gifts
Ask your best man (or whomever is looking after your cards) to pop open a couple to pay the band and DJ that evening. Make sure he writes down the details so you know who to thank for what. This might mean that band that were slightly over budget are back in the game.
Ask clever questions
Is VAT included in the cost? Is there a delivery charge? What exactly is included? What are your optional extras and how much do they cost? …Forearmed is forewarned.
Gifted
Whilst you're not likely to ask your neighbour to pay for your printing costs, it might be OK to ask your sis to sort out the candy bar instead of giving you a cash gift. Or maybe your bestie could hit the flower market and make your centrepieces instead of a monetary pressie?
Helpful Hen
Make your hen do double duty by teaching you and your 'maids something useful to do with wedding planning – flower arranging or calligraphy lessons, anyone?
Rent It
If you're not the sentimental type, consider renting your wedding dress from one of Ireland's great rental boutiques.
Something borrowed
If a friend has a fancy car, ask them can you borrow it for the day. You'll save a tidy sum and they'll feel like they're doing their bit.