If you've found yourself with a new ring on your finger and a huge party to plan, firstly, a huge congratulations. What an exciting time!
We wanted to welcome you - newly engaged gals and guys, as well as those of you a little further along in the wedding planning journey - to Confetti.
We're sometimes asked if we're 'over' weddings - and with 20+ years in the biz, we're happy to report that nothing could be further from the truth. We still regularly tear up reading the beautiful love stories we're sent daily, and there isn't an episode of Say Yes To The Dress we haven't seen. We truly love every part of it with all our wedding-obsessed hearts.
Where do I find Confetti?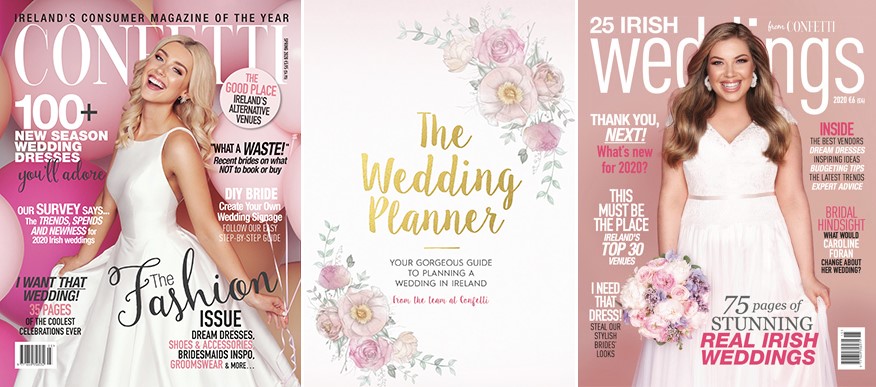 Weddings are constantly evolving and we're here to help on all fronts. Here, on Confetti.ie, and in each issue of Confetti Magazine, which you'll find on shelves in all good newsagents, you'll find all the most up-to-date real weddings where you can 'borrow' ideas for your dream day, as well as the latest trends in everything from bridal fashion to wedding decor, and expert advice on every part of planning, all with our distinctly Irish style and unmistakeable Confetti twist.
This is a bullsh*t free zone - you won't feel any pressure to spend big or follow traditions that don't fit your day, here. This is about you both celebrating your love for one another your way, and that's at the heart of everything we do.
For the newly engaged bride or groom who's starting from scratch, three years ago we dreamed up The Wedding Planner, a book that puts our wedding know-how to use, and answers pretty much any question you possibly have about planning. It's your planning oracle, wedding bible, and go-to no-nonsense guide to absolutely everything you need to know.
As well as advice on every part of wedding planning, it also features every checklist and timeline you'll need to make planning as pain-free as possible, as well as vendor directories to some of the best wedding suppliers in Ireland, and a 12-month planning diary where you can fill in your appointments and reminders to keep you on track. You can buy yours for €19.95 here.
Here, on Confetti.ie, we have an ENORMOUS archive of all things wedding related, so let us help show you around so you can get going your wedding planning, armed with all the expert advice and gorgeous inspiration you could need...
JUST ENGAGED
Starting off wedding planning is a whole new adventure. It's exciting, but it also can be intimidating if you don't know where to even begin. Picking up The Wedding Planner will go a long way to helping you get your head around this whole journey.
We also recently created a whole new Just Engaged area of Confetti.ie for those of you rocking a new rock. Jump into the posts here to find starting points like a five step guide to getting started planning and tips on the wedding vendors you need to book first, as well as detailed guides to adding up a wedding budget you can actually afford, and getting your guest list just right.
Head to the Just Engaged area for loads more!
REAL WEDDINGS
Couples often tell us that the real weddings section is their favourite and we're not surprised. We feature some of the most beautiful and inspiring weddings that happen every year around the country from small city ceremonies to huge country house weddings to destination dos around the globe, and nothing is more inspiring for your own day than looking through them all.
Whether you find your dream venue, a rockstar wedding supplier you can't wait to book, or some stunning decor ideas that would be perfect for the day you're imagining, there is endless inspiration in what other couples have done before.
For hundreds of Irish weddings of all shapes, makes and styles, dive deep into our real wedding archive.
WEDDING VENUES
Your wedding venue is likely the first wedding booking you're going to make, and it's a big one. It's the backdrop for your whole day, and most of your other wedding supplier bookings will fall in around the venue you choose.
We've got hundreds of wedding venues in our supplier directory, but we've also showcased many of them with wedding venue lists for every category of venue and location around the country. Whether it's a beautiful country estate, a historic Irish castle, a DIY barn, an intimate restaurant, a huge marquee or a festival site, we've likely featured your dream venue somewhere on Confetti.ie. Now, you just have to find it!
WEDDING PLANNING ADVICE
You won't need it all right this second, but we have an almost endless archive of wedding planning advice. If you've got a planning question, search the site and you're bound to find your answer.
Head to our Planning section for a treasure trove of advice, top tips, checklists and timelines to take the stress out of the whole process - we're here to put 20+ years of wedding knowledge to good use and make planning easy for you. Whether you don't know the appropriate time to send your wedding invitations or you're not sure what you're forgetting in the last week before your wedding, we've probably got the answer.
Find the answers to all your wedding planning questions in our Planning archive.
WEDDING DRESSES, BRIDESMAID DRESSES, AND GROOM'S SUITS
Getting to see the fashion choices brides and grooms alike make for their wedding is one of the most fun parts. We're completely obsessed with bridal fashion, and we just love seeing how couples express their own style for such a big day.
We've featured hundreds, if not thousands, of beautiful wedding dresses over the years, and we love seeing the new trends each year and predicting the ones that are going to be huge with Irish brides. You won't be short of inspiration here, and we've also got a complete guide to choosing your wedding dress to help guide you along the way.
We also have guides to groomswear and endless bridesmaids fashion inspiration to boot.
And when it's time to go shopping, check out our recommended bridal boutiques too.
For all the ideas you could possibly need to choose a wedding dress, suit or even your bridesmaids' dresses, dive deep into our wedding fashion archive.
CHOOSING THE BEST WEDDING VENDORS AND WEDDING SUPPLIERS
No wedding is complete without the dream team of wedding vendors to make it all happen. And we happen to know just about all of the best wedding suppliers in Ireland.
Our Confetti Recommended Suppliers Directory is updated every year, and contains a curated, exclusive list of some of the best in the biz to suit every wedding. We're constantly adding carefully chosen wedding vendors to our Confetti network, so you can check back regularly depending on what category you're looking to book.
We also have guides on how to choose the best wedding vendors for you day, and the wedding suppliers to book first, to help make your decisions a little easier.
KEEP UP TO DATE ON ALL THINGS WEDDING RELATED
Confetti Magazine is published seasonally, so you'll find a new issue on shelves every three months. Our spring issue usually lands in December, followed by our summer issue in March, our autumn issue in July and our winter issue in September, so keep an eye in your local newsagents for each new issue.
Every May, we also release our annual, 25 Irish Weddings, which as the name suggests is packed with inspiration from real Irish weddings for you to borrow from.
But don't worry, we've plenty to keep you entertained and inspired throughout the year on Confetti.ie with fresh wedding ideas and advice every single week. And that's not all - there's even more where that came from on our Instagram feed and Facebook page, which are constantly being updated.
We're here to be your wedding planning pals, so don't be a stranger! We're always here to help, and we run regular Q&A sessions on our Instagram Stories to help you with your wedding planning dilemmas. Missed our last one or got something you want us to cover on the site or in the mag? Not a problem - DM us with your query or get in touch by email here.
And when it's all over and done with, don't forget to ask your photographer to submit your wedding to us through our Real Weddings form - we are always looking for gorgeous and original Irish celebrations to feature!
Good luck!