Compiling your wedding guest list is one of the first things you need to do once you start wedding planning. But where do you draw the line?
Most wedding planning couples start off believing that their family and friends will be different to all those horror stories you hear from other people's obviously deranged loved ones. It's only a wedding right? Who cares if you're invited? A lot of people, it turns out, are happy to make it known that they're unhappy with your wedding guest list choices, and very few couples escape at least one or two scrapes with guest list drama.
So, how can you do your best to minimise any issues with your wedding guest list? Let us help you with wedding guest list etiquette and tips to help you one your way.
Who do I have to invite to my wedding?
Once you get counting, you'll be shocked at the number just the bare essential friends and family add up to, without a plus one or office head count considered. So how do you stop your wedding guest list spiralling out of control? You've got to get ruthless.
There are no hard and fast rules, especially because everyone's family set-up is so different, but you'll know the people who are your Desert Island Discs of wedding guests, and those who it would just be nice to have. You won't be able to leave out the former, but some tough cuts might have to come from the latter.
For most people, parents, siblings, children, close friends, and grandparents are all must haves, while aunts, uncles, cousins, colleagues and less close friends fall into a 'nice to have' list. If one of your aunts is like a second mam to you, or you have a cousin that's like a sister to you, or your work pals are your main gals, obviously they go straight on your must-have list - but that will differ for every couple.
Some people make an A-list and B-list of guests, keeping the B-list for when A-list guests RSVP no, but others find there's too much admin and diplomacy involved in this, so it's really up to you, and how many people you're having to cut from the main guest list.
Who can I not invite to my wedding?
You can draw lines wherever you want to, but it's often easier and there's less drama when you cut people in categories. For example, if you're inviting one aunt, it probably makes sense to invite them all, but does that mean you have to invite all your cousins? Not necessarily. If no cousins are invited, the one that's likely to kick up a fuss has less basis to complain - it's not personal, it's just down to budget or space constraints. However, you'll have to decide what's appropriate for your situation - you may not be able to invite all your aunts and uncles, but be particularly close to one or two, and obviously you won't want to leave them out.
There are some easy categories you can tackle on your wedding guest list, but these are ones you'll definitely have to hold firm on:
There's the big one: are you inviting kids to your wedding? This can be a tricky topic so we've covered it in detail here, including the pros and cons of inviting children to your wedding, and how to deal with people if you decide you don't want little ones involved in your big day.
What about your work pals? Depending on the size of your office, you could see your guest list double and triple if you were to invite everyone. Most people invite just their closest work friends, the people they would see outside the office, or the people you probably have a side Whatsapp group with. Check out our complete guide to deciding who to invite from work here, and our take on inviting your boss here.
What's the wedding guest list plus one etiquette?
So, the rule of thumb is that if the couple are married, together long term, living together or engaged, the partner gets a plus one, no questions asked. If they're only together a wet week, it's really at your discretion. There may be one or two people who won't know anyone else and who you know would really appreciate the plus one, and it won't ruffle feathers to extend it. However if you've one or two single pals who'll know your whole gang of friends, they won't find themselves lonely without a plus one.
Tradition has it that your wedding party get a plus one, regardless of their relationship status. While proper etiquette says you should extend the invite, but in our experience, it's actually not necessary. If your bridesmaid is single, chances are she won't want to bring a mate only to have to leave them hanging while she tends to her bridesmaid duties. If she starts seeing someone a couple of months out from your wedding, perhaps she'll want to bring them along, and by all means, let her, but don't worry about including it on the invites if she's single when you're sending them out. You can just let her know yourself later that there's no problem if he or she tags along.
Do I have to invite my parents' friends?
This is a tricky one, because who's paying plays into it. We always say that if your parents are paying in whole or in part for your wedding, the least you can do is include a table or two of their pals. They're footing the bill for your friends, after all! If they're not paying, it does free you up a bit to say no without biting the hand that feeds, but if you have the space, it's sound to offer them the option of inviting a few of their friends. That way your dad can invite his best friend who has watched you grow up, and your mam can invite her business partners who invited her to their son's wedding last year, or whoever it might be. Just give them a limit, let them decide who should take those places - and make it clear that you've no more seats left after that, if you're stretching the space you have already.
Plus, think of this way, if your parents are off playing with their friends John and Mary, they won't be fussing over you for the whole night. Win-win!
Do I have to invite someone just because they invited me?
The short answer is no, you don't. It is nice to be able to offer the return invite, but your pal might have had a 350 person black tie ball, while your guest list could be less than 50 people. You simply might not have the space to invite people simply because you were invited to theirs, and especially if you didn't end up going. This is often the case with big families and cousins - perhaps one cousin invited everyone in the extended family but you won't be doing the same, in which case, it may seem odd to just choose one or two based on the fact that they ask you to theirs. If you're not close, don't worry too much about it, but try to keep the case the same across the board.
If in doubt as to who you have to invite and who you don't, consult our wedding guest list flowchart: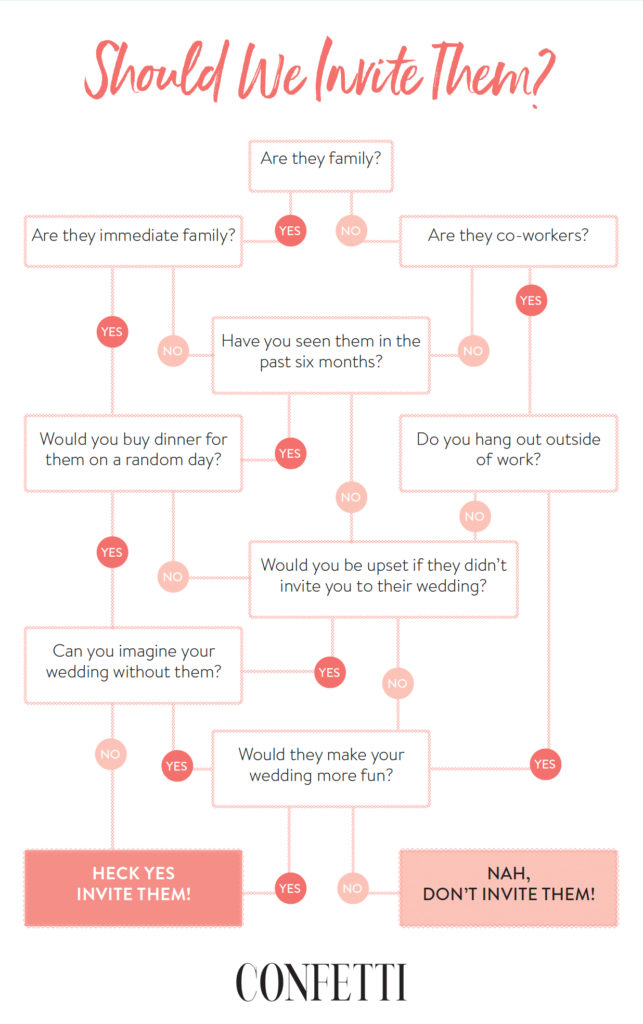 Don't lose this flowchart - pin it to Pinterest. Are we Pin-pals? Click here to join the fun.