It's coming up to Valentine's Day, which means plenty of people are looking for proposal ideas and wondering how to propose. We got you!
You're hopefully only going to do it once, so you want to make sure you're nailing your proposal ideas. Whether your partner would adore a huge, romantic gesture, or you reckon they'd much prefer something a bit more intimate, how to propose will mostly come down to who you guys are as a couple.
But that doesn't mean we haven't heard loads of gorgeous proposal ideas from real wedding proposals - so we thought we'd share what they came up with when it came to how to propose. Give us your proposal ideas, team!
11 Irish couples tell us their wedding proposal ideas
Aoife and Will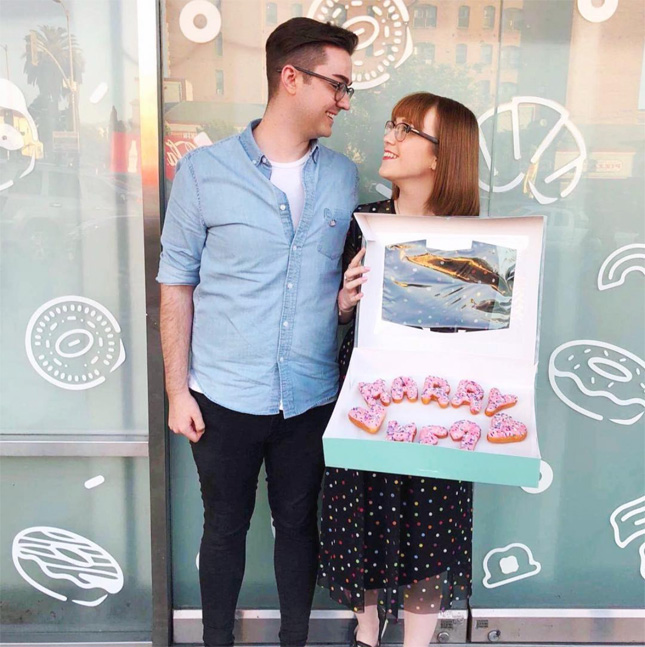 Squeaaaal! Our very own Aoife is engaged! Aoife and Will met online four years ago, and we're not sure we've seen them apart since. Will surprised her on a trip home to see his parents in California by proposing on Thanksgiving morning. "He brought me down to the beach on the premise of getting out of everyone's way during Thanksgiving prep. The beach was packed with early morning surfers so we walked out to a quiet jetty and he proposed with a ring donut, because they're my absolute fave. I said yes before he'd even produced the real ring," she laughs.
Will was in for a surprise himself, because not short of proposal ideas herself, the night before Aoife had ordered 'Marry me?' doughnuts to propose to him later in the trip when they were in LA. "Once we were already engaged, I sort of forgot to 'plan' the proposal beyond picking up the doughnuts. I ended up asking him to marry me, via the doughnuts, in the car park of this cute doughnut place. He almost forgot to say yes, the whole thing was so surreal," she says. You better believe there will be doughnuts involved at their wedding this August.
Aisling and John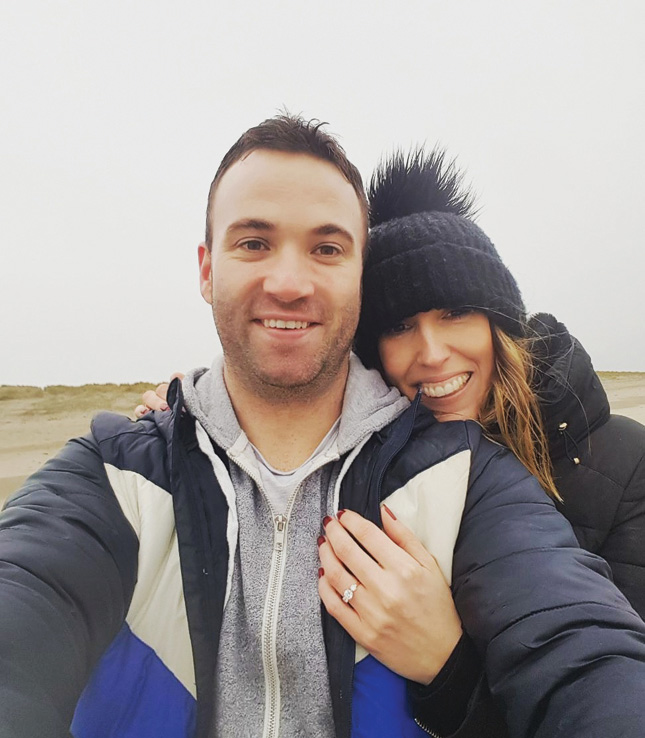 Festival goers, Aisling and John met at Forbidden Fruit in 2012, which they were both attending with mutual friends. "We spent the day together and went to a party with our friends that night. I went back to Sligo and John to Kildare without having even kissed," she jokes. "However, when I got home, I had a Facebook message from John saying that he didn't have the 'brains or the balls' to ask me for my number, but that here was his if I wanted to text," she continues.
This started weeks of long distance dating for the couple, using any excuse to meet up. By August that year they were official and both living together in Dublin, shortly after. "John proposed on Christmas Eve on Enniscrone Beach, as it's my favourite place to go when I'm home. At the largest sand dune, aptly named the Valley of Diamonds, he went down on one knee. After some unladylike shock induced expletives, I said yes and we've been celebrating ever since," she laughs.
Aine and Adrian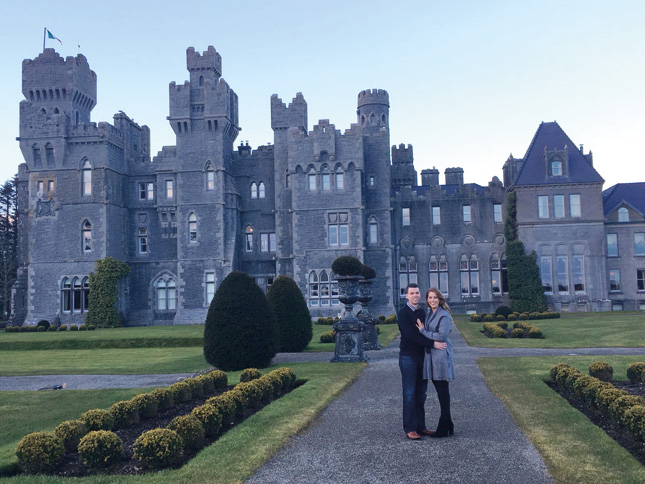 After eight years together Adrian swept Aine off her feet with his romantic, fairytale proposal at Ashford Castle. Surprising her with a night away in the castle was only the beginning. "The day was a whirlwind of events from being wined, dined and truly pampered," Aine remembers. Later on that evening Adrian arranged a 'mystery tour' which eventually led Aine out to the gardens. "When we arrived at the Tollman garden there standing proudly at the illuminated fountain was my Adrian. He got down on one knee and asked me to become his wife". She of course said yes and the pair spent the rest of the night celebrating in style.
Katie and Darran
Wedding photographer, Katie and her fiancé Darran were together for nine years before getting engaged. "I had a really busy wedding season and Darran booked a weekend away for us, to celebrate. Our destination was a cabin in the Wicklow countryside with an outdoor hot-tub and five jack russells. While I was lushing it up in the hot tub, Darran was preparing my 'surprises'. We went back to the cabin and there was a big box in the middle of the room. In it, was all my favourite foods. Aungier Danger donuts, cheese, crackers, chutney, cold meats – heaven! He'd also packed a bottle of pink Moët and my favourite Champagne flutes, because he knows I love good glassware," laughs Katie. "He then got me to close my eyes and presented me with this massive box - I spotted that tell-tale tape on the box and squealed - he'd finally paid attention to my very obvious hints and got me the Hippenings Balloon in a Box! So out it floats, hearts inside, hearts on the string and a note at the end saying 'Katie 'sexy pants' Kavanagh, I want to annoy you for the rest of your life, will you marry me?' I was shocked – I didn't think it would happen that weekend," says Katie. She, of course, said yes and they spent the rest of the weekend in their little engagement bubble.
Gyann and Lynda
Dublin Castle was the perfect choice for Gyann and Lynda's city engagement. "The tour had finished and I was trying to get Lynda to go out to the gardens, but she wanted to explore the castle more. She'd probably heard more of what the tour guide said, than I did," laughs Gyann.
Unbeknownst to Lynda, Gyann had hired Éadaoin of Firechild Photography on hand to capture the moment that she proposed to Lynda. Once in the gardens, Gyann spotted Éadaoin and asked her if she would take the couple's photo. Careful not to rise any suspicion with Lynda, she agreed, but said she was working on a project and asked if it would be ok to take one on her own camera first. "It was at this point, as it was all about to go down (or Gyann was about to get down on one knee…) that Lynda tried to tell Gyann to look at the camera," laughs Éadaoin. "Still shooting, tears blinding me, face broke from smiling, Gyann finally told Lynda that she'd hired me, and it all started to become clear," Éadaoin remembers. After, they all went into town to shoot some gorgeous portraits in Love Lane and Dame Lane, and share a whiskey together to celebrate. "I left Gyann and Lynda to their amazing new life together with the biggest buzz in my heart," says Éadaoin.
Kevin and Jeni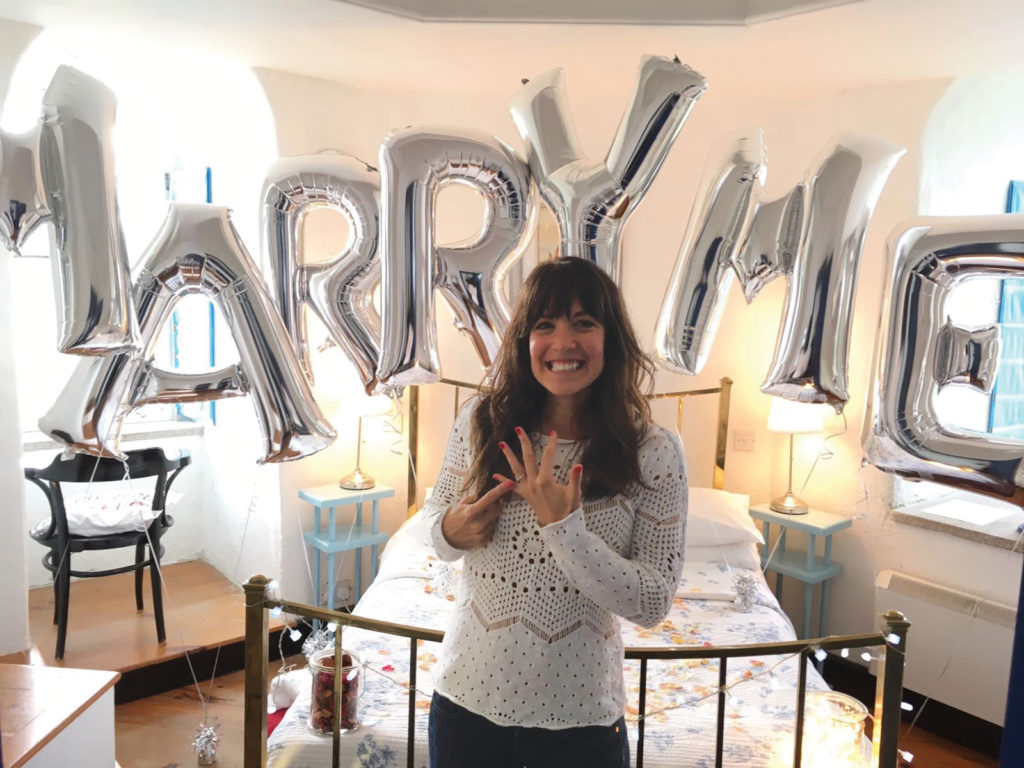 Kevin and Jeni were introduced by friend in 2009, but their first date didn't happen until 2012. "I emailed Jeni suggesting we meet for food in Cornucopia and perhaps go for a drink after. I didn't directly call it a date, so as I was being a bit vague, Jeni responded equally so saying she "might pop in". I was nervous she wouldn't show up, so I had brought an Irish Times with me just in case - Jeni teases me about that still," laughs Kevin. "We had a wonderful evening and I knew straight away that she was a special girl, and someone I wanted to know more about."
The proposal took place at Wicklow Head Lighthouse in June of this year, where Kevin had planned a romantic night away for Jeni. "I planned to surprise Jeni, first with the stay in the lighthouse and then second with the proposal. I placed 'Marry Me' balloons, spread rose petals and strung fairy lights in the bedroom," says Kevin. Once he'd picked Jeni up, they drove back to Wicklow together and Kevin told her they'd be staying in the lighthouse overnight. Jeni was excitedly running around the lighthouse, and when she reached the bedroom, all became clear. "I dropped to one knee on the steps and began my little speech, but as I looked up, she was quiet - she hadn't heard a thing I said as she was too busy reading the balloons," Kevin laughs. Jeni, of course, said yes and they planned an Italian wedding last year.
Margaret and Will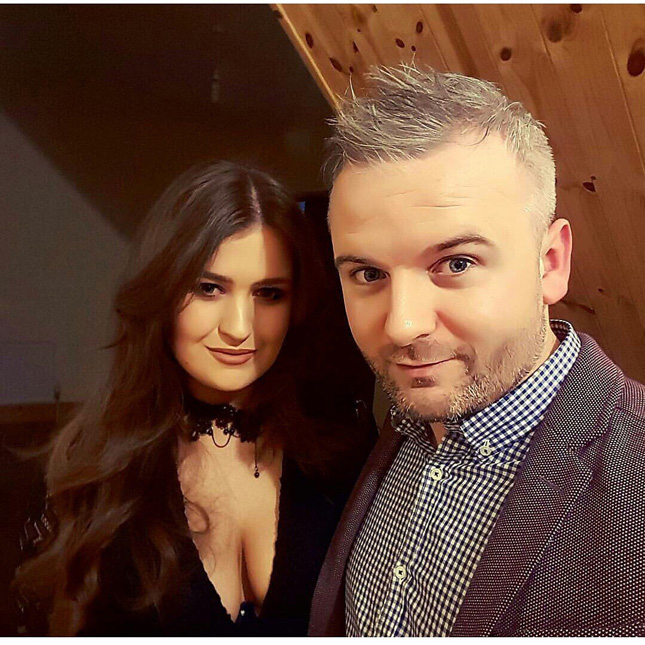 Although Margaret and Will had always lived quite close to each other, it wasn't until they were introduced by mutual friends, that they really hit it off. "We met on my birthday four years ago," Margaret remembers. Three years later and they now have a beautiful son, Luca. Will knew that Margaret was the one for him, so he popped the question on the 24th of December 2016. "Just a week after we had moved into our new home, on Christmas Eve, I came home to find him on bended knee. He had arranged candles in shape of a love heart on the floor and he even designed my beautiful ring - it's just so perfect," says Margaret. Confetti Staff Editor Aimée is particularly excited to witness Margaret, one of her best friends, tie the knot.
Danielle and Sergio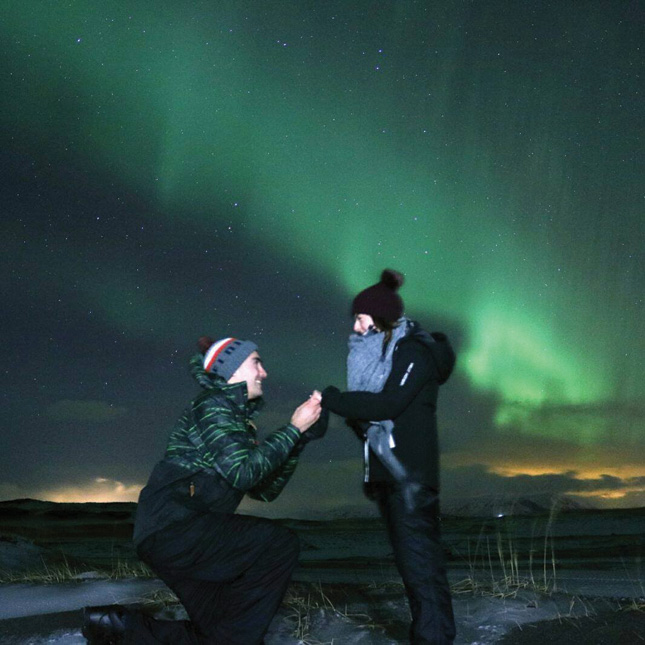 It was a magical proposal under the Northern Lights in Iceland for Danielle and Sergio. "From the get-go Sergio surprised me with the trip for my birthday – he even had every day of the trip planned out. We arrived on the first night and unfortunately, the Northern Lights were cancelled due to the bad weather. However, we rescheduled for the following day, and weren't disappointed - what a display we got. I have never seen so many stars! Sergio proposed that night, although when he got down on one knee, I couldn't see a thing," Danielle laughs. "Our tour guide and bus driver had to take the picture for us. When we got back to our hotel, we sat in our Long Johns and drank Prosecco," she continues. They're in the thick of planning their wedding in Italy, for next June.
Paul and Roberta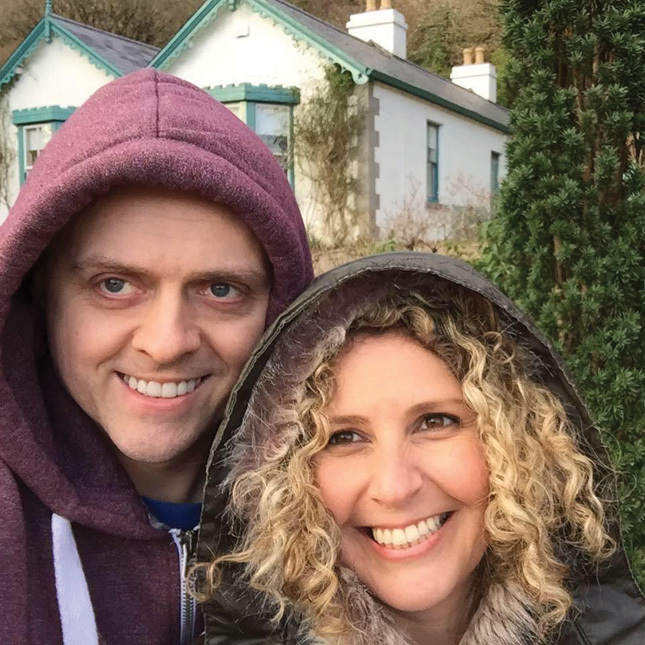 The pair met while working in IKEA, which is where Roberta proposed to Paul, on February 29th. "I didn't actually know about the old tradition of women proposing on a leap year and Roberta knew this, so she was able to use it to her advantage," says Paul. "She had worked most of her evening shift, when I got a phone call asking me to go into the store. I drove straight in and parked – unaware that they were monitoring me on the cameras. I got to the top of the escalator and saw a sea of yellow uniforms, and of course, Roberta, smiling and holding a microphone. Her first words were, "Hey baby", and I immediately knew what was about to happen. The rest, as they say, is history!"
Peter and Tanya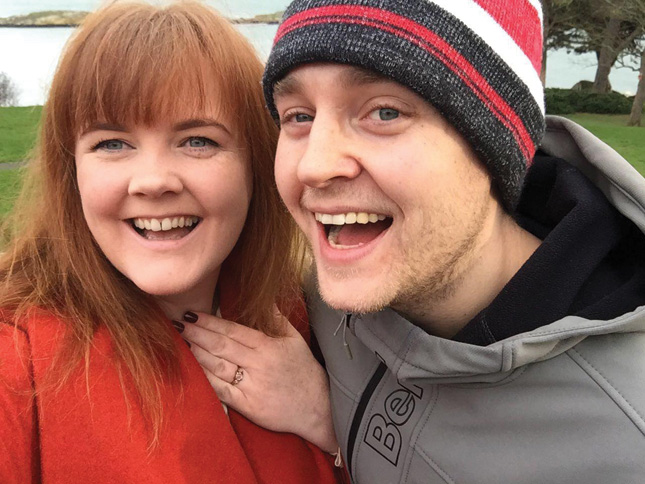 Tanya first met Peter while the two worked at Marks and Spencer, during college. "Our love blossomed over our Saturday lunch breaks together. It was only after about six months that I realised Peter's shift started at 10am, but he would wait until 5pm to have lunch so that we could go together," Tanya remembers.
Eight years later, on Christmas eve, Peter abandoned other proposal ideas for a more traditionally romantic option - he brought Tanya to the location of their first ever date, Dillon Park in Dalkey, to pop the question. She, of course, said yes and the couple celebrated with family that night. Planning is now well underway for their October 2019 wedding at the Millhouse, Slane.
Anita and Dave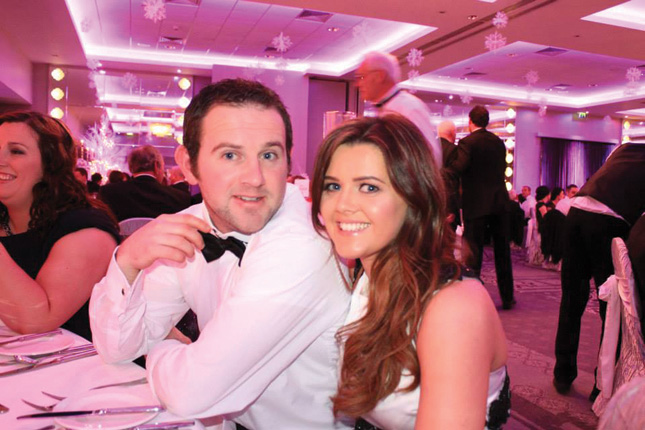 Our pal, makeup artist Anita Conroy of The Powder Room Studio, originally dated her fiancé Dave's cousin, but after he moved to Australia, she realised that Dave was the one for her. "I was gutted, but I ended up seeing Dave a few months later - obviously I like to keep it in the family," laughs Anita. "The proposal wasn't so romantic, but then again, we aren't that type of couple." Anita and Dave married in September 2017 in the gorgeous Faithlegg House Hotel, with a host of amazing vendors, including our other pal, photographer Paula O'Hara. You can see their wedding here!