It's that time of year again - nationwide venue guide time, when we bring you some of the gorgeous Irish wedding venues across the country.
With 20 Irish wedding venues spanning across various styles and locations, there's sure to be one that's your cup of tea in the mix!
Cavan - Crover House Hotel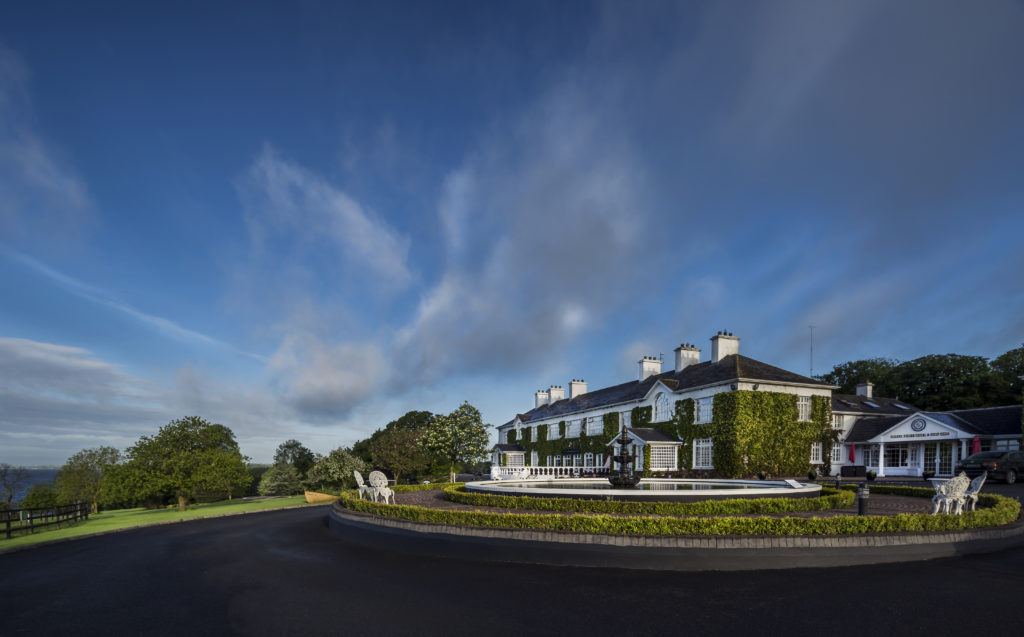 Have you popped the big question, or did you recently say yes to it? Then come and say 'I Do' to Crover House Hotel. Imagine your wedding day with unparalleled service, commanding views and mature grounds on one of Ireland's most sought after family-run countryside Hotels.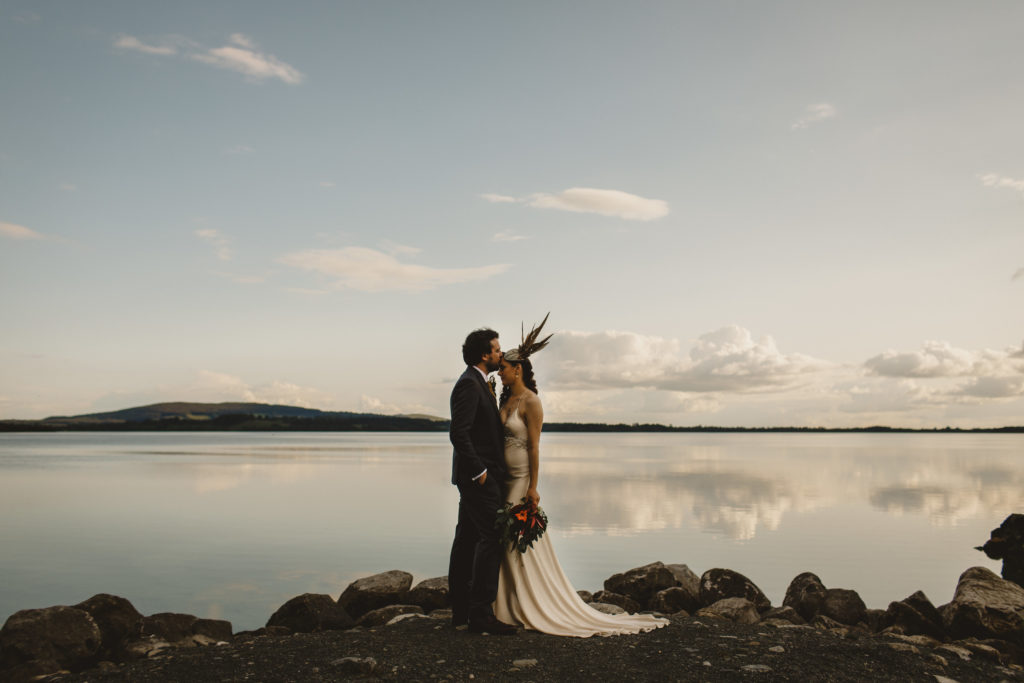 Crover House Hotel and Golf Club located in Co. Cavan is one of Ireland's hidden Gems. Located on their private shores of Lough Sheelin, Crover House Hotel offers you a personal service, with exceptional attention to detail to give you an unforgettable experience of a lifetime. Come and meet Karyn who will help you to See, Feel and Experience how your day will be. They are dedicated to making it flow all flow with ease from you. They can cater for smaller intimate numbers in a private dining room and larger numbers of 150 guests to 360 in the Arley Suite.
T: 049 854 0206
Cork - Ballinacurra House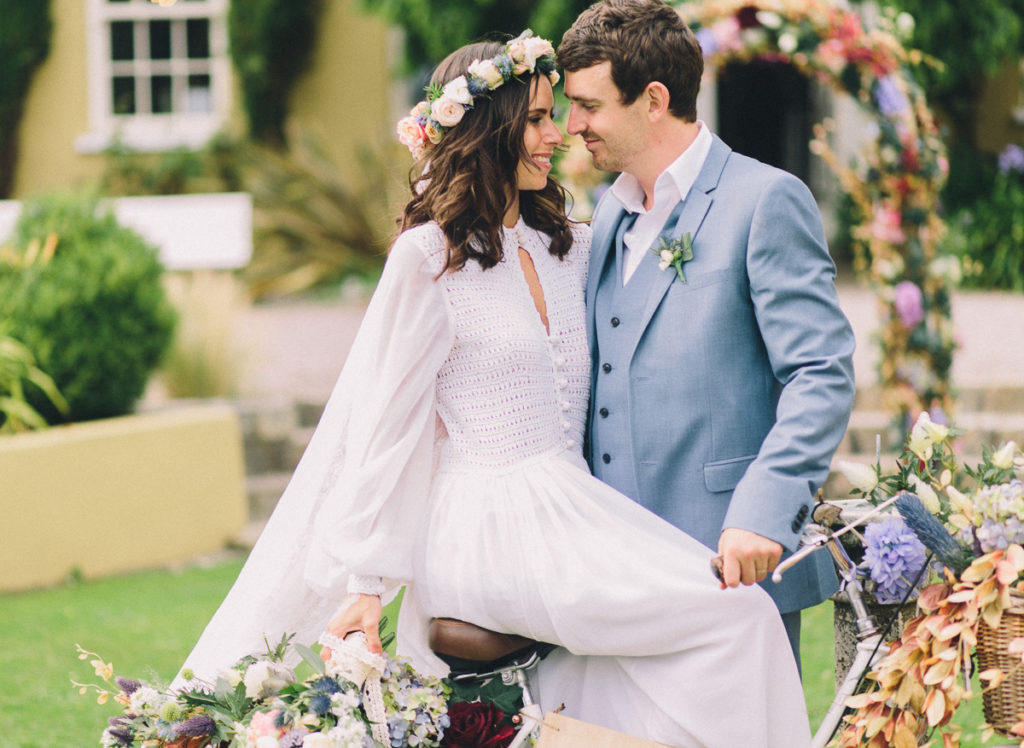 At Ballinacurra House you enjoy the experience of a 40 acre luxury, private country residence, complete with your own staff and personal chef – all within a five minute drive of the renowned coastal town of Kinsale, Ireland's gourmet capital. We understand the need for privacy and not sharing your special day with strangers, so we only ever operate on an exclusive hire basis. This allows you and your special guests to enjoy the whole property with no interruption and total exclusivity.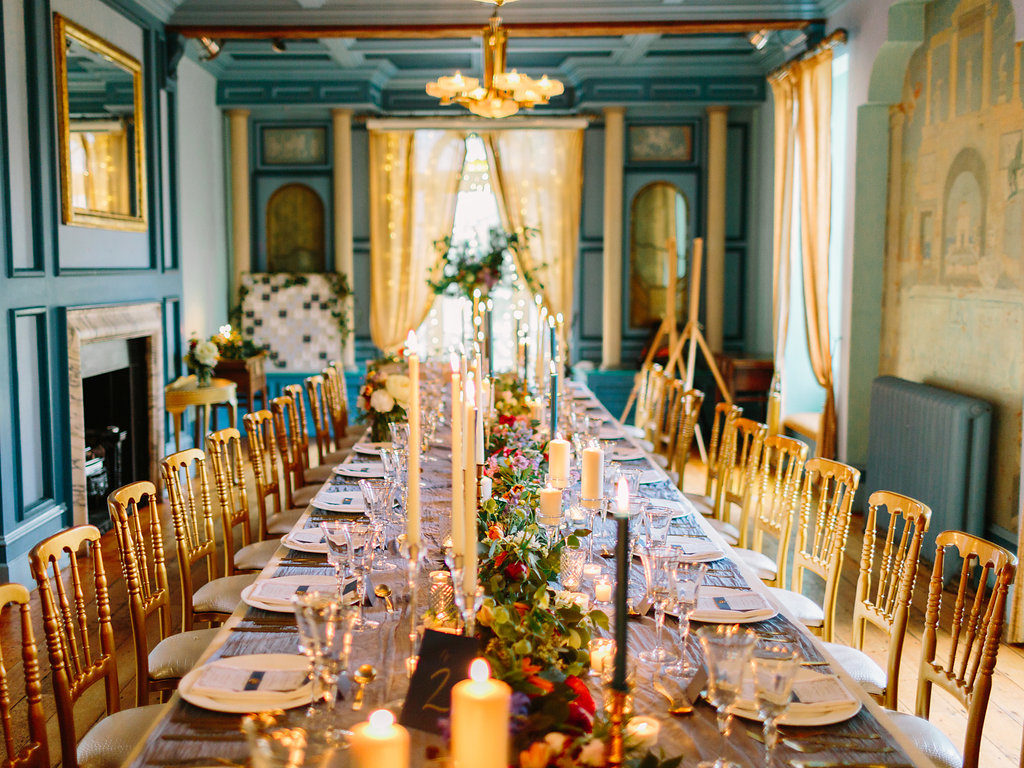 If you are looking to share this special time with close family and friends in beautiful surroundings over an extended time, then that is what we do — good food, magical ambiance, memorable music and all the trimmings as you've always dreamt it – and all planned to perfection. Every couple is different and have their own tastes and priorities - so every wedding should be different to reflect the couple.  So for that reason, we don't do set packages which dictate what you can have. Full of romance, luxury and charm, we pride ourselves on being one of the best wedding venues in Ireland.
Capacity: 180
Acccomodation: for 54
W: ballinacurra.com
Donegal - Mulroy Woods Hotel
Situated in the stunning north west of County Donegal on the outskirts of the pituresque village of Milford, the Mulroy Woods Hotel is set amonf the lake spattered glens rolling from the majestic Donegal hills towards the shore lands of Mulroy Bay.The old world character of this landmark hotel captures the essence of Irish hospitality where traditional Donegal charm meets modern luxury.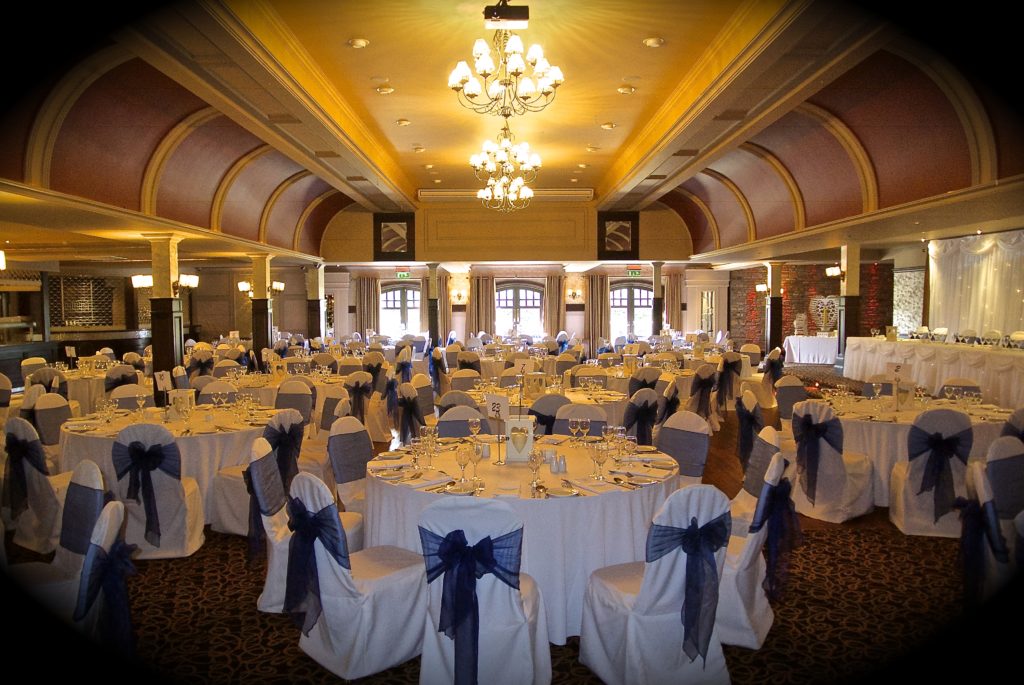 The luxurious three star, family-run hotel, where the owners take huge pride of their attention to detail, plush decor and instant state of comfort and cosiness. Earlier this year, the Mulroy Woods Hotel won the highly sought after title of Ulster Hotel of the Year at the prestegious Irish Hotel Awards. Their wedding specialists can help you create a unique celebration, while their competitive prices for wedding packages offer exceptional value for money, no matter the budget.
Capacity: 160
Bedrooms: 45
T: 074 9153313
Dublin City - The Morrison Hotel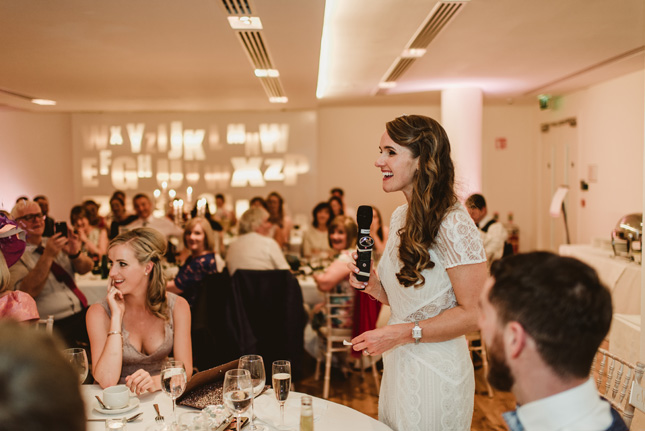 The Morrison Hotel Dublin offers an exclusive and unique wedding venue for your very special day, with a choice of packages with prices starting from €77 per person. The Hotel is ideally located in the heart of the city, and is perfectly placed close to a variety of venues to hold your civil ceremony such as Smock Alley, Trinity College and the iconic City Hall. Not to mention the abundance of picturesque urban settings including the famous Ha'penny Bridge, Phoenix Park and Christ Church Cathedral where you can capture beautiful and unforgettable memories.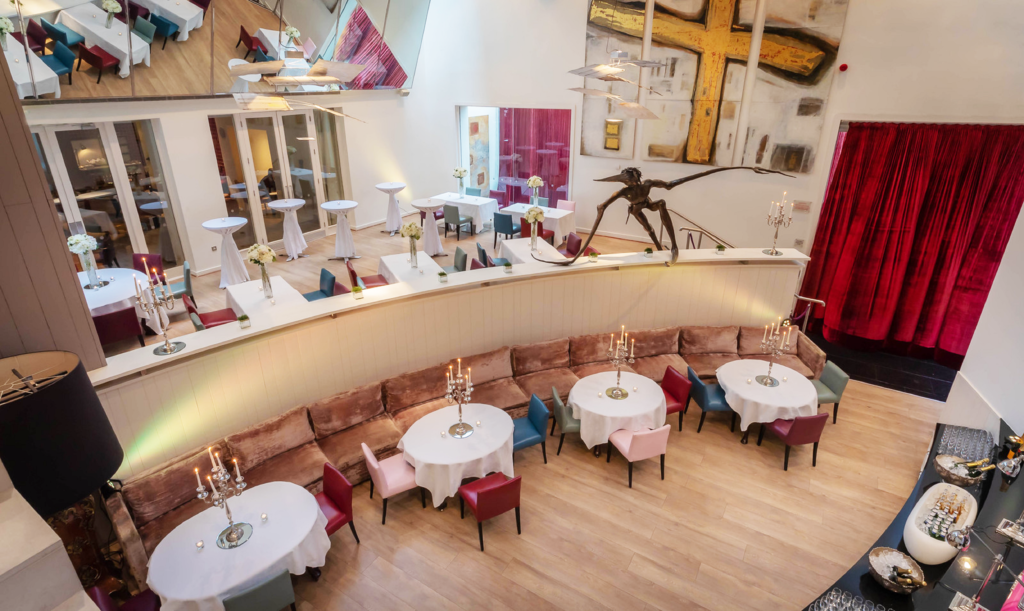 The Morrison Hotel welcome all guests through our private Art Gallery which offers a private entrance from Ormond Quay. This is the perfect spot for champagne and canapés. This space spills into a private Courtyard Garden which in turn leads into the main event room Printworks, with oak floors and white walls. A second event space, Halo, a split-level event space, is available for more intimate, bespoke weddings. Halo can seat between 55 and 85 guests. With high ceilings, floods of natural daylight and a mix of eclectic art these spaces are perfect for couples looking for something that little bit different.
Capacity: max 180
Bedrooms: 145
T: 01 887 2458
North Dublin - Castleknock Hotel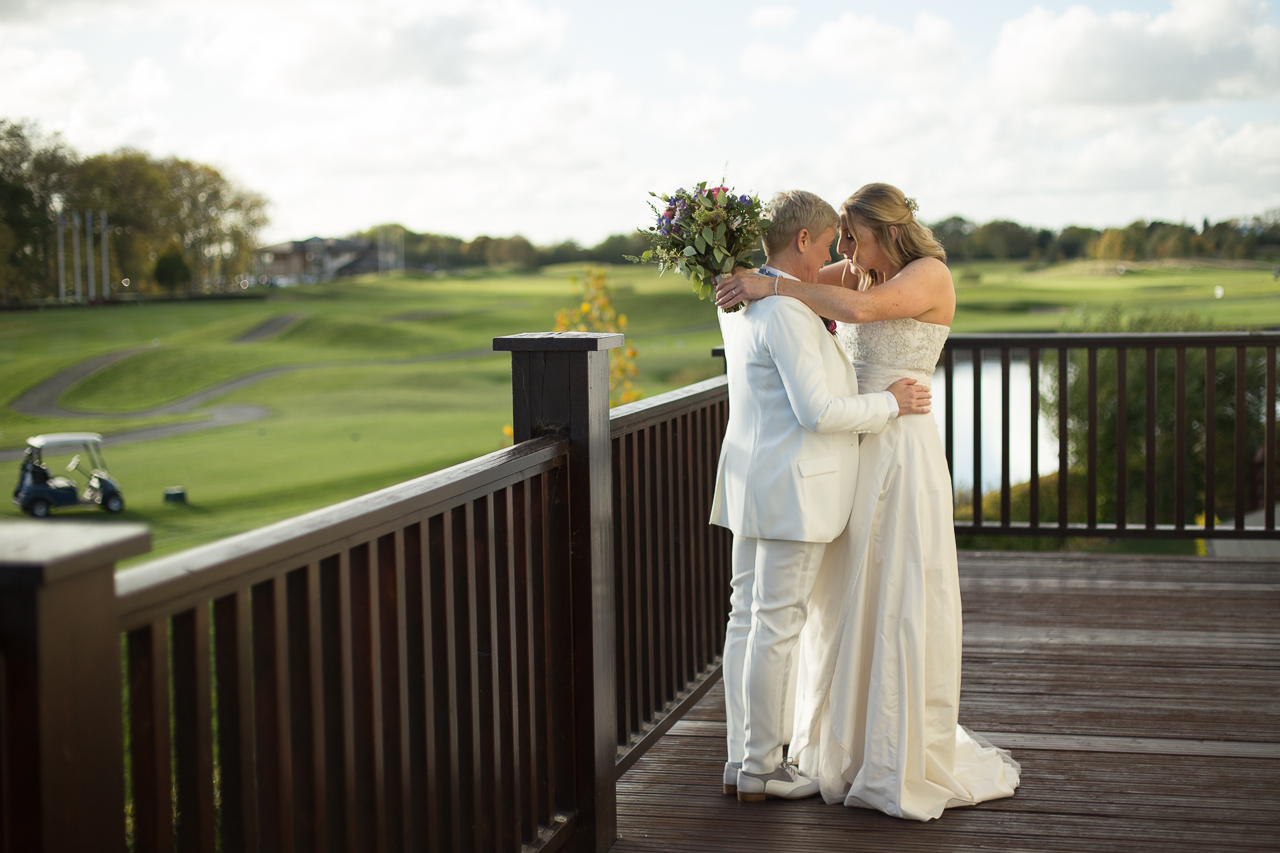 The award winning Castleknock Hotel in Dublin is now considered by many to be the premier wedding venue in Dublin. Set just outside Castleknock Village in close proximity to the Strawberry Beds and the Phoenix Park, the hotel is a contemporary-styled alternative to the traditional hotel venue. The Phoenix Suite at the Castleknock Hotel Dublin has a flexible layout that allows the room to change size depending on the required capacity without making the room look too empty or crowded.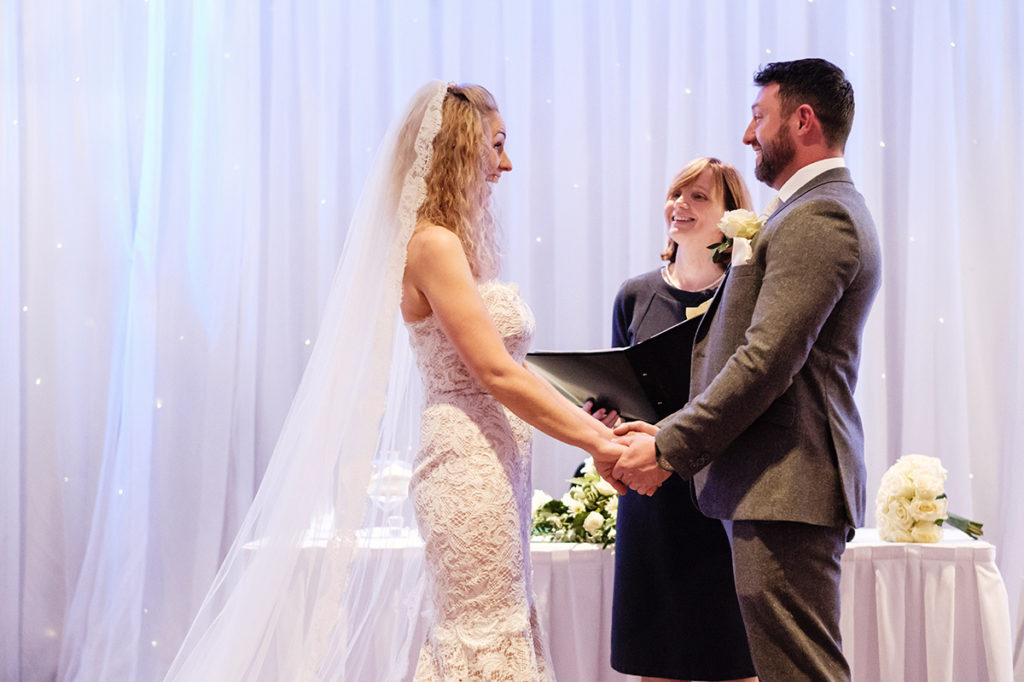 The maximum capacity for a wedding is 220 guests. The hotel also has a stunning room with a balcony on the first floor with views of the local countryside for Civil Wedding Ceremonies. Castleknock Hotel have a very popular wedding package called Pick a Perk where couples can create their very own wedding package to suit their own individual taste. They also offer exclusivity to all of their brides and grooms with a strict one wedding a day policy.
Capacity: 220
Bedrooms: 190
T: 01 6406309
Facebook | Twitter | Instagram
South Dublin - Radisson St Helens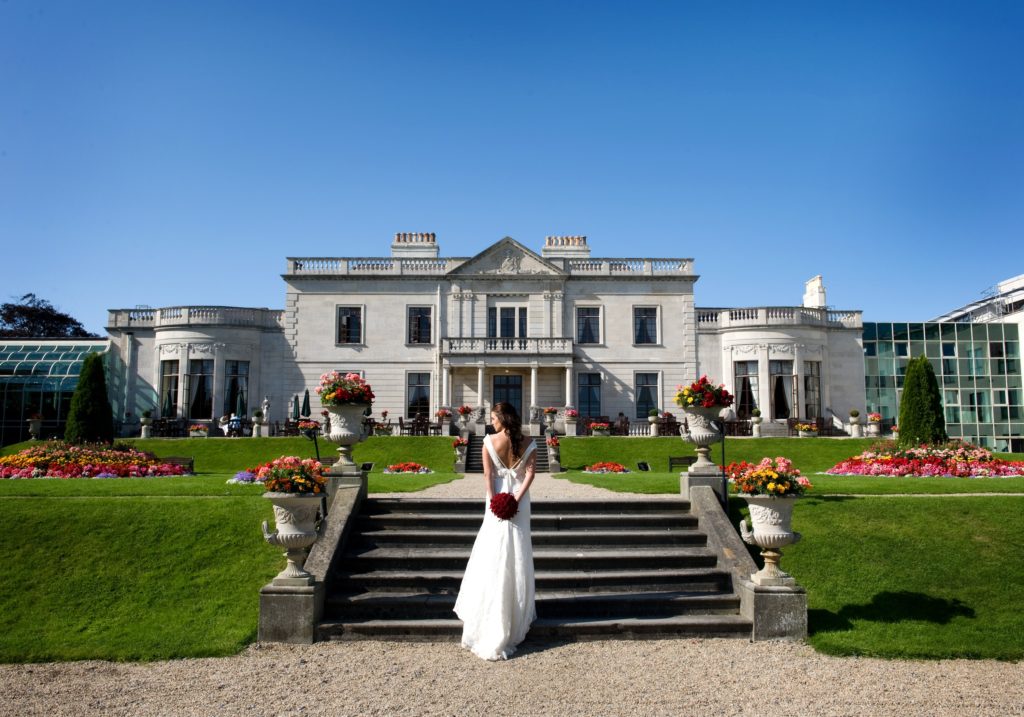 A stately mansion amidst four acres of private manicured gardens offering the perfect backdrop for civil ceremonies, pre-dinner receptions and post- wedding day events. Set in luxurious surroundings, the 1750 stately mansion offers effortless elegance with a warm and welcoming atmosphere. From perfect pictures and amazing food to exclusive touches and an unrivalled location.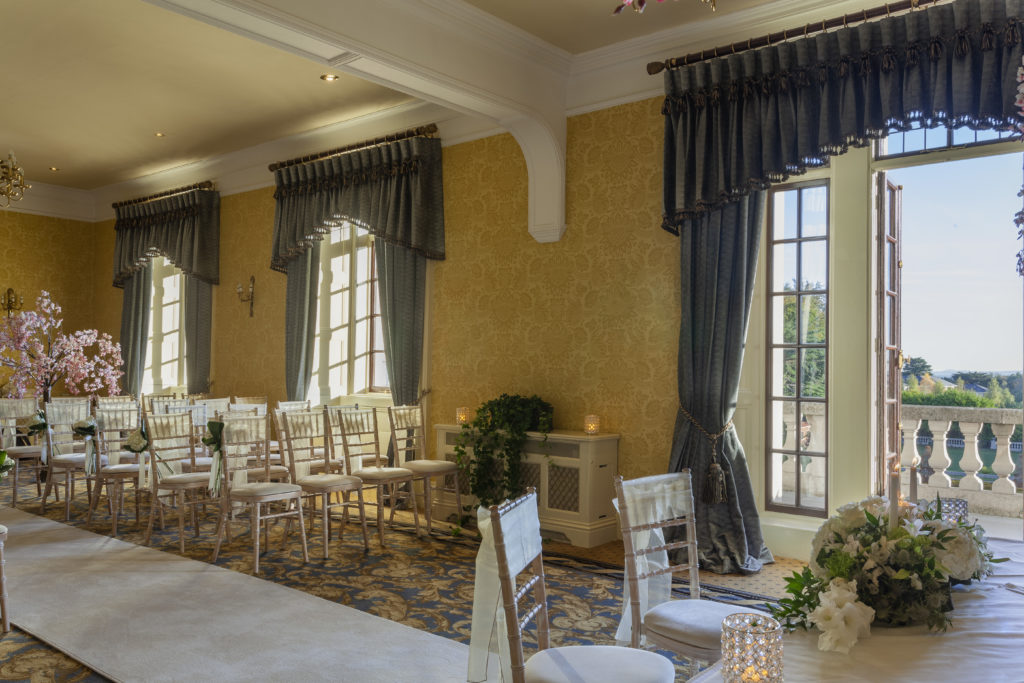 The Radisson Blu St. Helen's Hotel Dublin offers three amazing private dining suites to choose from, each one having its own unique style and character and catering for 20 – 240 guests. St. Helen's Hotel has a number of elegant and unique areas, perfect for civil ceremonies, garden blessings, traditional weddings and post wedding celebrations. St. Helen's Wedding Consultants are available to offer advice and assist you with planning every detail of your wedding day, from reserving your date to co-ordinating all the finer details.
Capacity: 240
Bedrooms: 151
T: 01 2186054
W: radissonblu.ie/sthelenshotel-dublin
Kildare - Clanard Court Hotel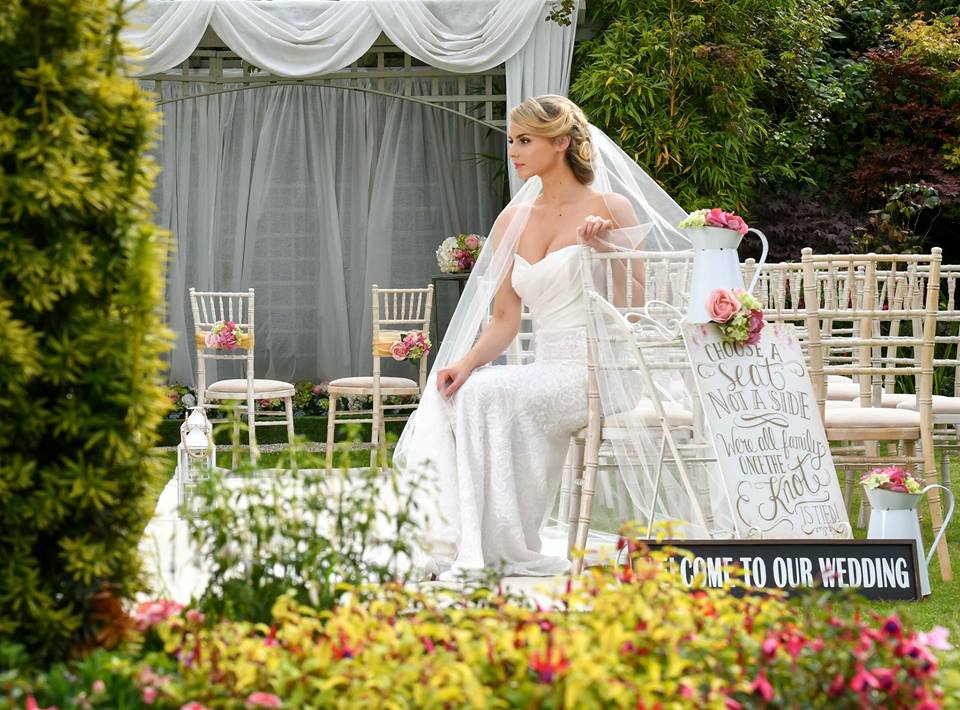 Perfectly located in the heart of the Kildare countryside, discover the elegance and rural enchantment of the award-winning, four-star Clanard Court, only an hour from Dublin. A proudly family-run hotel and often described as a 'real hidden gem', well renowned for its great Irish hospitality. Its 'one wedding per day' policy, dedicated in-house wedding experts, attention to detail, superb food, stunning décor and excellent service mean that your special day will be everything you dreamed of and more.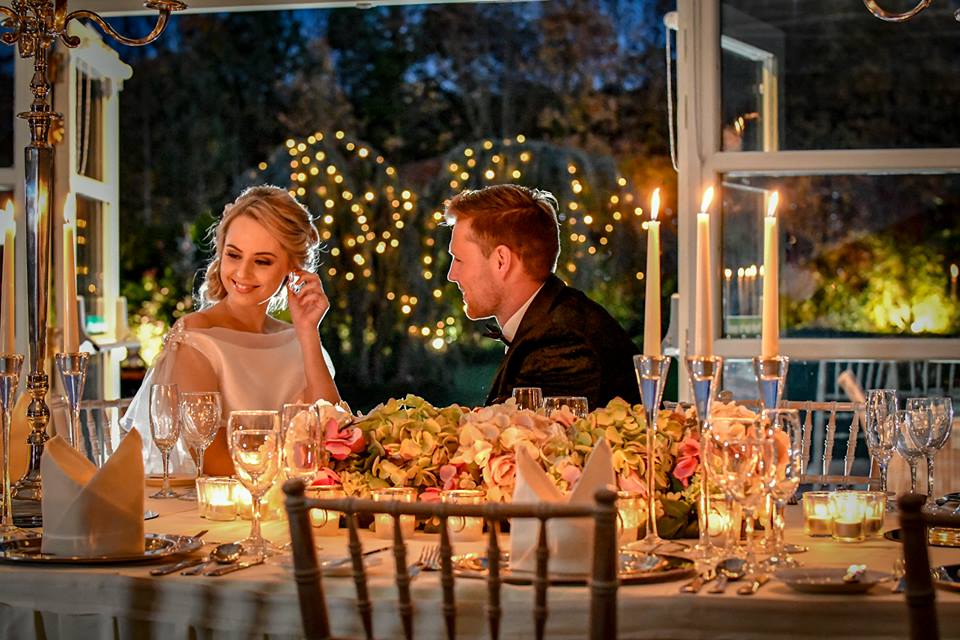 There is a large, high-ceilinged, elegant lobby with open fireplace for wedding guests to socialise and enjoy a drinks reception on arrival. Should you choose to get married on-site there is a choice of three elegantly appointed Ceremony Suites and the superb crystal-chandeliered Garden Ballroom overlooks a private patio with landscaped gardens that are exclusively dedicated to your wedding party. There are even resident alpacas who happily graze on the grassy mounds surrounding the hotel and are always willing to help you out with your wedding photos!
Capacity: 250
Bedrooms: 37
T: 059 8640666
Kilkenny - Lyrath Estate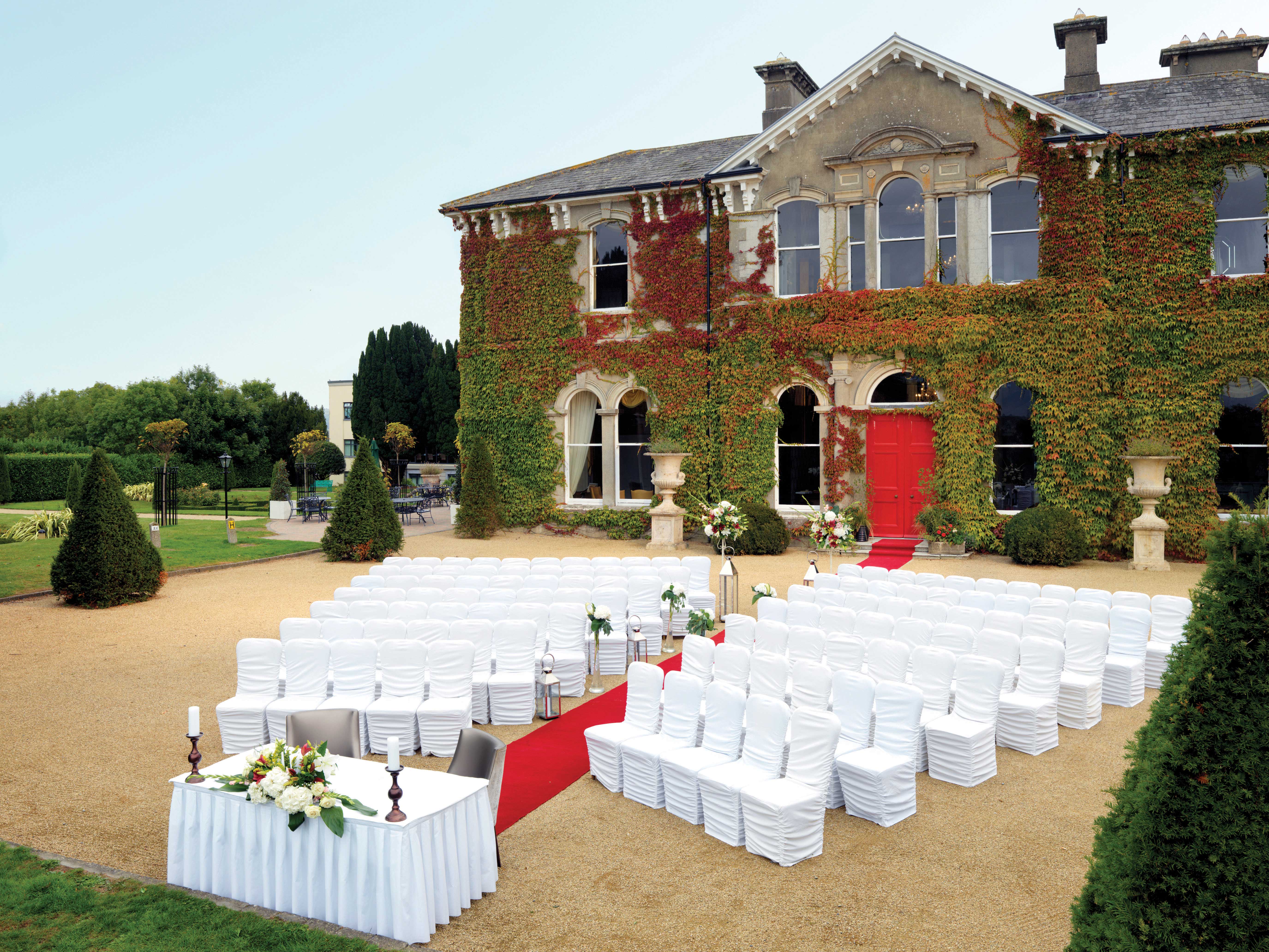 Lyrath Estate offers you a magical setting for your forthcoming wedding day. The 17th Century Manor House has been immaculately restored and is perfectly complemented by contemporary additions. 170 acres of parkland affords your photographer endless opportunities to skilfully capture stunning memories.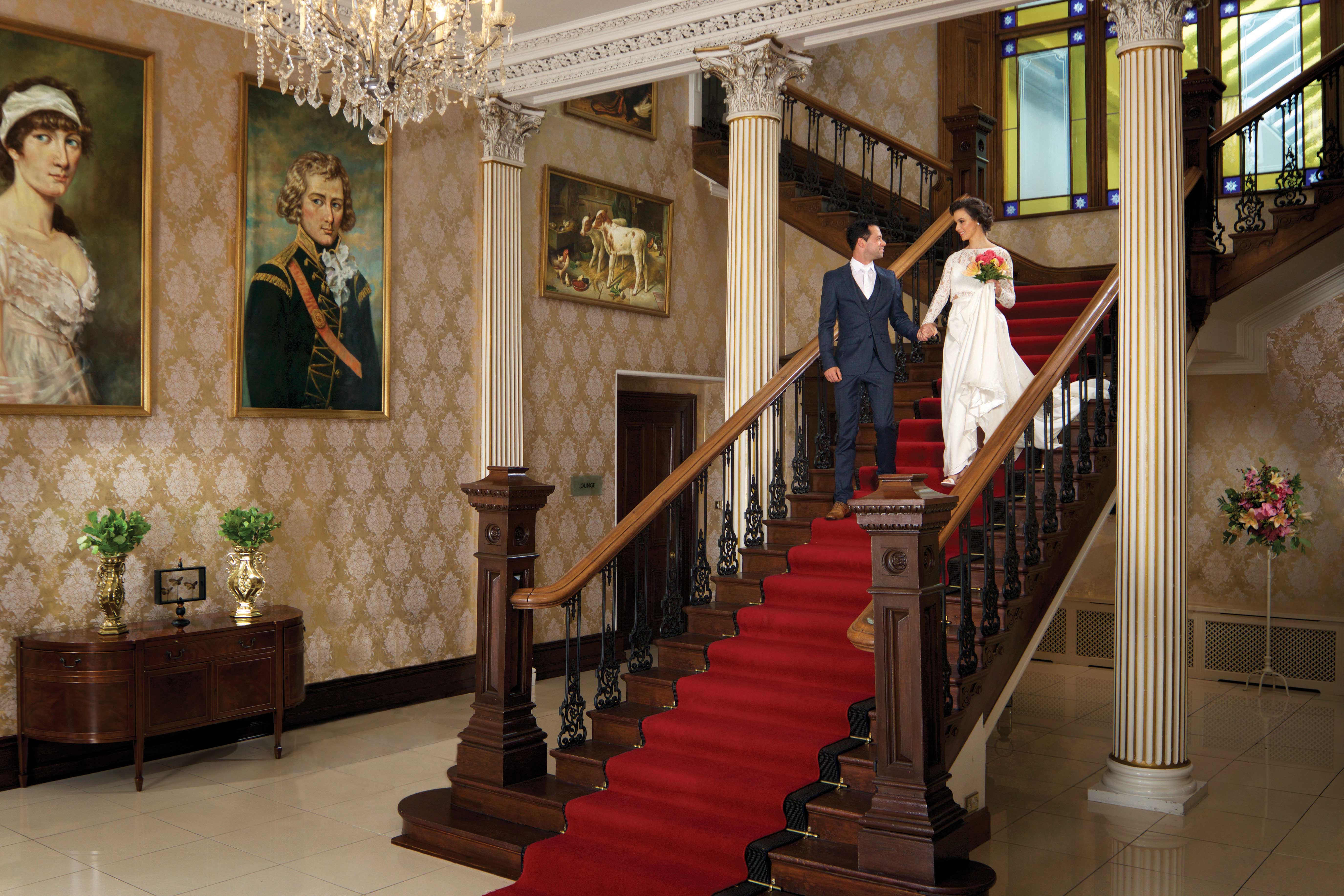 They highly recommend a personal viewing of the hotel to get a sense of Lyrath Estate's unique offering. During your visit, you will see the many changes that have taken place throughout last year. We have completed a soft refurbishment of the hotel to include our foyer, bedrooms, bar, restaurant, and wedding ballroom.
Capacity: 350
Bedrooms: 139
T: 056 770 5804
W: lyrath.com
Laois - The Killeshin Hotel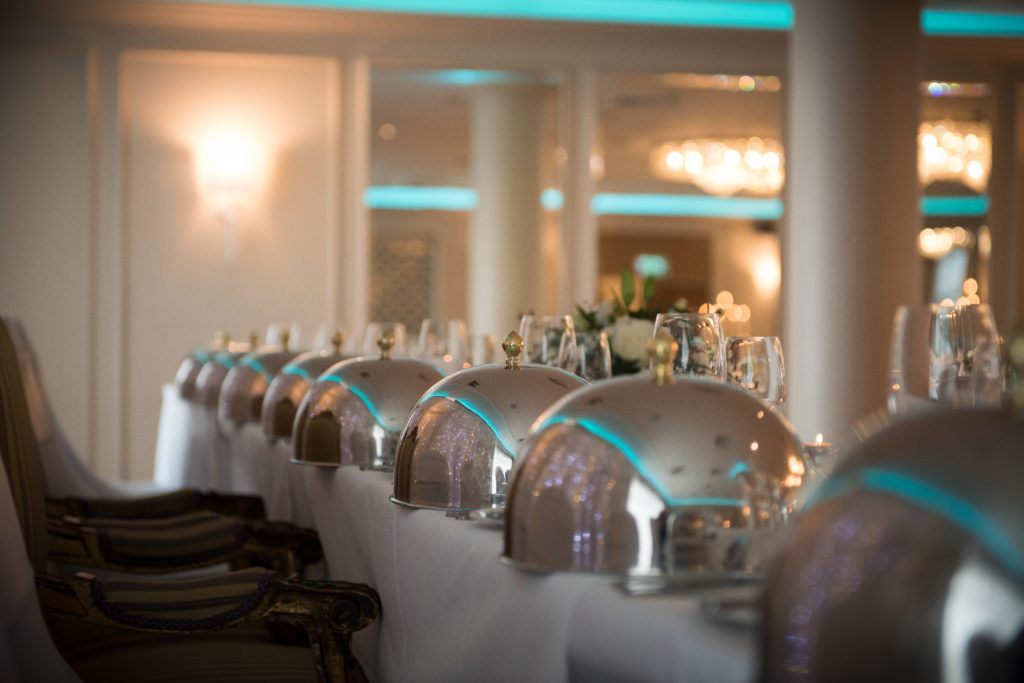 The Killeshin Hotel is located centrally in Portlaoise town, a short drive from exit 16 off the M7 and easily accessible from all parts of the country. Serving the community in many forms since 1971, the Killeshin Hotel is a landmark wedding venue and well renowned for their great service, food and warm hospitality. Whilst The Killeshin Hotel is contemporary and modern in design, the team believe in tradition and hope that together they can create a day that you will treasure forever.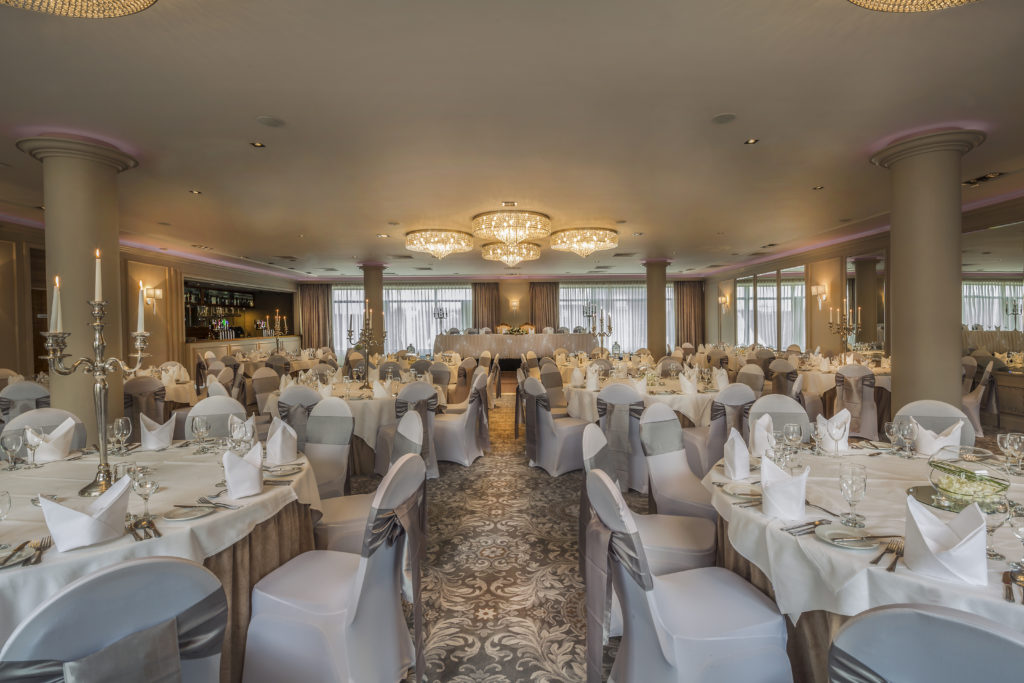 The Killeshin Hotel are delighted to announce the completion of their fully refurbished wedding suites, The Walnut Ballroom, The Dunamase Civil Ceremony Suite and the Killeshin Bridal Suite. Your wedding venue- The Walnut Suite, is flooded with natural daylight from double aspect windows which complement the soft muted tones of the stylish décor in this room. This exclusive venue offers in room bar service, adjoining private courtyard, private facilities and arrival reception room. The Killeshin Hotel is also delighted to unveil a full facelift including a complete refit of 32 of their 88 bedrooms to incorporate a superior luxury sleeping experience and most recently a full refurbishment of the Cedar bar and Cedar Restaurant. 
Capacity: 250
Bedrooms: 88
T: 057 8631200
Leitrim - Lough Rynn Castle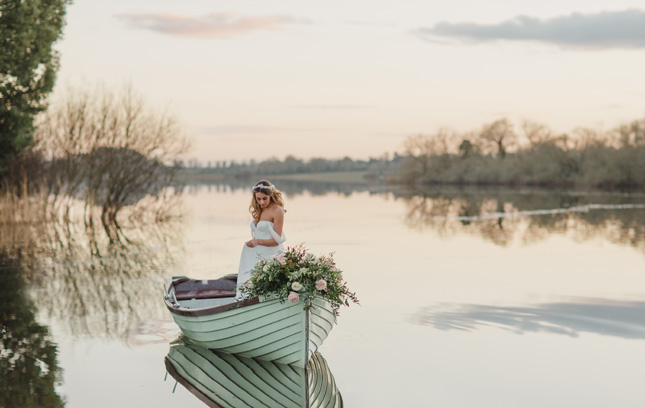 Their winding driveway, lakeside setting, walled garden and handsome façade all make Lough Rynn an ideal fairytale venue. Inside you'll find grandly proportioned rooms, four-poster beds, silk wallpaper, parquet floors, open fires and generous views, making the inside just as impressive as the exterior. The ancestral home of Lord Leitrim, the estate is rich in history and natural beauty. This secluded castle is set on the shore of Lough Rynn, surrounded by over 300 acres of breathtaking scenery, it truly is a magical setting for your wedding day. Planning your wedding is part of the excitement of getting married, so allow their experienced wedding team to assist you in every way possible.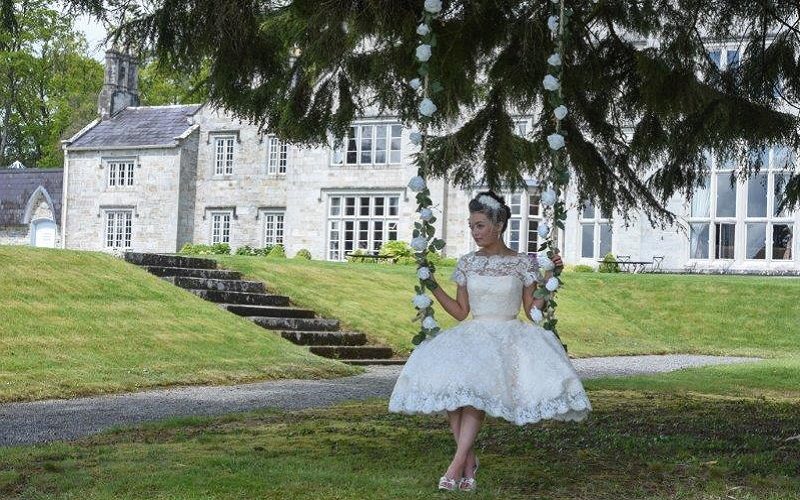 The long established team at Lough Rynn are renowned for their friendly attitude and personal approach, ensuring exceptional attention to detail on all aspects of your wedding. "We pride ourselves on our excellent staff and the warm and friendly atmosphere that our couples and their guests experience at Lough Rynn Castle - the fact that every guest is treated with the same importance as the bride and groom matters to us."
Capacity: 320
Accommodation: 44 bedrooms
T: 071 963 2700
W: loughrynn.ie
Limerick - Castletroy Park Hotel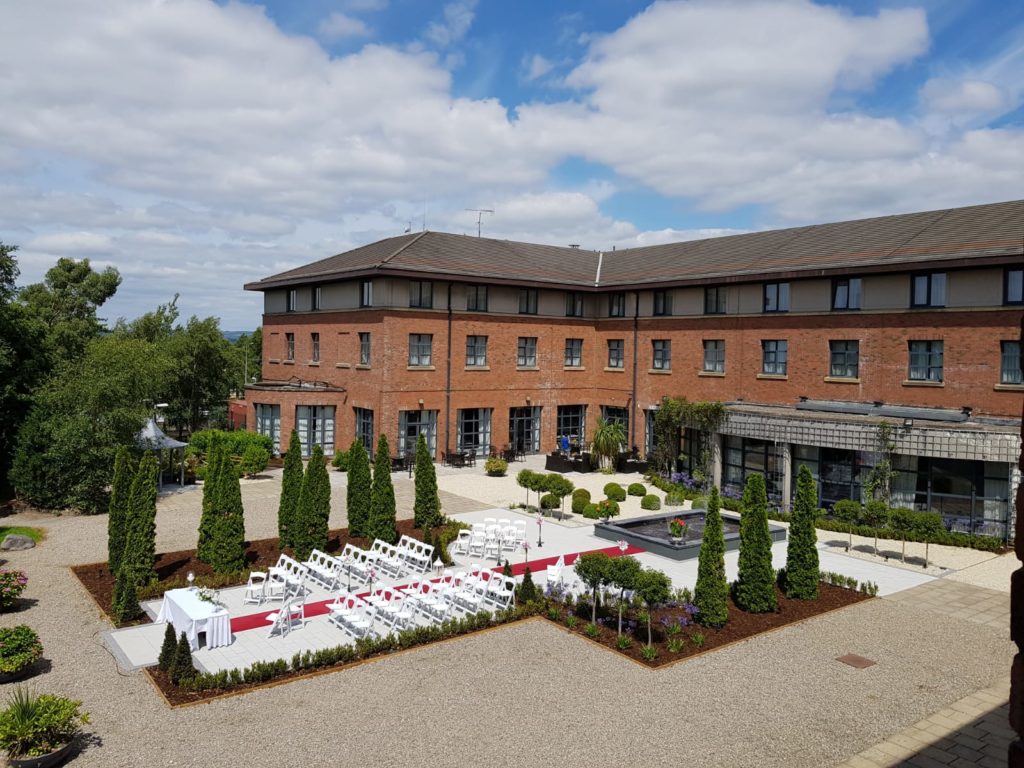 Castletroy Park Hotel, the Iconic wedding venue in Limerick. From the moment you choose the Castletroy Park Hotel you'll notice that something very special is happening… to you. That's the wonderful thing about choosing the Castletroy Park Hotel for your wedding venue! They know how important it is to look after even your smallest desire on your big day.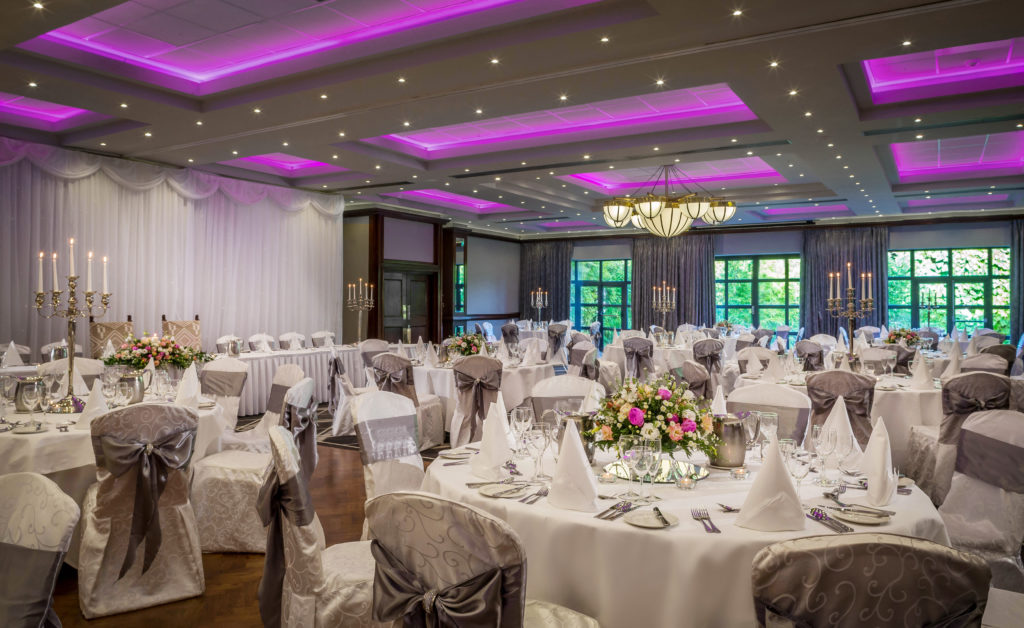 The secret of their success is that they bring you the best of all worlds direct from Limerick… professional perfection, combined with a rich warm personal touch to create for you and your guests something that is very special. They have a dedicated wedding team with a vast knowledge and experience in the wedding industry. Their private landscaped courtyard is perfect if you're looking for an on-site ceremony location, and their unique and distinctive decor makes their reception room ideal. Their reputation of being the best choice for weddings in Limerick precedes them; contact them today to find out exactly what they can do for you.
Capacity: Up to 300
Accommodation: 107 room
T: 061 335566
Facebook | Twitter | Instagram
Louth - Four Seasons Carlingford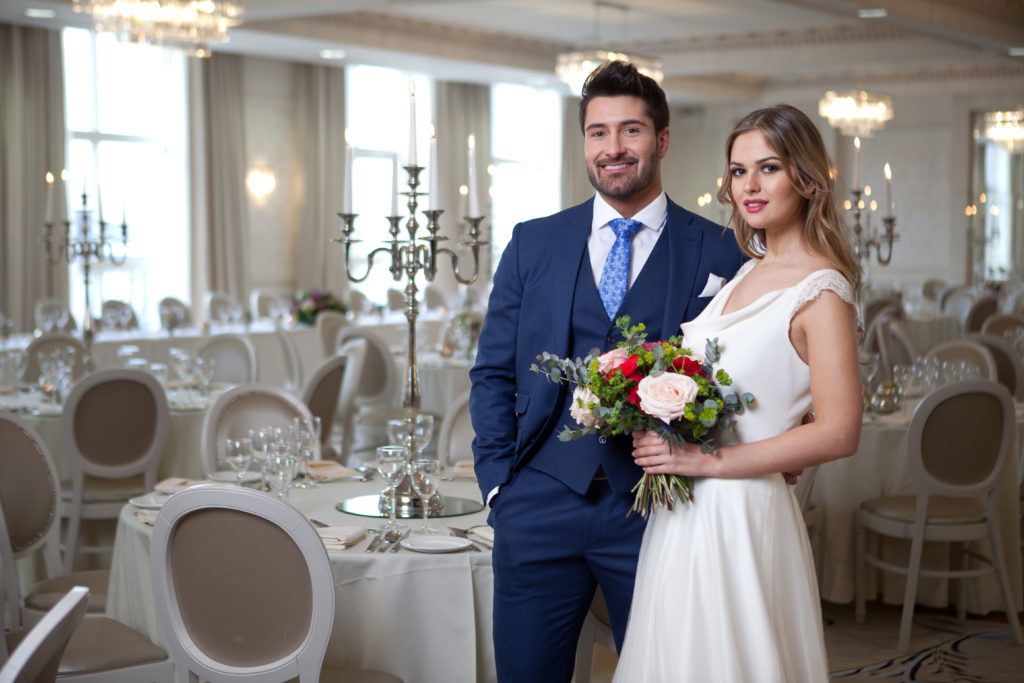 The four star Four Seasons Hotel, Spa and Leisure Club, Carlingford lies nestled at the foot of the Cooley mountains overlooking Carlingford Lough, offering spectacular views, excellent accommodation and fine cuisine. The Four Seasons is located in the breathtakingly beautiful Carlingford with spectacular views overlooking the waterside, King Johns Castle and Slieve Foy mountain.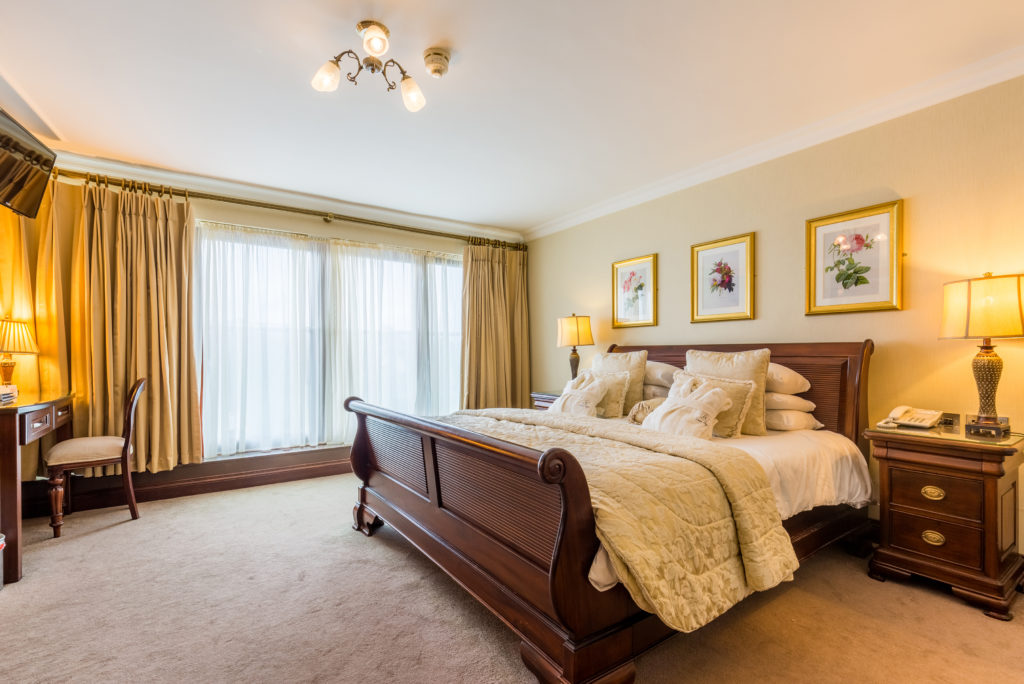 Carlingford offers a truly unique setting for you to exchange vows - you may wish to say I do in the garden overlooking Slieve Foy mountain with the soft sound of cascading water in the background. Or, choose from one of the newly designed wedding suites overlooking Carlingford Lough. "Carlingford itself provides the perfect backdrop for your wedding, with Carlingford Lough, mountains, the Old Abbey, King John's Castle and quaint cobble streets, your photographs will be treasured forever."
Capacity: 450
Accommodation: 58 bedrooms
T: 042 937 3530
W: 4seasonshotelcarlingford.ie
Meath - Conyngham Arms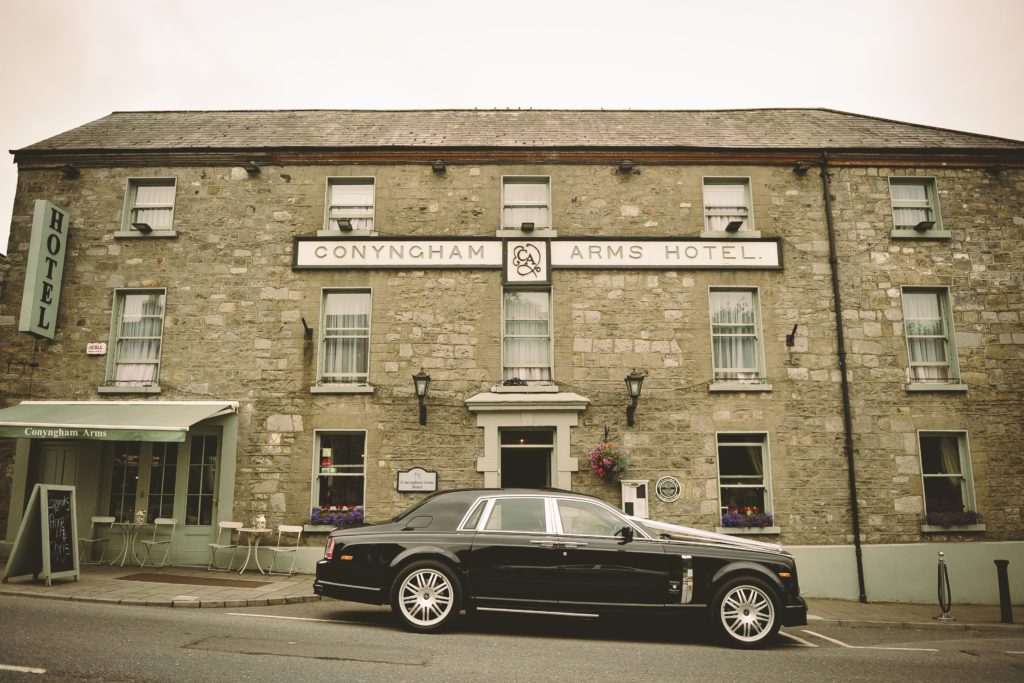 The Conyngham Arms is a beautifully restored coaching-inn, most popular for weddings in the Manor Village of Slane, Co Meath. The Conyngham Arms Hotel offers couples a venue with a difference. With the informal setting, tradition with a modern twist and a secret garden for those perfect pictures, you'd be surprised what lies behind the doors of this boutique hotel. The French country style Lavender Room, opens onto terrace and landscaped gardens, making your dream wedding day special.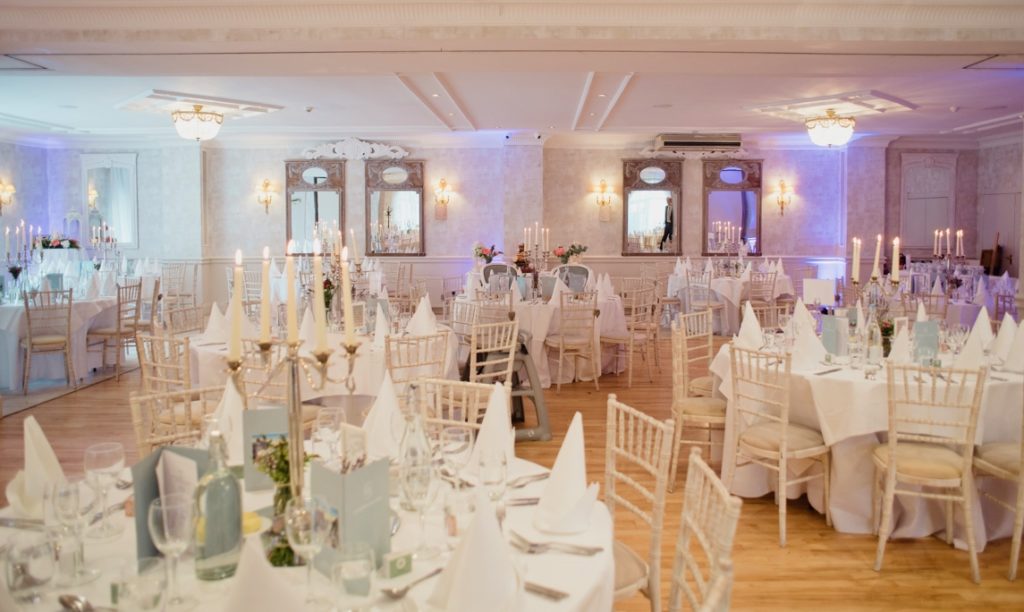 Enjoy your pre-reception drinks and petit scones in our newly decorated vintage style garden which only adds to the uniqueness of the charming boutique hotel and invites you and your guests to experience a change from the norm. They encourage our couples to paint their own canvas in the Lavender Room, to make the theme of their day shine through. The Head Chef and his dedicated team ensure that many of the ingredients are sourced locally from meats to vegetables adding that little extra to your wedding menu. The hotel is available on an exclusive basis for your wedding day, offering a home-from-home feel that only a boutique hotel can offer.
Capacity: 150
Accommodation: 29 in Conyngham Arms and 20 more in sister property Boyne House,. Slane located just across the road.
T: 041 988 4444
Monaghan - Four Seasons Monaghan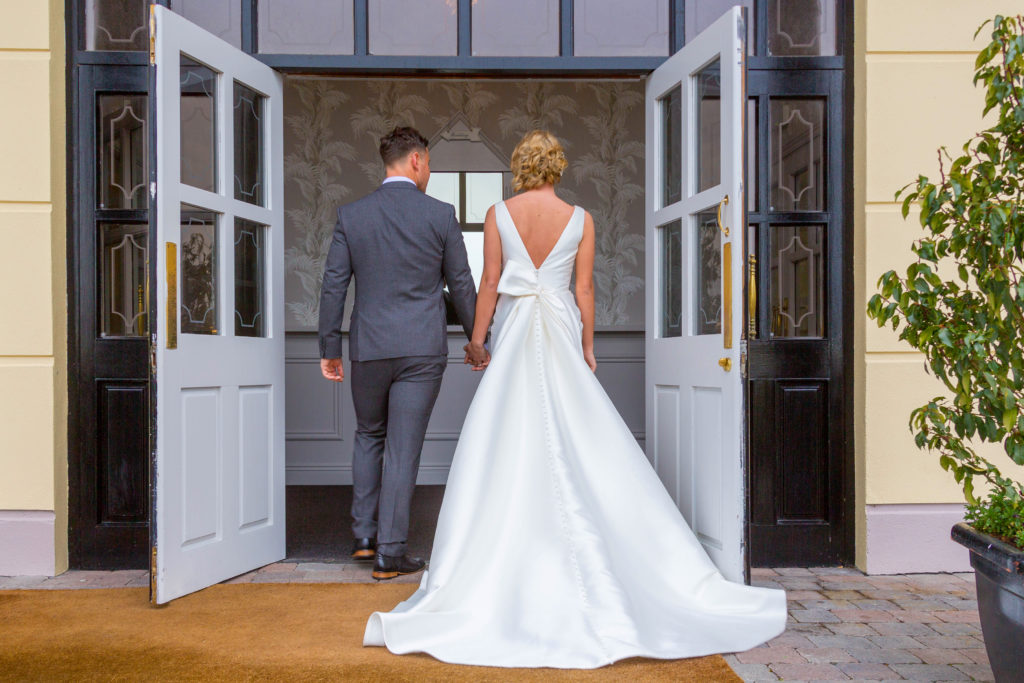 The four-star Four Seasons Hotel, Monaghan is a family run independent hotel located 1km from Monaghan Town. They first opened their door's in the early 1970s and have continued to grow ever since. With a wealth of experience of hosting weddings for over 45 years, they have come to truly understand a modern day bride's needs and have created personalised packages to reflect the ideal wedding experience for couples.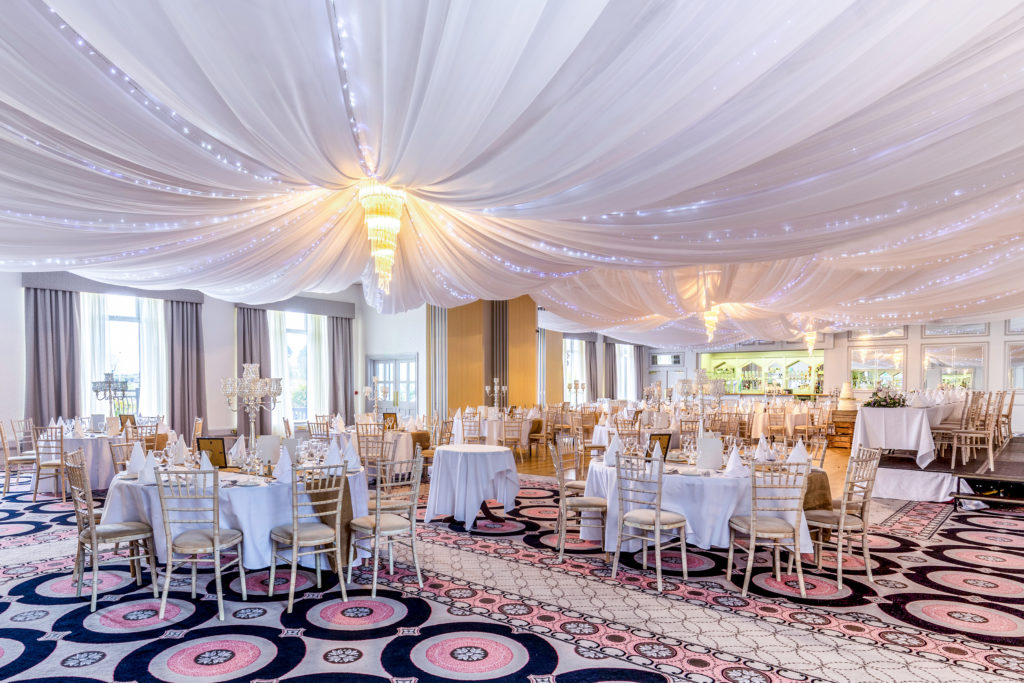 The Hotel offers a choice of elegant reception areas, courtyard and outdoor gardens, superb wedding suites each with their own bar together with the newly designed bridal suite for you to enjoy on your special day. They also offer a one wedding a day policy, a private wedding entrance and reception area. With a range of wedding packages to suit each individual day and three wedding suites, you have a variety of options to create your perfect day.
Capacity: 20-350
Accommodation: 59
T: 04781888 
Roscommon - Kilronan Castle Estate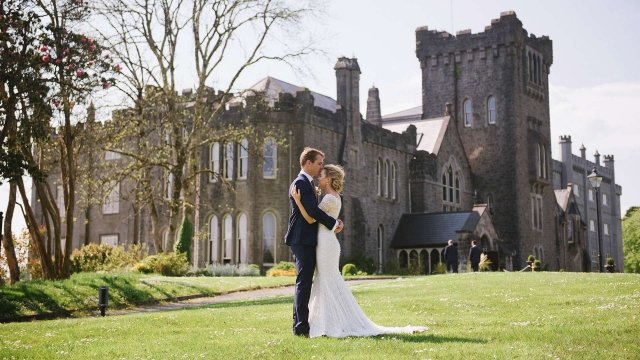 Kilronan Castle is located on the shores of Lough Meelough in Ballyfarnon, Co Roscommon and is one of Ireland's hidden gems. Kilronan is one of the most luxurious castle hotels; it's the ancestral home of the Tenison family and the legendary Colonel King Tenison. This 200 year-old castle is steeped in history, full of character and old-world charm and nestled amongst acres of woodland, open lawns and pathways leading you to a truly breathtaking estate. From intimate to extravagant, traditional to bespoke their team can offer a comprehensive service, ensuring your wedding will be unforgettable and uniquely yours.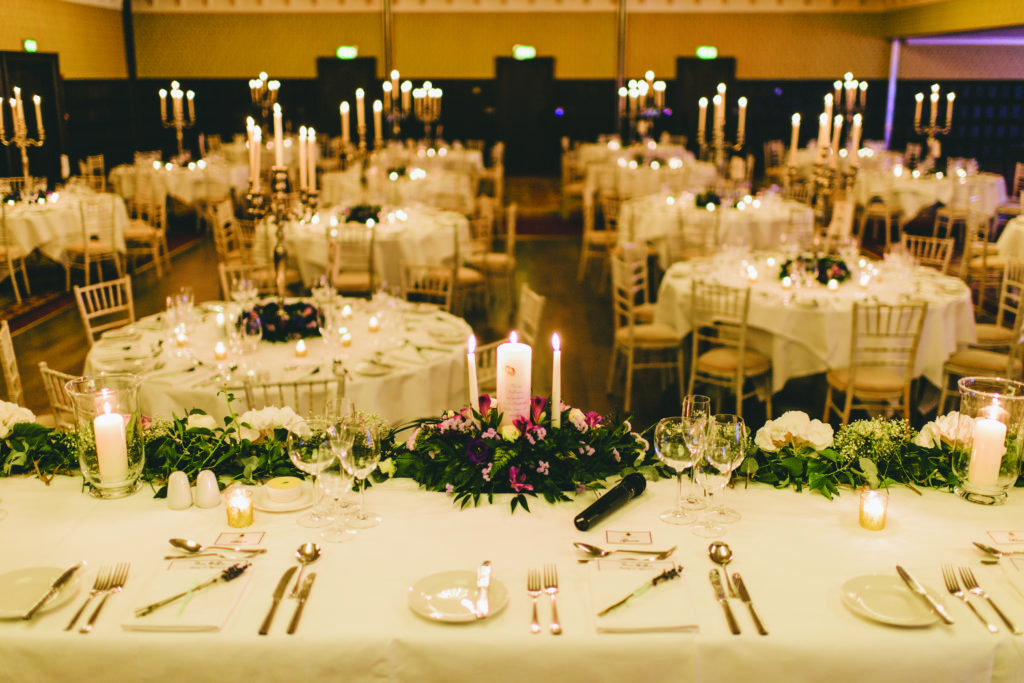 "The Dungeon Bar is an ideal private setting for your drinks reception - in the summer, your guests will gather on the patio sipping on pink Champagne, whilst overlooking the scenic Lough Meelagh. Alternatively for a winter wedding, the roaring open fires make the surroundings comfortable and homely and the candle lit wine cellar just adds to the mystical atmosphere."
Capacity: 350
Accommodation: 84 bedrooms
T: 071 961 8000
Sligo - Temple House
Temple House is a beautiful Georgian mansion, set within a 1000 acre private estate. It overlooks the lakeside castle of the Knights Templar, in the stunning Sligo countryside - some really gorgeous surroundings for your wedding photos. Although Temple House has rooms of enormous proportions, there is a real sense of intimacy to the house, so if you're having a smaller gathering, it would be ideal, too.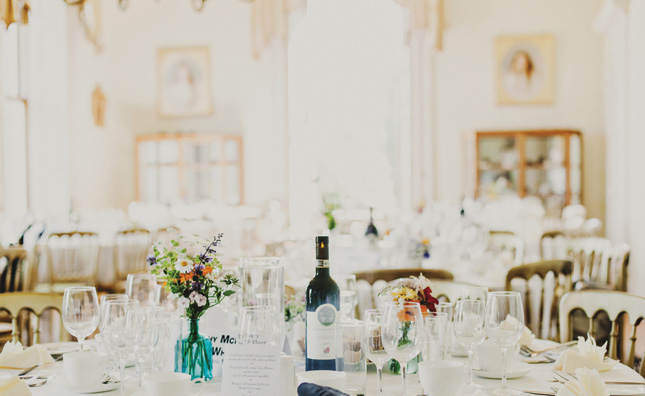 Have your ceremony here or float up the church aisle followed by canapés and bubbly in the terraced gardens overlooking the lakeside castle of the Knights Templar. Speeches are enjoyed in the garden, the vestibule or dining room allowing them to offer three options for the wedding breakfast. They have capacity of 6-160 for a sit-down meal, 20-220 for a buffet style meal, and 150-250 for a sit-down in a marquee. Following a delicious meal everybody migrates to the newly refurbished west wing. You've a ballroom, a gallery with your bar and a quiet room all focussed on having a good time. You take the house for two nights so that you really settle in and enjoy the special atmosphere that Temple House shares.
Capacity: 250
Accommodation: 22
T: 071 918 3329
Tipperary - The Anner Hotel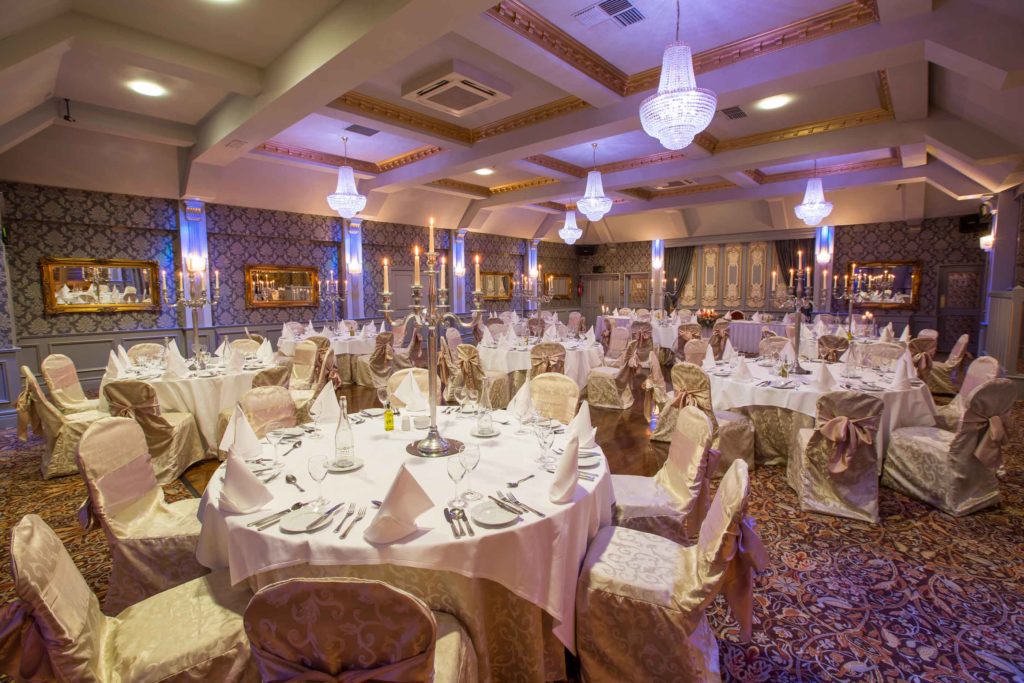 With their wonderful landscaped private gardens, banqueting facilities and highly professional staff, the Anner Hotel Thurles is renowned as a venue for wedding receptions of the highest quality. Their highly experienced wedding and events team will work closely with you to ensure that every aspect of your day is carried out with style and precision. The four star hotel, which was originally a country house that has now expanded to include modern amenities whilst still holding on to its old world charm and character.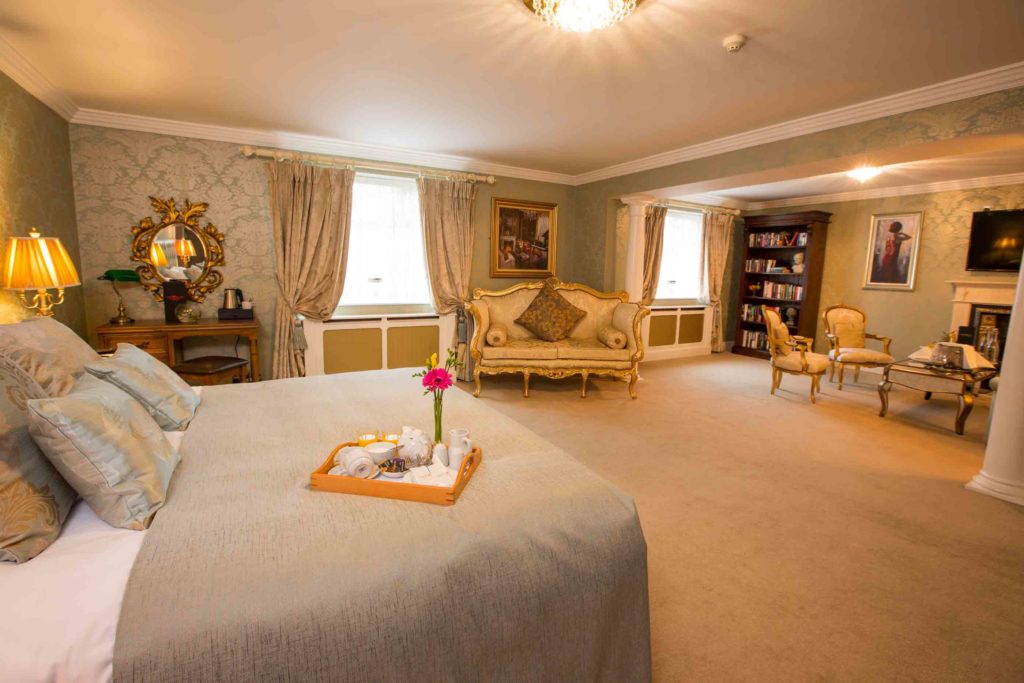 There are a variety of wedding packages on offer, all of which are tailored to meet to all budgets
, so you know you and your guests can enjoy a magical day knowing that every detail has been orchestrated to perfection.
Capacity: From 100-300
Accommodation: 96 bedrooms
T: 050 421799
Westmeath - Annebrook Hotel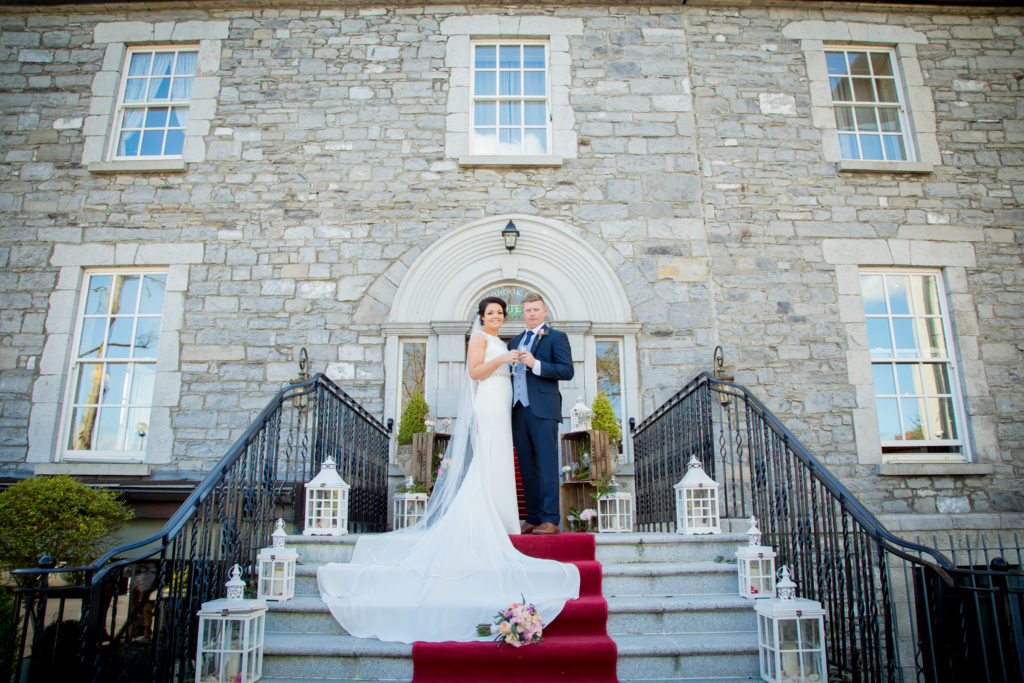 Situated in the heart of Mullingar, the Award Winning 4 star Annebrook House Hotel presents a spectacular fusion of 17th century heritage with ultimate modern styling. Whether it's a grand affair or an intimate reception, the style of your wedding is entirely up to you - Annebrook House can cater for anything between 30-280 guests. The old-world-charm of the original house, makes for a romantic setting.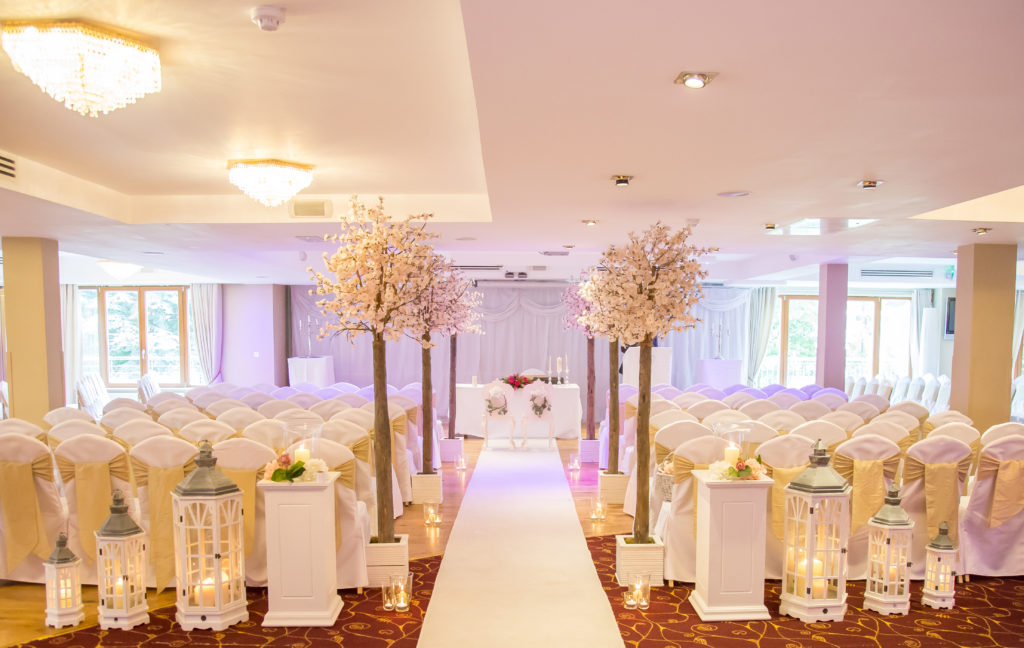 At Annebrook House hotel they offer a 'one stop shop' when it comes to venue shopping; thus making the wedding planning process as seamless as possible for couples. The following items are included in all wedding packages: welcome drinks reception, chair covers and a choice of chair sash, fairy light backdrop, fairy light top table skirt and cake table skirt, personalised table plan and menus, floral top table arrangement and a choice of table centrepieces. They also have the following items on site for hire at a small fee: retro candy cart/ice-cream cart, wishing well, giant love letter, hot dog stand, and arch for your civil ceremony room and a pianist on arrival for your drinks reception. Or simply book the "Complete Wedding Package" to include your wedding car, wedding band and DJ!
T: 044 9353300  
W: annebrook.ie
Wexford - Ashdown Park Hotel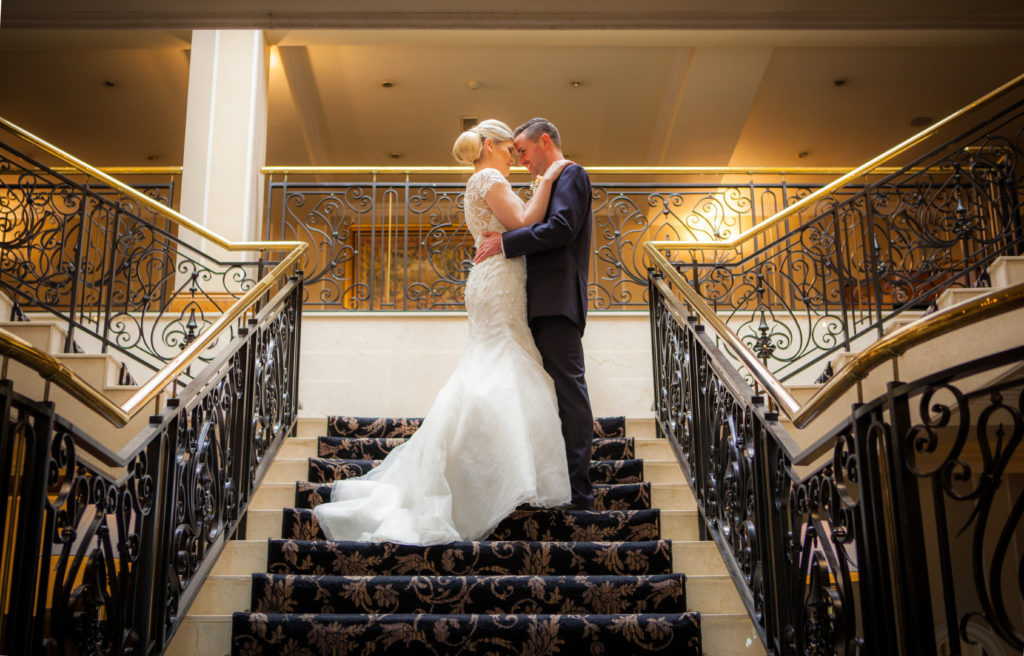 The Ashdown Park Hotel has over 16 years in wedding excellence and is a top favourite venue for the South East. The hotel has a beautiful roof top garden for civil ceremonies, an outdoor European style courtyard, private suites, a traditional chandelier filled ballroom which can hold small intimate weddings all the way up to 300 guests. Current trends are elements of mixing the old with the new in a setting surrounded by friends and family celebrating with good food, great service and enjoying a party long into the night!
"Over the past 16 years we have fulfilled couples requests from the quirky to the extreme and the traditional. Nowadays large traditional family weddings are on the rise, we're perfect for all size weddings" said Paul Finegan General Manager.
Capacity: 300
Accommodation: 79 bedrooms
T: 053 948 0500
Wicklow - Summerhill House Hotel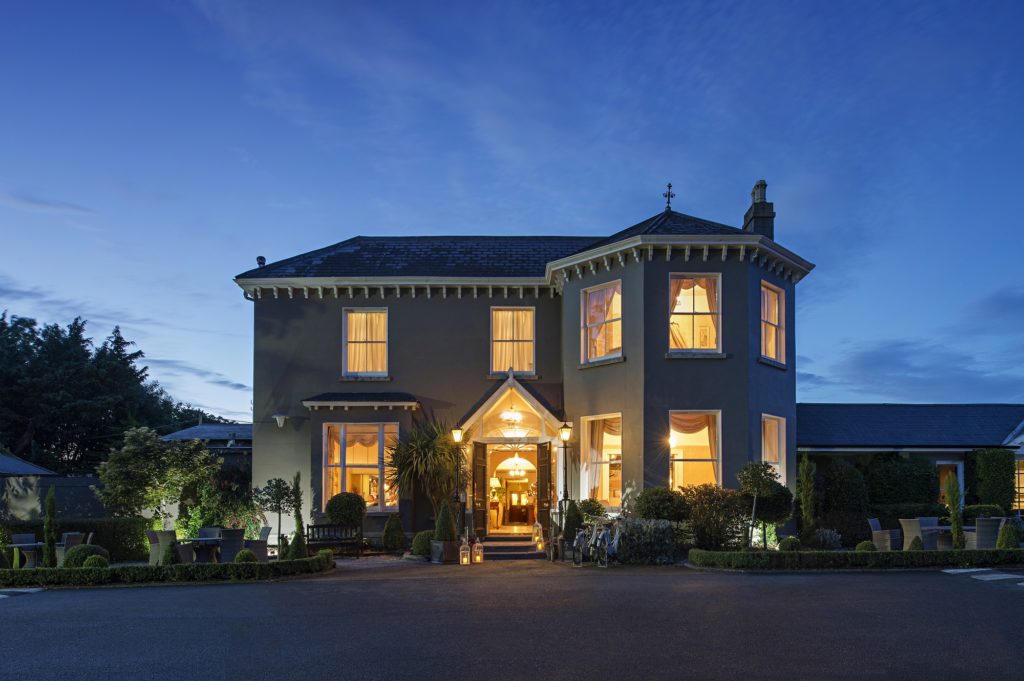 Summerhill Country House set amongst the stunning backdrop of the Sugarloaf Mountain offers you a perfect and unforgettable venue for your wedding day. This beautiful country house can host weddings for up to 260 guest and has 84 bedrooms. Enjoy the perfect ambience of real old world charm and hospitality that will make this gorgeous house feel like yours for the day.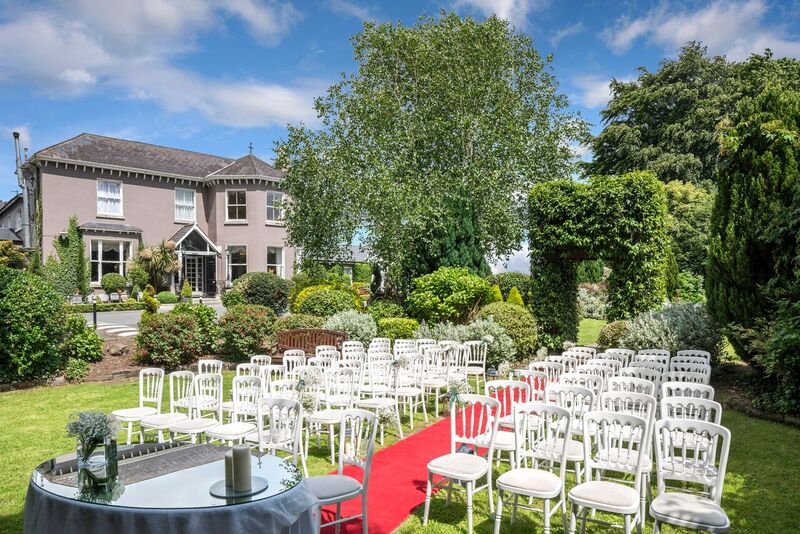 In summer the Summerhill Country House is bright and airy with lots of natural light, the gardens and long wooded driveway make a charming entrance to this grand house. For cosy winter Weddings the house is illuminated in the warm glow of candle light and real fires lit throughout the gracious arrival rooms including the traditional drawing room. Setting the perfect tone for your fairy tale day. The relaxing surrounds of this unique country house has a character and charm that can only be felt and not described and offers a truly intimate venue to celebrate your wedding day.
Capacity: 260
Accommodation: 84 bedrooms
T: 01 2867928