Finding the perfect wedding venue for your big day is pretty much the most important planning decision you'll make
Different wedding styles suit different types of couples, and it's really up to you what sort of look and feel you want for your wedding day. However, often your choice of wedding venue will tie in to the core of what kind of wedding you want - a black tie wedding on a glamping site isn't the most practical choice, for example.
Choosing amongst wedding styles and deciding what kind of wedding is right for you is more about what sort of vibe you want to run throughout your celebration, and often where you choose to host your wedding has a big part to play in this.
With that in mind, and to help you decide what kind of wedding is right for you, we've broken down the main categories of wedding venue, and what types of weddings and couples they each suit. Ready? Let's go!
Where do we start? How do we work out which of the wedding venue types is right for us?
At the very beginning of wedding planning, you probably have a literal tonne of ideas and it can be hard to see how they will all gel together at the end of the day. When you sit down with your partner to start planning, think about the vibe you want for your guests. Do you want a fun, house party style do, or are you immediately imagining an elegant sit-down dinner party affair? Do you see yourself running away to Vegas just the two of you, or getting married on a beach somewhere far-flung and sunny? Can you not imagine having a wedding without your whole family and every neighbour in town? Or is that your idea of hell?
Whether you have a clear picture in your mind of what it should look like, or you're still not sure what direction to go in, this guide to wedding venue should help you on your way.
1. Luxury wedding venues
What's the vibe of luxury wedding venues?
Usually home to black tie weddings, we're talking high-end, opulent surroundings like a five star hotel, with a dress code to match. It's glamorous, and while it's fancy AF, it's going to be tonnes of fun too.
If you've always dreamed of a fairytale wedding, complete with to-die-for designer wedding gown and a lavish five course feast, a luxury wedding venue will probably be right up your street. Even if you're not usually one for the finer things in life, some couples just know they want to celebrate in a grand way.
How do you pick a luxury wedding venue?
Because of how high-end these are, your pool of wedding venues is actually not massive, and you probably have one or two dream venues in mind already. Everything from your invitations to your menu to your entertainment and decor should match up with the formality of the black tie wardrobe you'll be wearing and having your guests arrive in, so keep in mind that every part of the day should be quite sleek, classic and elegant.
Get inspired by these real black tie weddings:
Ellen and Conrad's glamorous day at Shelbourne Hotel
Amy and Nick's stunning Carton House wedding
Racheal and Rory's opulent wedding at Gloster House
2. Country House wedding venues
What's the vibe of country house wedding venues?
Usually considerably less formal than a black-tie affair, couples often opt for a fun, house party vibe in these exclusive use country houses and estates. These stately homes are chock full of character and perfect if you're planning a two or three day celebration, as you'll have the place to yourselves. You can dress country house weddings up or down - go for a classy, elegant garden party or bring a more casual vibe with a house party feel.
Country house wedding venues are often good for couples who want to get a little bit hands on and make their mark on their venue - we're talking little DIY projects or creating centrepieces to match you wedding theme. Some country house venues are more rough and ready than others, and will require you to bring everything in, including caterers, while others have a whole wedding team on hand, so it's really up to you how involved you want to be.
How do you pick country house wedding venues?
These wedding venues are often chosen based on the location around the country that you want, along with how hands on you want to be. Each stately home will have its own character and personality so it's really about the one that fits with you as a couple. Check out this list of some of our recommended country house wedding venues for a start!
Get inspired by these real country house weddings:
Sheila and Shane's house party wedding at Cloughjordan House
Laura and David's Jewish wedding at Mount Falcon Estate
Aisling and Dean's stylish, picture-perfect wedding at Tankardstown House
3. Hotel wedding venues
What's the vibe of hotel wedding venues?
If you're looking for something all-inclusive, or even something that minimises the amount of faff for you, a hotel wedding venue might do just the trick. It's a little more difficult to create something completely unique and completely you with a hotel-package wedding because of the way those packages are built, but that doesn't mean there aren't beautiful hotels all around Ireland that make gorgeous wedding venues.
Perfect for busy couples, or those who aren't really into the idea of tonnes of DIY and creative input, and particularly perfect for couples planning from abroad, the hotel wedding venues are also often a more affordable option than building from scratch. They are also good for couples with many guests travelling as they are, as the name suggests, hotels, and have built-in accommodation, which many country houses lack.
How do you pick a hotel wedding venue?
The beauty of hotel wedding venues is that once you've decided if you're having a civil ceremony or church ceremony and organised it, and then picked an all-inclusive wedding package at a hotel, you're nearly there. It's worth shopping around for the best package in the various hotels in the area you've chosen, as you'd be surprised the different extras that may be included even in similar looking packages. But at the end of the day, it's about whether you love the feel of the hotel once you walk in and the areas your wedding is going to take place in.
Get inspired by these real hotel-package weddings:
Rhiannon and Niall's intimate wedding at The Haven Hotel
Paige and Ronan's blush and gold wedding at Parknasilla Resort
Caroline and Chris's relaxed wedding at the Glenview Hotel
4. Castle wedding venues
What's the vibe of castle wedding venues?
Castle weddings naturally have an air of grandeur about them, and they really match up with that princess-style idea of a wedding that films are always talking about girls dreaming of since they were young. That's not a bad thing - couples looking for a super classic, traditional wedding will probably find a dream castle to host it in - and a lot of these weddings tie in with black-tie weddings. Castles usually have tonnes of character and gorgeous grounds, so there's plenty to love.
How do you pick a castle wedding venue?
Lucky for you, Ireland is chock full of gorgeous castles - just check out these five to start - so you have far more choice here than in other countries. After you've found the castle of your dreams, just remember if you're aiming for a fairytale wedding, to carry that elegance and formality through every part of the day to get full bang for your buck.
Get inspired by these real castle weddings:
Julia and Ronan's castle wedding at Kinnitty Castle
A stunning Castle Leslie wedding for Cróna and Joseph
Louise and Niall's beautiful Dunboyne Castle wedding
5. Alternative and unusual wedding venues
What's the vibe of alternative wedding venues?
Alternative wedding venues is an extremely broad category, mostly because it's really all about creating a wedding that reflects you as a couple. Many of them are held in unusual or unexpected wedding venues, or have quirky elements running throughout. Alternative wedding venues usually suit couples looking for something a little bit different, and most definitely a lot less traditional.
How do you pick an alternative wedding venue?
This can be difficult, as it really depends on what you're planning. Looking at a venue that isn't usually used for weddings? Get in touch early to see what's possible before you set your heart on it. Thinking of planning a day that's truly you, in your back garden? It may be harder than you think, but that's no reason not to do it. In fact, start with this advice piece on backyard weddings. Looking at a venue that's regularly used for weddings, but just want to really make it your own? Scour our real wedding archive for ideas and then have a good long think about what's important to the both of you, and how you can incorporate that into you day. And remember - traditions are just traditions, not laws. If they don't suit alternative weddings, don't include 'em.
Get inspired by these real alternative weddings:
Alessandro and Alexandra's Martello Tower wedding
Shaun and John's magical wedding at Mount Druid, Co Westmeath
Camille and Joshua's slumber party wedding at Headfort School
6. Festival wedding venues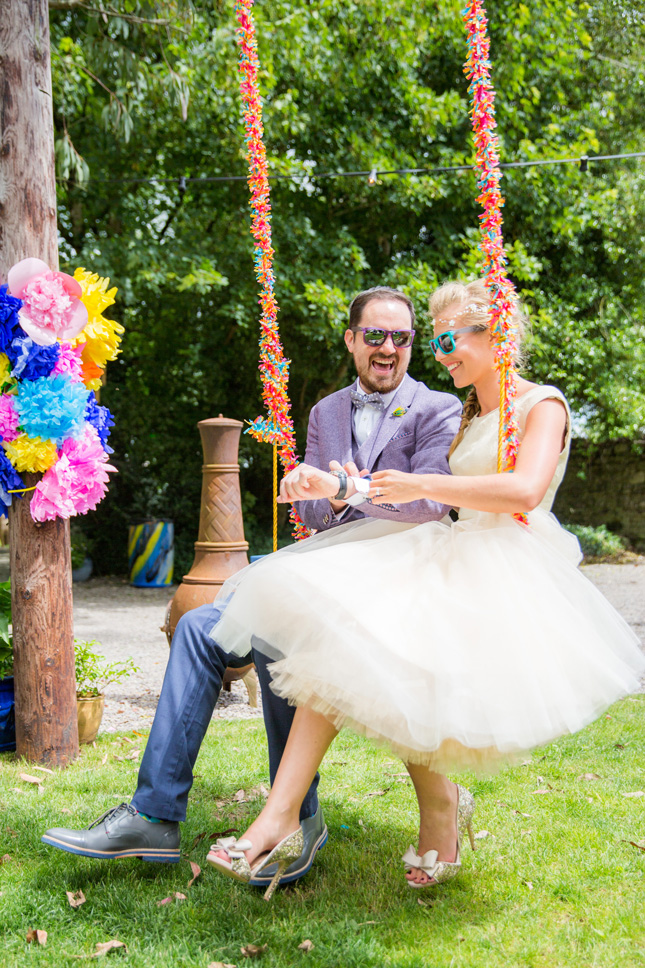 What's the vibe of festival-style wedding venues?
Festival-style weddings are growing and growing in popularity, and we're not surprised. The super relaxed vibe is hard to beat, and sure don't most people associate festivals with having a deadly time? If fun is high on your list of priorities for the day, this might be the path for you, and choosing a venue is pretty wide open. A lot of alternative wedding venues and country house wedding venues will have hosted festival-style weddings in the past.
How do you pick a festival wedding venue?
Set the tone - even if you're bringing a festival-style wedding to a 'regular' venue, you can really bring that festival feel through more casual food options, colourful decor, etc, so it's really about thinking creatively about venues you love. Perhaps start by looking at venues with glamping options, or venues with outdoor spaces that allow you take over and do as you please with the whole venue.
Get inspired by these real festival-style weddings:
Wedstival - Jamie and Simon's DIY festival-style wedding
Sarah and Gav's colourful festival-style wedding at Killyon Manor
Heather and Doug's festival-style wedding full of love at Mount Druid
7. Marquee wedding venues
What's the vibe of marquee wedding venues?
Couples looking to plan alternative weddings often also are really into the idea of marquee weddings or tipi/stretch tent weddings, and they usually want to put their own stamp on the whole thing. Marquee weddings can also allow you hold your wedding in some venues where their main ballroom is too small for your guestlist numbers, so you get the best of both worlds there.
How do you pick a marquee wedding venue?
Depending on whether you're planning a marquee wedding attached to a venue that usually caters for weddings, and whether your venue has a marquee or you need to rent one, really determines how complicated it's going to be to plan your marquee dream. Be warned - some couples think marquee weddings are cheaper than average, or than renting a standard venue, but the costs associated often add up so do your maths before you choose this style of wedding for budget reasons. This post on planning a backyard wedding may be a good place to start!
Get inspired by these real marquee weddings:
Alison and Garrett's incredible colourful marquee wedding at home
Steph and Samantha's stunning marquee wedding at Drumhalla House
8. City wedding venues
What's the vibe of city wedding venues?
If you're looking for a more contemporary, urban feel to your wedding, a city wedding venue is probably for you, whether it's a local gallery or your favourite restaurant. City weddings are usually for couples who want something super fuss-free, who might have a smaller guest list, or for couples who don't necessarily want their wedding to feel like a wedding - maybe a super extra night out is more your thing. And bonus points if you already live in the city you're planning a wedding in - the whole planning process is all that much simpler if so!
How do you pick a city wedding venue?
While there are hotel venue options in cities that are worth looking at if you want a more traditional style wedding, many couples planning in cities opt for restaurant venues or slightly more unusual spaces, like an empty studio. It's really about finding the venue that suits you, and then you can get on with planning the photo tour you're going to go on to get all those deadly city wedding portraits.
Get inspired by these real city weddings:
Sharese and Aaron's city wedding at the Dean Hotel
Aimee and David's Dublin City wedding celebration at Thomas Prior Hall
Aine and Paul's city wedding at City Hall and Smock Alley 
9. Destination wedding venues
What's the vibe of destination wedding venues?
Think of it as your wedding mashed up with going on holiday with all your friends and family - all your favourite people in one place, with the added bonus of a massive party to celebrate your love. Many Irish couples opt for beachside destination wedding venues, opting for the kind of gorgeous weather you could never count on at home. European destinations like Portugal, Spain, Greece and Italy are popular, but of course you're not limited to seaside destinations. The world is your oyster!
How do you pick destination wedding venues?
Well, firstly you need to pick a destination. Some couples combine their wedding and honeymoon, so perhaps start with a destination you'd love to honeymoon in too. Look at some of our destination wedding guides and honeymoon roundups for inspiration, and take a look at these destination wedding legalities to start. Many couples feel they have to hire a planner who is on the ground in their destination to make sure all the finer details are taken care of and who will know the best venues. This can massively simplify finding your dream location, but if you're big into travel planning anyway, it might be right up your street to plan yourself.
Get inspired by these real destination weddings:
Getting married abroad - Charlene and Anthony's Oz wedding
Emma and Bubba's stylish rooftop AirBnB wedding in San Francisco
Joan and Paul's beautiful destination wedding in Casa Felix, Barcelona