If you're looking for something a little different, these alternative wedding venues might do just the trick.
Whether you're looking for an out there space that has more character than your typical wedding ballroom or the ideal area to host your dream wedding ceremony, alternative wedding venues are probably up your street.
With something a little different to discover about each of these alternative wedding venues, each one is bound to suit a different type of couple. And they all have one thing in common - the teams there are dedicated to helping you make your day your own, within their space. There's no cookie cutter weddings around these parts!
Without further adieu, take a look at some of the gorgeous alternative wedding venues located around Leinster. Who knows - we might have found your dream venue!
Langton's House Hotel
THE VENUE: A family owned and run hotel, located in the heart of Kilkenny city. The hotel offers wonderful hospitality, food and service in a comfortable and exquisitely designed setting. From the moment you arrive, until the last guest has departed, you will be looked after by their expert team. With design by David Collins studio and hospitality based on Langton family tradition the city centre location makes it an ideal venue to celebrate your most treasured occasion. The uniqueness of SET Theatre has to be seen to be believed, perfect for your most important wedding ceremony or intimate wedding reception.
WEDDING CAPACITY: 342 wedding guests
ACCOMMODATION: Two penthouse suites, four junior suites, four club rooms, 16 double deluxe rooms, eight double or twin deluxe rooms
ANY EXTRAS TO KNOW? Set Theatre is a gorgeous alternative wedding venue location for your reception (up to 108 guests), and the Courtyard is the perfect location for an outdoor ceremony (up to 60 guests). Bridies Old World Bar is perfect for your drinks reception or your day two, also.
WHY WED HERE? "We are blessed with a fantastic reputation for great quality of food and service in a stylish boutique environment. Our wedding packages all offer great value but yet we are flexible!"
THE BILL: From €42pp 
Langton's Hotel
69 John Street, Kilkenny
Email: [email protected] | Phone:+353 56 7765133
Website | Facebook | Instagram
The Dean Hotel
THE VENUE: An alternative wedding venue option right in the heart of Dublin city, the team at the Dean Hotel on Harcourt Street is experienced in catering alternative and bespoke weddings, from small ceremonies and receptions, to private dining with an afterparty, or even your day-two celebrations. With a super fun, modern vibe, all weddings are bespoke and personalised, and The Blue Room is a beautiful location whether you're just planning a ceremony or a whole day affair. Bright, modern and airy, it's easily customised to suit your style, whether you want something edgy and contemporary or boho-chic - or anything in between. A wall of Georgian windows means lots of natural light while state-of-the-art AV facilities that make it ideal for speeches and music, and then there's also the fact you have a private bar, central partition and two small balconies. Plus, you won't want to miss snapping a photo under the 'I fell in love here' neon sign at reception!
WEDDING CAPACITY: Up to 120 wedding guests for standing event, up to 60 guests for private dining
ACCOMMODATION: 52 bedrooms in total, including suites and the Penthouse
ANY EXTRAS TO KNOW?  It's all over in a flash so why not stay an extra night or two to relax or continue the celebrations. With stunning views across the Dublin cityscape, Sophie's Restaurant on our roof is a wonderful choice for continuing the celebrations. Book a family lunch or gather all your friends for a special dinner. You could also host a BBQ and cocktail afternoon on our Rooftop Terrace. The Dean is fun and unique location for a wedding.
WHY WED HERE? A boutique hotel right in the middle of the city, this is a gorgeous, fun, vibrant venue, and there's a surprise around every corner, whether it's the modern lobby, or Sophie's Rooftop terrace. If you aren't too busy taking pics in the beautiful interior of the Dean, you're only a minute's stroll away from the Iveagh Gardens, and not much longer away from all the major city photo spots you have to hit.
THE BILL: Blue Room Hire, €900 for full day; Dinner from €50pp; Canapes from €15pp
The Dean Hotel
33 Harcourt St, Dublin 2
Email: [email protected] | Phone: +353 (0)1 607 8110
Website | Facebook | Instagram
The Grayson Restaurant
THE VENUE: One of Dublin's newest dining venues in a stunning listed Georgian building overlooking St Stephens' Green, The Grayson is impeccably designed with a distinct feel, including the most photogenic glass ceiling atrium. The building has a history of hosting fabulous parties since 1945, and has recently been refurbished to its former glory, but with a fresh take of colour, vintage art deco touches and beautiful art. The talented Chefs can create bespoke menus of thoughtful flavour combinations which are sure to please any palate, so this is a particularly perfect venue if you're a city-living, foodie-obsessed couple.
WEDDING CAPACITY: 290 wedding guests across four floors
ACCOMMODATION: No accommodation on site, but The Grayson is a sister site to The Dean Hotel just a short walk away, and The Devlin Hotel in Ranelagh. The Grayson's wedding coordinator can arrange rates and availability for you in both hotels
ANY EXTRAS TO KNOW? You can choose from menus of contemporary cuisine including canapes and supper bowls along with an impressionable selection wine and cocktail menu.
WHY WED HERE? "Through the grand doorway, you are first greeted by an exquisitely carved staircase that winds its way up to the two stories above, with each floor boasting its own private bar with large windows and high ceilings. The Grayson boasts a romantic setting, perfect for boutique intimate weddings, rehearsal dinners, hen parties and the day after celebrations."
THE BILL: Dinner from €55pp; Welcome drinks and canapes from €25.50pp
The Grayson Hotel
41 St. Stephen's Green, Dublin 2
Email: [email protected] | Phone: +353 (0)1 683 3680
Website | Facebook | Instagram
Burtown House and Gardens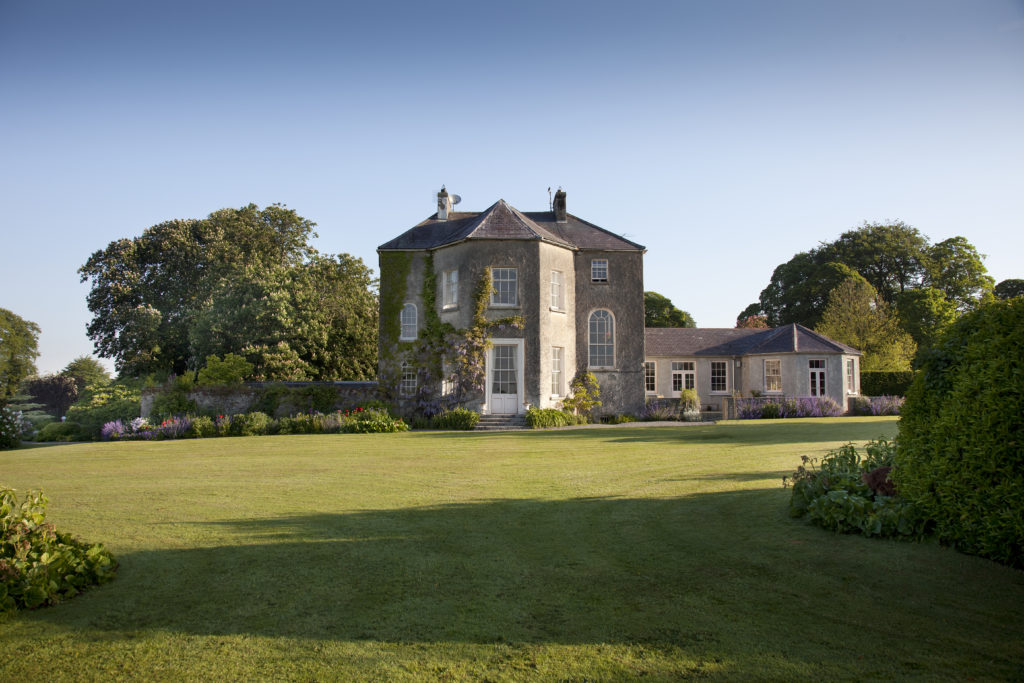 THE VENUE: Burtown House and Garden is a family run house and garden with an award winning farm to fork restaurant. It was built in 1710 and has never been sold. Surrounded by 12 acres of beautiful flowers, woodland and kitchen gardens with sculptures set in long meadow walks, and further by streams, woods and beautiful Kildare country side. The Green Barn is a large Scandinavian inspired, light filled rustic contemporary space that has stunning view over a series of outdoor garden rooms. It is a totally unique space and setting with epic vies across the kitchen and flowers gardens. The alternative wedding venue has space for inspiring garden ceremonies or island woodland ceremonies, and they have a spider tent that can be set up wherever you want.
WEDDING CAPACITY: 120 - 140 wedding guests
ACCOMMODATION: The Stable Yard House sleeps six, the studio apartment sleeps two and there are a number of bell tents available on site. The wedding coordinators can provide a list of nearby accommodation that can sleep up to 400 people
ANY EXTRAS TO KNOW? They offer flowers from the garden, organic food from the land and a feast of inspiring aesthetics with interesting design and serious attention to detail.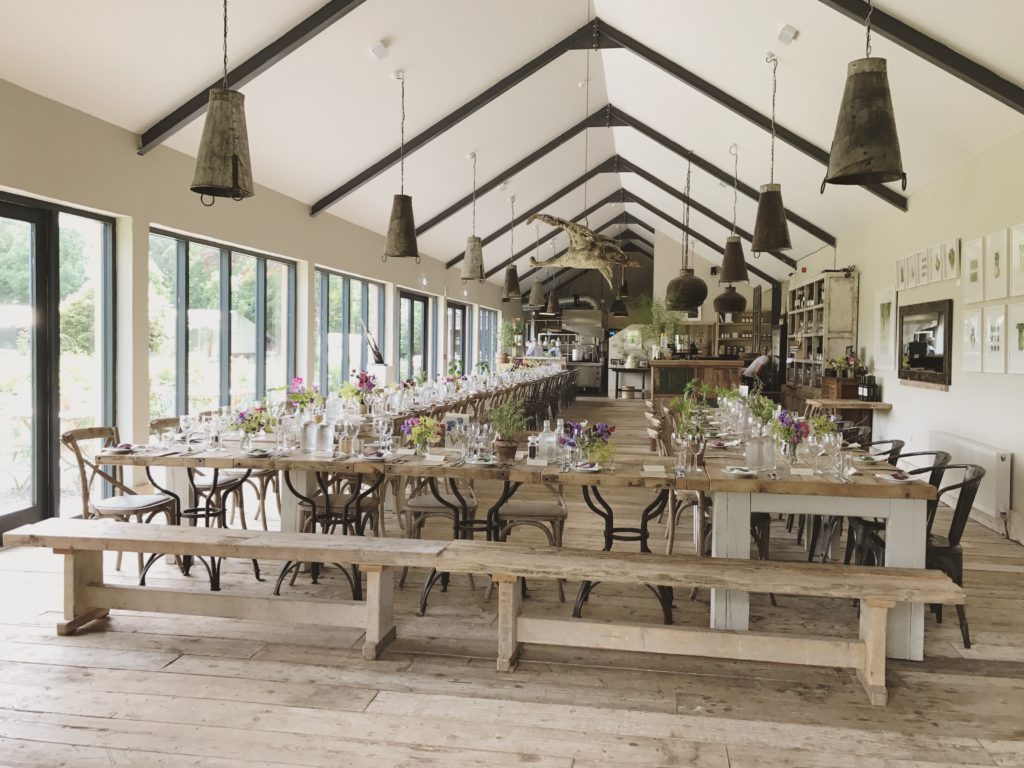 WHY WED HERE? "You should choose our venue for a totally unique, bespoke, personalised wedding that is a far cry from a hotel - we are a family run operation with real emphasis on visual aesthetics, artistic design and attention to detail with the very best of fresh seasonal food."
Burtown House and Gardens
Athy, Co Kildare
Email: [email protected] | Phone: + 353 (0)86 263 1485
Website | Facebook | Instagram
Wells House and Gardens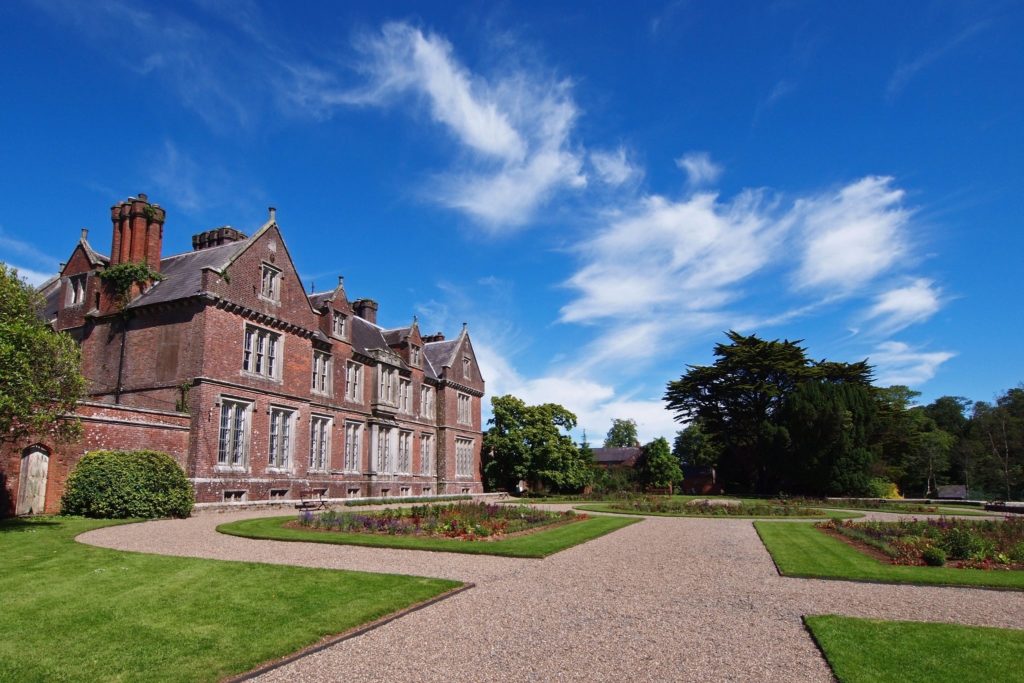 THE VENUE: Wells House and Gardens is a one-of-a-kind venue set in the heart of County Wexford. Surrounded by its own woodlands and gardens, there are two venues that make up this spectacular estate: Robertson Hall (for larger wedding parties) will provide a beautiful and relaxed atmosphere for your special day with opulent colours and cascading light features, it really combines the best of classic and modern styles. Or perhaps choose Wells House itself for the more intimate affair, giving you exclusive use of the house for the day with French gold interiors, carved oak staircases and a secret library. Wells is not just for one day as its onsite accommodation will give you the time to enjoy its unique surroundings and create those lasting memories.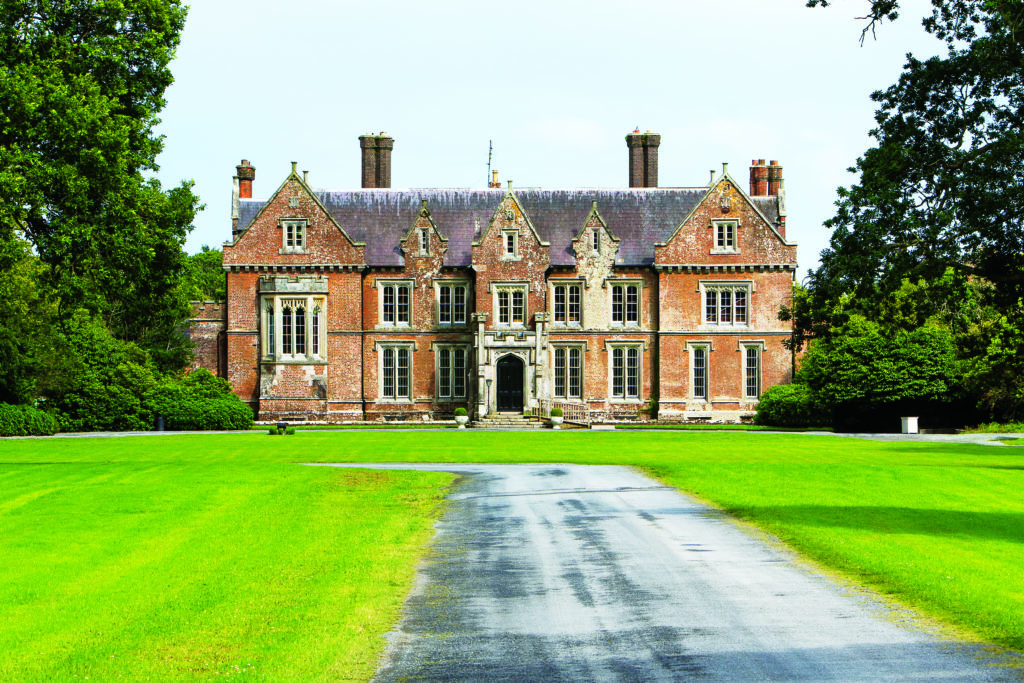 WEDDING CAPACITY: 170 wedding guests
ACCOMMODATION: Four cottages accommodating 16 people
ANY EXTRAS TO KNOW? You can have an outdoor ceremony in their terrace gardens, and for super intimate weddings, you can have a dining option in their gardens. Food is at the forefront of everything the team does at Wells House and Gardens, so their wedding menus differ from the traditional offering, with bespoke options available.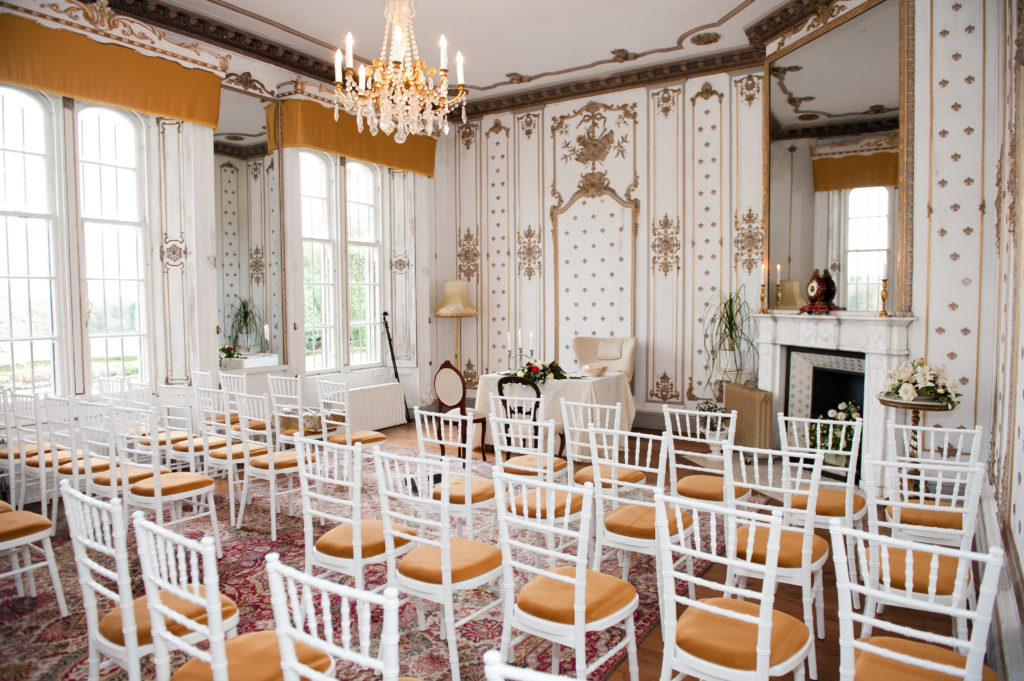 WHY WED HERE? "A smooth, seamless day with a dedicated team, food nothing short of remarkable and all with Wells House as your backdrop."
THE BILL: From €70pp
Wells House and Gardens
Ballyedmond, Gorey, Co Wexford
Email: [email protected] | Phone: +353 (0)53 9186737
Website | Facebook | Instagram
Portmarnock Hotel and Golf Links
THE VENUE: If you're looking for the benefits of a hotel venue, but with something that sets it apart, Portmarnock Hotel and Golf Links might be just the answer. While the venue has a dedicated team to look after your every need when it comes to making your special day an unforgettable experience, they also have a Secret Garden which you can use as part of your big day. Take in the stunning views of Dublin Bay, Lambay Island and Ireland's Eye while you gather for pre- or post-dinner refreshments - and look out for the plaque dedicated to the love and marriage of two great whiskey dynasties, Jameson and Haig!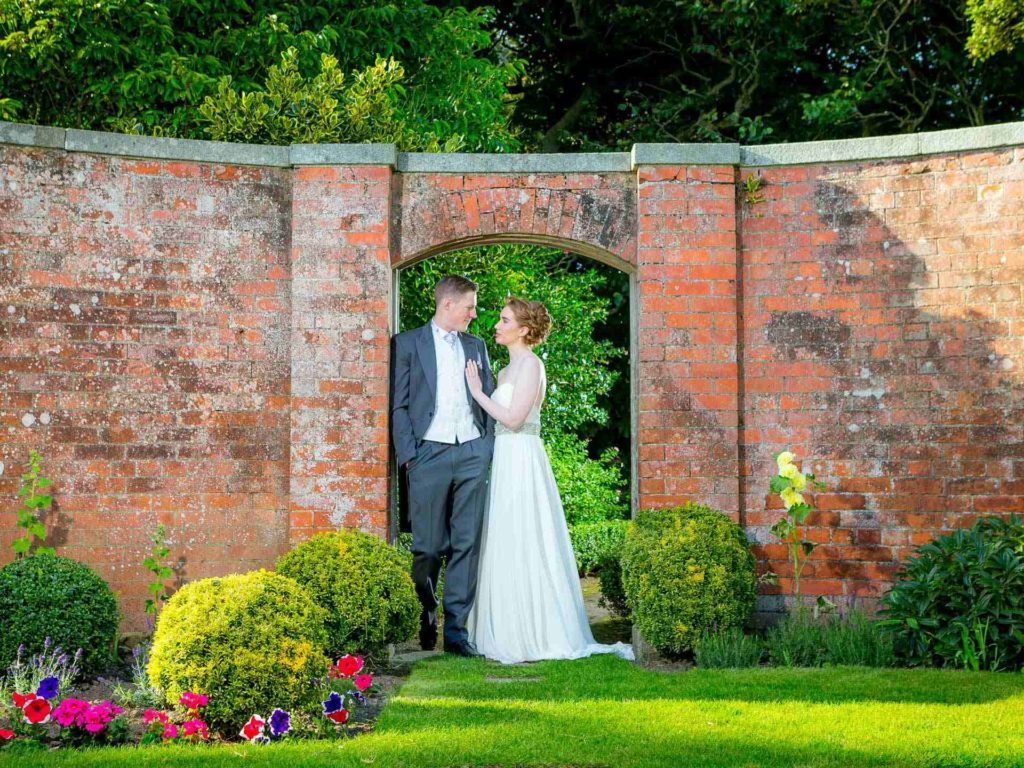 WEDDING CAPACITY: 90-200 wedding guests
ACCOMMODATION: 131 bedrooms, with a newly renovated Portmarnock Suite for the bride and groom, and a variety of deluxe golf suites for parents and close family
ANY EXTRAS TO KNOW? Portmarnock Hotel can provide extras like sweet carts, fairy light backdrops and dance floors.
WHY WED HERE? "Couples should choose Portmarnock Hotel and Golf Links for their wedding day if they imagine a high-end, luxurious wedding with an excellent level of customer service and care without the pretentiousness of a high-end locale."
THE BILL: From €90pp
Portmarnock Hotel
Strand Rd, Portmarnock, Co. Dublin
Email: [email protected] | Phone: +353 (0)1 866 6503