In all the excitement around finding your dream wedding dress, sometimes the foundational pieces - your bridal/wedding underwear and shapewear - gets lost. Here's our ultimate guide to what you need to know!
A simple strapless bra probably isn't going to cut it for most wedding dresses, and you don't want to let your dream dress down by choosing the wrong underwear. And for backless, strapless, one-shoulder and plunge-necklined gowns, your wedding underwear will be make or break. But where do you even start?
Whether you need some simple shapewear, a plunging bodysuit, a backless bustier, or a low back bra converter, there's a wedding underwear essential to suit your needs - you won't need to go commando on our watch!
A lot of wedding dresses come with inbuilt corsetry or boning, or depending on the style of dress you've chosen, whoever is looking after your wedding dress alterations may be able to add some in for you if you'd prefer that to fussing about with finding the perfect bra. But if that's not your bag, let's look at the styles
What wedding underwear will suit my dress shape?
Backless dress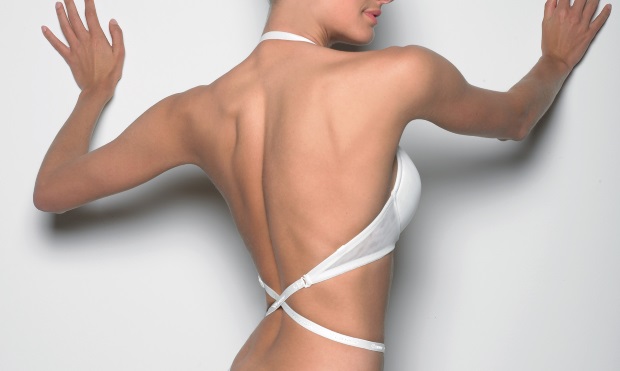 A backless body may be your best option - it will allow you to show off the back of your dress, and will lightly shape, while still allowing you to feel comfortable rather than restricted. If you'd prefer to avoid shapewear, a bra that has a long strap at the back which criss-crosses low on your back and ties around the front could be your best option, unless your dress is particularly fitted at the front, in which case you'll have to judge how visible the clasp is for your dress. This may not be an option if you've got a fuller bust, and need a little more support or just are comfortable with particular bras - a low-back converter strap added to a well-fitting bra should do just the trick.
Strapless, spaghetti strap, one shoulder or illusion neckline dresses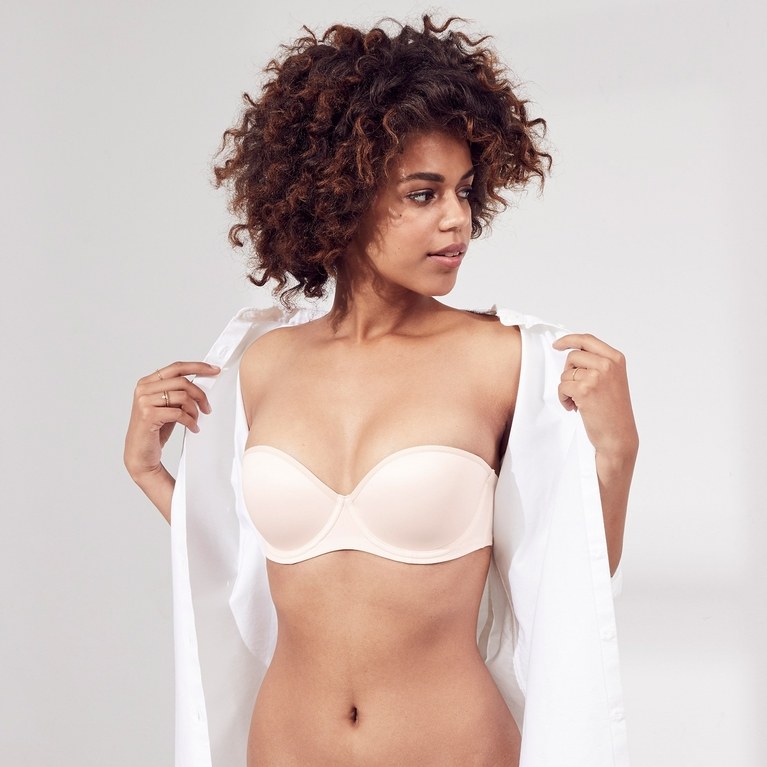 With an illusion neckline dress, some brides assume they'll get away with a bra with clear straps, but those illusion panels are often more sheer than you might think, so we don't think it's worth taking the risk, especially when some 'clear' straps have a yellow tone to them which may be obvious against your skin. With a strapless or spaghetti strap dress, these clear straps will definitely still be visible. A well-fitted strapless bra will do the job perfectly, so get measured up for one - it should see you through your honeymoon as well, so it's worth investing in. Alternatively, many basques have removable straps and this is quite a classic bridal style so may suit what you're looking for.
Plunging neckline dress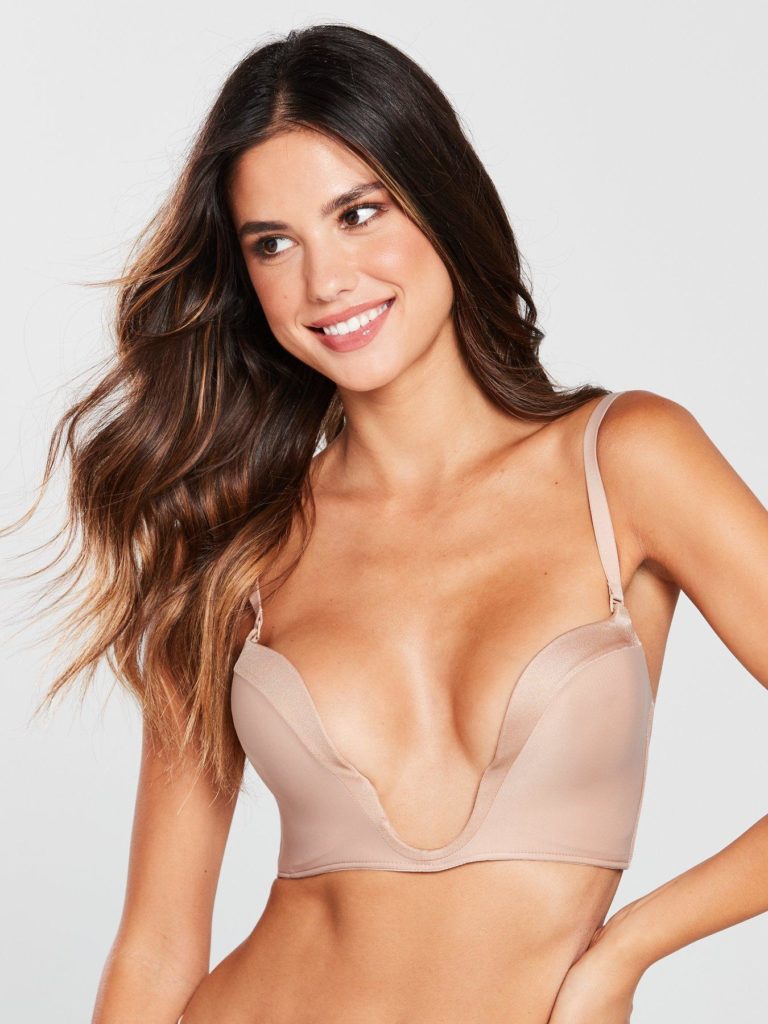 Don't be fooled - a regular plunge bra just isn't going to cut the mustard here. You're going to need something a little more, well, plunging. The Wonderbra Ultimate Plunge Bra is the holy grail of super plunge bras for weddings, but there are plenty of other options - you're searching for a 'U plunge' bra. You can often find them in strapless varieties too, which is perfect if your dress is plunging and strapless.
Sweetheart neckline dress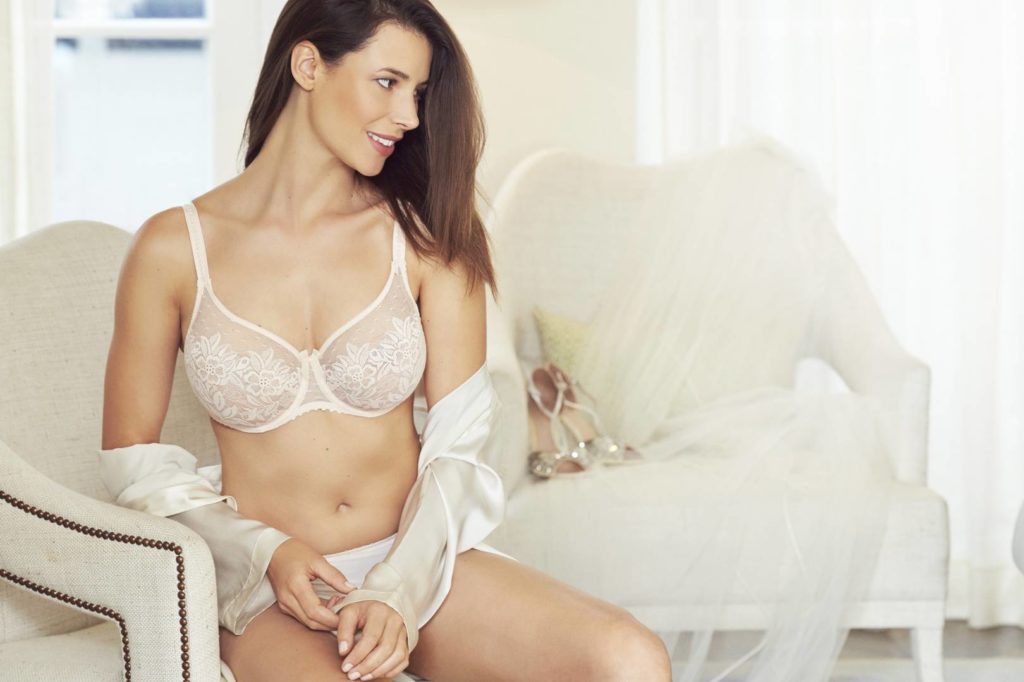 A sweetheart neckline is gorgeous on a wedding dress, and an elegant way to show off some décolletage, but it does require some careful thought when it comes to what bra to wear. Too full of a cup style and it may be visible through or above your dress, so a balcony bra is probably a better option. A sweetheart neckline will draw a lot of attention to the top part of your dress, so make sure your bra is perfectly fitted.
Where should I buy wedding underwear?
Specialist:
Highstreet:
Arnotts - stocks Spanx, Wolford, Sloggi, Simone Perele, Wacoal and Anita
Debenhams - stocks Spanx, The Collection, Triumph, Charnos, Sloggi and its own Debenhams shapewear and underwear
Marks and Spencer - stocks a fairly wide range of reliable M&S shapewear
Brown Thomas - stocks Commando, Spanx, Wolford, Les Girls Les Boys, Wacoal, Calvin Klein, Maison Lejaby, La Perla and Love Stories
McElhinneys - stocks Miraclesuit, Naomi & Nicole, Spanx, Triumph, Panache and Bodyfit, as well as Secret Weapons lingerie accessories
Online:
When do I shop for my wedding underwear?
Use your first wedding dress fitting to figure out what kind of wedding underwear will work best - once you see the dress on your body and you know what alterations you're planning, it'll be much easier to figure out what shapewear or underwear you'll need.
Make sure you have a few snaps of you in the dress to show if you plan on consulting with shop assistants - it will give them a much clearer idea of how to help you find the bridal lingerie you might need. Ideally if you have your wedding underwear bought before your second fitting, you'll be able to see if you need any further alterations before your final fitting.
If you plan on losing a lot of weight before the big day, remember that this may affect your cup size, and therefore your bra size, and it also may result in you needing a smaller size in any shapewear you choose. So if you see major weight changes in your future, maybe hold off on actually buying your pieces until closer to the wedding. It doesn't mean you can't do your research early, though!