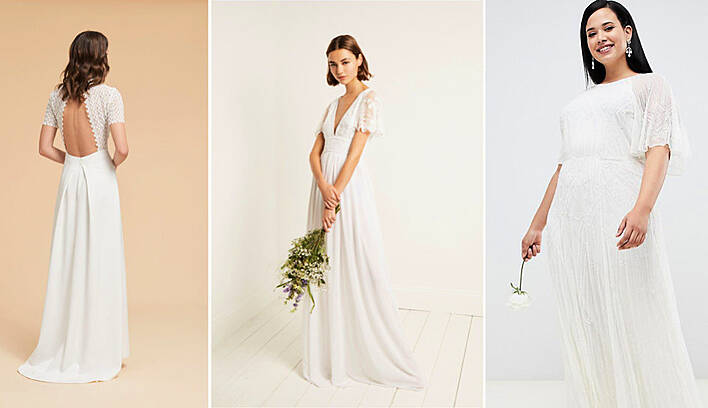 Budget-conscious brides on the hunt for stylish but affordable wedding dresses are in for a real treat this SS'19. Highstreet wedding dresses are now better than ever with new collections dropping from French Connection and Monsoon only this week and old faves like ASOS and Ted Baker really upping their game. And brands like self-portrait have also joined the party with some chic new offerings. Here are some of our faves...
French Connection
We're so impressed with the simple, contemporary and subtly bohemian styles from the highstreet giant. They've also got some sweet bridesmaids options worth checking out.
W: French Connection | Cost: From €245
Whistles
There are plenty of on-trend tiers, ruffles and lace, as well as more simple lines, but whatever style you choose, Whistles' bridal collection looks way more expensive than it actually is. It also includes some chic shorter styles and smart jumpsuit options.
W: Whistles | Cost: From €649
ASOS
The latest drop of ASOS wedding dresses doesn't disappoint and their free return service means you can try as many as you like. The collection features great plus size options, as well as huge range of accessories, shoes and bridal underwear. You'll also find a great selection of highstreet wedding dress fave Needle & Thread on ASOS.
W: ASOS | From €165
Self-portrait
New to bridal, Self-portrait's wedding dress collection is ideal for brides looking for something slightly edgier. Many dresses in the range feature Self-portait's signature crochet detailing that we love.
W: Self-portrait | From £260
Ted Baker
Ted Baker's wedding collection is small but deadly, with clean lines and a contemporary feel - great for anyone looking for something that doesn't scream 'bridal'.
W: Ted Baker | from £629
Monsoon 
Famed also for their super cute flower girl and page boy options, Monsoon's affordable wedding dresses are a serious contender for the best on the highstreet.
W: Monsoon | From €160
Our fave part of wedding planning is that there are options to suit all budgets. Splashing out on a heavenly designer gown of your dreams? Great! Are affordable wedding dresses that won't break the bank are more your vibe? Awesome! Whatever your budget, when you slip that gown on, you'll know it's the ONE.