Each season we see new wedding dress trends and right now there are so many amazing ones to choose from. Below are the top five wedding dress trends we're loving right now. We're talking the most beautiful off the shoulder gowns, dramatic oversized bows and clean-cut minimalist gowns to name but a few.
1. Tiered Gowns
For those of you searching for something out of the ordinary, look no further than a show-stopping tiered gown. The layers add a unique touch, with bridal designers offering various styles of tiered dresses. For a relaxed boho-look you can opt for clear cut tiers on a-line gowns. Those of you looking for a fairytale effect can check out soft cascading tiers on a gown with a fuller skirt.
2. Minimalist Dresses
Make like Meghan and minimalise your look. The Duchess of Sussex recently paved the way for brides to be when she wowed us in her simple yet stylish Givenchy gown. Now, minimalism is back with a vengeance and it's clear why. This dress trend oozes simplicity and elegance at it's finest. Think clean cut lines, graceful silhouettes, and expert tailoring.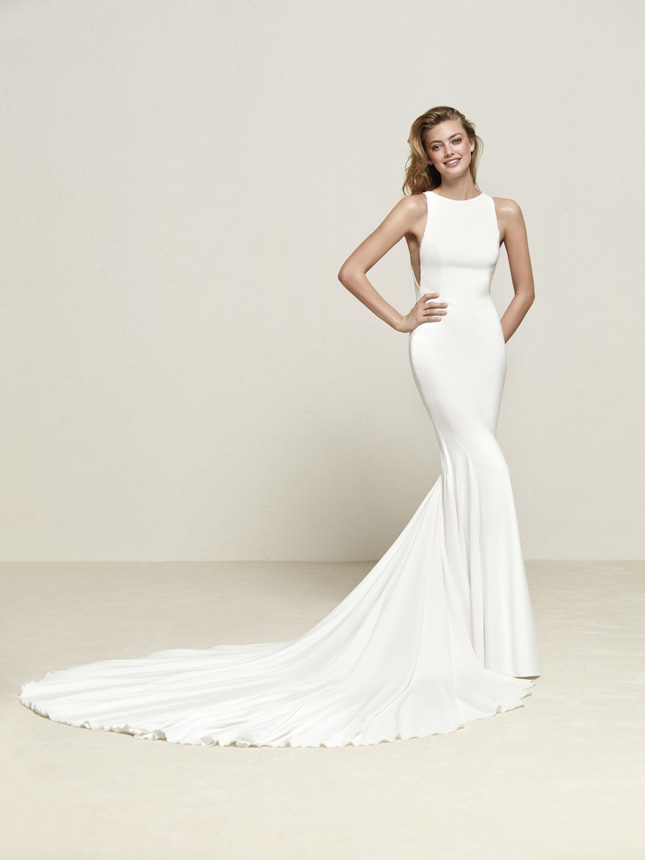 3. Oversized Bows
The bigger, the better- isn't that what people say? Well, we agree when it comes to this trend; oversized bows. For brides to be searching for just the right amount of drama to add to their dress, this is it. An oversized bow is the perfect statement to add to your wedding day look. Why you ask? An oversized bow can draw attention to all the right areas of a dress when placed well (just take a look at the amazing Watters gown below). The bow adds a fun and flirty element to any gown. It's also a good replacement for those brides hoping to ditch a veil (check out the beautiful Pronovias gown below with the full skirt and trailing bow and you'll see for yourselves!)
4. Off The Shoulder
Dare to bare- your shoulders, that is. The off the shoulder gown trend popped up our radars last season but this year bridal designers have topped themselves with brand new designs. These gowns are the perfect combination of cover up while showing a little bit of skin. Depending on how dramatic you want your look, you can add less or more sleeves (we love the draped sleeves on the Willowby gown) . Illusion panels are also a go-to for recent off the shoulder designs. The world is your oyster when it comes to this dress trend!
5. Plunging Necklines
While this is one of the more risky trends, we think it's worth it. A plunging neckline on your wedding gown is sexy, yes, but if done right it's also glamorous, dramatic and elegant. This trend has proven popular time and time again and with these dresses below, it's pretty obvious exactly why.