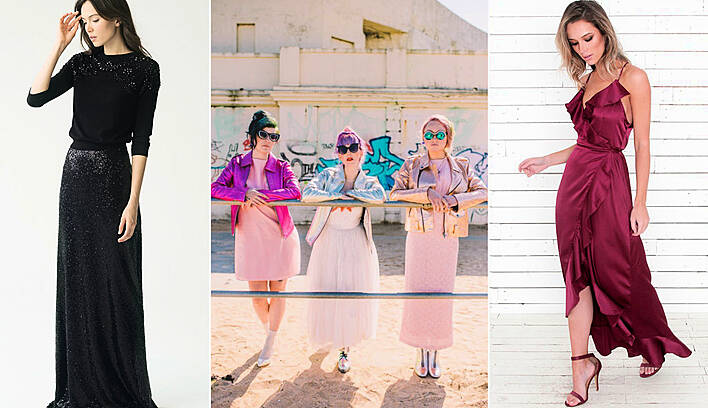 If the hunt for bridesmaid dresses is starting to feel like wading through a sea of chiffon and diamante (ew!), we're here to save the day. Like weddings, every bridesmaid is different and one size certainly doesn't fit (or suit) all. We've scoured the shops to bring you a sweet selection of alternative bridesmaid dresses for every taste, budget, size and shape. Enjoy!
The Anti-Bridesmaid Dress
If your best gals are a chic lot who wouldn't be caught dead in a 'traditional' bridesmaid dress, striking the balance between appropriate and appreciated will be a challenge. We love the Lorena Dress (€79.95) from Folkster which comes in three colours. We're willing to bet they love it so much, they'll wear it again and again. (And you'll probably end up asking to borrow one!)
Or try them with the Yondal Dress (€65) from Cocoa Boutique.
Retro Bridesmaids
Retro loving brides with a strong vintage theme will love Stop Staring dresses (€219 - €229) for their 'maids. Shop online at stopstaring.ie or pop into Anastasia Boutique in Ranelagh, Dublin for a trying on session.
We also love lindybop.ie where dresses start from €46, with some styles going up to a size 22.
Destination Wedding Bridesmaid dresses
If you're getting hitched somewhere warm, keep your ladies cool and comfortable in Folkster's Boho Dress (€79) in one of a couple of colours.
We also love Debut's Burnout Maxi Dress (€120) from Debenhams in on-trend Rose Pink Floral.
Black Tie Bridesmaid Dresses
Black tie doesn't have to be stuffy and formal. What about this two-piece by Jenny Woo Designs at Covet?
Or the Jackie Dress from Starla Boutique is an absolute bargain at €50.
Super Sexy Bridesmaid Dresses
Because you're sound, you're not even tempted to dress your gorgeous bridesmaids in frilly 80s meringues to make yourself look better ...Right?!. If they have bods to die for and you're after something slinky, yet wedding appropriate, we love the Coco Gown (€180) from Starla Boutique.
Or for something sexy and sparkling, what about this Watters ensemble from Beau Bride?
Short Bridesmaid Dresses
We have major heart eyes for the Gloss Sequin Dress (€435) from Needle & Thread.
And how cute is the Maya Sequin Pencil Dress (€110.60) from Asos in this delicious Bluebell shade? Love!
Rock 'n' Roll 'Maids
If tradition just isn't your thing, you could ditch the bridesmaid dress altogether and opt for something completely different. We love the Danity Tulle Skirt (€39.99) from Alila in cream or blush. Pair it with a cute sequin top, or even a sweet cashmere sweater if you're getting married during the winter months.
Or go all out and source some awesome, one-off vintage dresses from somewhere like Dublin's Dirty Fabulous or any of the fab online vintage stores like Peony Vintage (pictured).
See anything you like? Don't forget to pin your faves to Pinterest. Are we Pin-pals? Click here to join in the fun.